Combining modern technologies and elements of rural life, natural materials and high-tech design trends in the country houses` interior we can easily get not only comfortable and convenient room, but really interesting, unique environment of premises, which make you want to come back again and again. As an example of harmonious combination of urban life technology and rural accommodation attributes, we would like to demonstrate in the rooms of a large country houses. In the best tradition of rural life in this building with natural materials such as stone and wood are used both as building and decorative materials, raw for the manufacture of furniture and decoration items. From the first sight at the facade of the household becomes clear that we have a warm, cozy atmosphere the organization of life in the countryside indoors, surrounded by beautiful nature, fresh air and green plants.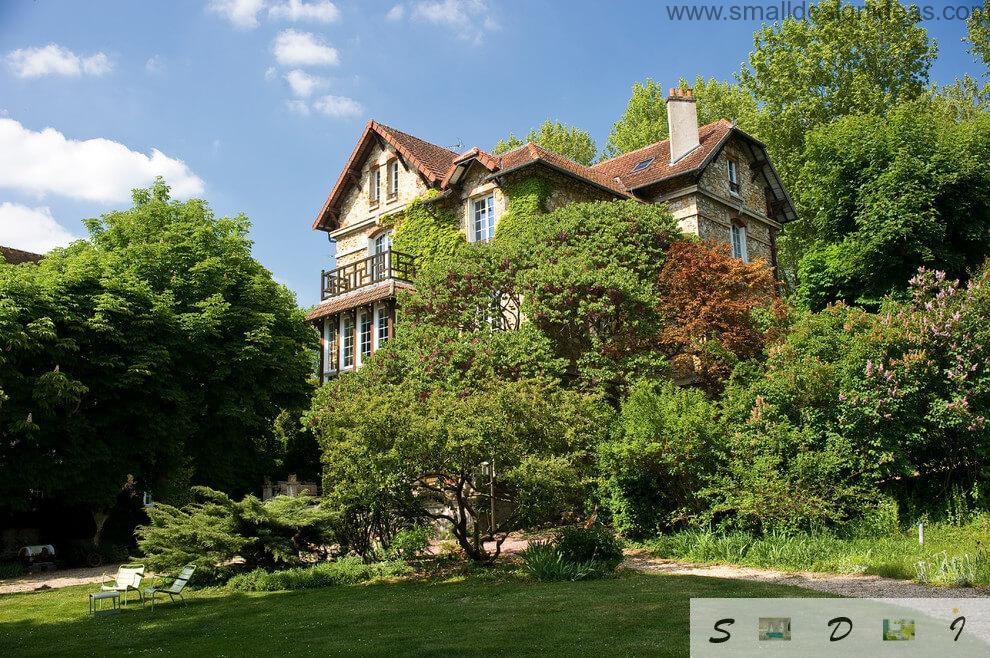 Once inside the big modern countryside house, rustic style design forward us in the situation of traditions and relaxation. Wooden floors, carved staircase and furniture which are striking with exclusive handicraft. A light finishing facilities designed to highlight the skills of local woodcarvers, not dragging the attention on himself.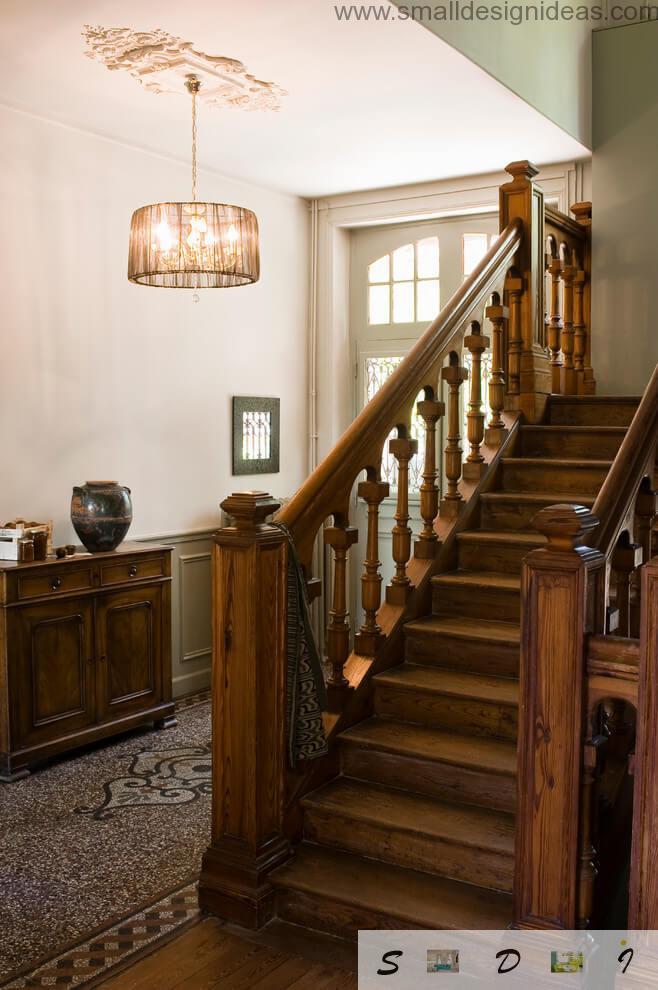 In the most spacious room – the living room, we can see the presence of the interior elements, made of wood everywhere – as the white-painted ceilings, built-in storage with a combination of open shelves and cupboards hinged, in the performance of the furniture, the design of window openings and decorative elements. Warm natural shades of beige and brown color groups used in decoration, furniture and textiles, created a really cozy atmosphere of country living.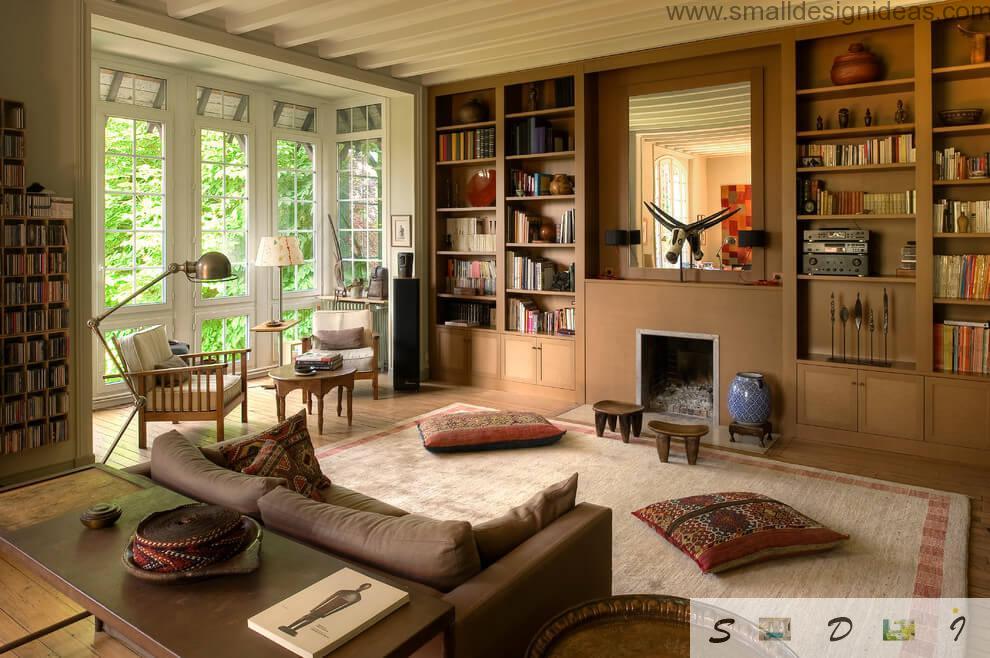 To living room become more comfortable and cozy there is no need much – a soft carpet of attractive shades, pillows with colorful ornaments as a seat for a sofa and decor, pleasant to the touch textiles and local sources of light to create a romantic, intimate setting.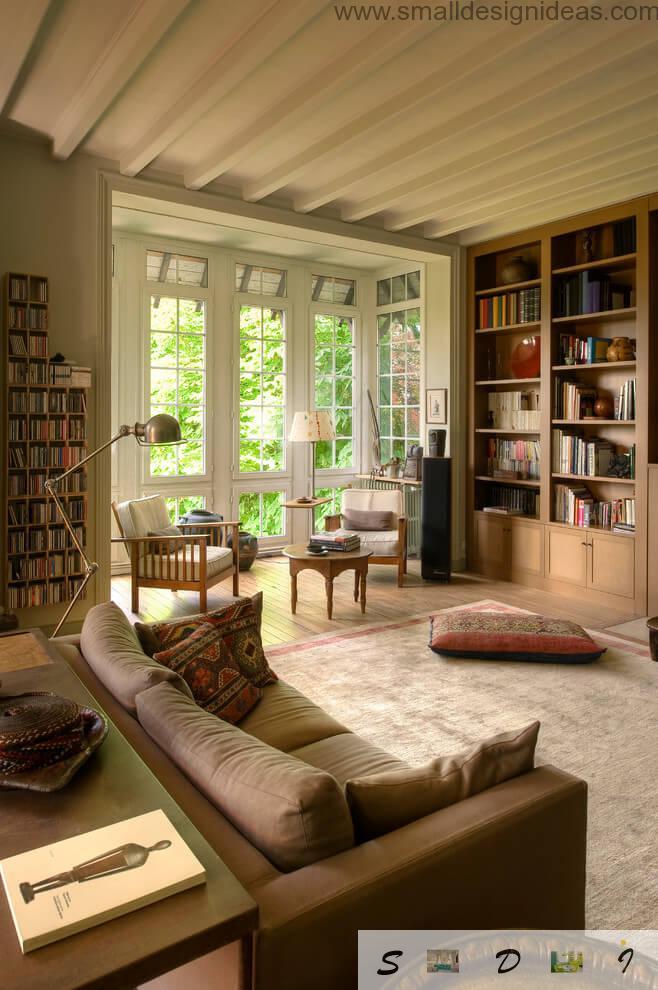 The best place for the organization of recreation and reading than bright oriel is difficult to find. In the daytime there is enough natural light and the dark period set for floor lamps, one of which is also equipped with a convenient stand for cups of tea or a book.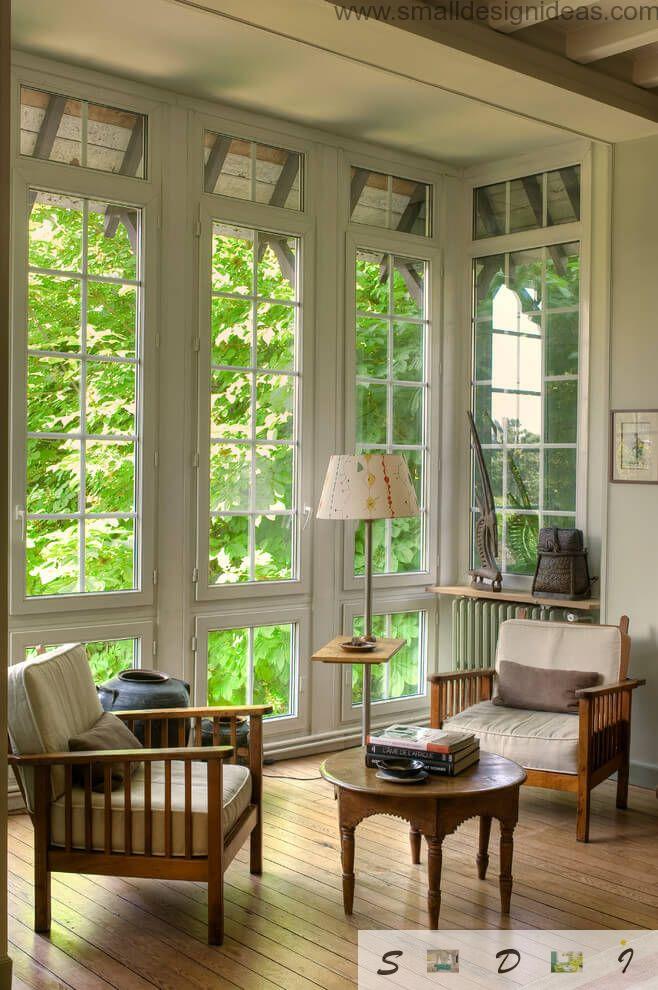 Solid wood furniture is supplied with removable soft seats and backs, which is very convenient in terms of care and thought on the part of the longevity room furniture.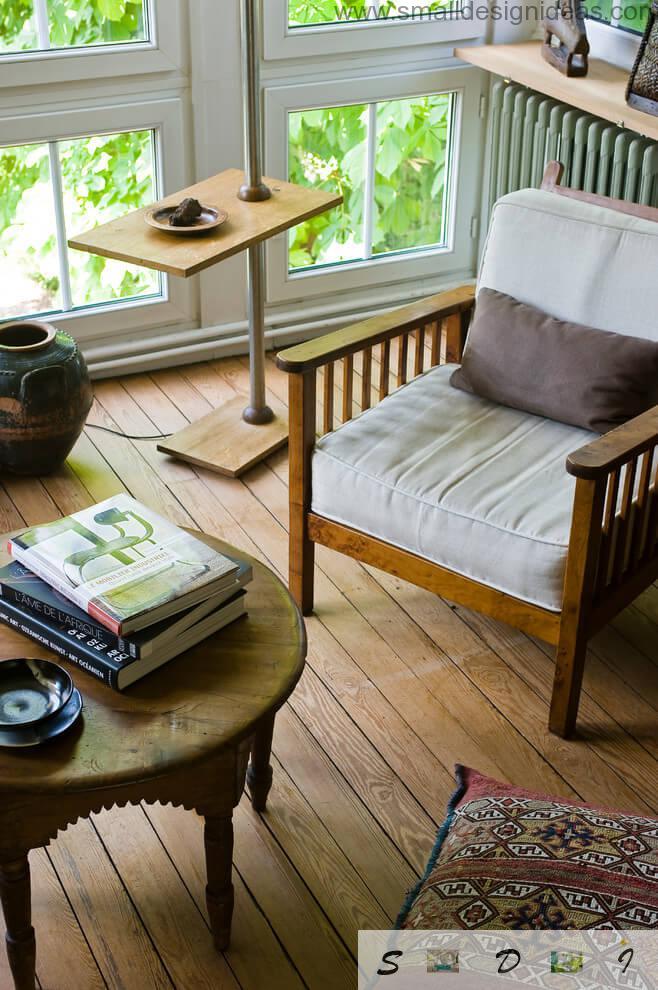 All home decorative items given special attention, but in the living room it becomes most noticeable. Decor made of different wood species, painted or left in its natural state, occupy most of the interior decoration.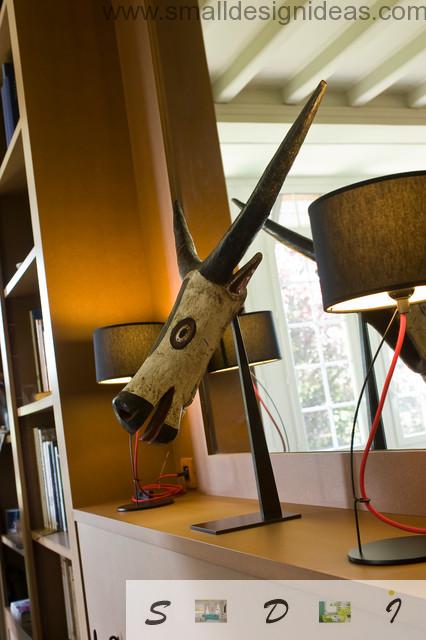 On the ground floor is also a study with a makeshift fireplace. Decorating of the room is different from the design techniques that we have seen in the living room. The white ceilings with stucco cornices, deep gray walls and wooden floors have become the backdrop for painted white tone fireplace brickwork and wall decor.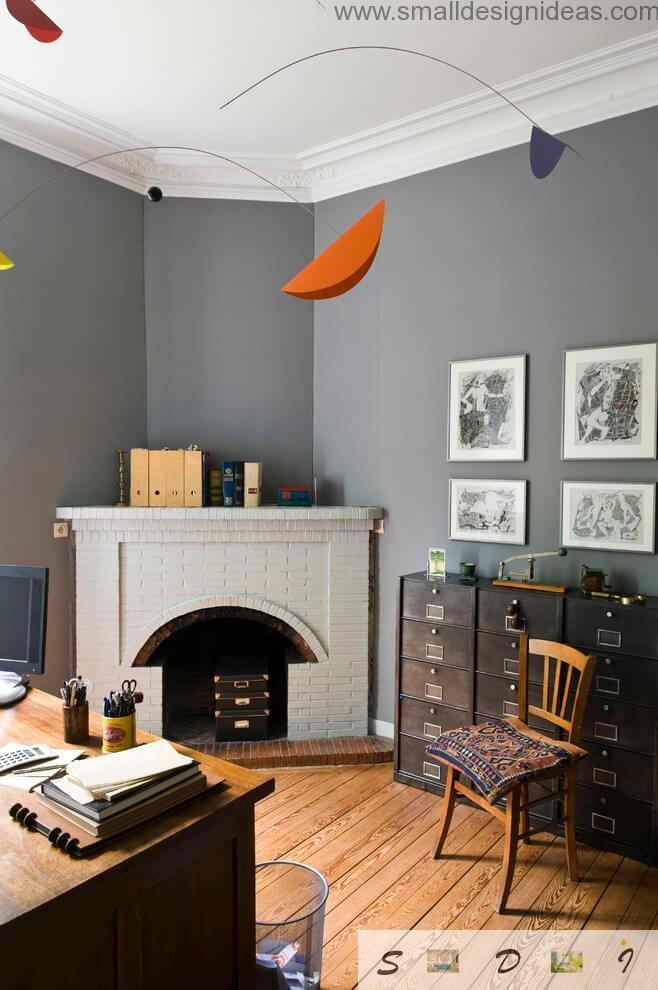 Original form of the chest as stationery low cabinet with sliding cells fine enough to fit into simply furnished study room. For the "softening" of the interior is used wooden furnishings of natural colors and textiles with a colorful ornament.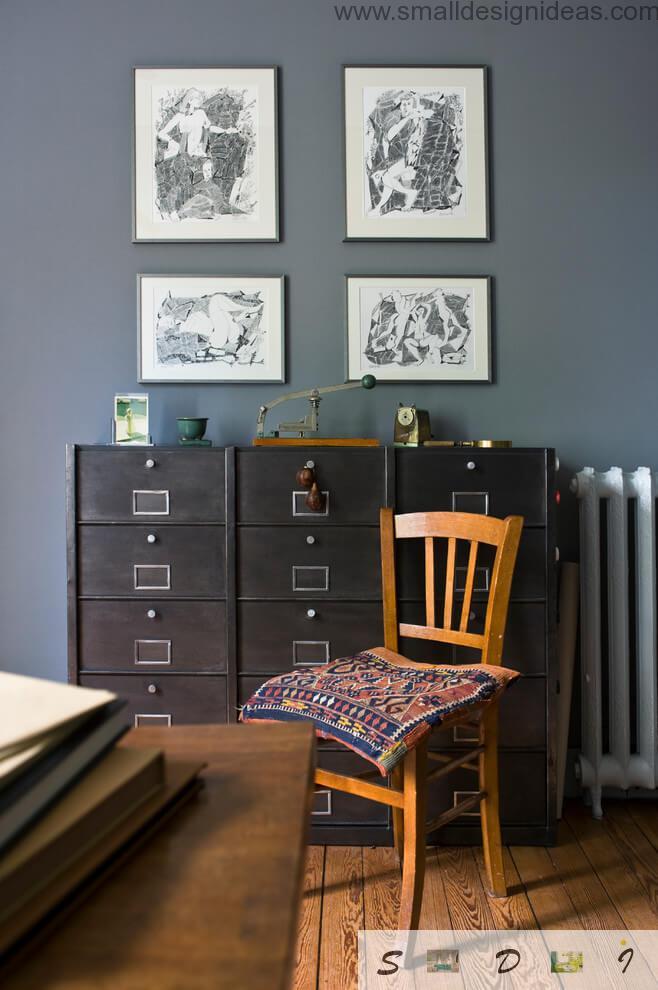 Next, we come into a bright, spacious premise of kitchen from which there is access to the backyard. It is not often can be found such design of the kitchen space in a bright, high-gloss design kitchen units in a country house. Disposition of storage, work surfaces and integrated home appliances of angular island modifications allowed to do without top-tier kitchen cabinets, thus facilitating the perception of the kitchen space, its furnishings.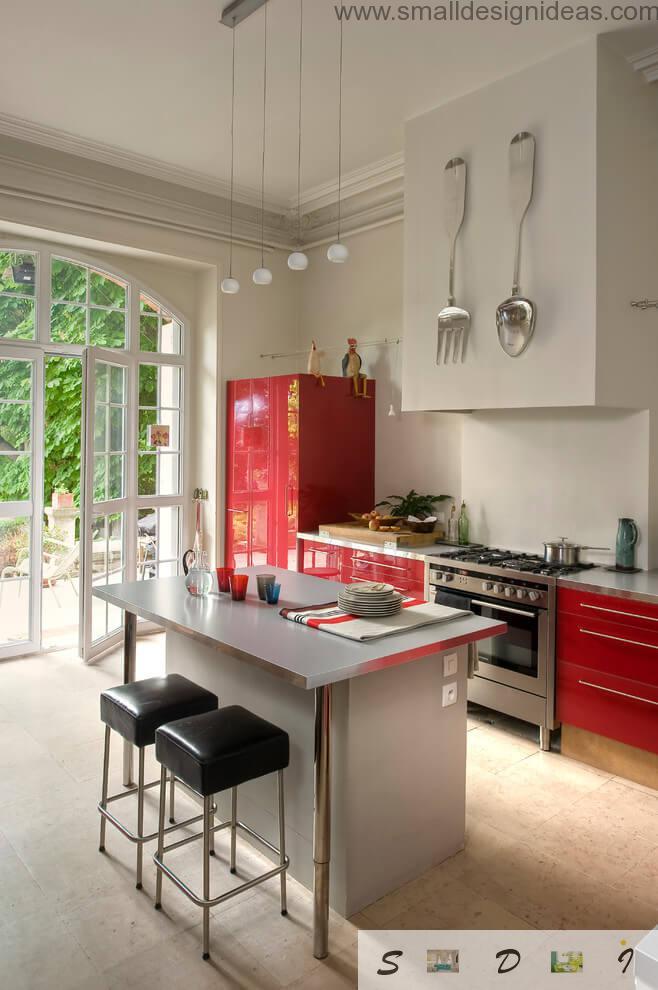 But not only bright crimson hue of glossy facades of the kitchen became a feature of the ensemble of space for cooking and food intake, but also a huge mirror in a gilt frame that decorates the surface of the sink. Many housewives are dreaming about the sink in the kitchen, located at the window, so that you can enjoy views of nature when you wash the dishes. In this kitchen you can see the back yard, reflected in a mirror.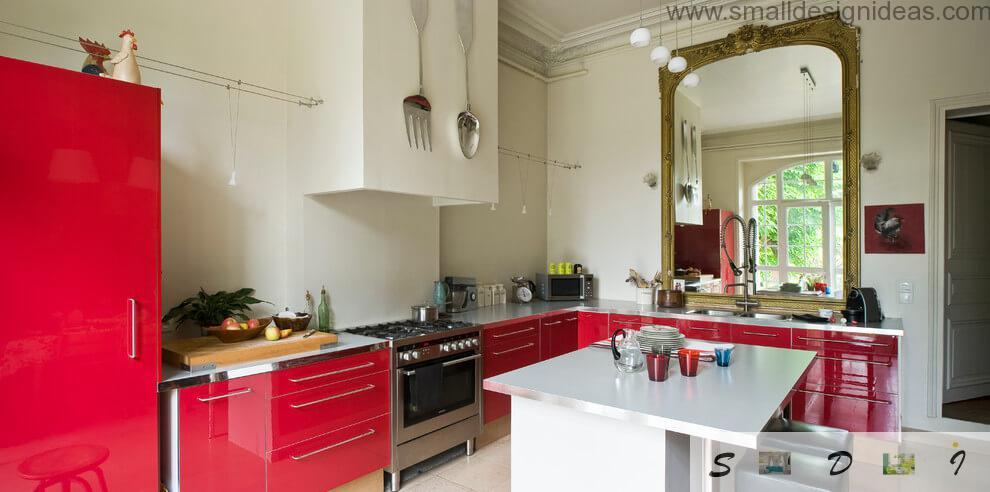 Another distinctive feature of the kitchen space had become decorative cutlery, which shiny surfaces decorate the hood, above the stove. This gloss is combined with tops made of stainless steel.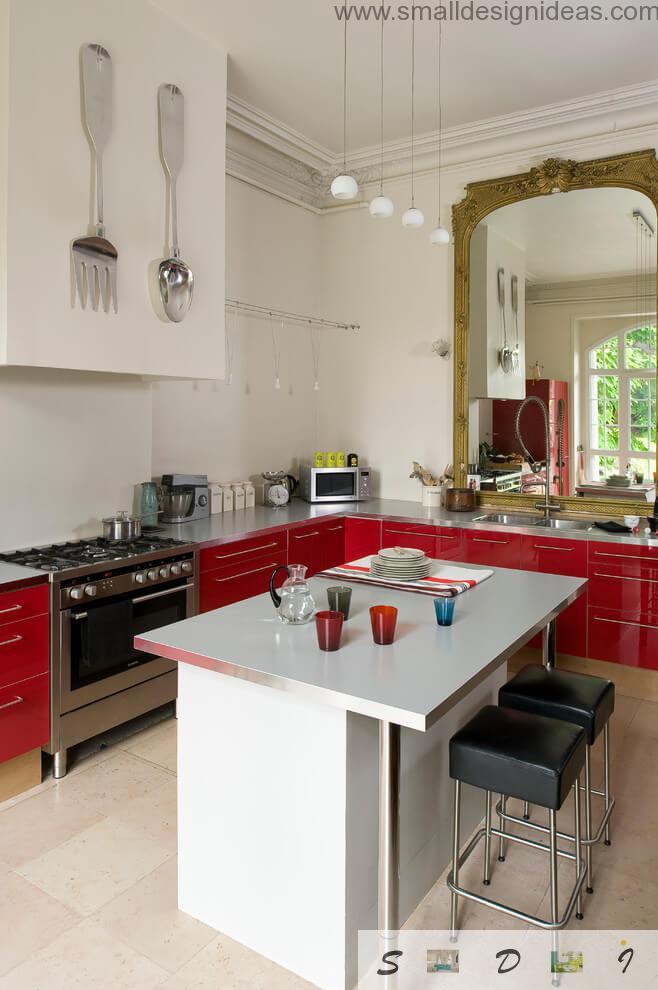 On the upper floors there are private rooms and one of them – a master bedroom. Gray-blue tone finish creates a cool atmosphere in the room. But textiles and handmade carpet "warming up" room with comfort of the rural life elements. Of course, a big bed with abundant textile decoration is not only a central piece of furniture but the focal center of the attic bedroom.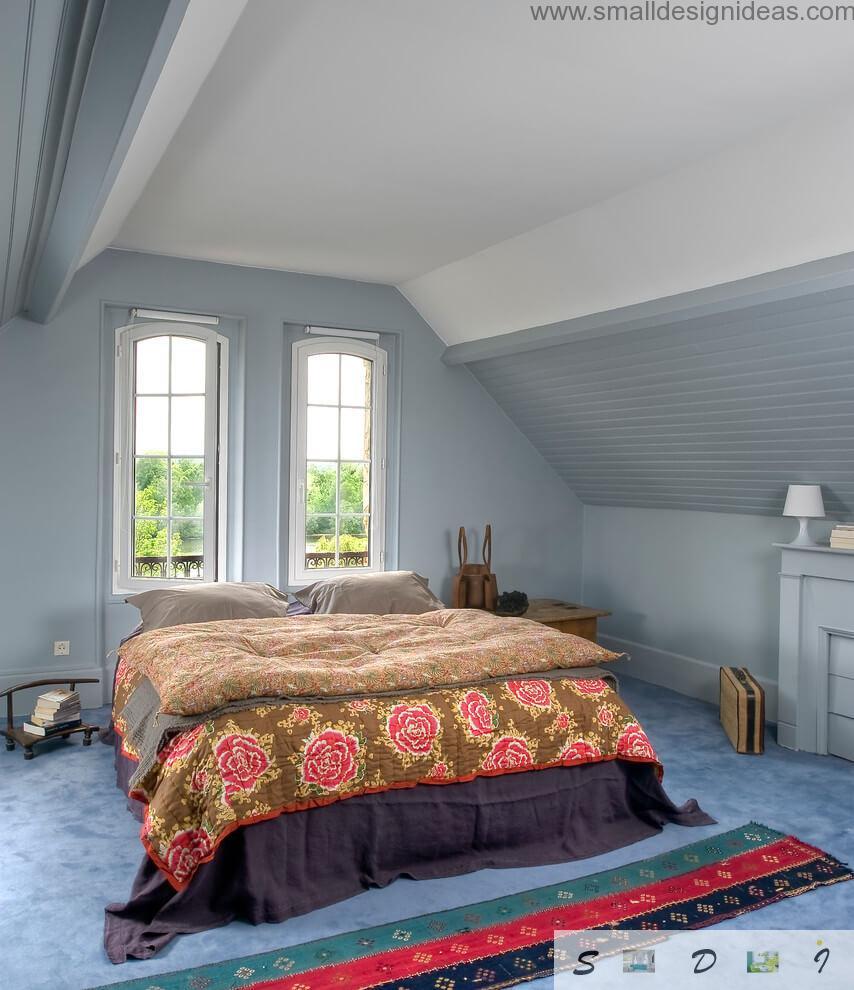 Spacious enough bathroom adjoins the bedroom. Natural colors are reflected in the decoration and the room for water procedures. Combined clearance surfaces allowed to create an interesting interior bathroom.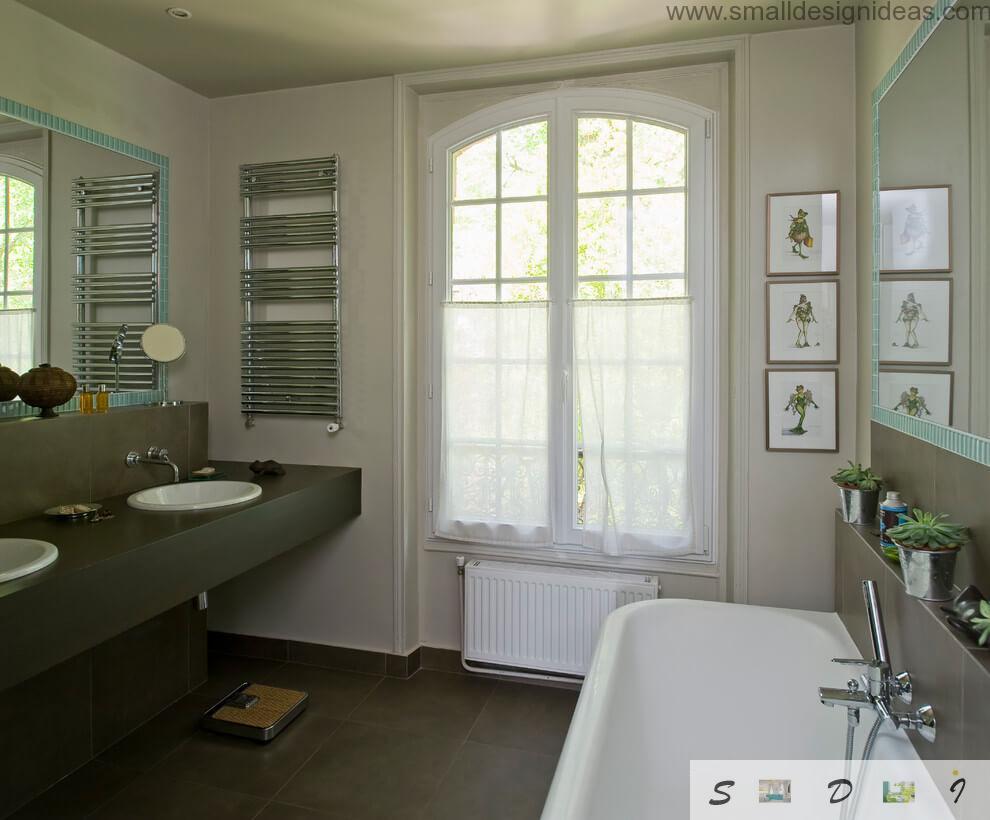 Small specks of light turquoise mosaic, used for edging mirrors, was a breath of fresh air for the bathroom decor. Even utilitarian room was a place for lovely decorative knick-knacks, and not without meanwhile functional motive.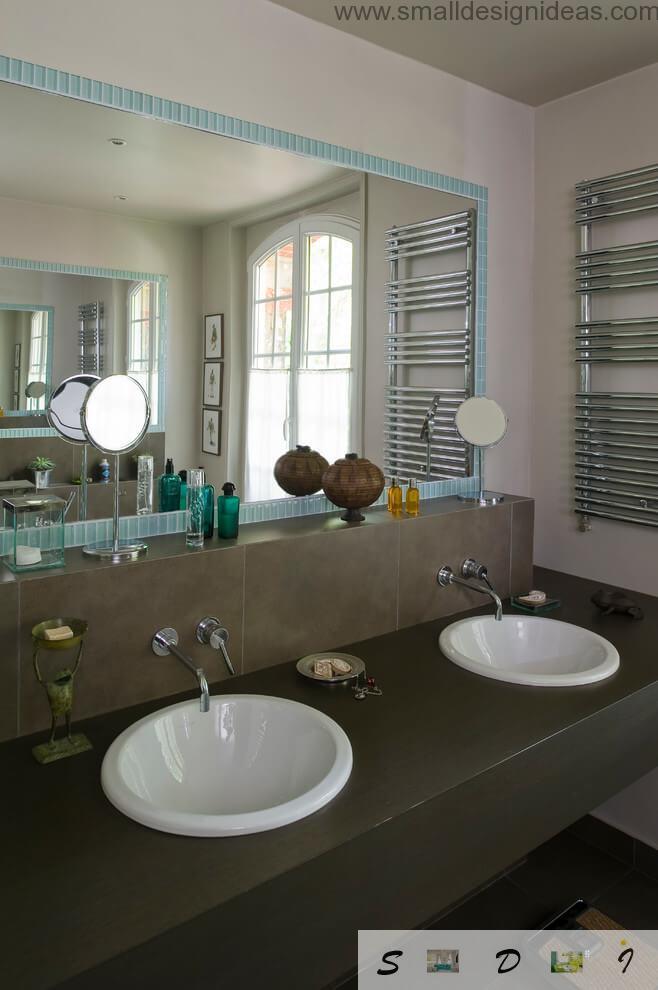 All the surfaces of shower cabin are covered with ceramic tiles which were used to warmer shades of orange-brown color group.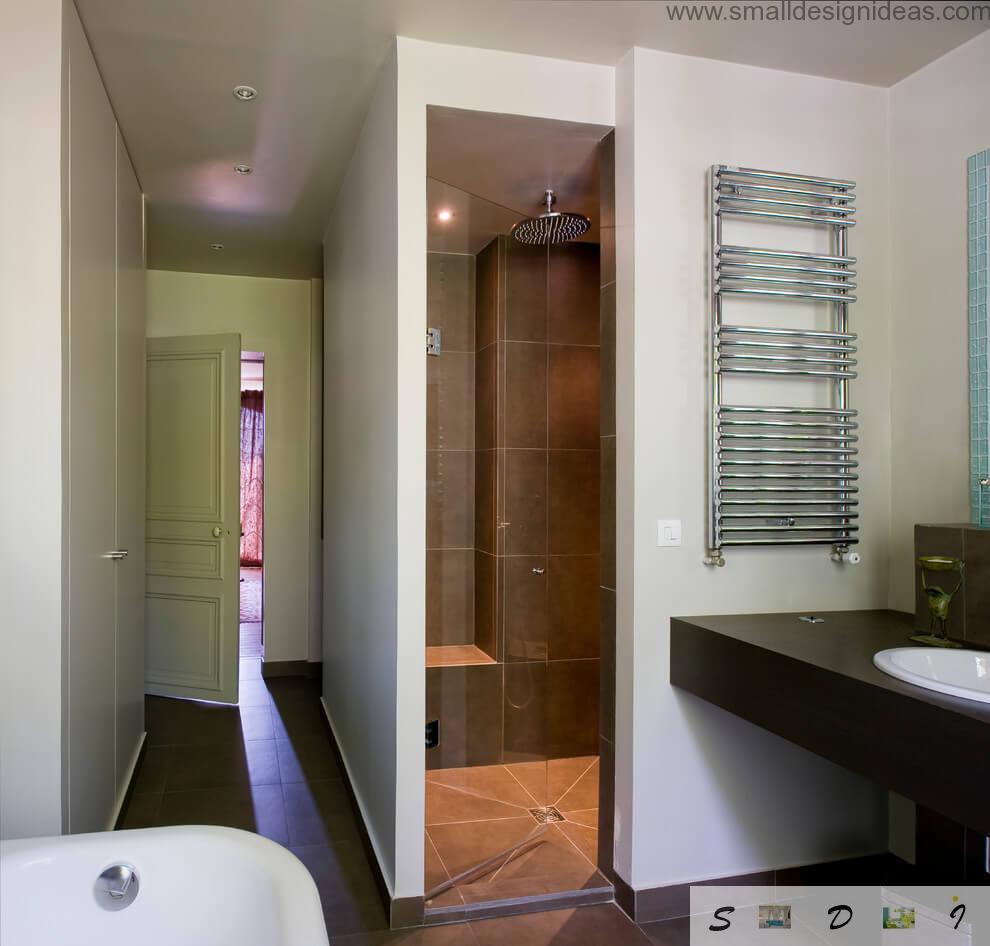 But not only in the premises of the country house there is a lot of interesting items of furniture and decor. Country house also has a lot to see in the local area. Agree, it would be strange to have an opportunity to organize a dining area in the open air and not to use it. That is why there is wooden garden furniture in the backyard that can serve as a dining area group or relaxing zone outdoors.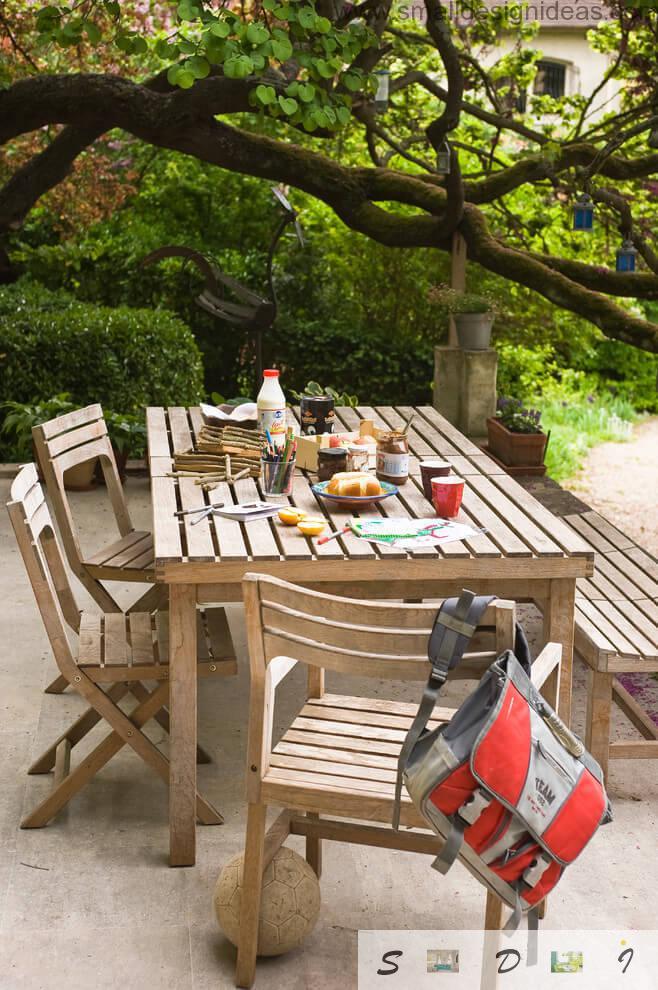 What could be better than a meal in the open air, surrounded by green plants, flowers and pleasant scents of nature?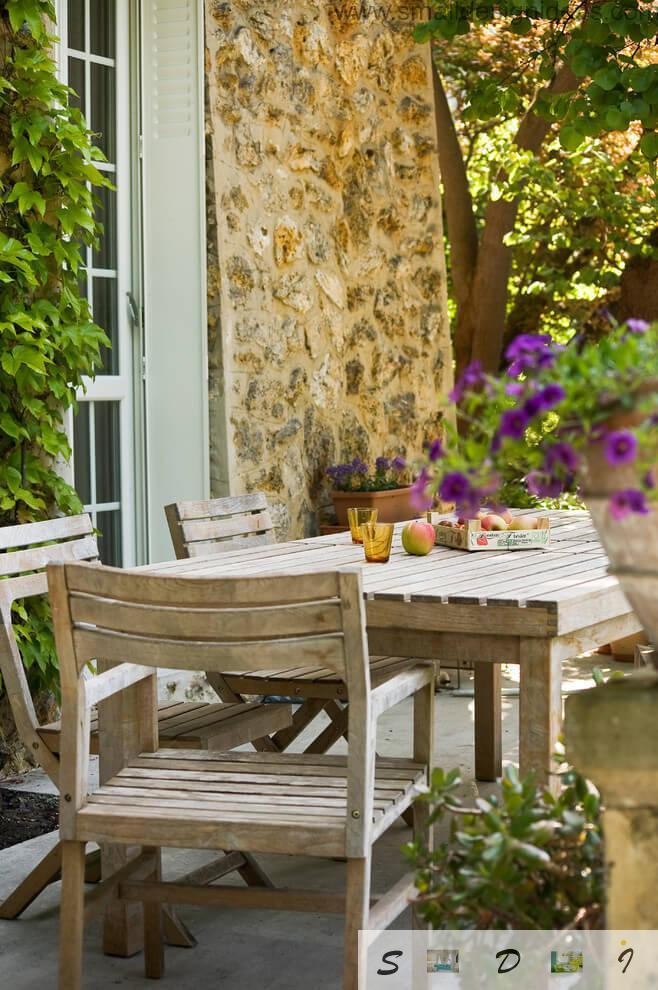 Perhaps the best that can only be an opportunity to have breakfast homemade omelet with eggs from your own chickens strolling in the absolute freedom through the territory of a country homeownership.