Many publications on our website was devoted to trends of bedroom interior design. It is not surprising that to this closed from prying eyes room all homeowners pay most thorough attention. This is a room for rest and relaxation, the comfortable solitude and recuperation. That`s why development of the design project of a bedroom is so intimate and highly personal matter. We are ready to repersent some trendy bright design ideas of the light bedrooms.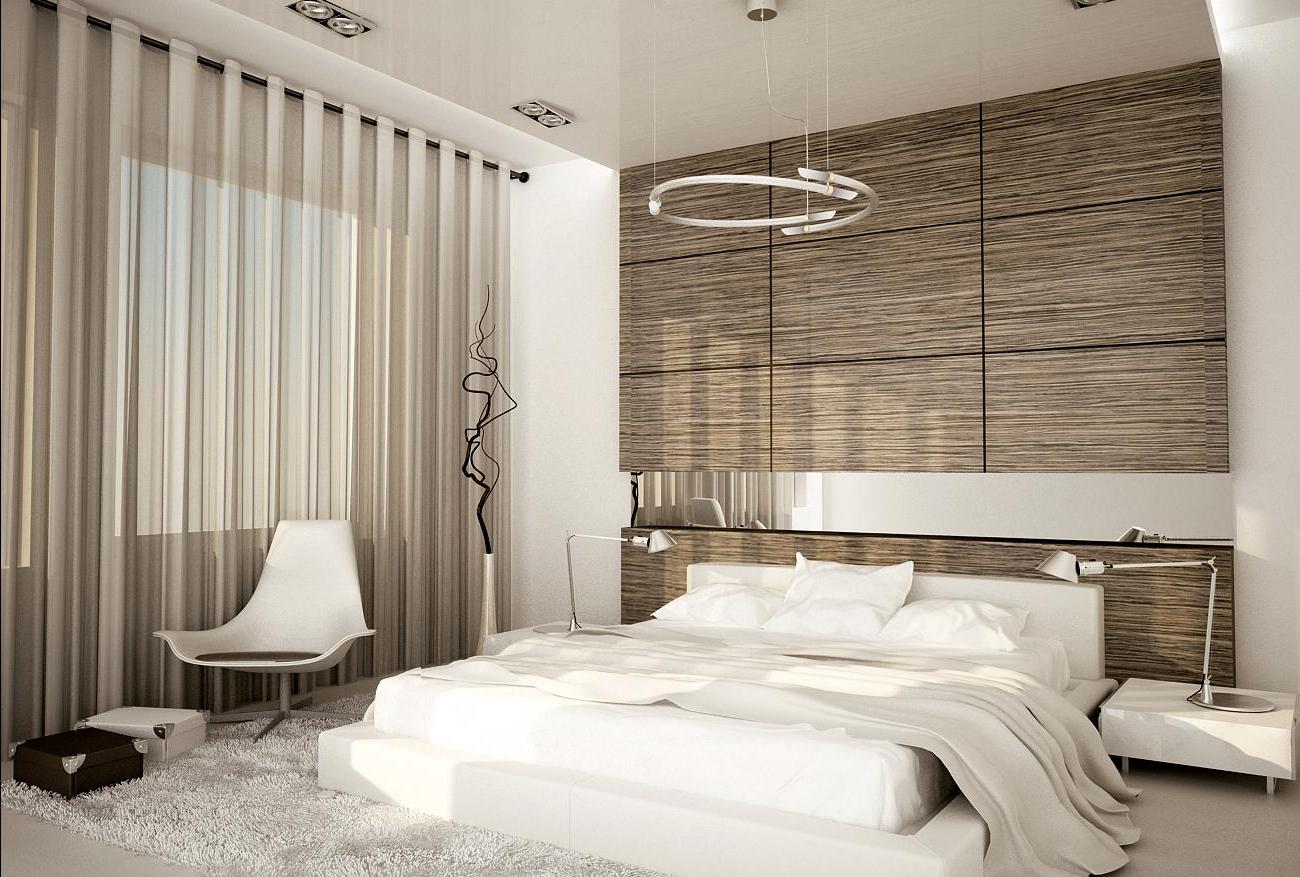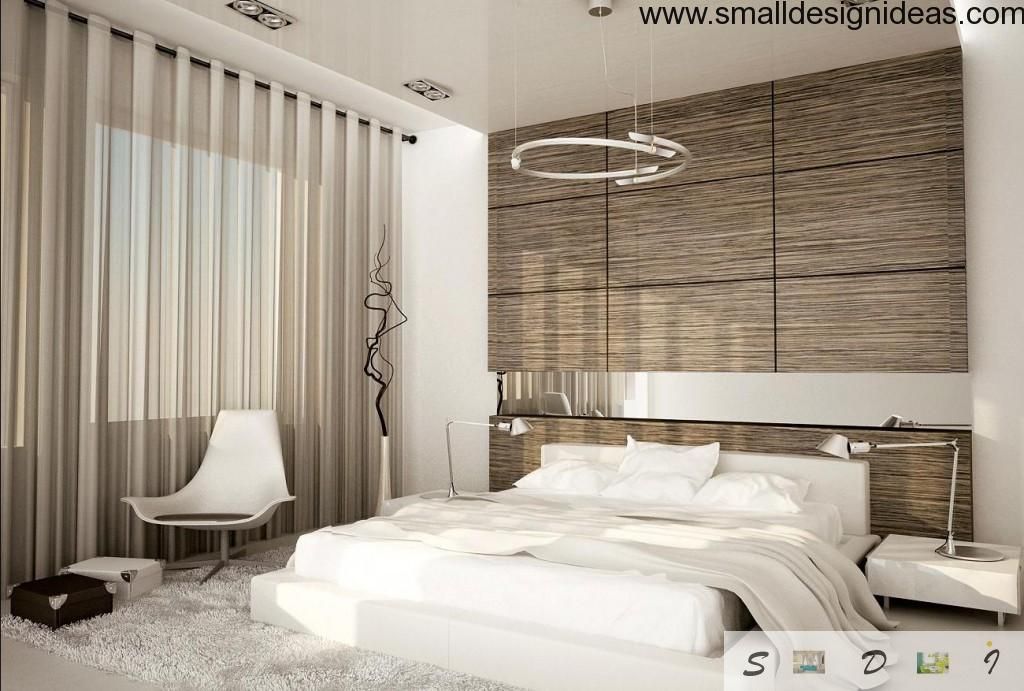 It can be difficult to determine the style or color palette of one of the most important rooms in the house or apartment. And there no need to talk about the diversity of options for furniture, textiles and decor. Our experts have picked up more than fifty interior designs of bedrooms of different sizes, stylistic trends and their mixing, ready to inspire the creation of your unique image of the room for sleeping and more.


The white illusion – bedroom in light colors
There is no color which can elevate the interior of the room, make space visually larger and more spacious, give such purity and festivity as white color. Almost all shades of white are widely used by designers for use in surface finishing of bedrooms, furniture and textiles, as well as decorative items and accessories. But totally white room can create too cold and sterile impression of hospital, therefore it is important to place the color accents correctly, add some contrast with the help of colorful elements.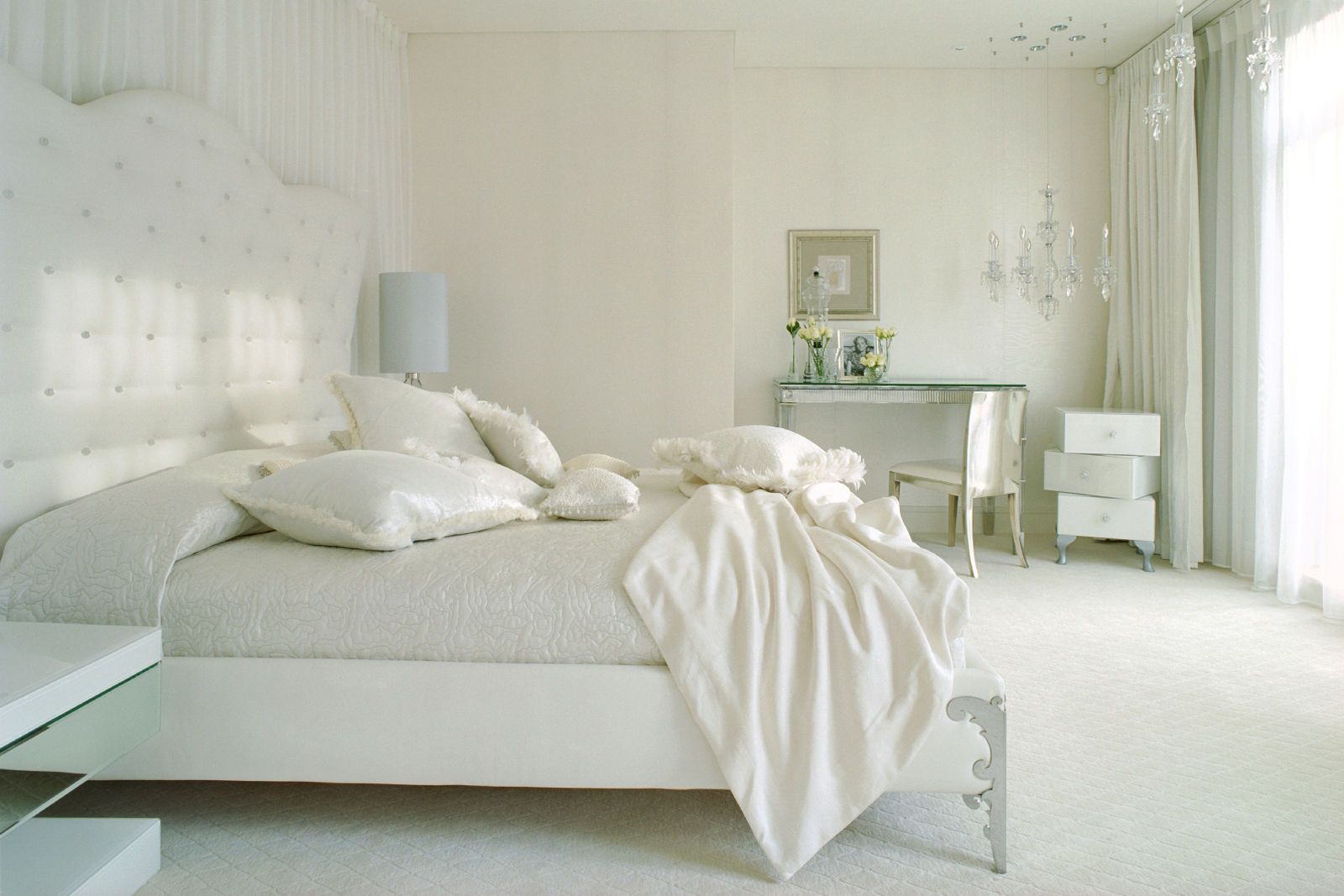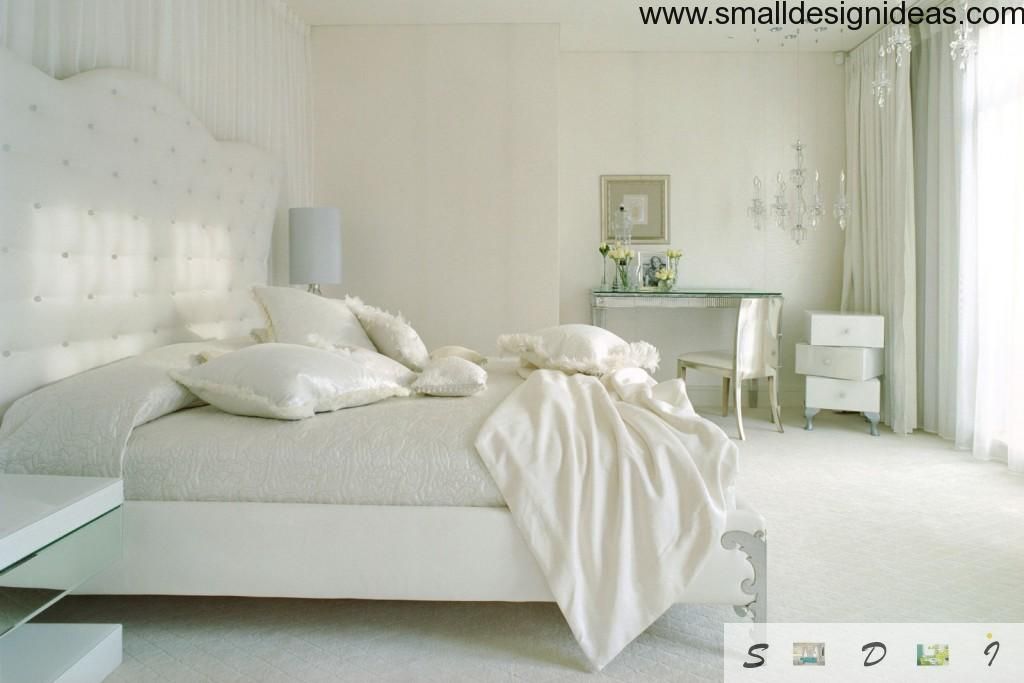 Traditional light bedrooms diluted with bright spots of twisted furniture and floral print textiles, which gives its almost classical style a touch of French Provence.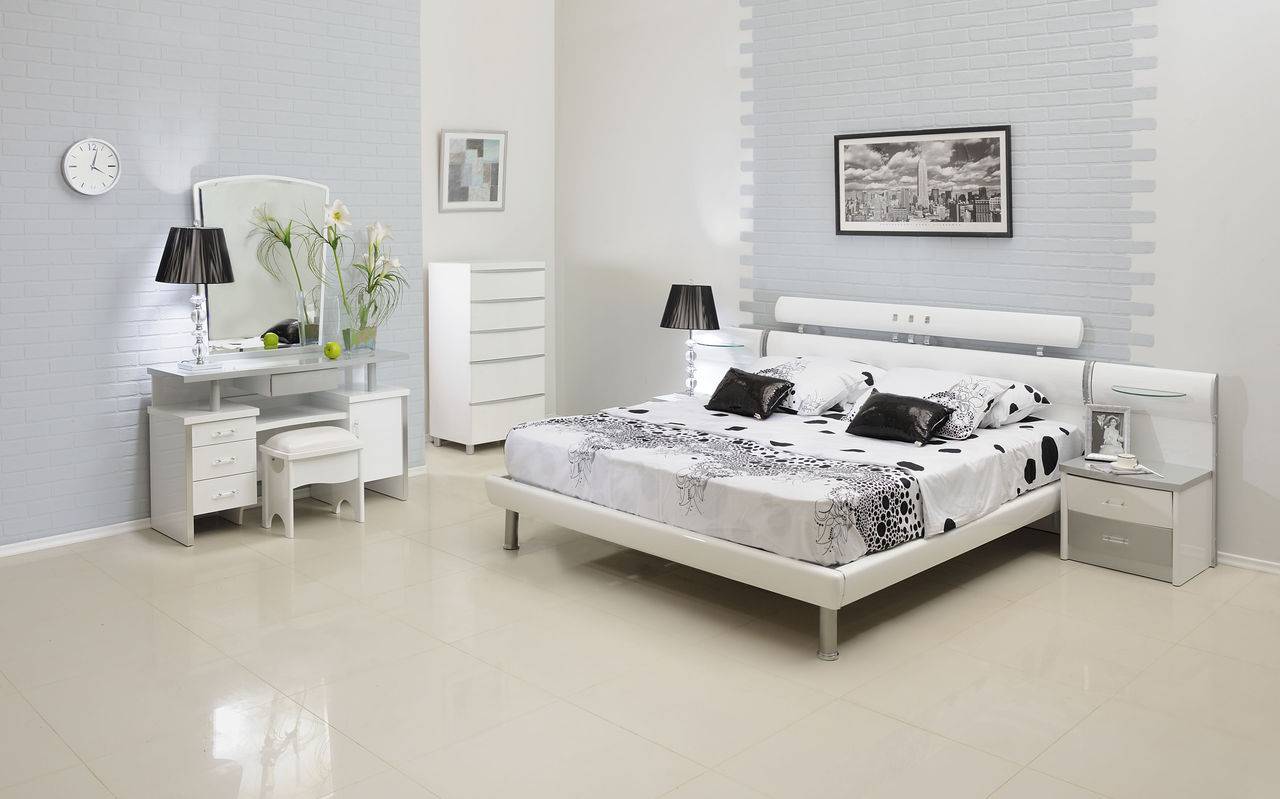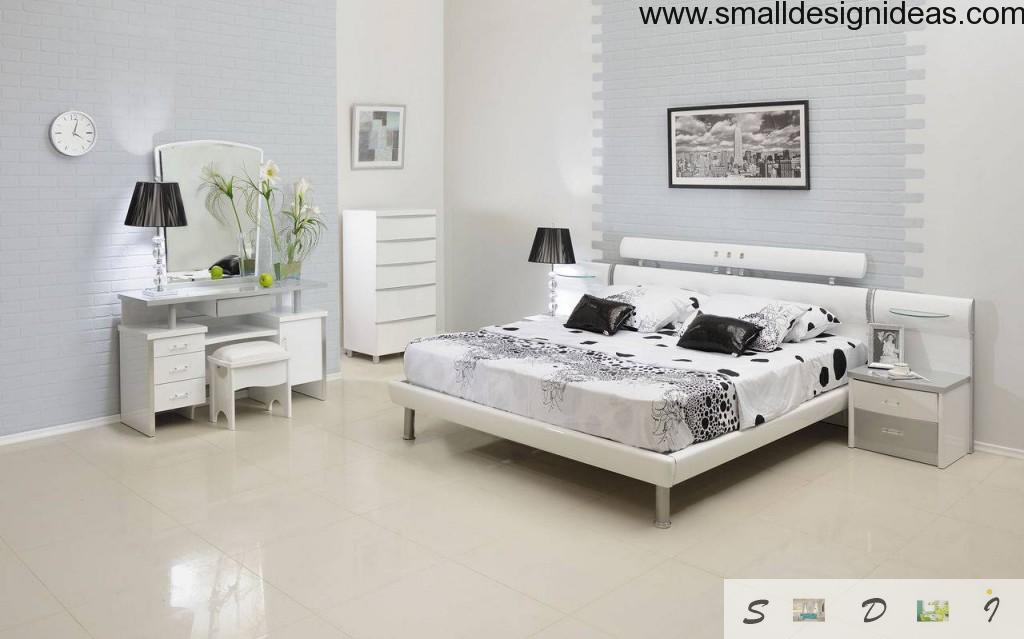 The snow white surface of the bedrooms are working on the contrast with the dark shades of headboards and frames for photos.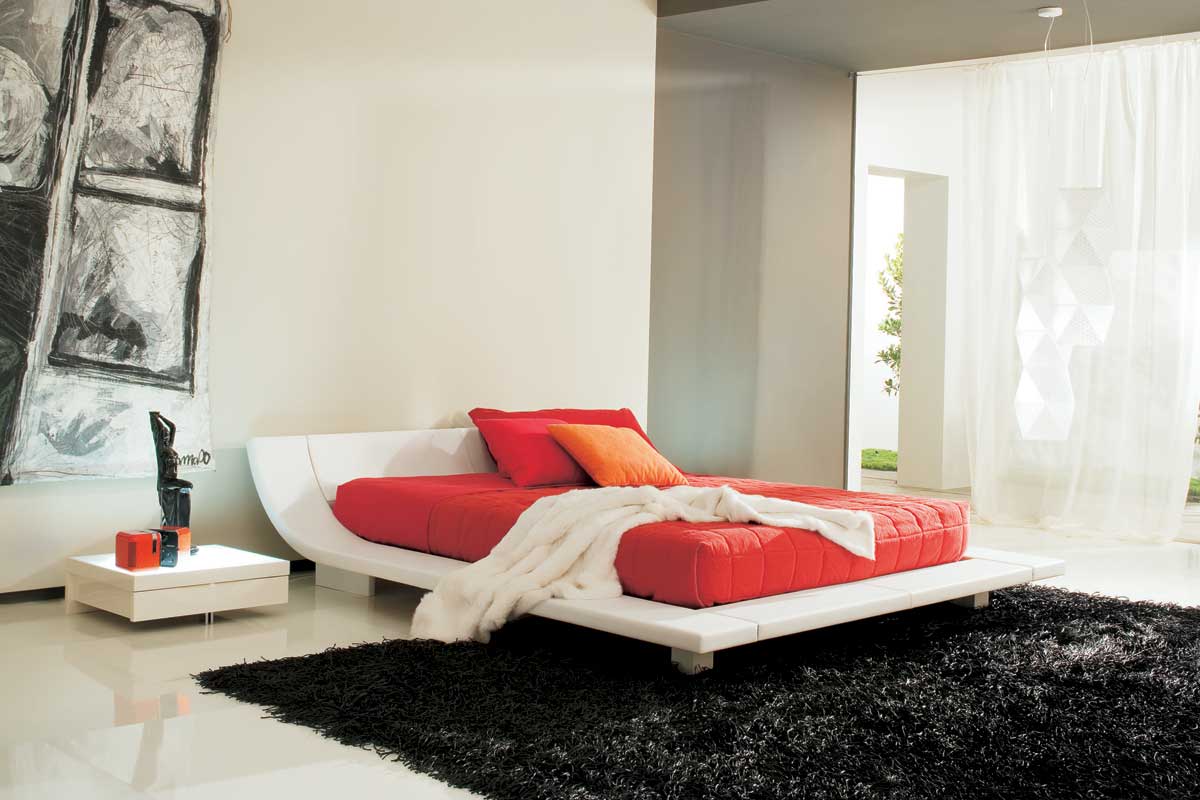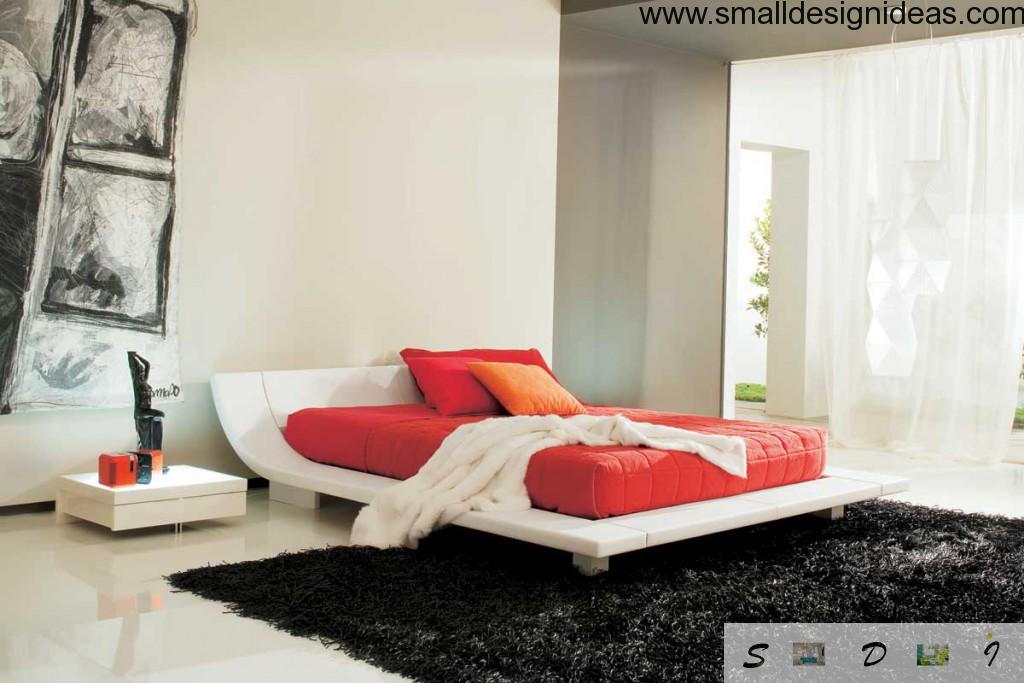 Interior of these bright bedrooms pays tribute to Scandinavian style, which respects the combination of white color with bright textiles in interior decoration.
Bright bedroom can reconcile the presence of elements of country-style, reflected in the furniture and decor.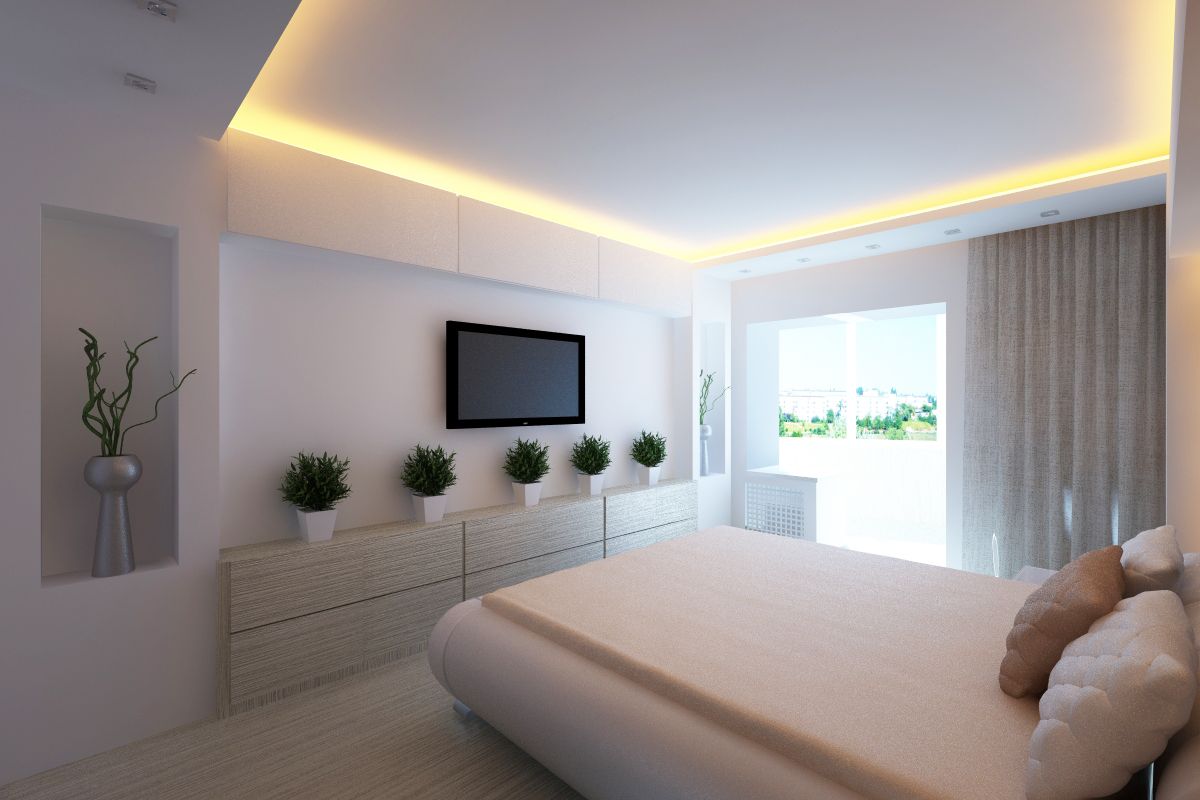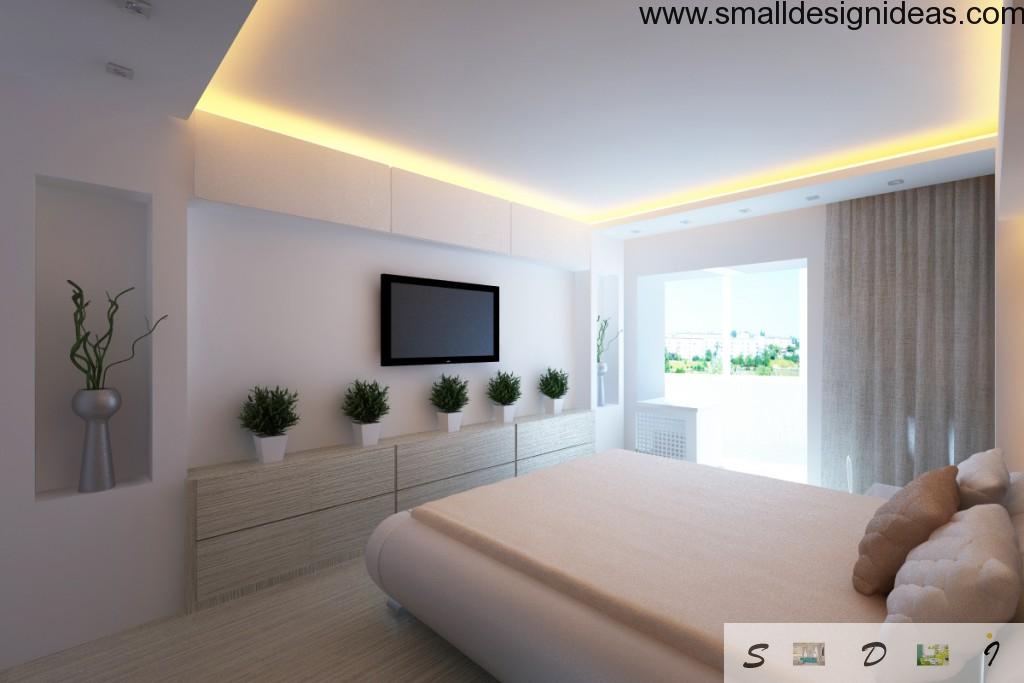 It is difficult to classify the interior of the bedroom to any style. Unambiguously, that all elements of the interior looks organically and create a cozy atmosphere for relaxation.
These rooms cannot be called "snowy", despite the use of this particular shade in finishing of virtually every surface. Bright elements of textiles, furniture and decor are so active that compel attention to themselves.
Only two or three colors in contrast with each other are enough to create an interesting and not boring bedroom interior for relaxation and recreation.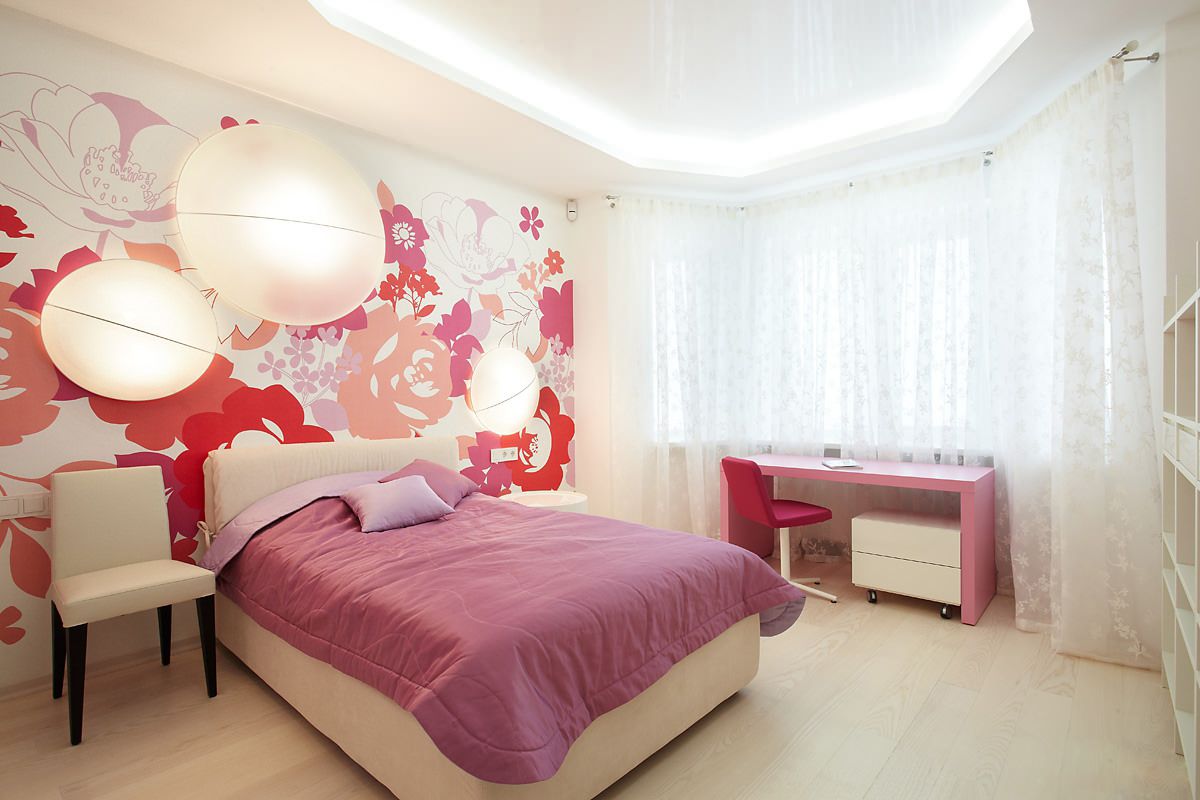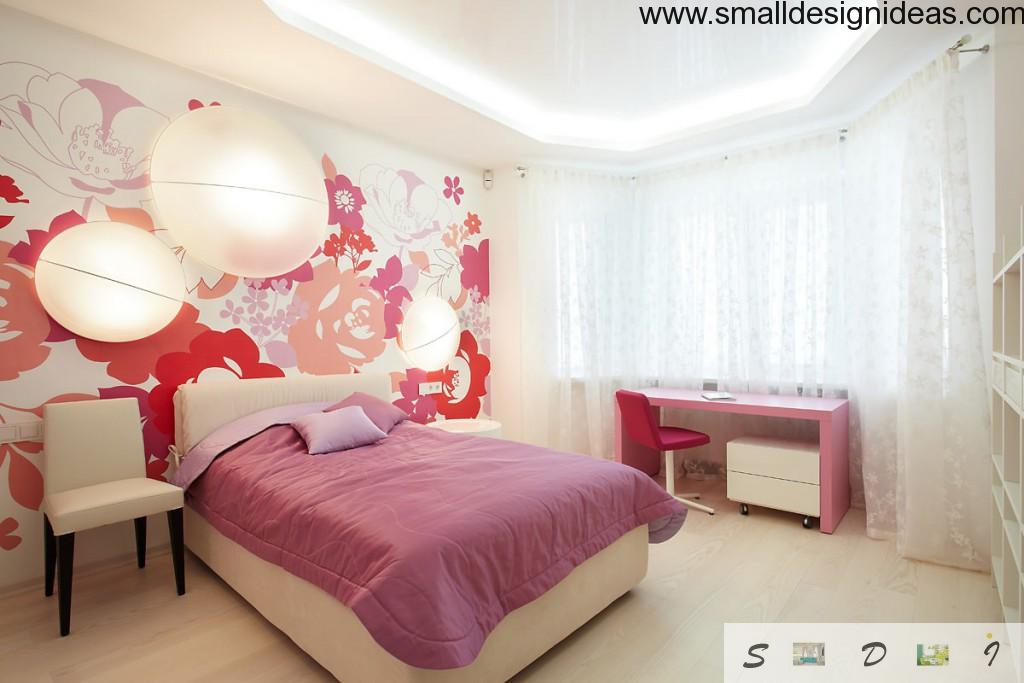 This little light bedroom with a bed for one, makes an easy hint at oriental style in the interior. Decorative elements are in harmony with gorgeous views of nature from the window.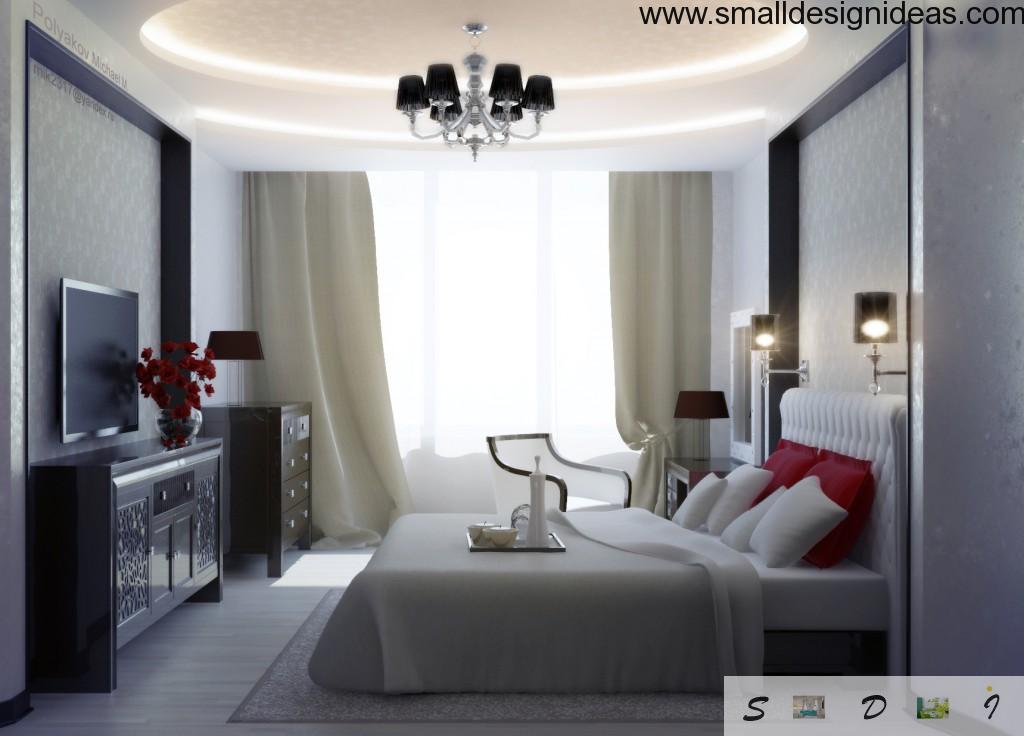 Game of contrasts most clearly reflected in the interior of the spacious bedroom. The skillful combination of not only opposing colors, but different prints in textiles, upholstery and floor coverings, has created an interesting character of the room.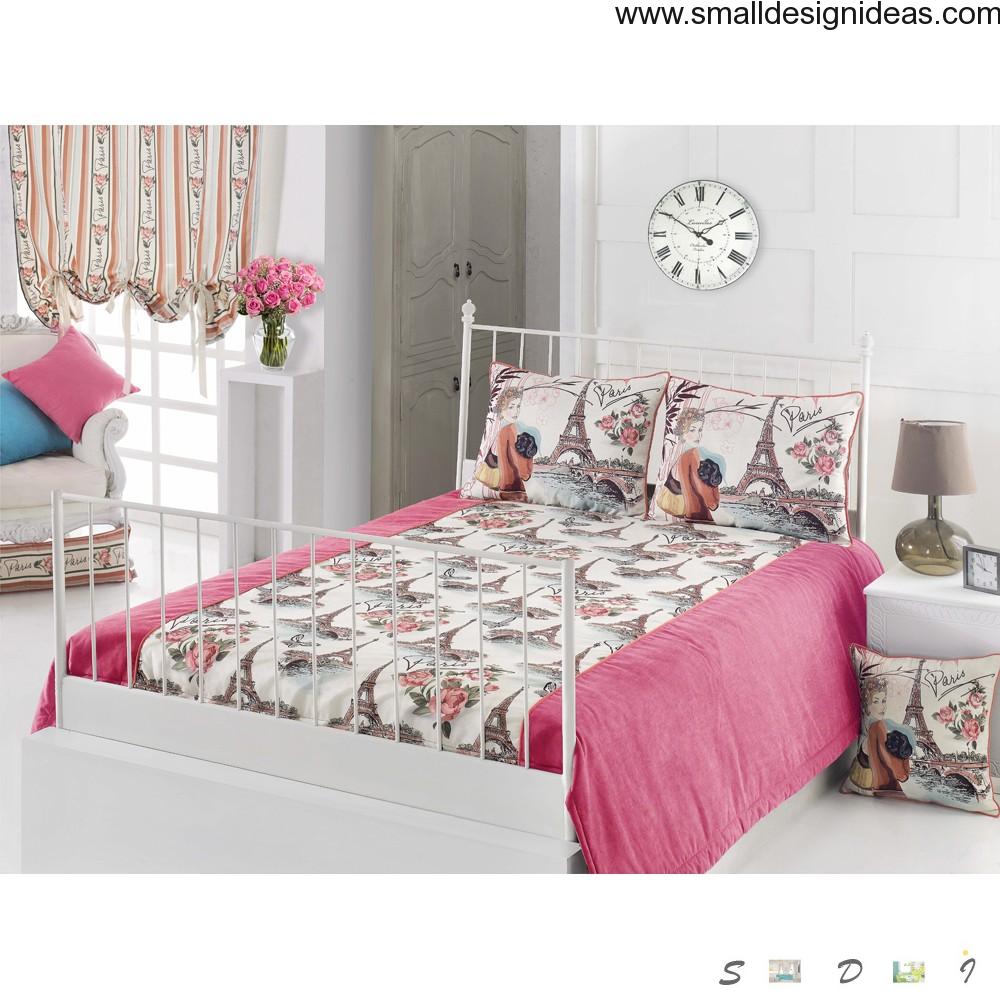 Just a couple of bright decor elements and active color bedspreads can give to the faceless room its special mood and dynamics.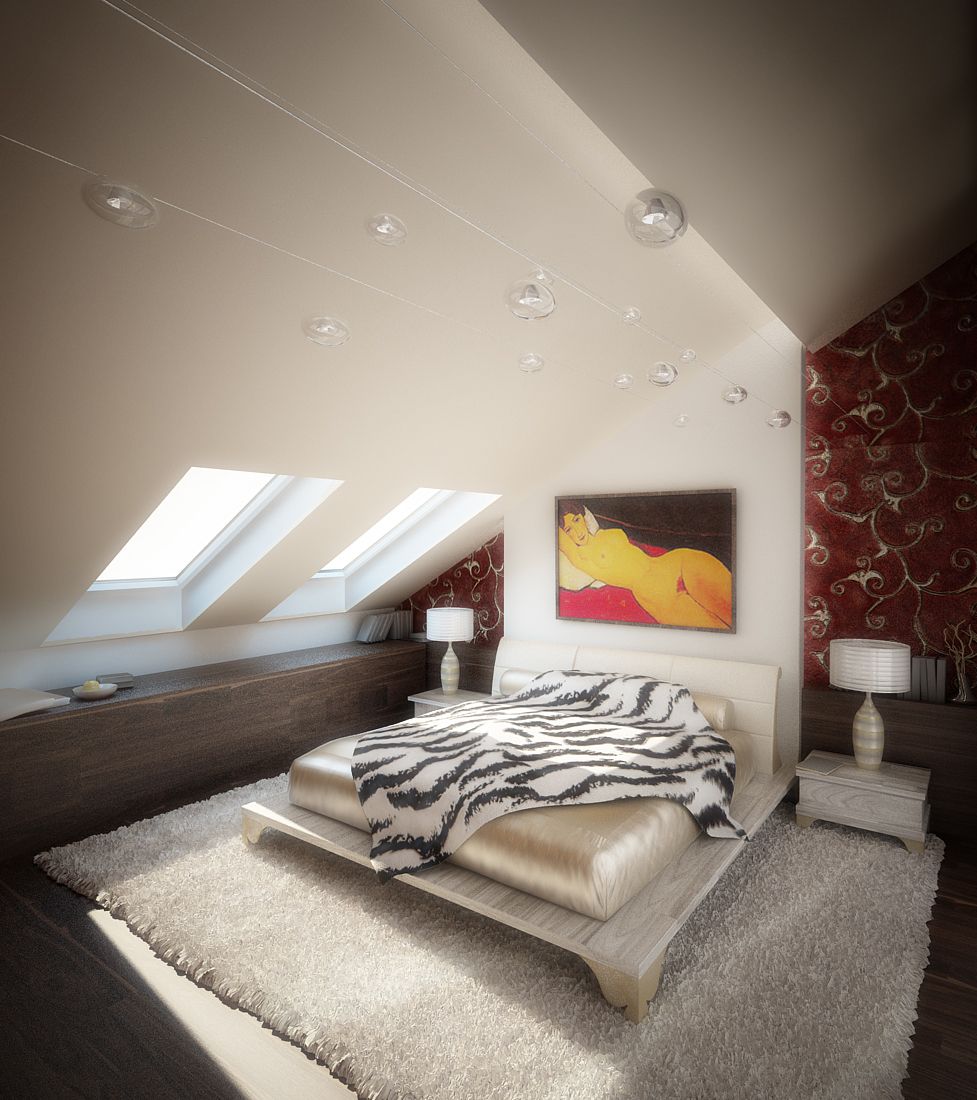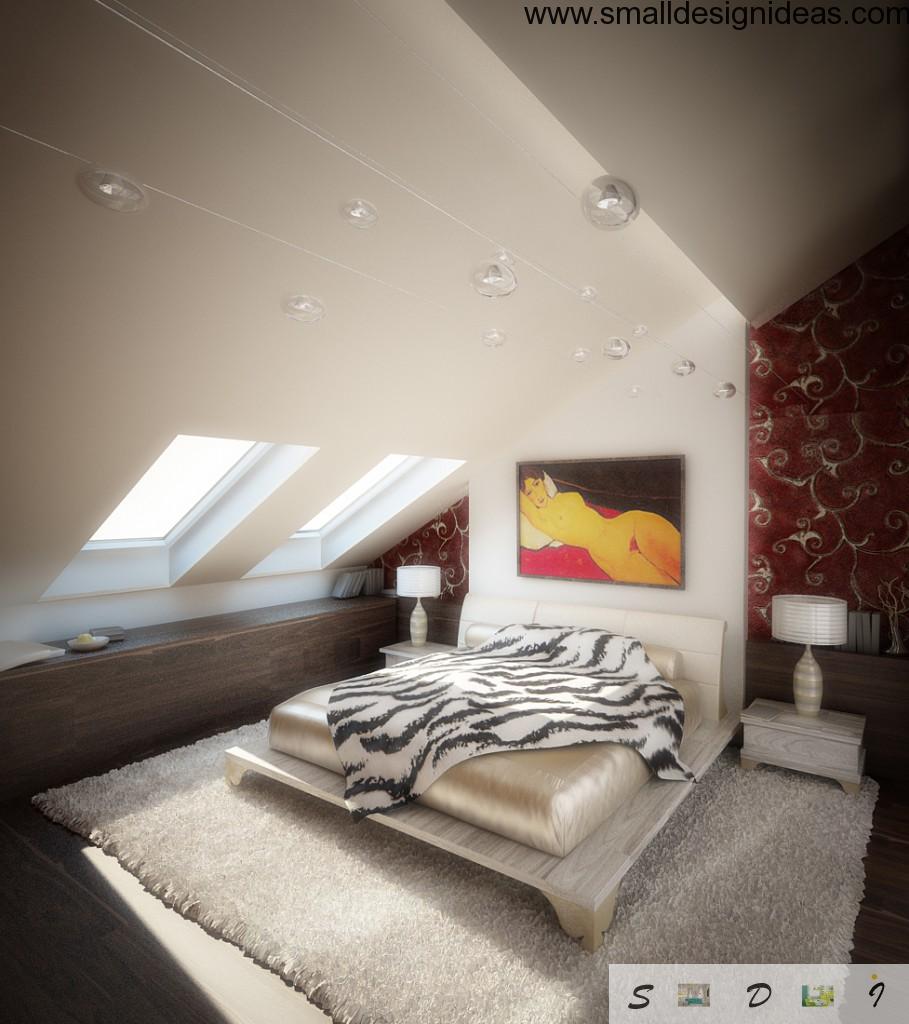 For asymmetric and attic spaces light colors never better suits for surface finishing of bedrooms. After all, such rooms need special attention to the visual expansion of the area and alignment of its asymmetry.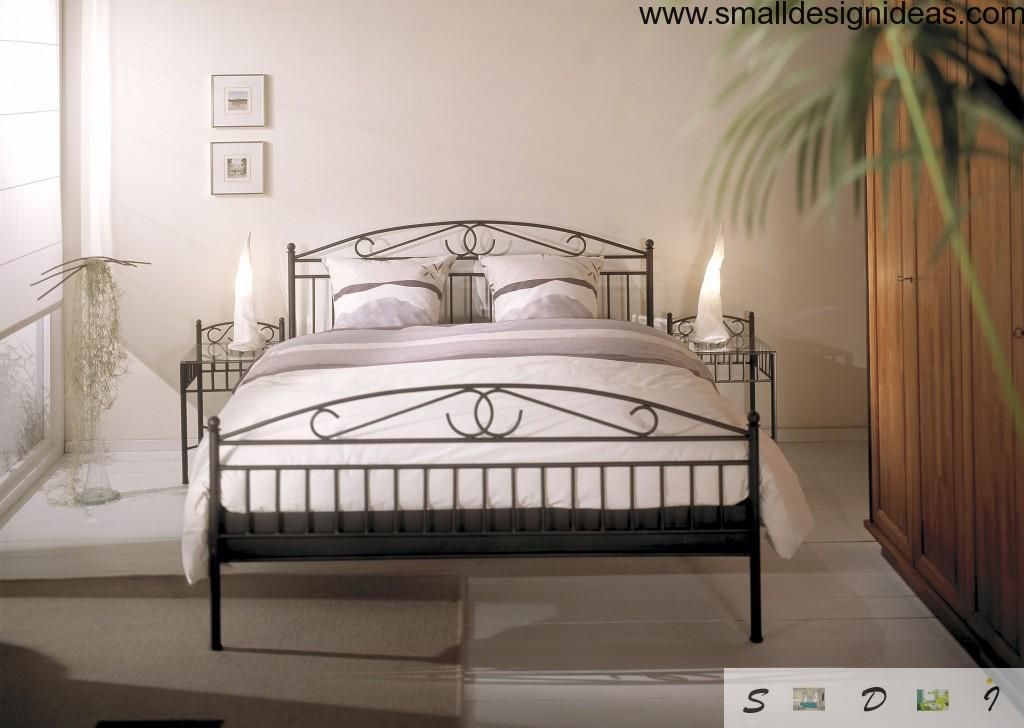 Surprisingly harmoniously this bright room receives a combination of dark forged elements, treated and raw wood and almost black shades of furniture.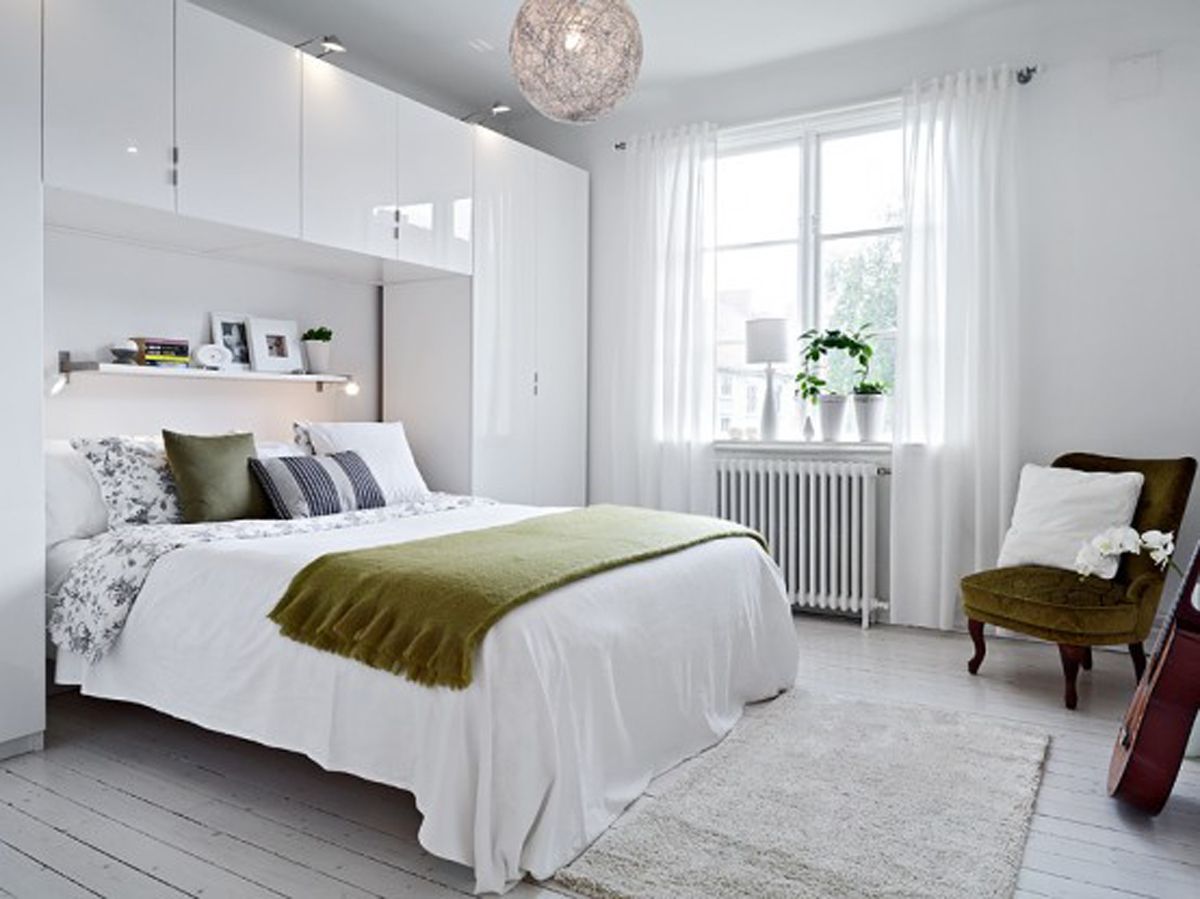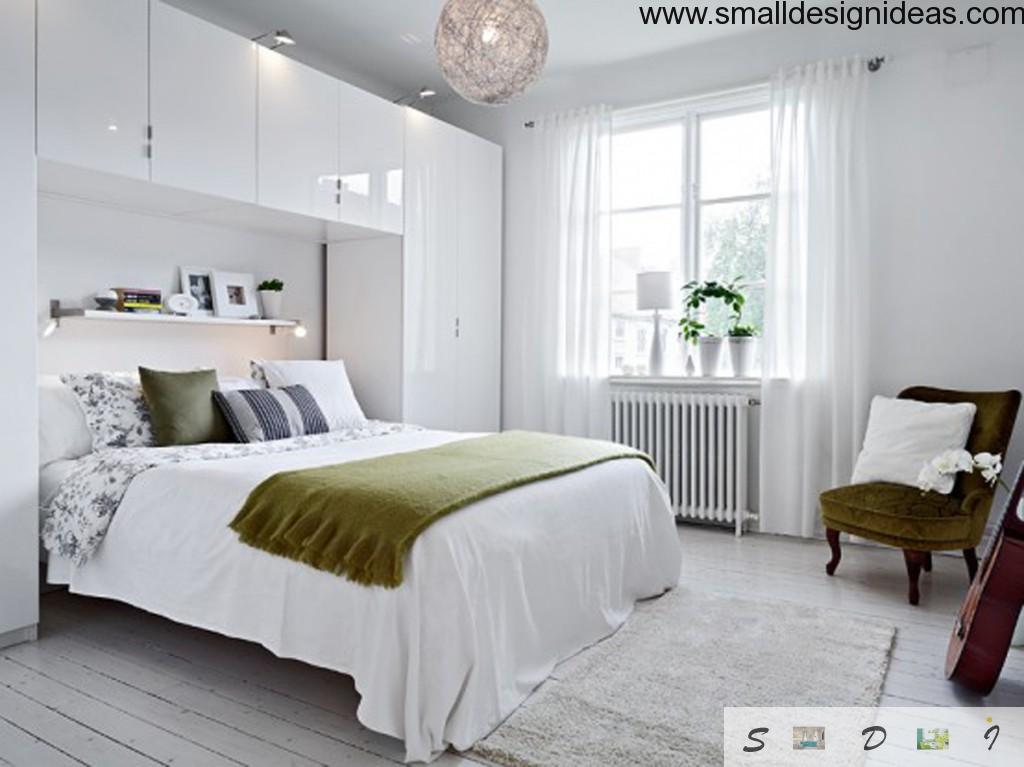 And this one does not seem a snow white bedroom, despite the finish, because of the deep gray built-in heating system and active tone of wood, which carved bed is made of.
Bright and comfortable bedroom is a reality
For lovers of bold colors and striking contrasts, we picked up some really interesting bedroom designs in a variety of colors.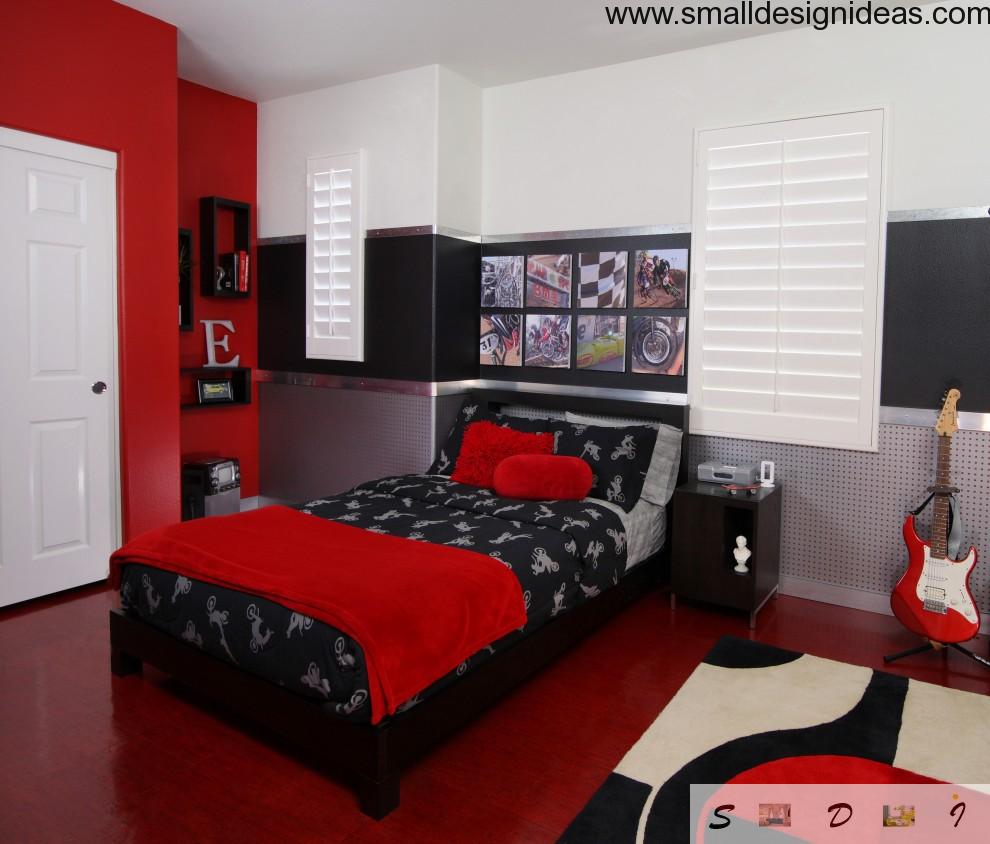 Despite strong red wall background with a print from an absolutely black bedside table lamps for bright textiles and active colors, bedroom interior does not look flashy. Bright finish surfaces and flooring neutral wood tones "soothe" the appearance of the room.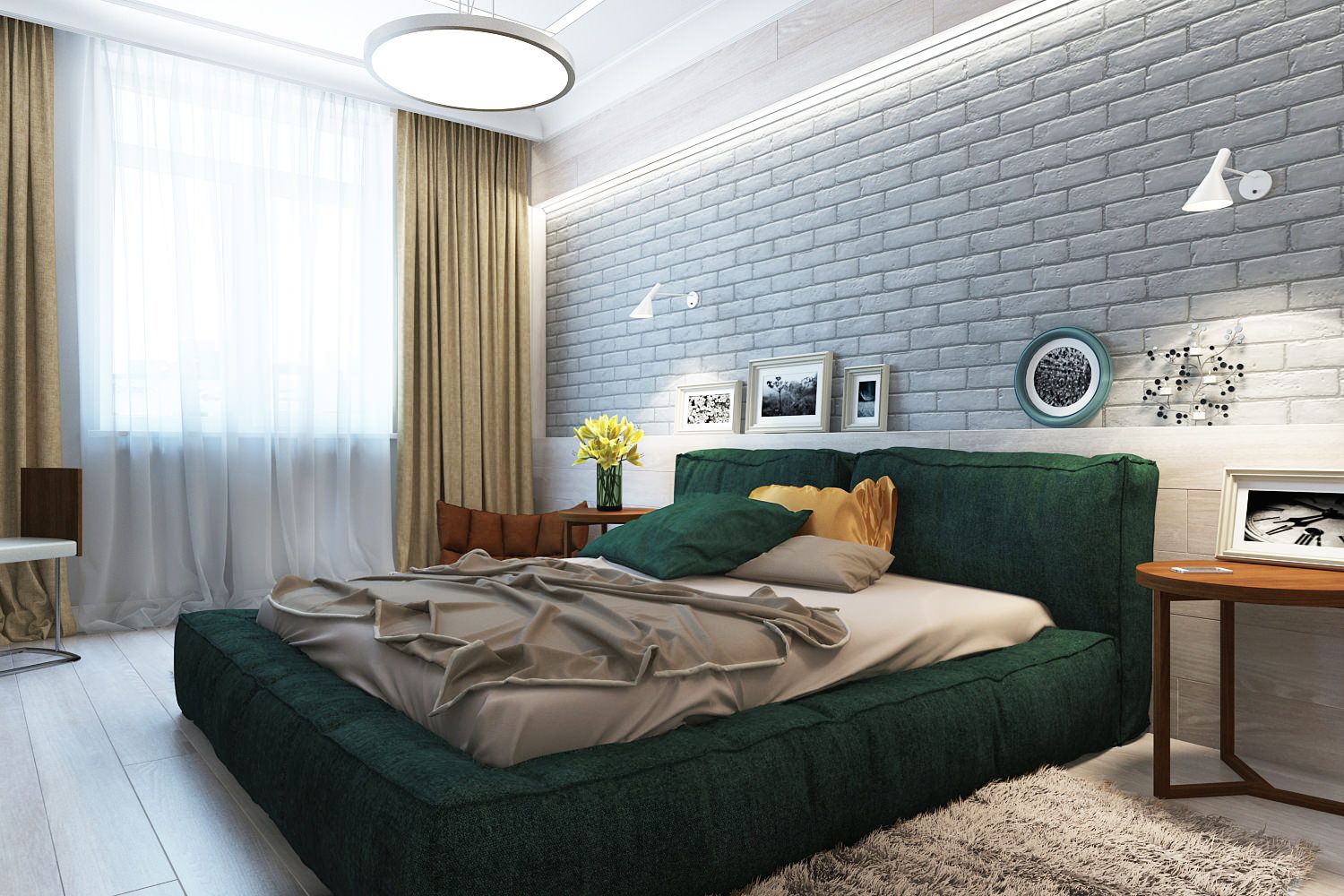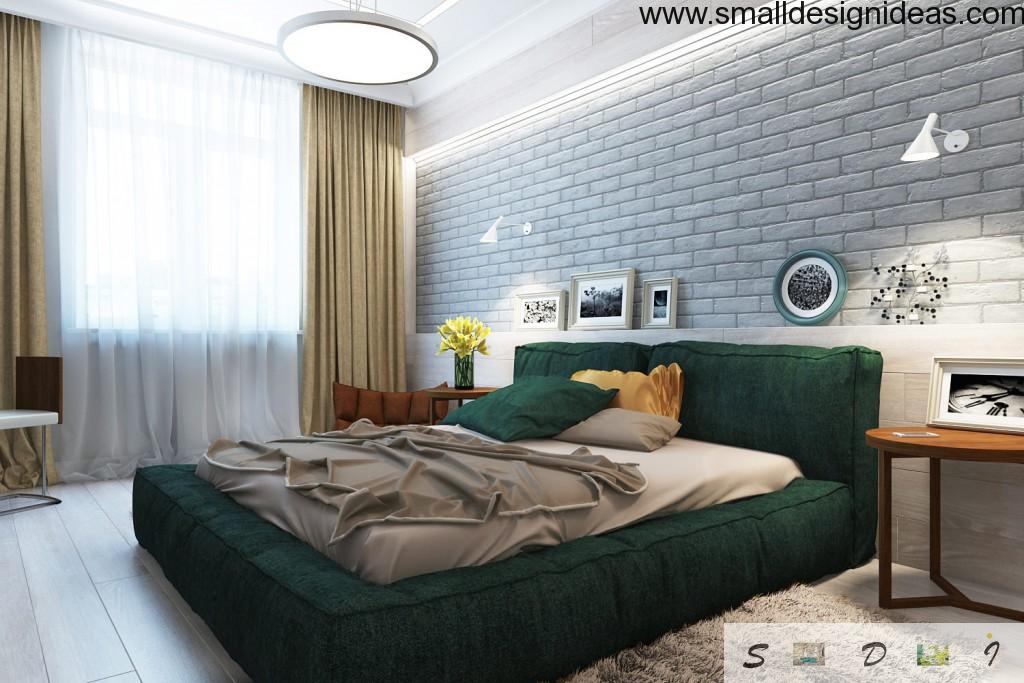 Even with white-gray finish, bedroom looks very bright, thanks to extensive use of decoration and bright printed textiles.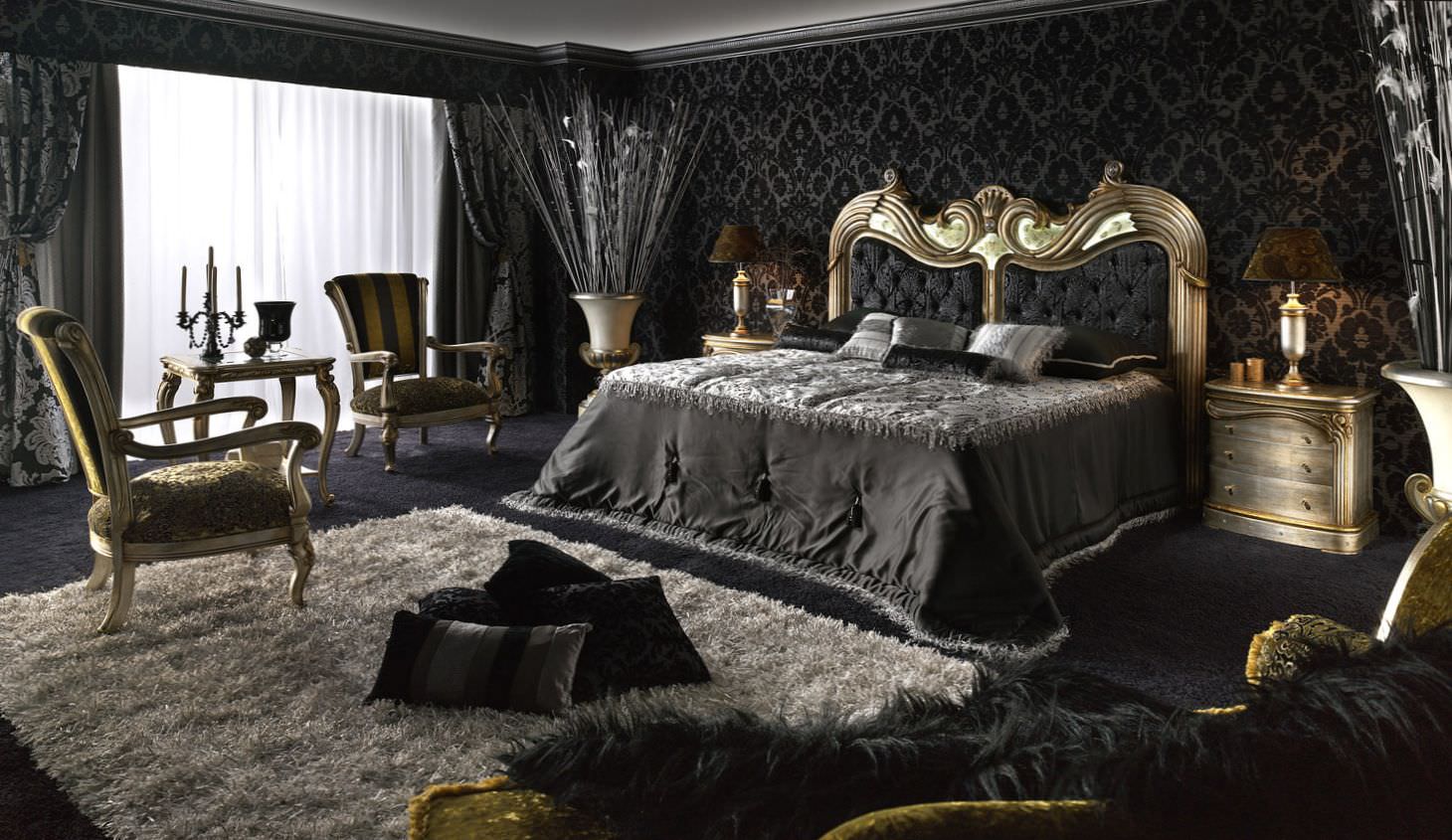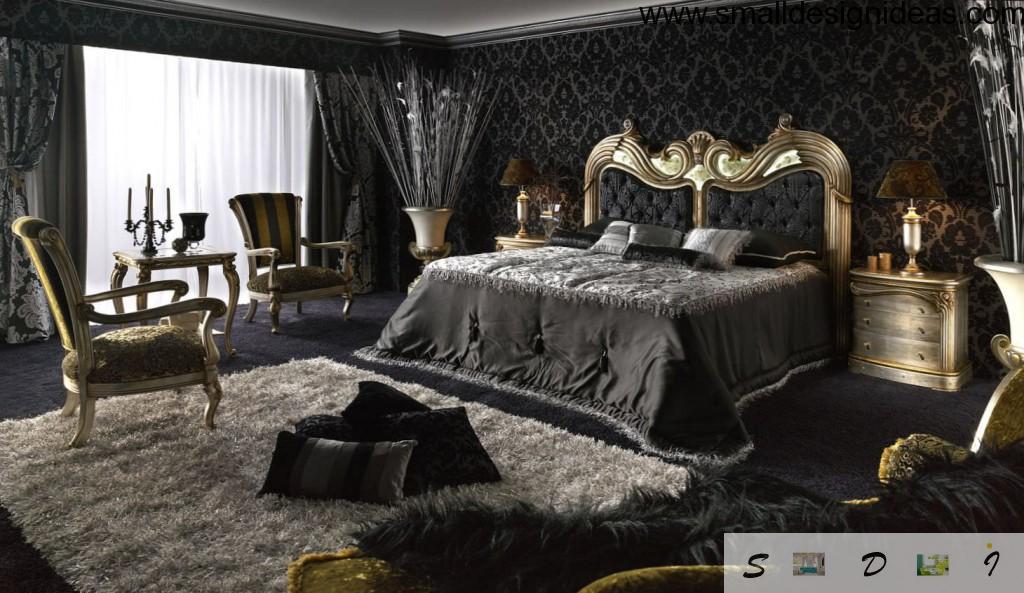 Difficult to find even more stunning combination than gold wicker headboard monogram against the background of absolutely black wall. Bright pillows and decorative elements make general mood of the room more positive.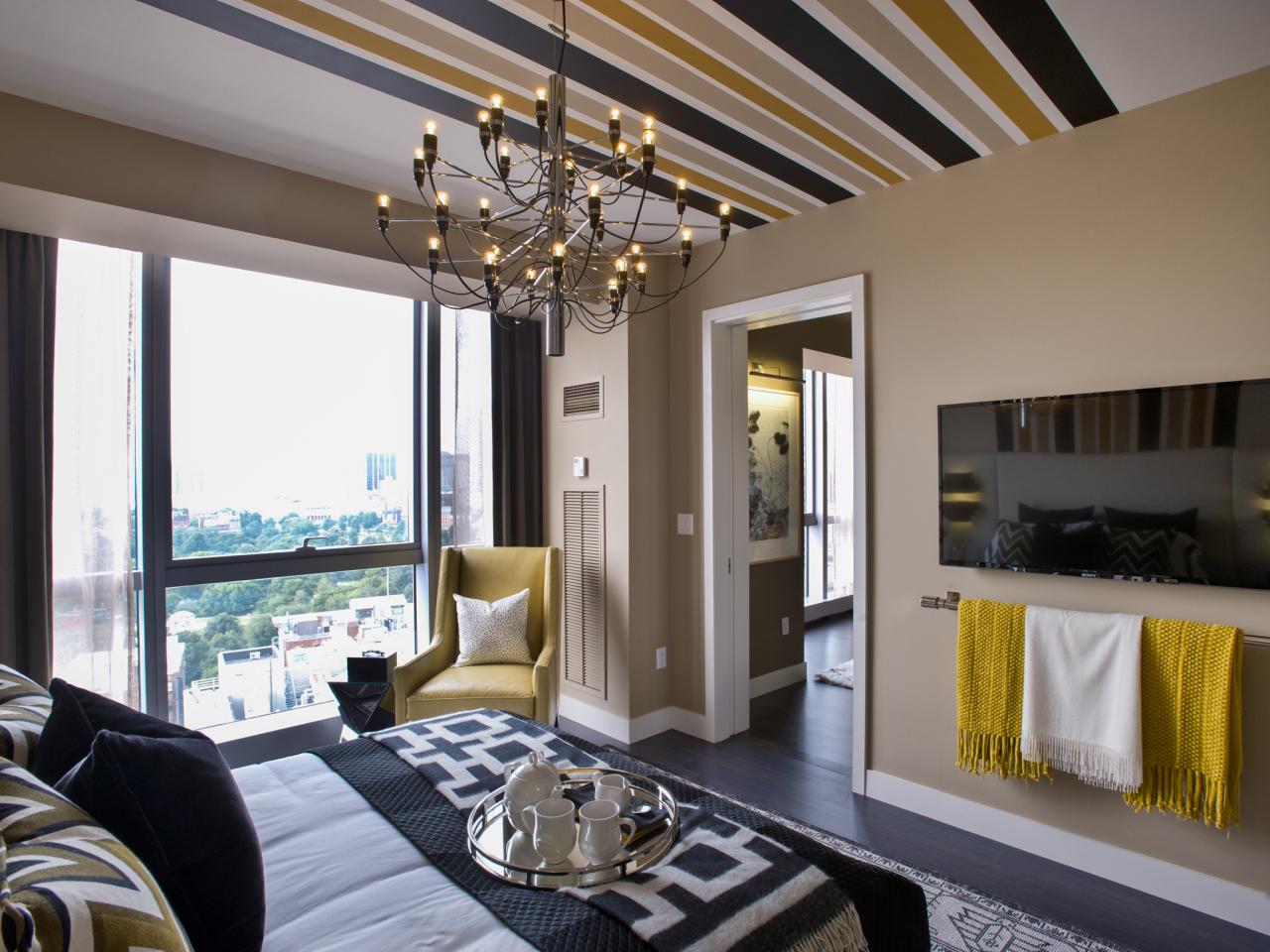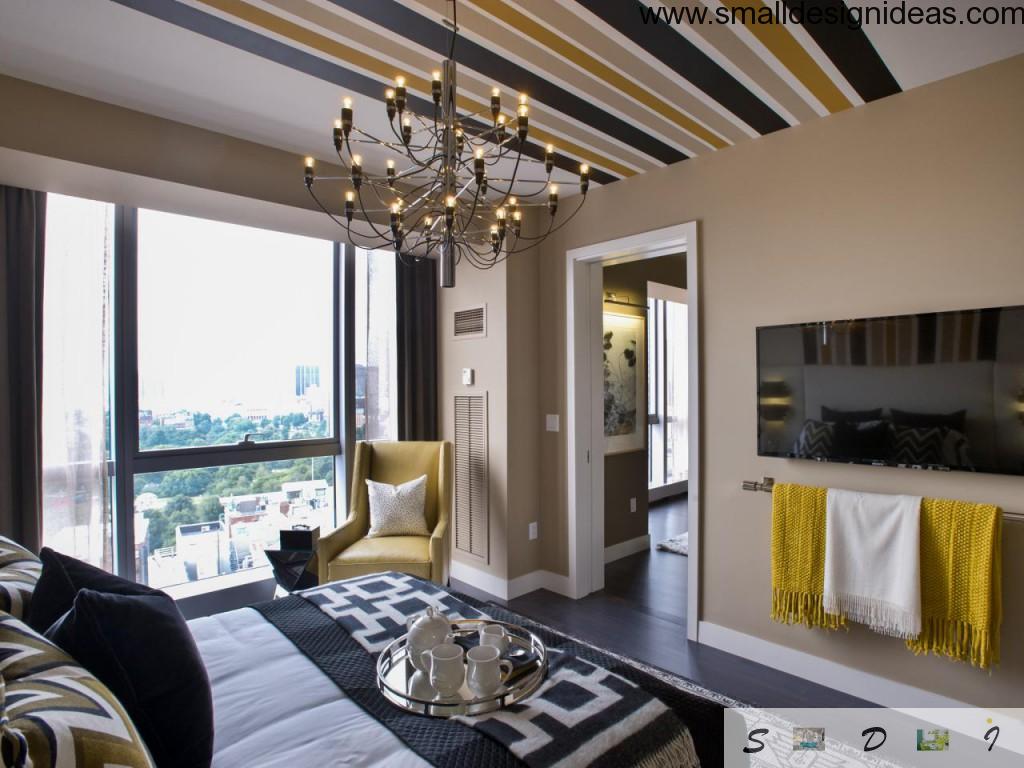 This bedroom looks bright thanks to the contrast of white and dark gray colors, active coloring textiles and bed mats sharpens overall monochromaticism.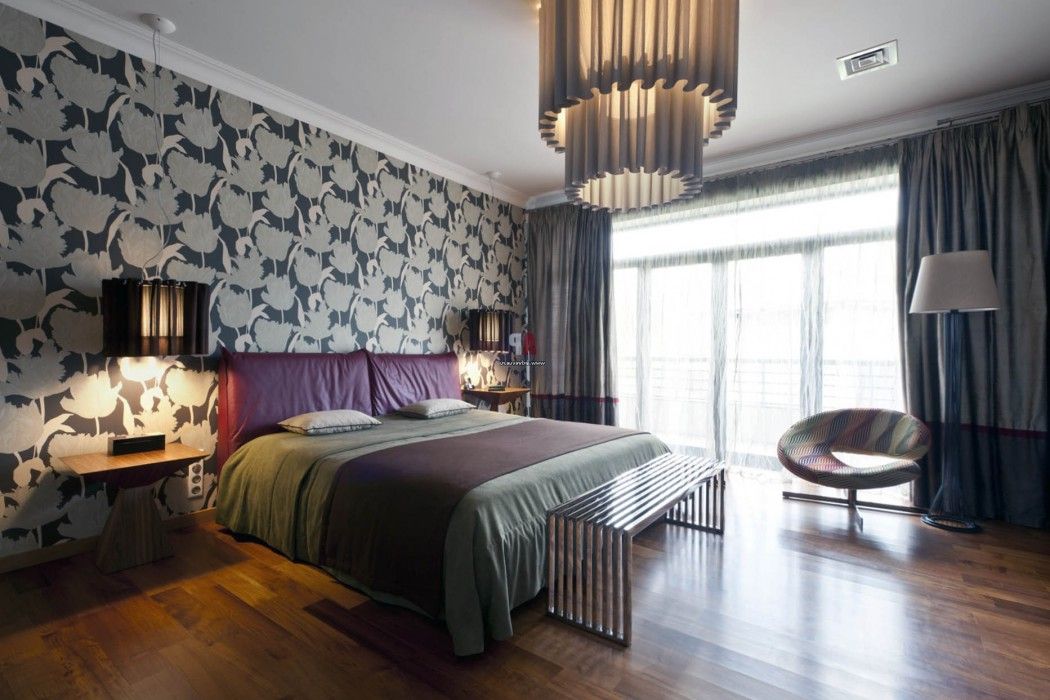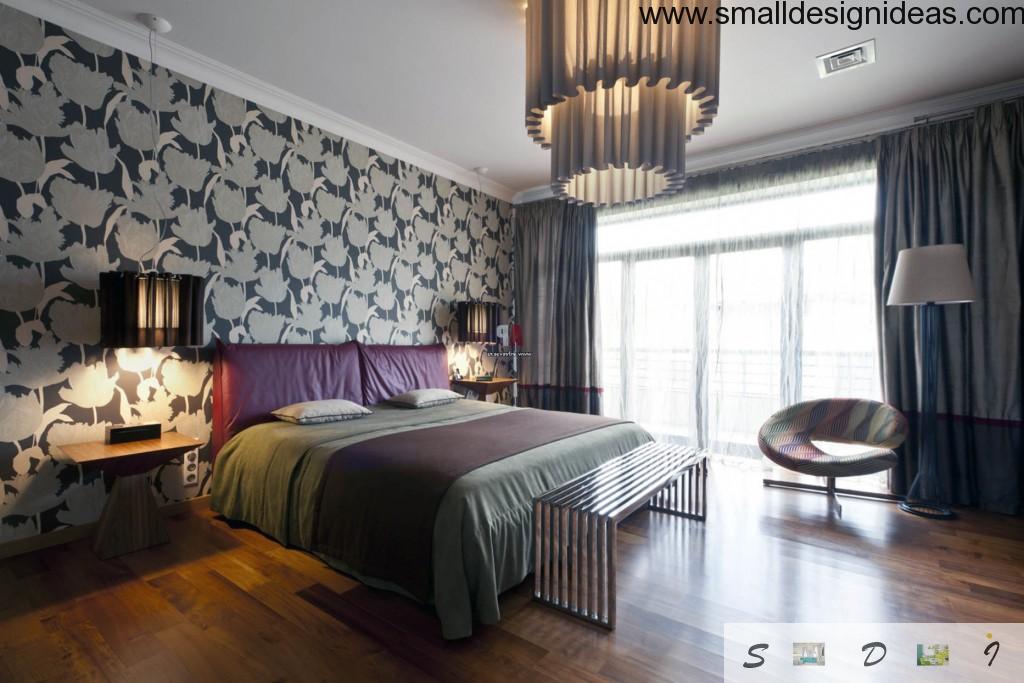 This bedroom has a nontrivial all at once – contrast at all elements. Active coloring of wallpaper and textiles, colorful decor elements, transparent and shiny objects.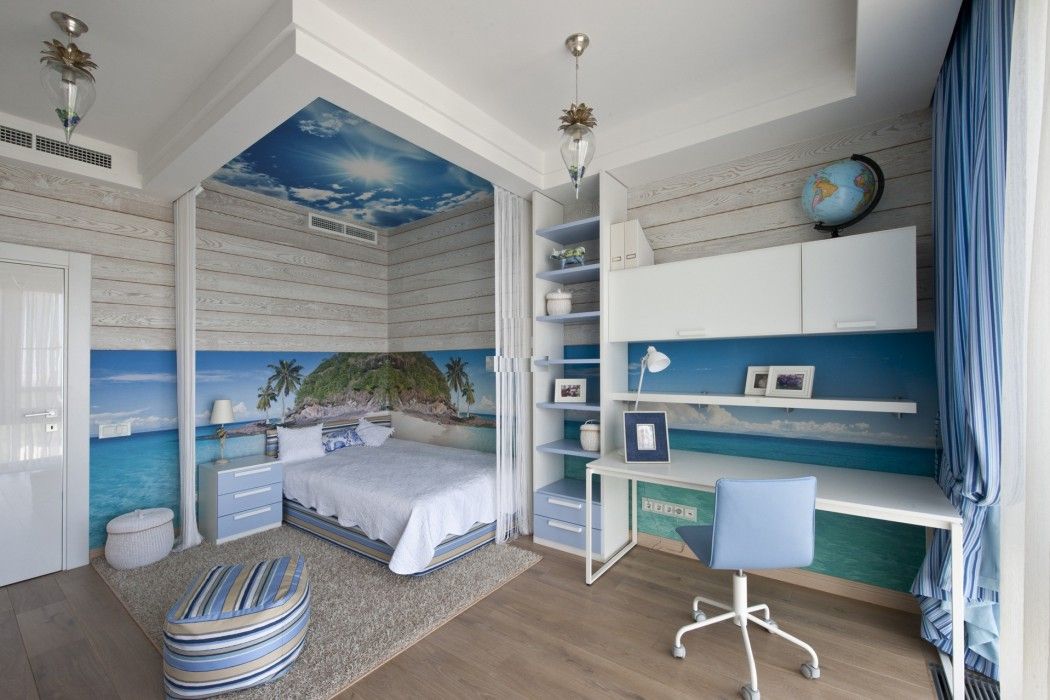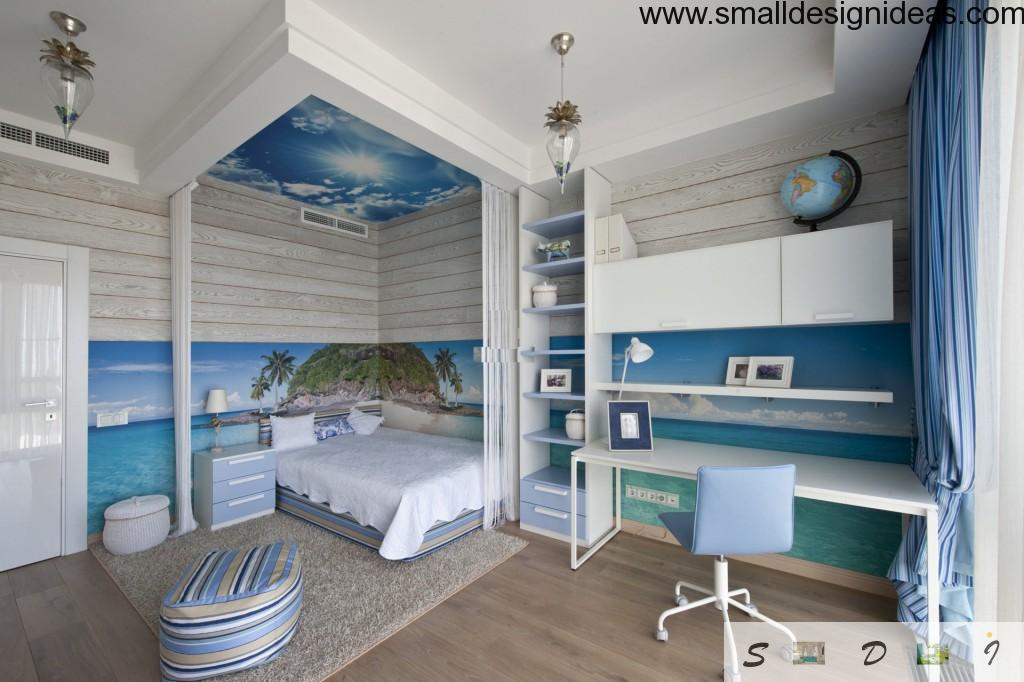 Several bright creative elements turn a simple, bright room to the bedroom for a fun and creative personality.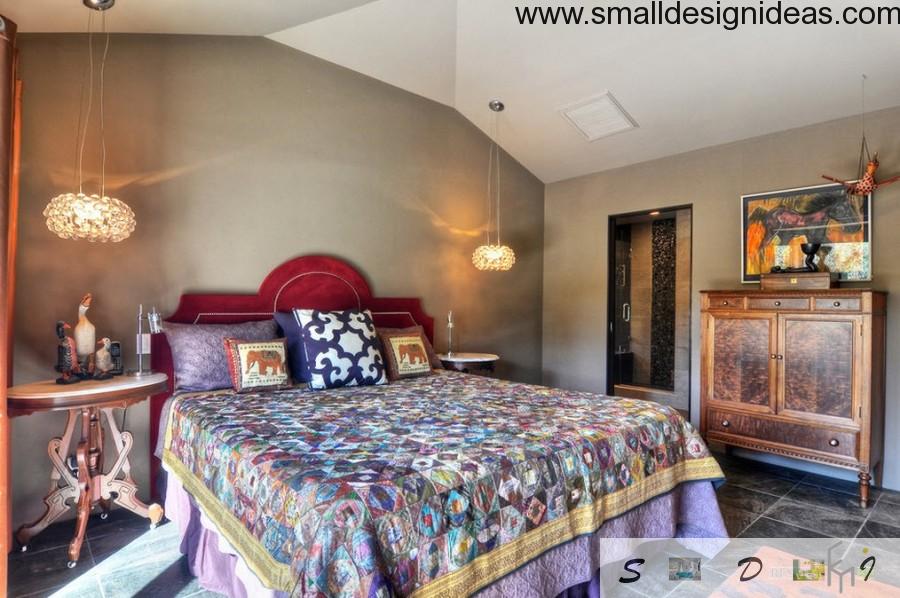 Eclectic bedroom interior with unusual ceiling shapes, eye-catching with lots of items, which need a long and careful consideration. The veil in the art of patchwork, bright pillows, unusual pendant lamps, carved furniture and velvet headboard – all of these are noteworthy.
These bedrooms are light and bright at the same time. I think in this situation simply can`t stay in a bad mood. Light wall decoration is the perfect backdrop for bright and large furniture items and textiles with a variety of patterns.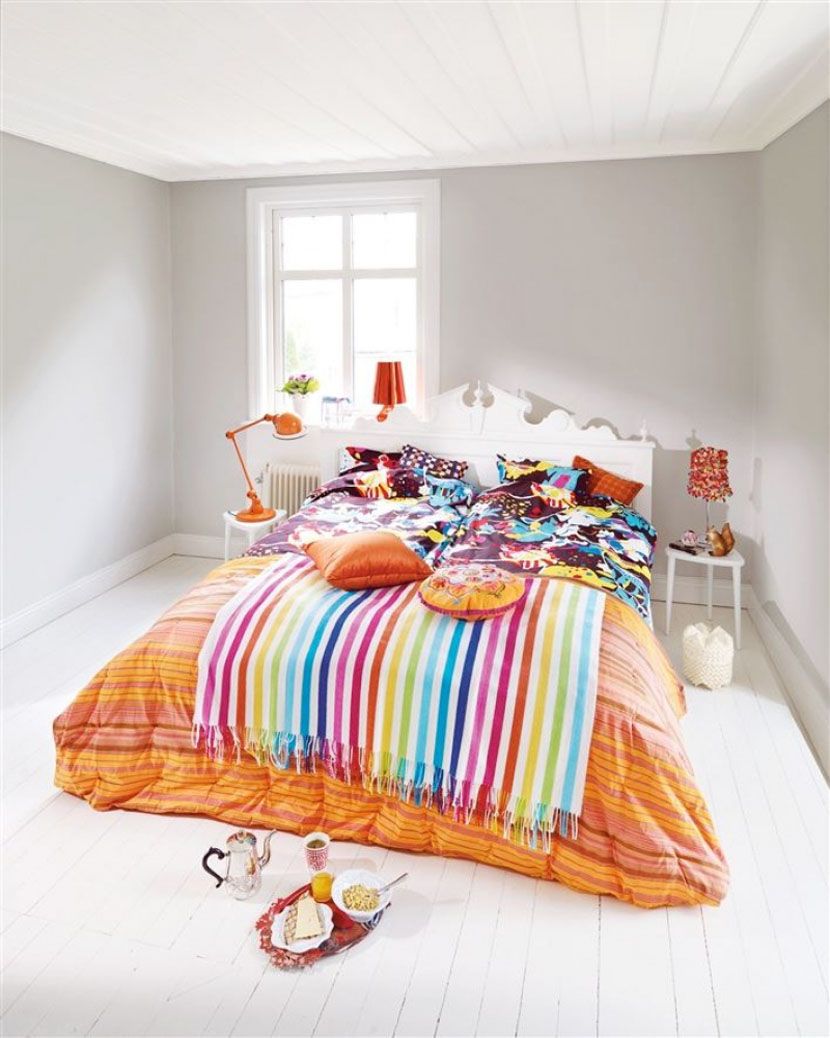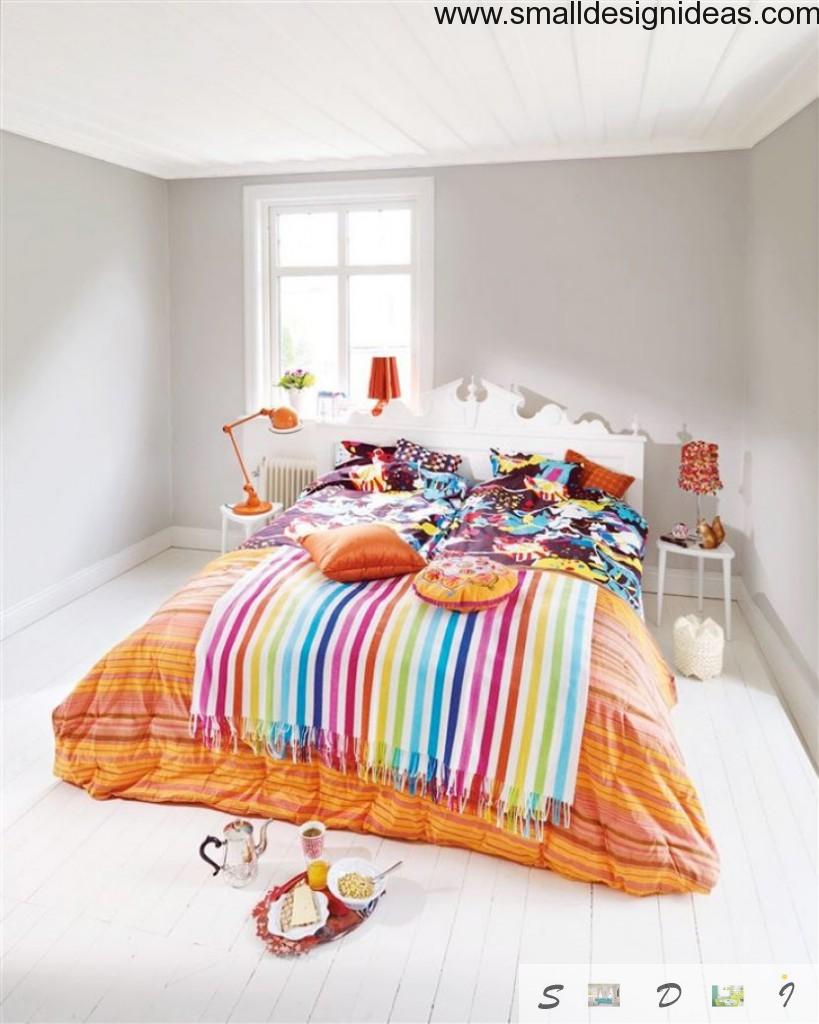 This incredibly bright double bedroom creates a feeling of summer all the year round. Only through the active coloring of textiles and chairs` upholstery stunning effect can be achieved.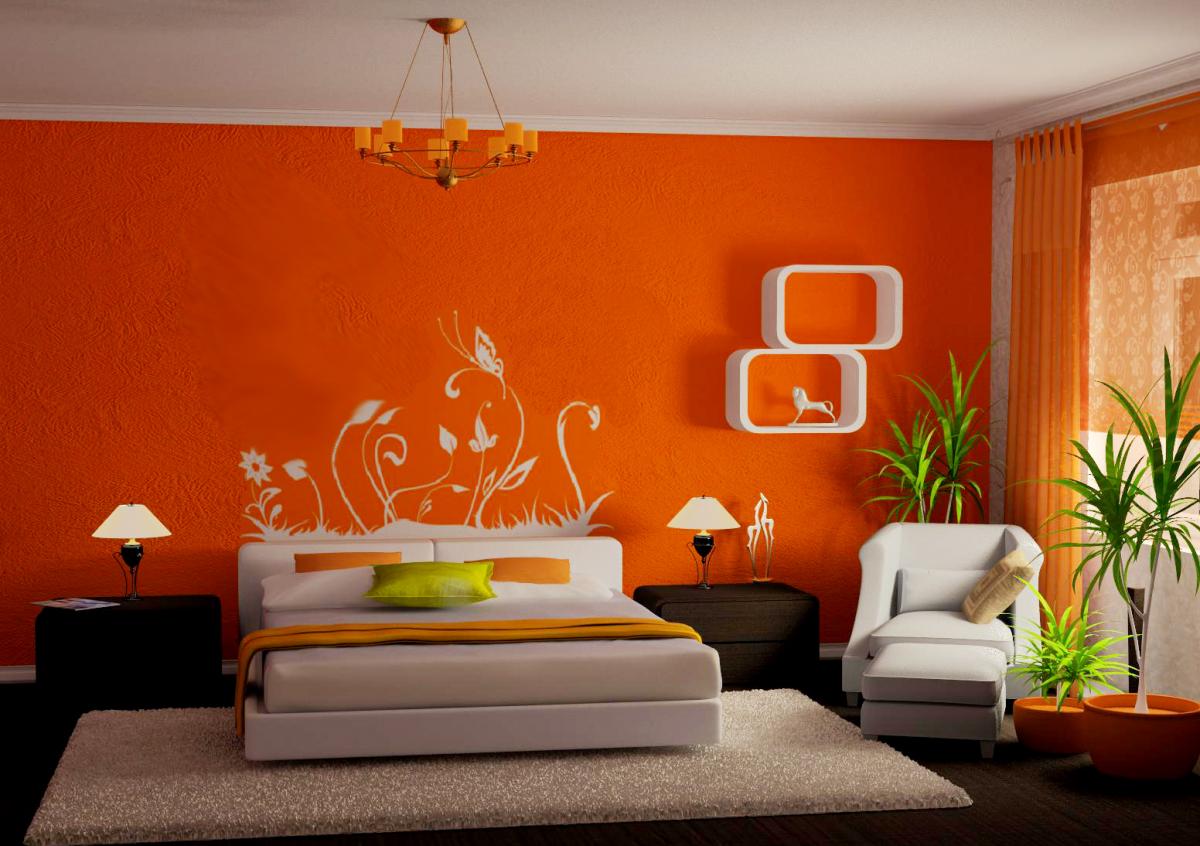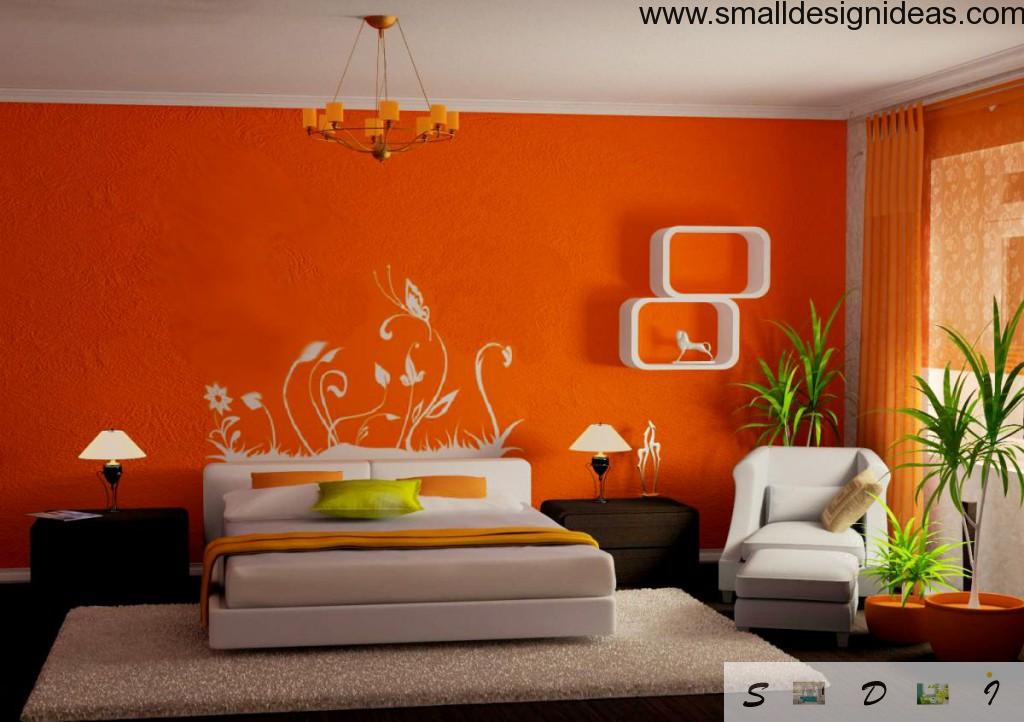 The brightness of the bedroom is reflected in the unusual painting of background wall. Bright and spacious room looks unusually festive at the same time.
Brickwork in the bedroom interior
Even if the bedroom is not located in a rebuilt former industrial building, but in the usual city apartment or a private house, giving it a bit of industrial and brutal interior texture can become original design solution.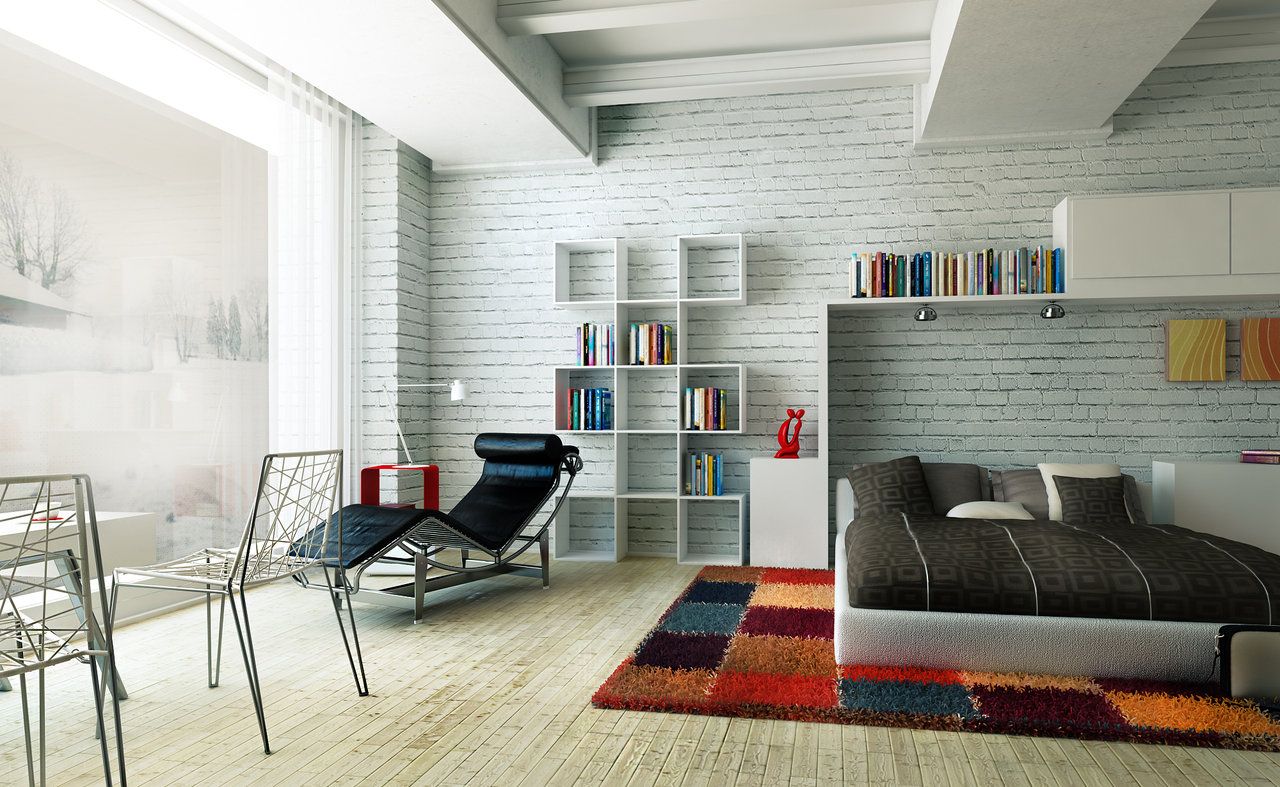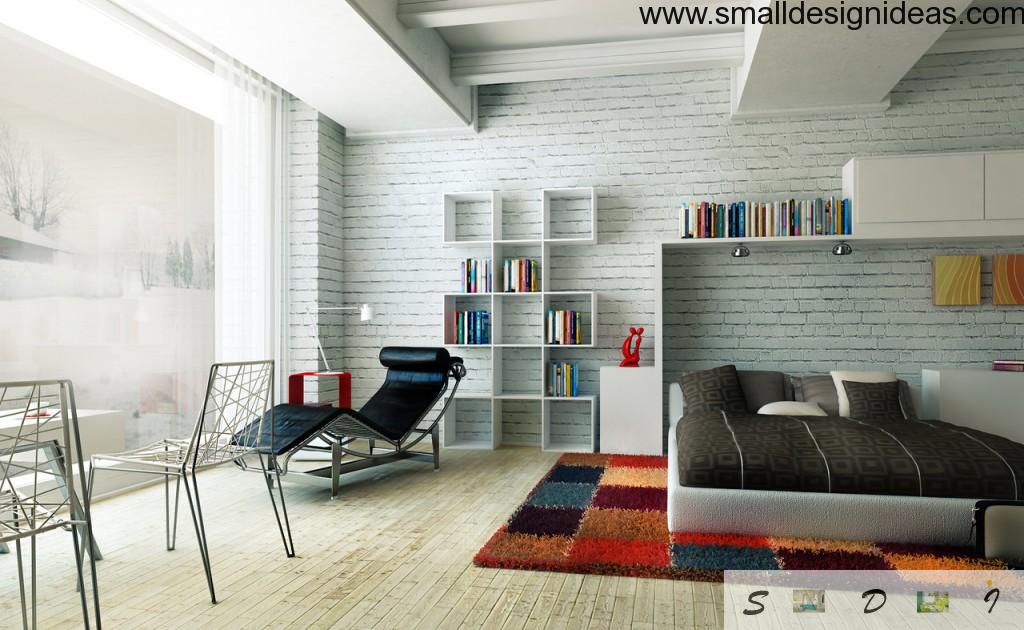 Often, to create a masonry finishing is used bedside wall. It can serve as the perfect backdrop for the original decoration and unusual wall lights. A bright textiles and unusual shape of the bed only emphasizes this interesting image of an eclectic bedroom.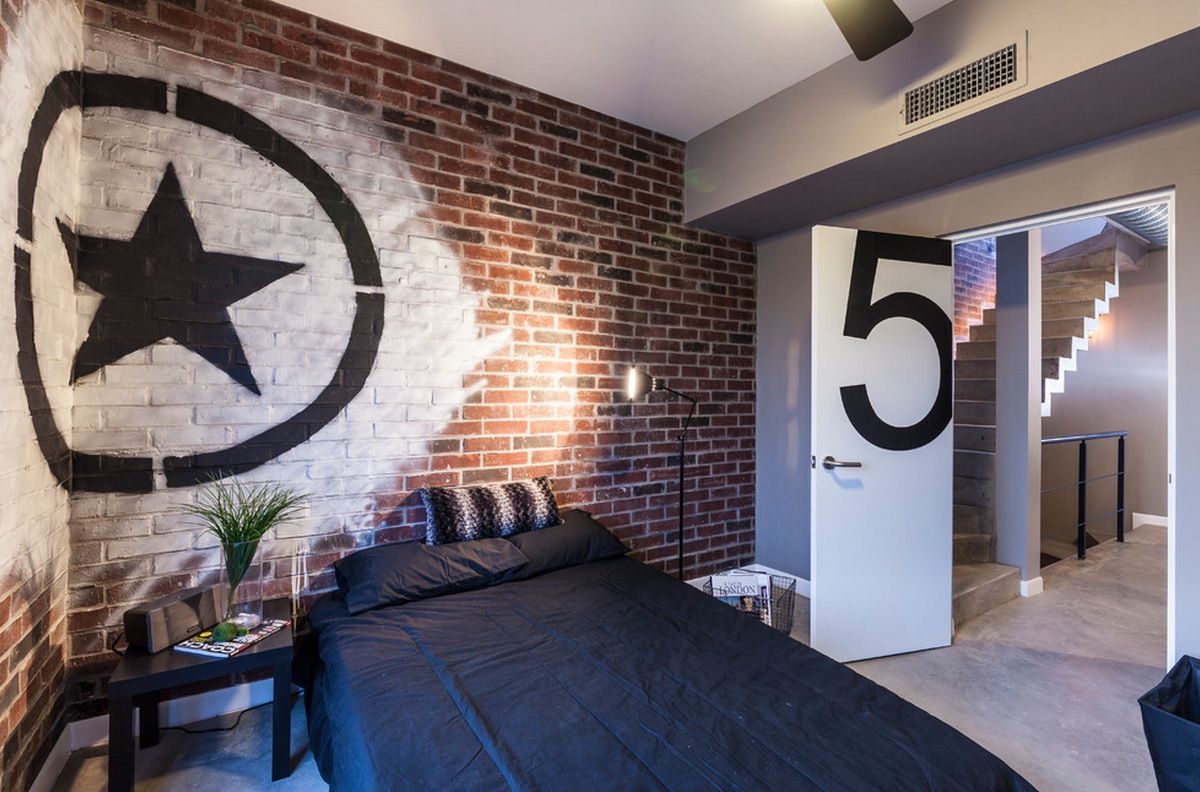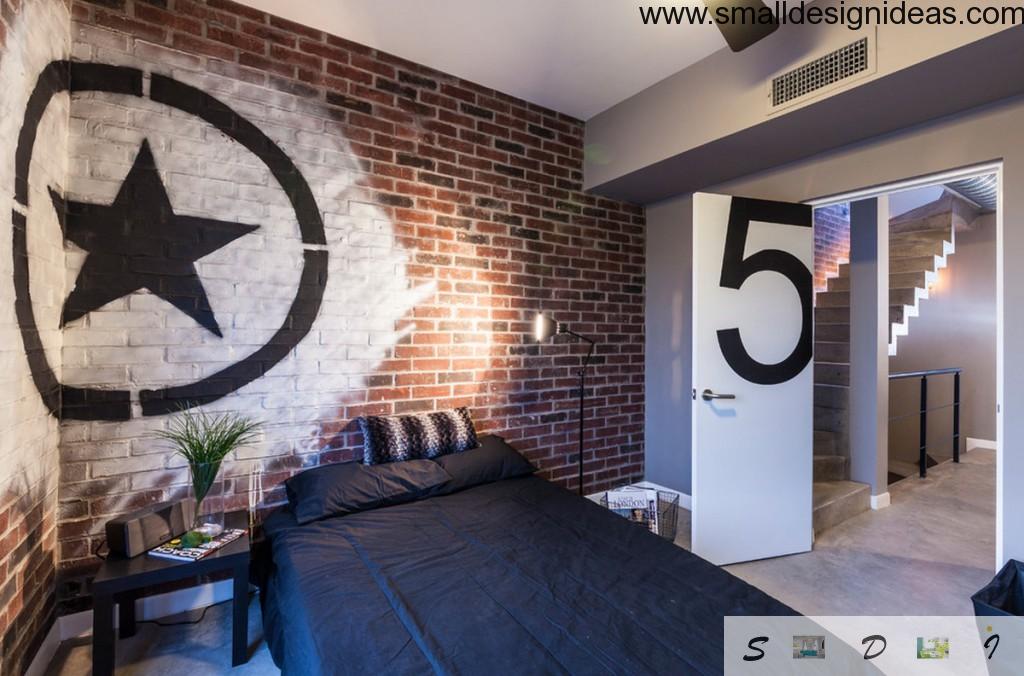 In this case, a dark brick wall acts as a contrast to the bright decoration of the walls and gives the room a some hasty and dynamic character.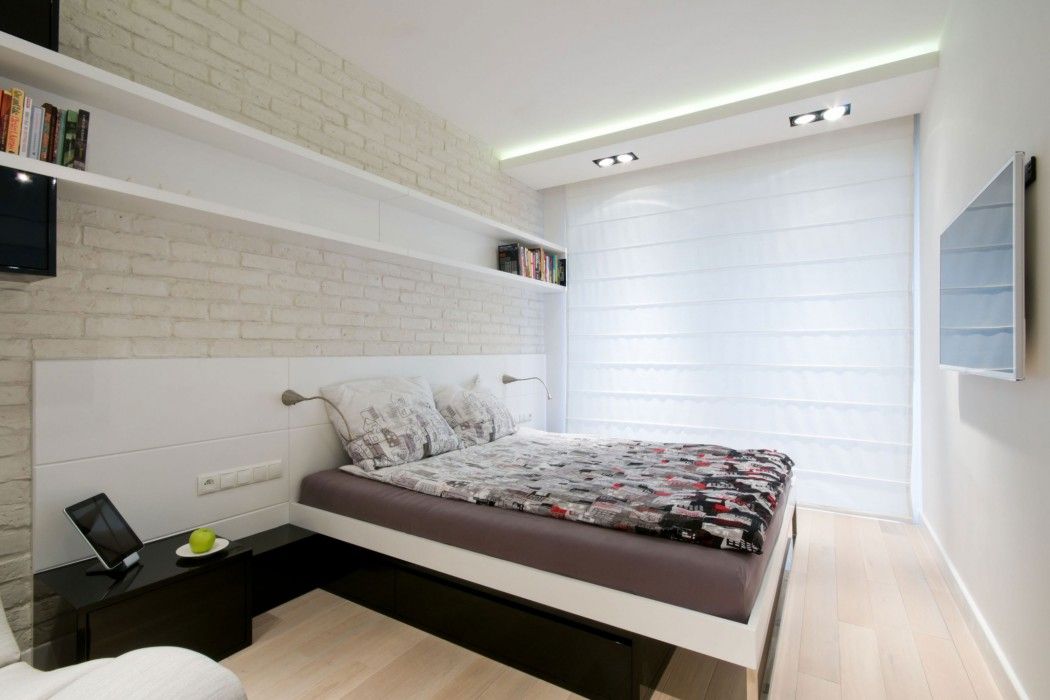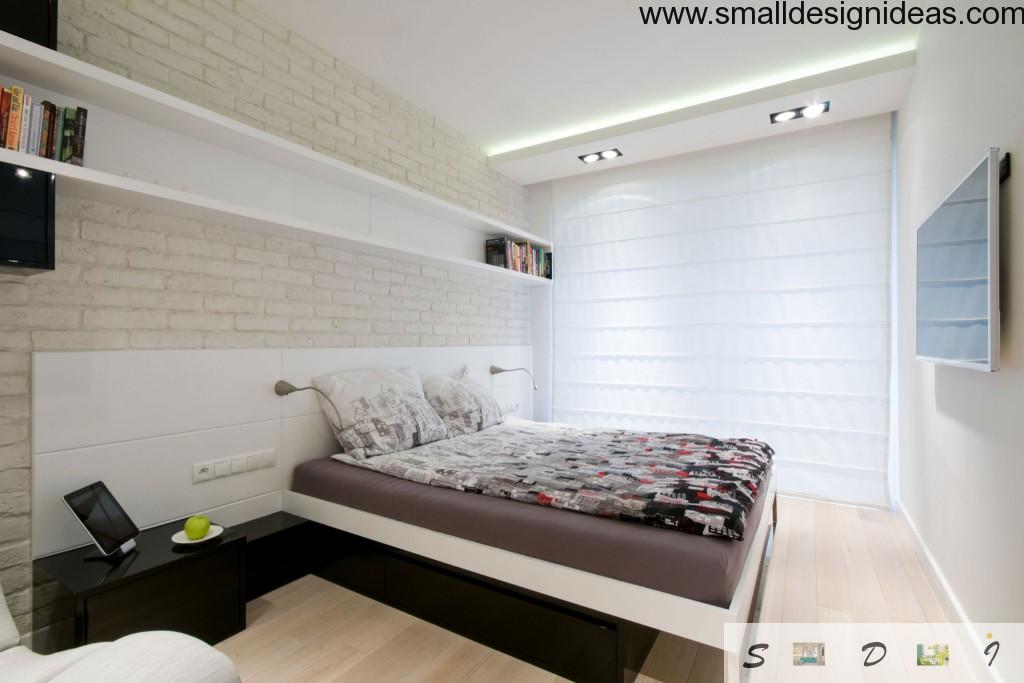 Whitewashed bricks of the wall are only a background for bright bedside and active textile colors.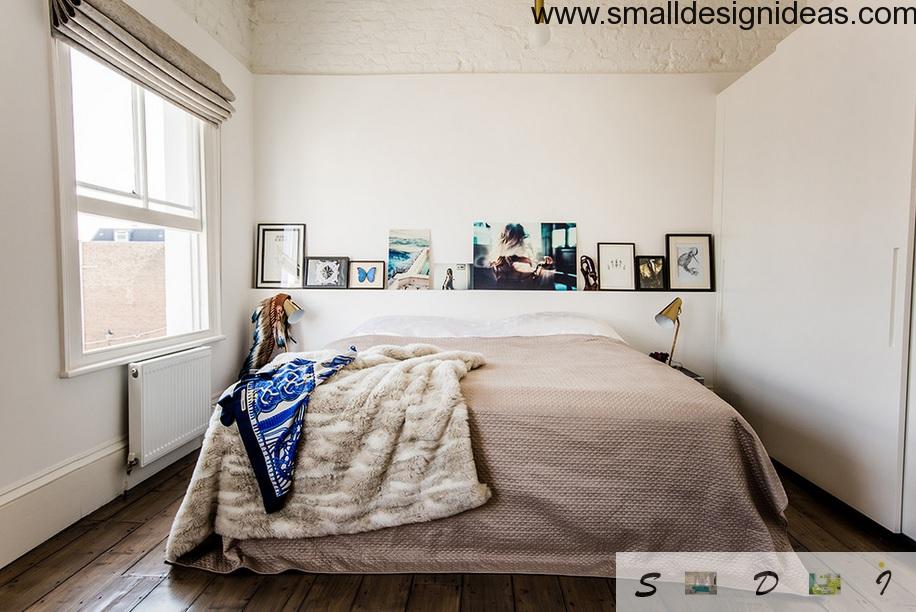 White painted bricks, which are used for finishing the surfaces of the upper tier, gives this light room a special charm. And bright décor elements bring variety to the color palette of the bedroom.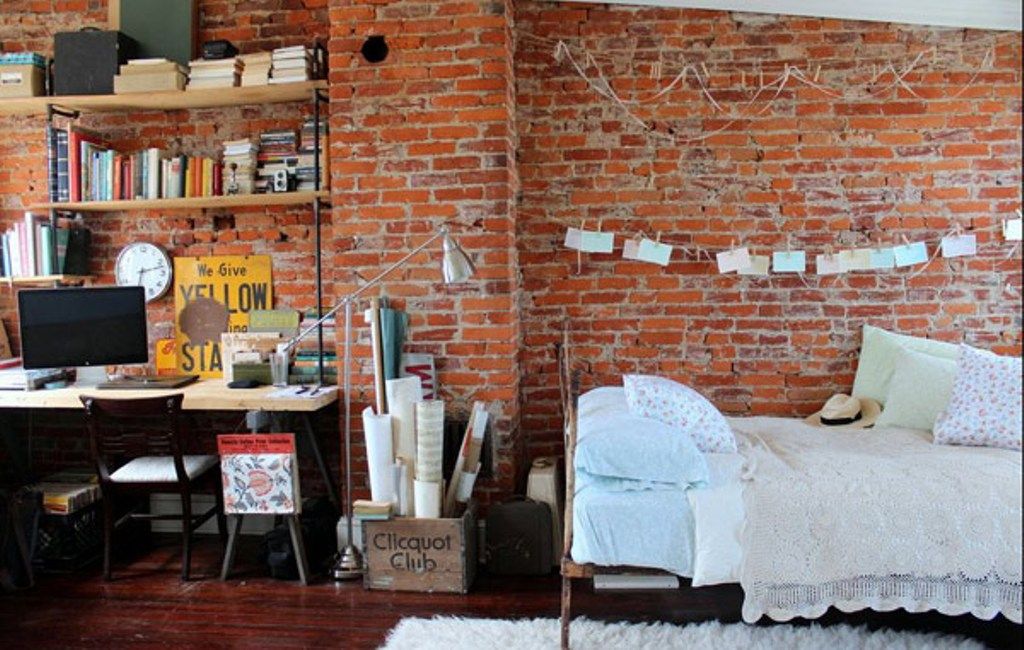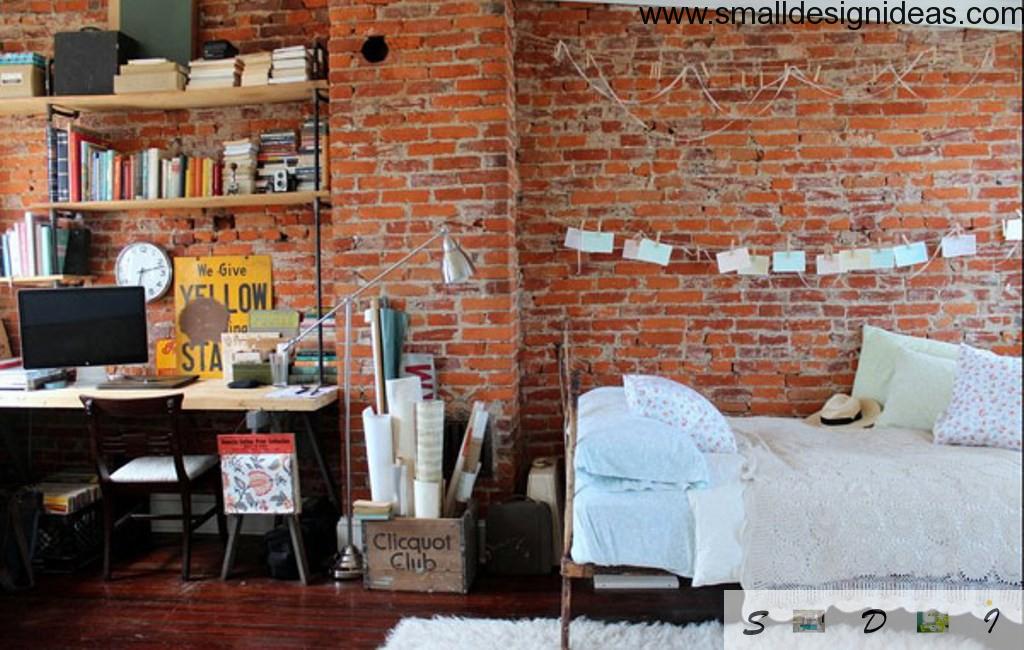 Pure white linens of the bedroom, combined with the cabinet, looks great on a background of reddish hues of untreated brick wall. Room is quite distinctive and original. Fancy table lamps and small ladders instead of bedside tables give identity to the room.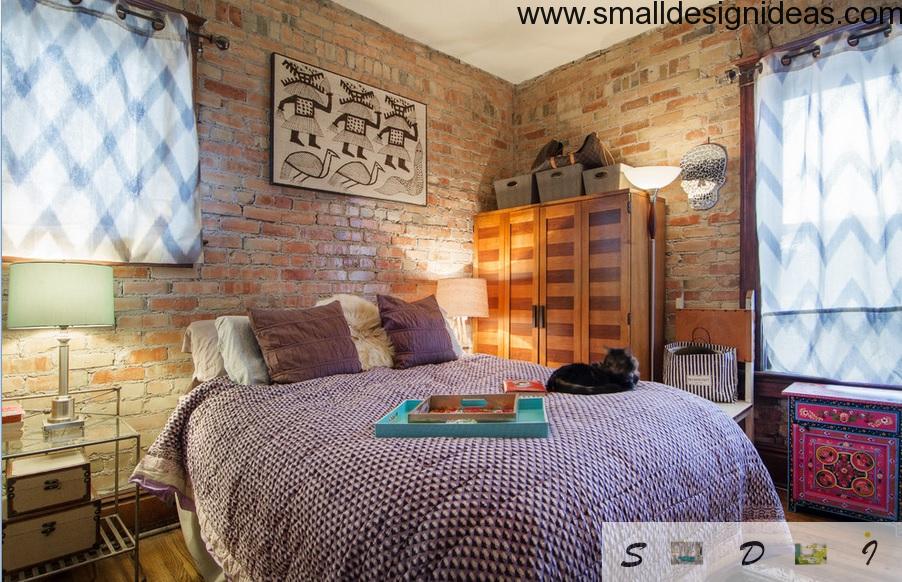 Ocher brick wall tones are in harmonious neighborhood with the active print textiles, unusual furniture and decorations.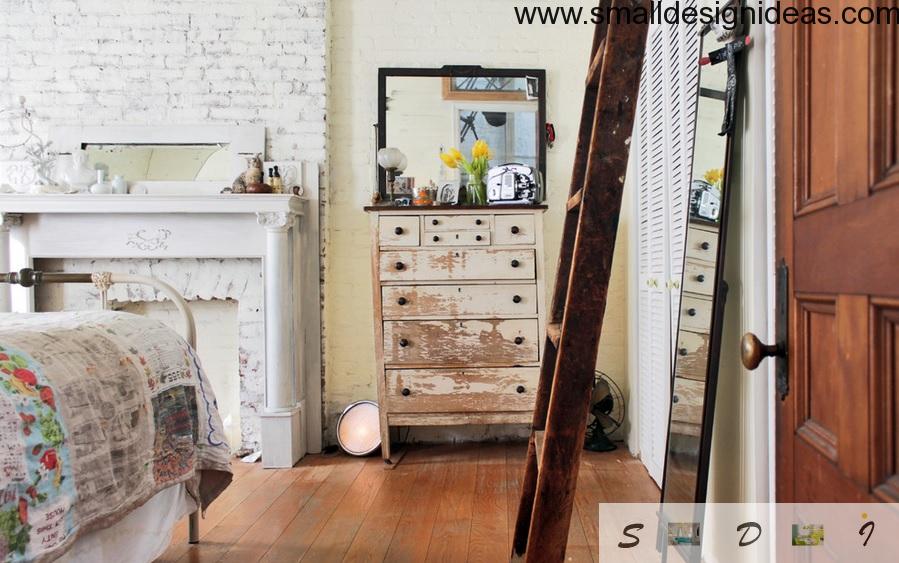 This bedroom achieved a rare species of contrast, not so much with the help of color, but rather because of the difference in textures. Brutality of painted bricks meets naive floral print wallpaper and looks incredibly harmoniously.
Country-style elements in traditional bedrooms
Not every homeowner will like a bedroom, made exclusively in the country style, but the use of rustic style objects within quite traditional room can be a great design project.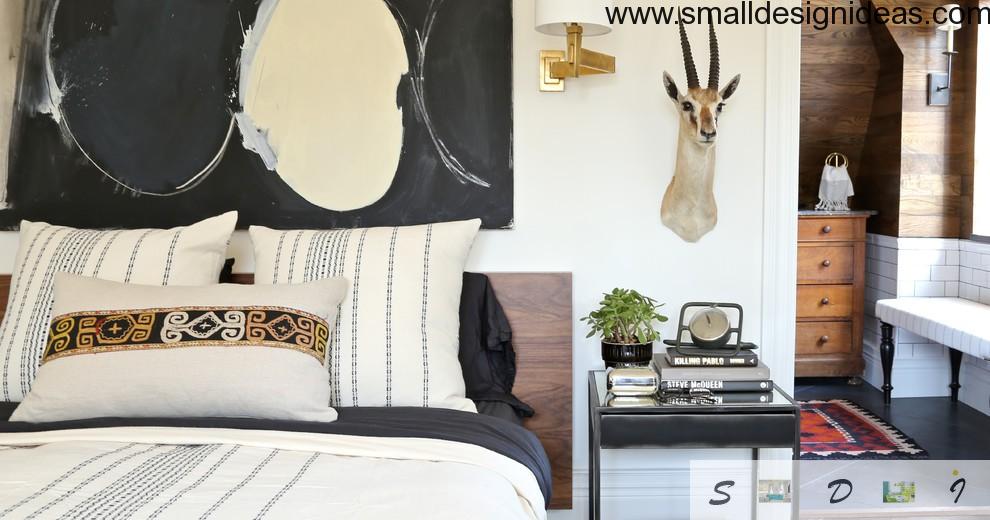 The presence of animalistic decor and wooden surfaces in this bright bedroom is not evident, but adds an interesting character to the room.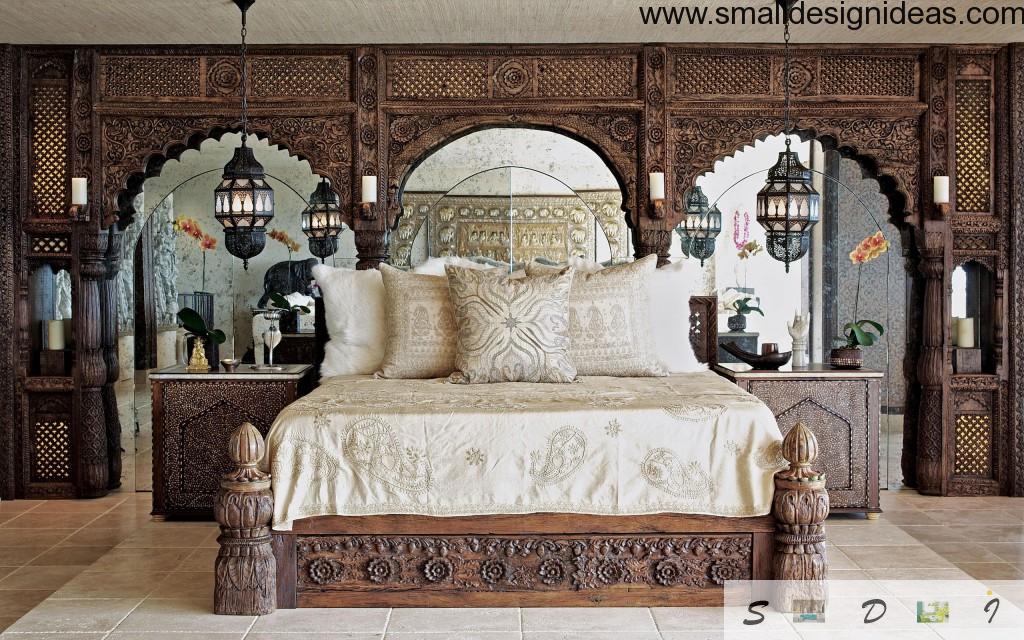 In this room, country style manifested implicitly and with a bias in Indian motifs.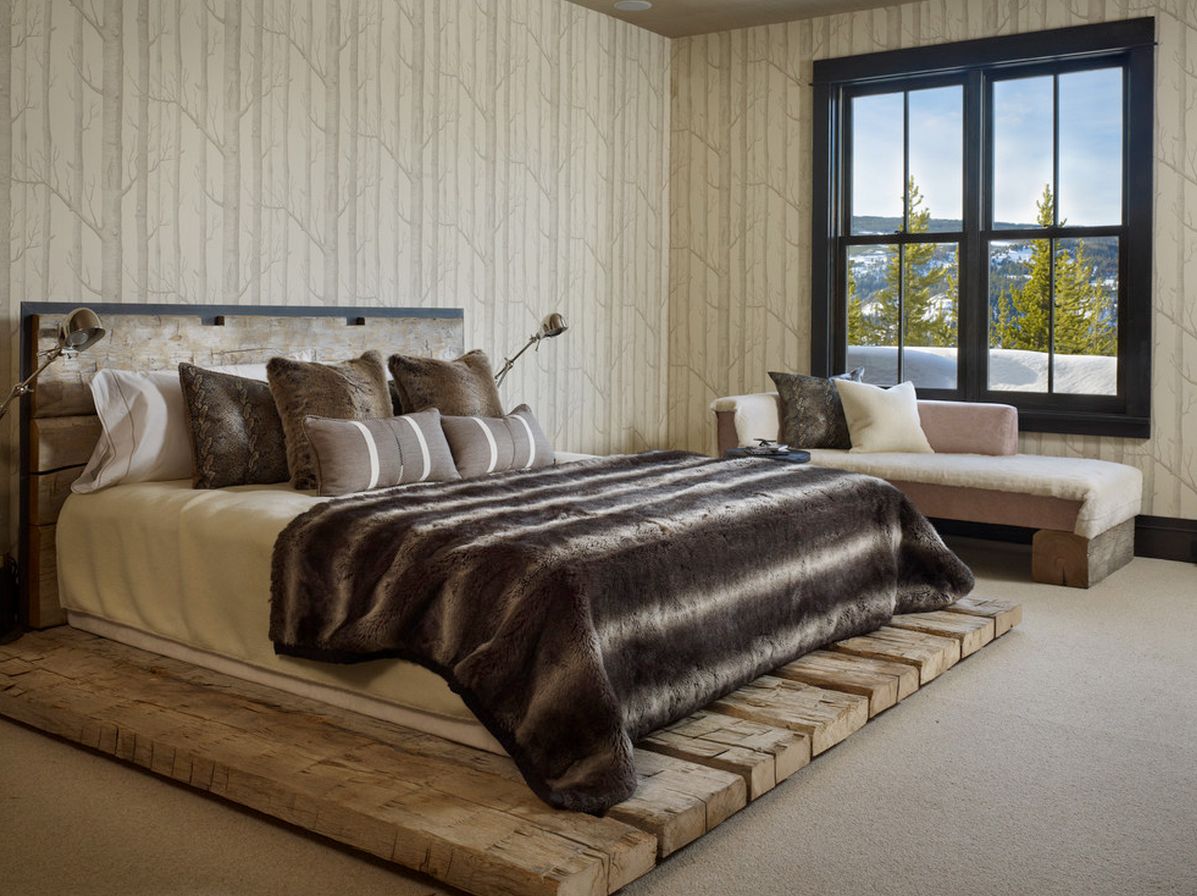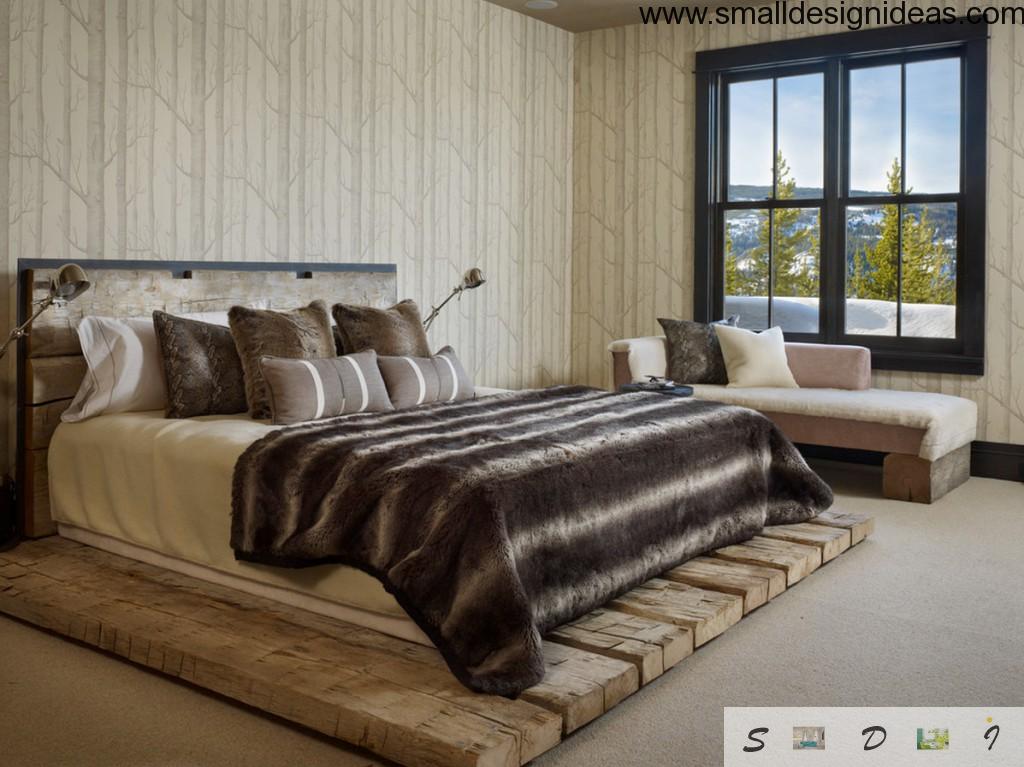 Headboard as if it hastily knocked together of old boards, contrasts with the elegance of decorative elements.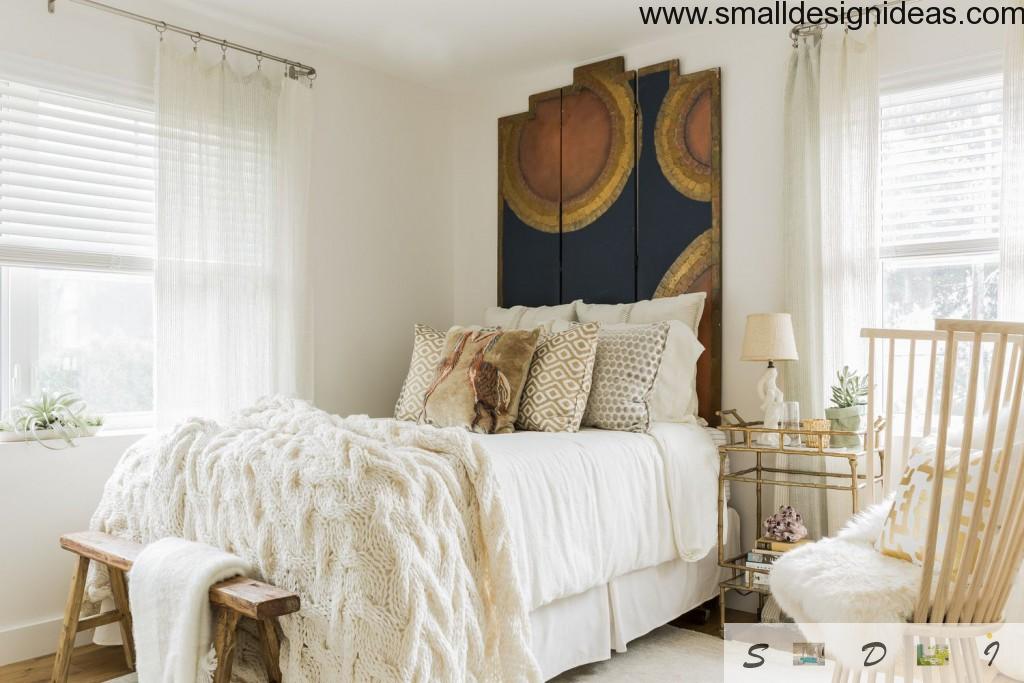 Fortunately hidden elements of country style are reflected in a wooden headboard, a small bench, "home" textiles and bedside bookcase if unusual shape.