Aspiration to optimize our time and space pushes people to find new materials and types of their use in the interior. The wish of having durable, functional and at the same time affordable pieces of furniture and appliances is the main driver of technological progress.  The kitchen and bathroom are the most "rich" in the sense of appliances and innovations diversity in any home. That's why most of brand new materials, techniques and appliances are invented and tested in these two rooms. We can't say that concrete countertops are the newest interior element. Nobody can say when people begun to use concrete for their kitchens. But it still not so popular despite a bunch of advantages. So, let's review some of them and decide when it is really useful to refer to such exotic way of decorating and supplying of your kitchen.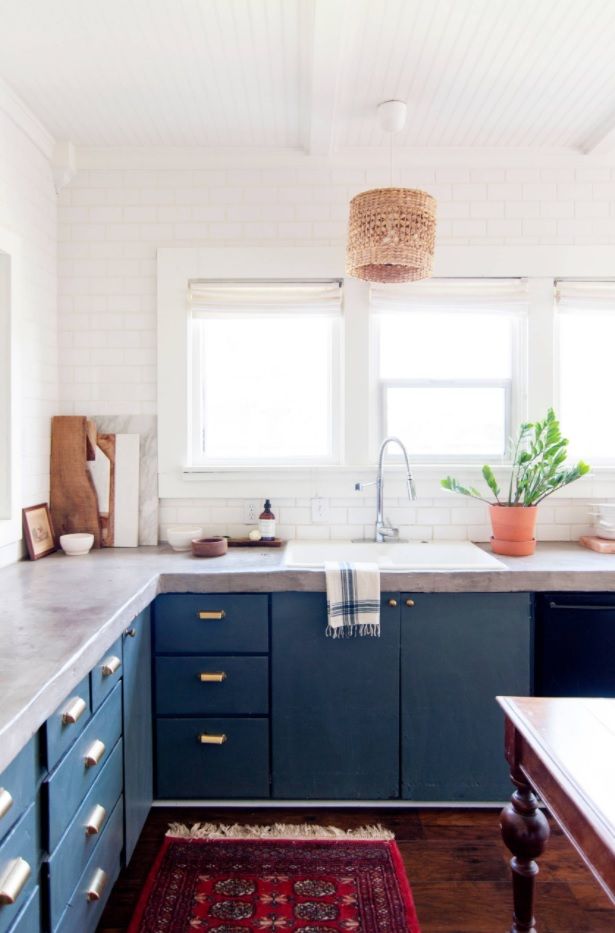 First of all, we should say that DIY pouring concrete countertops are for a real connossieurs and this technology is a know-how. If you are interesting in making such a countertop by your own hands at your home, you can follow the detailed instruction by Kristi.


You can never get two similar samples even using absolutely same materials and taking same steps. There are too many factors affect the final result, so the achieved surface will be unique. The heterogeneity of the bumpers, trapped pops of air create the masterpiece that you will be proud in future. That's we can say that such countertop can be called a real DIY attainment for caring homeowner.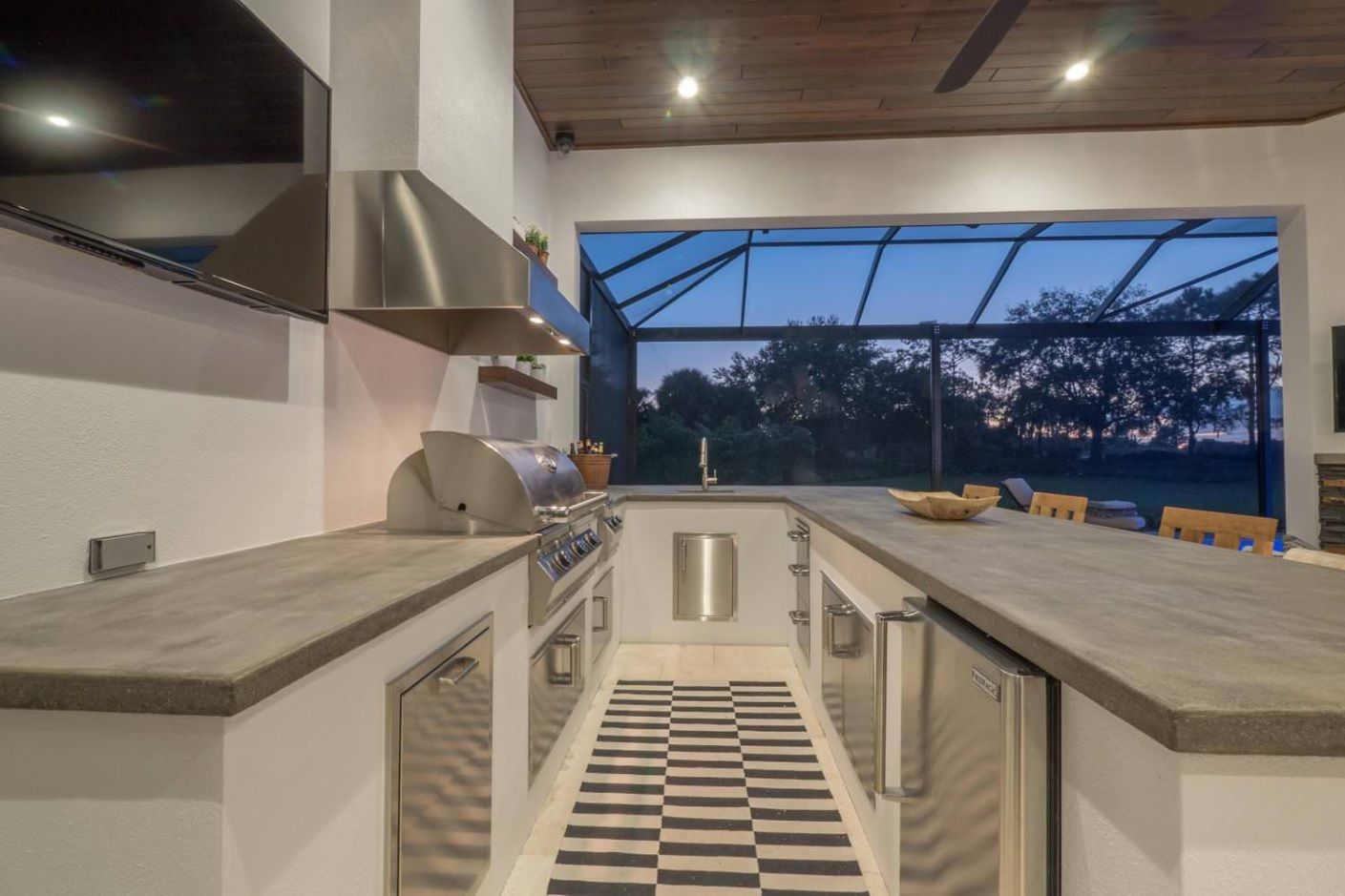 DIY Pouring Concrete Countertops. Interior Usage, Photos, Ideas
The usage of handmade countertops can't be limited only by kitchen. It can be built almost in any room with stationery table or island. We can find a real collection of such countertops successfully inscribed into bathrooms and backyard patios. And we will review some of advantages of these tops in comparison with other traditional countertops.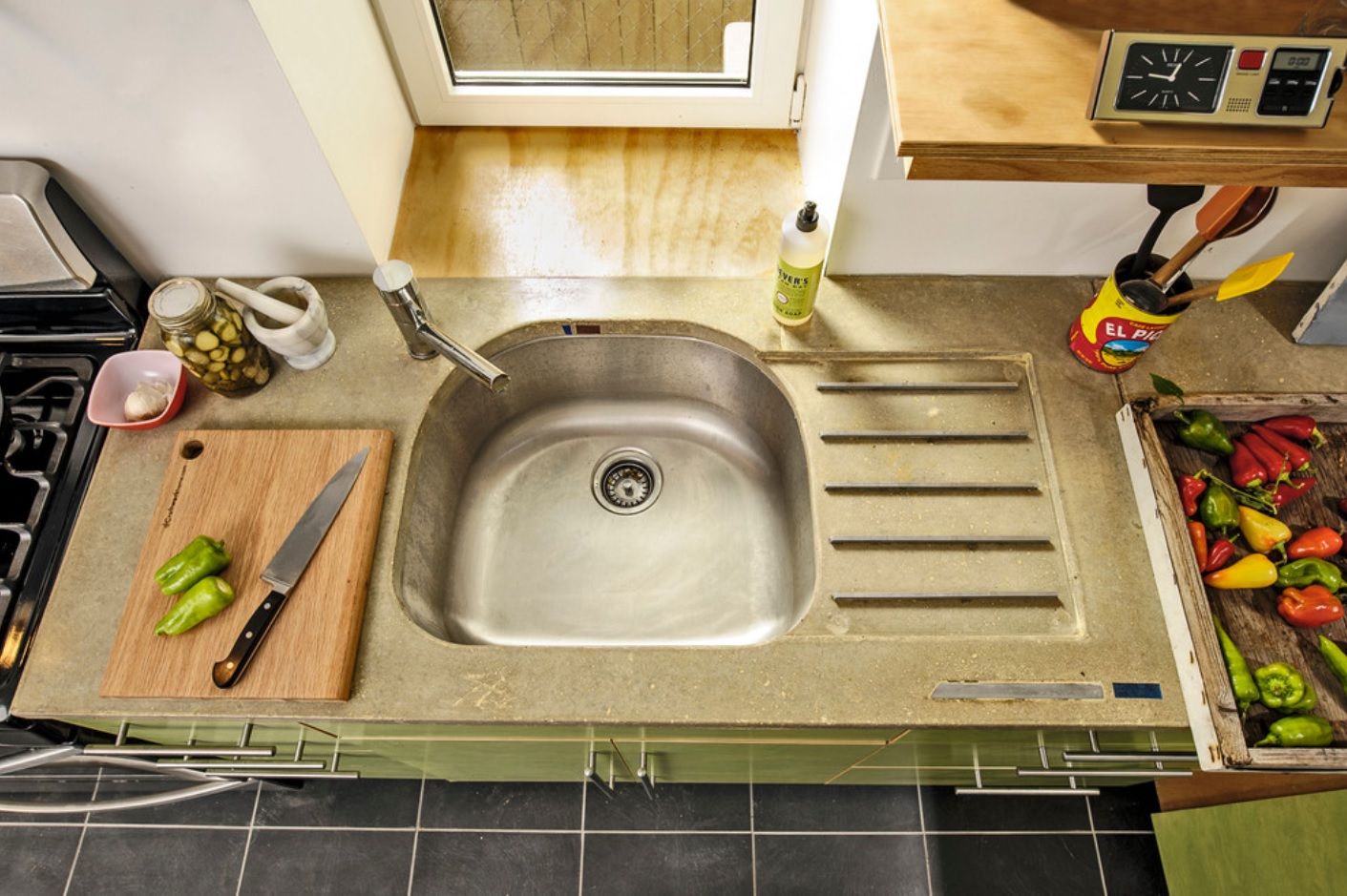 Concrete with adding of adhesives is not afraid of water and high humidity, only becoming more and stronger over years. This makes concrete countertop almost ideal choice to be used in the bathroom. You can provide the solid image of a real fortress within your apartment. If you are not afraid to locate the item which emanates cold, we can recommend you to try the pouring concrete countertop for your bathroom vanity.
Concrete can be used not only the countertop itself, but also a ready-made island. How about solid concrete interior item in your home?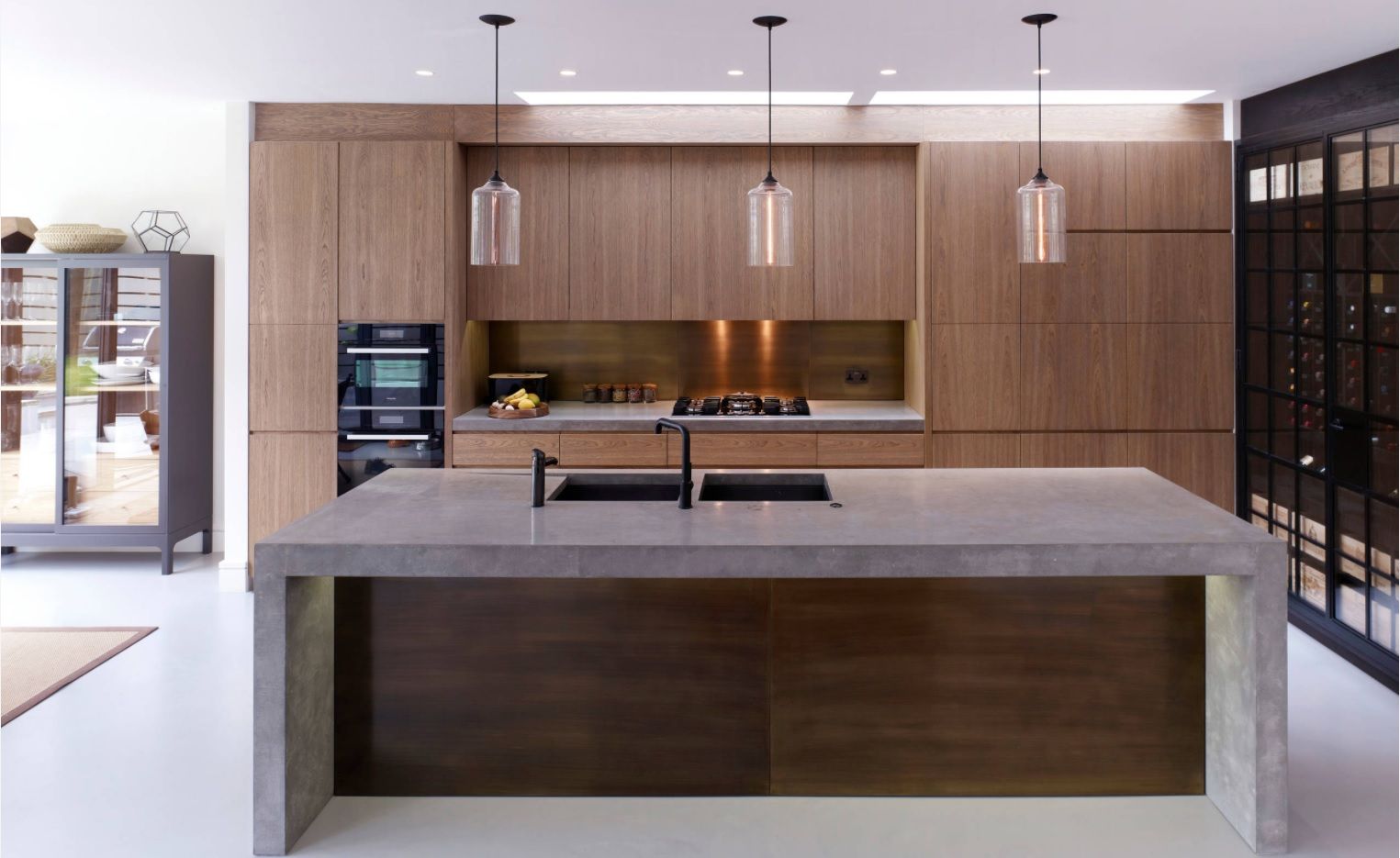 the island can be used as the table for dining zone. Concrete top can have almost any form and dimensions. And you can only imagine what a budget saving can be such construction comaring to other forms of countertops (for example, plastic laminated chipboard). But any other materials can't be called so visually effective and durable.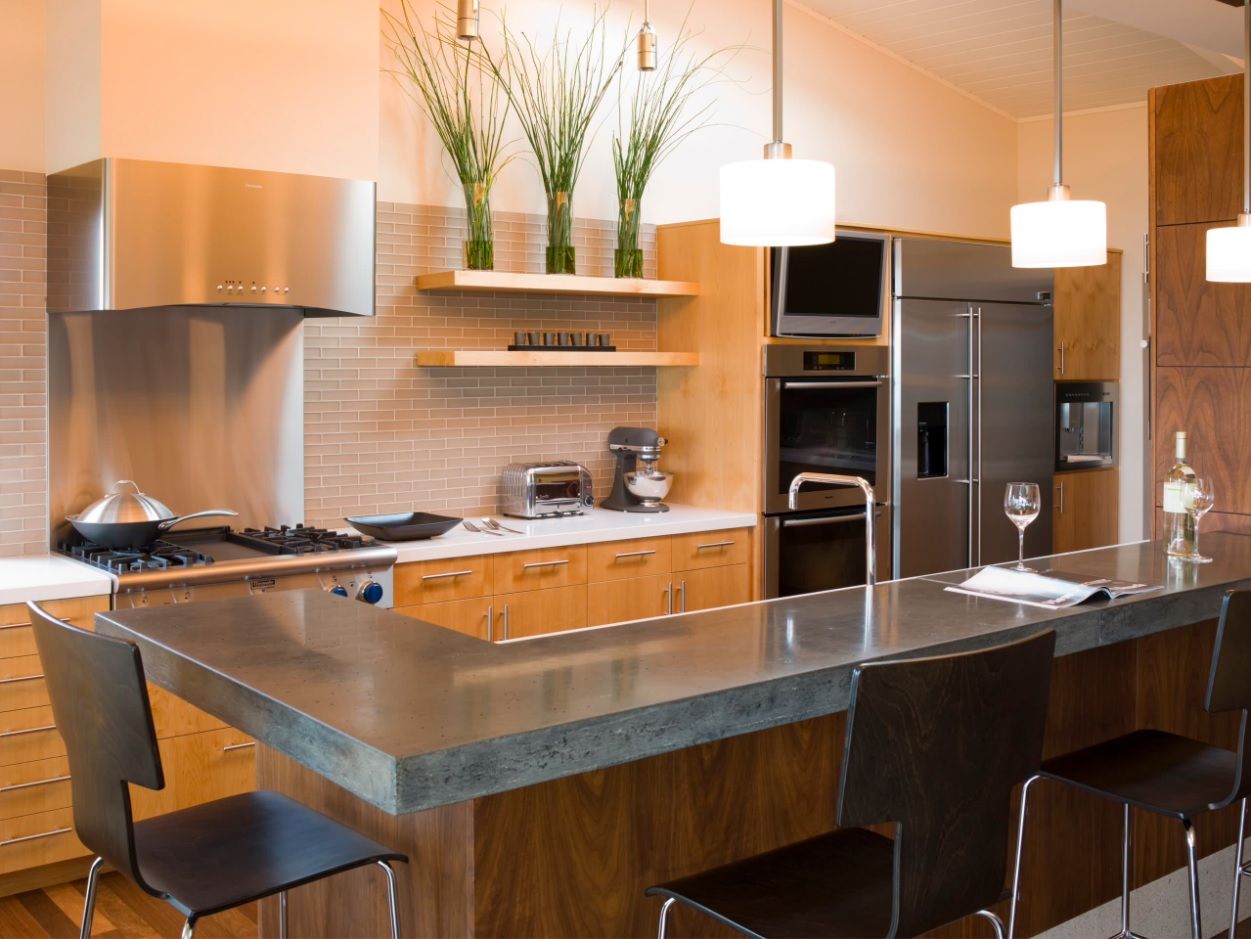 Another significant advantage of pouring the countertop with countertop is its plasticity and ability to take any form. It opens the ability to build countertops of difficult form and multi layers.
Outdoor usage of DIY concrete countertops
You can use nothing but concrete or stone outdoors. And if genuine stone or marble can't be exposed to severe weather conditions and temperature drops, concrete is made for this. And again, just think how much you can economize from using concrete at your backyard patio. If stone top will cost up to $10K apiece, you can organize concrete pouring at your backyard for ten times less money and achieve much more size of surfaces.
And again, let's summarize the pros and cons of such method to get the unique countertop:
+ Unrepeatable form, surface;
+ Durability, ease of use and maintenance;
+ Ability to make the countertop of almost any form and size;
+ Ideal for outdoor use;
+ Significant budget saving in comparison with the cheapest analogues. The bigger countertop we want, the bigger money saving we have.
And the cons of such approach:
– It actually has no minuses as a material. The only drawback is such countertop can't be prepared anywhere else but right at your apartment. So it takes a lot of time for preparation and manufacturing. Every project is unique by default.
This fact pushes people to DIY pouring of concrete countertops. And this gives people all the advantages. Modern market gives anyone ability to choose the needed bumpers, substrates and to make any compound of concrete matching your interior and preferences.
You can see how to turn your concrete countertop into the imitation of wooden one below: