Modern apartments tend to open layout and common space of all living quarters. This arrangement has its own advantages and drawbacks. We know a lot about different nuances of having studio apartment and the most complicated thing is separating the kitchen from the rest of room. If there everything is clear about the bathroom and toilet (these should be independent and sparate premises), the other functional rooms can be arranged due to zoning, kitchen is the most problematic place. First of all, because of its special needs. We need a lof of appliances, water supply, sewerage, reliable electrical wiring here. As well as the storage for cutlery and dishes. And we should not forget about the smells, fatty smoke and other "delicacies" of the cooking zone. However, we are ready to present a whole bunch of trendy open kitchen design & interior decoration examples from real-life apartments.


Studio apartment's open kitchen
To economize space, many of modern building companies refuse from strict marking of rooms, which means free-pattern planning or open layout floor planning. That gives the opportunity to personally zoning the living space in your apartment with or without partitions. Hence, it can be a problem to find the ideal place for kitchen. Many of building companies provide the apartments with schematic and possible location of rooms. However, nobody is obligated to follow the sketch.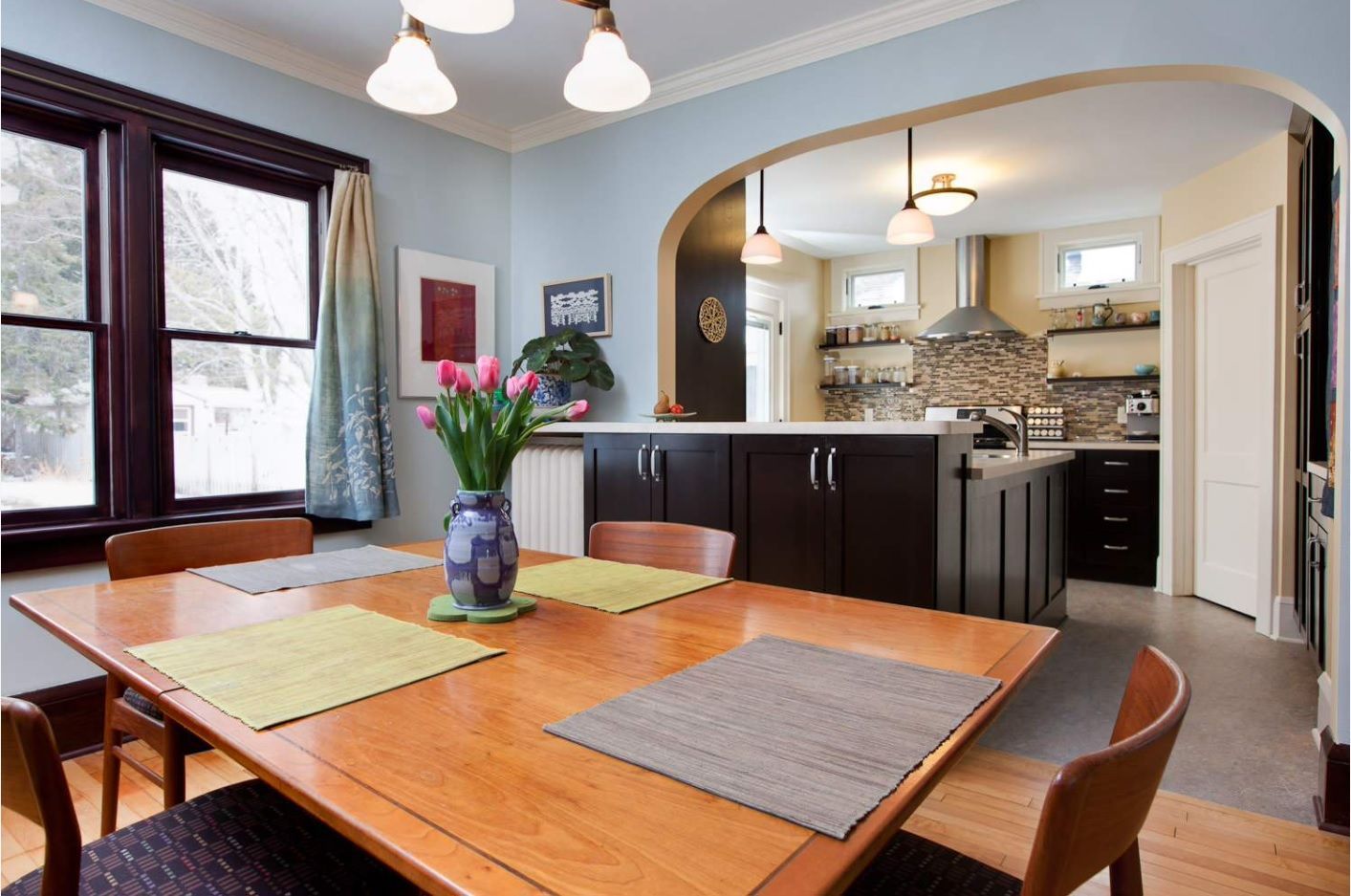 Open layout is the most suitable for Hi-tech, Loft and Futuristic interiors. Or vice versa, it does not matter. The most notable examples of open kitchen design in modern apartments are also tending to white glossy (impeccable and tidy) white glossy surfaces. The walls are usually decorated in matte light colors.
To ensure transitional design at the open kitchen, somebody can prefer natural materials and DIY solutions to show closeness to the nature and freshness of the atmosphere. Concrete countertop is a good contributor to such design.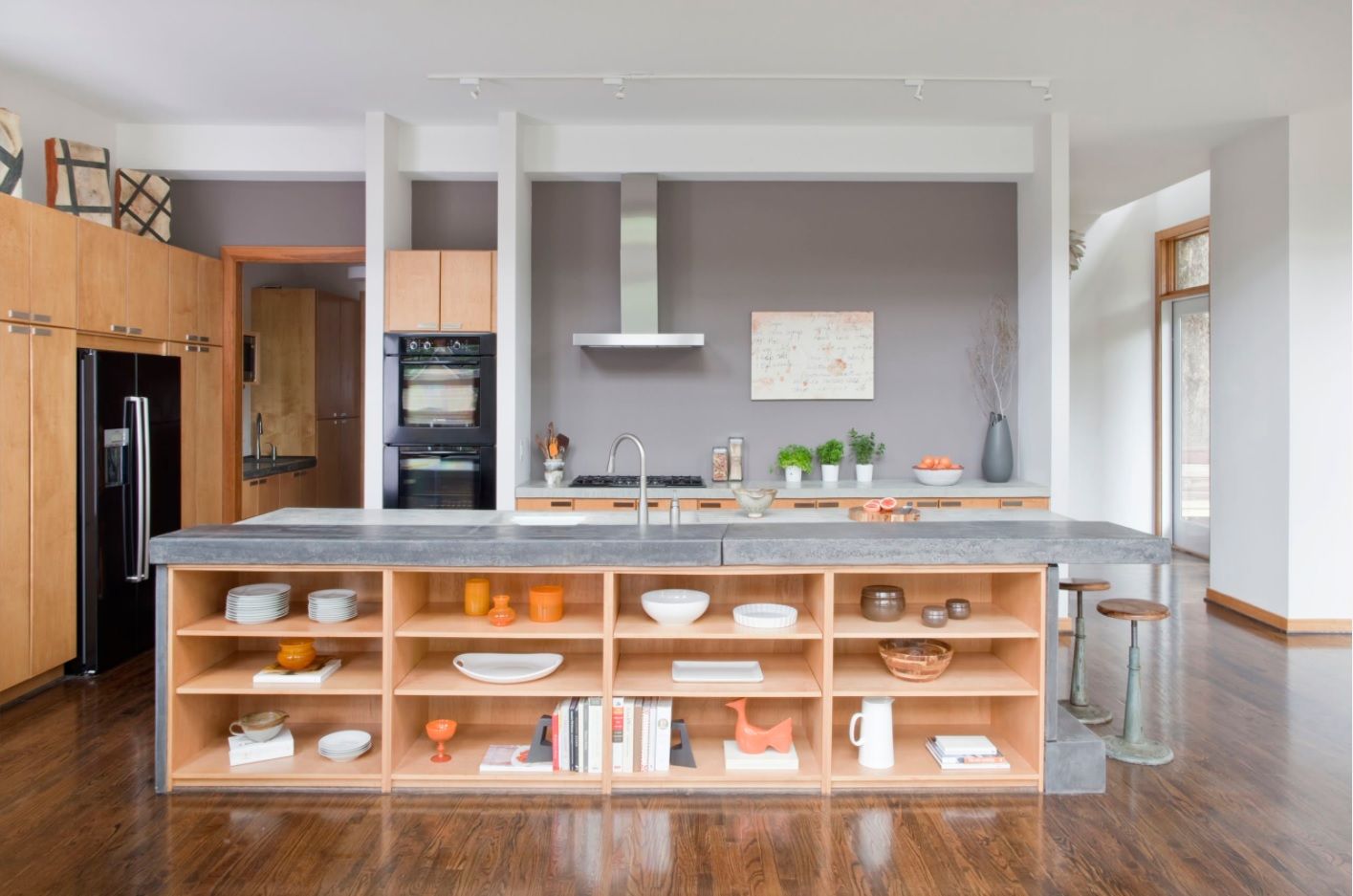 Classic and Rustic styles are also not giving up their positions. Moreover, we've got proofs that Classic is not only for spacious and luxurious rooms. Easy minimalsitic approach can create genuine interior design masterpieces.
Private house open kitchen design
The most justified real estate for open layout is the private house, mansion or cottage. Here you can plan the hall combined with kitchen and dining room at the first floor. Anyway, kitchen can be adjacent to almost any room you like. Small improvised kitchen is possible to locate even at the free wall of the open space of other functional zone or room. Even if this wall has non-standard architecture, form or ceiling slant.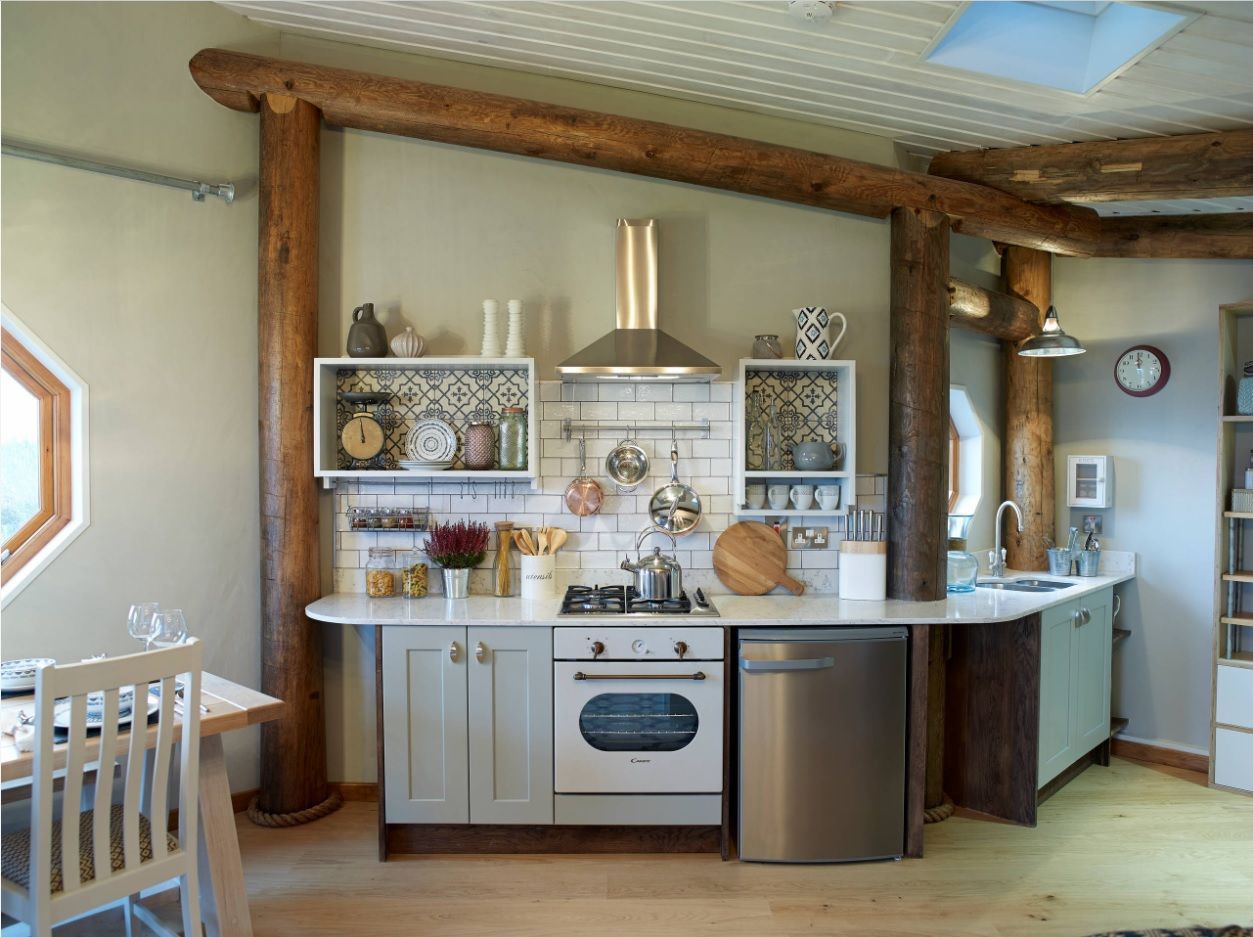 If you not forced to opt between extremal variants, there are plenty examples of arrangeing the open kitchen space in every kind of design styles. The most remarkable and grandeur is Classicism, which can help to decorate the space of any size.
But most of the modern interiors tend to Contemporary, Casual styles or something more of our time.
We can also meet Futuristic, High-tech, Loft and Industrial successful examples. But these oprions usually require the big scale of the living space. But it provides the maximum emotions from living in such decorated place. And it does not mean such options take enormously big budget. In compare with the real estate cost, the modern finishing is the minimal spending.
White color will be always actual. There is no secret that it visually increases inner space, makes the atmosphere clean and neat. The effect is easy to increase with panoramic windows letting much more natural light that will bring the sensation of beaing at the open air. In any case, closer to the nature, than in any other interior.
The common space can be combined with upper degree of creativity. For example, the kitchen next to the living room lounge zone. Especially, when every functional zone has its own accent. It can be brickwork or mosaic wall finish, the fireplace or its imitation. Do not refuse from extraordinary coffee table made of raw untreated wood, plastic or glass. And can you imagine all this advice at one place?