Your daily kitchen waste and nominal waste hardly fits into your dustbin, sometimes you even have to empty it twice, can you even think of adding any additional junk to it? While spring cleaning, decluttering or construction you have enormous trash to be disposed of and you often wonder how & where?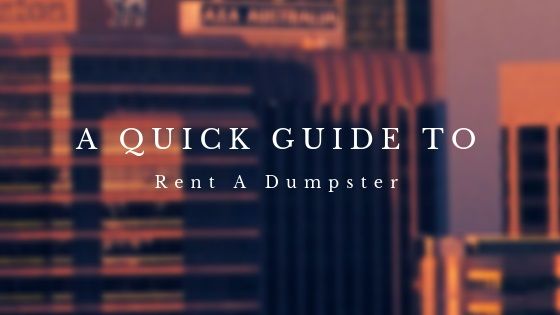 The best solution to your problem is Dumpster Rentals. Keeping a permanent dumpster may not be feasible as you do not always require it and it occupies a considerable space of your parking lot or garden or yard. You can have an alternative solution that is renting a dumpster.
Let's have a look at how and when you should go for dumpster as an option to dispose of your trash and junk.
Tips For Renting A Dumpster:
Never think twice to immediately go for a dumpster when you have any construction or renovation process in progress, once the project is over you can get rid of the rented dumpster. Choosing a dumpster is easy if you act wisely. Rent a dumpster that fits the following specification:
The dumpster is easy to place and takeaway. It should have no leakage and convenient design. Some dumpsters can be really harsh to your floor and yards, make sure to check the foot design.
Opt for the dumpster size very wisely such that it fulfills your needs as well as being cost-effective and compact not to occupy a very large space. Some of the dumpsters are so huge that you cannot put the junk right away. You have to look for some heights to climb and then dump the waste. Please check properly that it should be convenient to put the trash into it.
Compare the prizes from more than one dumpster rental stores or providers. Know the rates and additional costs if any. Take time to decide and make the right decision.
Check the disposal methods and licenses of the company as per the local government policies. Make sure they do not just dump the waste anywhere that in any way harm the nature. You should be well aware of what do they do with junk.
Make sure they provide the timely take-off and dumpster cleaning services too. Else it might result in the growth of mosquitoes and may be harmful to your health.
They should be available at your service in case you have any emergency removal or additional dumpster requirements. They must have customer care availability at least during working hours.
Check the company policies on what all can be dumped in the container and what all is prohibited. Never put any hazardous waste in the dumpster, you may risk your own life.
In case of very large projects, make sure they have daily junk removal service available and you do not have to create a heap of junk here and there just because of the company people have not emptied the container. If you can get the reviews of their services from your locality, it can be an added advantage to you.
Final Words:
Hiring a rental dumpster company is highly recommended. Not having a proper place for waste disposal and accommodation of waste at some space in your house can be highly stressful. It may lead to the generation of pests and the regions that can be dangerous to your health. Your construction site is always messed up and it takes all the more efforts to clear heaped up junk of several days. You may even require several rounds to dispose of the complete waste.
Renting a dumpster reduces your work to 50%.