Fashion is penetrating into all areas of our lives. In some aspects, it is relentless and severe, in others, – tolerant and supportive. Fashion trends in design of residential spaces is not so cruel as podium fashion. The interior, designed in accordance with the latest trends, will be actual in a few years – in particular, if it was created in accordance with the personal preferences of owners and has been focused on the maximum individual comfort. The most difficult thing when planning repair in your own apartment is to find a "middle ground" between the design ideas that are at the peak of their popularity and your own idea of ​​practicality, aesthetics and interior comfort. We have picked 100+ apartment interior design inspiration ideas & trends 2017 of home arrangement in accordance with new trends in the design world for your reference, and we hope that our extensive selection will help you create your unique image of the apartments, which will be relevant for years to come.


Recent ideas of the new season 2017
Creating a balance between the financial capabilities of the customer, his criteria of beauty, comfort and functionality with professional design ideas is almost art for real experts in their field. But designing of own homes even for a beginner (owner of small-sized apartments or spacious suites) is quite feasible task. It will require to listen to intuition first of all. There are several basic rules among the current design ideas for the new season (and for the next few years).


Natural materials
All natural is always in trend. This applies both to the finishing materials and raw materials for the production of furniture and decoration objects. Natural materials firmly secured their position in the field of interior design and will be relevant for years to come. Wood and stone, concrete, plaster, metal and various derivatives of these materials without harmful to humans and the environment substances simply can't go out of fashion. Not only closeness to nature, but also their own security, aesthetics and durability are pushing designers and their customers to prefer natural materials. Although the cost of building materials and furniture made of natural materials are more expensive than their synthetic analogues.
Nothing can "warm up" interior so much as the presence of natural wood. Beautiful wood pattern and its texture not only brings us closer to nature, but also help us to create a harmonious image of the room. The wood is easy to combine with the surfaces of light and dark colors by choosing the appropriate contrast. For example, maple, aspen, ash will look great in combination with colorful tones, chosen to emphasize the beauty of the natural structure. And all shades of wenge colors will look luxuriously, combined with a light palette of the interior surfaces.
Shine of the metal in a modern interior is an essential attribute. Metal elements are present in the rooms with a variety of purpose. Stainless steel is used in the kitchen space as a material for countertops, trim kitchen apron. Chrome elements are part of the household appliances, furniture and other constructions. Matte surfaces are no less popular. Silver, brass and copper elements can decorate living rooms and even bedrooms. They can be a part of accessories, framing mirrors and other wall decor.
The bright and spacious rooms
Any style fits harmoniously into a spacious and bright room. The only pity is that the reality of modern life is that real estate, especially around large cities is unreachable for most of people. Therefore, the fashion on combining space, removing partitions and walls, on the association of several functional areas within the same premises is currently relevant. Many people and designers are tend to join a couple of functional zones into one large space.
Increasing of the window openings and the addition as much sunlight as possible to the available space is the mainstream of the current and coming season. A bright room seems bigger, you can use deep rich colors and not only light shades that contribute to an increase in visual space in its interior. The properly lit room harmoniously takes contrasting color combinations, bright accents, large decorative elements.
When it comes to artificial light sources, the trend of multi-level lighting does not lose its popularity. Even in rooms with a modest area it is impossible to do without a lighting device. In such multi-functional spaces like the kitchen, almost every surface is functional and needs illumination. If we are dealing with a studio apartment where several functional areas are combined into a single room, it is necessary to light each segment (with local sources of illumination or LED-strip).
White tone as the main color solution
Fashion for all shades of white will never fade away. This is due not only to the fact that furniture and decor of any color looks great on a white background, but also to the fact that light colors help to visually increase the room, to soften the architectural imperfections or flaws in finish. White is a symbol of freshness and cleanliness. And many owners would like to see your home, first of all, clean and "light", weightless and fresh. It is easy to create a harmonious image of the room by using white color as the main finishing tone. Designers recommend using of no more than two additional colors (and their shades) to dilute the snowy idyll.
For those who do not want to take risks with a choice of sophisticated color combinations, experts recommend the use of the "three pillars" of modern palette of shades – white as the primary color is diluted with shades of gray and a one of natural timber shades (it can be or bright natural pattern or contrast dark wenge, for example). The resulting image will be practical and versatile. The kitchen, living room and bedroom can be successfully decorated according to this palette. The room will look fresh, but not gaudy, attractive and peaceful at the same time. And it is the calm environment we expect to see in our apartment after returning from work after a difficult day.
For more daring owners of small and medium-sized houses we can recommended to replace the gray tone with bright color, leaving white as the primary color in combination with wooden surfaces. But in this case, you must use your bright accent very dosed – one at the surface or appliance, another comes with sofa or chair with colorful upholstery.
Ideal option for areas of medium and large size would be a combination of contrasting colors. The alternation of light and dark surfaces will never go out of fashion. With the contrasting change of light and shadow it is possible not only to emphasize the geometry of space, but also conditionally zone the space to highlight especially important objects.
The use of lightweight furniture and Transformers
Replacing bulky desks in favor of light consoles, massive cupboards replacing to open shelves, the use of different folding mechanism, furniture-transformers – the modern trend, due to not only the prevalence of apartments with modest living space, but also the desire to surround ourselves with an easy and concise environment, simple furniture and decorative solutions. Convertible furniture takes up less space and thus can perform several functions depending on the situation. Increasing of transforming models in the lines of modern furniture allows buying ready-made solutions, and not to overpay for individual production to the majority of the owners of flats.
The rational use of the available space encourages owners of small and standard apartments to use the whole spectrum of design solutions aimed at planning a comfortable, functional and visually spacious interior at the same time. Built-in storage systems that allow efficient use of every centimeter of available space is becoming an inherent part of modern home.
Application of furniture, consisting partly or entirely of glass or transparent plastic (acrylic), allows to bring the ease and lightness into space images. Translucent and transparent design objects seem to dissolve in space, without weighing the appearance of rooms. Tables and chairs, racks and coffee tables, a console and shelves – all of these small but important interior subjects look luxuriously in the "transparent" performance and fit harmoniously into the modern design of dwellings.
Eclectic interior
The contemporary style of apartment design is eclectic by itself. It effectively combines a minimalism, loft style, country theme (especially the Scandinavian style), pop art, and even elements of classics. The skillful combination of different styles' concepts leads to the creation of a truly unique and original images of the premises, which may reflect not only the style and standard of living of the owners, but also their style preferences, attitude to the comfort, aesthetics and practicality.
Particulars of the rooms in a modern apartment
Living room
Modern living can be represented in several variations. The first option is a separate room, playing the role of the room to collect all households and guest receptions exclusively. The second option – living room adjoins to the dining room. In the apartments, where kitchen space is not in a position to accommodate a dining area, it is often taken out into the living room as to the room that performs similar functions: the gathering of all family members at certain times of the day. The final variation on of living arrangement is studio, which is connected also to a kitchen with a dining area in addition to the family room.
Kitchen and dining area
Like the living room, the kitchen can be represented in different variations. Modest sized room can contain only the working area (dining group does not fit into a small space). In a second embodiment kitchen accommodates not only furniture with appliances, but also a dining table with chairs. The final variation is when the kitchen is part of the large room, which houses the living and dining room (often this space is being also a hallway or corridor).
The use of open shelves as an alternative to the upper tier of the kitchen cabinets will be at the peak of popularity in the new season. This design method allows you to visually "unload" the upper part of the room to create an easier image of interior. Open shelves can be used as the sole option of storage systems for the upper level, and combine them with small hanging lockers.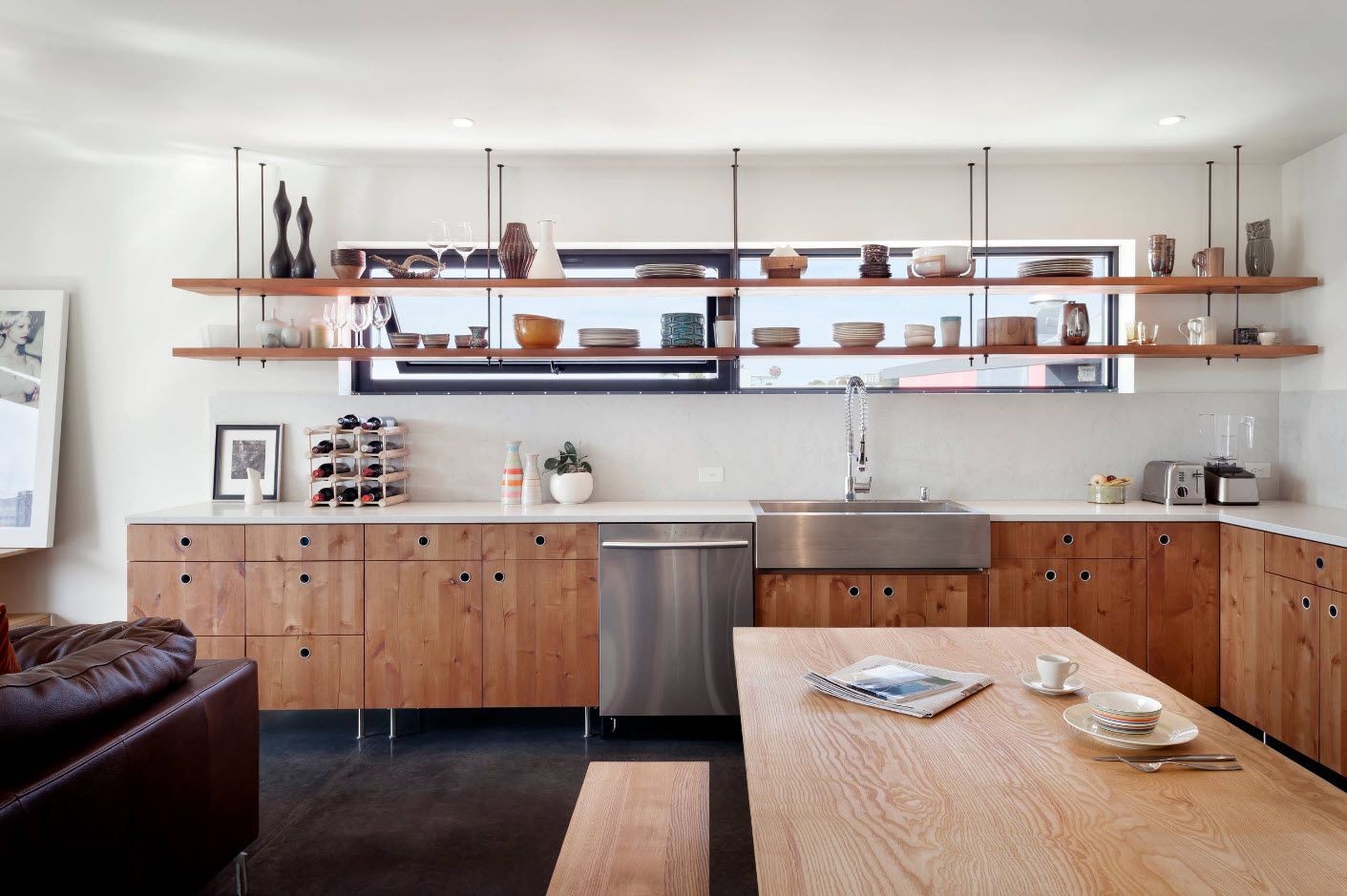 Conciseness in execution of kitchen sets does not lose its popularity. Absolutely smooth, plain kitchen facades are still popular. Simple furniture solutions look great both in small kitchen spaces, so as in spacious rooms. Regardless of the chosen plan and accompanying furniture, furniture ensemble with smooth facades brings simplicity, clarity and geometricity to the interior, notes of modernity and style.
Bedroom
We can all rarer see studios where sleeping area is part of one large room among modern design projects. Most apartment owners prefer to be able to retreat for rest and sleep, even if a bedroom would be the smallest room in the home, which can hardly accommodate anything but the bed. But it is possible to create a cozy, practical and modern interior space even in the modest sized room.
If you need an extra bed, other functional segments in the bedroom, designers are trying to perform them in the most neutral colors, so as not to distract attention from the main element of the room – a bed with its decoration. When it comes to workplace organization (which often appears as a dressing table too), the experts recommend to use a simple and concise decision – the console, which is fastened to the wall or is fixed on one support. As an alternative to the massive desk taking up much space, this option is preferred for small spaces. If you need to place home library in the bedroom, it is better to use light bookcases with open shelves instead of cabinets with solid fronts.
Children's room
Modern style is reflected in simple and concise decisions even in children's rooms. Lightweight furniture, simple shapes and lines, modular storage system. Comfort, ease of use and ergonomics are at the forefront. Environmental safety is a priority. But it can't do without the decorations as it's a child's room. Bright accents are required – stickers or paintings, contrasting edging and use of such design techniques as accentual surface.
Bathroom
Despite the love of most of the designers to spacious and roomy bathrooms, the reality of the present day is that the majority people living in living quarters' apartments and condos need to put all functional segments for water and sanitation procedures in an area of ​​several square feet (often no more than 3.5-4 sq. m). A small amount of room dictates the use of certain techniques by visual expansion of the space. And these are never go out of fashion. Bright colors, high gloss, glass and mirror surfaces, the location of the tiles on the diagonal, using a specific edging and prints for the visual arrangement of increasing the height of the room – there are many effective tricks and tweaks.