What kind of wall decoration in the bathroom is preferable? This question is very often faces all who want to create an exclusive interior in this room. Choosing a way to decorate wall surfaces is not easy, because bathrooms are rooms with high humidity and are intended for all family members. Therefore, the design of such rooms must meet all the highest requirements of comfort, safety, and decor. Sanitary equipment for bathrooms is of paramount importance, but no less important is the way of interior decoration. The walls in the bathroom should be stylish, beautiful and durable. When choosing the wall cladding in the bathroom, all its advantages and disadvantages are important. Let's dive deeper into the list of effective bathroom design tips: wall decoration advice and photo examples. A variety of finishing materials can help to choose those types that would match your budget and style preferences.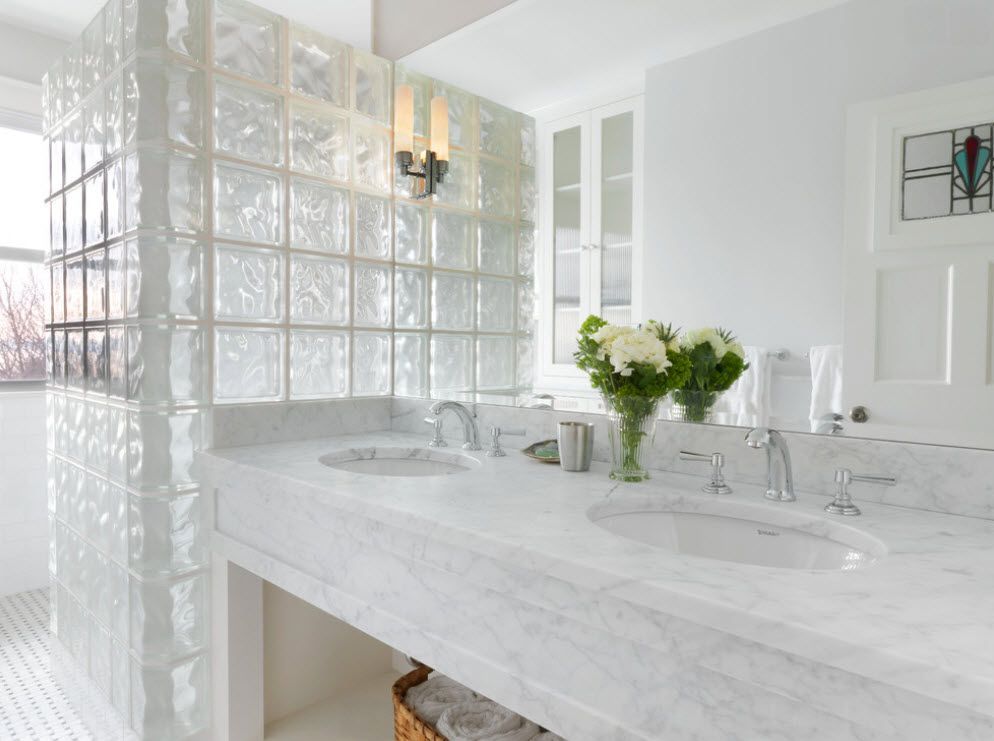 Requirements for materials:


moisture resistance;
environmental Safety;
hygienic;
resistance to acid-base detergents;
ease of care.
Ceramic Tile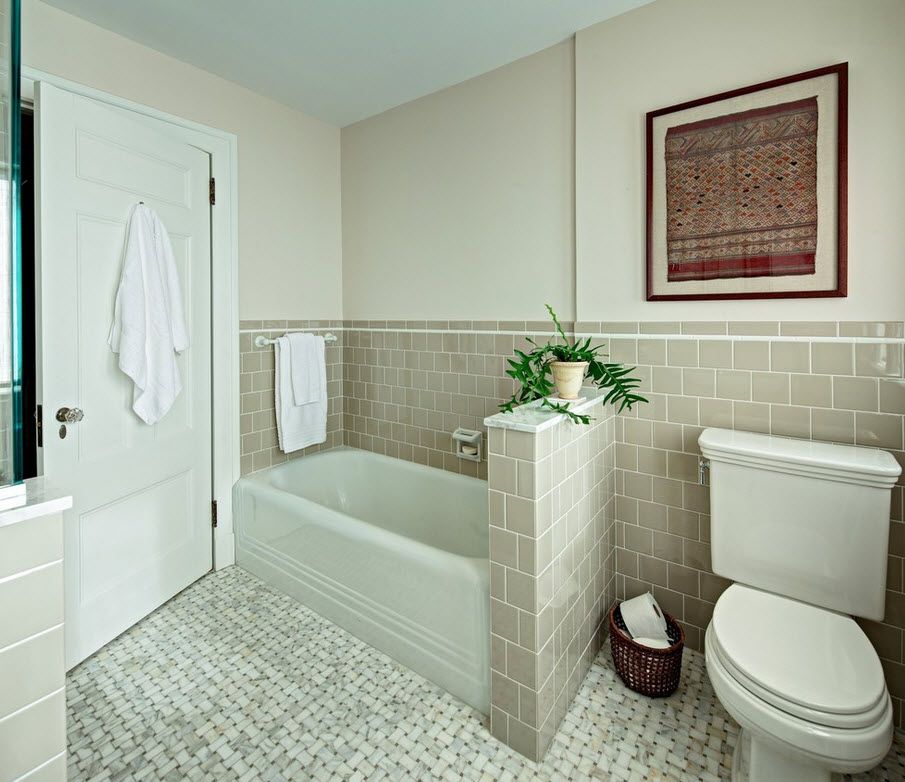 The most common material for finishing walls in the bathroom is ceramic tile. A variety of textures, shapes, colors can be created in the bathroom interior of any effect and style. Tile protect the walls from moisture, it is easy to wash and clean. There are a lot of options for using ceramic tiles.
You can decorate the walls with a plain white tile and dilute the monochrome with a tile of contrasting color in the form of an splashback: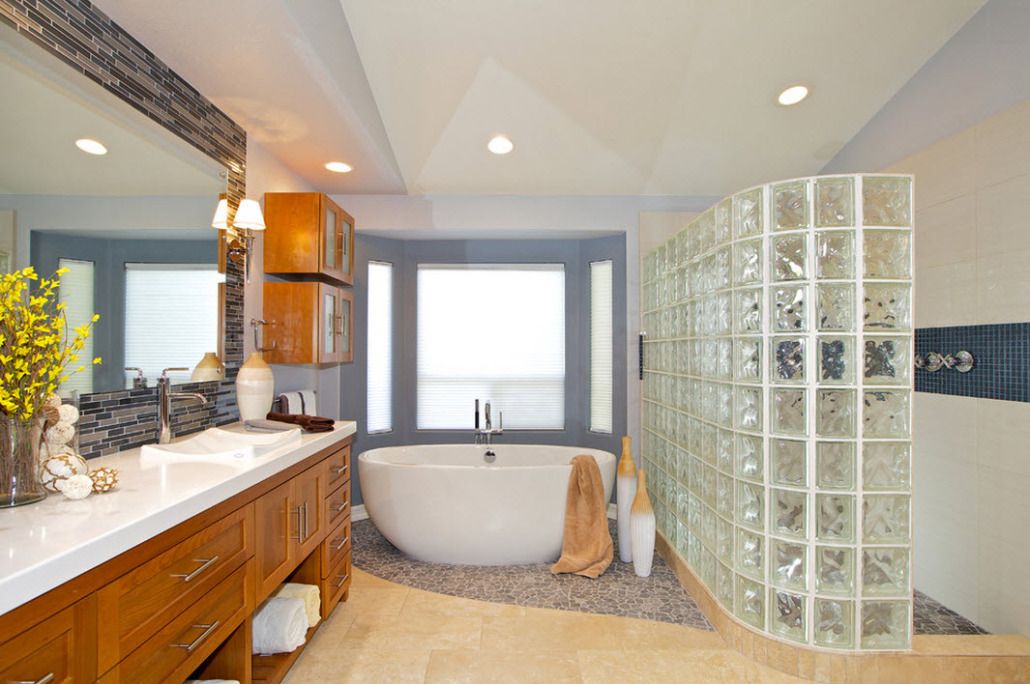 or lay the areas with tiles that mimic a brick: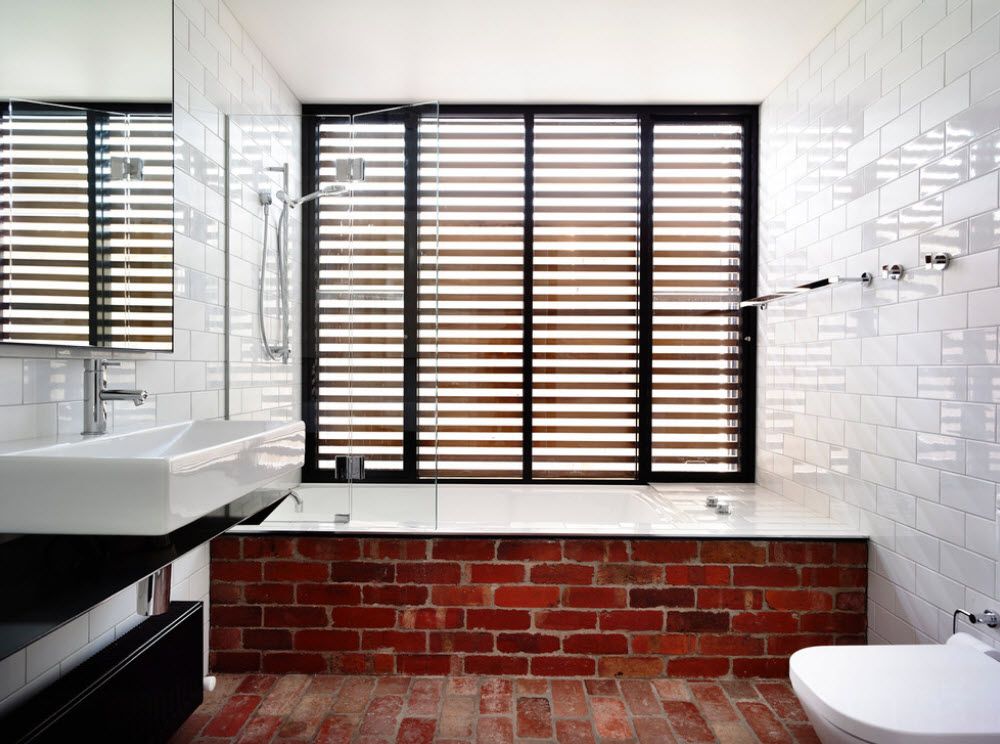 Imitation of brickwork in the bathroom will create an eccentric interior, with a touch of space brutality:
Ceramic granite is another type of ceramic tile. He is known for high strength. Most often, porcelain stoneware is used for floor coverings, but sometimes it is applied on the walls in the bathroom:
Fans of extravagance can appreciate the original way of decoration the walls, reminiscent of the patchwork style. Moroccan tiles are completely different in texture, design, colors are combined in one wall, like flap cloth in a coverlet: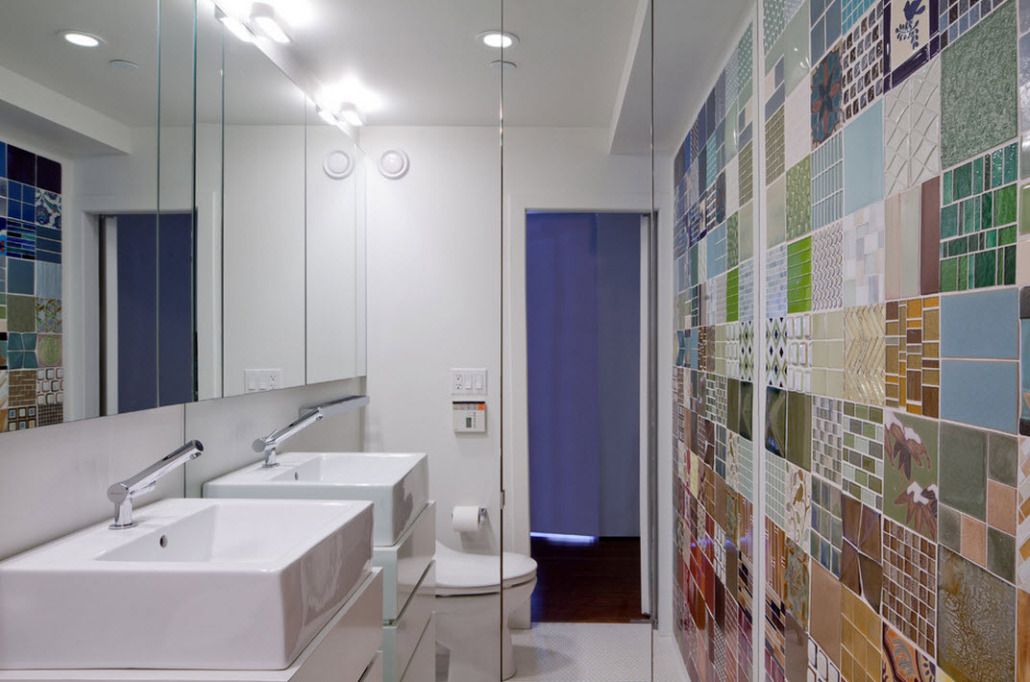 Unusual volumetric tile with matt furniture harmoniously fits into the bathroom interior: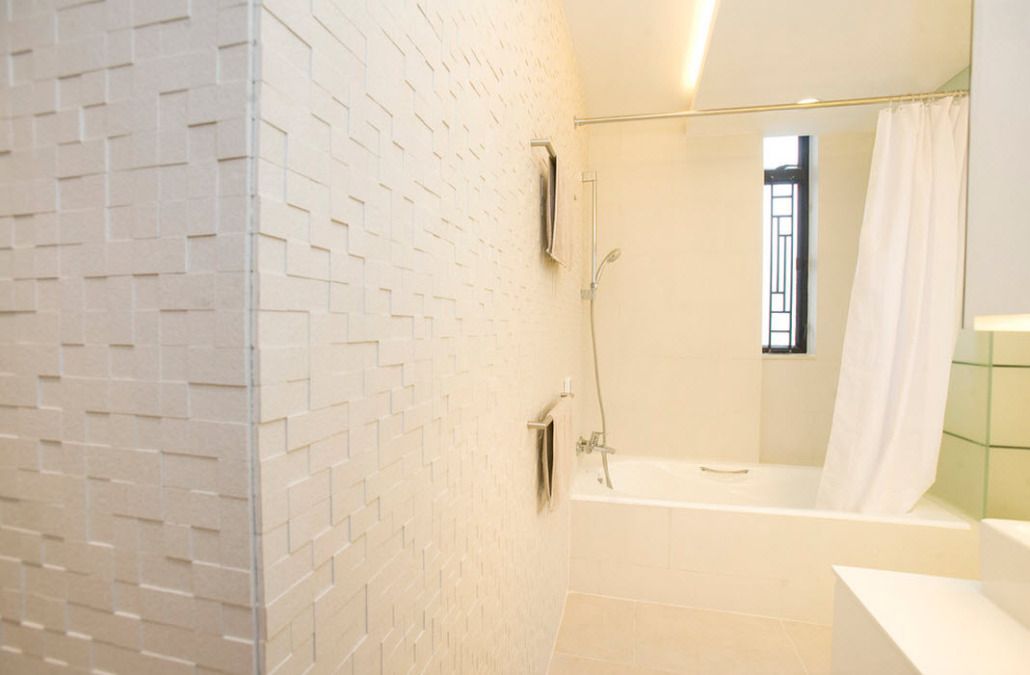 Classic and luxurious marble always creates the effect of an expensive and refined interior: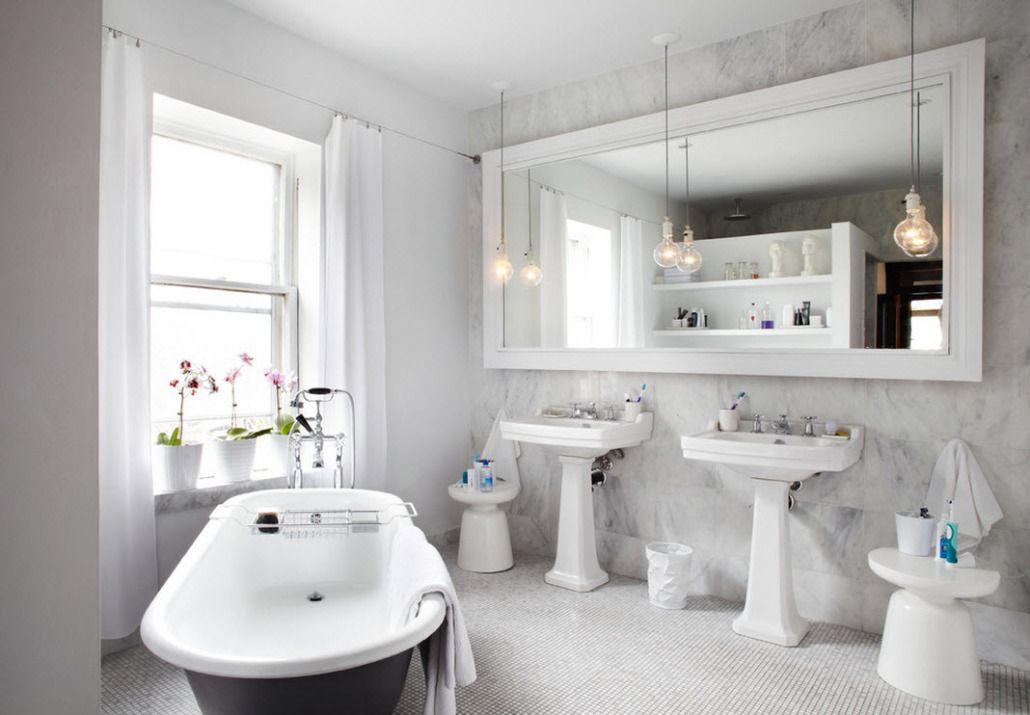 Natural Stone
Natural pebbles are a very economical and practical finishing material for bathrooms. It is easy enough to mount it yourself. Building stores sell mounting mesh, on which the stones are already pasted. There are several ways of laying small stones. The walls, decorated with pebbles, look unusual and original, they are easy to take care of, and can be covered with paint or varnish:
Rubble stone masonry looks very unusual on the walls of the bathroom .This kind of design will help create a natural, rustic or ethnic style: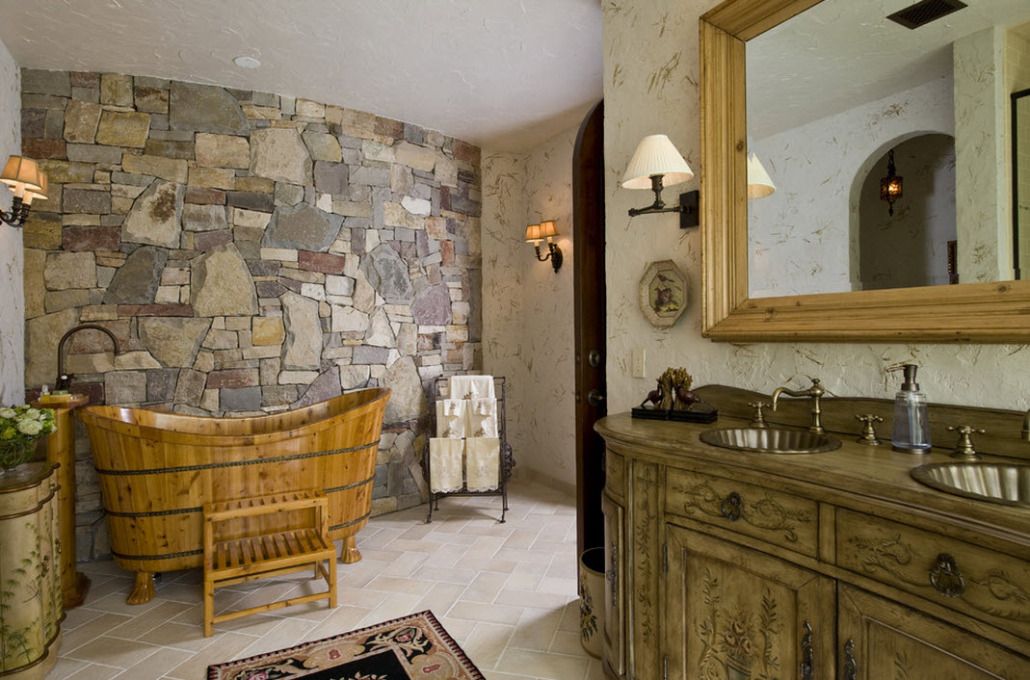 Wooden Covering
Many people are rather afraid of the possibility of finishing the walls with wood, because this material absorbs moisture and deforms with time. However, modern lacquer-colored and antiseptic compositions make it possible to create a reliable protective layer for decorative elements made of wood. This finish is suitable for bathrooms in ecodesign style, country and other country styles:
Bathroom looks fantastic, where the decor of the walls combines wood and tile:
Artificial Materials
Synthetic material, reminiscent of natural stone, is an excellent alternative to natural raw materials. It is lighter than a natural analog, cheaper, easier to install and provides the same effect of natural harmony as natural stones:
Plastic panels are among of the budget materials, which are easy to install, resistant to moisture and temperature changes. The lack of such walls is the fragility of plastic and its flammability. And for the interior of the bathroom you can choose interesting options for finishing plastic panels: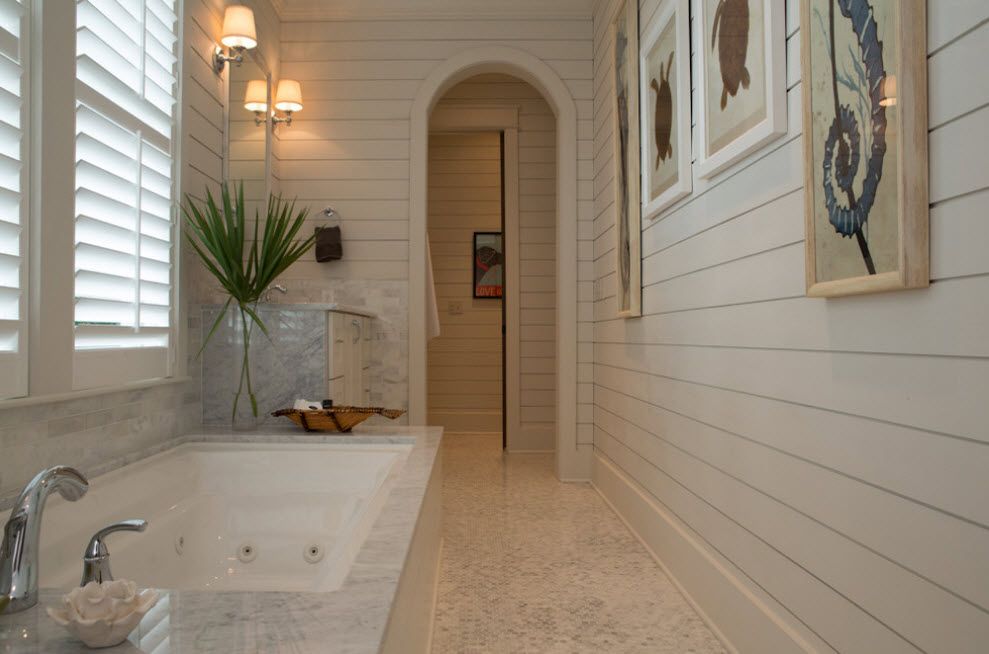 Mosaic Walls
Mosaic tile will create absolutely inimitable interior in the bathroom. It is made of different materials: tiles, glass, and plastic. Mosaic coating finish any surface. It can be applied at any temperatures. There are a lot of options for coloring mosaic. You can also use a single color gamma:
or create different patterns: abstract geometric ones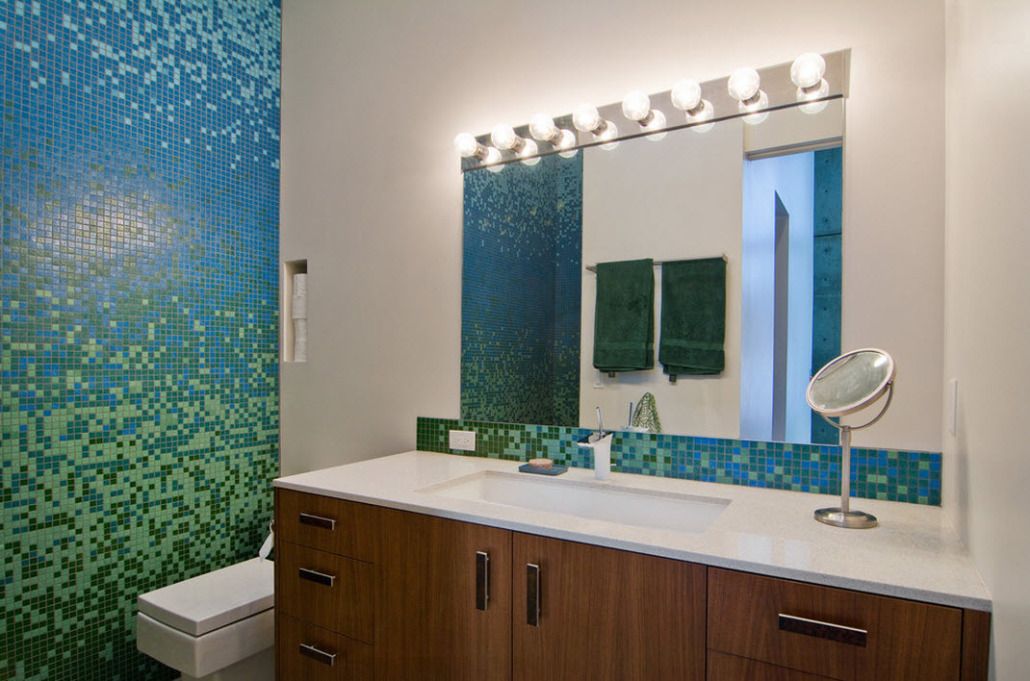 and more complex: plant drawings, reminiscent of the picturesque canvas. This is certainly an expensive way of decorating the walls, but the result is amazing:
Painting Walls
Staining is one of the simplest design options for walls, especially for gypsum plasterboard structures. The main requirement for paint is moisture resistance. Choose the items with the corresponding marking. Before painting, the walls must be carefully leveled and grounded to allow the paint create flat surface. You can choose a glossy, matte or combined coating:
Painting imitating marble also looks spectacular: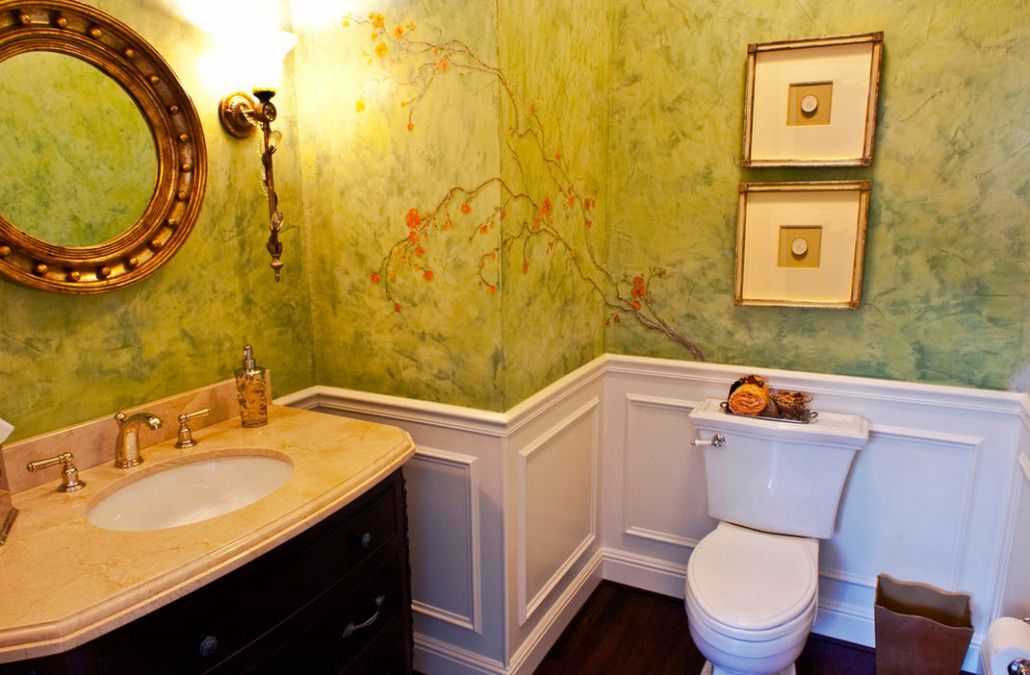 Unusual Solutions
It is not customary to paste wallpaper on the walls in the bathrooms, because it's not entirely practical. But if there is good ventilation in the room, washable bamboo wallpaper is a great way to decorate the walls. Such a coating is treated with moisture-resistant compounds and durable enough:
The mirror wall is a chic and stylish solution for the bathroom, especially if you use a mirror tile of unusual shape, with facetted edges. Similarly, you can add an additional amount to the room. The con of such walls is steam misting: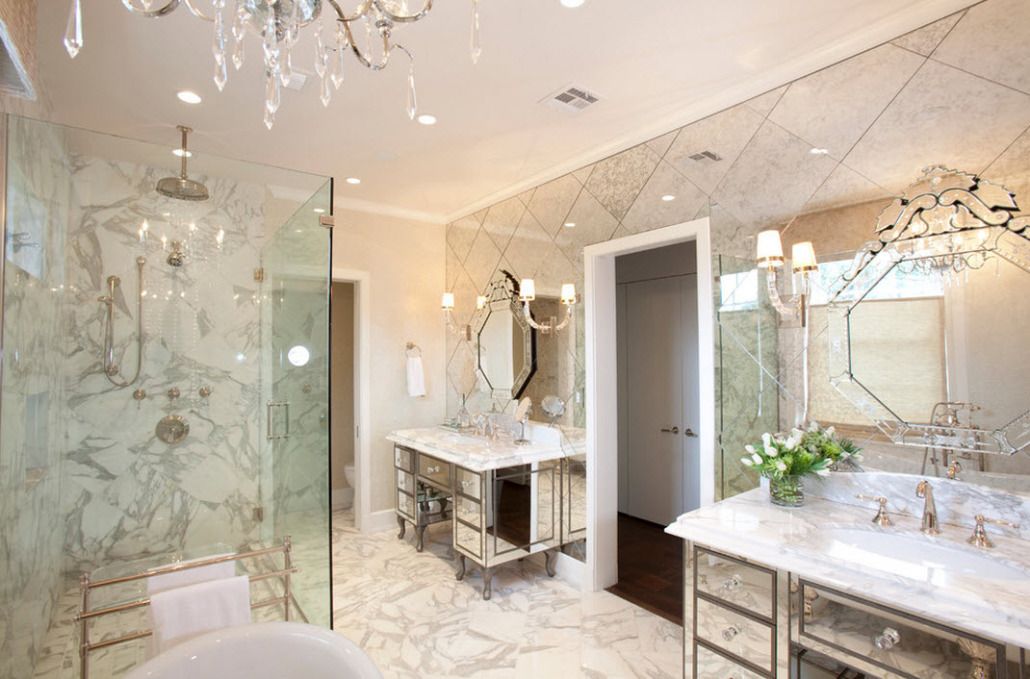 A stunning corner of this wildlife in the bathroom is the phyto-wall. To create it, use shadow and moisture-loving plants: moss, ferns, and epiphytes. Installation of a living wall must necessarily be done by floristic specialists, it is important to design an automatic irrigation system. Such complications in the construction of phytowalls will pay off with an exclusive and incredible interior: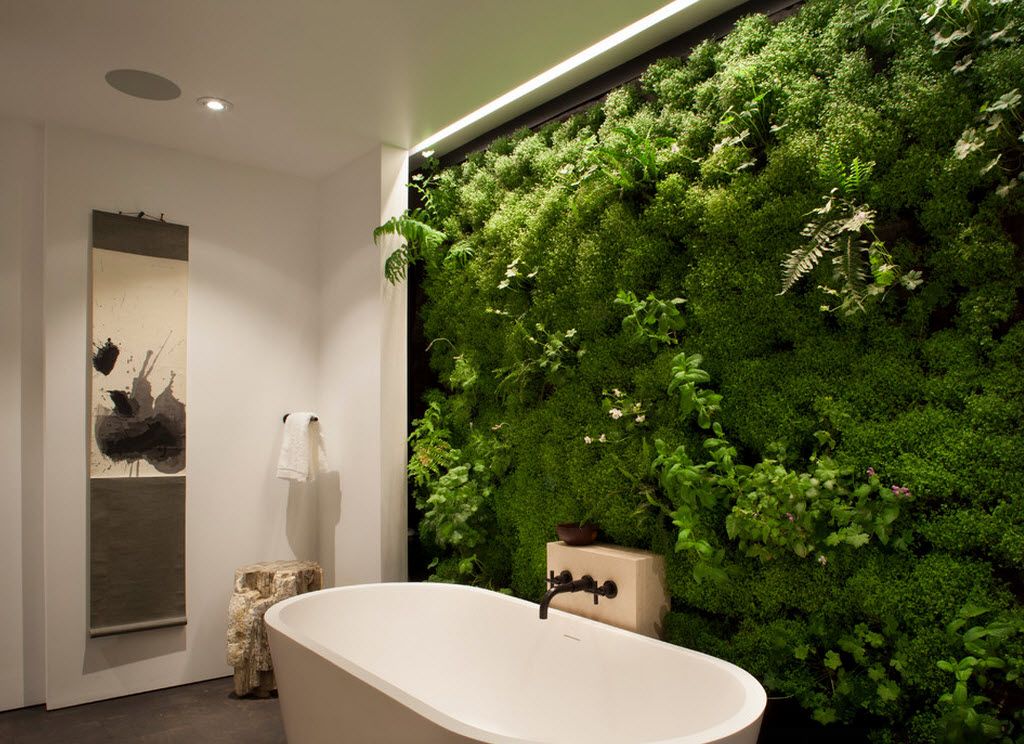 Embossed wall with 3D effect is a relatively new direction in design. However, it managed to gain popularity, because it is made of three-dimensional panels, does not require additional processing of walls before decorating and conceals possible defects of walls: