The XXI century is a time of manufacturability and functionality in architecture and interior design. That is why in recent years, the industrial style, the idea of ​​which arose in the USA in the last century, has become increasingly popular. Today we will tell about how to create an interior following the style in a typical industrial studio apartment – partially or completely.
Style History
In the forties of the XX century, Manhattan's enterprises moved from the downtown to the outskirts, and the representatives of the creative underground began to occupy the premises of abandoned manufactories with high ceilings, good lighting, and low rents.
Later on, industrial premises were first reconstructed into offices, and then into art galleries, hotels, bars, shops. Designers freed abandoned buildings from factory equipment and debris, covered concrete floors with parquet and decorated with exquisite furniture. The industrial style quickly moved to the field of residential interiors and began to be used both in former industrial premises using existing architectural elements and in standard apartments, where an artificial industrial style is created using the inherent attributes.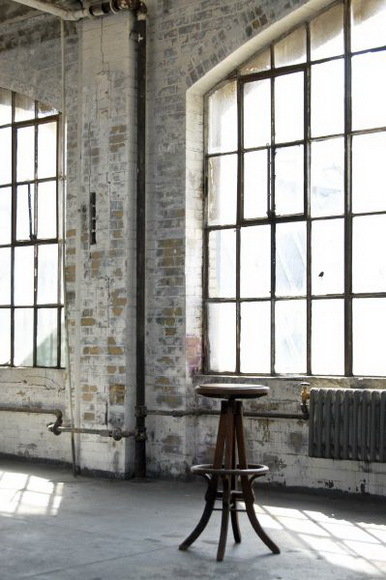 Pay Attention to the Color Palette
The industrial style palette refers us to industrial facilities. It is severe and monochrome: gray, red, beige, brown, khaki. Choose one dominant color, use the maximum number of its shades and mid-tones, and emphasize them with black and white accents. The use of various textures is especially important: rough brickwork, metal with a slight sheen or with rust, rough wood.
Choose Textured Materials
The main components of the style are textured materials: aged and unprocessed wood, untreated stone, brickwork, rough concrete and, of course, metal. The metal should be matte, steel, iron, aluminum, ideally with a touch of rust or patina. Shiny gold and brass should not be used, they will give too much gloss, and this is a departure from the style. A key feature of the style is the presence of open pipe systems, ducts, beams. Real or stylized, similar elements will add extra texture to space.
Furniture with a Touch of Time
Furniture can be vintage or modern, but referring to the style of the manufactory. Old items found in flea markets will be great items for furniture. The underframe from the sewing machine, open bookshelves with a frame made of pipes and a workbench turned into a dining table – all these items will fit perfectly into the industrial interior. Soft sofas are also appropriate, but of monochrome coloring and of the simplest possible forms, without a hint of excess decor.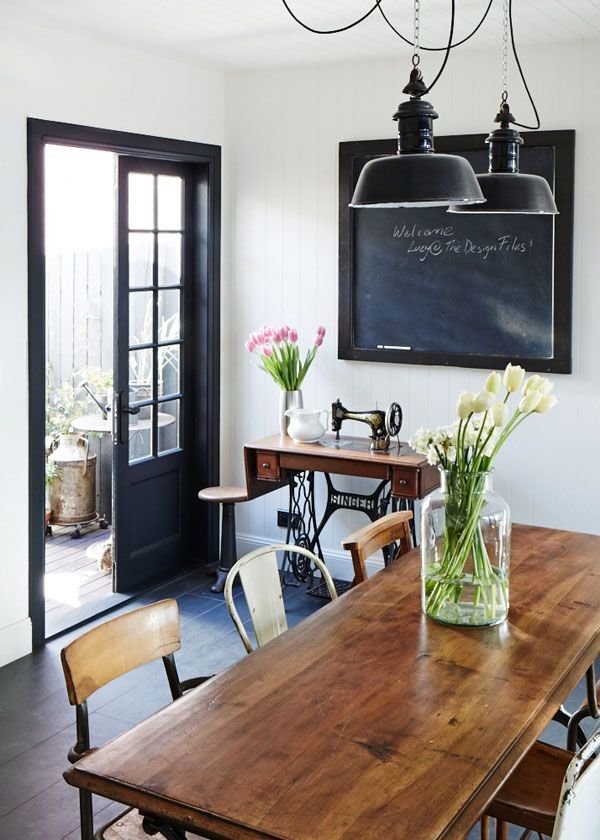 Think about More Lighting Scenarios
The industrial style means open spaces, large skylights and the maximum use of natural light. Curtains are either not used at all or made of practically weightless materials of light colors. Artificial lighting is created using fixtures made in a factory-style using metal and thick glass. For general lighting, lamps with metal lampshades are used resembling the lamps of the factory shops, or clusters of bulbs without lampshades but with open wiring. Functional lighting is flexible floor lamps with hinges associated with technical lamps from workshops.
Original Must-Have Décor
The minimalistic decor of an industrial style uses authentic workshop attributes or stylized objects. Gears, bolts, valves, pipes are used not for their intended purpose, but as elements of space design. Graffiti paintings, advertising posters, and luminous signs adorn the walls.