Small houses can be extremely beautiful and cozy. Talented architects have developed many professional projects for small residential buildings from 50 m² (540+ square feet) for today. Organization of small house's interiors will be a pleasant task for you. Numerous sketches of houses are, first of all, a wide range of unique compositions that imply low costs for the construction and operation of these structures. All the cute designed real-life projects of small houses presented in the photo gallery are characterized by originality and creativity. A wide range and attractive styling of the facades allows adapting a small house to the individual needs of even the most demanding people. Enjoy projects of small houses, choosing the most suitable option for you.


Why is the construction of small houses so popular today?
According to reports, modern people often look for small one-bedroom apartments. Apartments that can provide more comfort to the family, in fact start from 60 m² (650+ sq. feet) of area. In this area, designers often create three small rooms, where you can comfortably live and place all the essentials. Unfortunately, an apartment of 60 m² is worth a lot of money, especially in large cities. A square meter in your own house will always be cheaper than at a high-rise apartment, hesitate fro long, but choose a project for future private ownership for life on the photos.


Maybe you should think about all the pros and cons of small house? If you already have a plot of the land, for example, left from the parents, then it is easy to build a budget residential building on it, especially if you choose the right building and finishing materials, determine the structure of the roof, the number of floors, the presence of a garage and an attic. A small house is an excellent economy option for a small family, a couple or a single person.
Small private houses: what size to choose?
The size of the potential project of a small house is an important criterion of choice, according to which a person searches for the optimal variant of housing. In the collection of small houses you can find buildings with a useful area of ​​up to 150 m² (1600 sq. feet). People are also interested in buildings of up to 110 m² (1200 square feet) and plans for up to 80 m² (860 sq. feet). The construction of a very small house, for example in 60 m², can also be an ideal alternative to buying a medium-sized apartment, so many choose this particular solution. Your own home is first and foremost the improved comfort of family life, as well as your own garden, personal garage or carport.
Interesting projects of small houses
All projects included in the group of small houses are suitable for self-realization. Individual plans are suitable for use in densely built-up areas. Due to the fact that one of the walls is devoid of windows, it can be closely located or even attached to an existing building. From the front side, in addition to the entrance and the garage, a boiler room can be installed. Sometimes it can be a laundry room. The living room is located on the opposite side of the building almost every time when the house plan assumes a garage at the ground floor level. In the design of the house of a modern small project, in which it is planned to build a garage under the building, it is even easier to create a sunny living room. This is especially advantageous in case of investment in narrow areas which entering from the south.
Projects of houses with an attic
The most popular small houses are the attic buildings. The main advantage of this construction is the division into the day and night parts of the house in accordance with the natural location of the floors. Projects of small houses with a mansard can be realized on small land sites because of the smaller area of ​​building. Especially when we compare it with one-storeyed buildings of same size.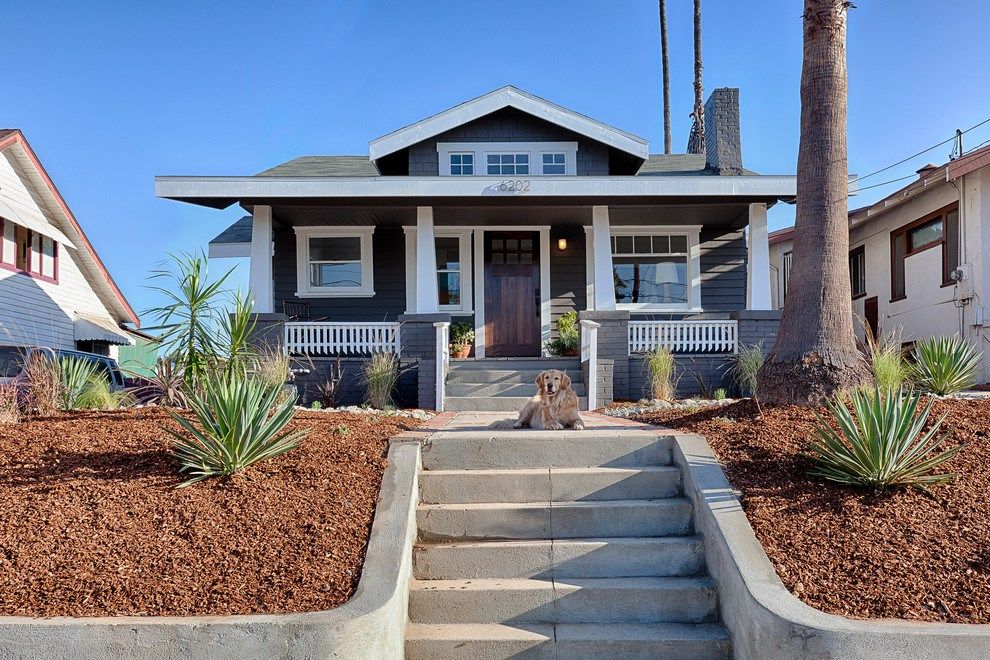 Projects of a mini-house with a cellar
This group of objects is recommended primarily to people who suppose building a house on a slope. Such a landscape requires the selection of a suitable project with a full or partial basement that best utilizes the natural conditions of the soil. The design of a small house with a basement is also worth considering when building on a narrow site. Putting a boiler or laundry in the basement, you get extra space on the first floor for development, which will certainly be useful for creating another room.
Projects of small high-rise buildings
In the photo gallery you will find interesting projects of small two-story houses that offer residents more spacious and comfortable interior. Thanks to the full height of the second floor, you can design a wide glazing in the rooms, perfectly illuminating the entire interior space. The absence of inclines in the attic also provides greater freedom of action. Modern designs of small and narrow two-story houses are sure to please those people who want to become the owner of a mini-villa.
Projects of small single-storey houses
Single-storey houses feature functionality with a clear separation of the used area. The one-floor buildings are enchanting by the natural connection with the garden. And the advantages of living will be appreciated, above all, by families with children and the elderly. The expansion of the attic makes it possible to increase the useful area of ​​the house.
House on a small and narrow plot
Today it is easy to find interesting house designs for a small plot of land, which, despite all the restrictions, will allow building comfortable and functional apartments. Consider small houses with a loft for a narrow ground, two-story buildings, as well as practical plans for small one-story buildings in a limited area. When choosing such a house, special attention should be given to the possibility of correctly locating the building in relation to the sides of the world in order to effectively use solar energy.
Small houses are a full range of stylistically diverse buildings. Here you will find interesting projects of small traditional buildings, the nature of which is emphasized by architectural details, such as: columns, arcades, ledges, terraces, decorative window openings. The choice is all yours!