Eclecticism, as mixing and combining disparate views, ideas and styles applied in art, philosophy, fashion and architecture. As for the interior design, the eclectic room usually is some mix of European and Oriental, ancient and modern, contrasting and neutral, comprised in the general framework of a vision of comfort and coziness of designer or homeowner. An unusual and even exotic interior is formed by pieces of furniture and decoration, textiles or souvenirs brought back from trips to other countries. When into the fabric of modern interior are woven elements of other cultures and even epochs, it we achieve the original, non-transferable image areas with its absolutely distinctive charm. Some eclectic room design seems too pretentious, cluttered, and even eccentric. For others, eclectic in their own home is always present – on the inherited from grandmother old carved table is standing an ultra-modern laptop brought from traveling abroad, souvenirs of a decade ago, is located on the same custom-made racks.


Eclectic private house expressive design interior
We would like an example of registration of a private house to show how welcoming, comfortable and functional at the same time the Eclectic can be in a modern performing. How harmonious can be items with different histories of origin, exploitation and stylistic identity. Barely got into the room of this eclectic home, we see how interesting and colorful can be mix of different cultures, styles and time periods of our lives.
We begin with a tour of the most eccentric and large room in the house – living room, adjoined to the open-plan kitchen. The first thing that catches the eye in this bright room is the original design of window openings. Not only bright eye-catching elements of stained glass, but also non-trivial approach to facing of window space. To "sustain" a similar brightness, as well as many wall decor, can only snow-white smooth wall finish of the room, without distracting the attention and serves excellent, neutral background.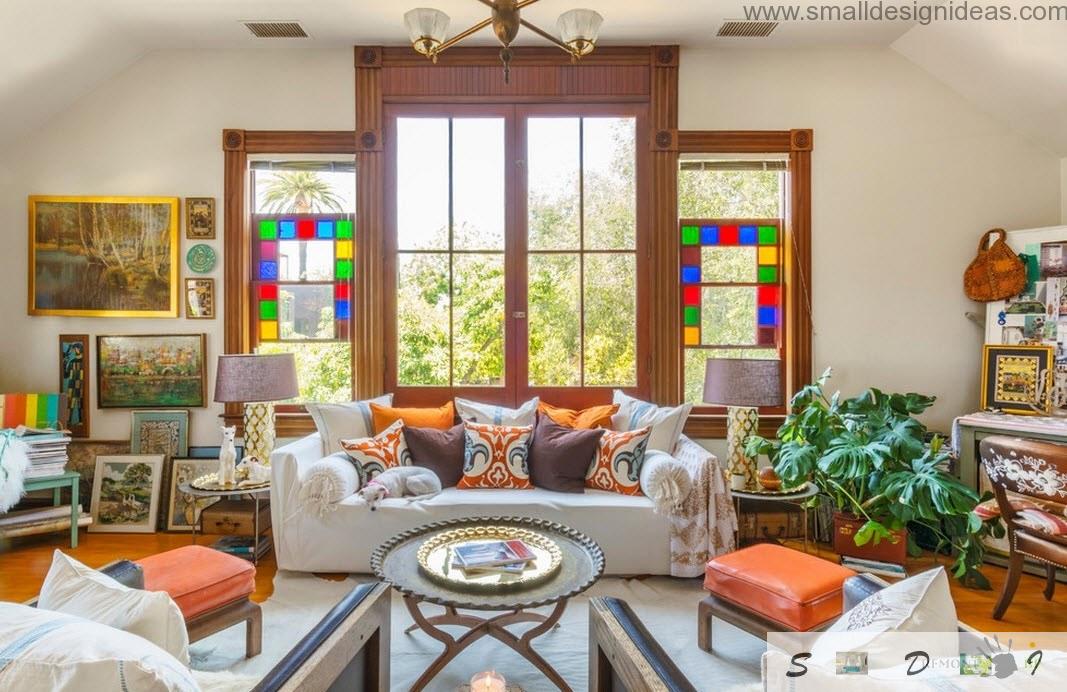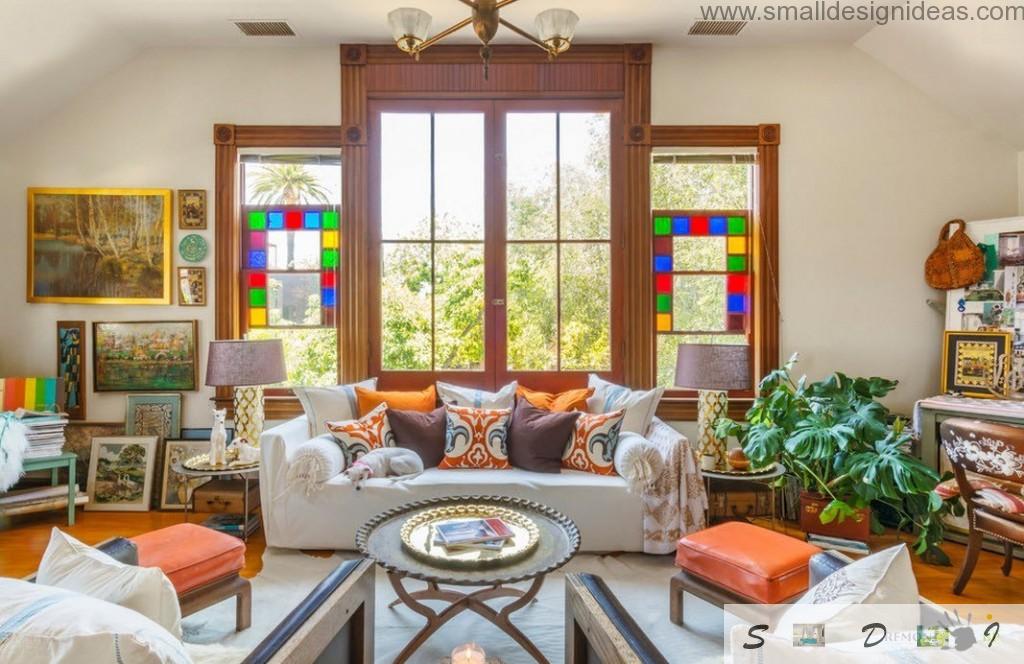 Somebody may think that the room is overloaded with furniture, decorations, all kinds of details, which are placed, seems to be, in a chaotic manner. But for owners of this home such a way of organizing space is the most convenient, comfortable and cozy.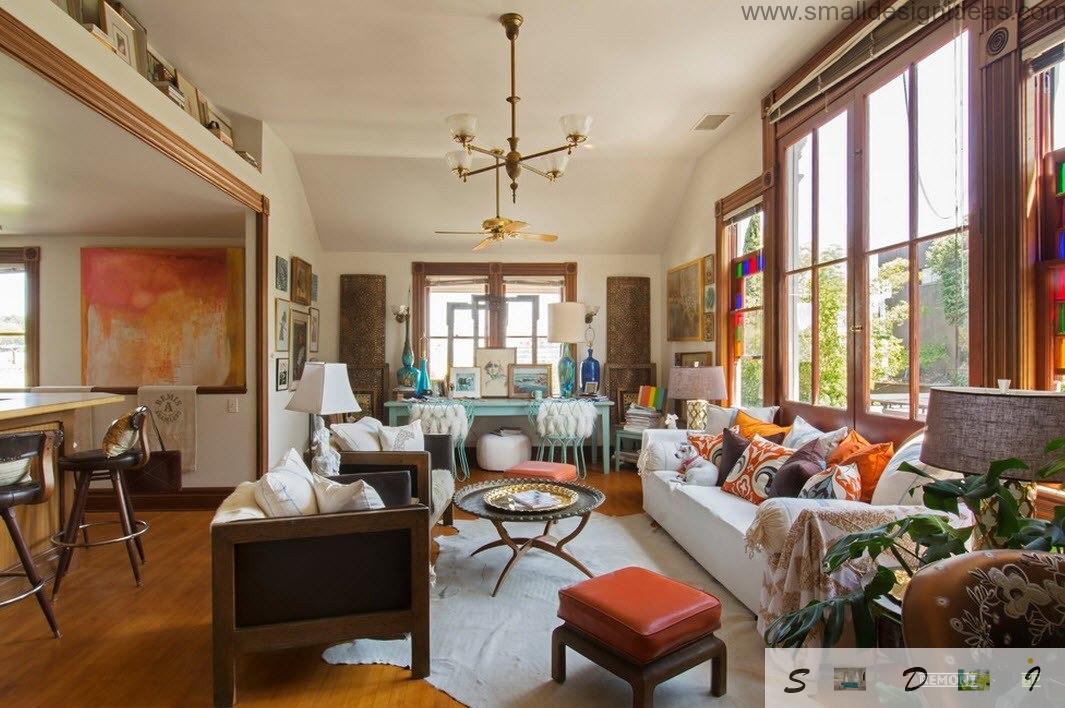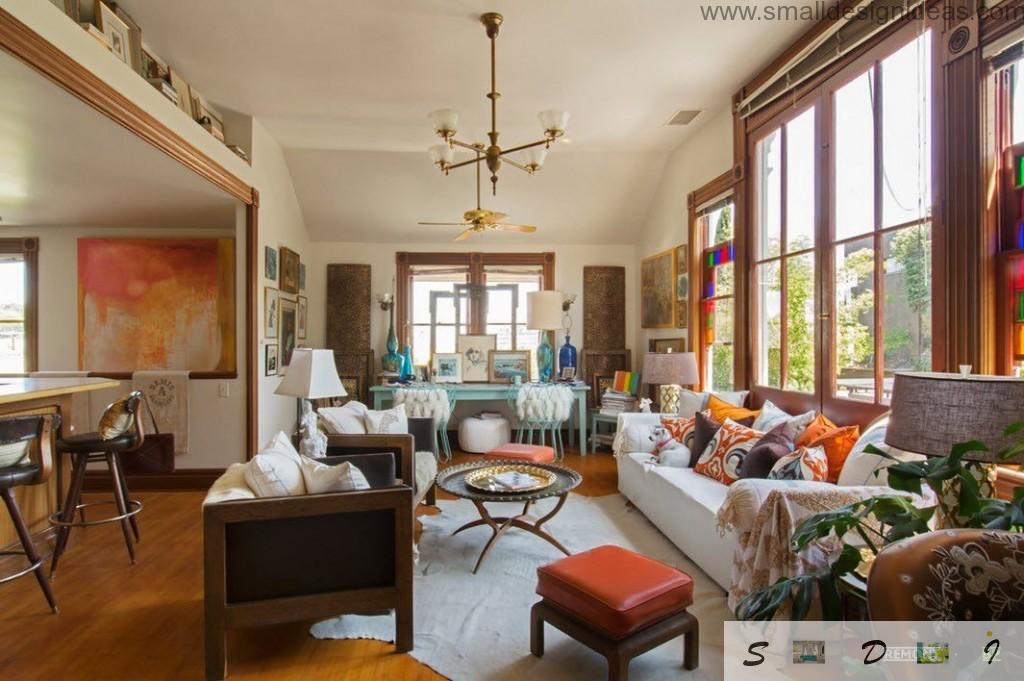 Big snow-white sofa with lots of colorful decorative pillows and two comfortable armchairs with leather upholstery have completed the living room`s soft zone. Complete the image of the functional segment of the small ancient table-stand of the original model.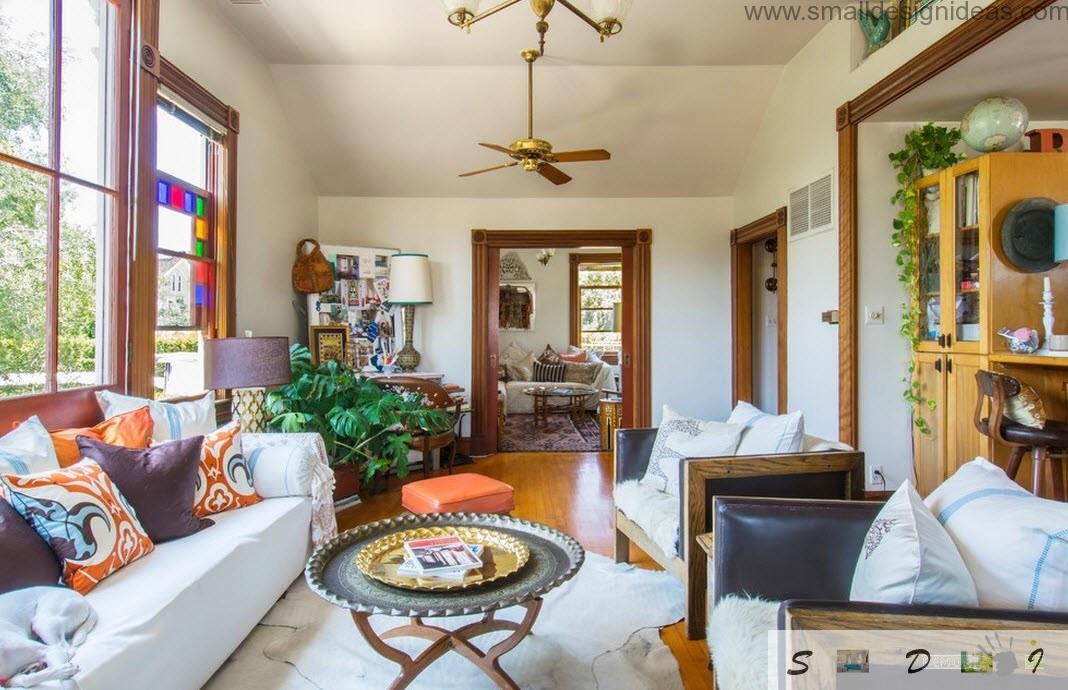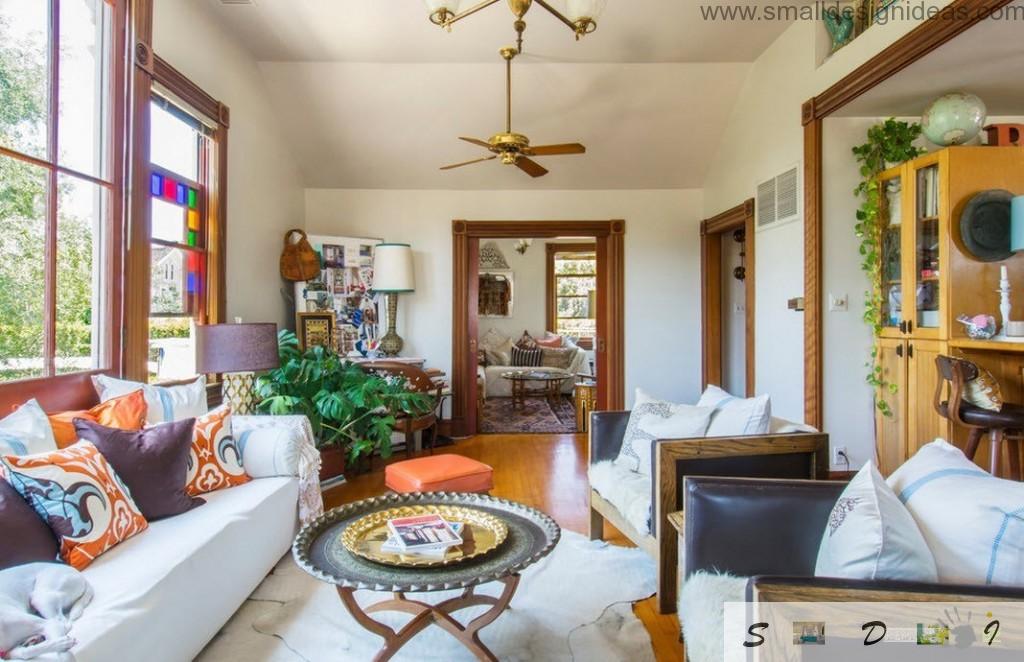 Here, in this eclectic living room there is a workplace for two, represented by bright blue desk and the same tone metal chairs and armchairs with white soft substrates. In this area for ​​work and creation everything is bright and diverse – from lighting to the writing accessories.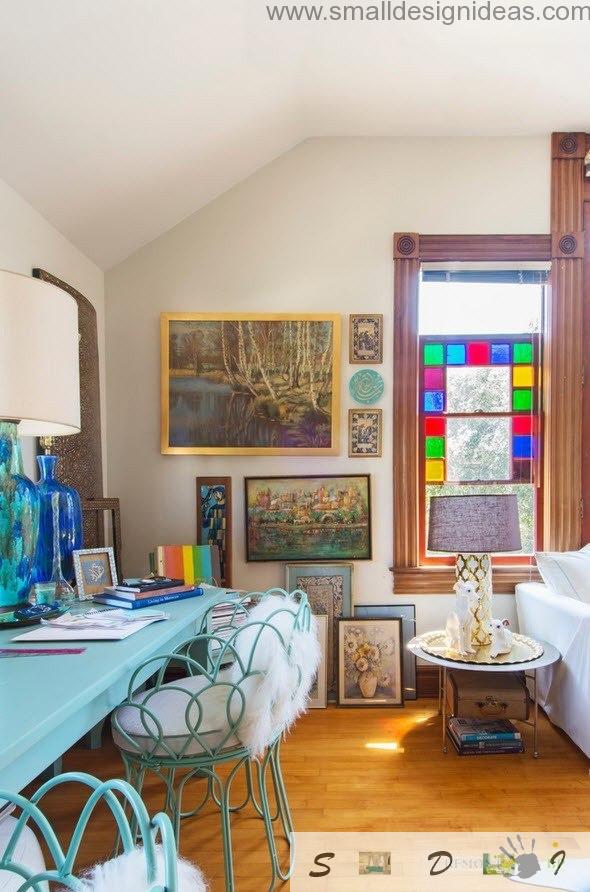 Another place to study, creativity and work is located in the opposite corner of the room. Being near a large window allows this functional segment to be well-lit most of the time. For the dark time of the day there is a table lamp with original performance of bottom that is not immediately evident on the background of bright and variegated decoration items in this area.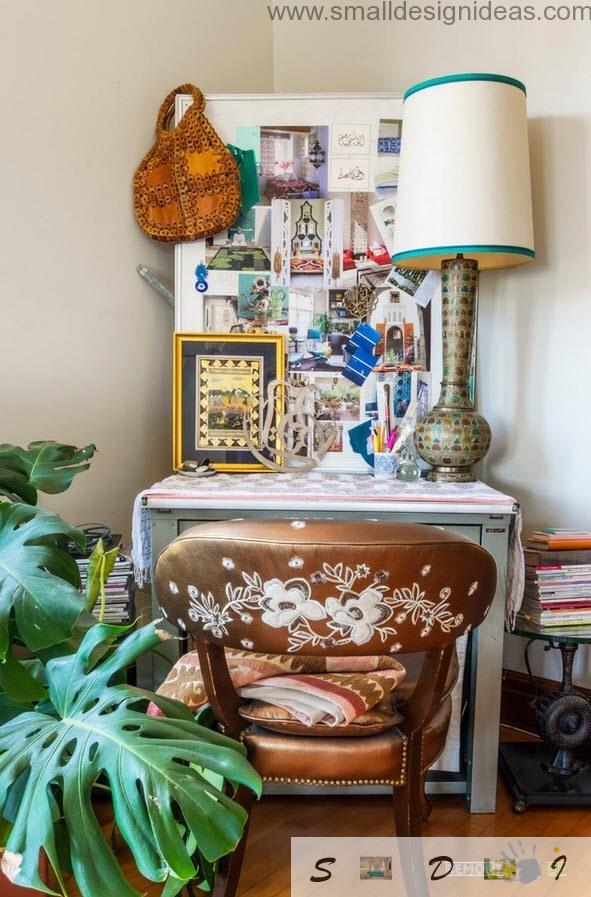 Decorative elements, like a kaleidoscope with colored pieces of glass of different shapes and sizes fill the room, while retaining a single image of space for relaxing and socializing, hosting guests and doing creative activities.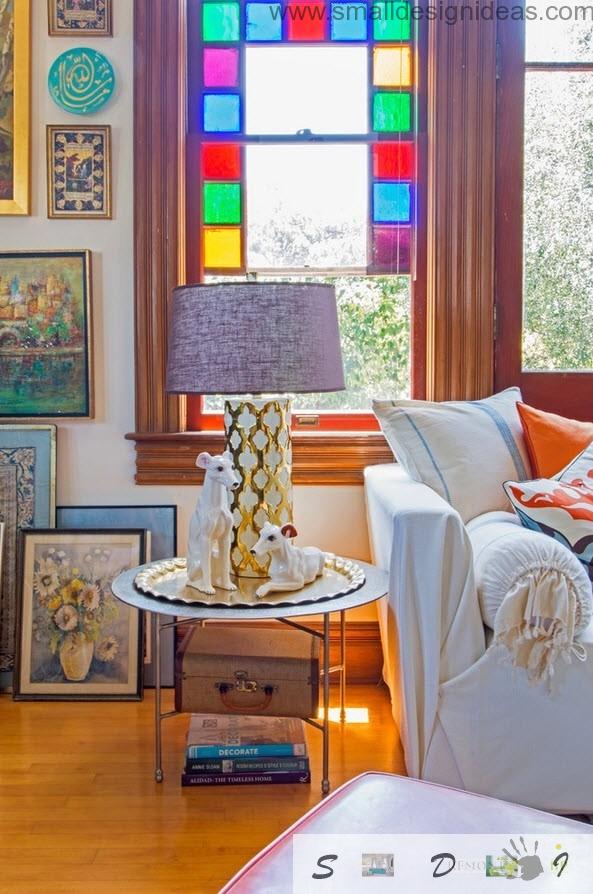 Absolutely seamlessly you can get from the living room to the kitchen area, a large open doorway does not prevent traffic between two rooms. Kitchen space is decorated with no less love to the mix of old and new, European and Oriental within the same functional area.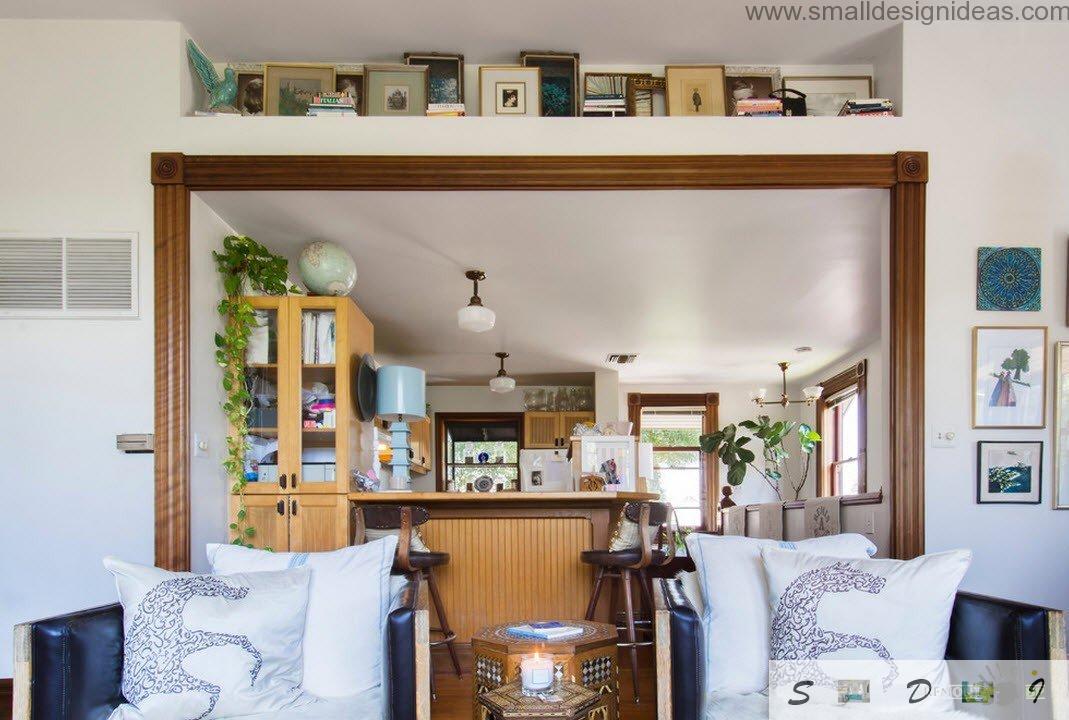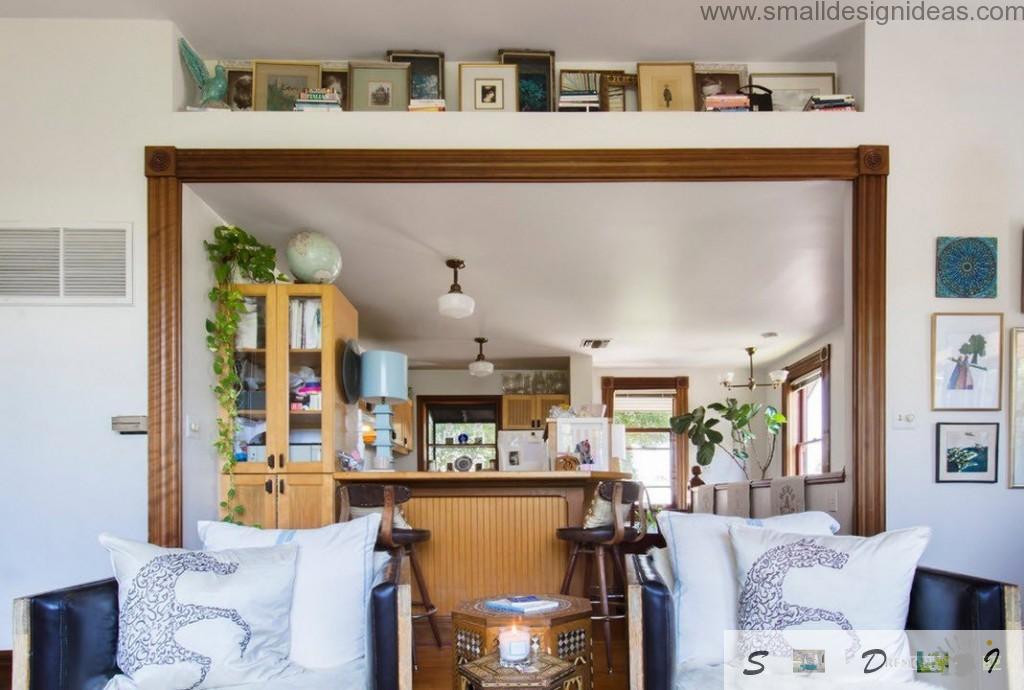 Despite the apparent disunity of interiors in various functional segments of home ownership there are common designs, color palette and finish means, uniting different ideas and styles of arrangement under the general concept of the home. The snow-white finish, the use of wood for decoration of windows and doorways, skirting boards and manufacturing of furniture components, the use of lighting devices of similar models, the presence of living plants – all of these designs help to unite bright, mismatched, but such a unique atmosphere in a single room.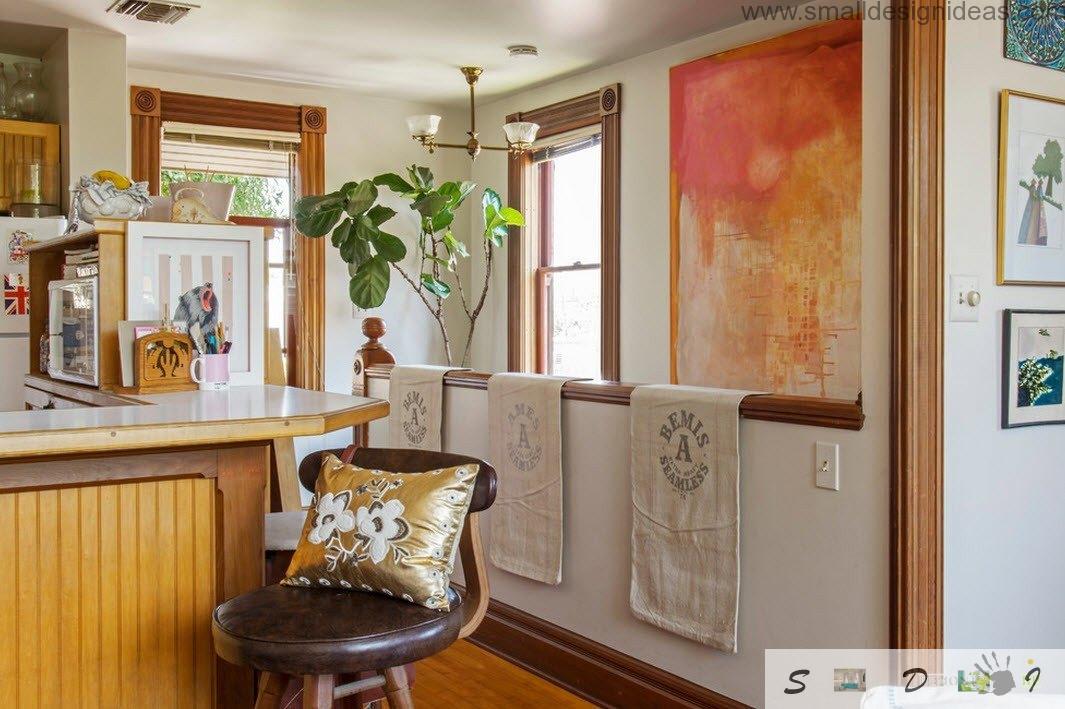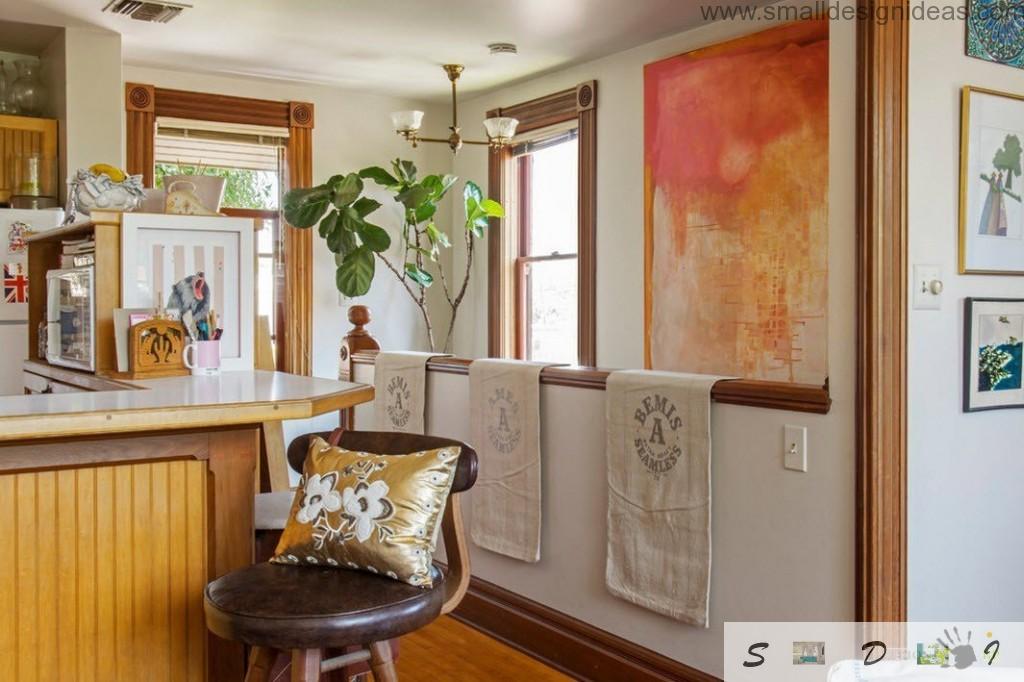 Another small sitting area is located in the nearby of a large living room. Here we see a repetition in the process of the room finishing. Window and floor decorations, combined with the general concept of all the rooms in this eclectic home. But while the mini-living room has its own unique charm which is like a mosaic composed of various elements with different stylistic idea in one common and harmonious fabric with beautiful pattern.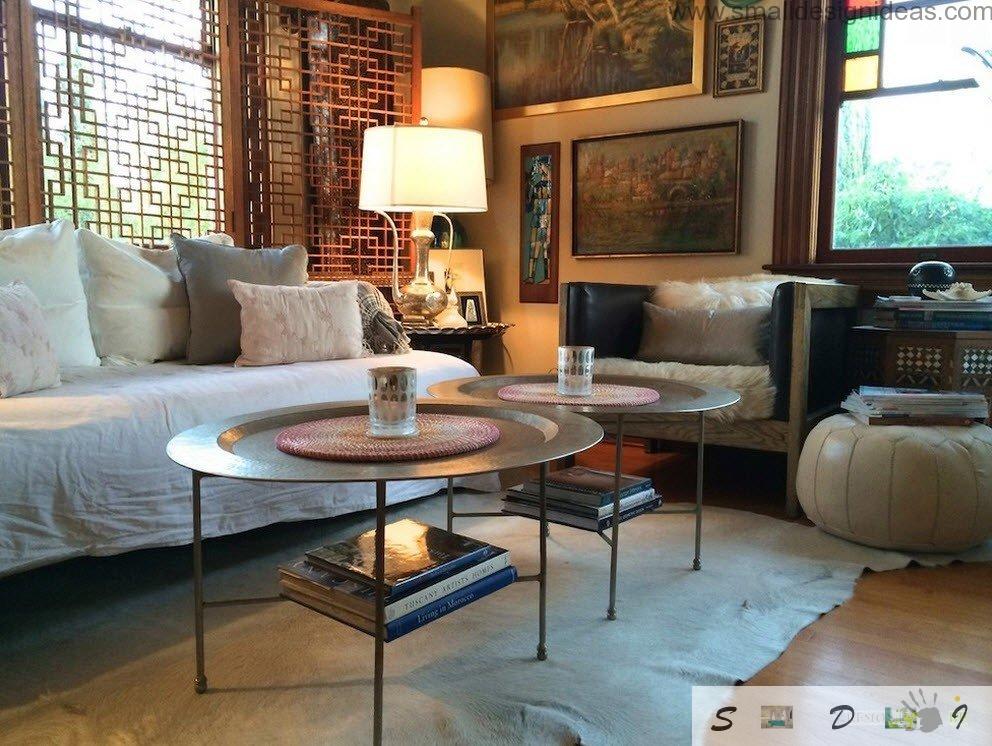 Comfortable sofa with lots of decorative pillows provide comfortable accommodation in a recreation area.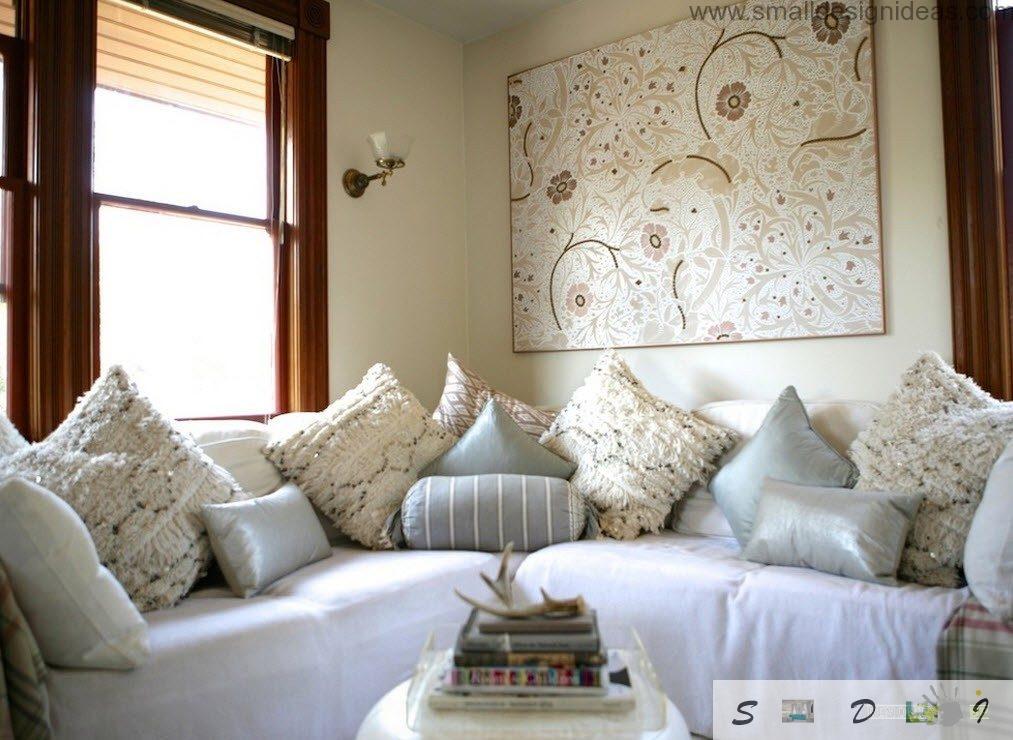 Only at first glance it may seem that all the decorative elements, tables, racks and lighting fixtures are made using different materials, structural and stylistic ideas. The general outline of the execution of decorative elements and textiles in all areas in common with the theme of interconnection of Eastern and European ideas under one roof of eclectically decorated home.
Let's get a closer look to private apartments – to the bedroom. Here, amid pastel finishes, are flaunted unique pieces of furniture both as exclusive decorative elements. Unusual chest of drawers with original decor has become a center of attraction for all the eyes, despite the fact that in the bedroom such a central focal subject is usually the bed.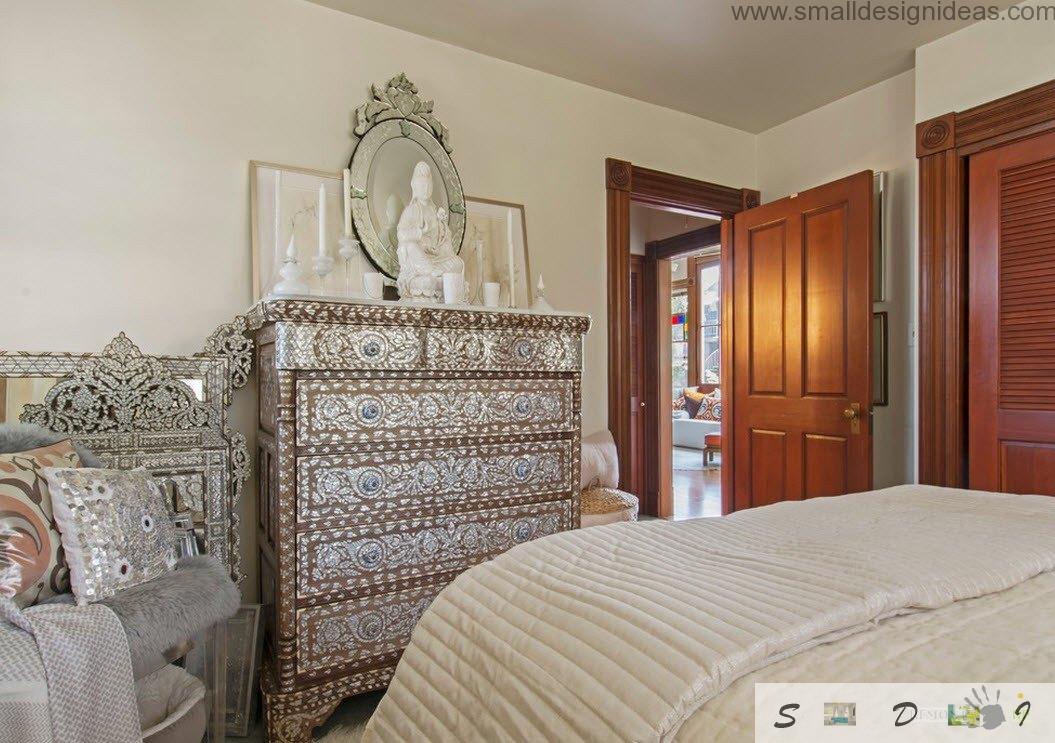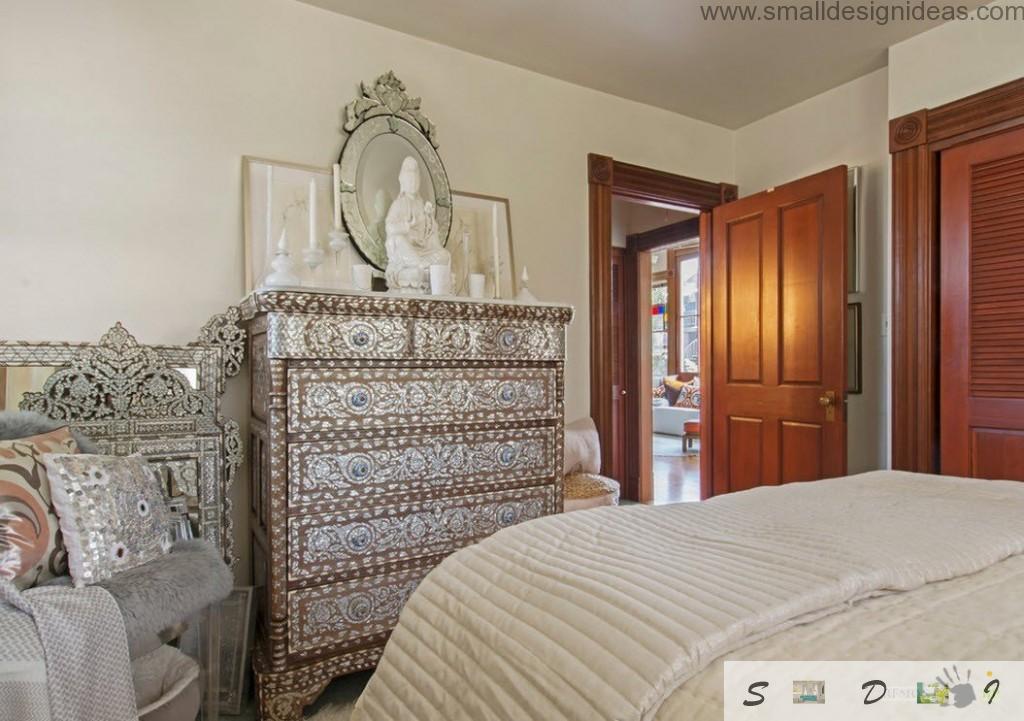 Elegant bedside table, unusual table lamp, and the presence of an old rotary phone – everything in this eclectic bedroom working on the creation of original, but visually appealing interior. Despite the many decorative details and non-trivial ways to decorate the room, whole bedroom looks bright, its palette of pastel colors promotes relaxation, calm rest and deep sleep.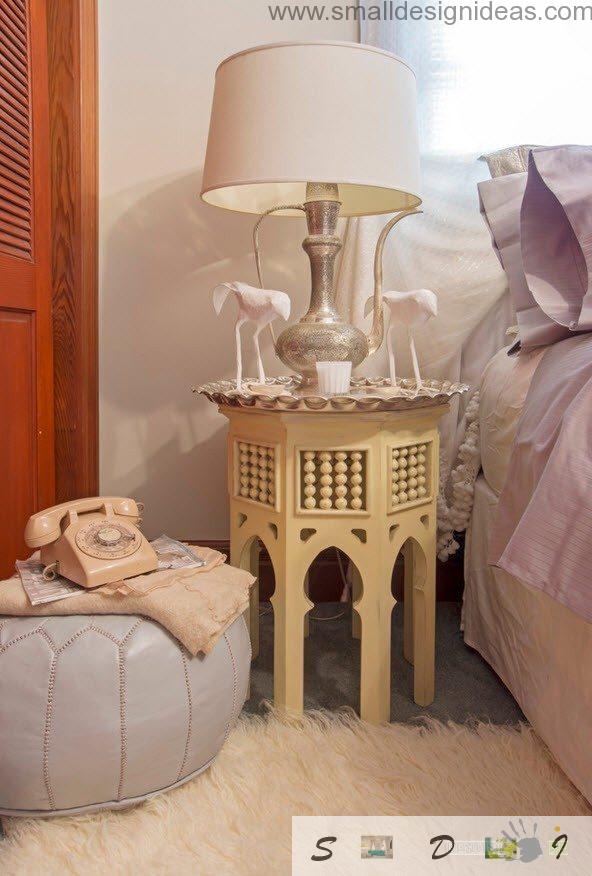 Making local area private house
In the back yard of a private house we see no less eclectic atmosphere in a recreation area at the open air. Wooden beds with metal frames, comfortable chairs with wicker elements, the original table stand have set a very harmonious alliance together, arranging segments of rest and sunbathing.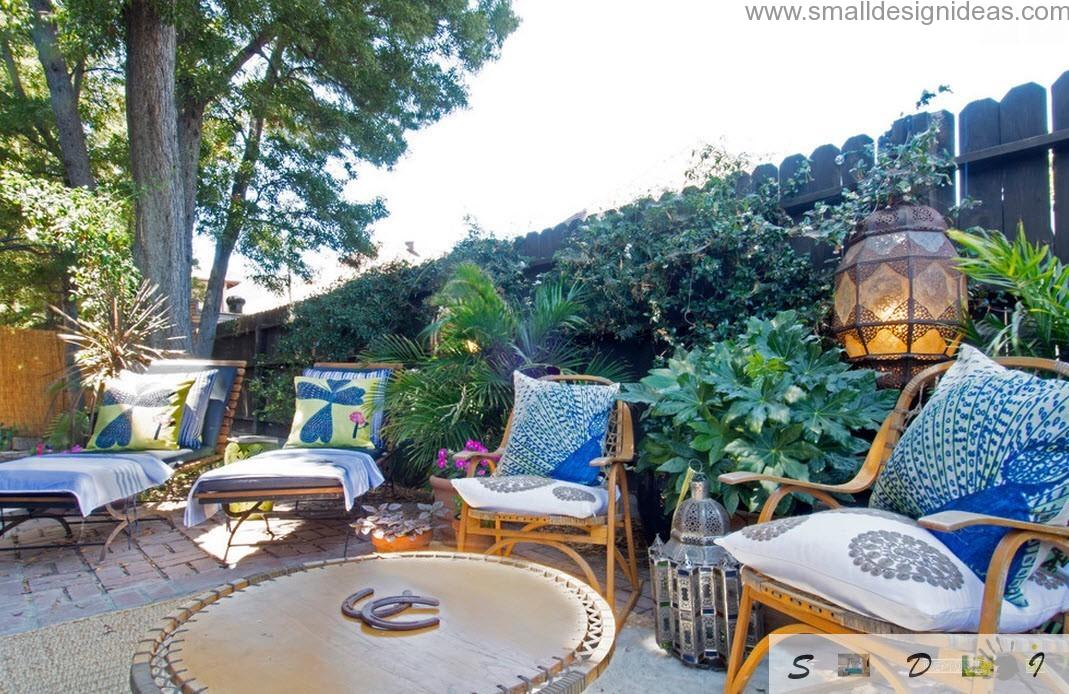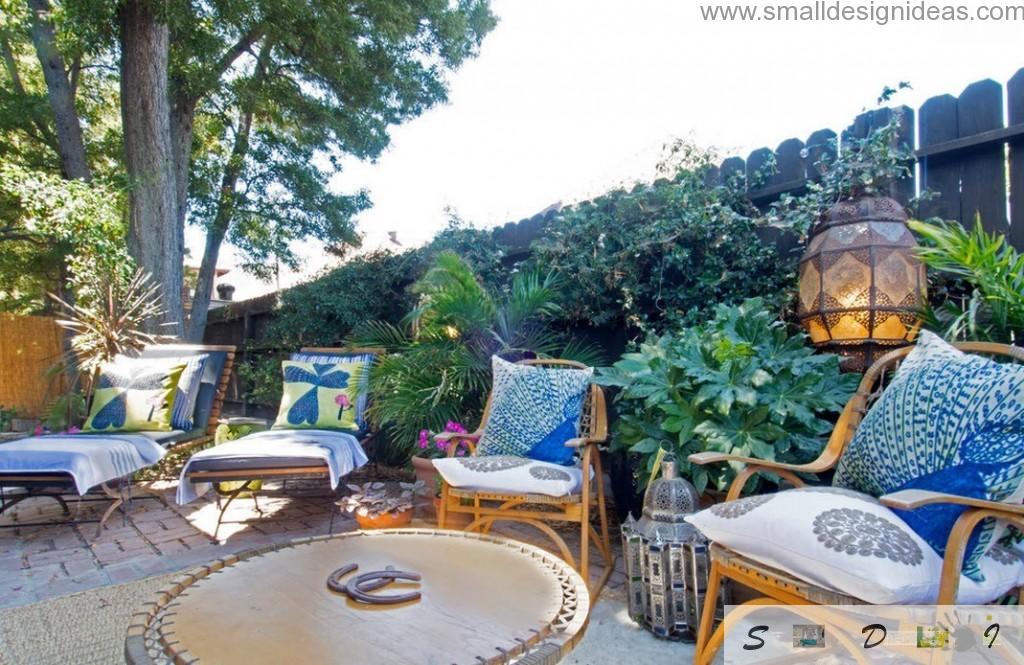 Unusual lamps in oriental style are in perfect harmony with the diverse vegetation which growing in the open field and in all kinds of pots and tubs. Motley print of bright pillows adds colors to a nice relaxing place.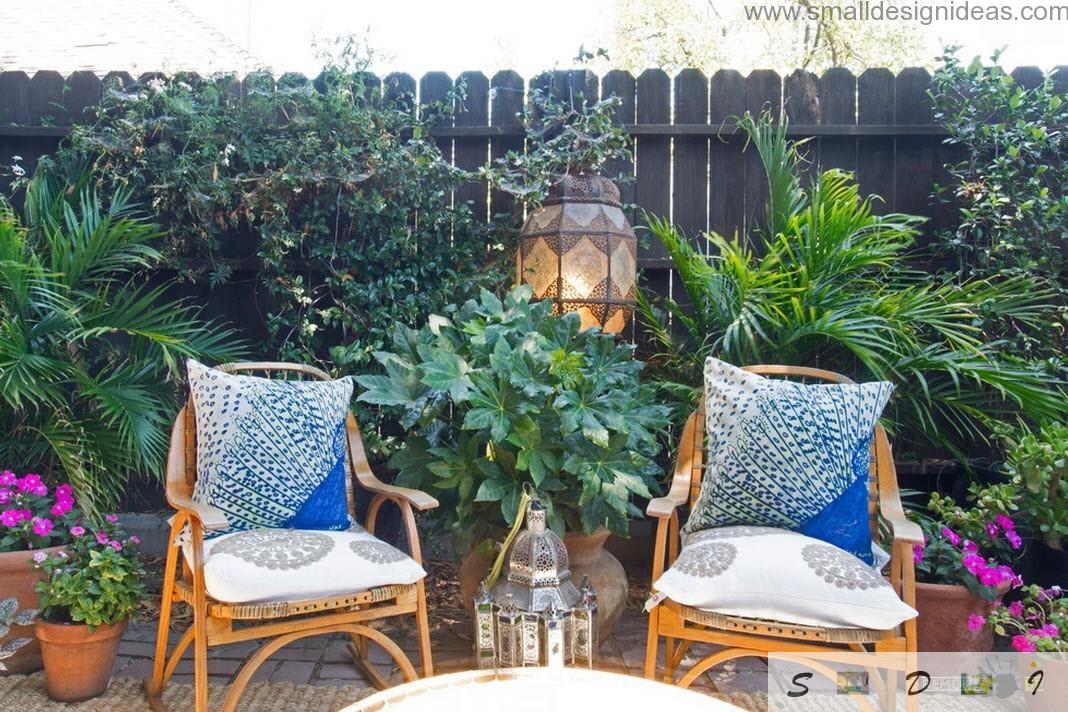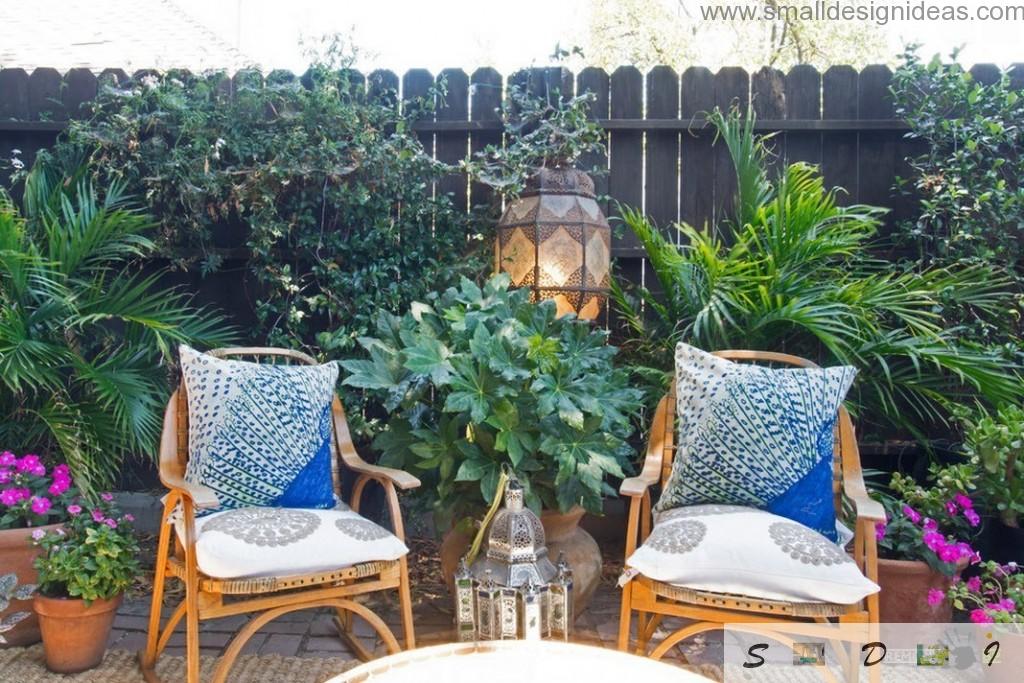 For the eclectic style there is no strange thing in using a composition of furniture from various materials. For example, woven rattan armchairs blend perfectly with wooden garden furniture, ceramic or clay racks and décor. With the help of the central elements – table and outdoor flooring, all the furniture and decor are combined into one functional sector, balanced vegetation and lighting fixtures, made in the same style.