Industrial style has appeared in the United States, where in the 80s a lot of abandoned industrial buildings, the former shops and warehouses were transformed into a living places. These spaces with special steel industrial aesthetics were converted into cafes and restaurants, art galleries and theaters, and later had become the residential apartments. Partly because of the economy, partly from a desire to preserve the identity of the industrial spirit in the design of remodeled spaces, many elements of the designs, features of finishing and just home furnishings remain intact and moved to the aesthetics of home decoration. Spacious rooms with large windows and high ceilings, open layout, often with a combination of several functional areas within the same space have become incredibly popular, gained fans among designers and homeowners worldwide. If you are also close to industrial motifs which are organically woven into the fabric of modern dwellings` design style, if you like open communications, clean lines and functional selection of furniture, light finish and a certain brutality in the use of materials, the next design project of an apartment can be the impetus for inspiring you to remodel or alteration your apartment or private home.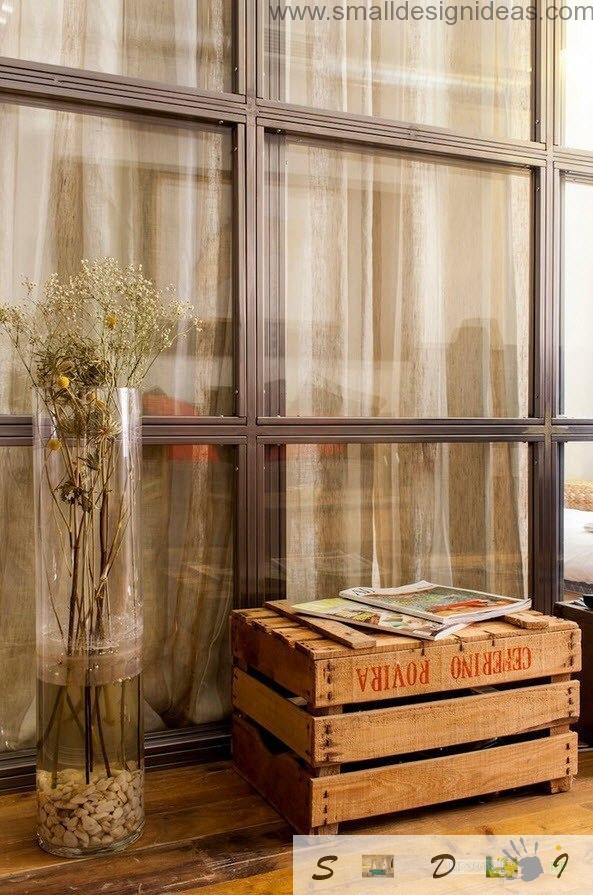 Loft rooms are best suited as space decorated in the industrial style. Indeed, in such case, the artificiality of the implementation of industrial motifs in the living space is reduced to a minimum. We already have a spacious room with large windows and beamed ceilings, pillars and other structure elements, open communications, which do not hide behind the paneling and screens, but paraded as an integral part of the interior.
Industrial interior design apartment. Living Room
We can see harmonious combination of industrial design with a retro style in the interior of the living room. Snow-white walls and the wooden floor is the finishing, which we will see throughout our trip, except for utilitarian spaces. Also there is opened pipe venting system around the perimeter of the apartment.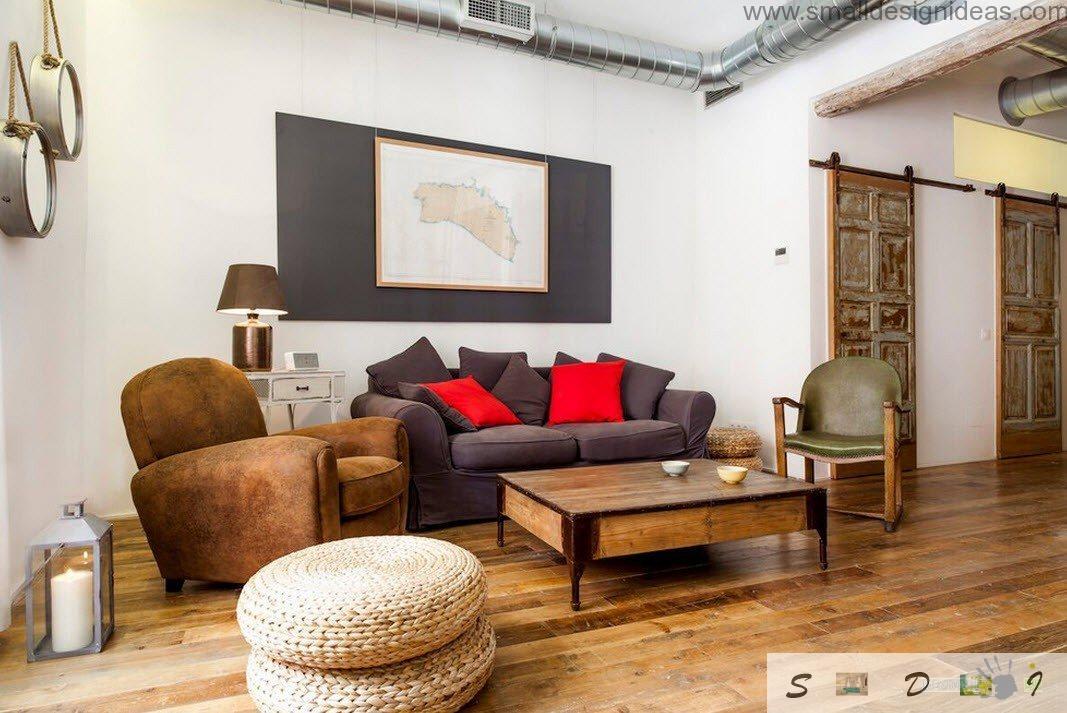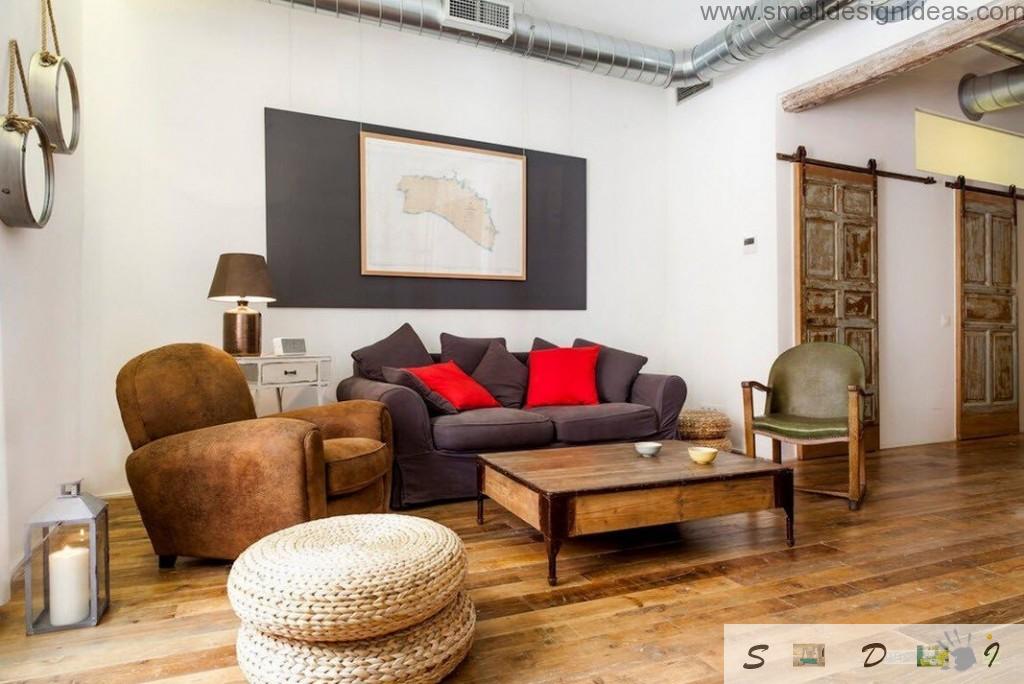 Comfortable furniture with upholstery of natural hues lets you accommodate comfortably in the living room for relaxation or conversation. A small wooden table and double footstools of wicker texture complete the image of a soft zone in the living space. Decoration is paid minimum attention, but we can not say that it is completely absent. For example, a very practical interior items such as light fixtures and mirrors, often have a decorative function in addition to its main purpose.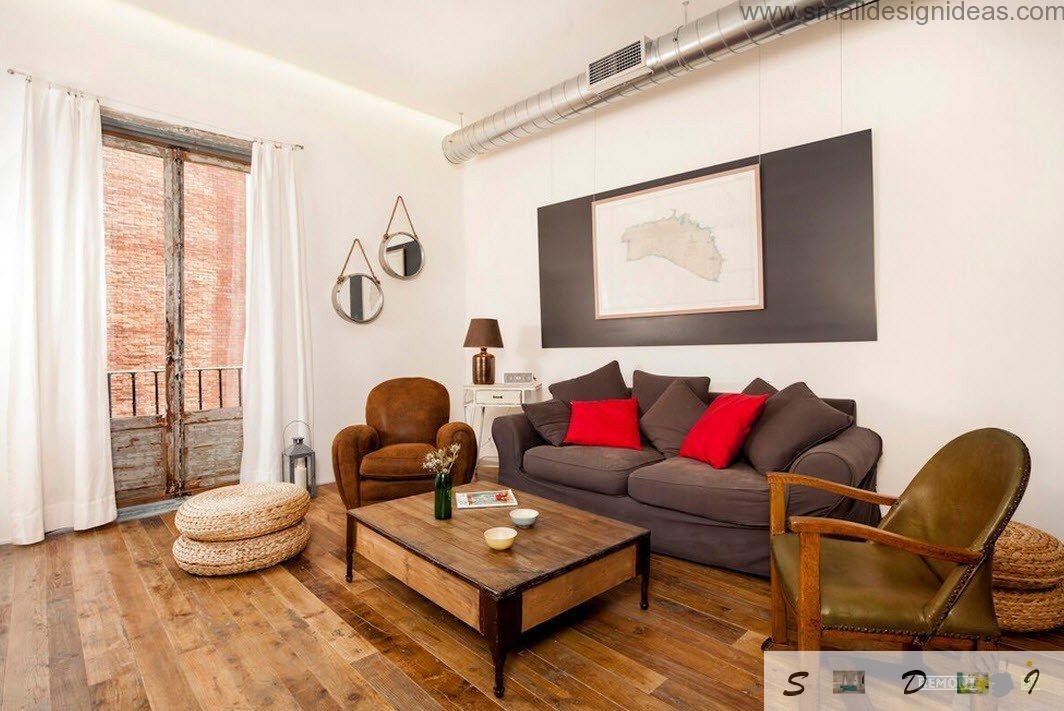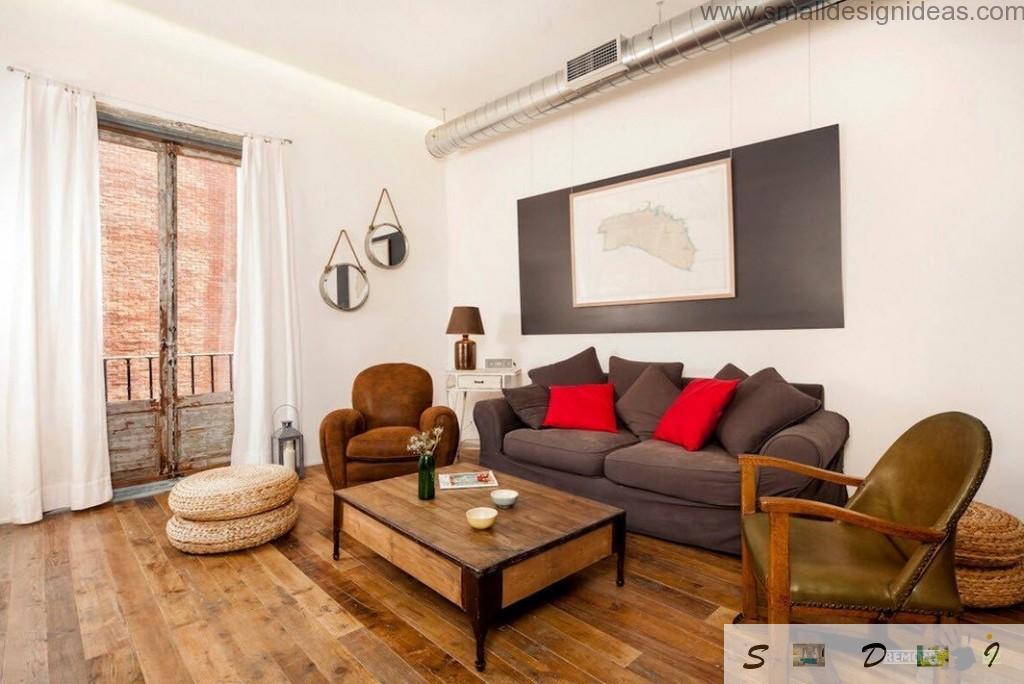 Decorating of the window openings is completely missing or appears as the background, without singling out not by color, nor by texture in the industrial style. The white translucent curtains or drapes are largely practical function rather than decorative.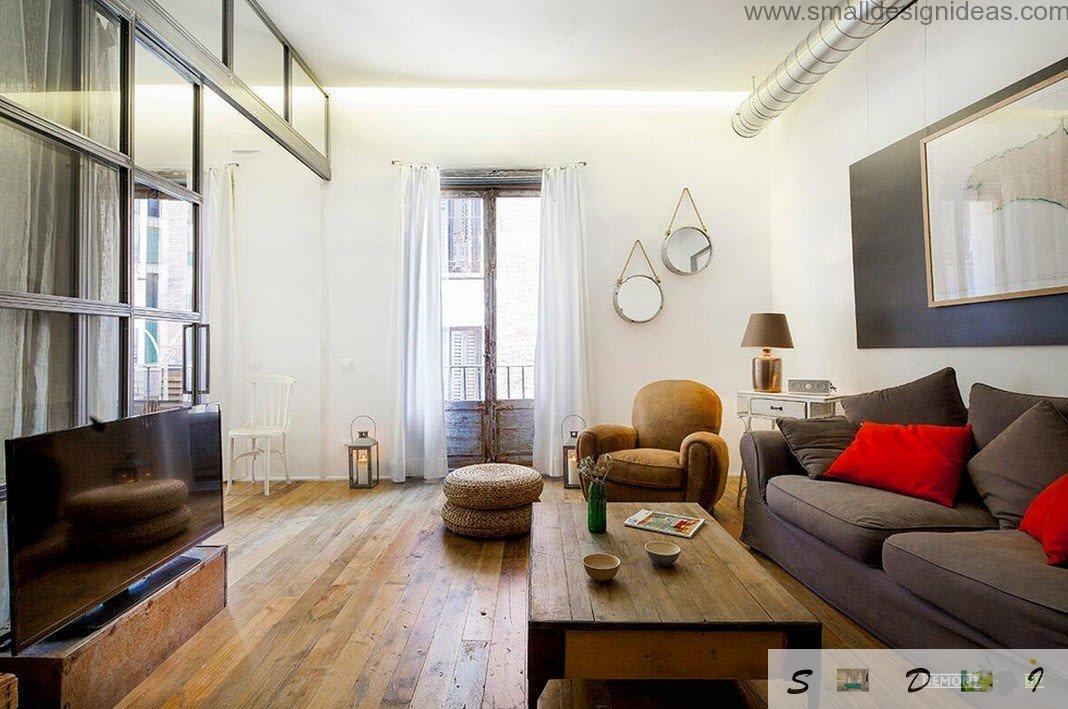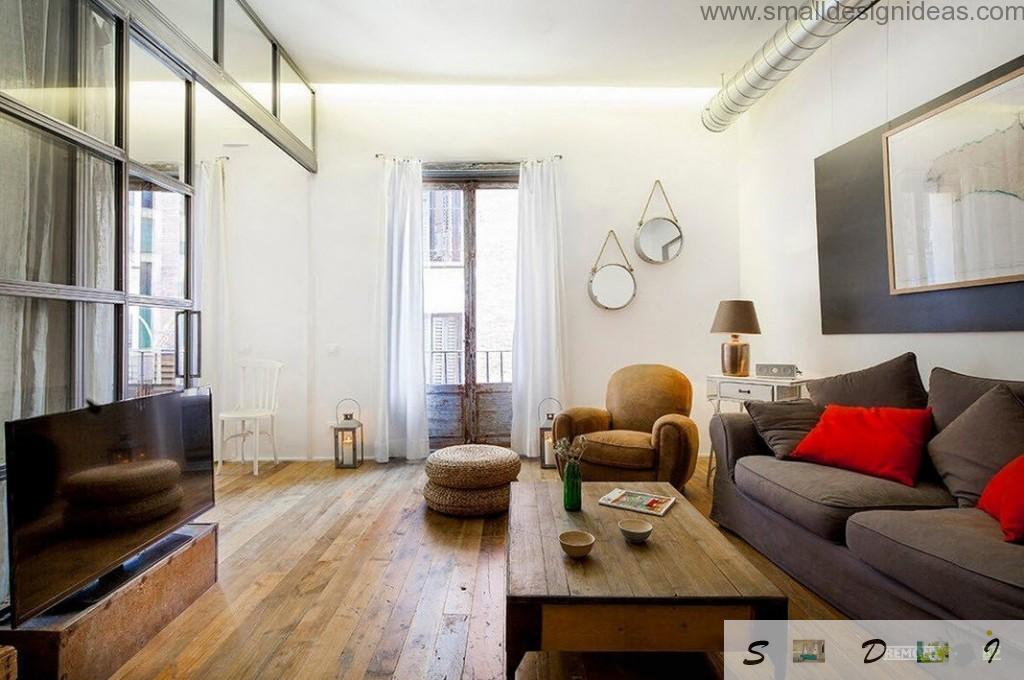 Kitchen and dining area
With just a step from the living space we find ourselves in the dining area and kitchen. To organize family dinners and receptions with refreshments, here we have installed capacious dining table and chairs of different modifications. Old metal chairs, with partly peeled white paint, and no less "experienced" wood furniture complete the image of a dining group. Antiques or objects made of natural materials help bring the industrial aesthetic to what we often mean by a cozy and comfortable environment. These are furniture, textiles and decor from our past (or stylized past), all that reminds us of the carefree childhood.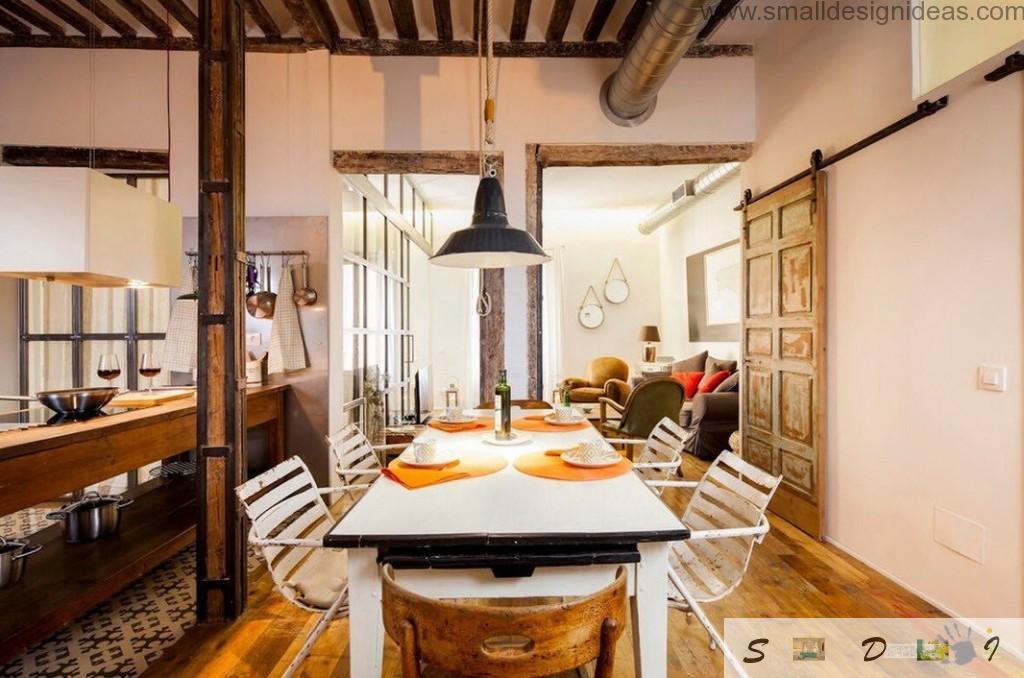 Another interesting attribute of the dining room and kitchen space are steel hanging doors, moving in parallel to the floor in special frames. Was it a natural way the door got the color we see or the effect of scrapes and dilapidation has been created artificially – it does not matter because in the industrial aesthetics we can often found substitution, unusual for a traditional environment objects of communications or design.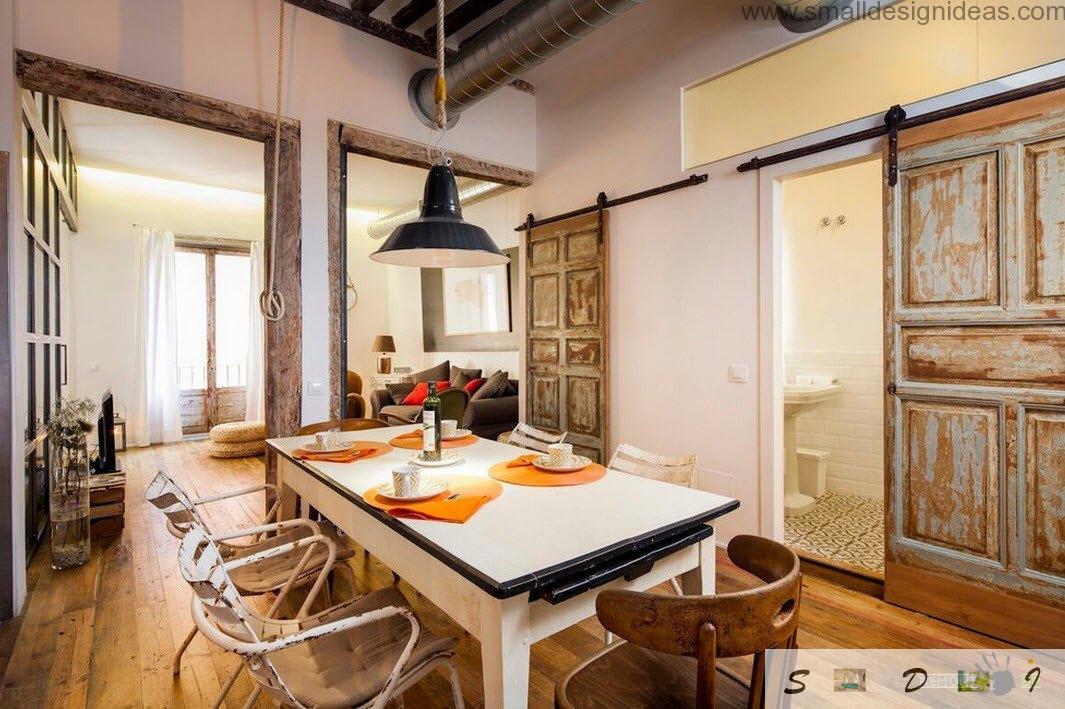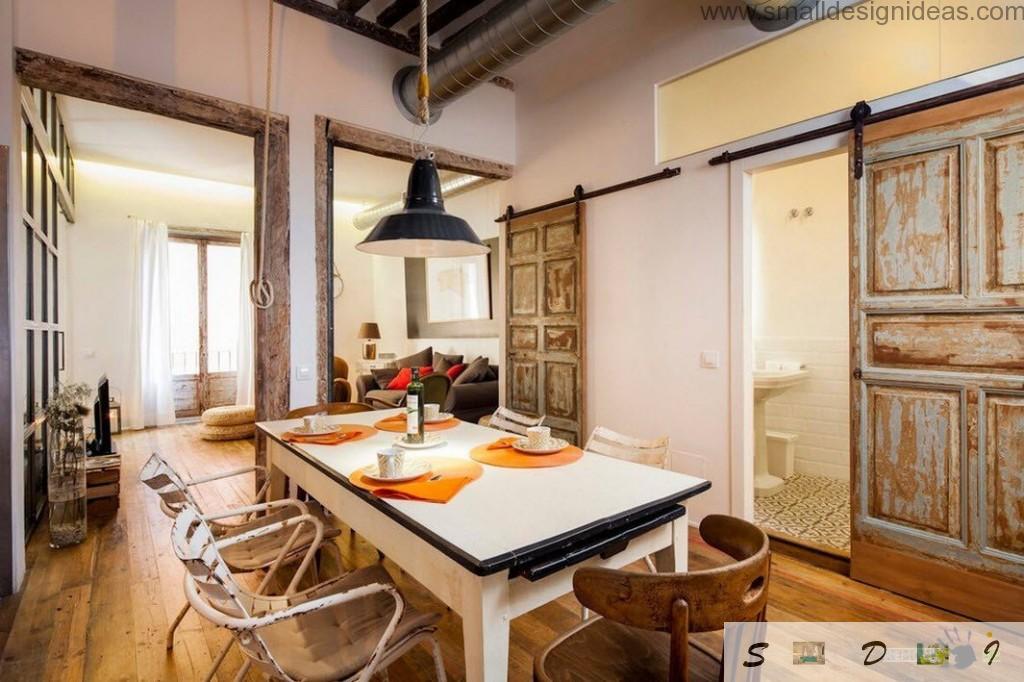 The rooms have enough high ceilings, so it is not surprising that the majority of lighting fixtures are hanging on long cords. Almost all the lights in the apartment, which is decorated with industrial touches, are equipped with metallic shades.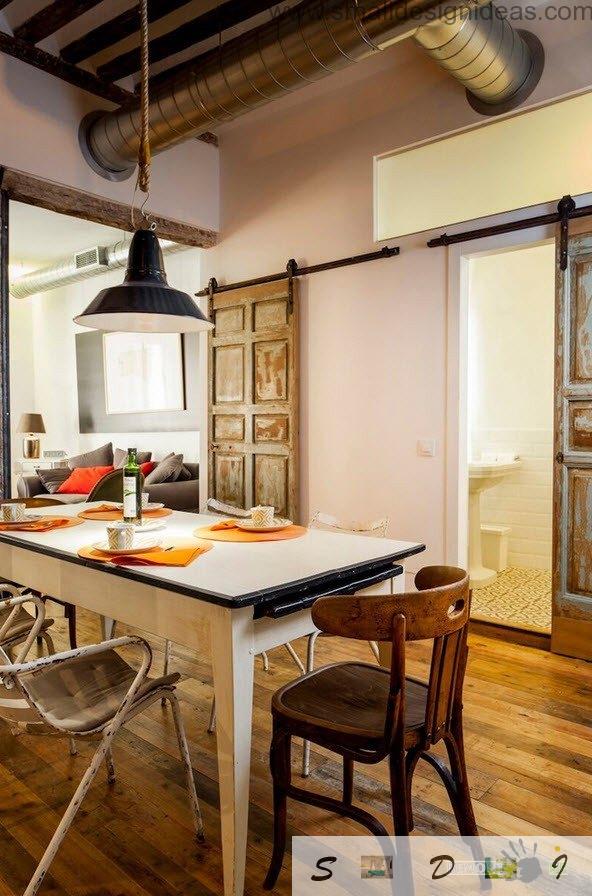 The kitchen area is decorated with a non-standard comparing with traditional dwellings view on the cooking. There is no familiar to many kitchen set or freestanding storage, no standard kitchen island. But there is an original structure made of wood, which resembles a large cutting table with an integrated countertop hob. Lower shelf of the so-called island appears as the storage system,. The only thing that reminds us of standard arrangement of kitchen space is the splashback over work surfaces. This time it is made of stainless steel and serves as the backdrop for various suspending devices and kitchen accessories.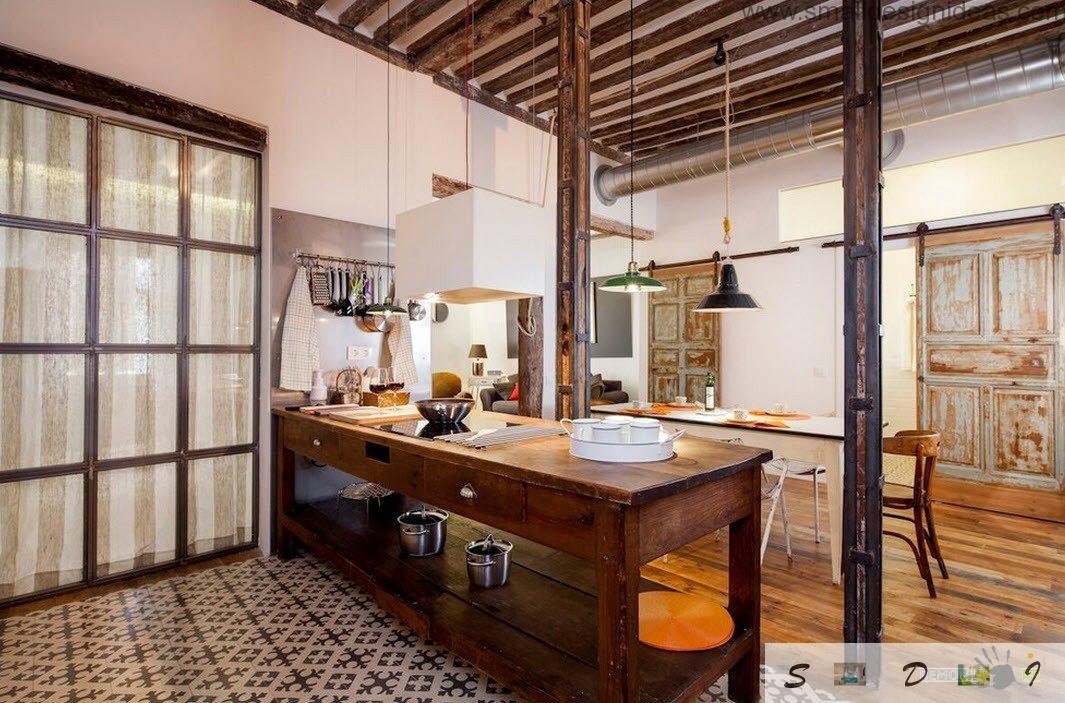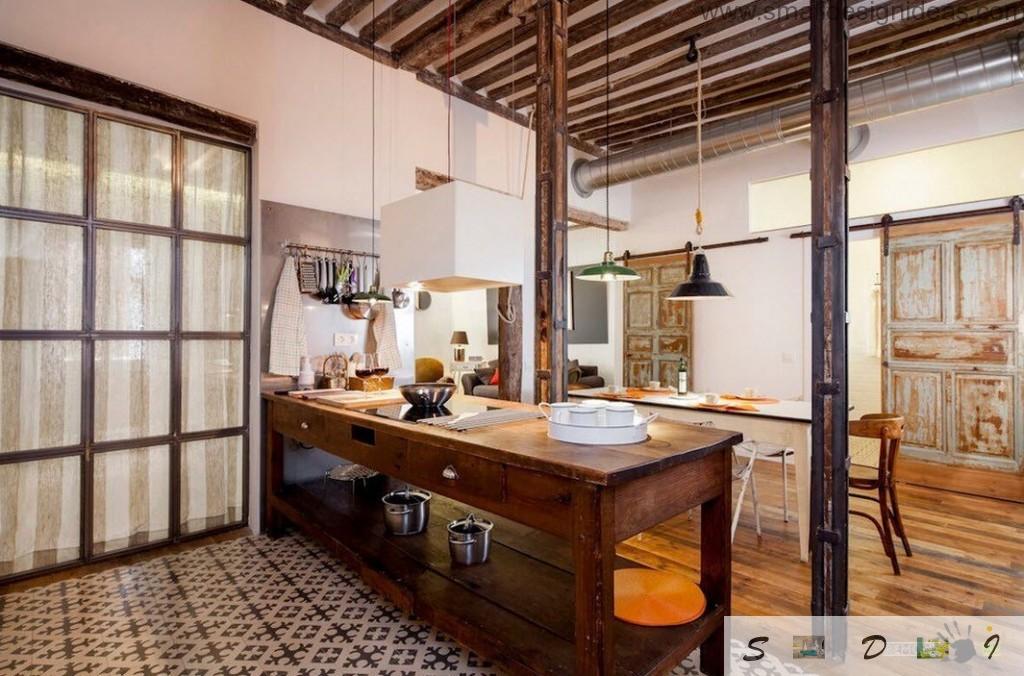 The snow-wood palette of the room can be easily diluted with the brilliance of stainless steel thanks to colorful dishes and kitchen accessories. This is the easiest and most effective way to bring sufficient brightness, positive and festive feeling into the premise.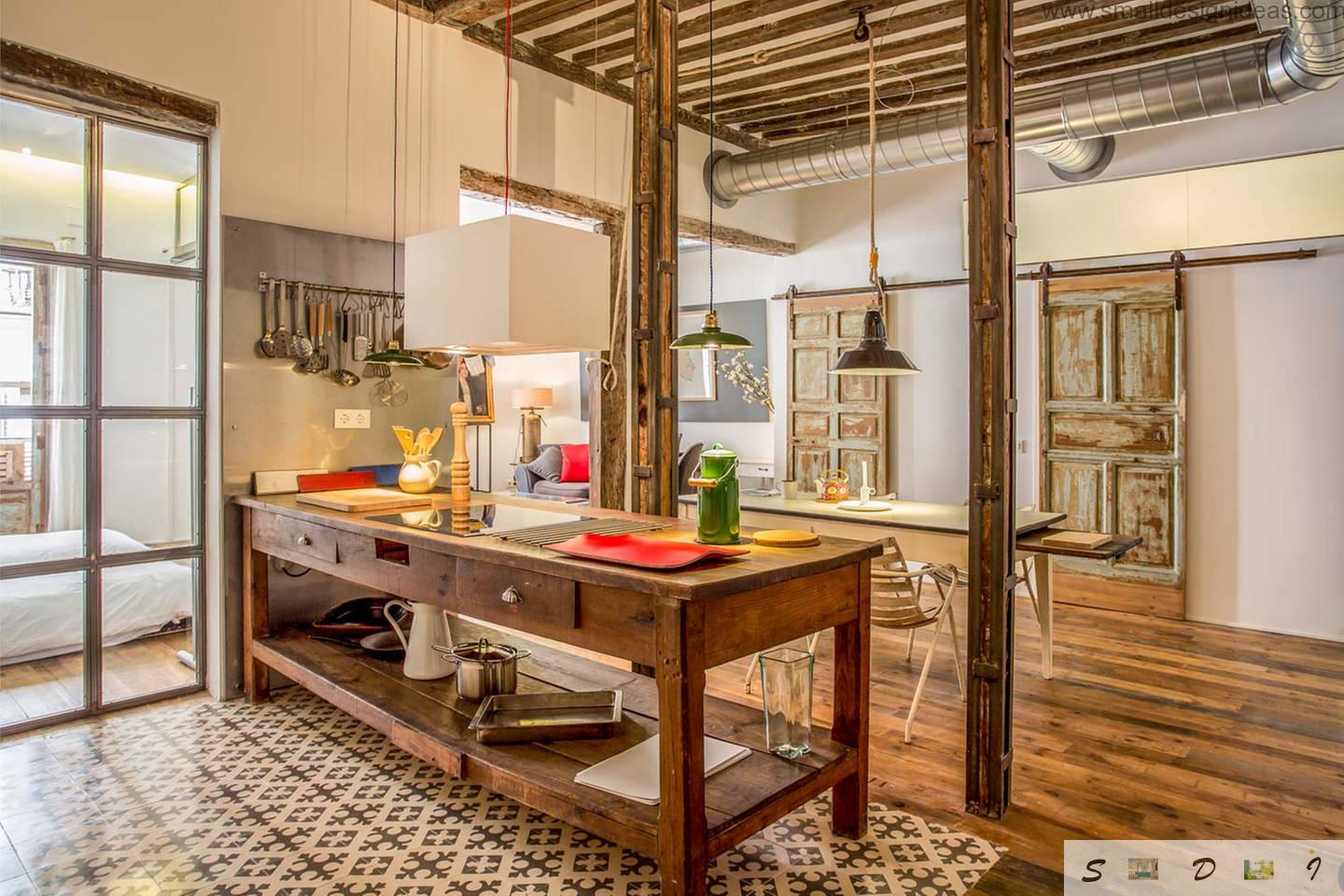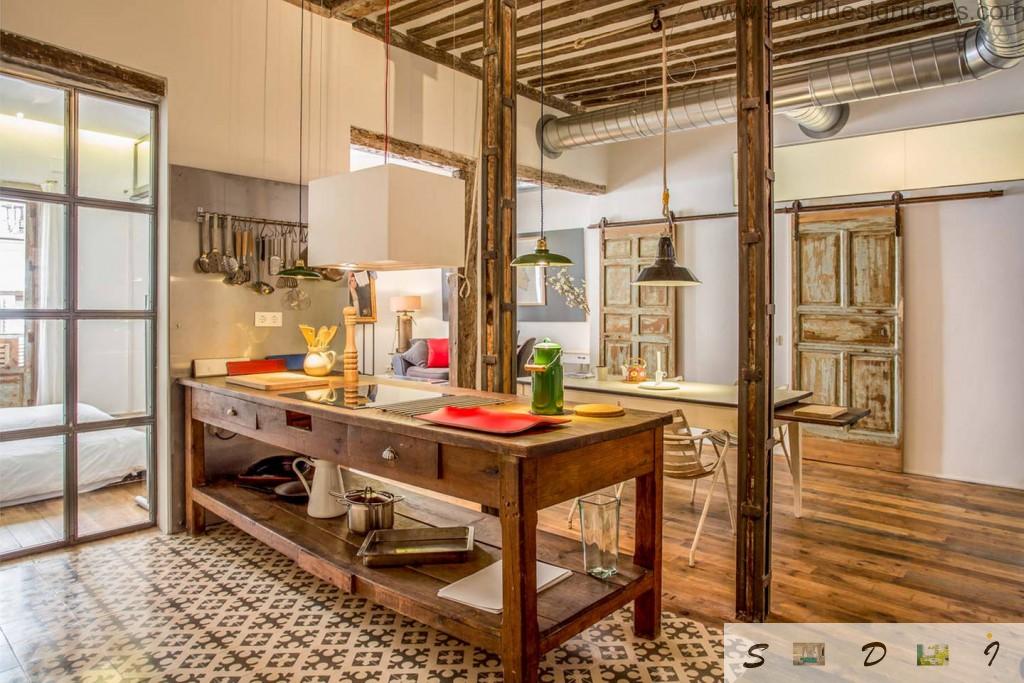 Bedrooms
The combination of white and wooden surfaces is the basis of the bedroom`s design concept. Alternating of warm and cool color palette allowed to create a harmonious interior, where lives the spirit not only of industrialism (for personal space it is quite a difficult subject), but rather notes of closeness to nature, rural life, simple but cozy place to sleep and rest.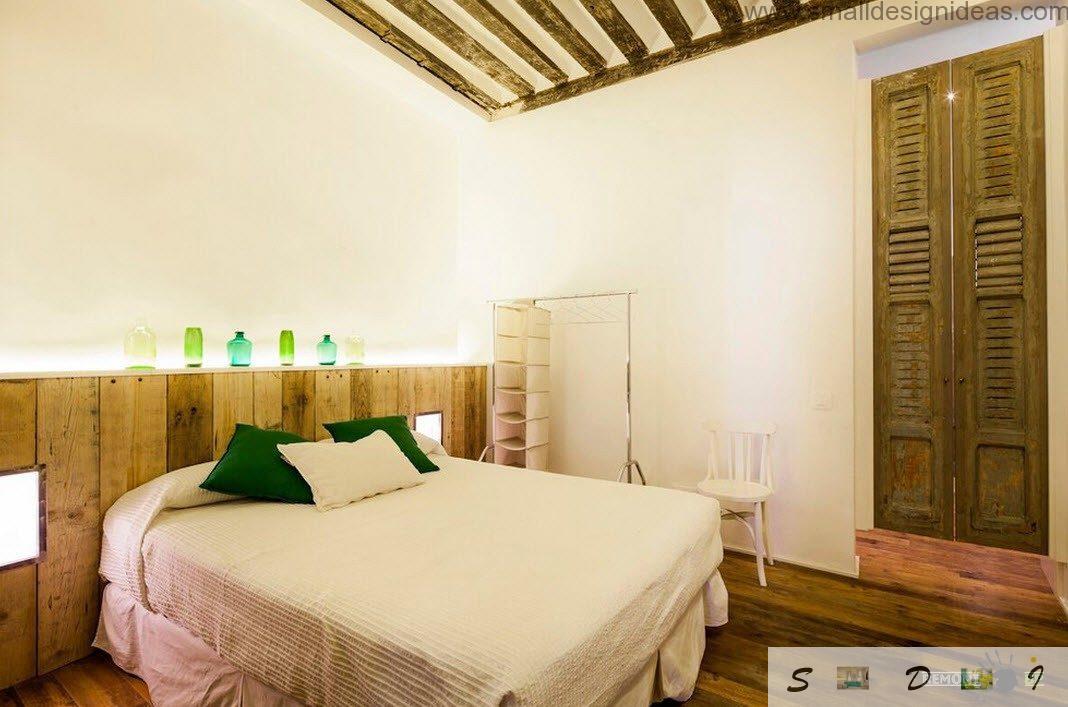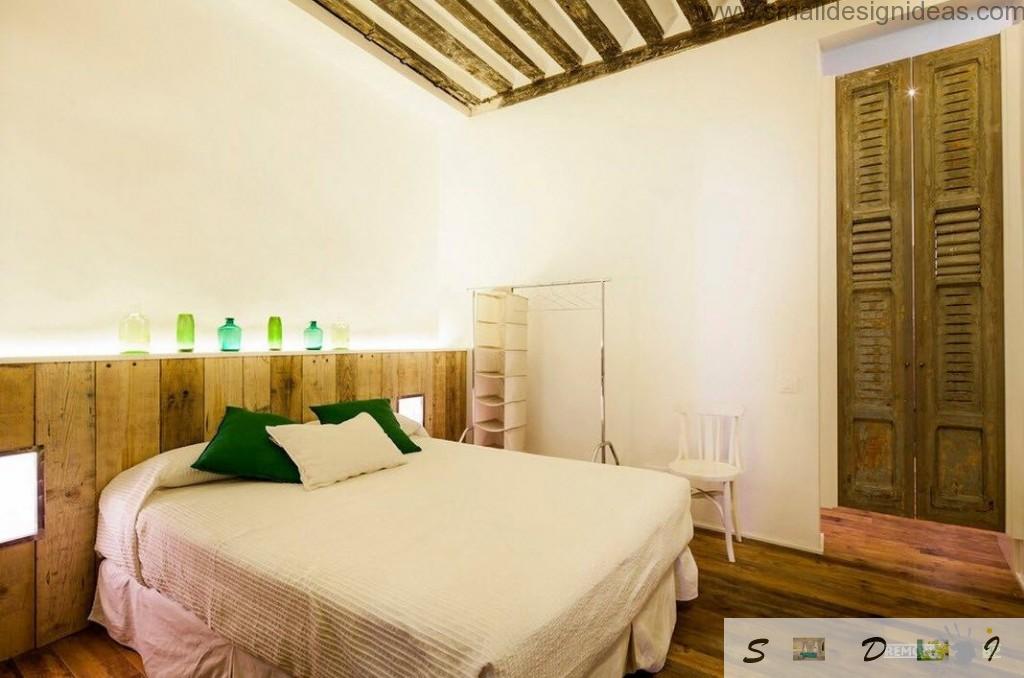 Original execution of the headboard become a highlight of the interior. Wooden apron with rather narrow ledge serves not only as a decoration of the space above the bed but as a small shelve for trifles. Vessels of various shades of green are originally illuminated from the lower part, act as a link with textile decorative pillows.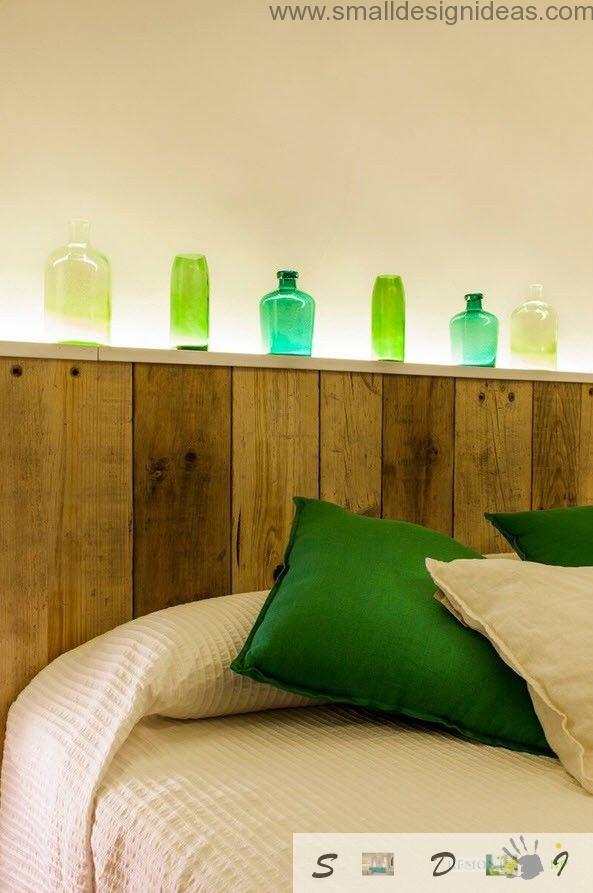 Another bedroom with two beds is part of a spacious room with which we are familiar. It is a living room, kitchen and dining room. Behind a glass partition with a metal frame, constructed according to the type of industrial screens, there are two berths. Finishing oh this space for sleep and rest follows the aesthetics of other premises – white ceiling and walls and wooden floor boards. The only difference in the design of personal space from the overall apartment can be called the blinds. It can be drawn to give the room a more secluded, intimate atmosphere.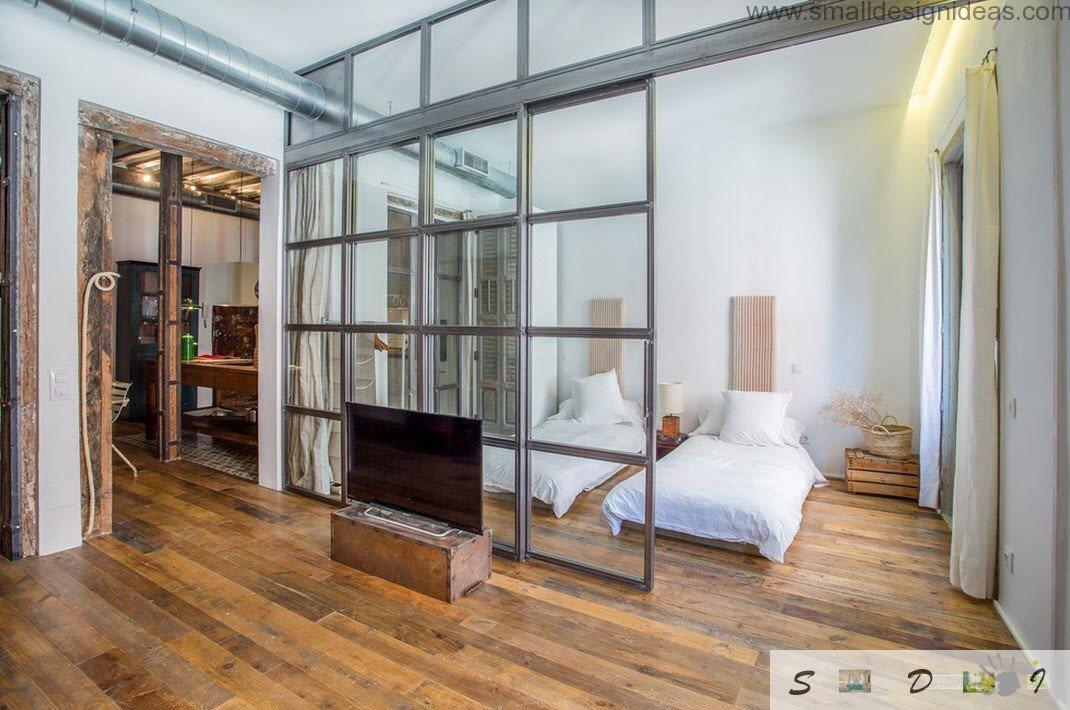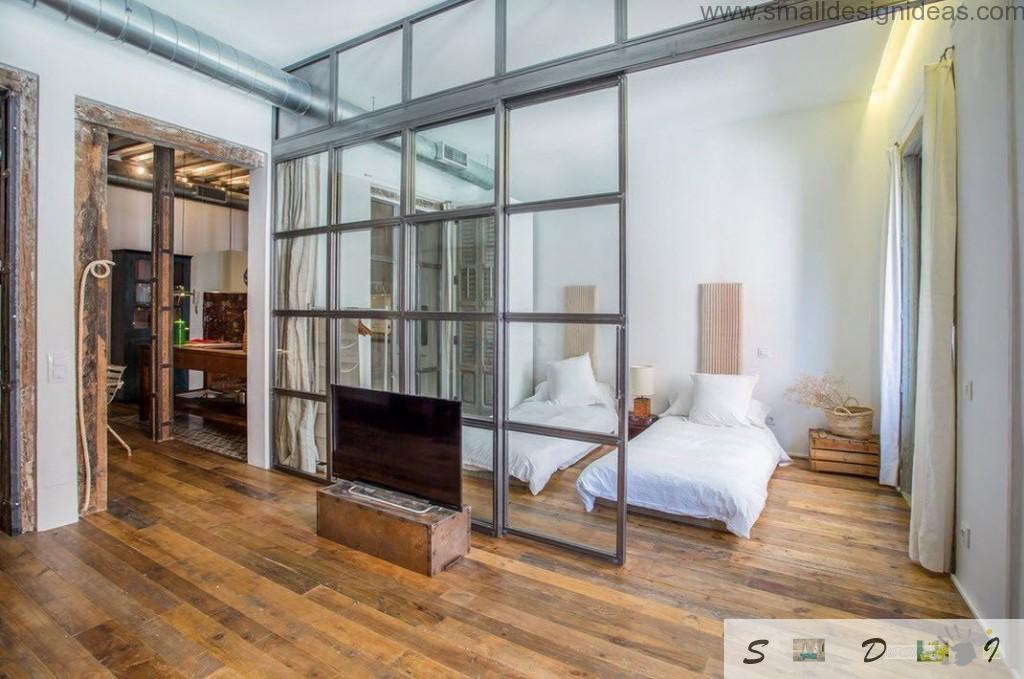 Utility room
The bathroom reminds us a little of the presence of an industrial interior style, the industrial past of the building. Often bathrooms and toilets in the loft decorated apartments are the only rooms that are completely isolated from the rest of the space which has an open layout. A white wall decoration with the help of ceramic tiles in areas of high humidity and painting of other surfaces made it possible to create a visual extension of small utilitarian space. A floor tile with an original ornament not only brought a variety of colors in the bathroom palette, but also has become a reliable and durable floor protection against moisture and mechanical influences.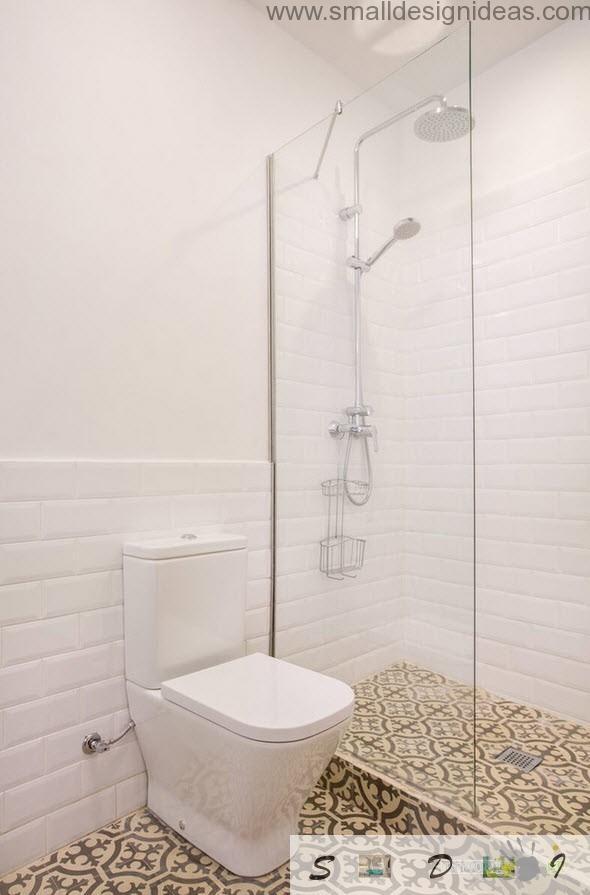 Decorating of toilet almost completely repeats design of the bathroom. The only difference here is that only floor lined with ceramic tile. Snow-white idyll of walls broken only by the design of window opening in which the deliberate attrition of wood acts as a contrast.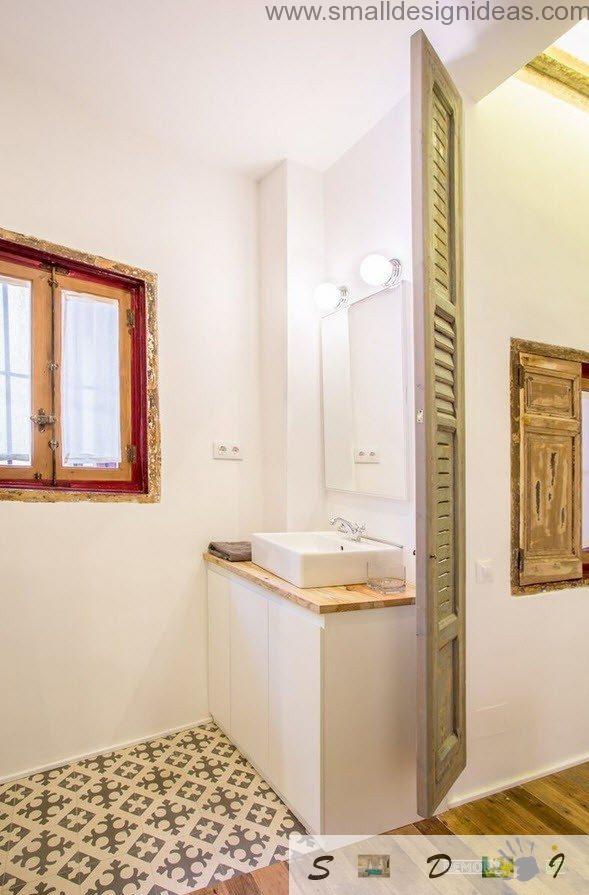 As is known, virtually all shades of white creates a cool atmosphere in the room. If you use this color everywhere, it is possible to create a sterile environment of utilitarian space. To avoid hospital associations only add a couple of bright spots or accents. A wooden surface, for example, in furnishing and countertops will help bring also warmth of natural materials into the interior.