The location of the hallway is very important for the whole house. On the one hand, a small space is reserved for this room in most living spaces, where decorative interior elements negatively affect its functionality. On the other hand – the hallway is the showcase of the whole house, so it should be attractive. Loft style can be an excellent solution for organizing a corridor. Why loft? What furniture corresponds to this space? And the main question for loft styled hallway: how to combine decor and furniture harmoniously?


Interior of the hallway in the loft style
The Loft style is a close relative of the industrial design, and as the name suggests, it originated from attic spaces. In both styles, aesthetics should be combined with functionality and minimalism. That is why industrial style can be a source of inspiration for you when you begin to design an entrance hall in your house or apartment. The photo gallery will show you how to change a very attractive corridor in accordance with a harsh but stylish design that will please all your guests.


Hallway in the loft style in the apartment
High, spacious interiors decorated with raw materials and equipment directly from the manufacture is the first representation of an apartment in loft style. And this is so. But how to create an industrial dwelling with materials and equipment from construction stores? Yes, it is definitely easier when we have a real post-industrial interior, which is more and more available for use in modern apartments. It is more difficult to get an industrial character in a typical apartment, but it is possible.
Furniture for a hallway in a loft style
First of all, in the industrial hallway there should be a place for furniture, on which you can:
hang a jacket, coat, scarf or umbrella;
arrange shoes;
to sit.
Remembering these functions, think about how to include them in the interior, corresponding to the loft style. Choose rough treated wood furniture, which is characterized by minimalist colors and simple drawings. The ideal solution will be a narrow closet for the hallway, combining the functions of various furniture, including shoe cabinets or a container for scarves or hats. A chest of drawers from untreated wood will perfectly fit. Visible abrasions and irregularities are adding attic atmosphere to the hall, and the walls of brick or rough plaster will look amazing. It's worth it to hang a mirror above the white chest of drawers of a simple form. Its massive teakwood white frame will be an excellent addition to the loft styled lobby.
Loft style and accessories for the hallway: how to choose?
Finally, you should think about what decorative items can be installed in the loft hallway. Consider two basic rules:
they should not take up much space;
it is better that each of them has a certain functionality.
Handmade items made of wood and vine
A good idea is to buy furniture with small dimensions, but of a very original style. It can be made by hand from exotic wood, which due to its irregular shape will perfectly fit into a slightly careless attic style. Pay attention to the original hanger, which looks like a tree branch. Due to its irregular shape, this accessory will stand out on a plastered, untreated wall. In the loft style hallway you can also install a library or arrange a miniature gallery, not forgetting about the moderation.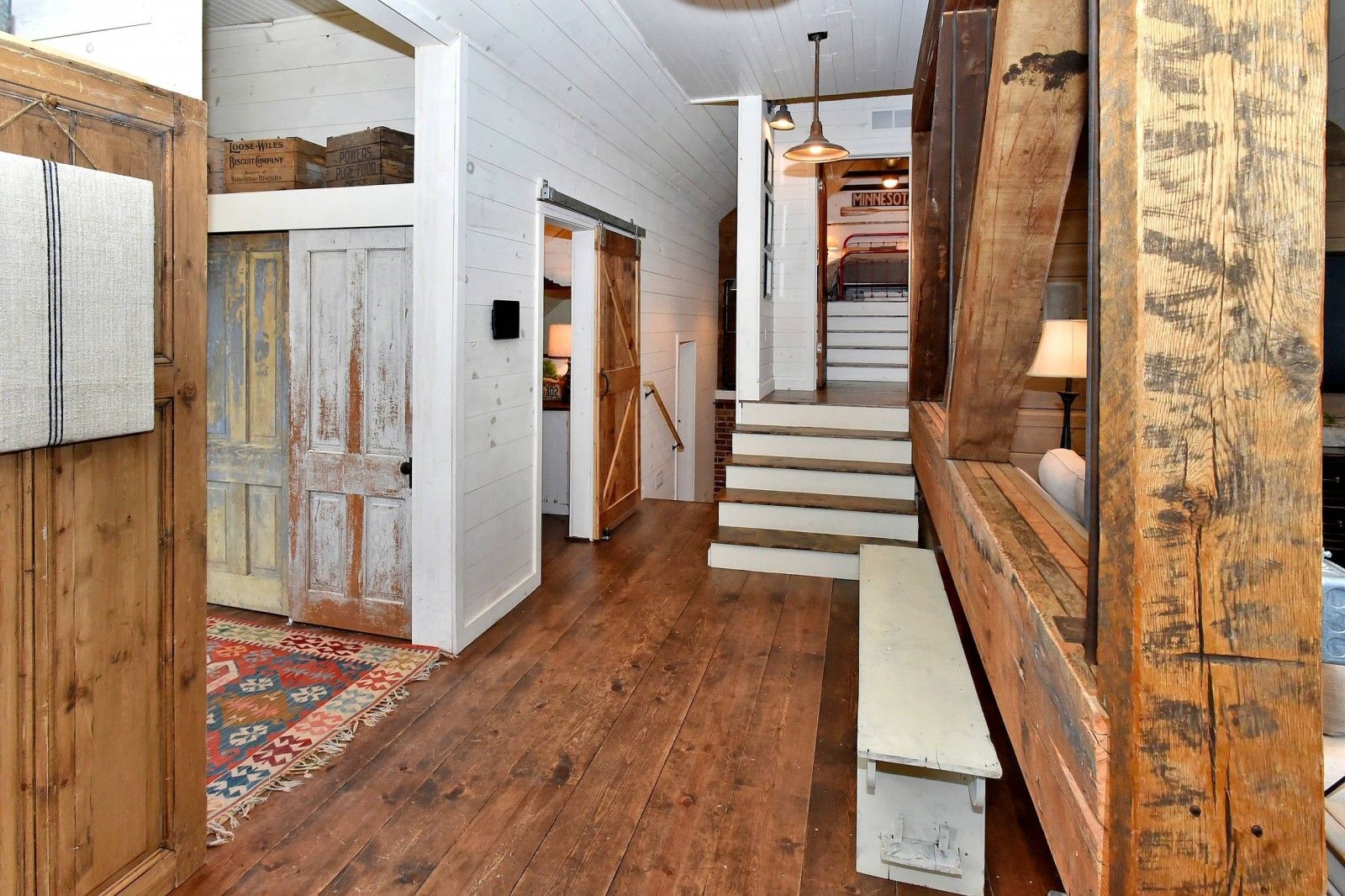 Vintage Accessories
If you are closer to a strict aesthetics in loft style, think about choosing a vintage stool. Its rough appearance immediately attracts attention, as it contrasts well with white minimalist furniture from the collection.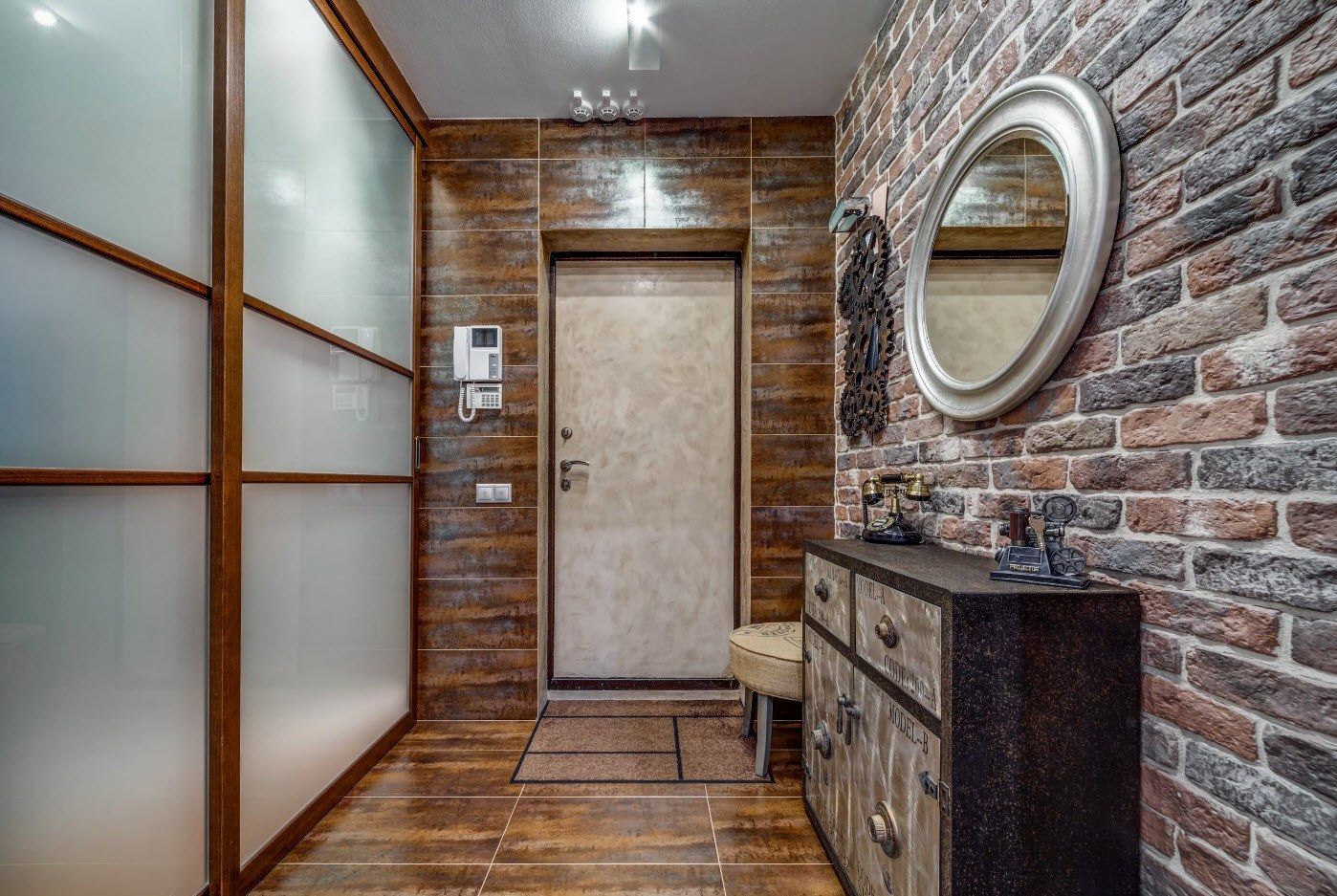 Small hallway in loft style
An efficient, well-lit corridor can be created by the correct arrangement of fixtures. In a typical apartment, the corridor is often quite dark and narrow. Typically, these rooms increase by painting the walls in bright colors, and choosing appropriate lighting. Consider the placing of a large mirror. Depending on the chosen style of accommodation, it can be framed in a traditional, richly decorated frame, or occupy the entire surface, even the wall, referring to modernist architecture. In the corridor, there must be a place for clothes and shoes. The impression from the hallway often arises from too much furniture and small items. Shoes and clothes are good for storage in cabinets, comfortable shoe cabinets and built-in niches are also convenient. In the hallway there is often a seat, which makes it easier to put on shoes. A practical solution is a chest on which you can sit and store small accessories inside. Ideally is when the case of a chest or cabinet is not too fancy. Furniture with simple shapes works better for small rooms.
White walls increase the space and create a good background for the whole area. However, when choosing this color for the wall and floor, you must add an element of rough material, for example, a brick wall or a ceiling made of untreated wooden beams. Loft style can perfectly get along in the hallway.