Creating a interior for young people is a fascinating and very interesting activity. People aged 25-35 are no longer teenagers. They have developed a certain taste, life orientations and priorities. From year to year the notion of modernity is changing. For example, what we now call retro style once was considered as modern style. And what does the modern youth interior look like today?


Color solution for youth interior
The choice of color design for the youth interior is a boundless space for experiments. Serious young people prefer quiet, muted and neutral shades: brown, beige, gray, black, brick, can, pale green or blue. Of course, they should be diluted with some accents of more saturated tones, so that the interior and design are not boring and sad.


Bright, juicy colors (red, pink, bright green and blue, intense lilac or purple, orange, yellow, even light green_ are suitable for people with a cheerful temper.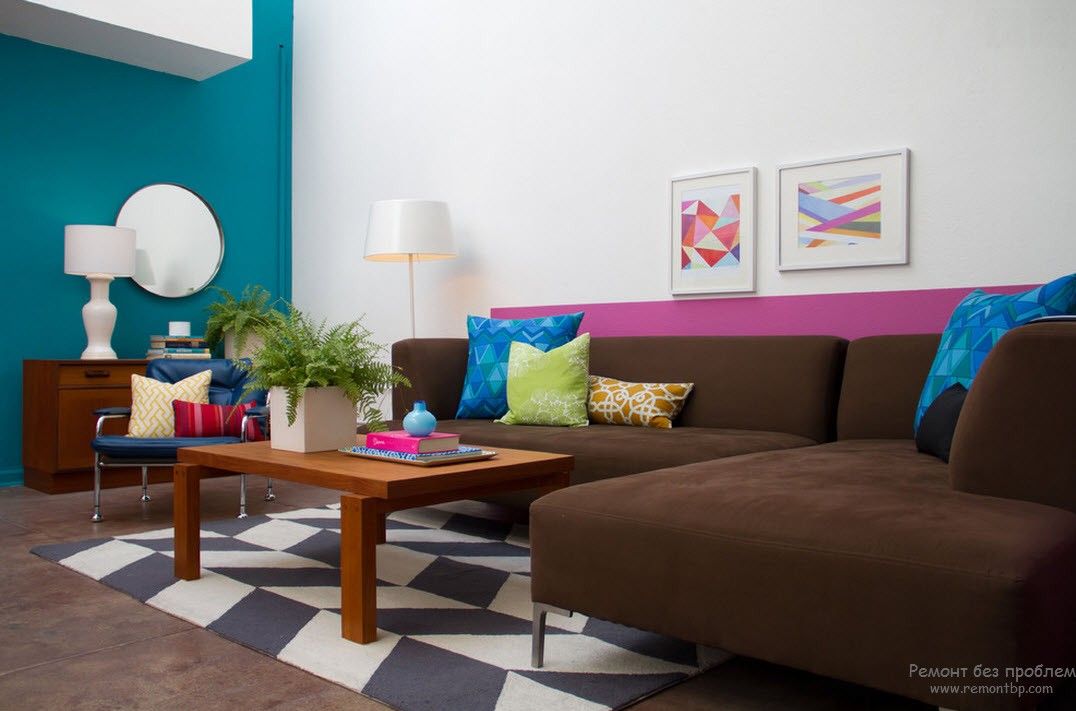 Of course, depending on your character and preferences, you can combine the color gamut. The main thing is not to turn the interior into a motley and ridiculous ensemble. Designers are advised to stay on one background and play with its shades when choosing bright colors. You can add a maximum of one or two as a decoration or accent.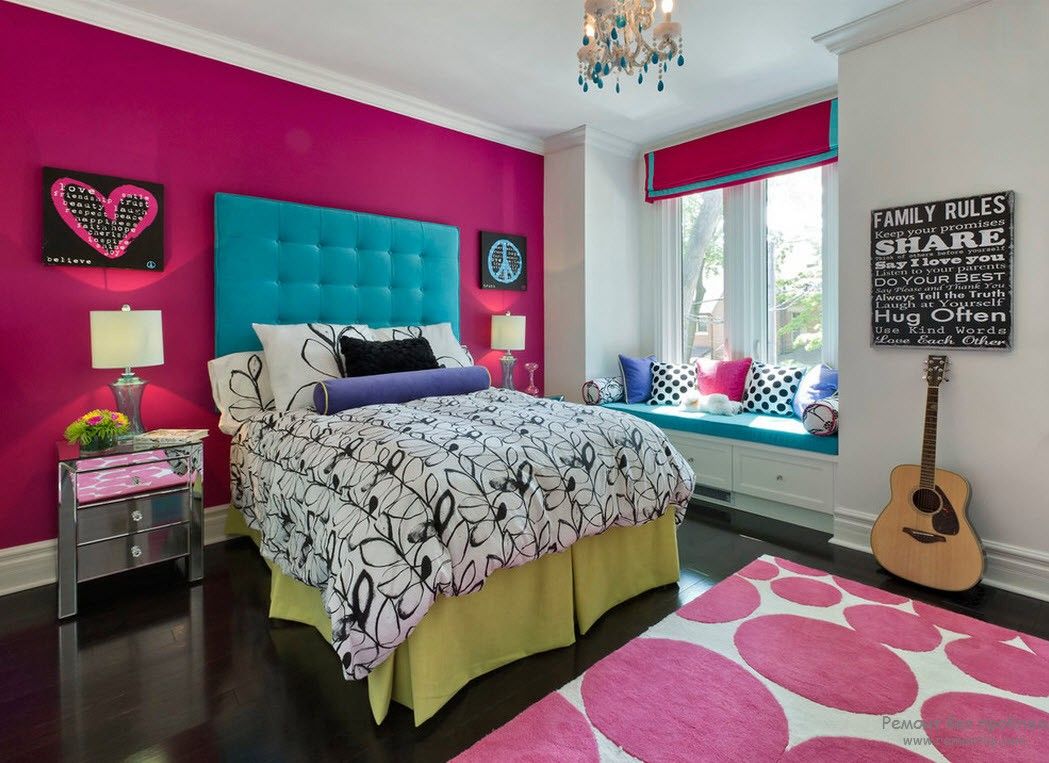 Features of youth interior
Work zone. Since young people spend a lot of time at the desktop, the desk and chair should be comfortable. Now there is a huge amount of computer furniture. Choose the most comfortable for yourself. The table can be with a sliding panel for the keyboard, with shelves and drawers for various papers, stationery and so on. Modern IKEA and other table manufacturers propose hi-tech items with cordless chargers, built-in USB-hubs, LED-lighting of different zones etc. The armchair should be soft, specially chosen for you, it can be rotatable. If you prefer a chair, it is better to use a model with soft upholstery and back side.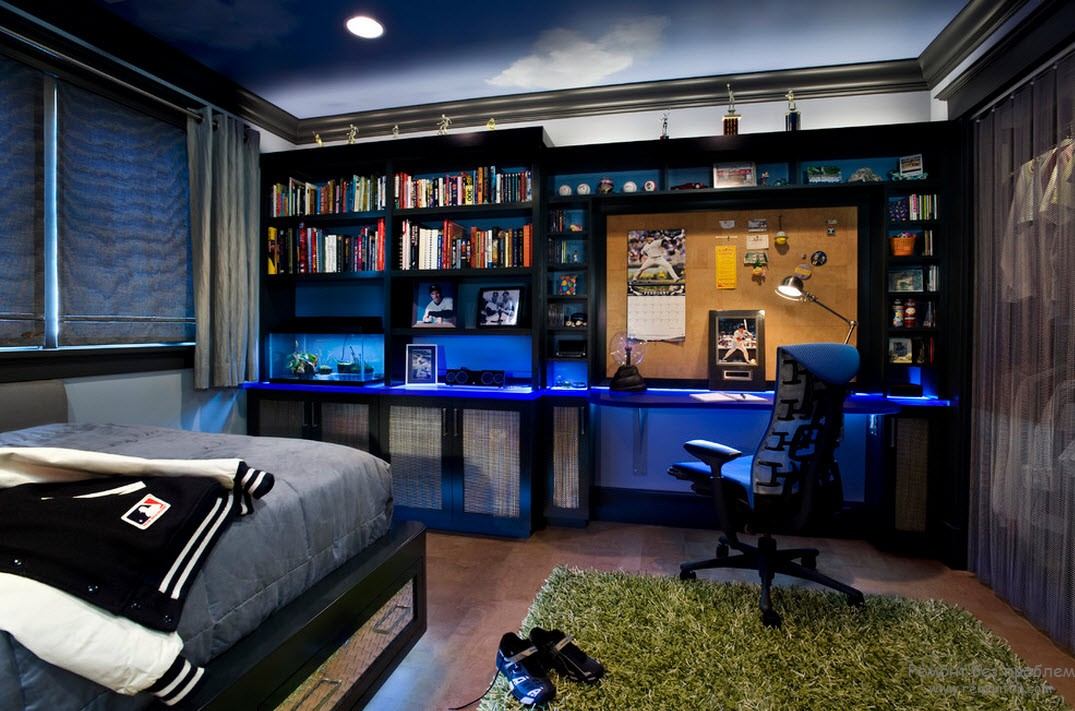 Rest zone. Pick up some cozy armchairs or chairs to communicate with your guests. If the space does not really allow you to place the chairs, pay attention to the soft and original pouffes and seat-bags, maybe folding chairs. But if you do not have a place even for them, then soft and fluffy carpet comes to the aid. You can chat with your friends sitting right on the floor. Often, designers make floor heating in such cases, especially on the first floor.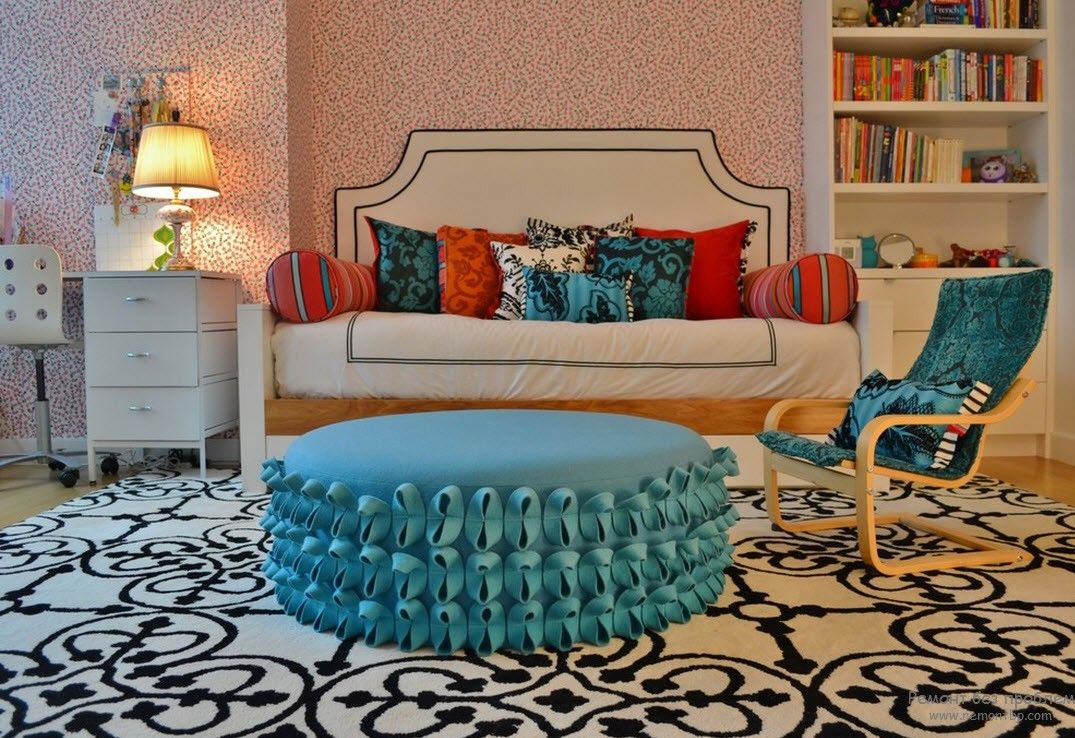 Bed for young people should be comfortable and cozy, just like for everyone. It can be single or double. It depends on how much space you need to sleep. Of course, it is worth giving preference to an orthopedic mattress or top-mattress, it is necessary for people of all ages. If in childhood it helps to correct posture, in old age it softens or relieves back pain because of arthritis and the like. For young people 25-35 years of age it is necessary given the large amount of time spent at the computer or with sedentary work.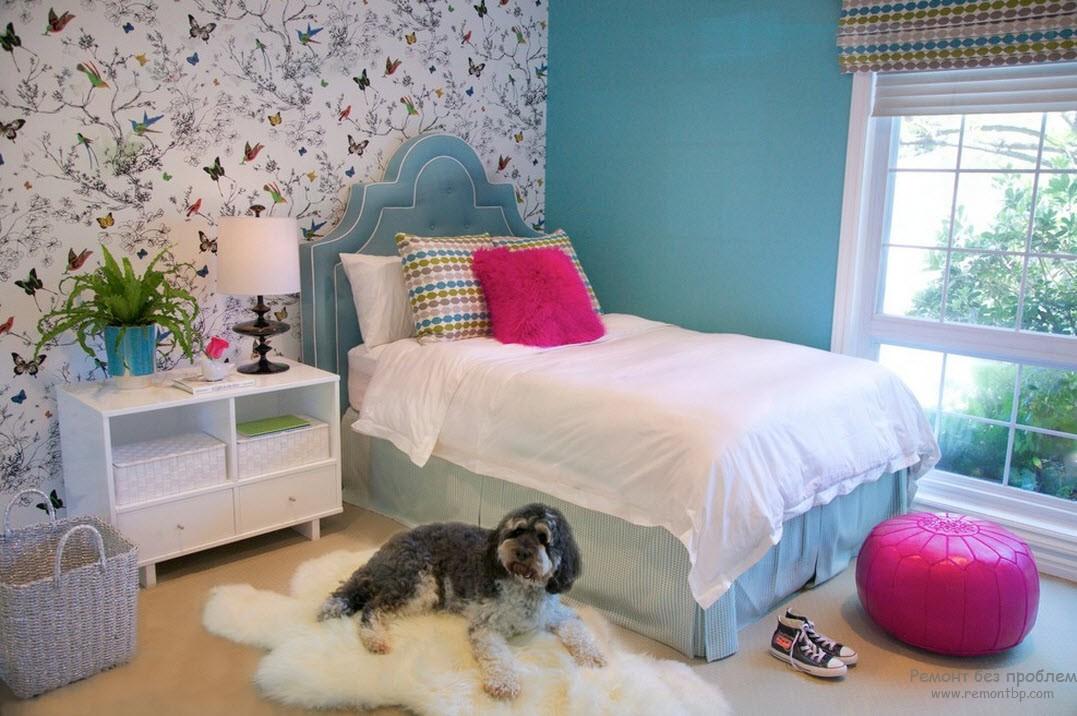 Furniture in the youth interior
What furniture should I choose for the younger generation? Of course, convenient and practical. But also it must be functional and even multifunctional. For example, a folding sofa – convertible, sofa corner, folding chairs. In general, folding furniture is very convenient if guests stay at your apartment, but you have no extra beds. Also you can find a variety of pouffes, wardrobes of various sizes and styles, cabinets (coupes, curly shelves, unusual and intricate coffee tables and dressing tables) in modern interiors of young people. Forms of modern furniture for young people can be the most unusual and non-standard, for example, an oval sofa or a round chair.
Trendy colors for furniture now are also bright, saturated and unusual. But it's good if a color solution of your entire interior is in a more relaxed tone. Then bright furniture will emphasize the overall design. But for an interior with rich shades, a neutral coloring of the furniture is appropriate, so as not to turn the room into a circus.
Hanging chair is very original and youthful looking. It can be made of plastic, wood or glass. Sitting in it, especially on a soft pillow, will be a complete pleasure.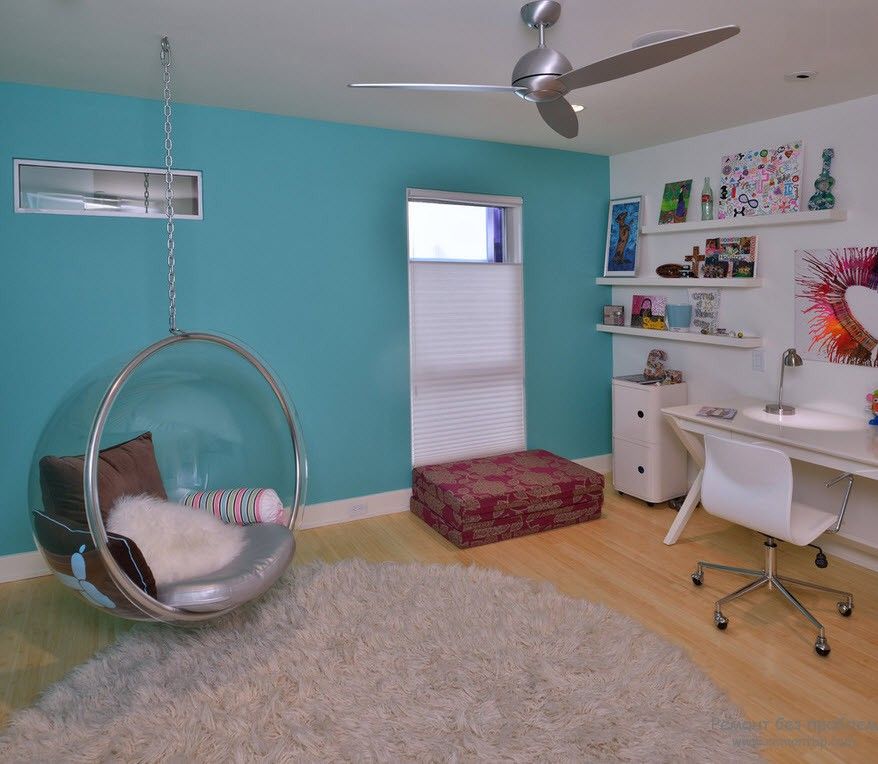 Decorating the youth interior
Material for the youth interior can be absolutely of any kind. The preference is most often given to modern materials: plastic, metal, glass, gypsum and wood which, by the way, both applies to the styles of the past eras and to modern trends.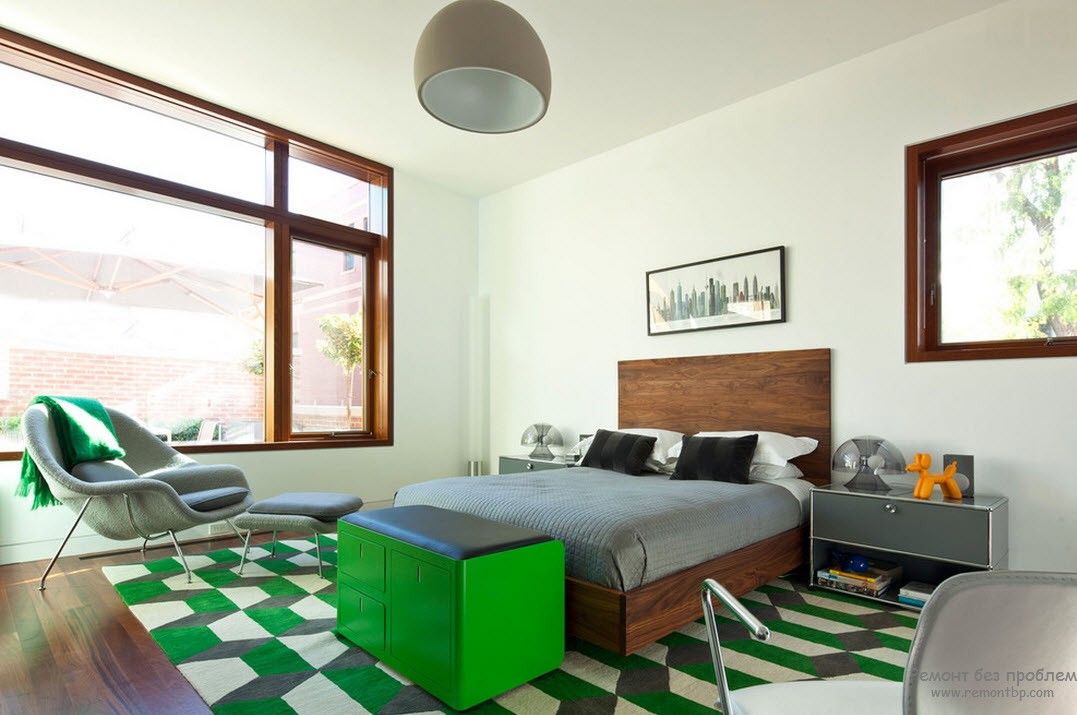 The floor looks good with parquet or laminate covered with large soft carpets or rugs.
On the walls we can see something simple as wallpaper, and photo-wallpaper. Single-color painted walls also look good in the modern youth interior. Many young people prefer surrealism, they decorate their walls with any unusual patterns, ornaments, creative stucco.
Decor and accessories in the youth interior
Youth interior is intrinsic of original accessories and accents. It can be unusual floor lamps and chandeliers.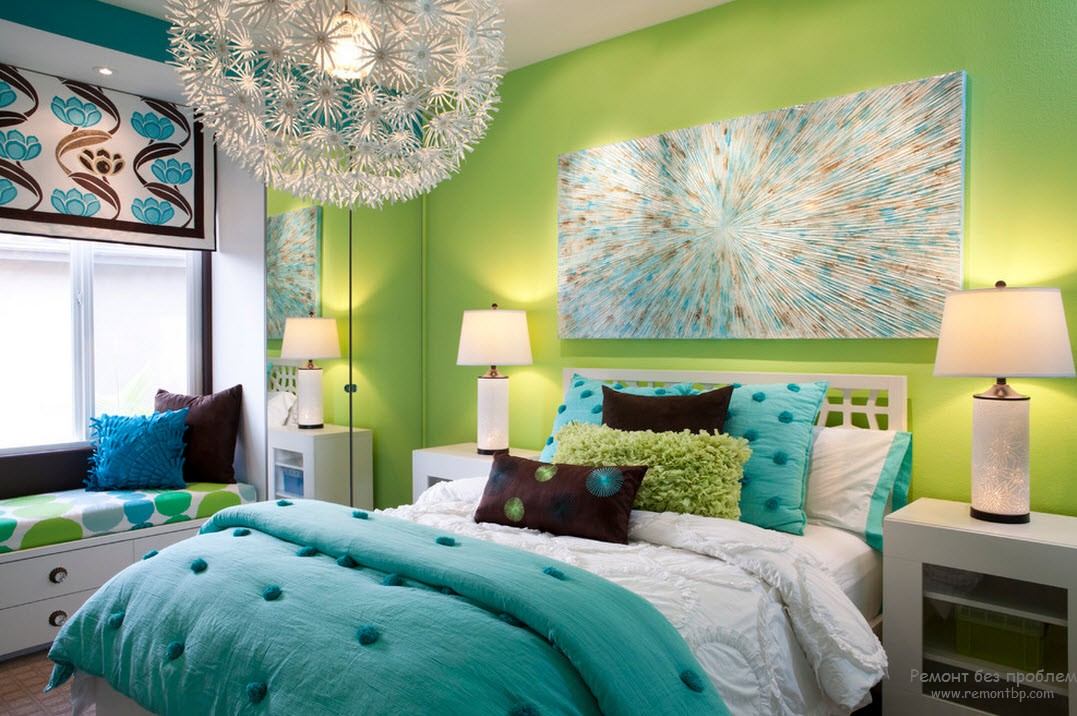 Paintings. Also creative figurines, figurines and, musical instruments, sports equipment will match the atmosphere.
Even a piano can decorate a modern interior.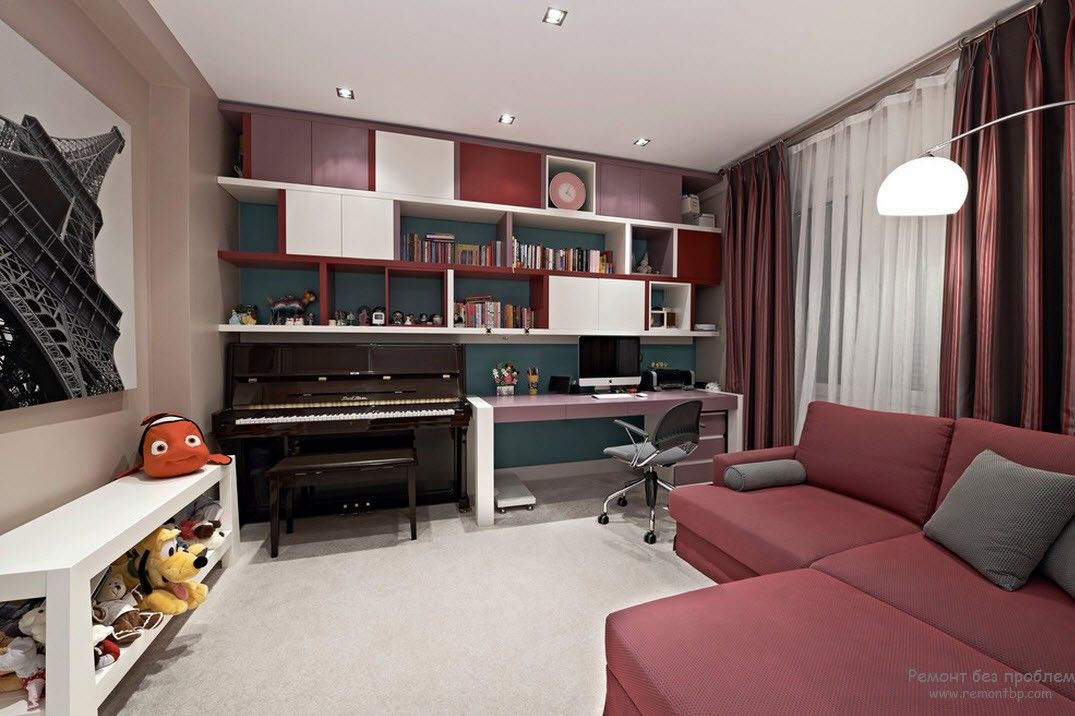 Youth interior is diverse in its variational execution. It is filled with bits of character of its owners, reflects their mood, taste and vital positions.