Here is the interesting design project of apartments located in a building with an industrial past. Huge windows with metal frames have been preserved in order to keep the traditional spirit of industrial premises in the rebuilt and furnished housing space. These panoramic windows became the starting point in the creation of the concept of the urban apartments. Incredibly bright room with high ceilings and walls of snow-white finish was an excellent background for placing contrasting furniture and decor items. This original industrial apartment design project has interesting accommodation. It occupies a corner of the building, located at the both sides taking two floors.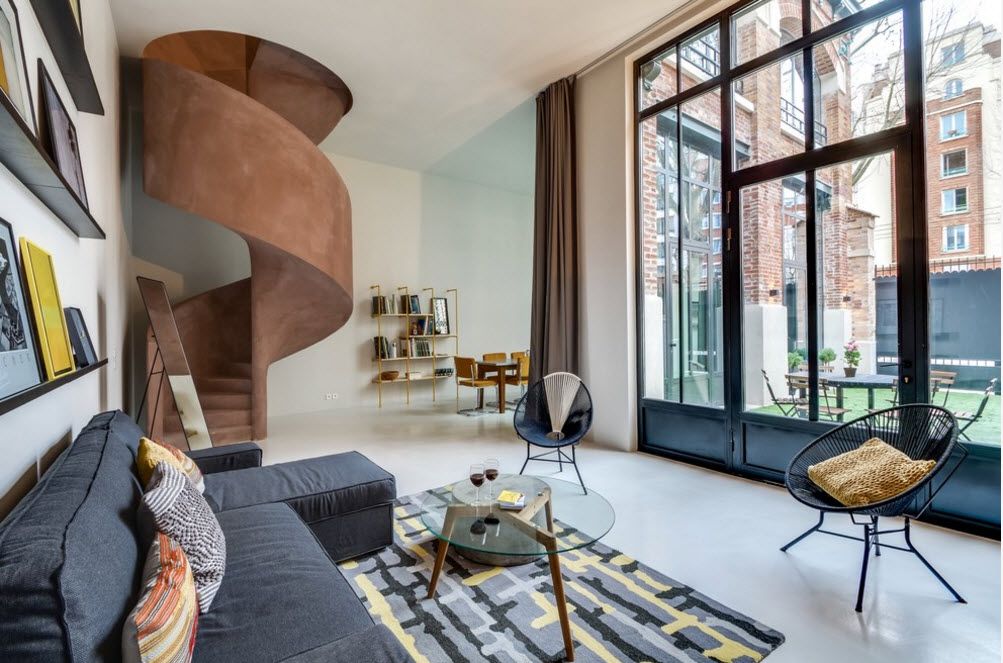 Spacious living room, furnished in the spirit of Scandinavian homes, is simple, concise and unique at the same time. With an abundance of sunlight coming through the large windows and doors and reflecting from the white walls, the room seem even larger than it actually is. High ceilings seem to be even higher due to the use of visual techniques – floor-to-ceiling windows and curtains of the same size, vertical heating radiators, and no artificial light sources at the ceiling.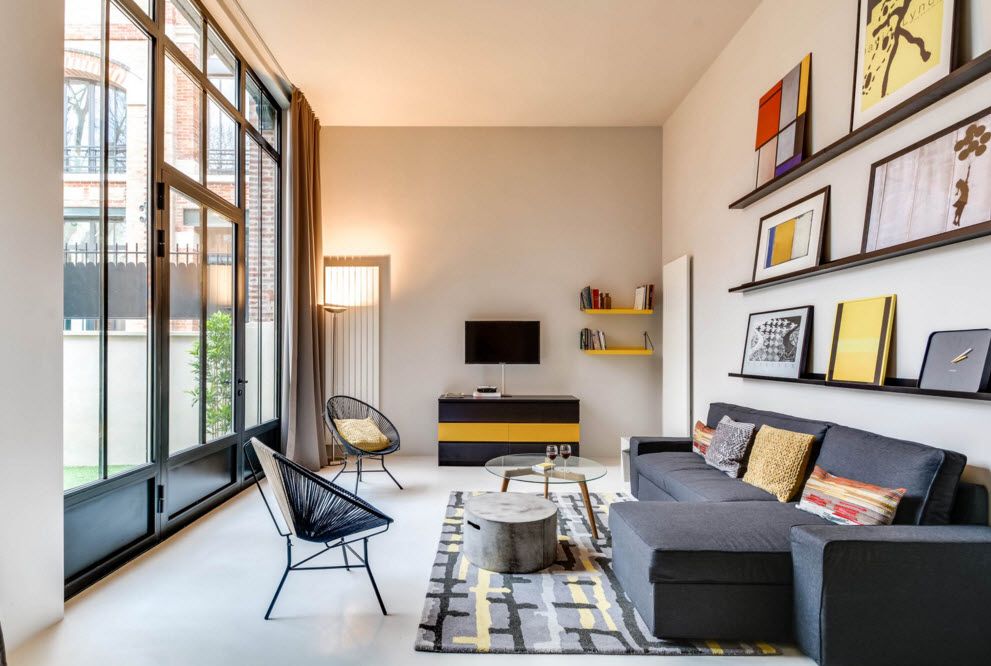 You can often find the use of various shades of gray within a single room in the modern style of dwellings' decoration. And this living room became a good example of how you can create an interesting and non-trivial image of space for relaxing and entertaining by using most of the neutral colors. The use of contrasting dark gray tone on a white background, slightly diluting it with bright colors of furniture items, textiles and decor would be sufficient.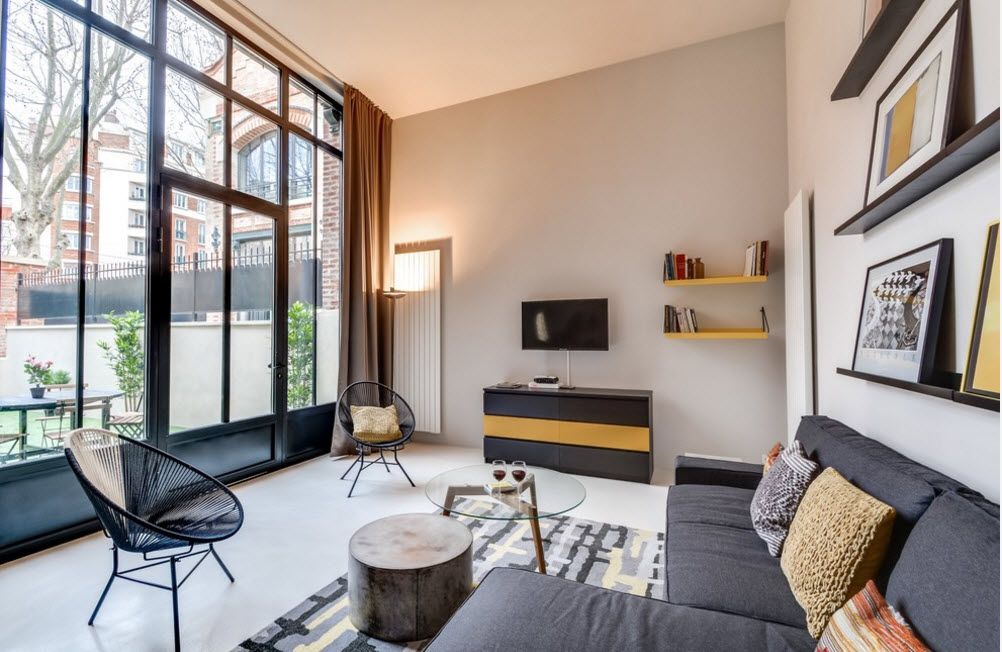 Distribution of furniture in the living room carried out on the well-principle. The main furniture recreation areas (spacious corner sofa and elegant chairs on a metal frame) are built around a small coffee table with glass top. Part of the leisure area becomes a video segment with low storage system that has a bright contrasting façade. Even small blotches of color in the form of wall decoration on a white background looks impressive.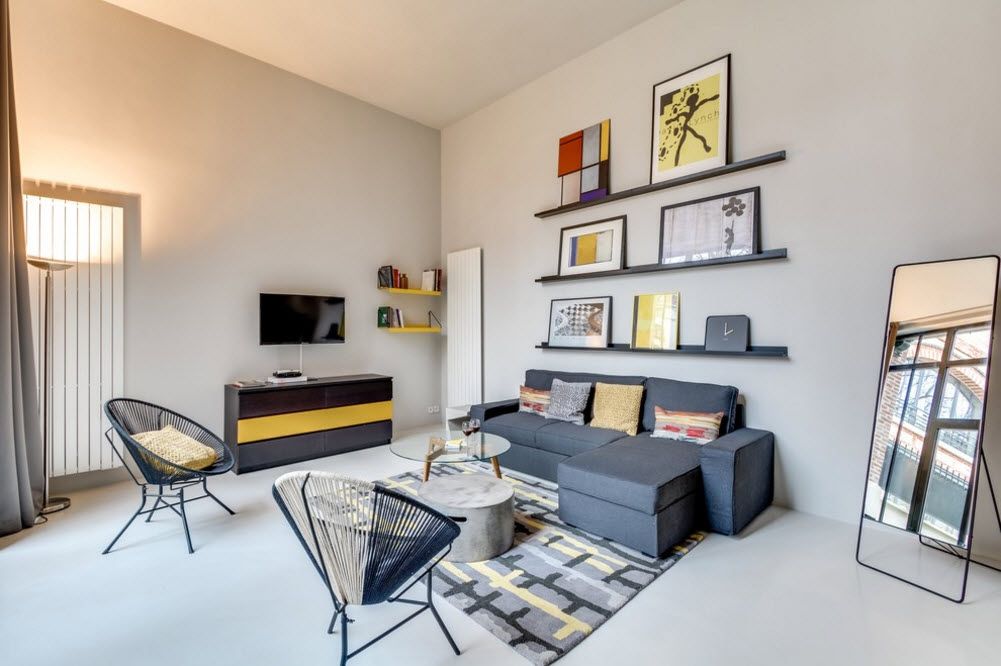 The staircase, located in a corner of the living room, stands as the original element of the interior of the first floor. This helical structure of an unusual color and texture has become a bridge not only between the two tiers of apartments, but also between a living room with dining area. Beige brick tone of the stairs execution is particularly impressive against the white background of walls.
Turning around the corner of the living room we end up in dining room of about the same size. It is no wonder that a bright finish of all surfaces encountered contrast with a dark frames of panoramic windows, which consist of several sections, in this part of the apartment as well.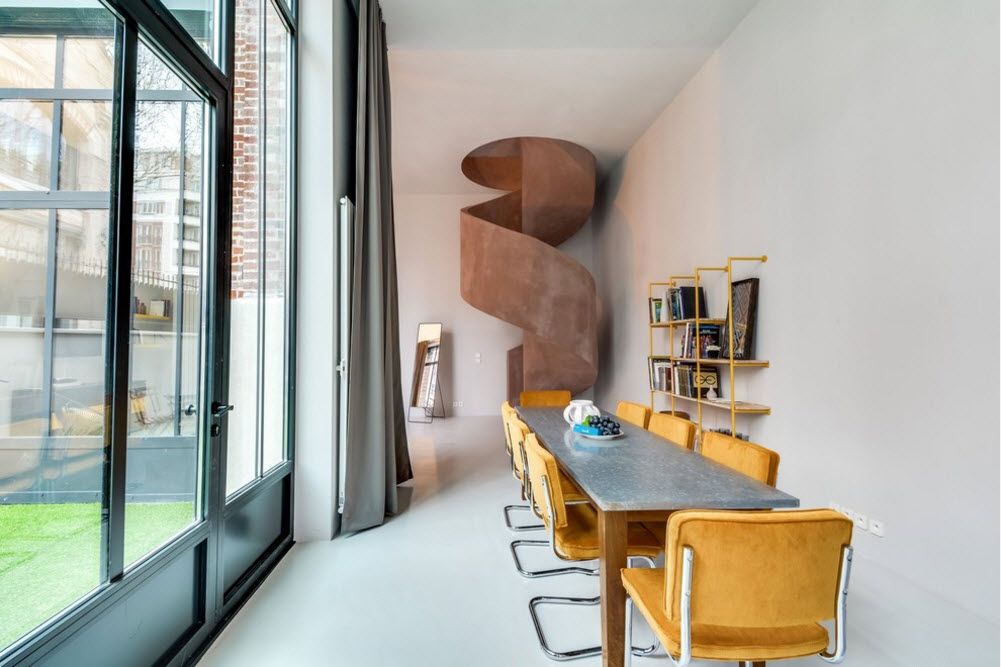 The centerpiece of the dining room became a dining group, which consists of a simple, but quite roomy table and comfortable chairs with a metal frame and soft seats and backs. Mustard-yellow color of the upholstery of chairs effectively combined with the performance of a small shelf for books and utensils