If you plan the renovation or remodeling in the apartment, with less than 45 square meters (150 sq. feet) and puzzle over how to accommodate all the functional areas and at the same time to create a cozy and comfortable environment, the proposed below design project of a German apartment can inspire you greatly. Strict and concise forms, plain colors and simple models of furniture can be transformed. For this you just add a little bit of creativity for the rooms` design. Use bright accents, interesting wall decor and original small design ideas. Let's overview original small 150 square feet German apartment interior design ideas and see how did owners, together with the designer, arrange flat in a contemporary style with a creative approach to decorating.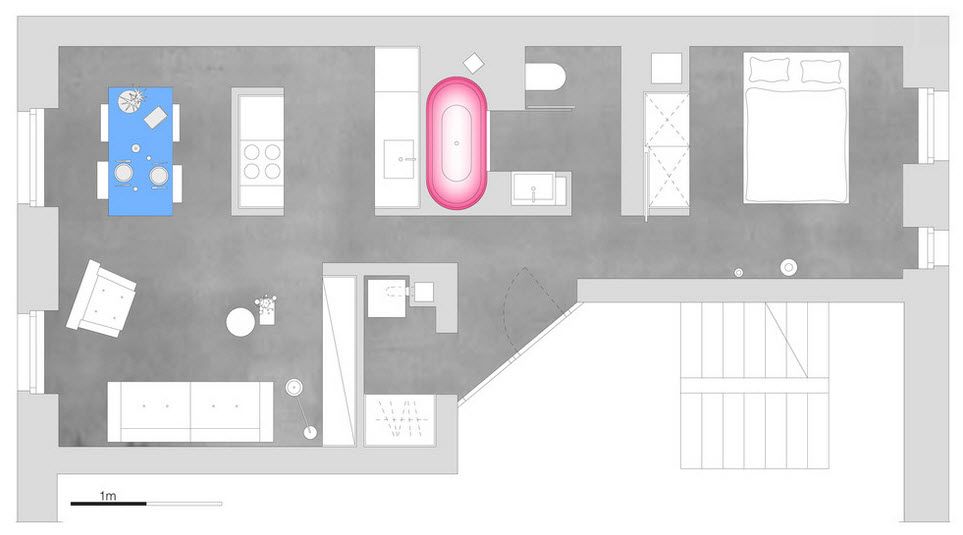 If your apartment can not boast of a large area, and you need to have a full bedroom, allocate a separate room for the bathroom, do not forget about the living room and a dining – so you have a hard task. Obviously, any arrangement of functional segments of your home will imply monochromatic finish. For a modest-sized rooms it is better to abandon the printed wallpaper and stay at the bright colors. In this way you are not only visually expand a modest space, but also prepare the perfect backdrop for wall decorations.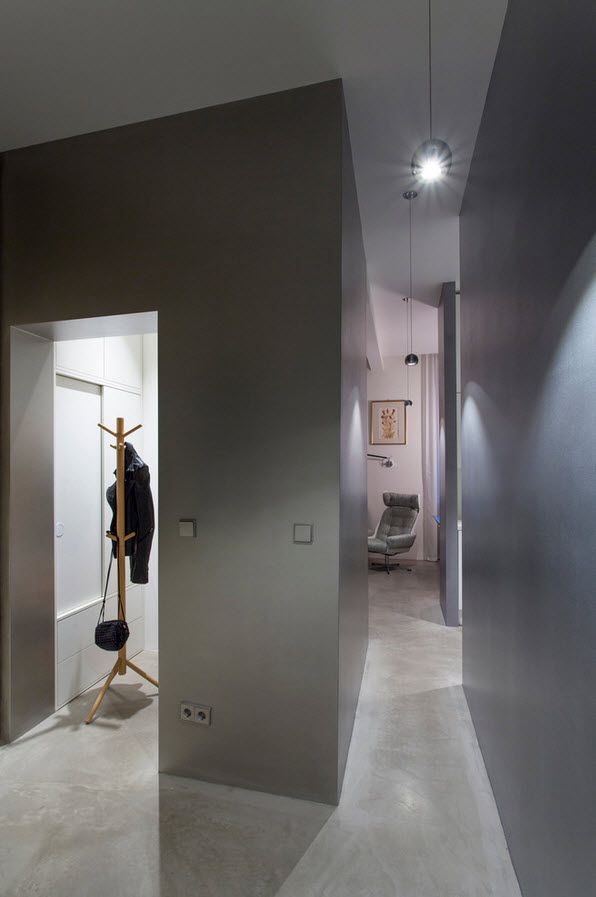 But this does not mean that you will not have opportunities to integrate accents into the interior space with the help of finishing. Firstly, you can use brighter colors to design accent walls. Secondly, there are also texture accents in the arsenal of any good designer. This exact designer`s solution was chosen for this German flat – brickwork painted white as a texture accent. Thus, the design of the apartment gets a certain brutality. The echoes of the industrial style made it possible to create an original background for the works of art that adorn the walls and bring a variety of colors to the interior.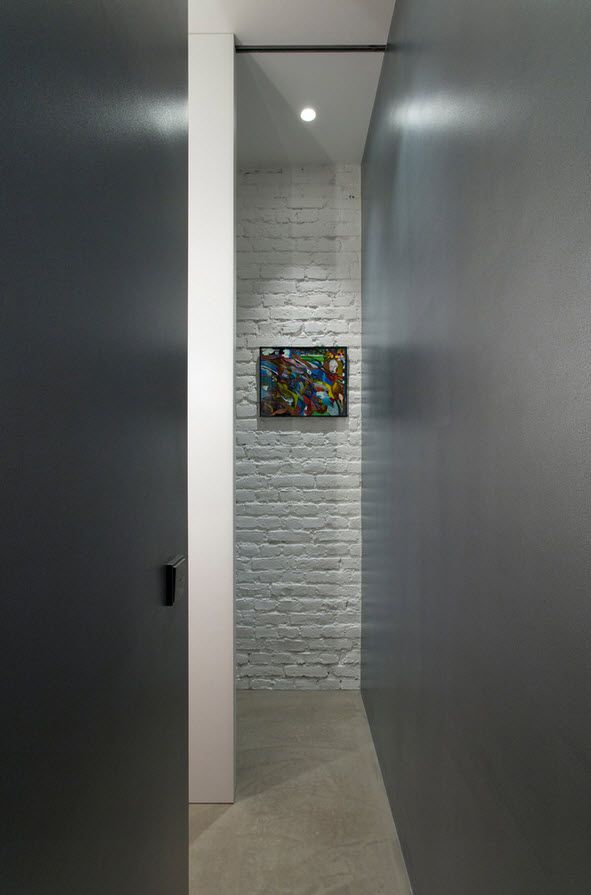 Let`s examine how did the owners of this German apartment manage to allocate living room, dining room and kitchen on a couple dozen square meters. Kitchen space is separated from the main room by a wall-screen that serves as the basis for embedded kitchen units. The second part of the furniture ensemble with appliances, work surfaces and storage is located in parallel.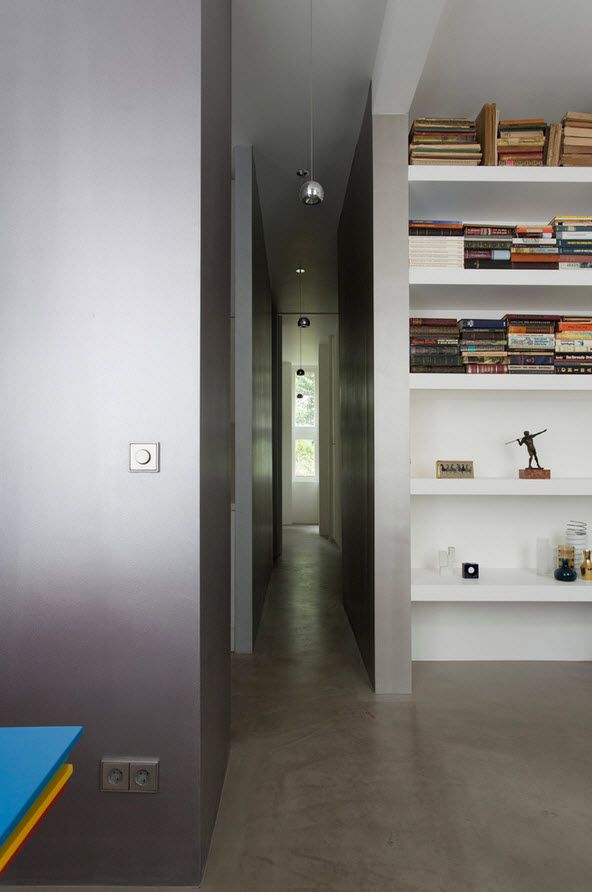 Snow-white decoration of kitchen fronts is the most desirable option for the functional without natural lighting. Snowy idyll spreads not only on the color of the wall height kitchen set but also on home appliances and kitchen accessories.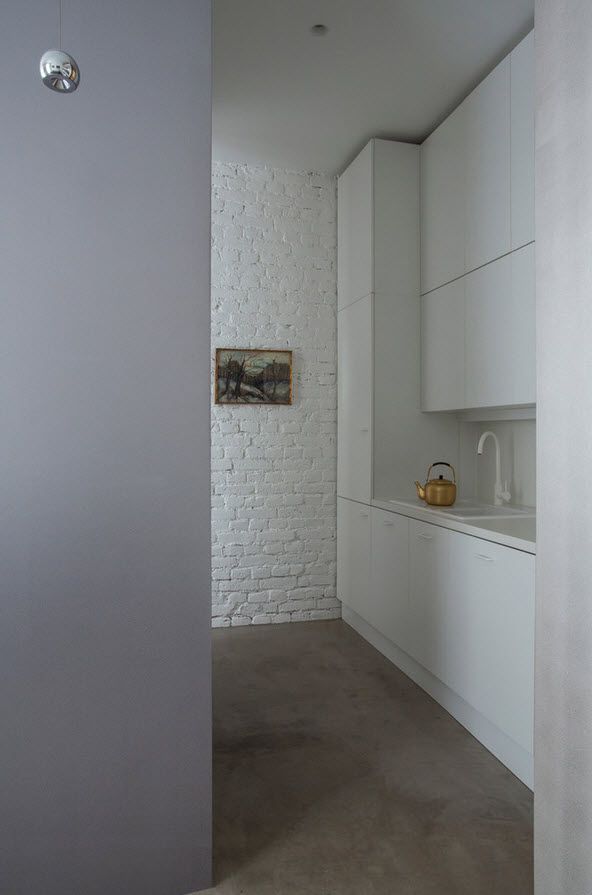 After the white-gray tones of the kitchen space eyes desire for brightness. And the dining area meets all expectations in this regard. Colorful group of bright dining room table and chairs in different colors are able to activate not only your mood, but also your appetite.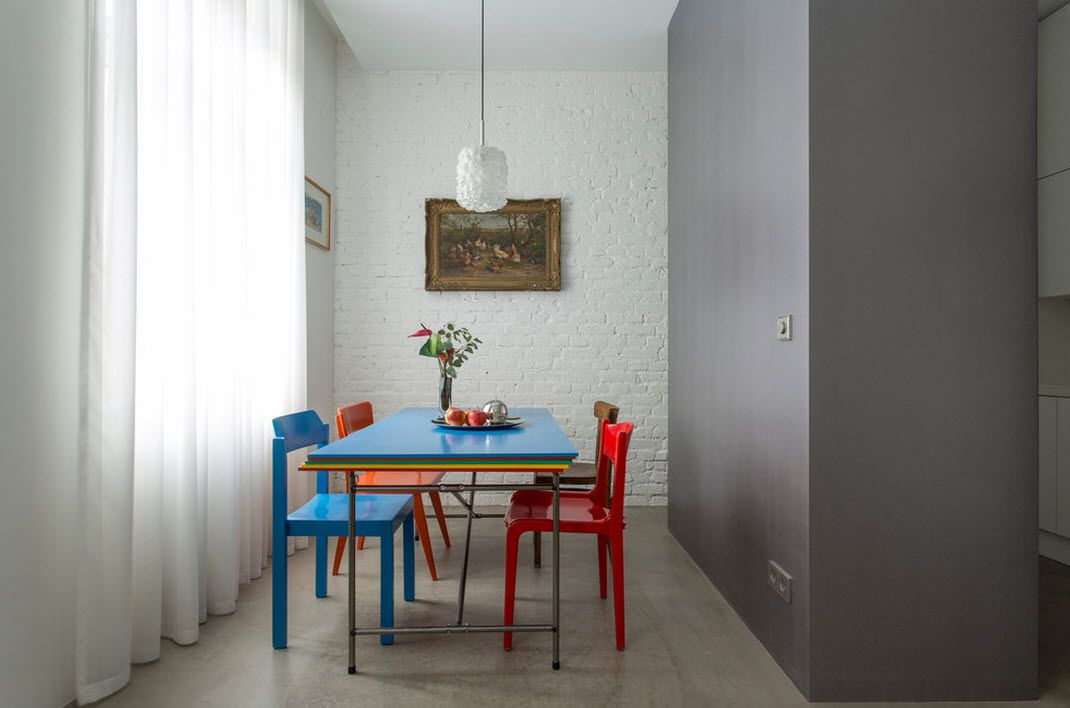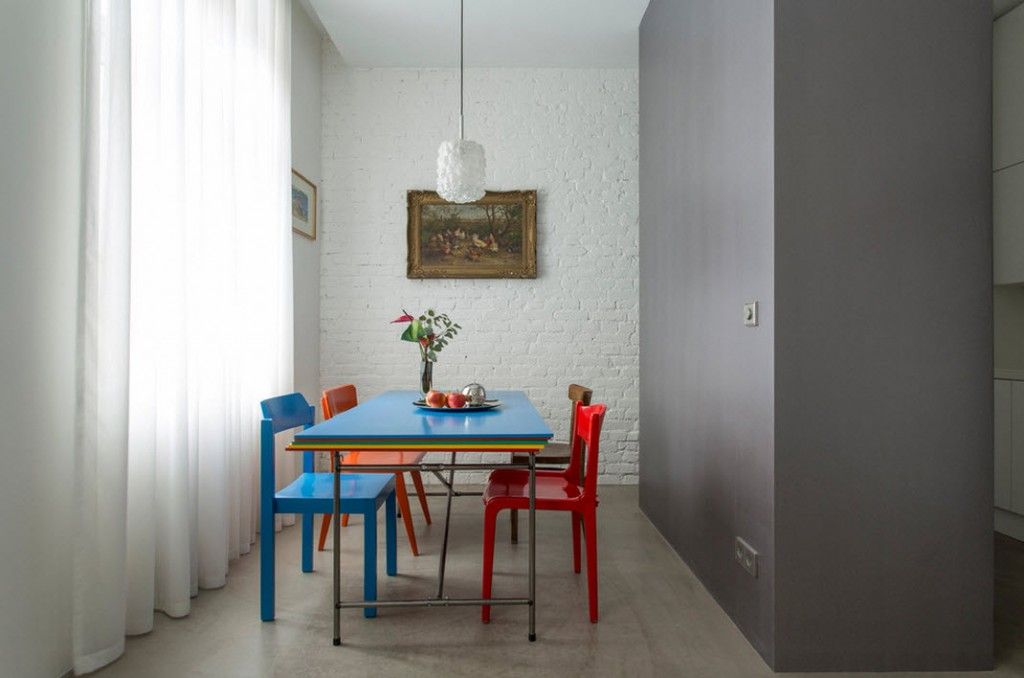 There is an open layout segment between the dining room and living area. It allows not only to keep the freedom of movement between the functional segments, but also to fill the room with light from two large windows. This fact is crucial for lighting of small rooms.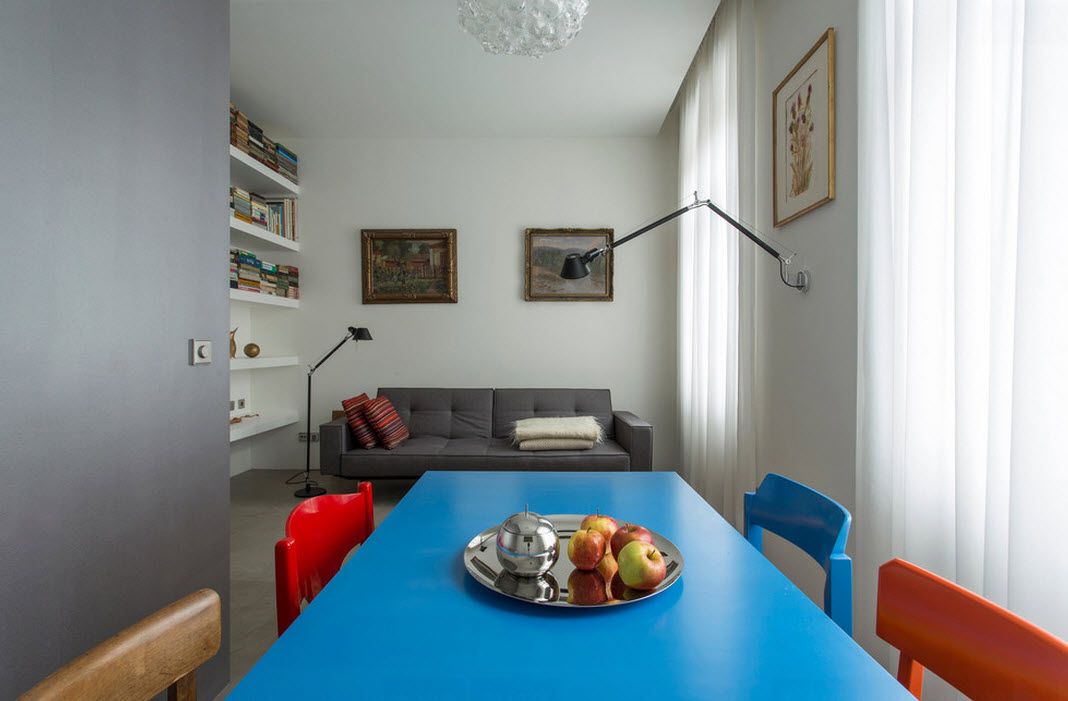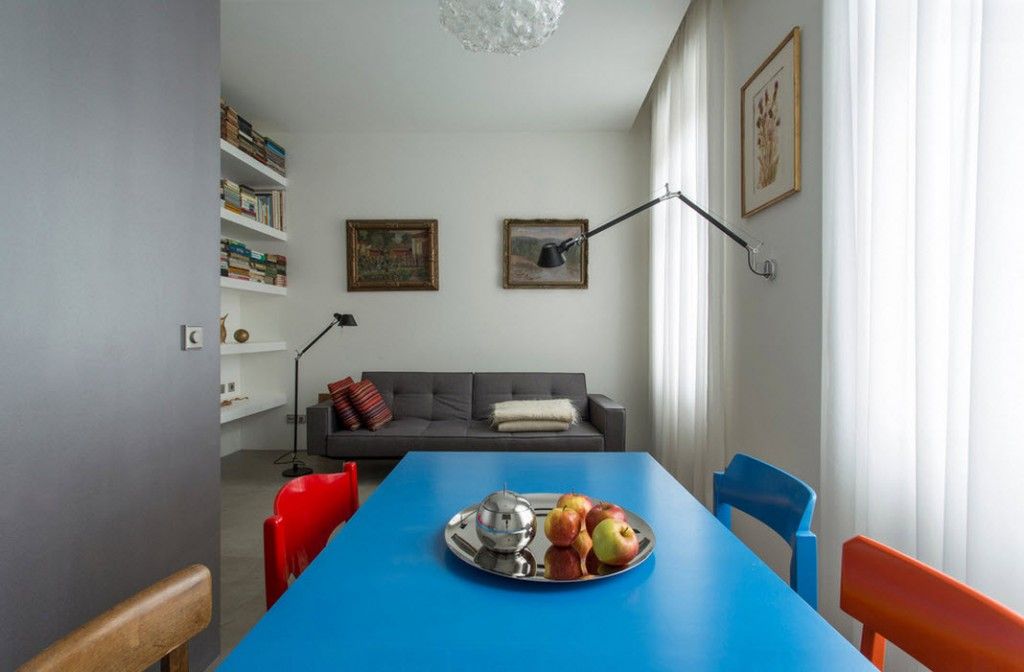 Relaxing living area is represented by a simple and concise furniture. At the same time it is not devoid of comfort and apparent functionality. Upholstery in gray does not attract attention, but it is incredibly practical and goes well with any additional elements of the interior. They may be light fixtures, wall and floor decoration, the table stands.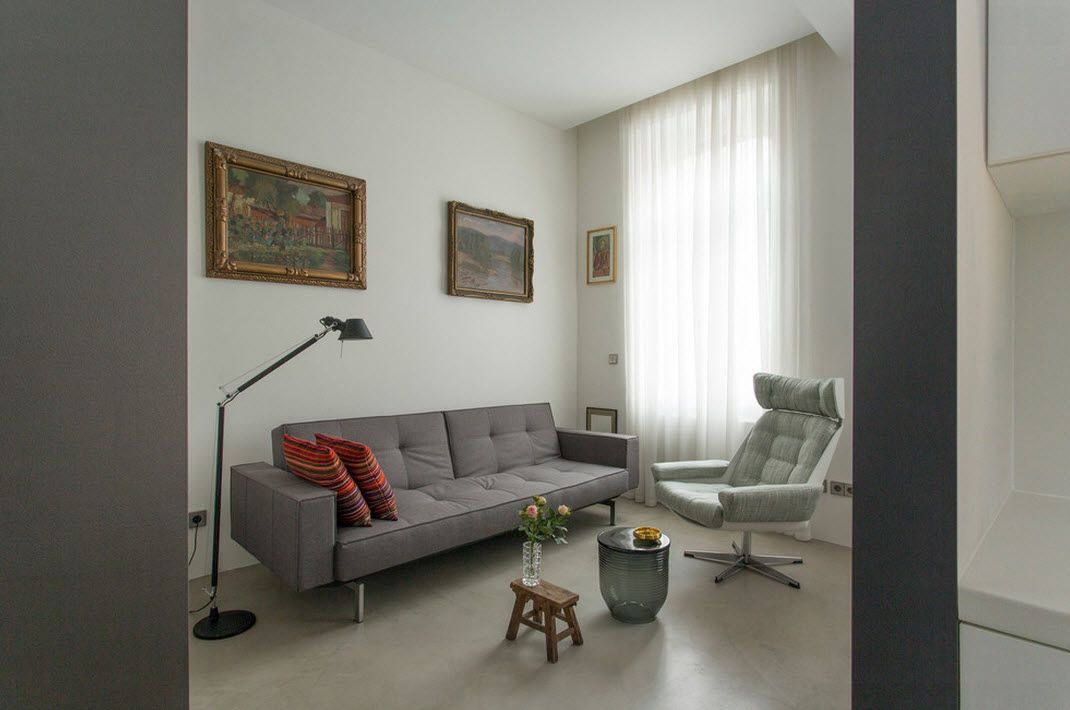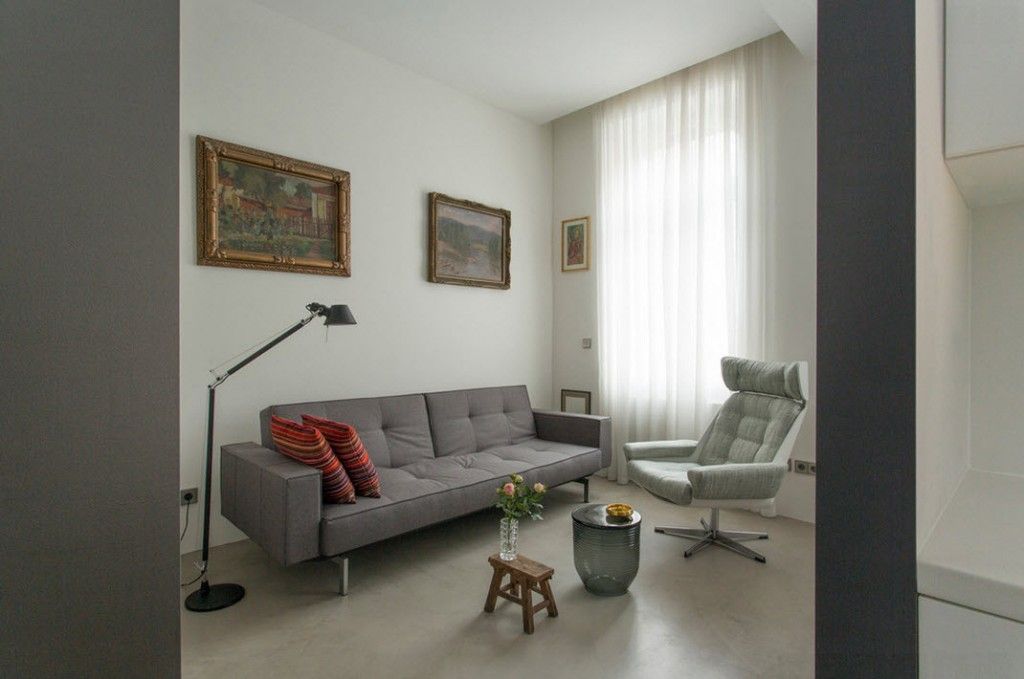 Built-in open shelves for books and small things is a great idea for the living room of modest size. It is an alternative to a large wardrobes with a very solid appearance. Snow-white decoration of the bookshelves makes it construction virtually weightless. It gives the whole image of the premise bright, light and friendly tone.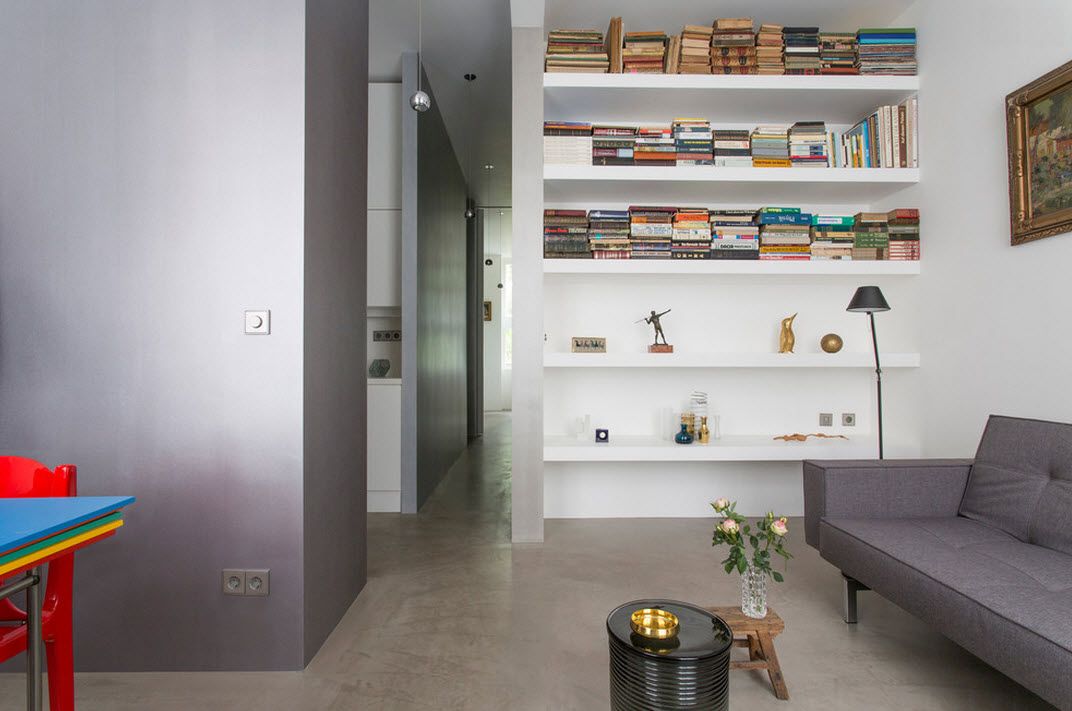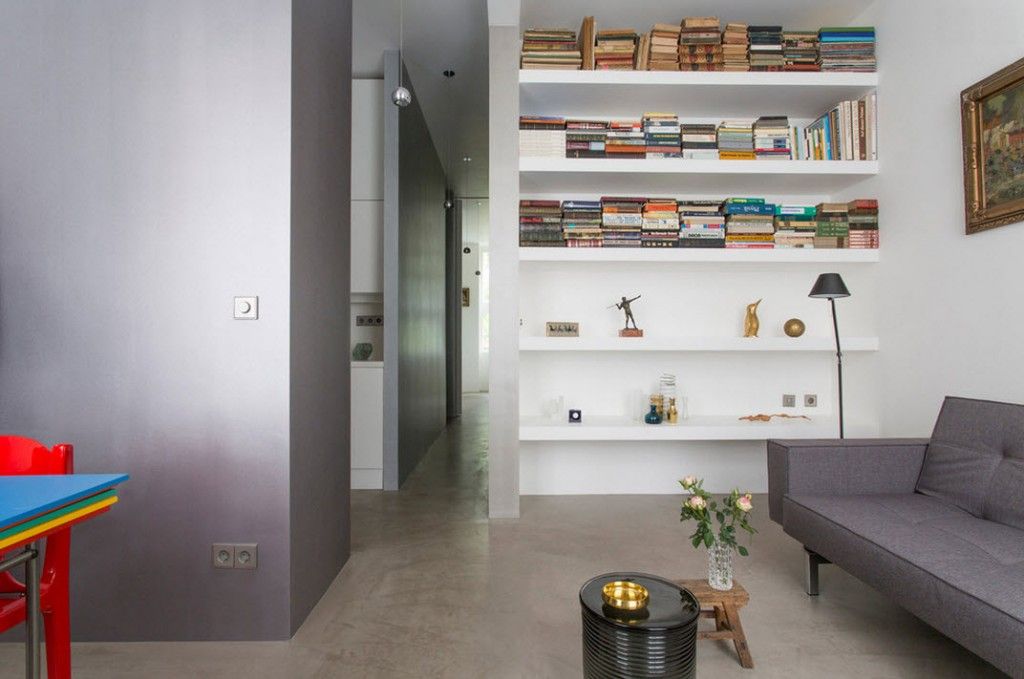 Everything is as simply and succinctly in the bedroom space: snow-white finish, a minimum of furniture, mainly wall decor. Designer have offered an option with whitewashed brick accent wall at the head of the bed one more time. A small room seem more spacious because of the bright decoration and natural light coming from the large windows.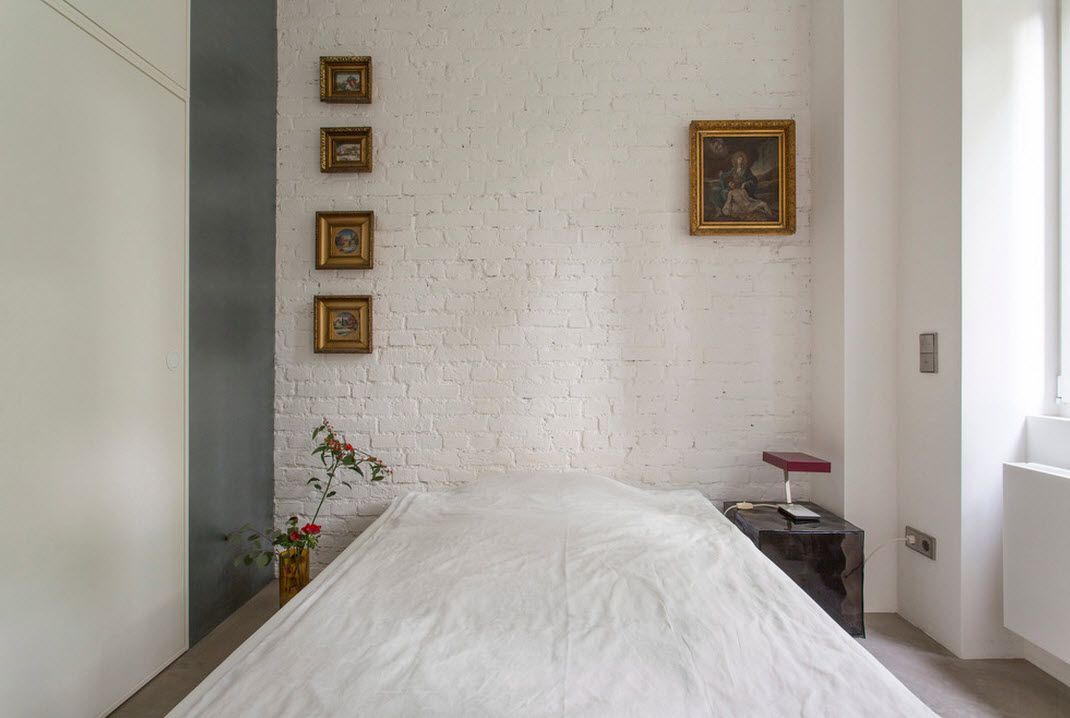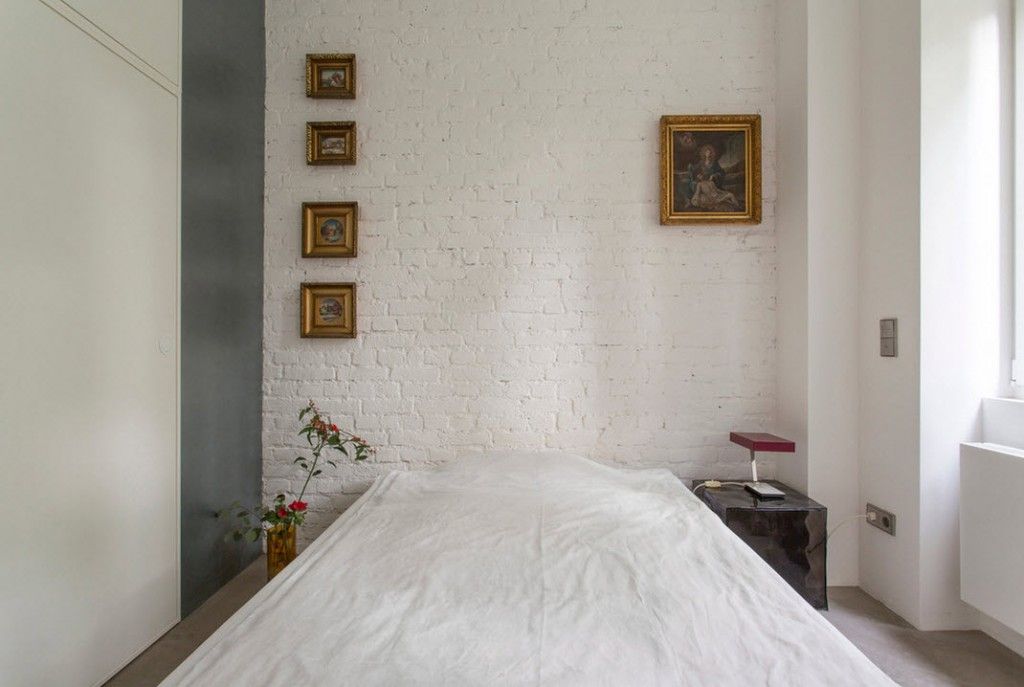 A small built-in storage in a wardrobe is perfect for apartments of modest size if there is no possibility of dedicating a separate room for the dressing. It also works when even in the bedroom area has no possibility of zoning space for wardrobe and a casual image creation.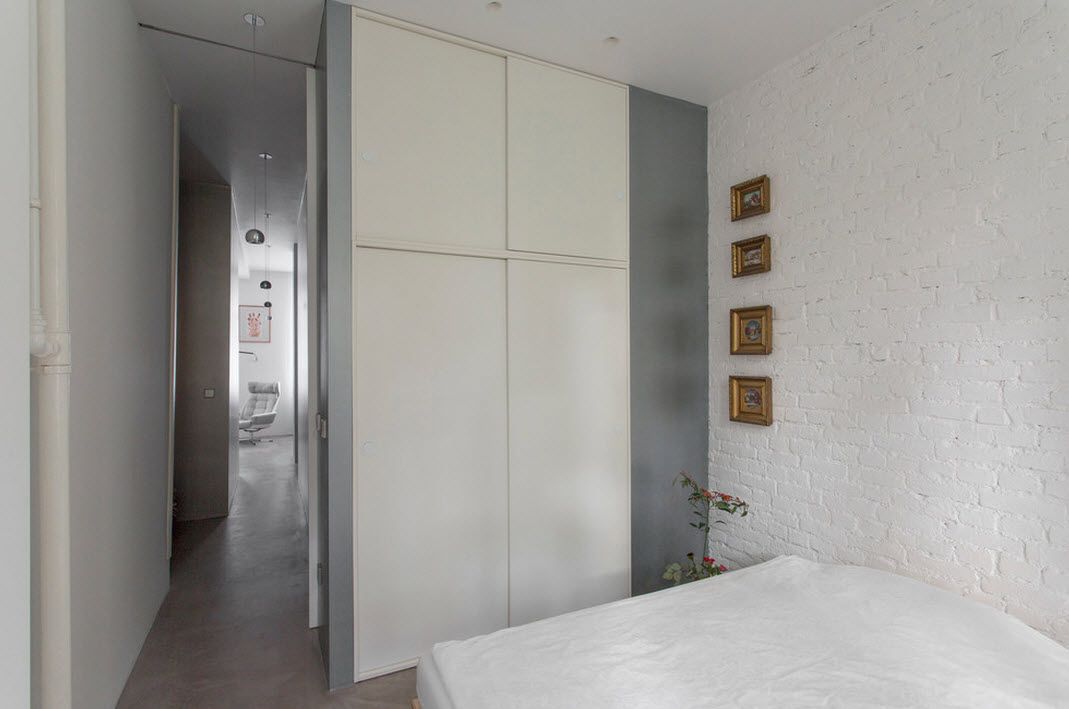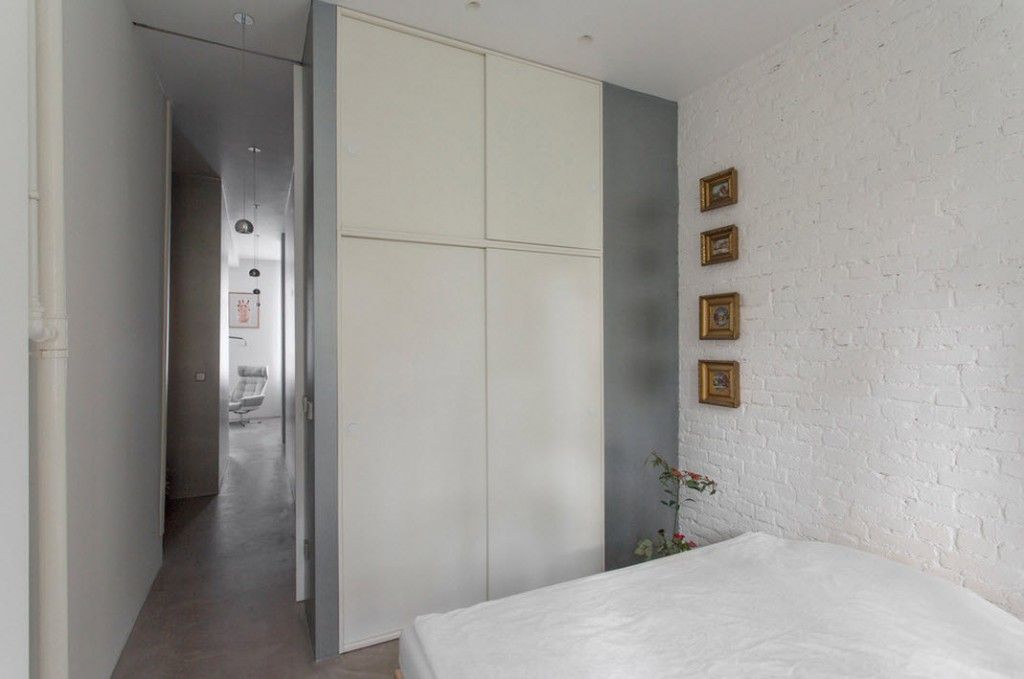 There is a bathroom located next to the bedroom. Its interior is interesting not only in terms of the original room shape but also the unusual layout of plumbing and selected colors. The white walls of the utilitarian premises is effectively diluted with bright accent – scarlet decoration of the wall behind the bathtub.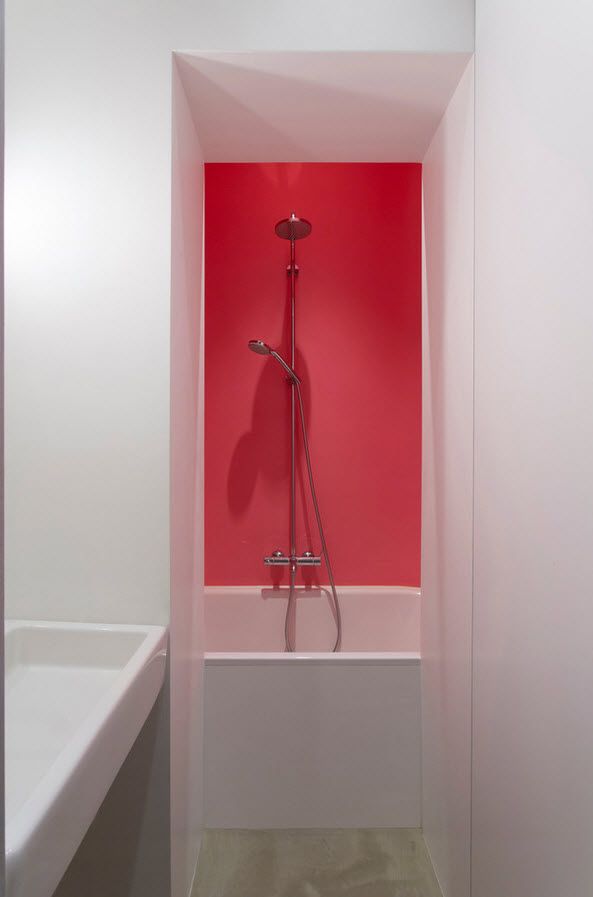 Inside the small bathroom with literally no free square centimeter, not only white color finish will help expand the space visually but also mirror-like frameless wall surfaces.