Modern houses and apartments are tend to have roomy and spacious living places. But what you should do if you have a small apartment? Usually, in such type of apartments, there are extremely tiny bathrooms and kitchens as architects were compelled to economize space on everything. Bathroom suffered most of all and now many people have a dilemma how to design their small bathrooms in modern, creative and functional way. In this regard, current owners are interested as it is possible to increase the bathroom? We will explore some small bathroom design ideas of modern era.
This problem can be partially solved by choosing the right style of interior. In such a case it is necessary to pay attention to such trends as modern, minimalism and Japanese ethno-style. They are characterized by rational allocation of space, ease of use and minimum number of subsidiary subjects.
Contemporary style
this trend uses combination of bright colors and hardly compatible materials. So called "zoning of the room" (when the room is visually divided into several parts) is very actively used by designers. Sanitary engineering in this case should be placed functionally. In a small room it can be hidden into the wall to free up space.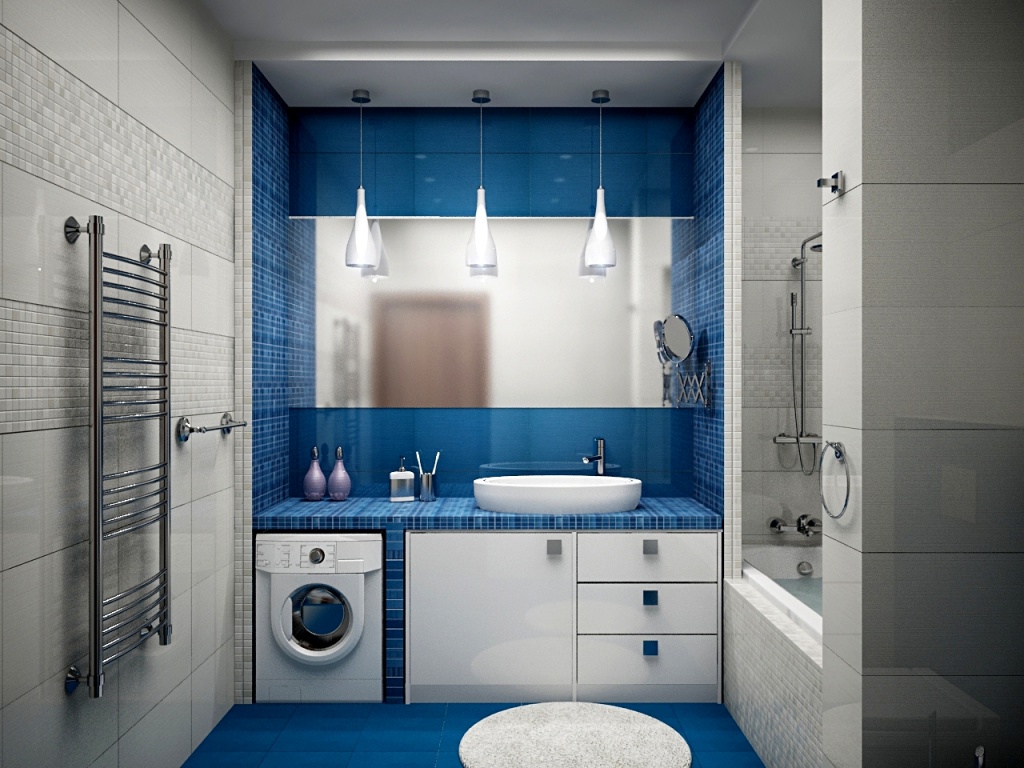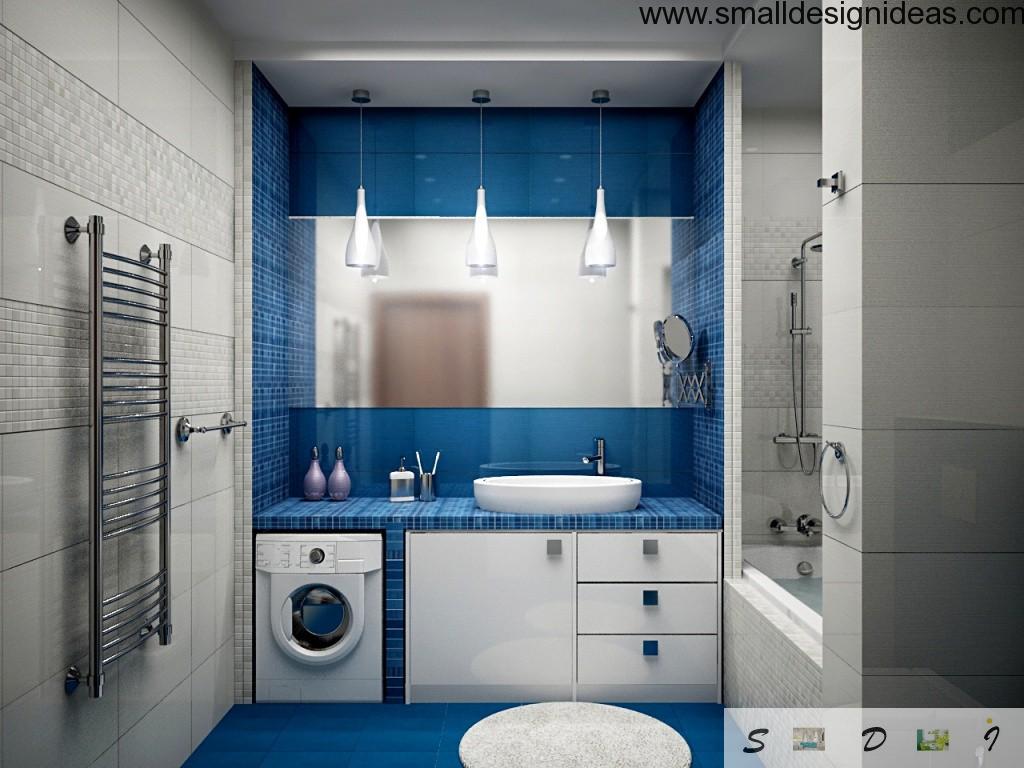 Adhering to the trend in the Art Nouveau style, you can choose for a bathroom a corner bath or not large shower stall. Do not forget about accessories, they must be of irregular shape. The advantage of this trend is that it can be used to create a unique interior of a bathroom without spending much money.
Minimalism
It characterizes by simple clear lines, maximum space and minimum details. It is ideal for the bathroom of a small space. Bath or shower have to be with smooth outlines if they are of rectangular form, with sharp angles. In this case, an abundance of different tones is not allowed. Interior of the room should be designed in multiple shades of one or two colors.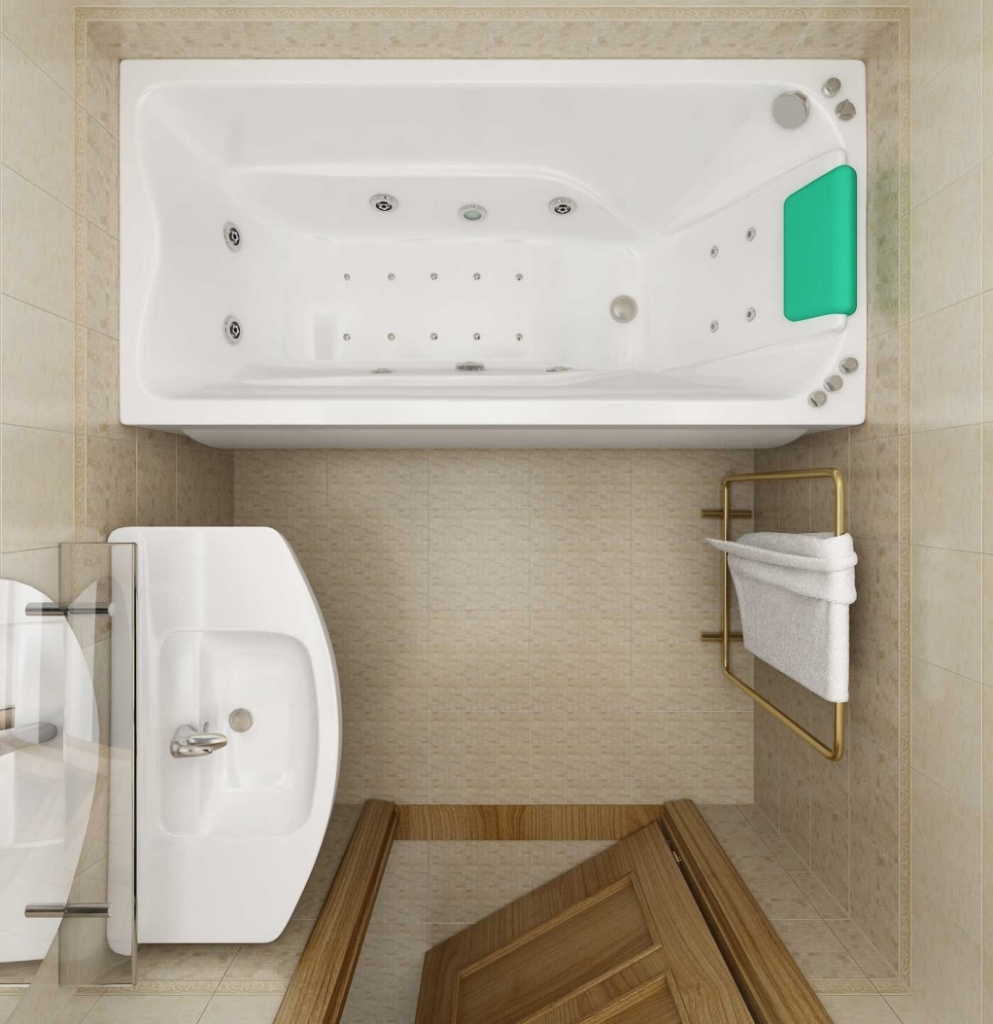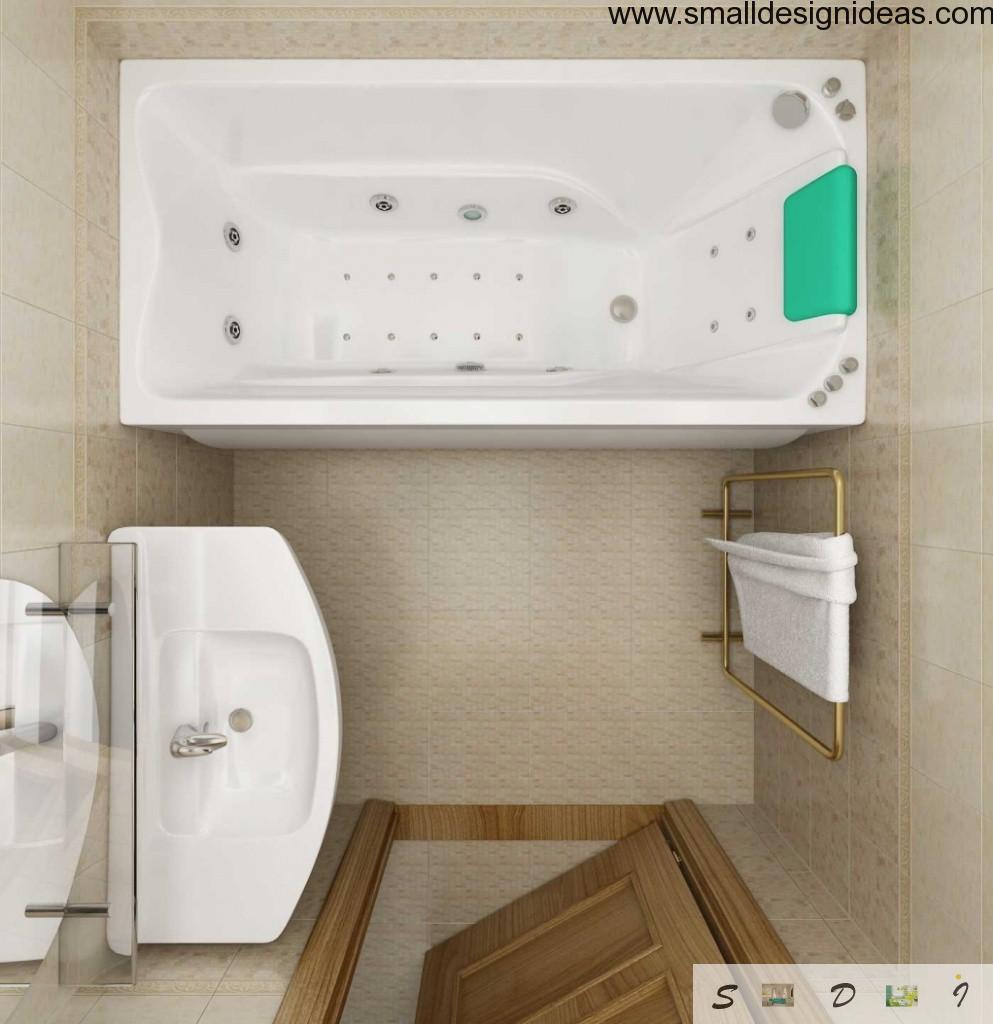 Do not be afraid to experiment with this style. Making a bath in this style it is difficult to make a mistake, because its name speaks for itself: a minimum of colors, a minimum of furniture and accessories.
Motives of Japan
To date, very fashionable to use in the bathroom Japanese ethno-style. From its name we can immediately understand that this is not a cheap pleasure. After all, to create a room atmosphere of this country need to use natural materials such as silk, rice paper and expensive wood.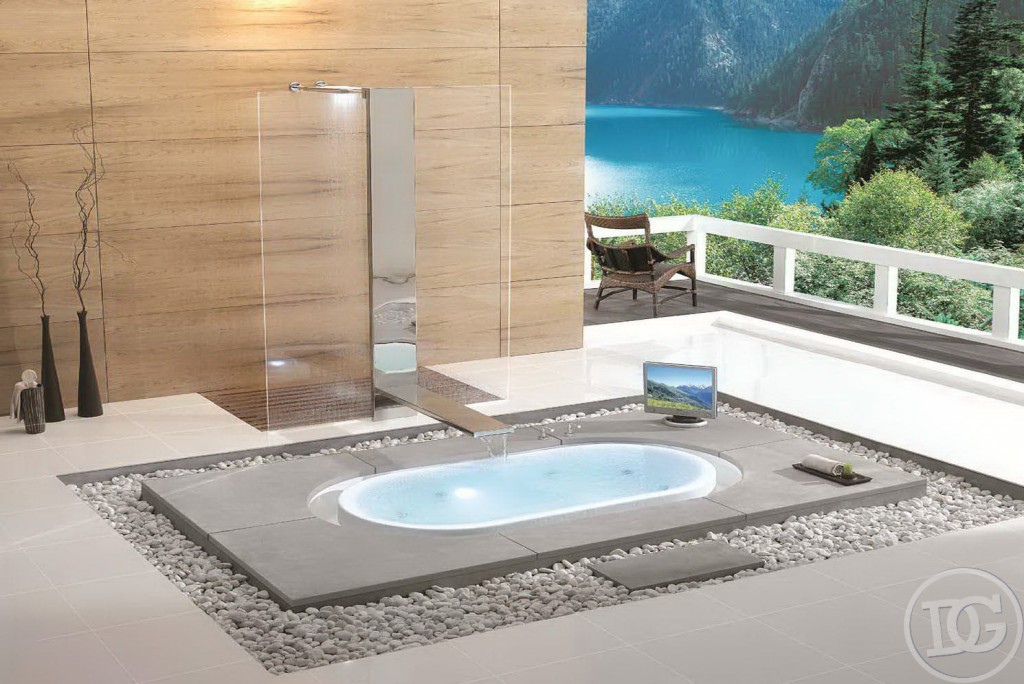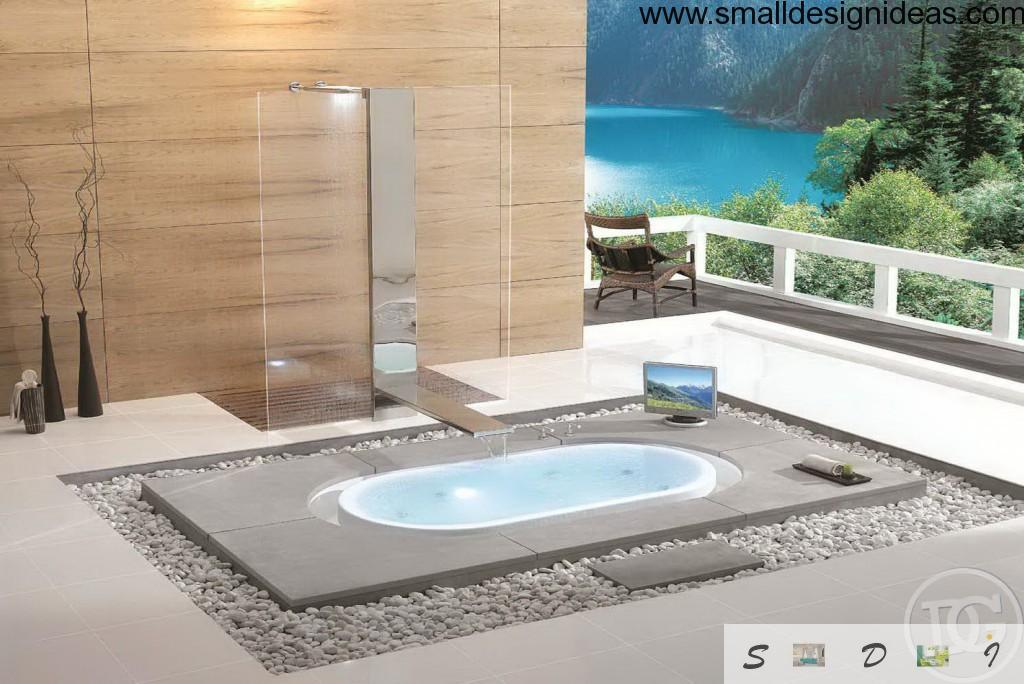 This style characterize such features as: conciseness, rigor, forethought. For him, using environmentally friendly materials and accessories that resemble Japan. If the owners of the apartments do not have a lot of money, in this case, we can choose materials with a more acceptable price. To do this, you need to buy a tile with thematic patterns (it can be shown Sakura or traditional Japanese houses).
You can personally make candle holders out of painted glass. They give romance a small room. If the landlord preferred the bath, not a shower, it is necessary to look for her curtain ornamented characters.
Effective tips to increase the space
In the small bathroom you need to try to touch up the ceiling, walls and floor in light tones;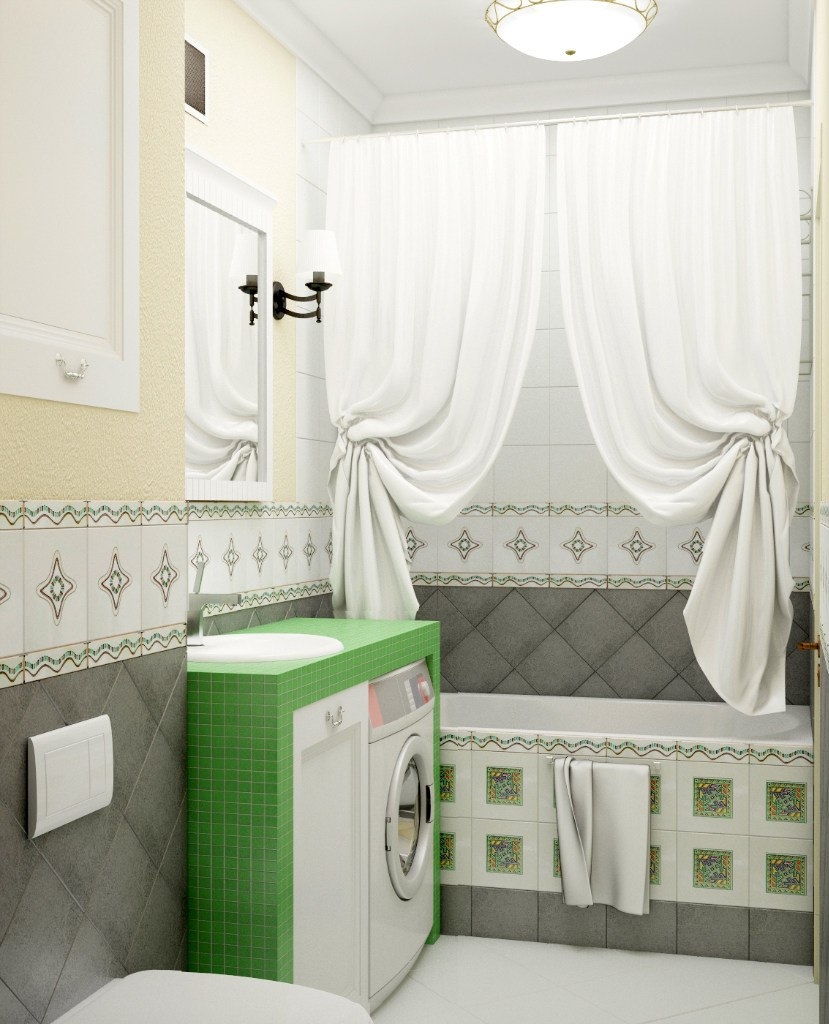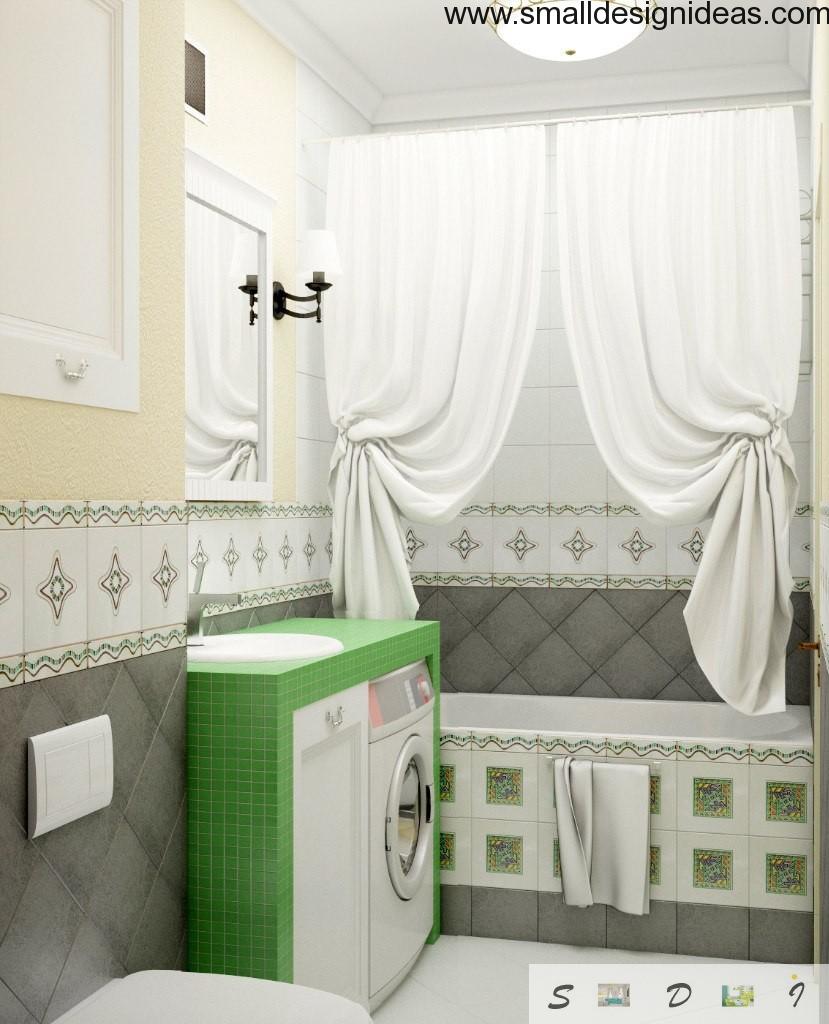 To stretch the width of the room visually is possible using horizontal lines, and vertical lines to stretch in height.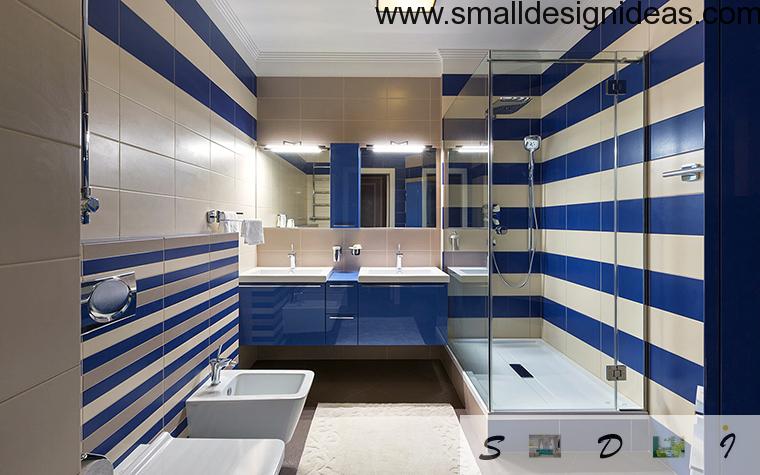 In a small room it is desirable to use the built-in shelves and cabinets (if possible) as the more individual items in the bathroom, it seems smaller.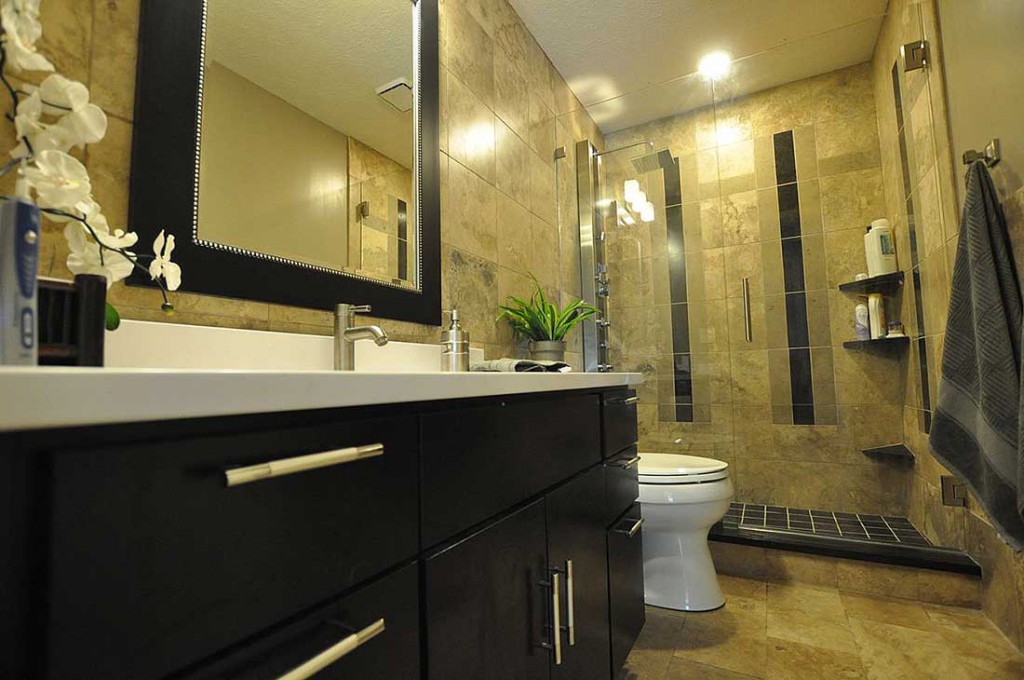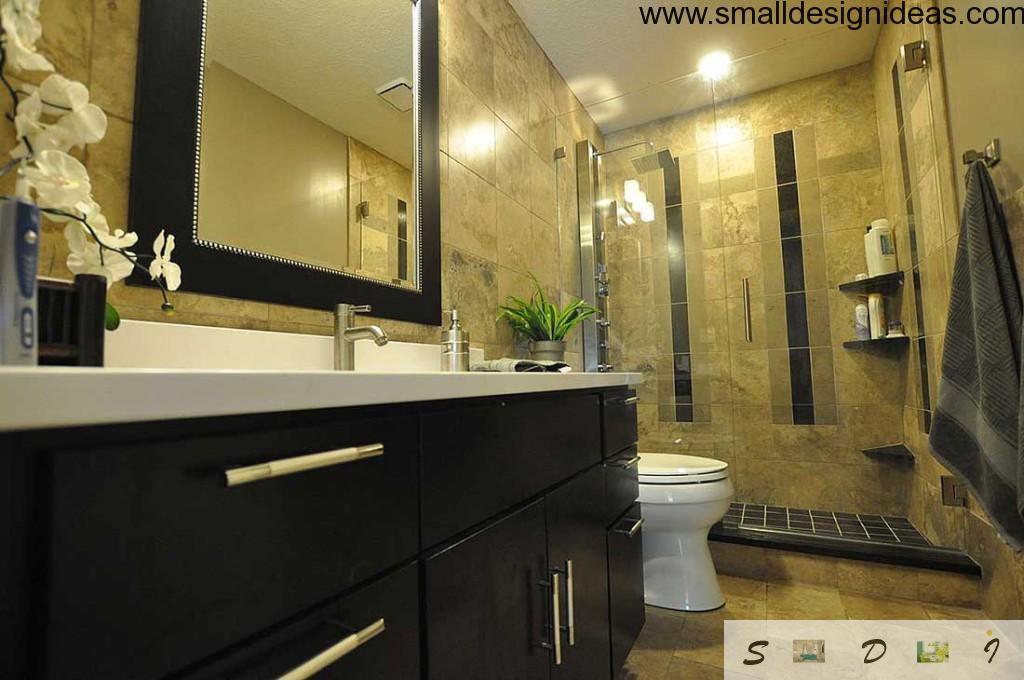 As mentioned above, do not need to clutter the bath room with many accessories. They strike the eye and thus make the room smaller.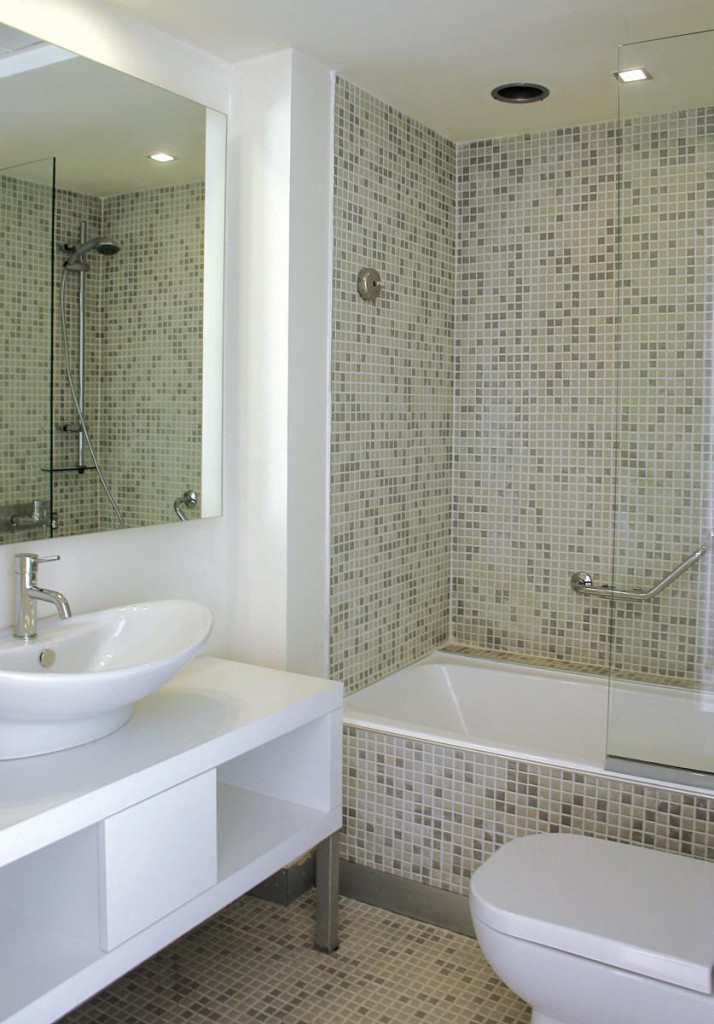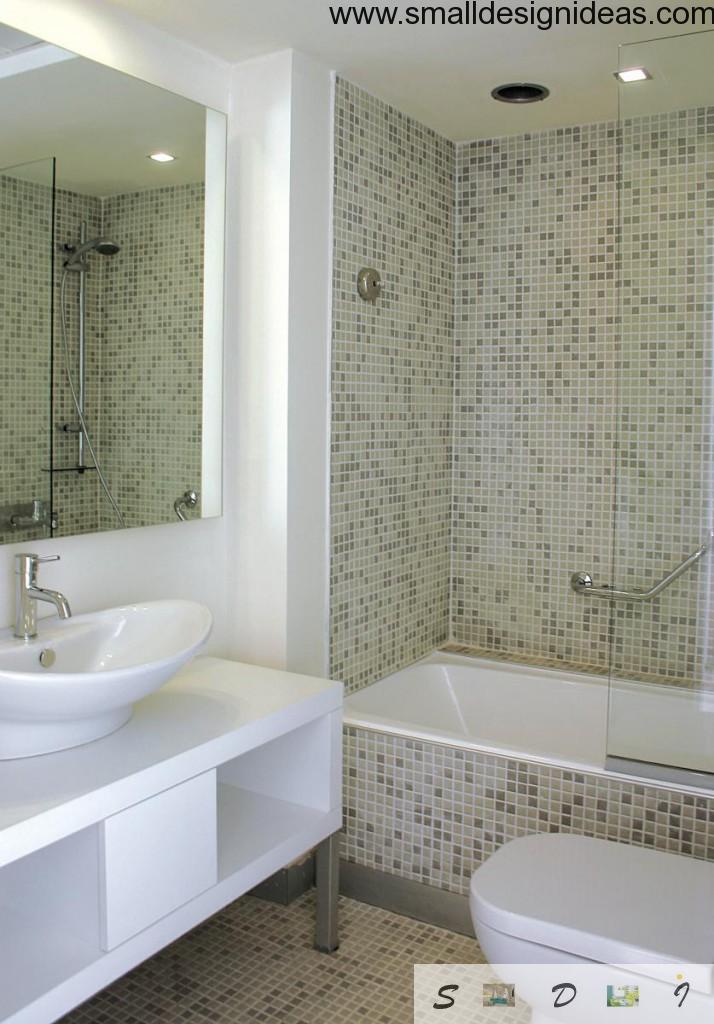 If the bathroom has a window, it should be decorated concisely. It will be enough for one small shutter in tile tone or horizontal blinds.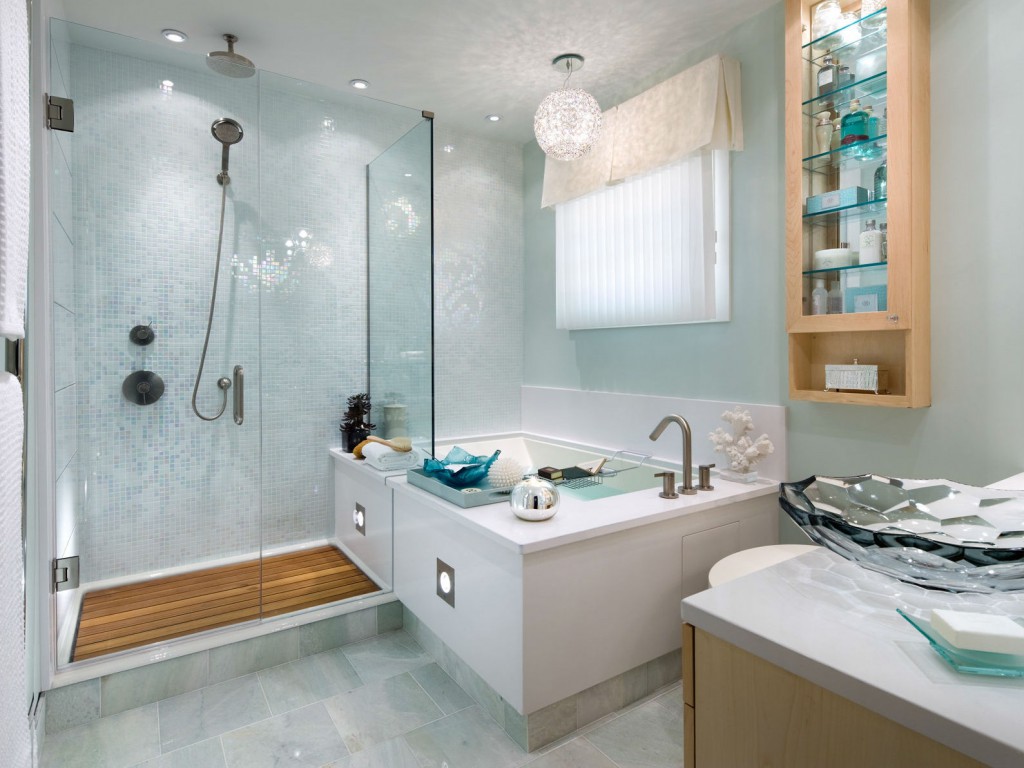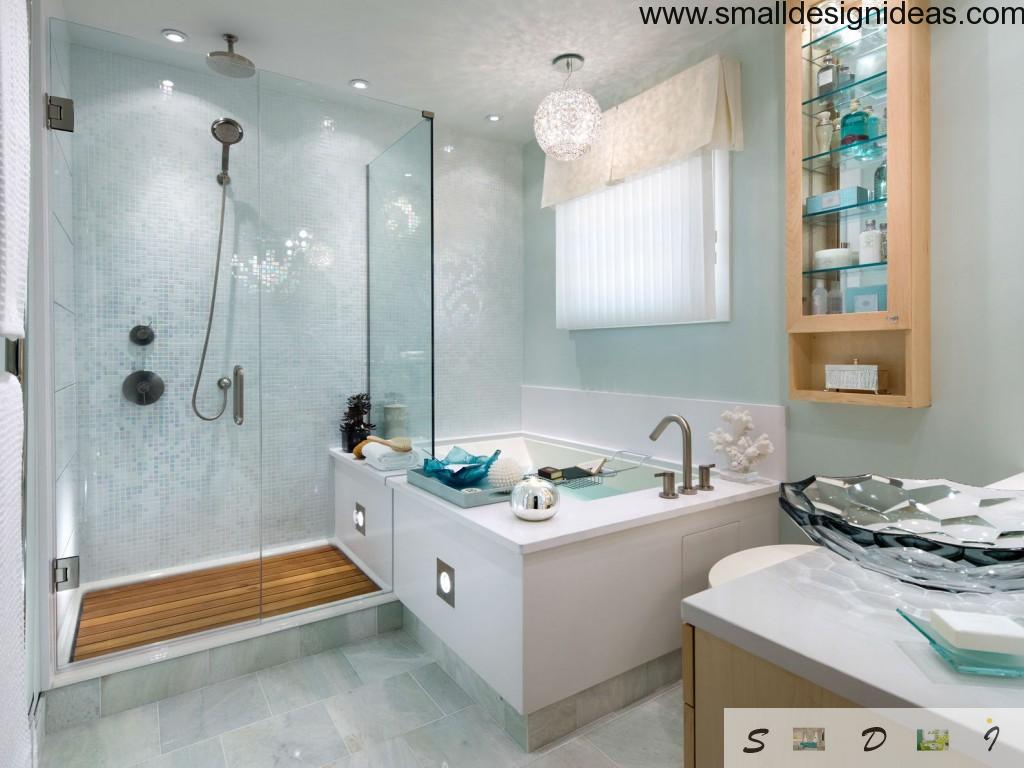 Household appliances, such as a water heater or washing machine, are desirable to be hidden in lockers or niches. As for the of the placement of the washing machine or water heater replacement, it is better to refer to professionals.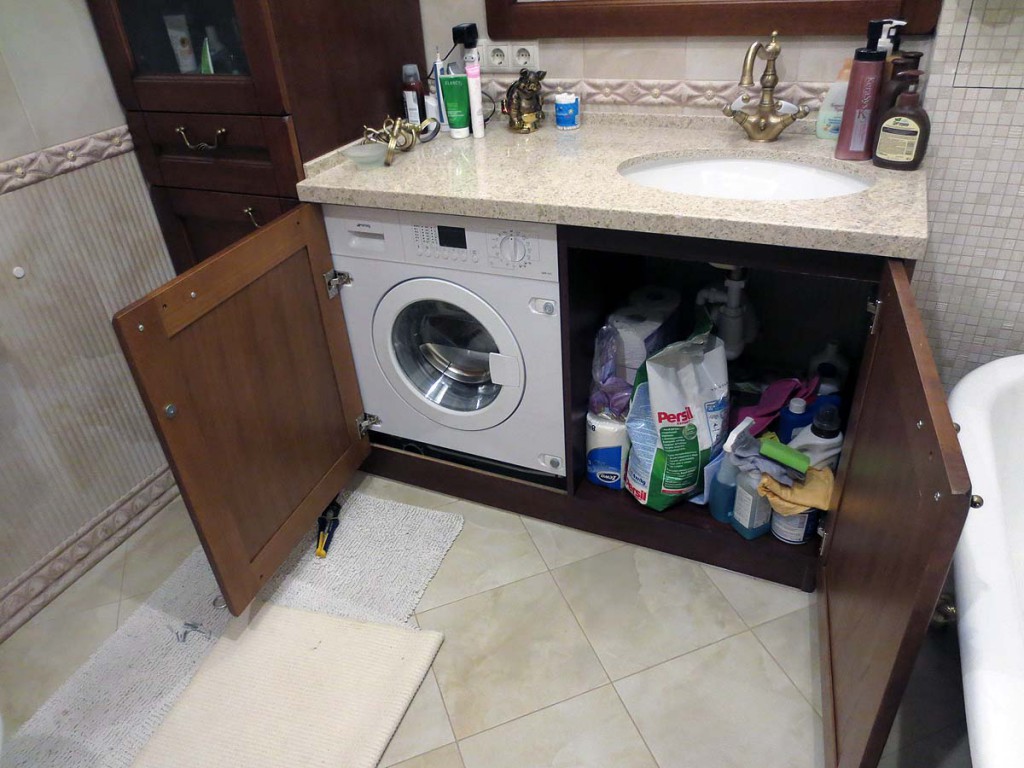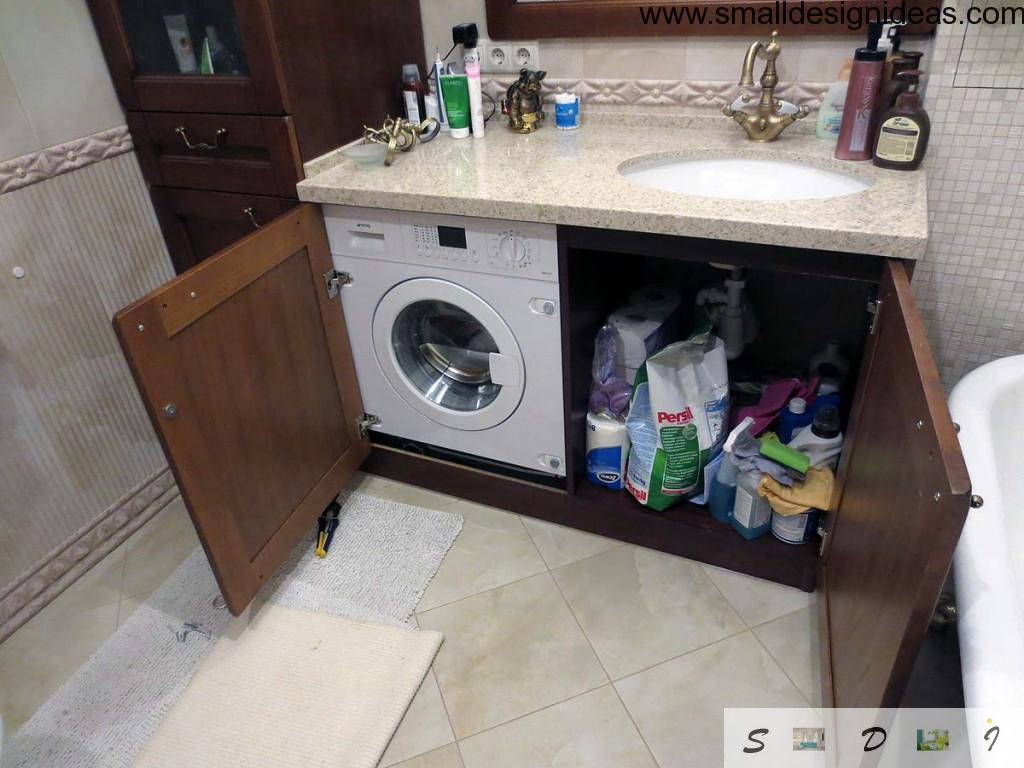 Mirror surface – this is another element that increases the room. It can be used in many different variations, from decorating lockers before finishing the ceiling, or even some of the walls in the bathroom.
Uniform illumination light in the bathroom is able to visually enlarge the room.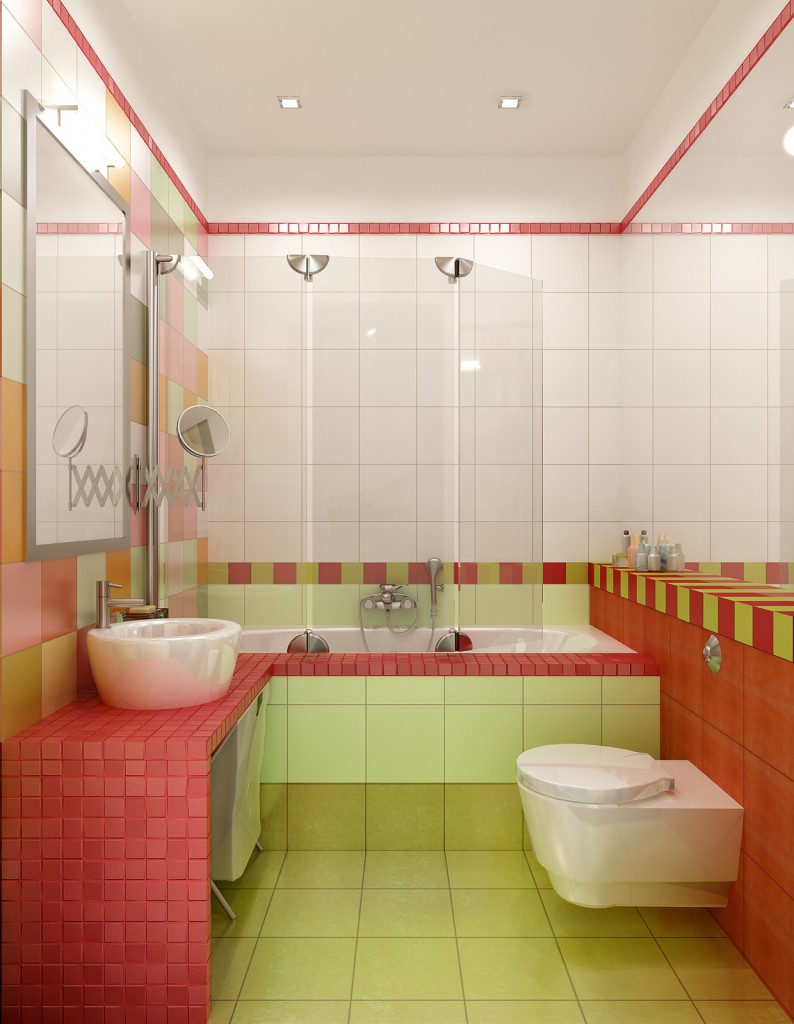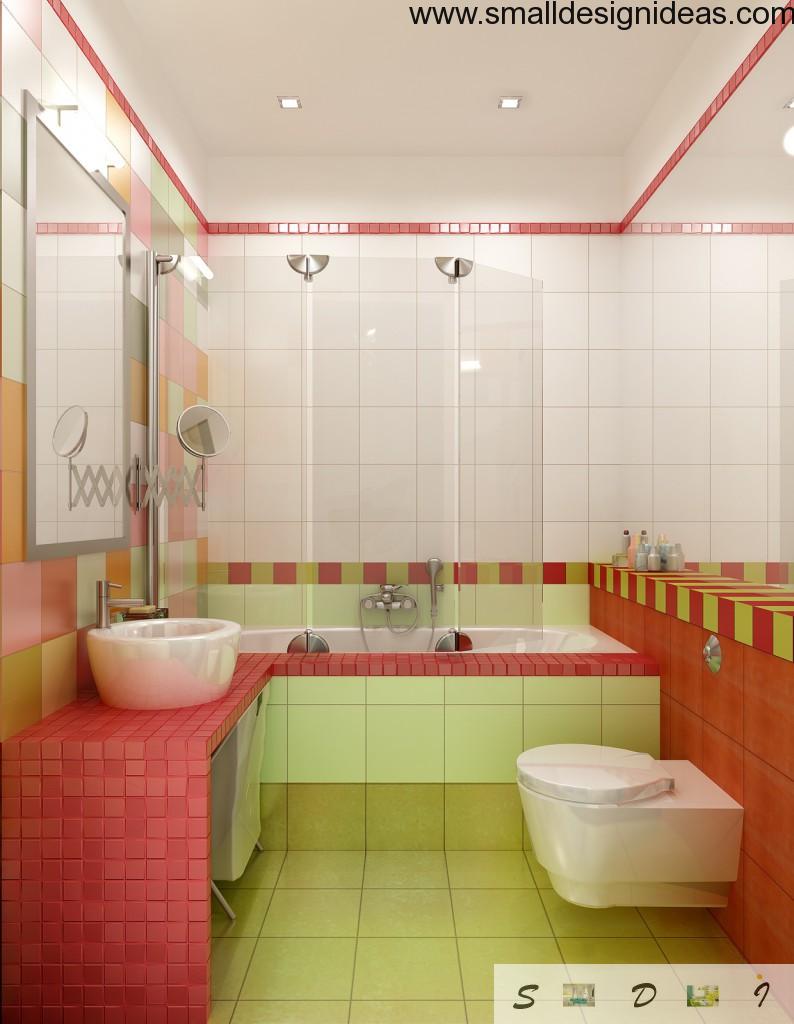 When using textiles in the bathroom, you should try to buy the translucent fabric of light shades.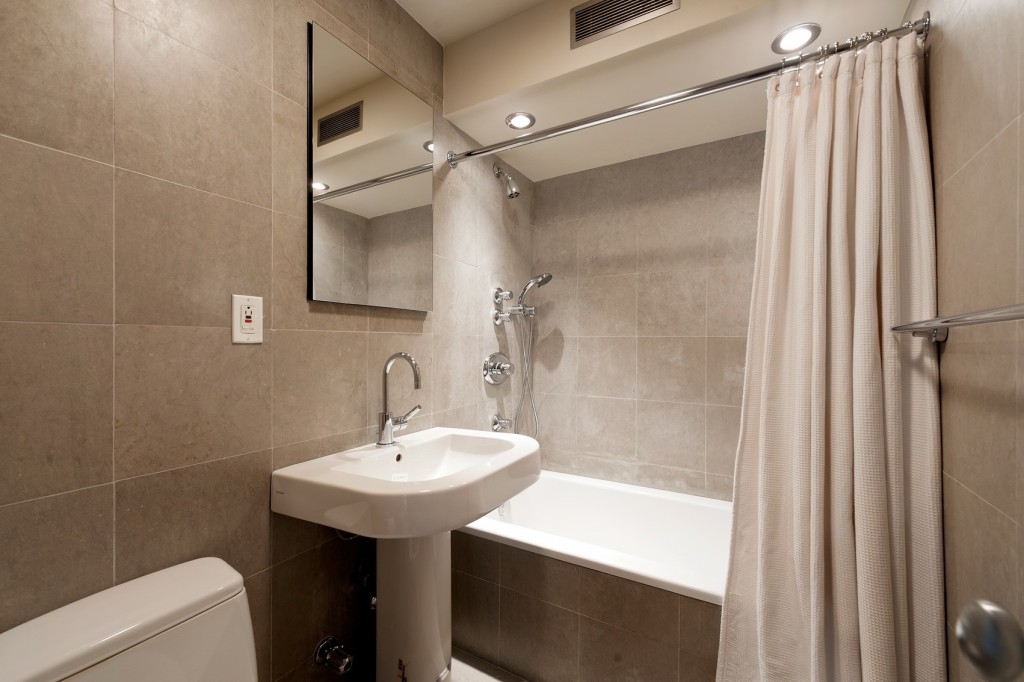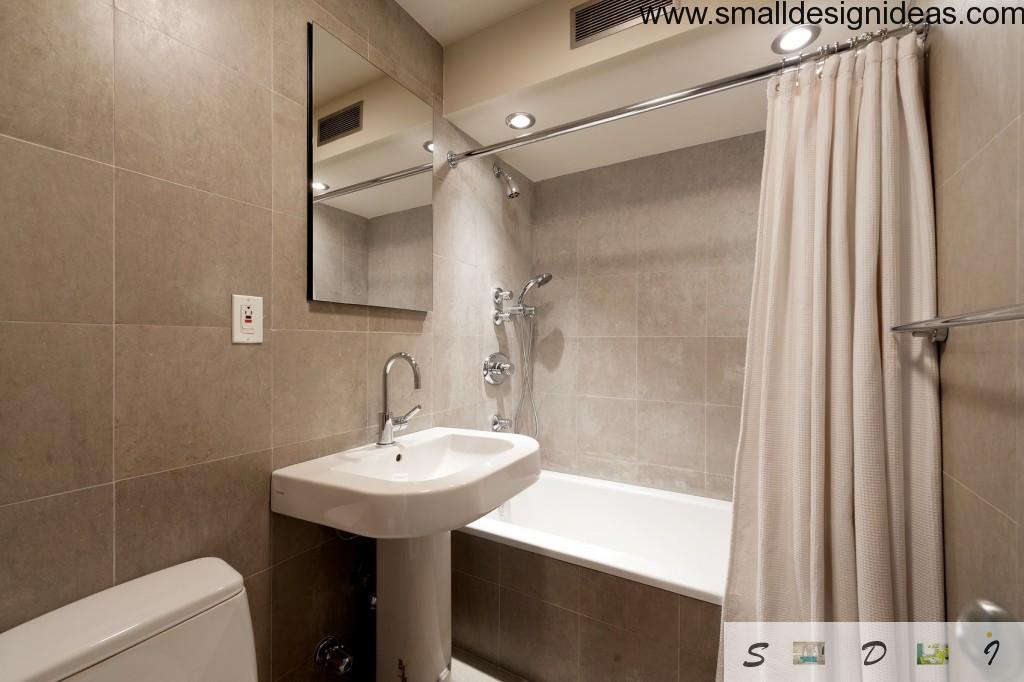 Bathroom Accessories
Purchase of accessories is the final stage of bathroom arrangement. They determine how cozy the bath will be after repairs. That is why their choice should be approached with great responsibility.
Accessories №1 in this room is a mirror. If it is possible to select a built-in lighting, lighting devices can also be attached along the edges. Also a large selection of mirrors with different shelves or cupboards are representedin stores.
Because of the high humidity, this accessory is often mist. So customers do not feel like discomfort after taking a bath, the company began to produce mirrors with a special coating that prevents the formation of pairs on the surface. The truth is the product will be much more expensive than usual, for what will serve its owner for many years.
It is unlikely that someone like stand with warm feet on the cold tile. On this basis, the bathroom need to buy a rug. It should complement the overall look of the room and look harmonious with all other objects. Once again not to spend money, it is better to buy a quality mat (preferably that it was made on the basis of rubber) as a cheap product after several washings lose its initial appearance.
Hooks are also very important in the bathroom. They are made of several materials: plastic, ceramic and metal. Plastic hooks are cheaper all, but they are not durable and can go wrong under the weight of wet towels. To fix them, the wall does not need to drill a hole, it is enough to remove the protective cover from the back of the product, and glue it to the desired surface.
Ceramic hooks very original look at the tiles and have a long service life. As for metal products, there also has its merits. These hooks are durable, hygienic and easy to care for them.
As a rule, individual objects attract attention. Therefore, if the room has a small area, it is better that the towels were the same color as the tile. In large bathroom is affordable to buy bright, emphasizing the attention of terry products.
Do not forget about the different figurines and other decorative items. Supplement creates an image of the room will help large shells, fragrant candles and soaps can be purchased in the form of a rose or some animal. It all depends on the style and theme of the bathroom.
Use the above tips owners of small apartments can arrange their bathrooms neat ans impressive. But, in the pursuit of additional centimeters important not to overdo. After all, any owner appreciate functional and convenient location of objects in the bathroom.