Repair or reconstruction of the living room of impressive size is always a challenge. The common for the whole family room often carries serious functional load – it is not only room for rest and relaxation after a hard day's work, but also a space for meetings with friends and family, holding celebrations and business meetings at home. Among other things, living often combines the work area or study/working space for creativity, library or gaming segment. But the most widespread is combination of living room with kitchen and dining area. Today we gonna sort out the most trendy small design ideas for large living room which can help you to decorate and arrange your space according to the most specific requirements.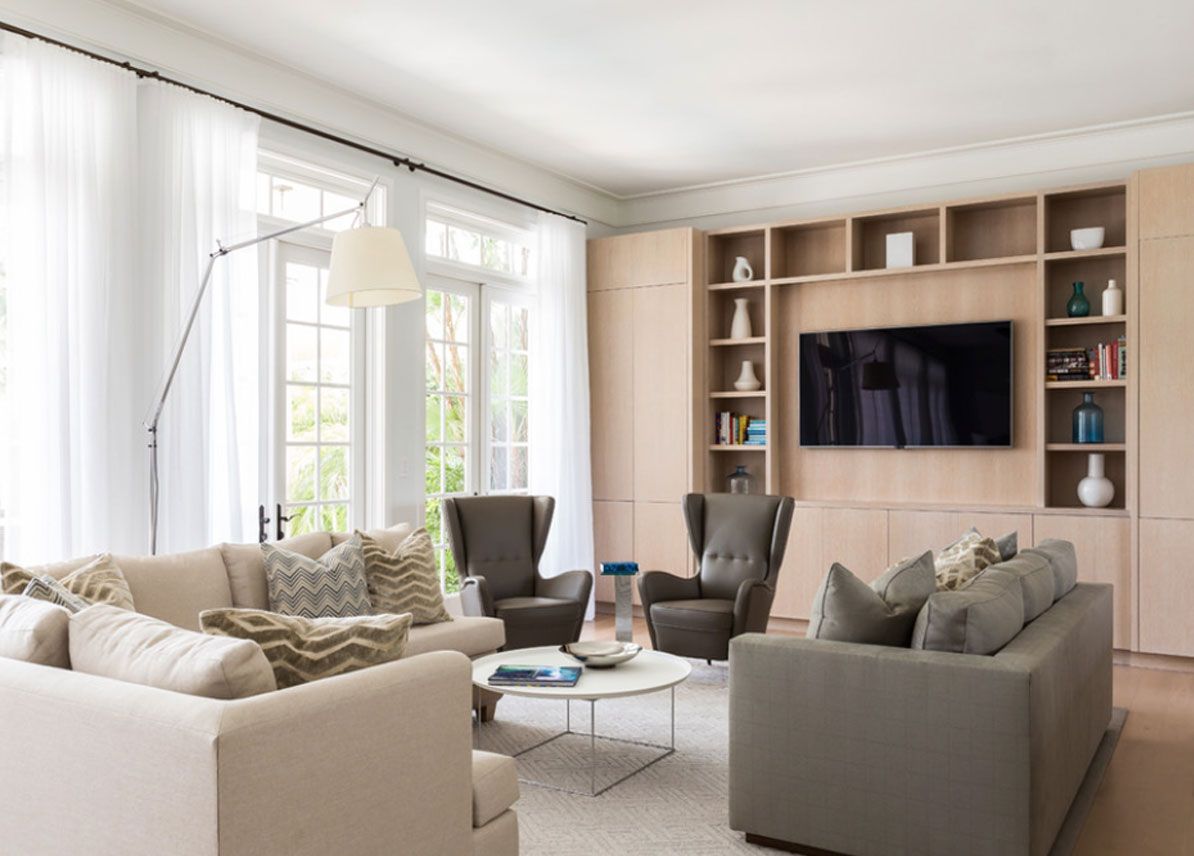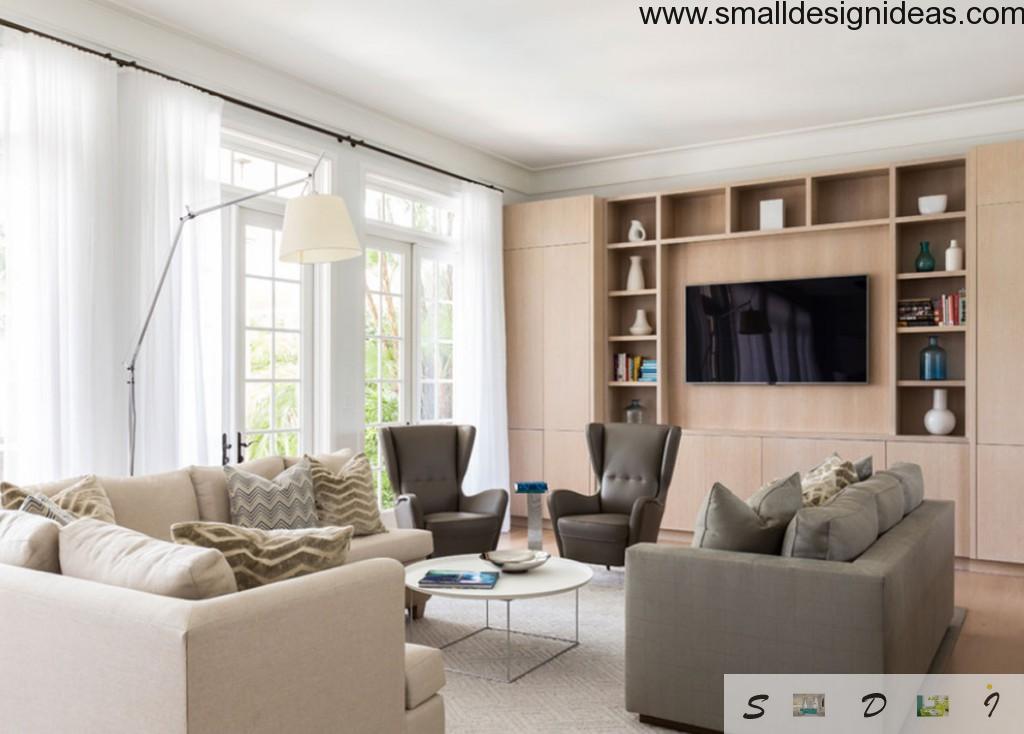 Many city apartments are designed on the principle of the studio, where one large room divided into residential and utilitarian segments rather conventionally, without the use of walls and doors. It`s easier to locate vital comfort areas in the spacious premises, but at the same time you`ll spend a lot more time and money.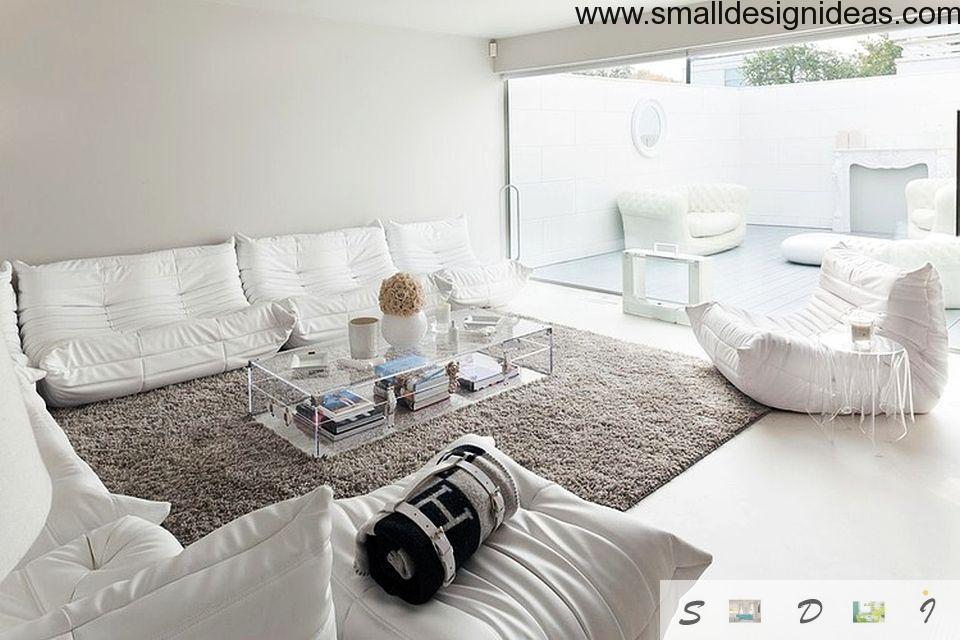 In the arrangement of large living room is necessary to take into account all the variants of finishing materials, a combination of the color palette of all contingent segments, the ability to add accents, use constructive, color and texture ways of zoning, the integration of consumer electronics into the interior.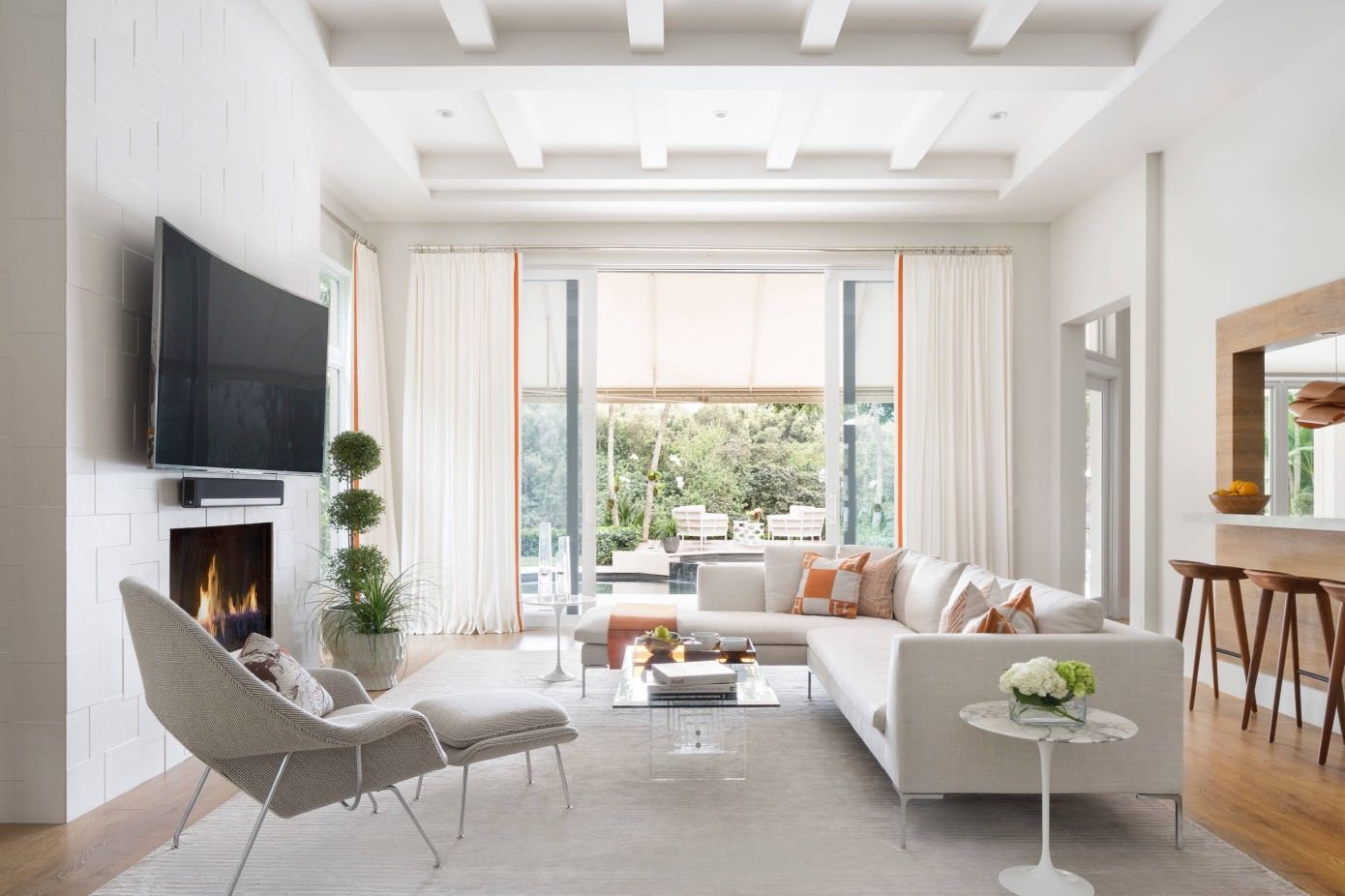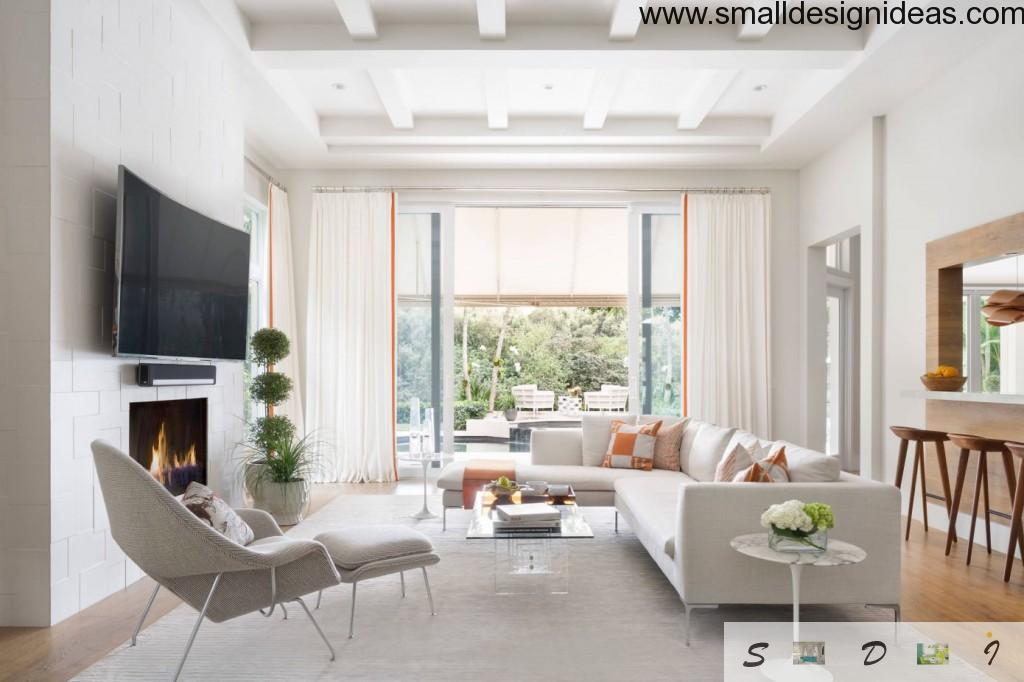 Not an easy task, but it is doable, and without the help of professional designers. It is important to initially determine which areas will include a living room, what colors will dominate in the interior and to select stylistic direction or mixing of multiple streams within a single design. We hope that the extensive compilation of inspirational design projects of modern living room will help you make the right decisions within their own repairs and renovations.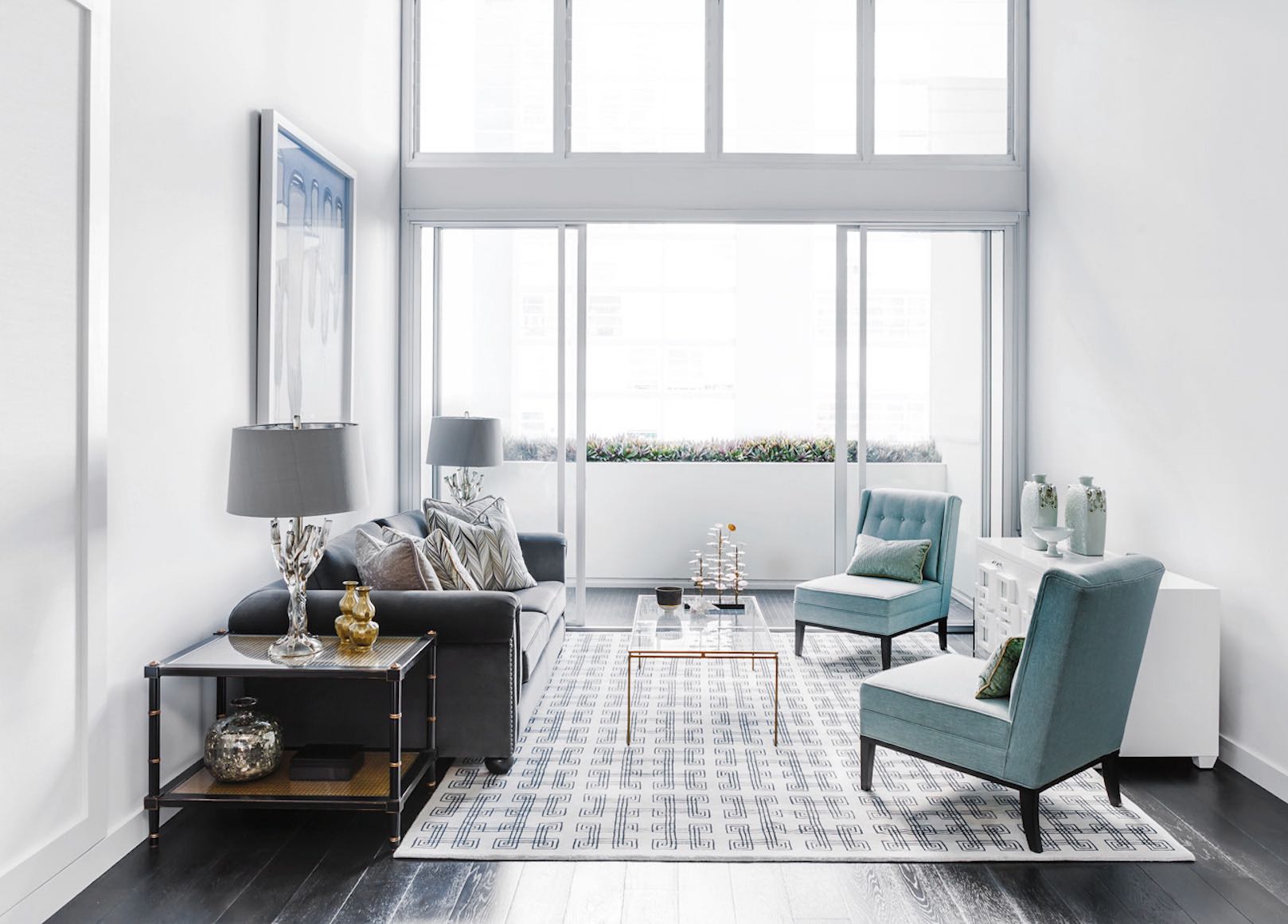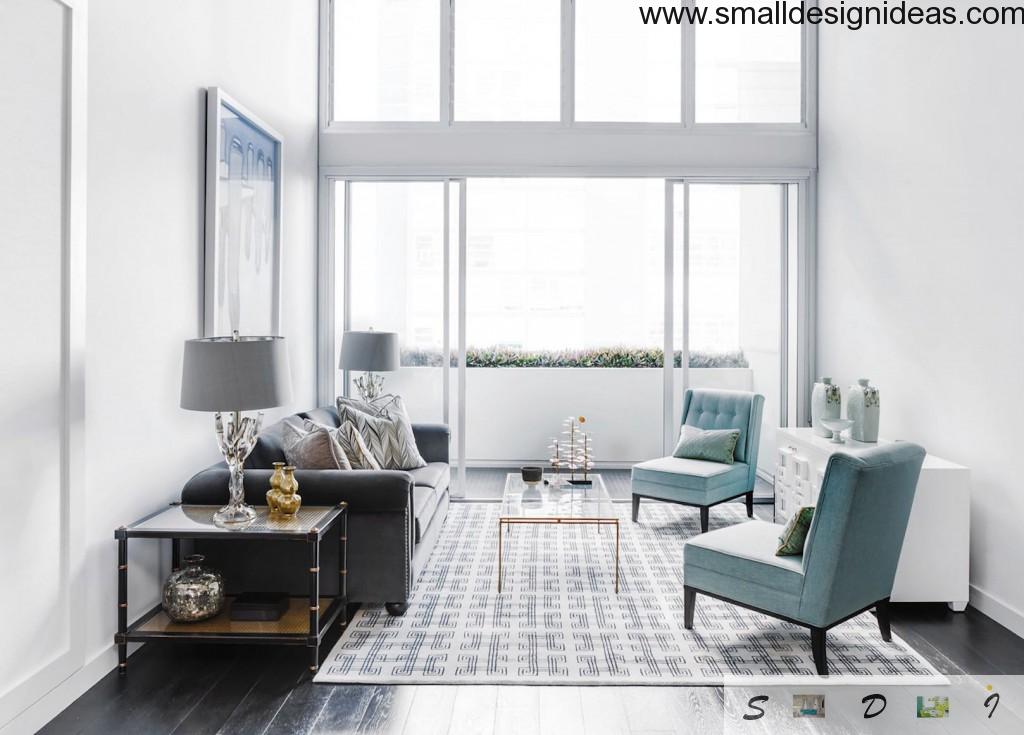 Living room + dining room and kitchen ideas
One of the most common configurations is combination of living room, kitchen and dining room into one. For qualitative renovation of such an alliance you need to decide whether you want all the rooms to seamlessly flow into each other or have been separated with partitions. Based on this simple solution, you can start planning the interior. The room will look harmonious if the entire area will keep uniform finish.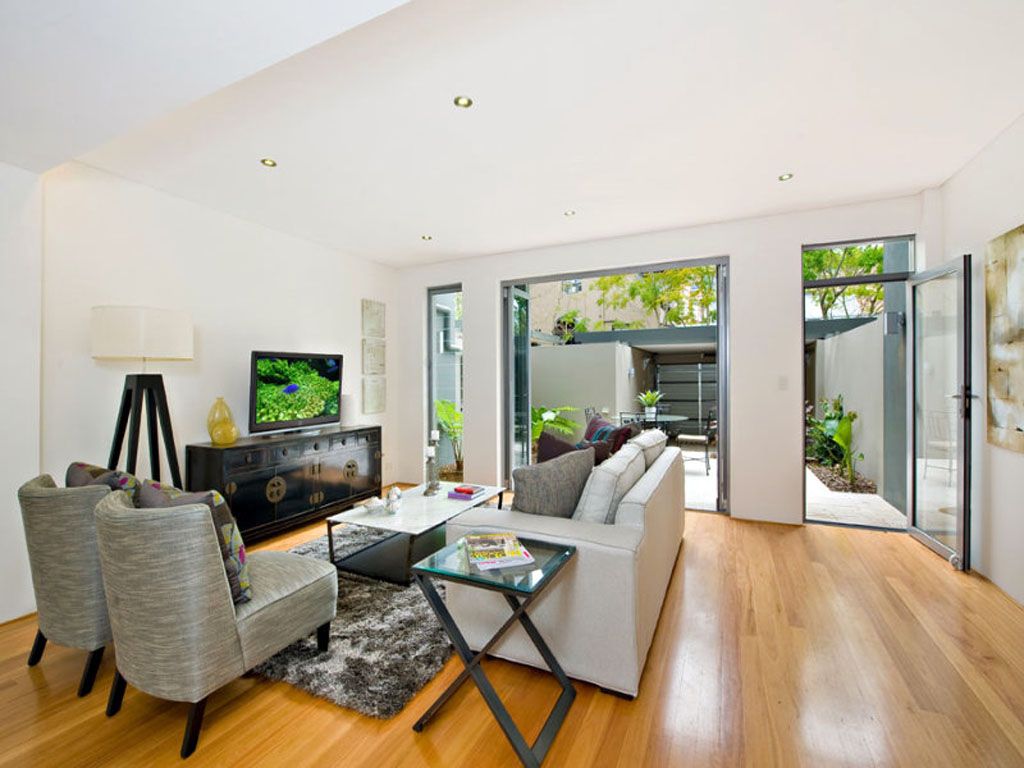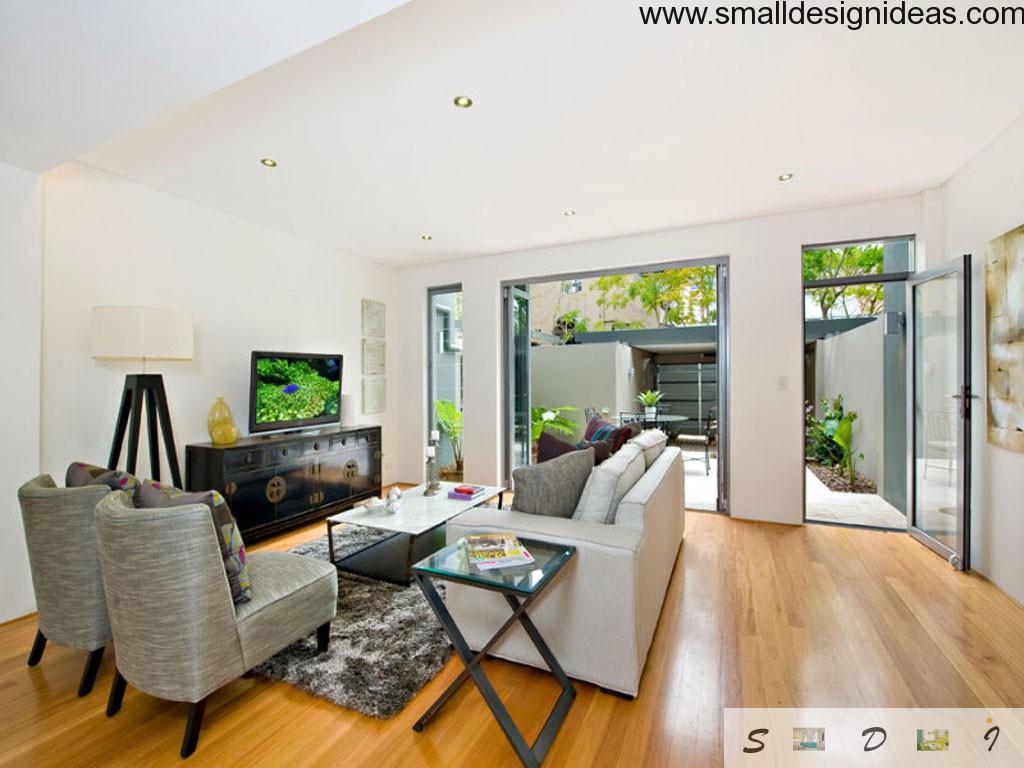 For example, the living-dining-kitchen zone, decorated in a modern style, leaning towards minimalism seems more spacious and easier, thanks to the snow-white walls, ceiling and light wood used for flooring.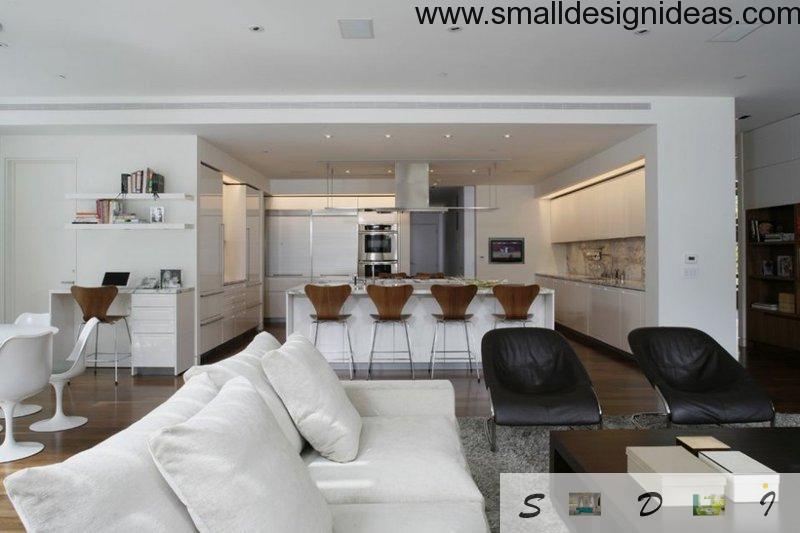 This spacious, but incredibly comfortable living room, which took under its wing kitchen and dining area, with a modern design with an active integration of the elements of Art Nouveau-style. All shades of gray were the basis of the color palette of the room.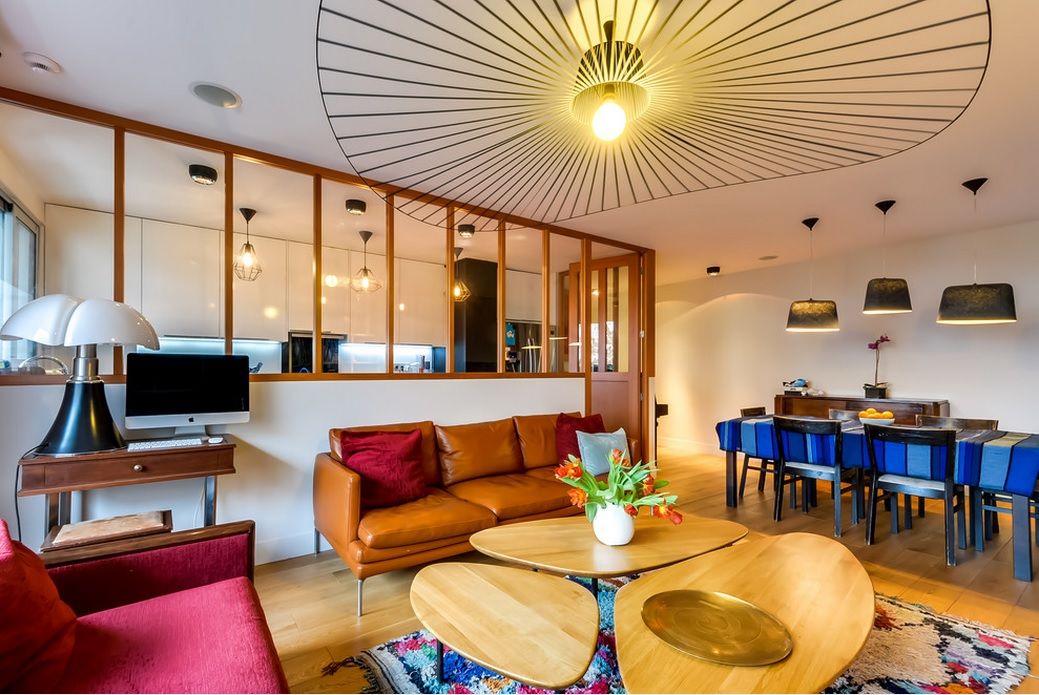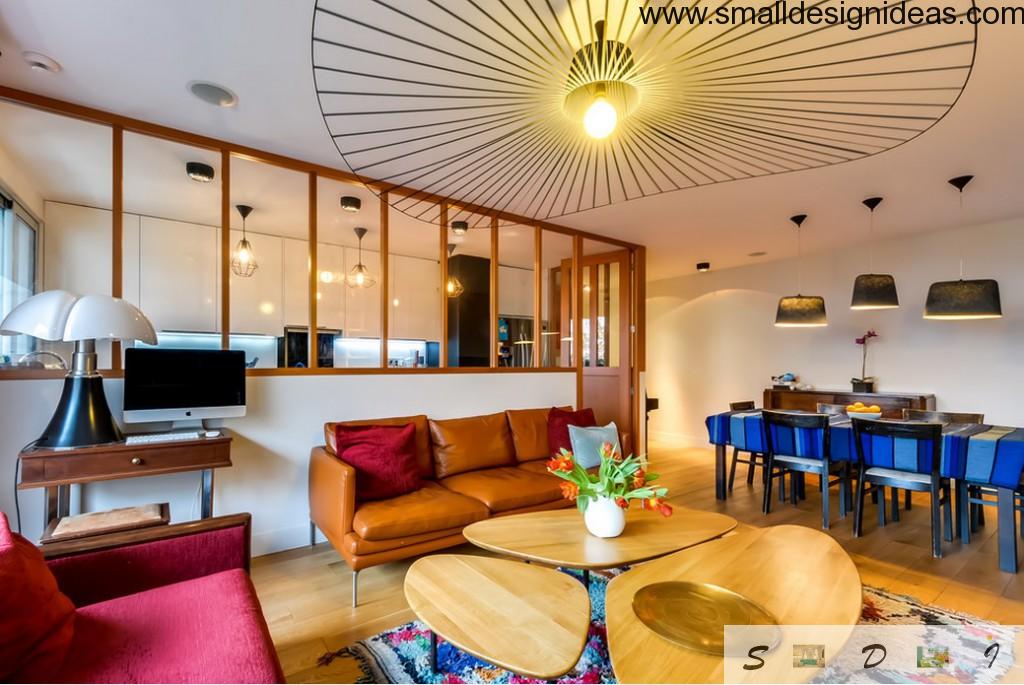 In this colorful living room with a nontrivial design the kitchen work area is separated by a partition with glass inserts. Dining area stands out with a bright color scheme and individual lighting system from the suspended lamps of unusual design. In addition to an interesting ensemble of coffee tables, leather sofas of warm, natural colors, it can be noted designer chandelier of nontrivial design In the living area.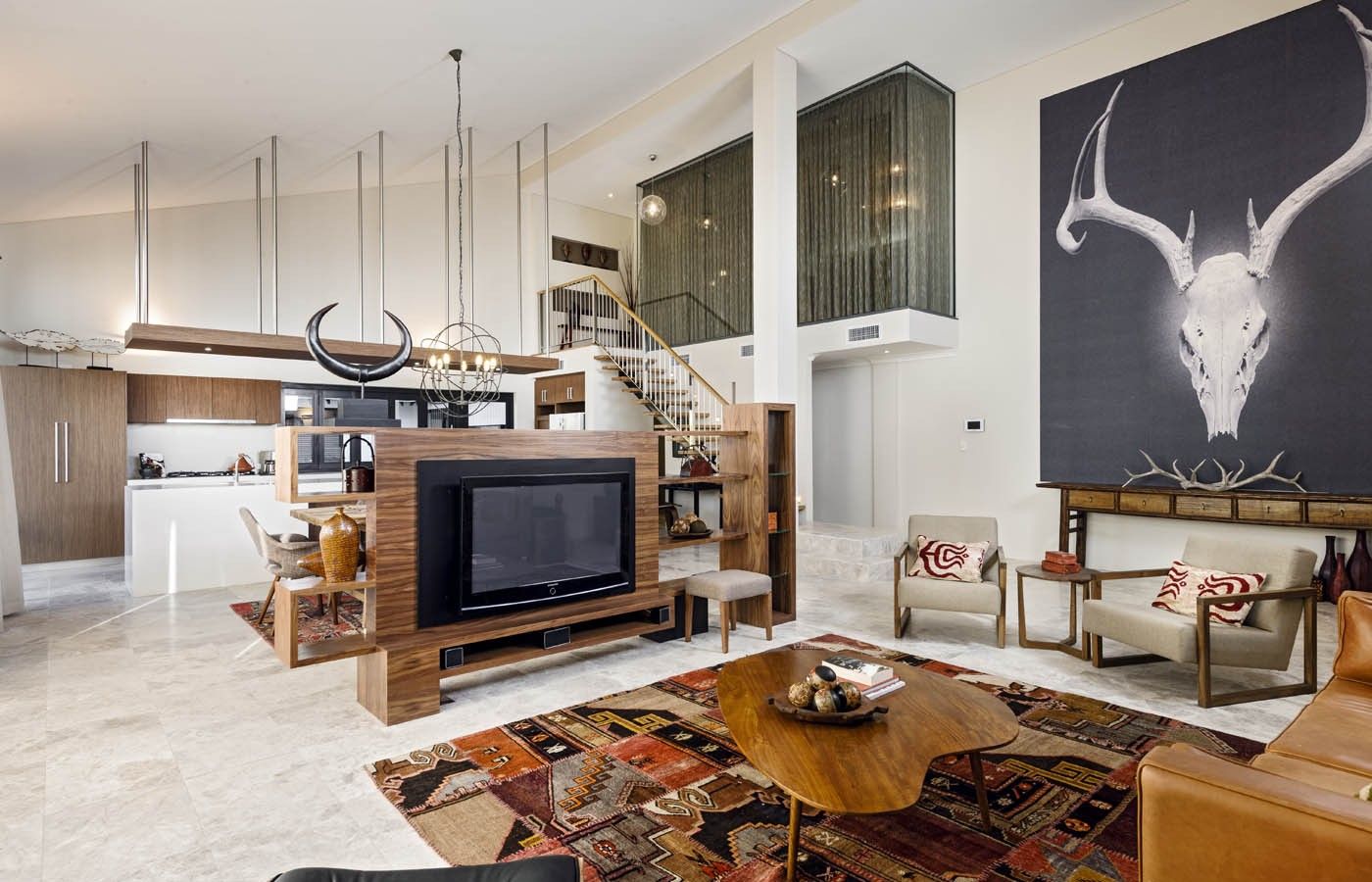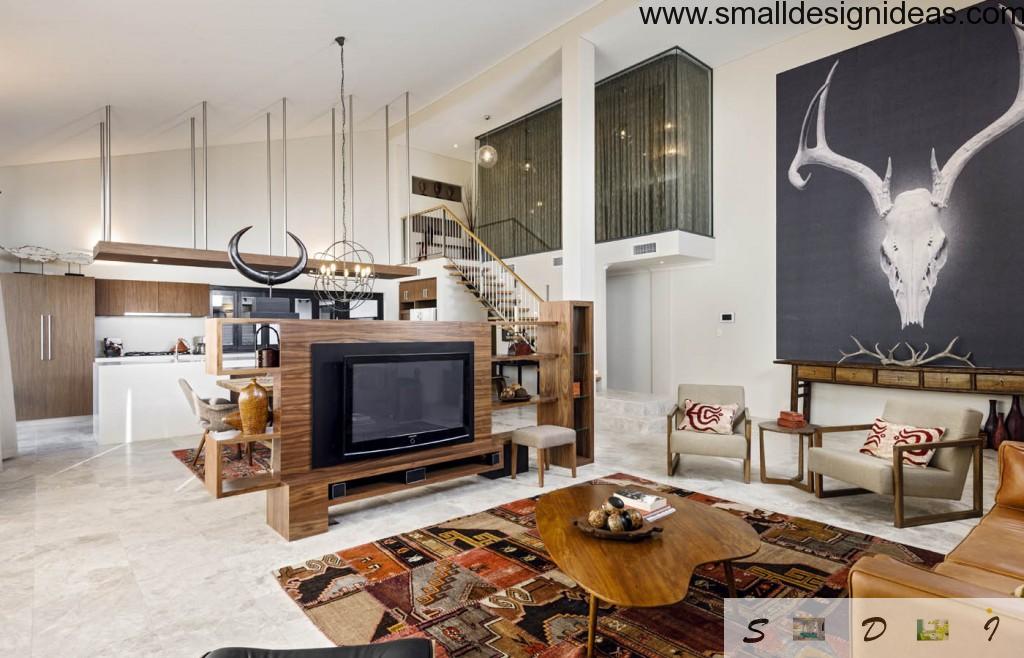 Here is another example of a living room with an incredibly spacious rooms, high ceilings and an upper floor. The eclectic interior design needed a kitchen and dining areas separation from the common living space by means of screen-shelf, which was successfully incorporated with TV-area. The interior captivates with an abundance of elements from different styles. Wooden elements harmoniously coexist with an industrial décor and retro-style furniture.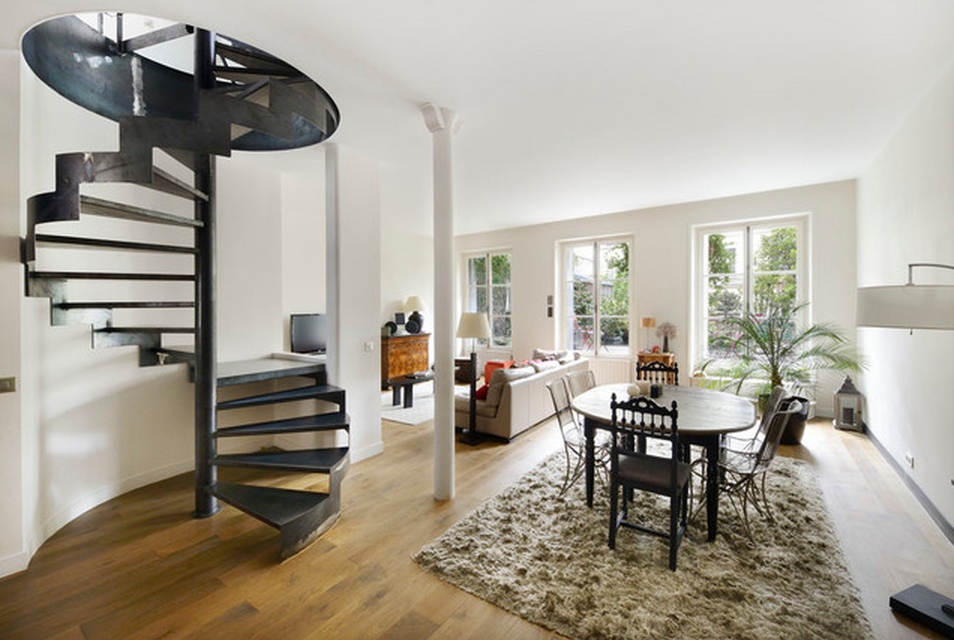 An interesting method of highlighting a particular area within the large room is the use of carpets and rugs as delimiters.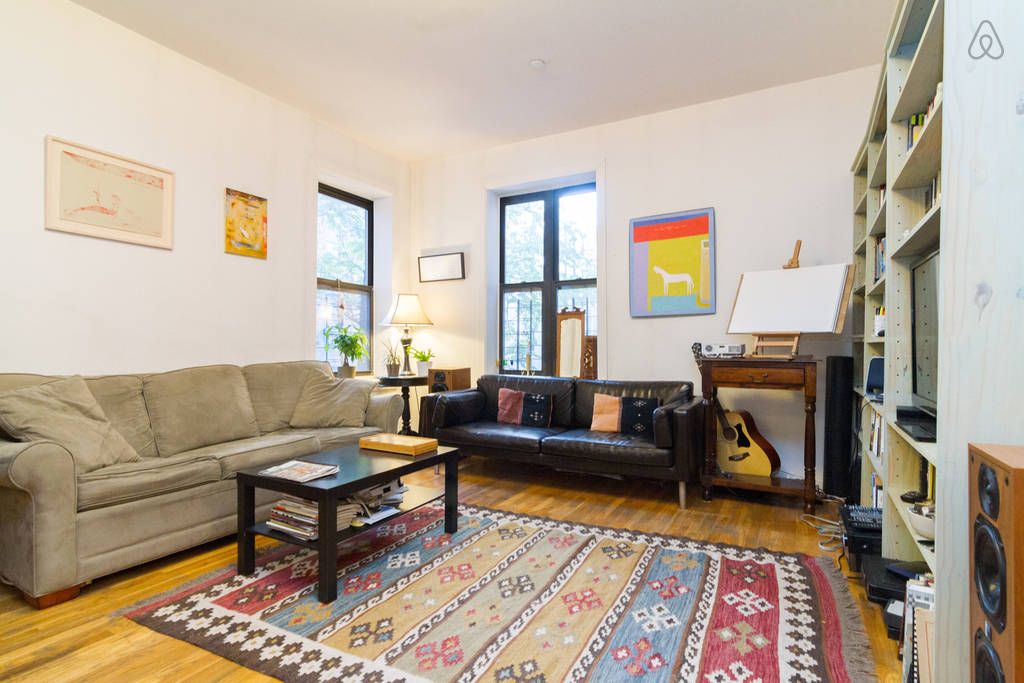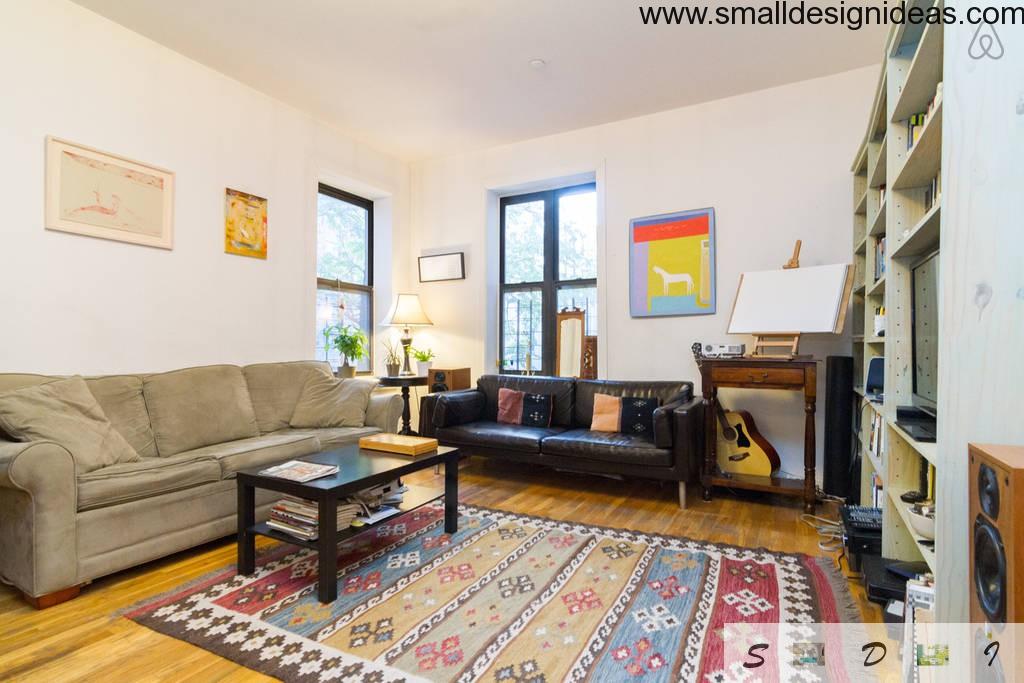 And sometimes the individual segments in a large room do not have any restrictions, are placed chaotic at first glance and you cannot differentiate them apart by colors. But such an environment is the most comfortable and ergonomic for residents in its own way.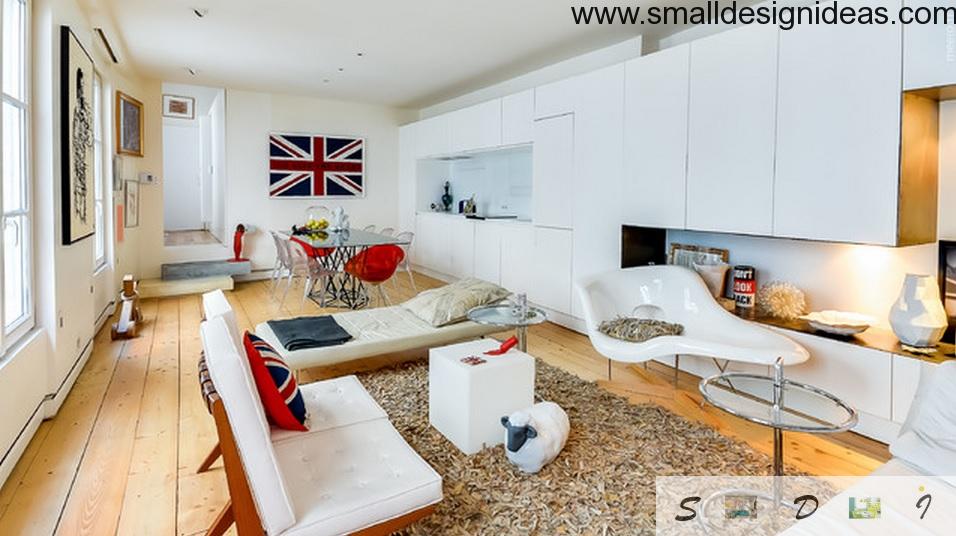 This kitchen-dining-living room is highly eclectic. Against the background of bright finish we see elements of English country, decor items, typical retro-style and minimalism, and the work areas and storage systems are made with precision and conciseness, which is inherent to urban style. As a result of this unusual, a little bit surreal combinations, you get comfortable and cozy room for the whole family.
Living room + study and library
working area and even a mini-library can often be found in the spacious living. As a rule, the organization working or creativity space does not require much room. It is enough to put a table or a compact console with a lamp, a chair or a armchair and the task is completed. You will have to spend a little more time to design the home library. Open or closed shelving for books can be placed along the walls or serve as a screen for zoning space.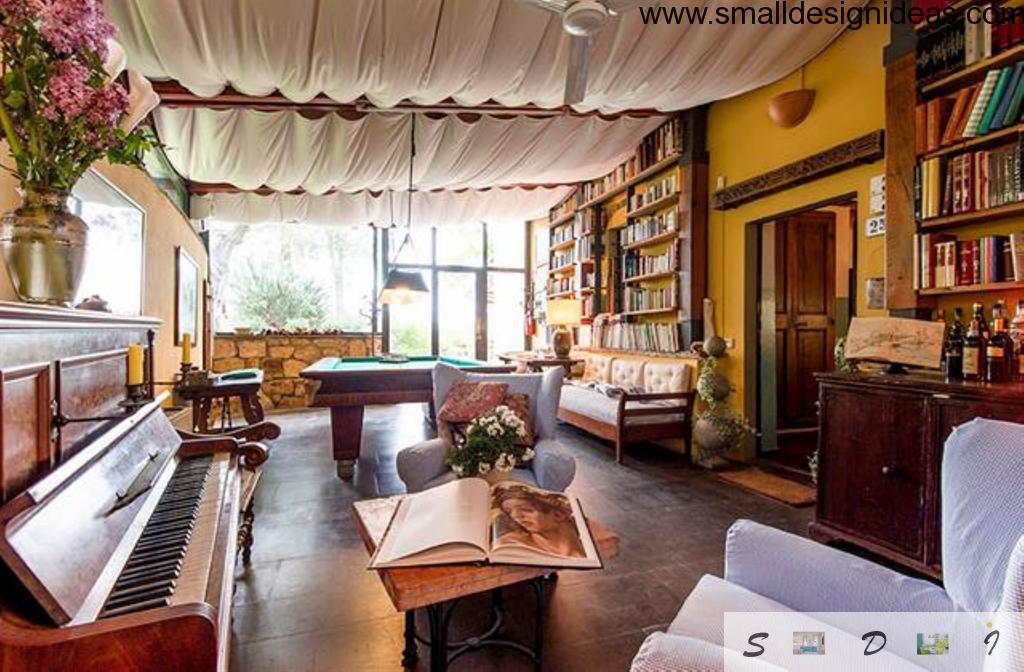 This living room along with a home library in the country style comprised and work area. Decoration of wooden walls and ceiling with intentional scuffs, the use of rough assembled, not polished furniture in the interior, created an atmosphere of rustic rooms for lovers of reading. Also the ersidents and guests would be able to take a billiard "pause", play the piano and just relax in a cozy soft couch.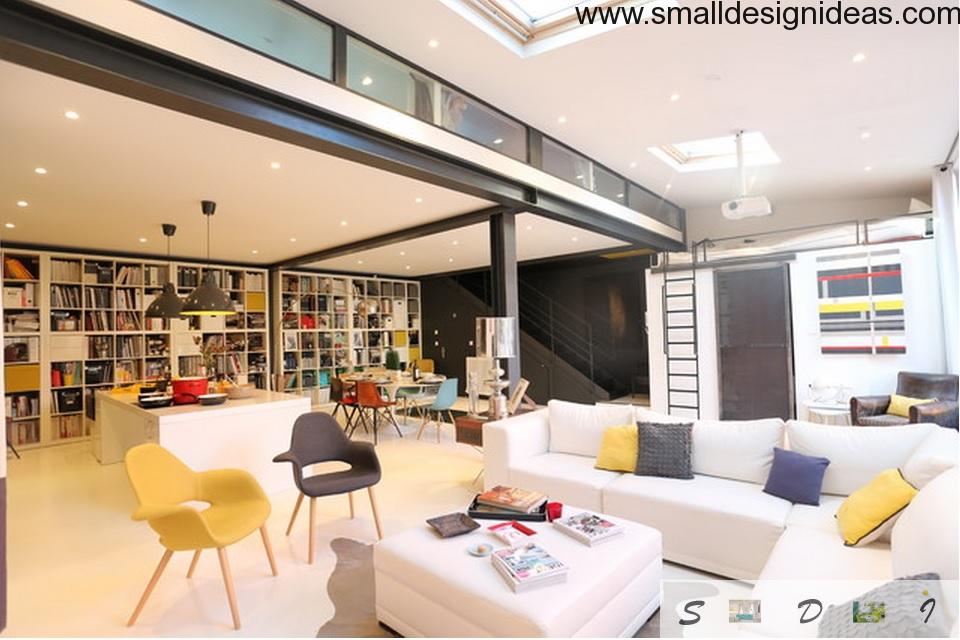 Large bookshelves in this spacious living side by side with the kitchen and dining area, so it's hard to say why in the first place the room was intended to – cooking, eating, or reading a book from extensive library in soft spacious area. It seems this room in a modern style is universal and able to organize leisure for a large number of residents and their guests.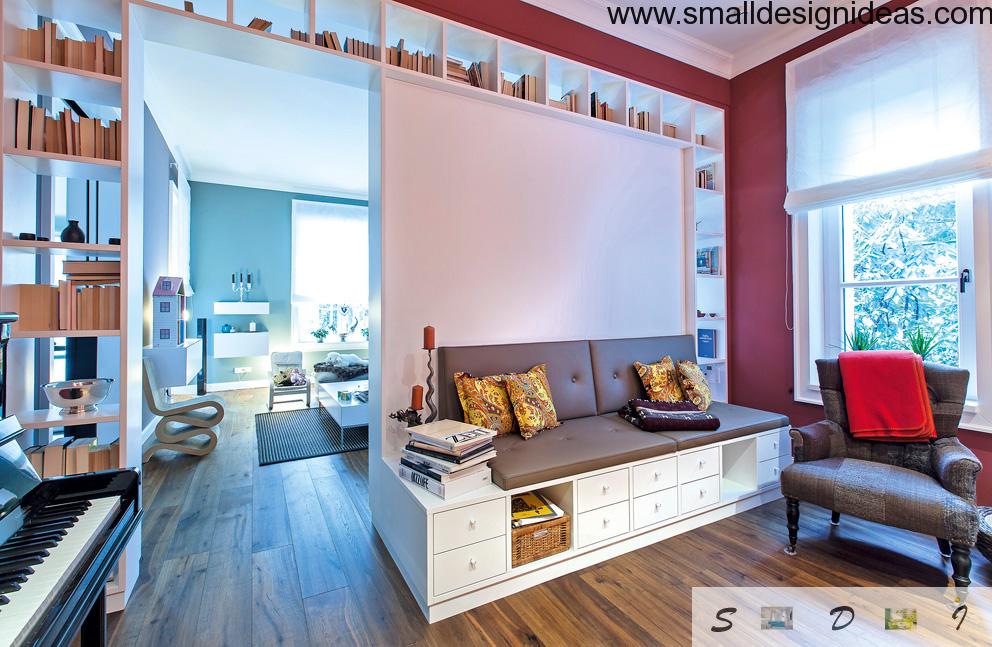 A cozy reading corner for reading and creation is comfortably located behind the screen, part of which is in the form of open bookshelves.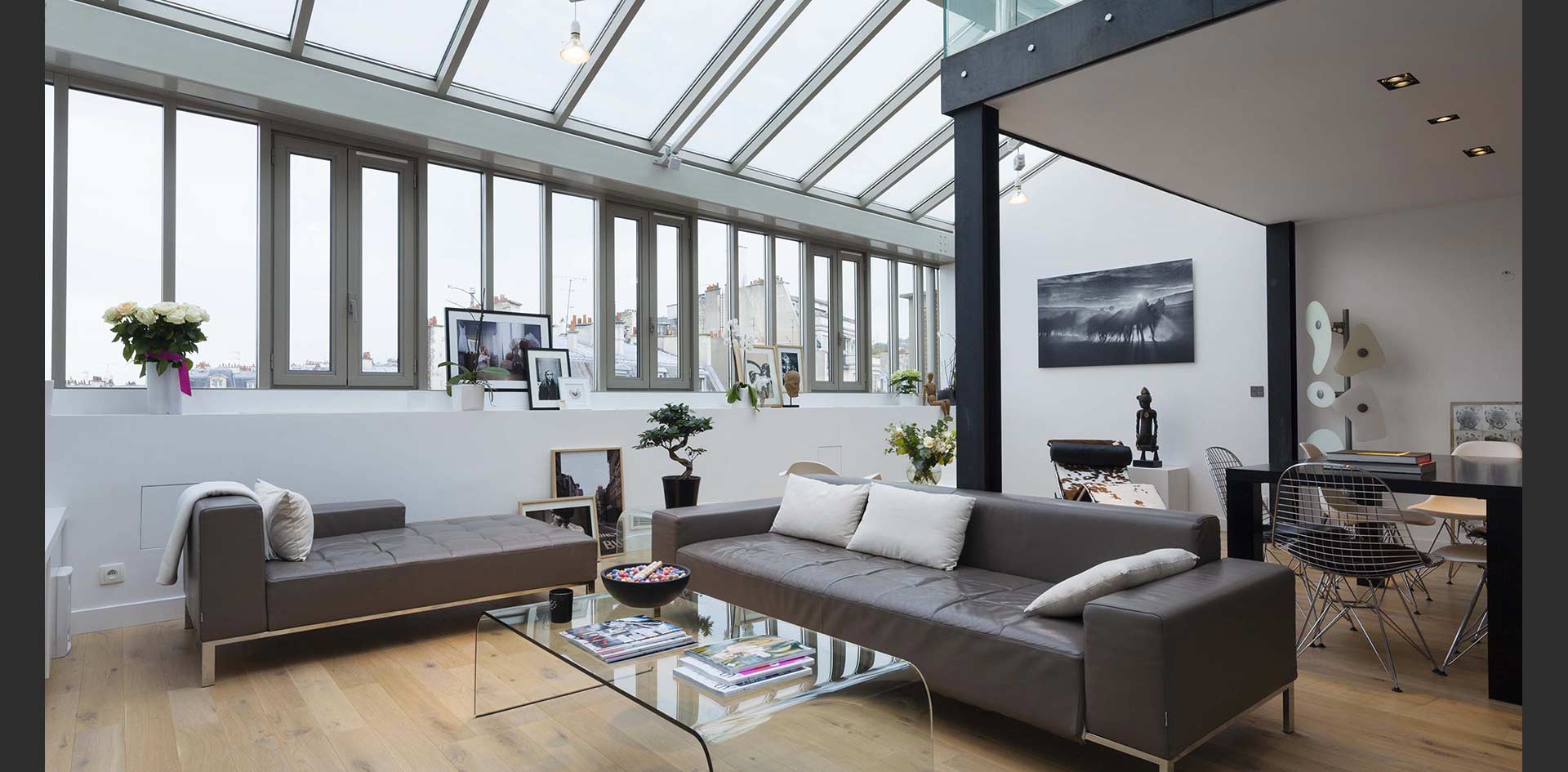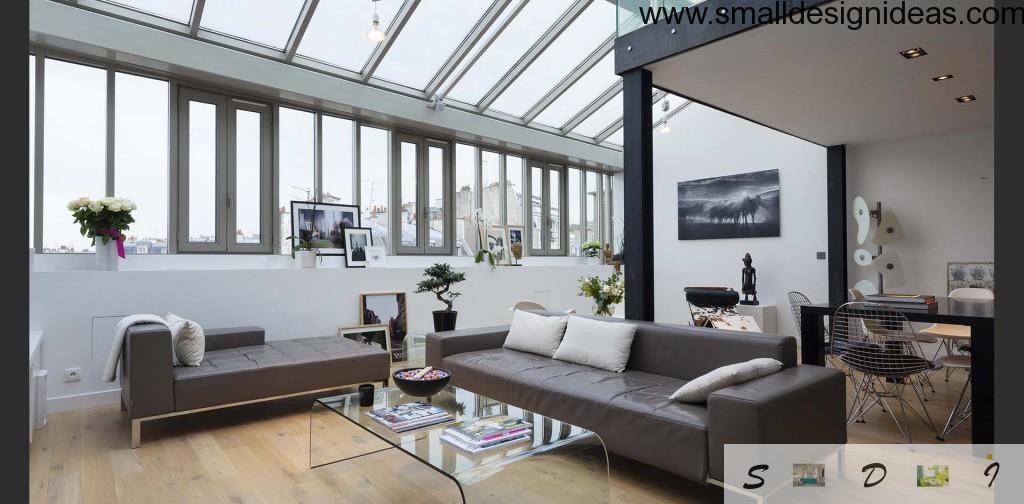 This spacious living room with study is literally flooded with sunlight. Glass ceiling, letting in plenty of natural light found its reflection in the interiors of the room – a coffee table and partitions at the top level are made of the same material.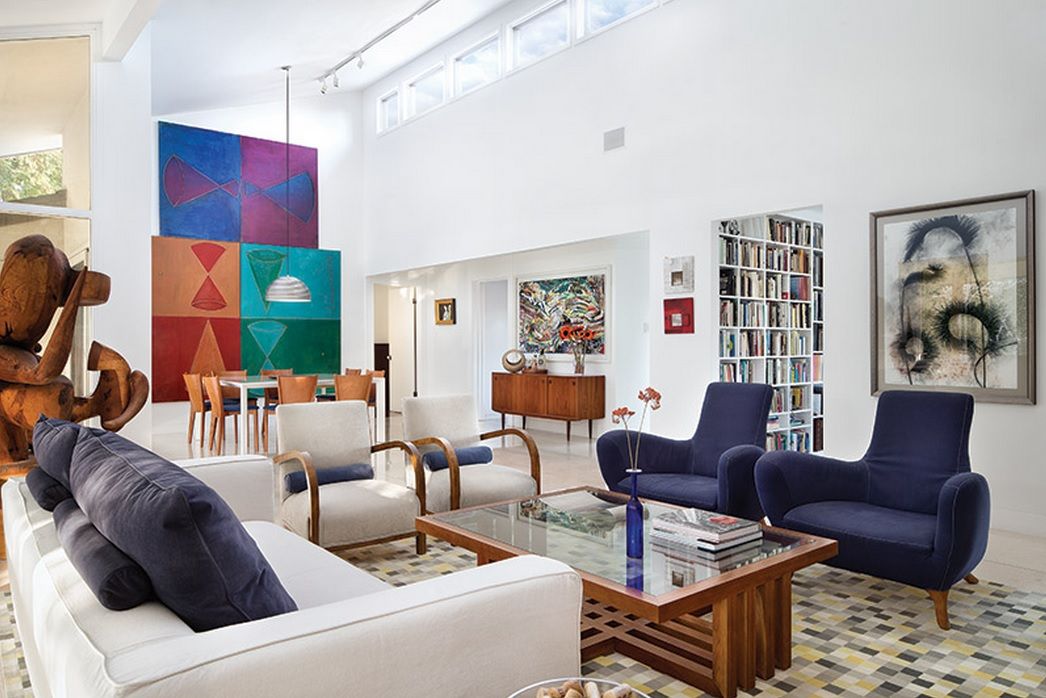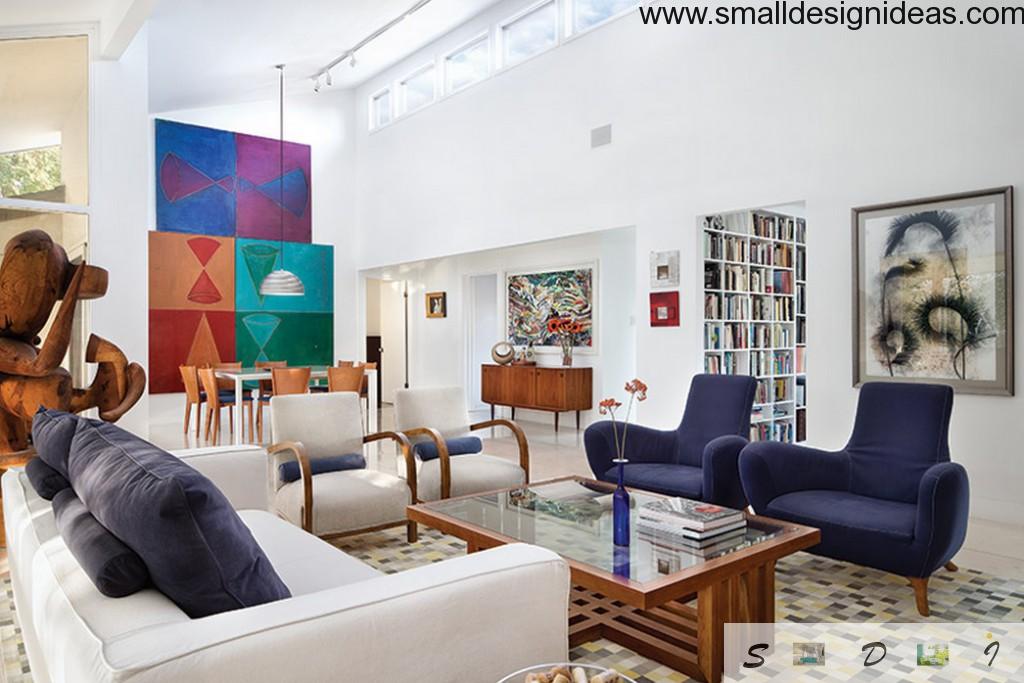 Bright colors of the decoration parts and upholstery look great on a background of snow-white finishing in the interior of living room with a small library.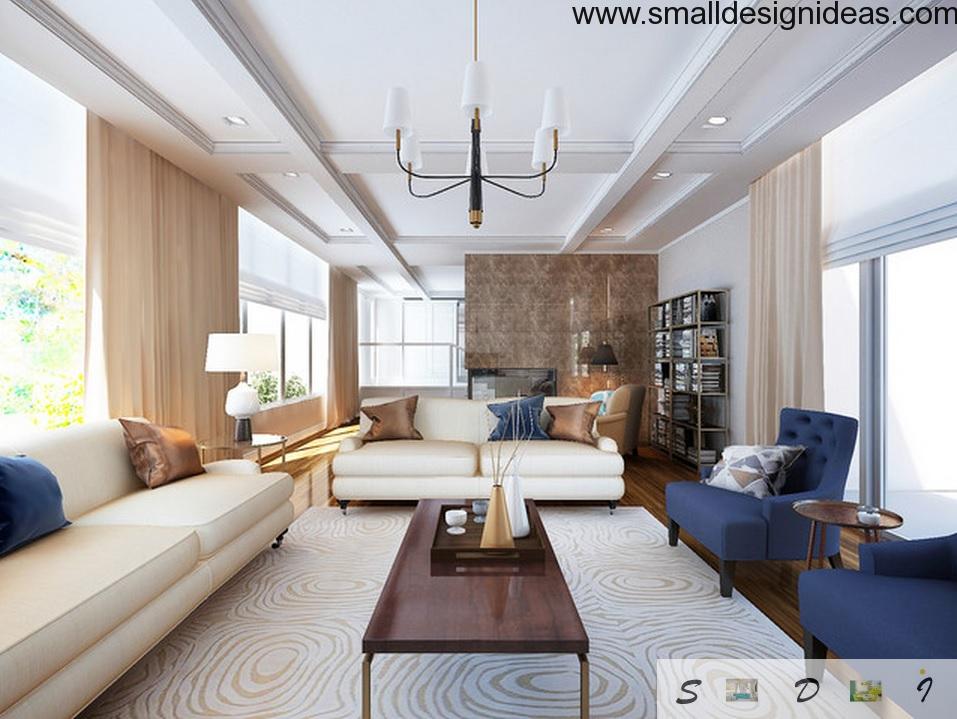 Large living room interior  in a country house
Design of large family rooms, located in suburban households, is characterized by the use of country elements, even in ultra-modern interiors. Closeness to nature determines the presence of natural materials – wood of different types, stone of all extents of the pretreatment. Such finishing materials and elements of furniture made from them, help to create a cozy atmosphere of large room for the whole family.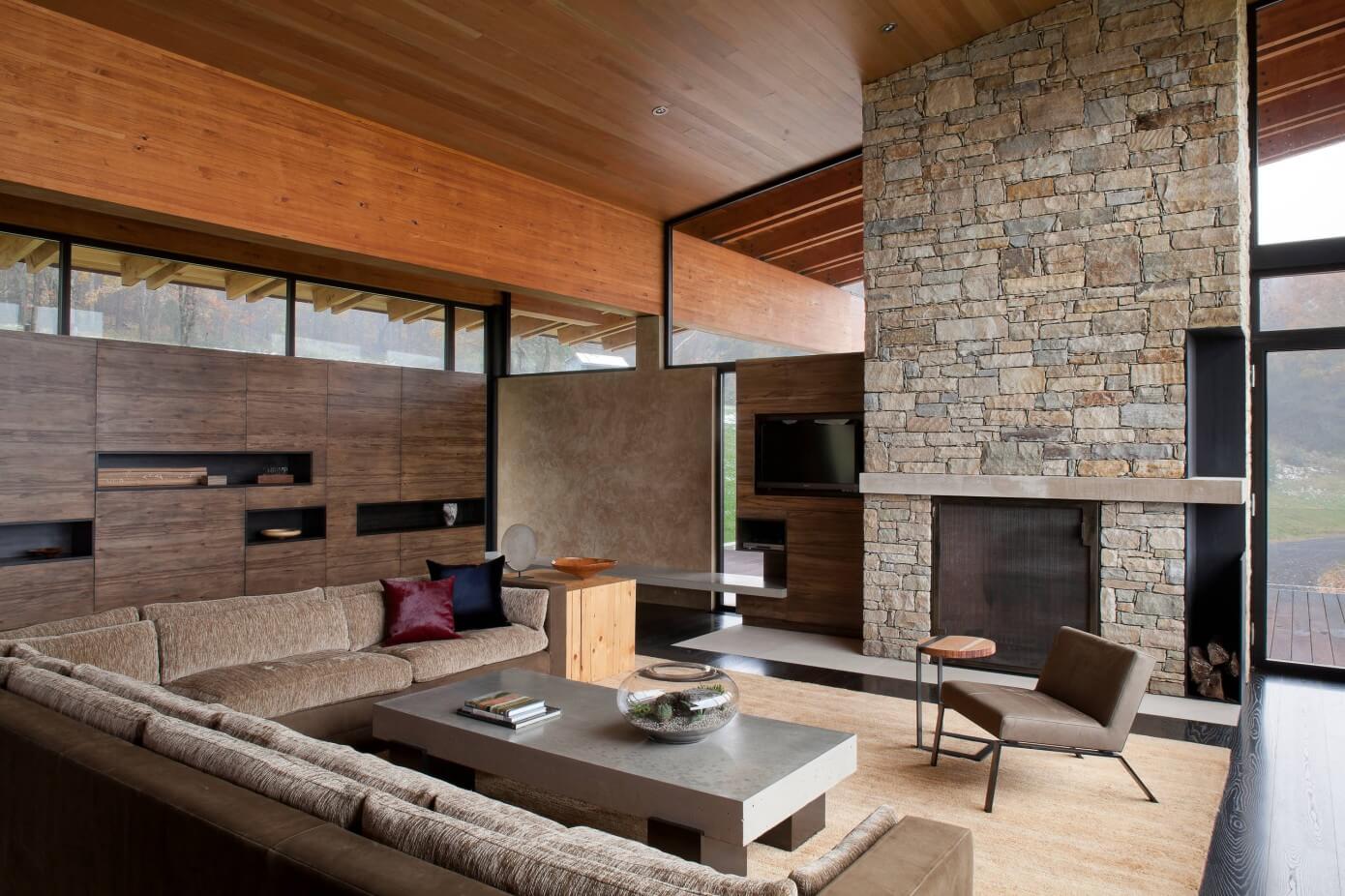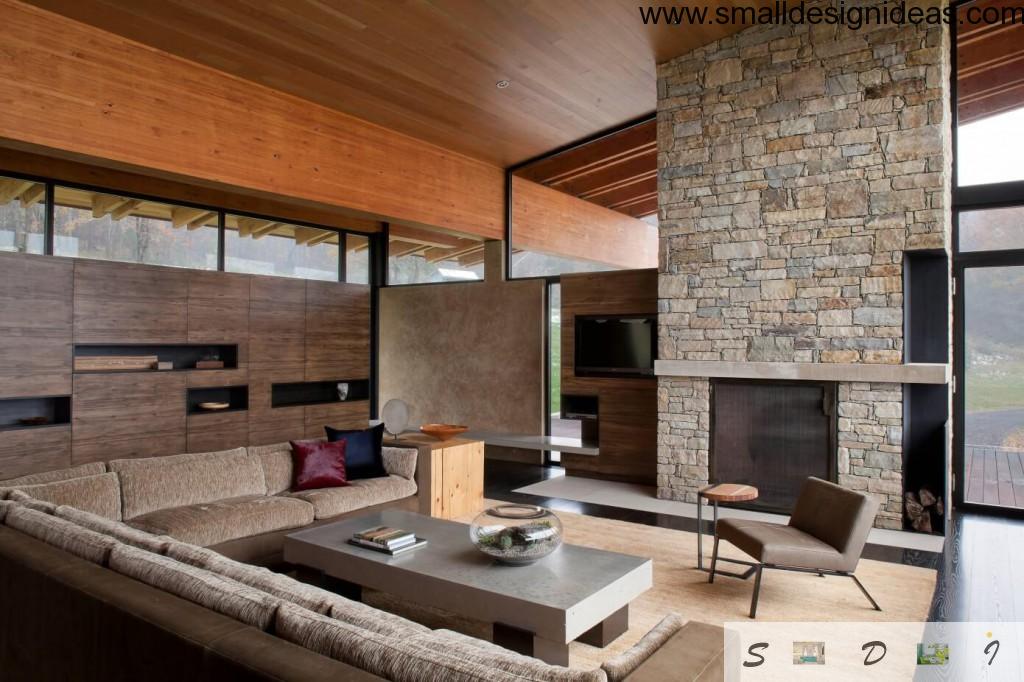 The presence of fireplace in a suburban living room is almost a mandatory attribute, creates an association with the family hearth, warmth and comfort. A facing the fireplace with the help of stone is one of the most common variants of the presentation of the living room focal point. Together with wood, which is actively used for arranging a large room, designers managed to create a really comfortable environment, despite the abundance of clear, very geometric and even rigid surfaces in the interior.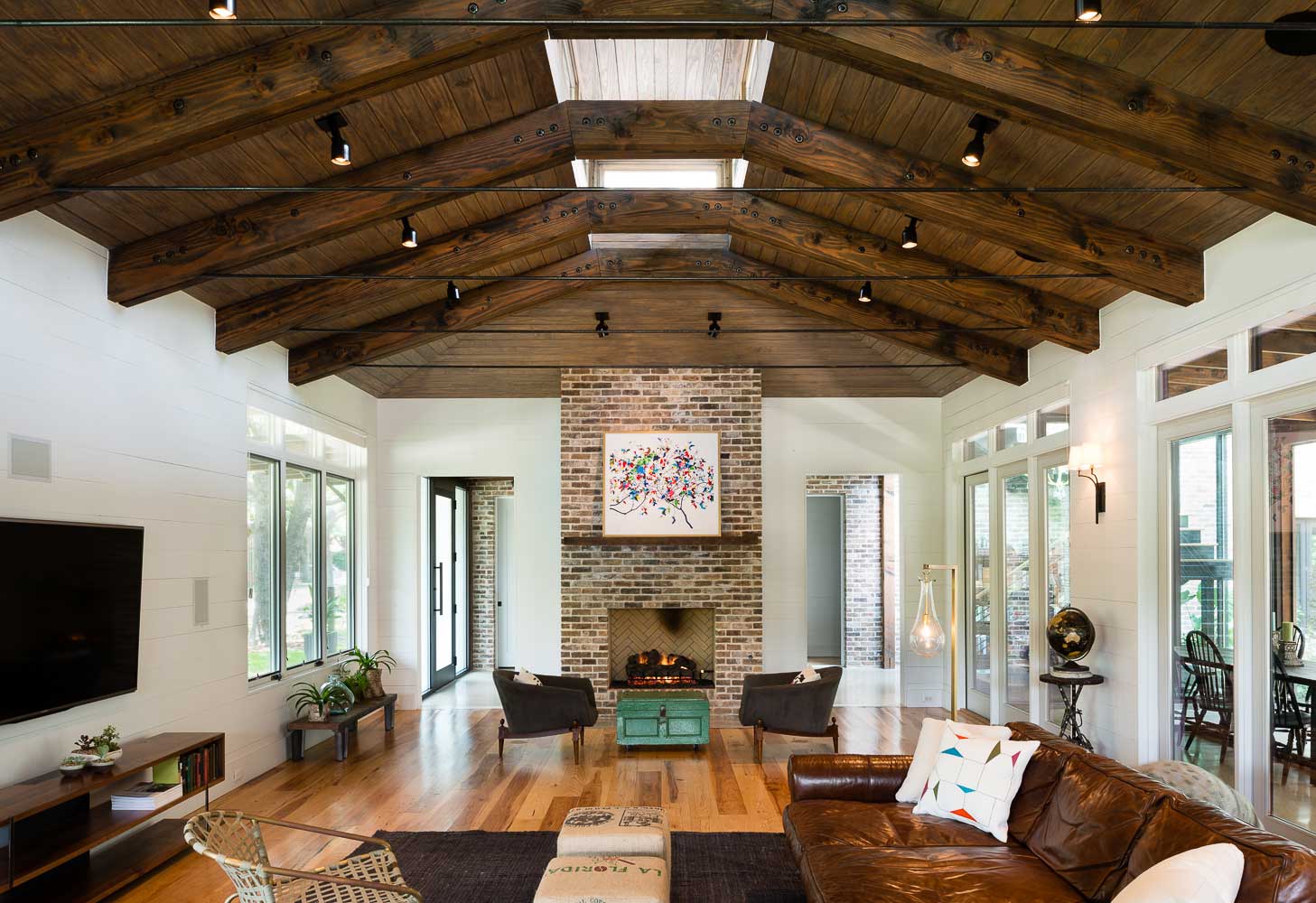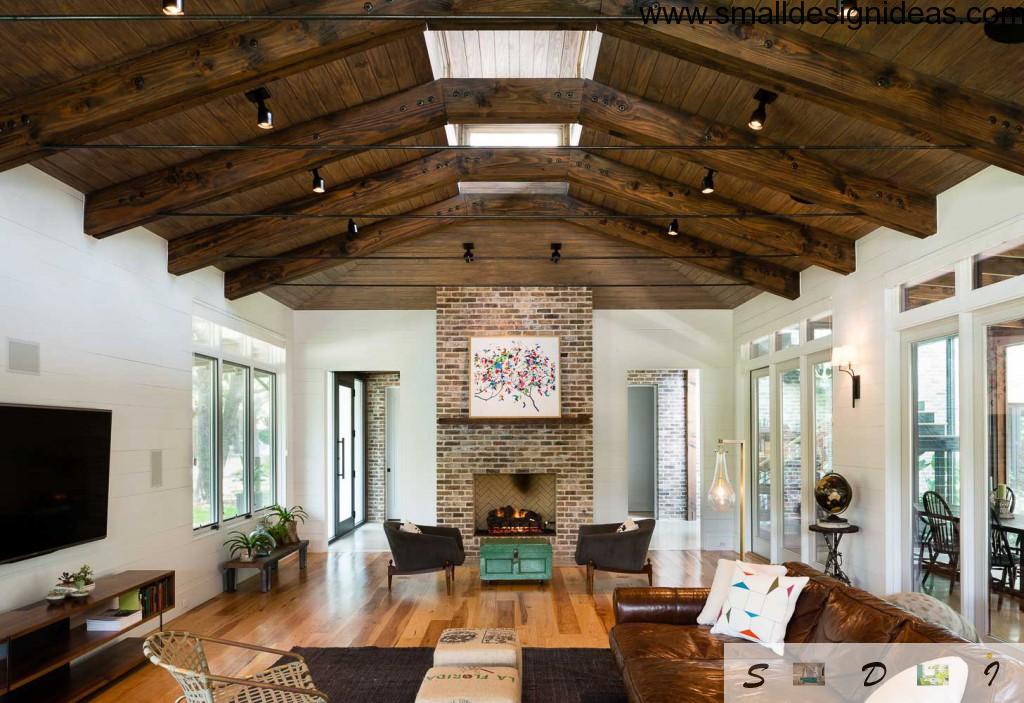 Another living room for a suburb homeownership decorated with country elements, which can be seen with the naked eye. Dark wood ceiling beams became contrast addition of a snow-white walls, creating a cozy, warm character of the room. Of course, to bare such a ceiling design can only room that has sufficient height and area.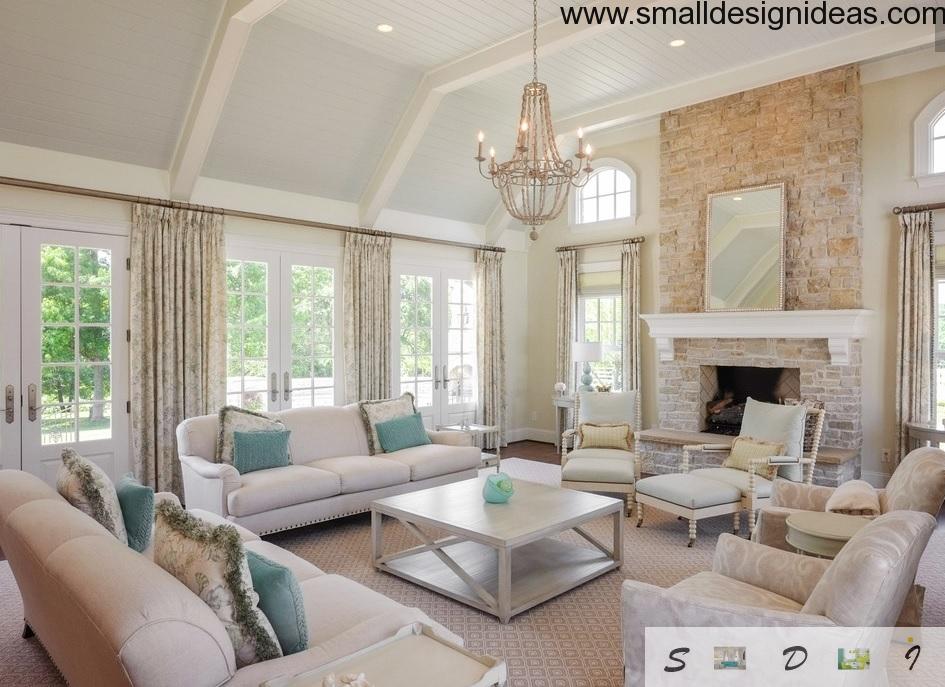 Bright, spacious, regal elegant living room with pastel and white tones can decorate any country house.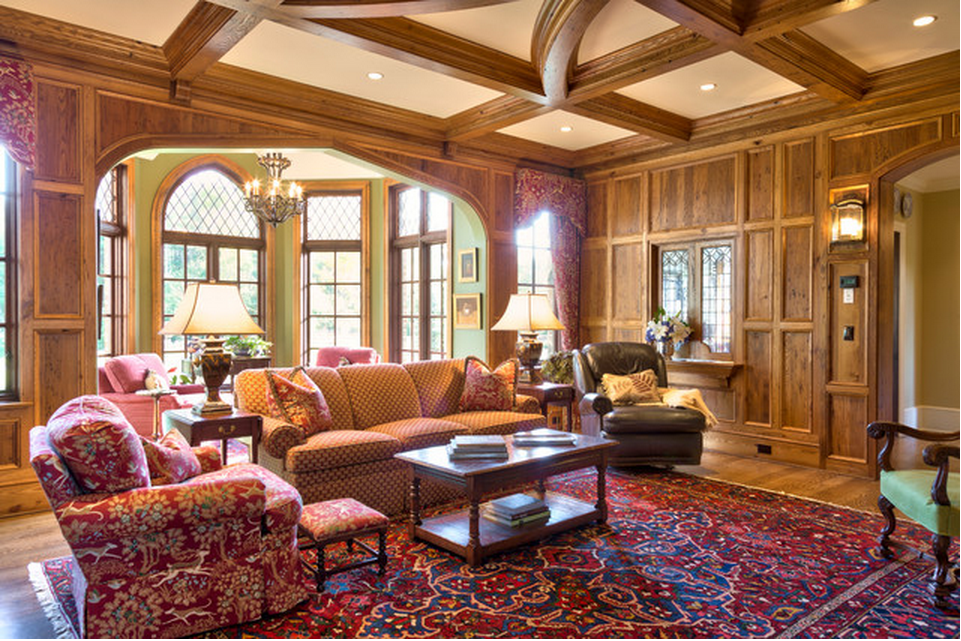 For this country-style decorated room the wood became the dominant material. Deep shades of wood on the vast carving and cladding of walls, ceiling, door and window openings, became the basis of the concept of the entire design space.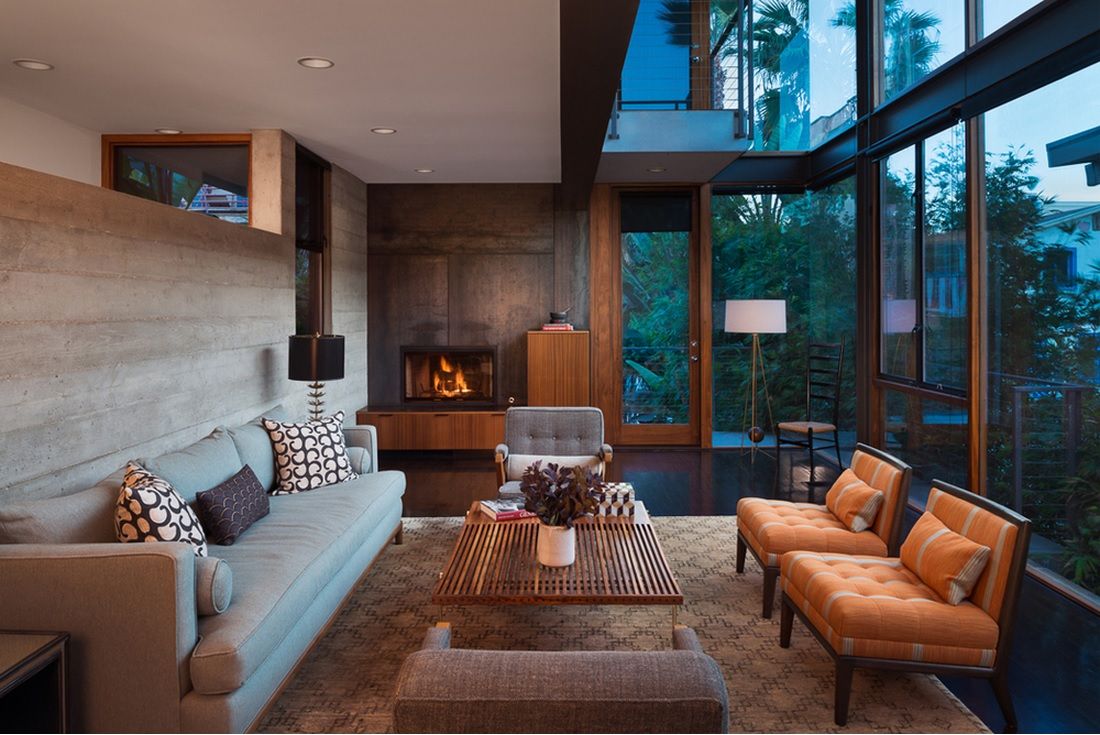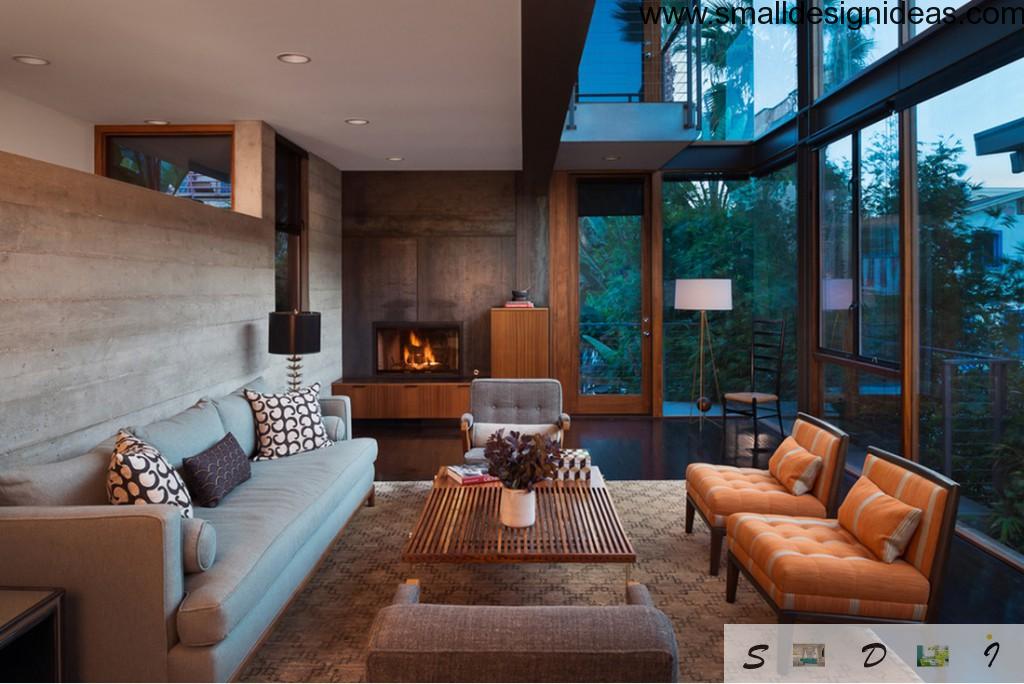 Fireplace, sofas and armchairs, glass wall with greenery behind them – what else could be better for a country life?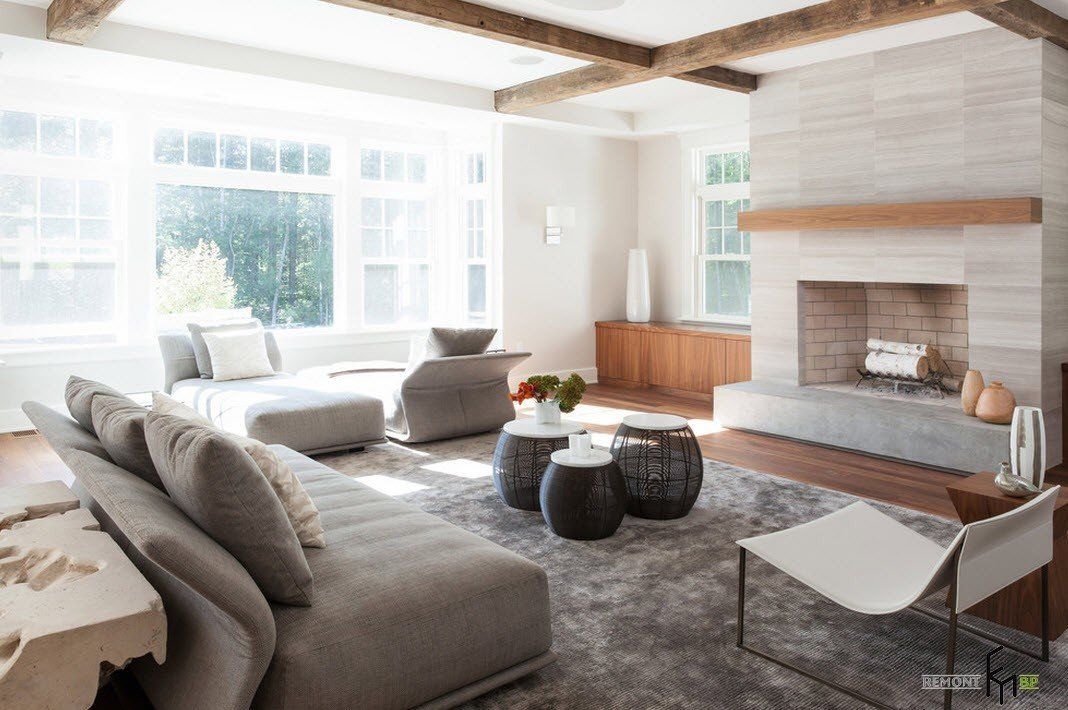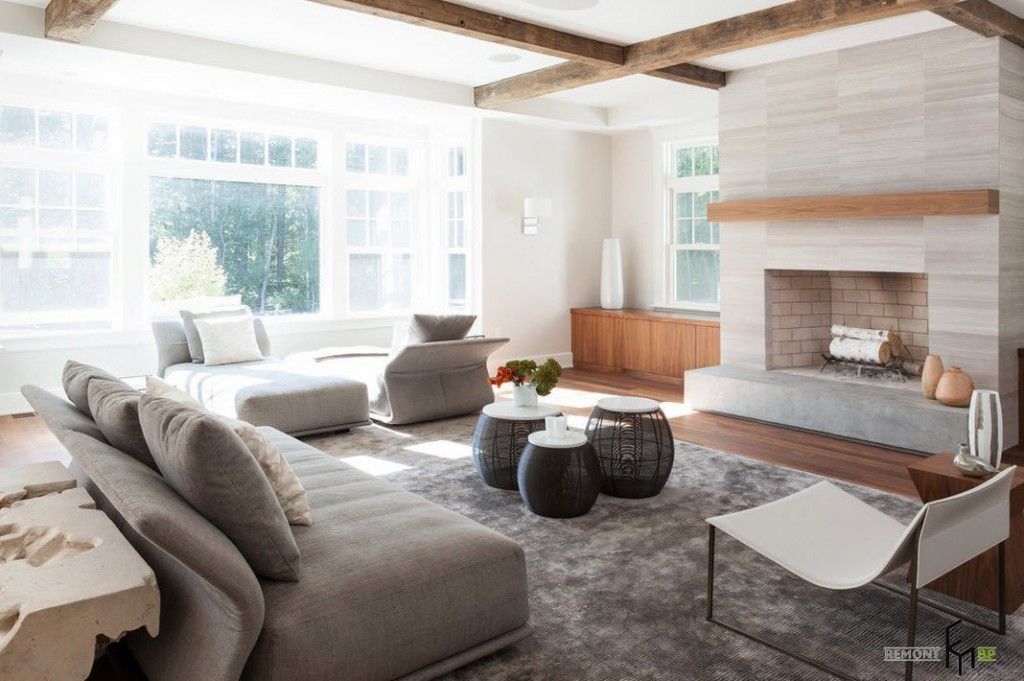 Small implementation of country elements in the modern interior of living let not only to dilute the lighter palette of the room, but also bring peculiarity of rustic flavor.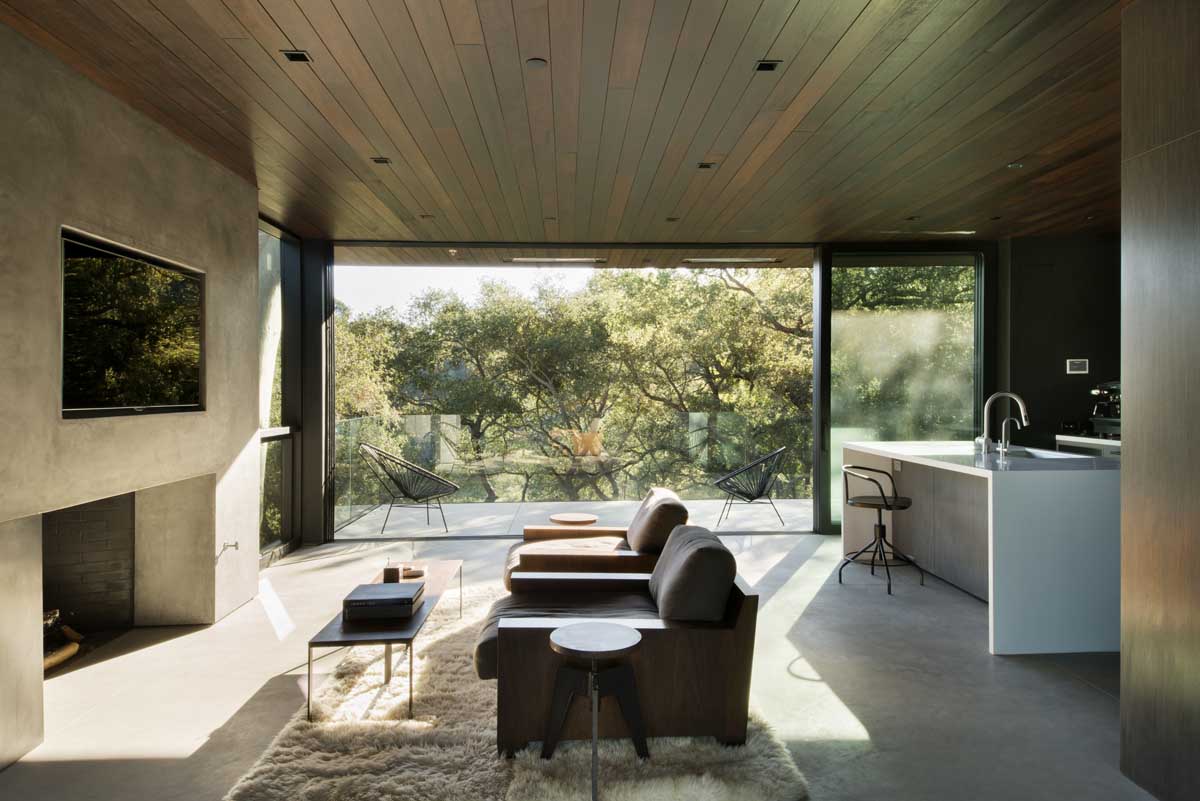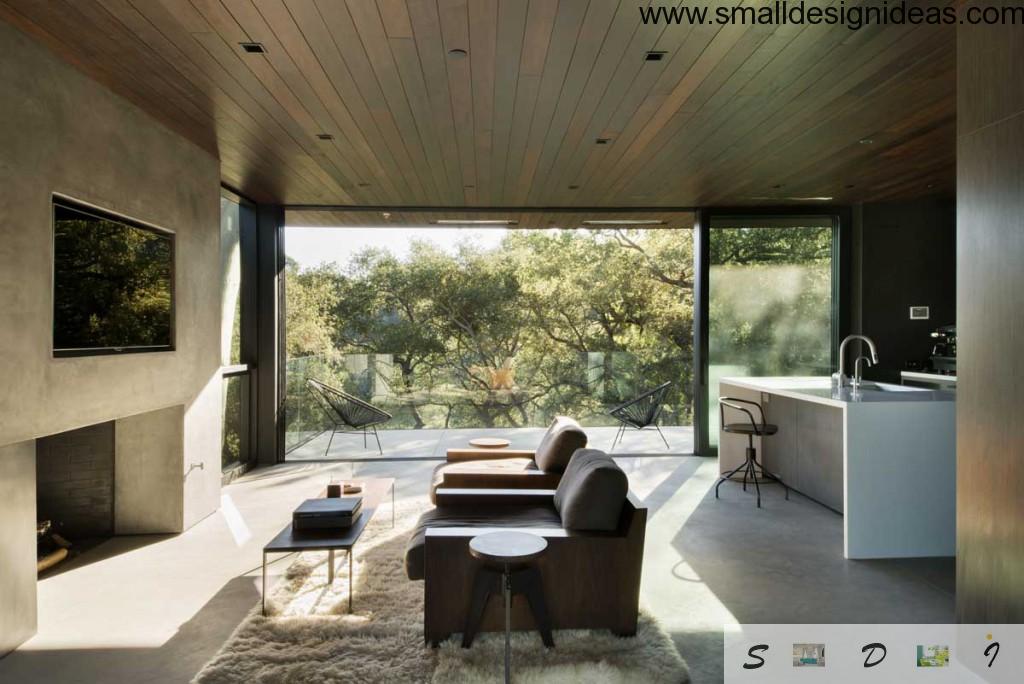 And this living in a country house and grounds is made in a style close to minimalism. In fact, what else is needed, except of the sofa and TV to create an interior of common room, especially if outside the window is such a beauty.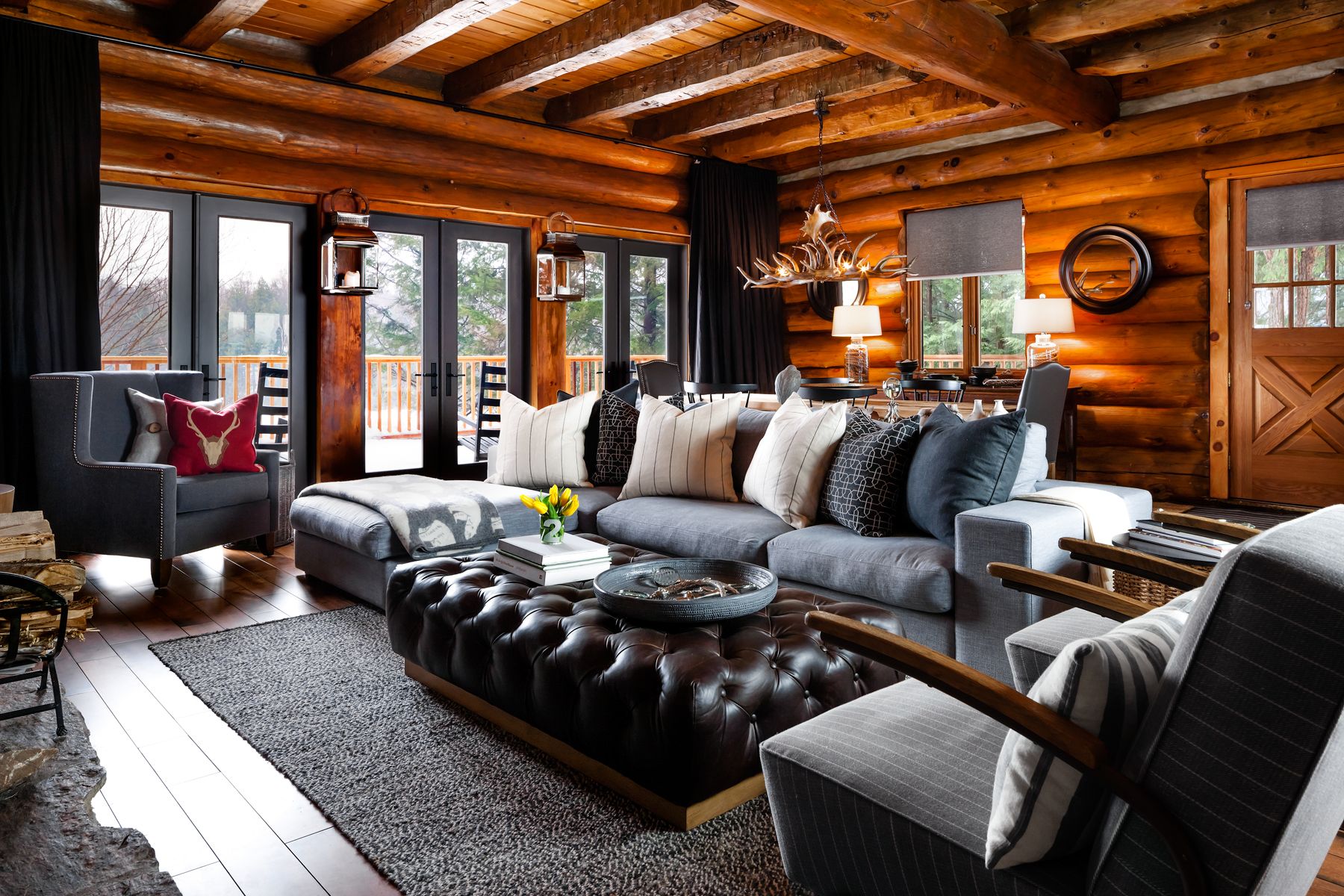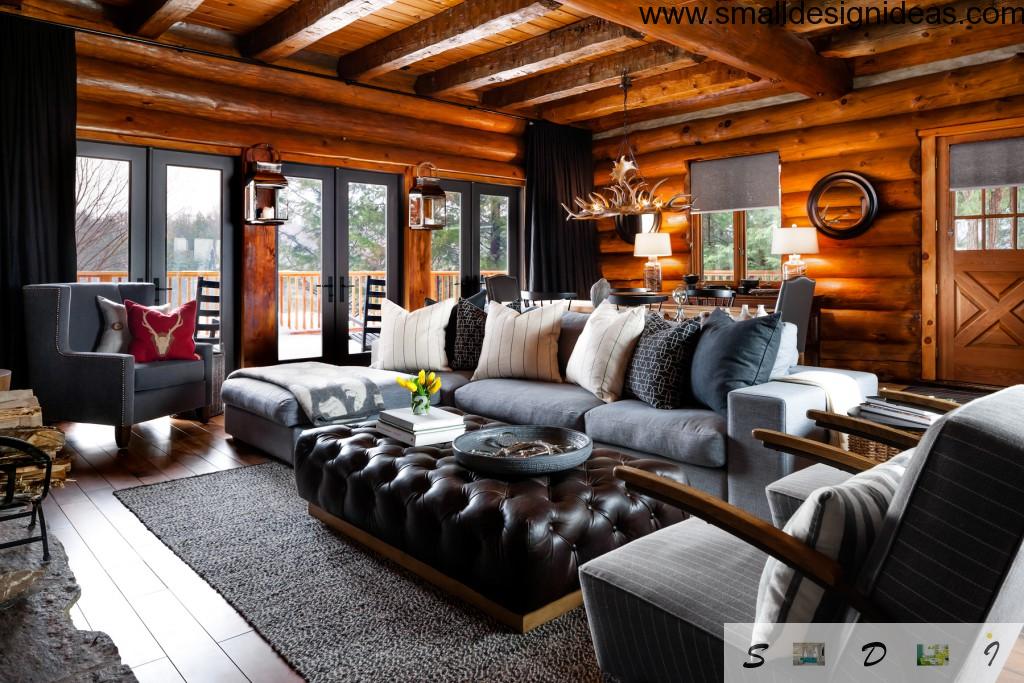 Modern contemporary style living in an impressive size
Designers like to include elements of Art Nouveau style in modern interior of living room. This is due to the incredible presentability and contrast design that appeals to many homeowners. Black-and-white interior, diluted with warm color spots, the presence of mirror and glass surfaces, often frilly decor items, but of practical underpinnings – everything looks impressive and luxurious all together.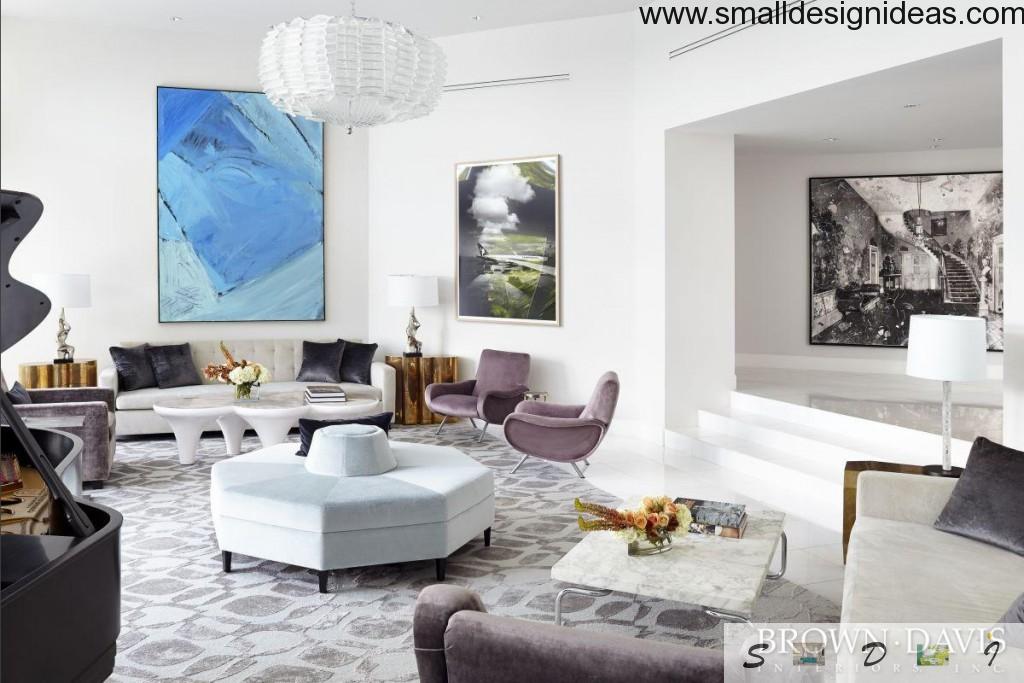 Bright and contrasting room interior, which can accommodate a large number of guests, mesmerizing with bold presentation of traditional setting.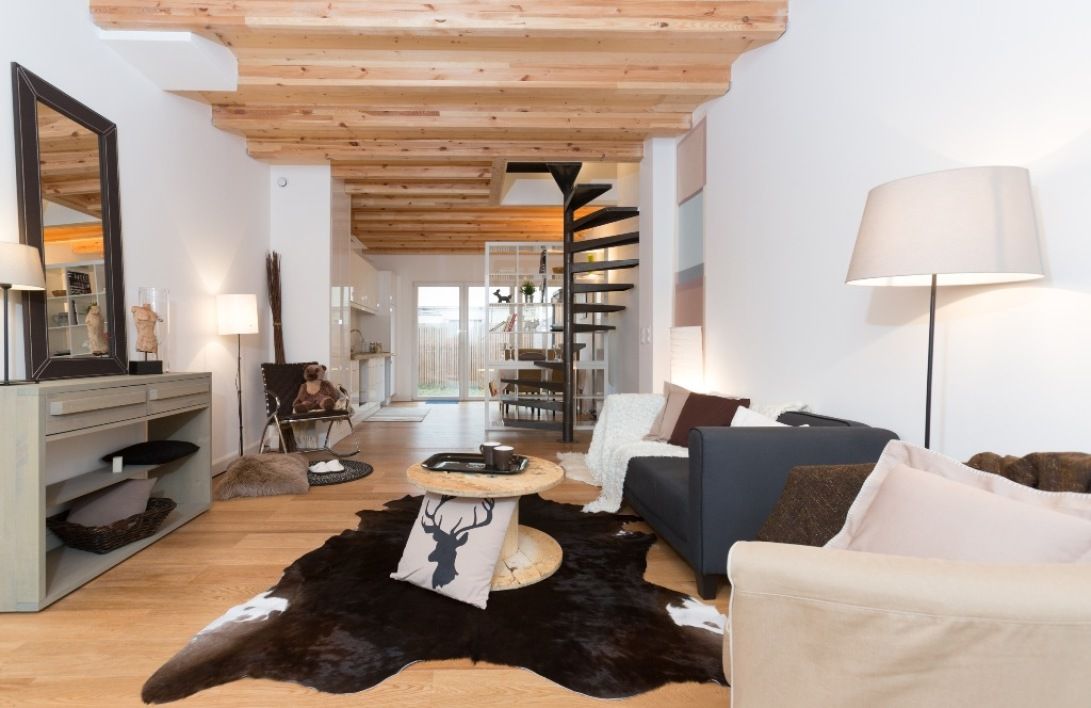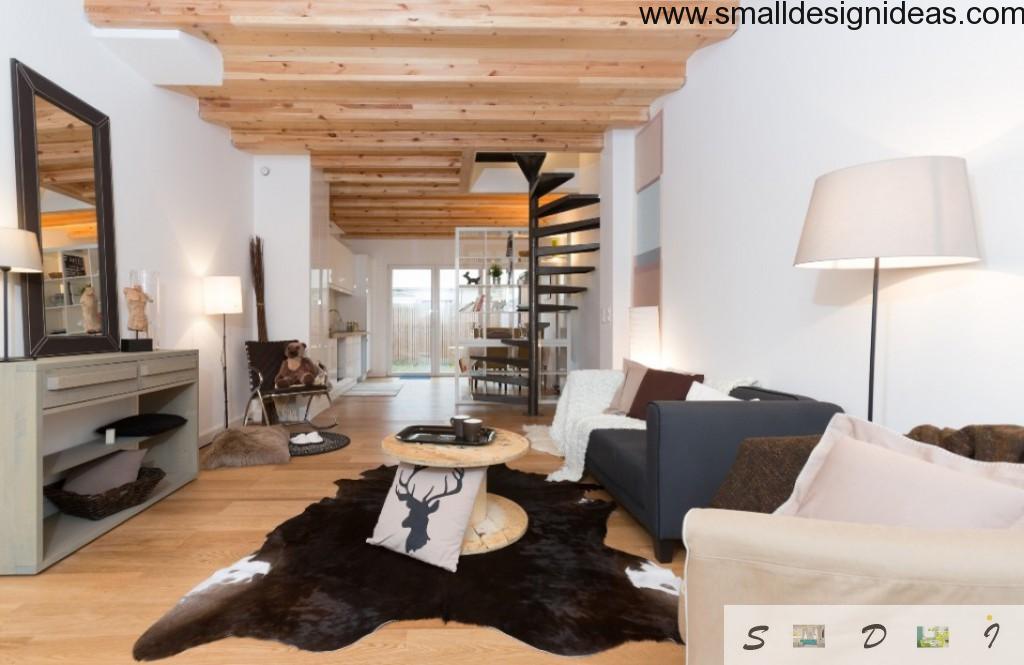 Black and white interior palette diluted with warm-colored wooden ceiling and floor finishes, unusual coffee table, in the form of a large wooden spool, had supplemented the atmosphere of modern living room aspect.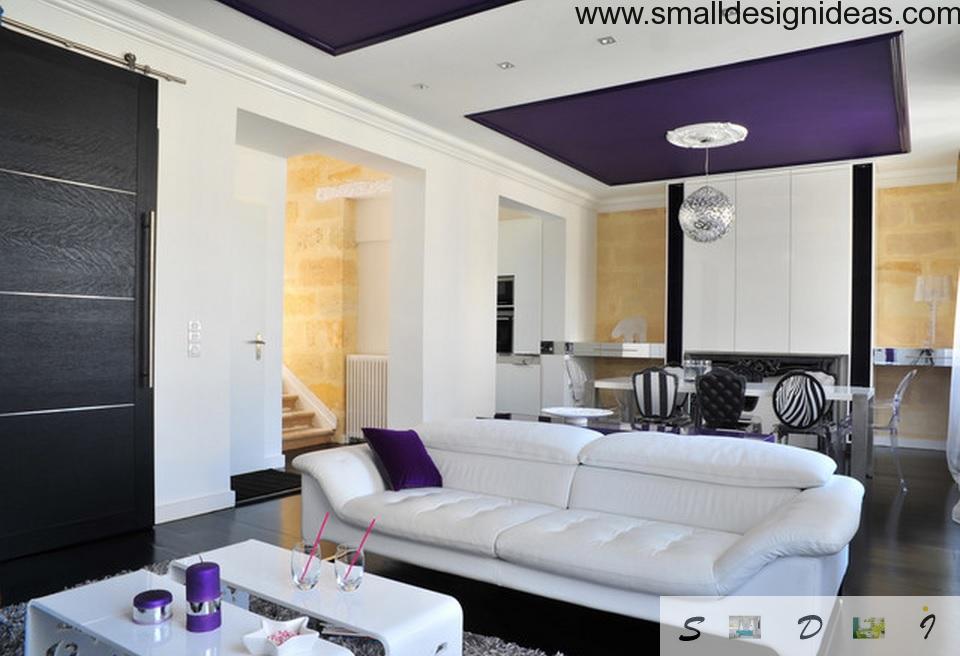 The game of contrasts is the basic concept of the interior in a festively decorated living room, which includes all the necessary set of elements for a comfortable stay. Contrast decoration of surfaces in the room, coupled with expensive furnishings and bright décor, creates a really interesting and at the same time luxurious design of living-dining room.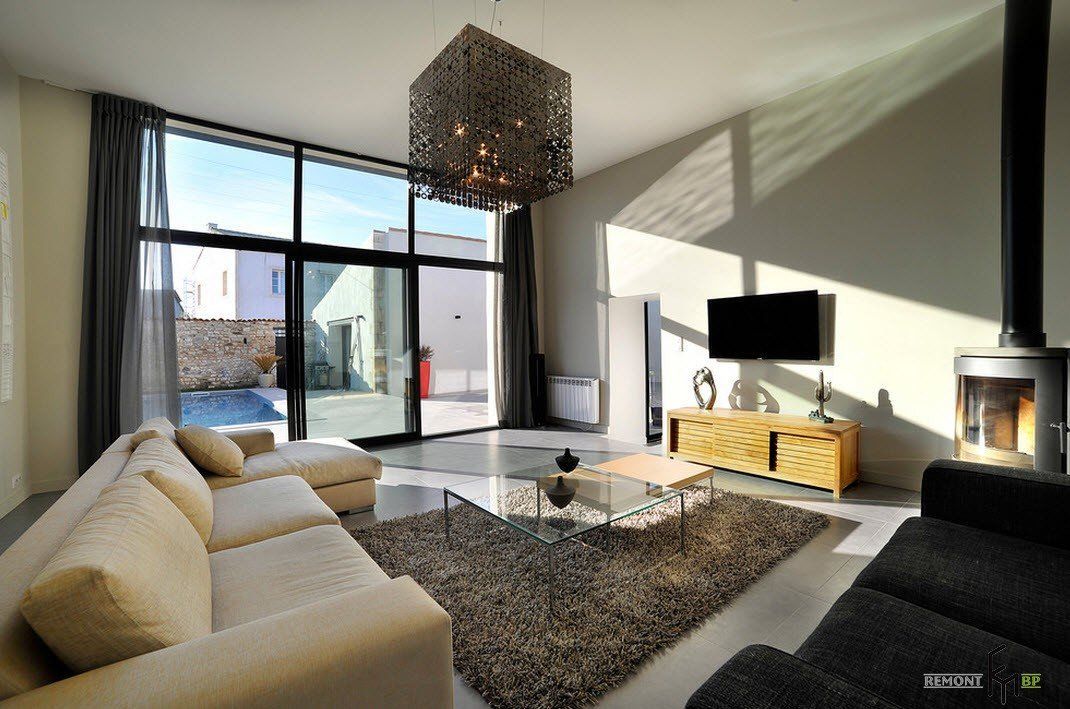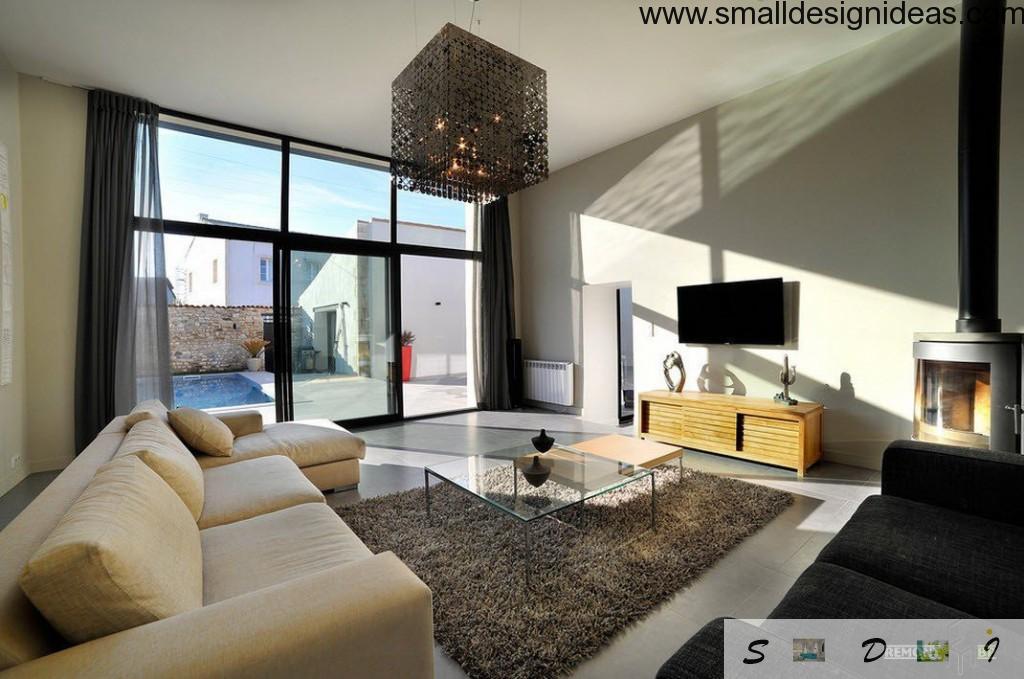 Perhaps only such a large room with a high ceiling, able to withstand the presence of dark, almost black color. Of course, this introduction of elements of a dark palette, required almost white colors of surface finishing.
Elements of minimalist furnishing a spacious living room
No other style is not drawn to spacious rooms so much, as minimalism. It is not surprising that designers all over the world prefer to integrate its elements into modern room interior with enough space. Space and freshness, freedom of movement and a minimum of decoration – these basic principles of minimalism were put into the concept of creating these images of living in a modern style.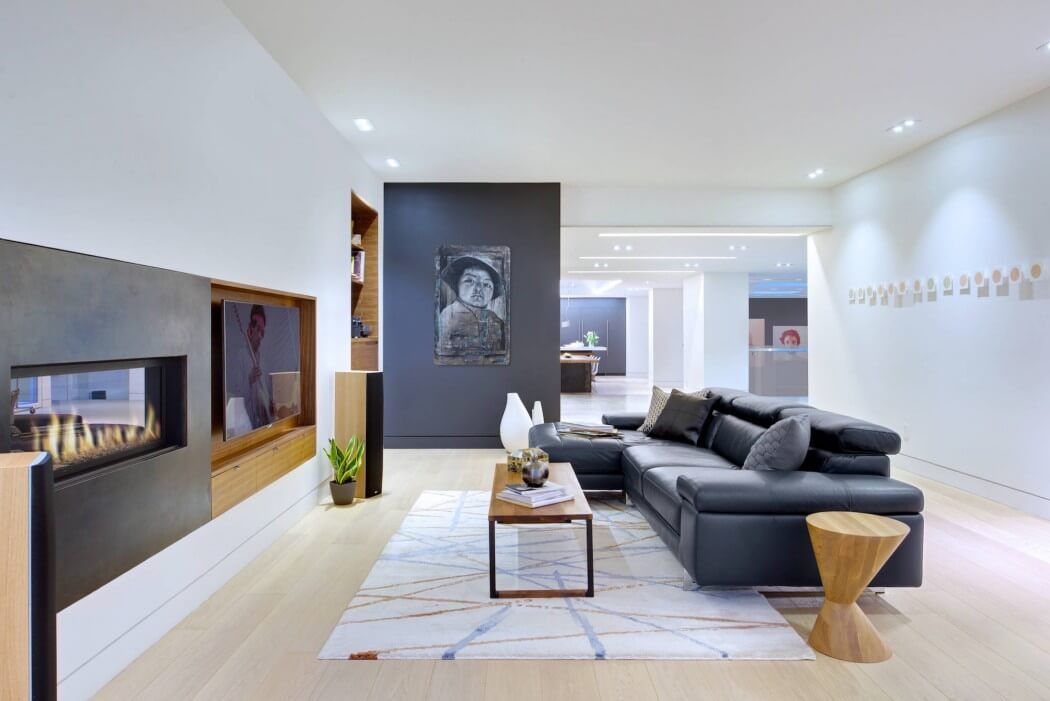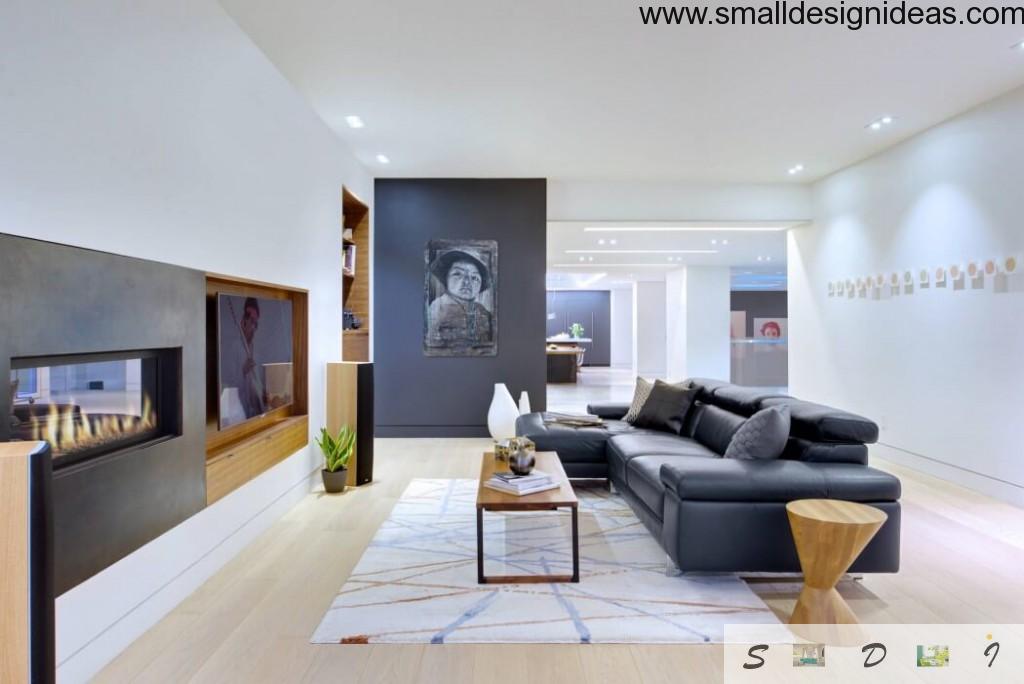 The room looks spacious and devoid of superfluous decoration, but it has everything you need to create a comfortable atmosphere to relax, watch TV and even contemplate the fire in the fireplace.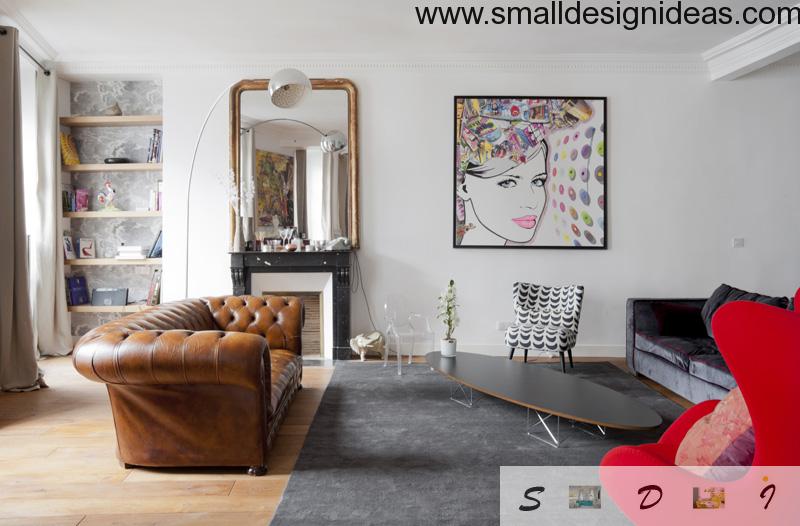 Minimalism with a Scandinavian touch, which is characterized by the use of snow-white finish for almost all room surfaces and the use of bright, saturated colors for upholstery. Bright and spacious room, meanwhile, is equipped with everything necessary for a comfortable pastime.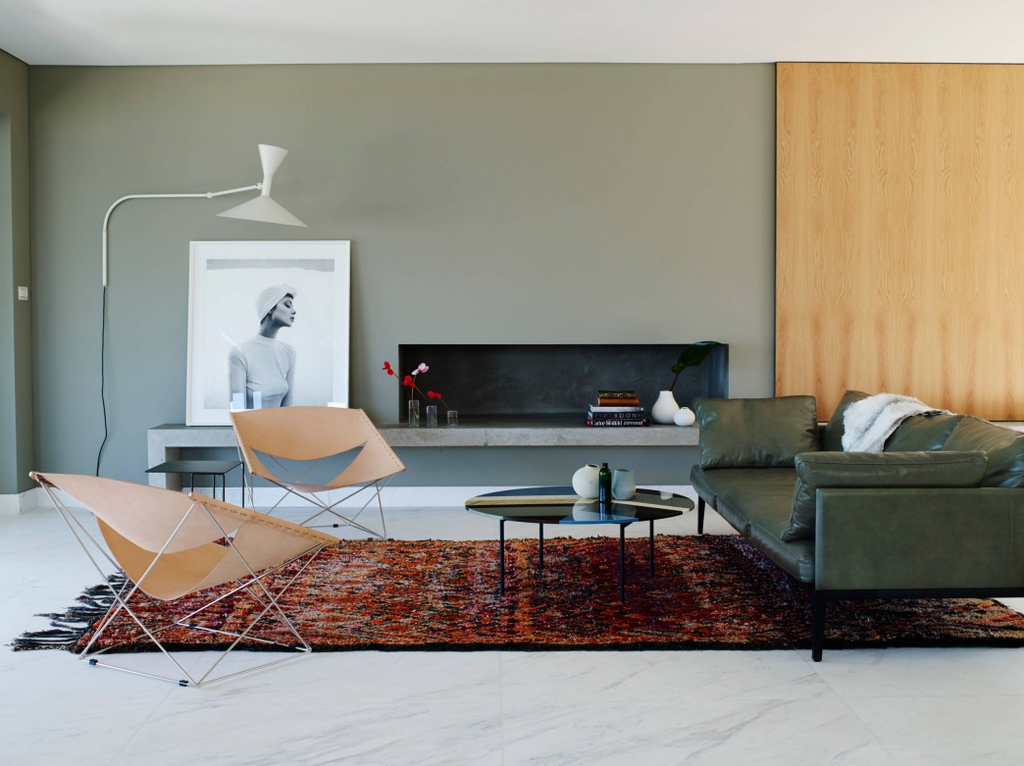 Modest, but non-trivial atmosphere of the living meets all the requirements of modern minimalism.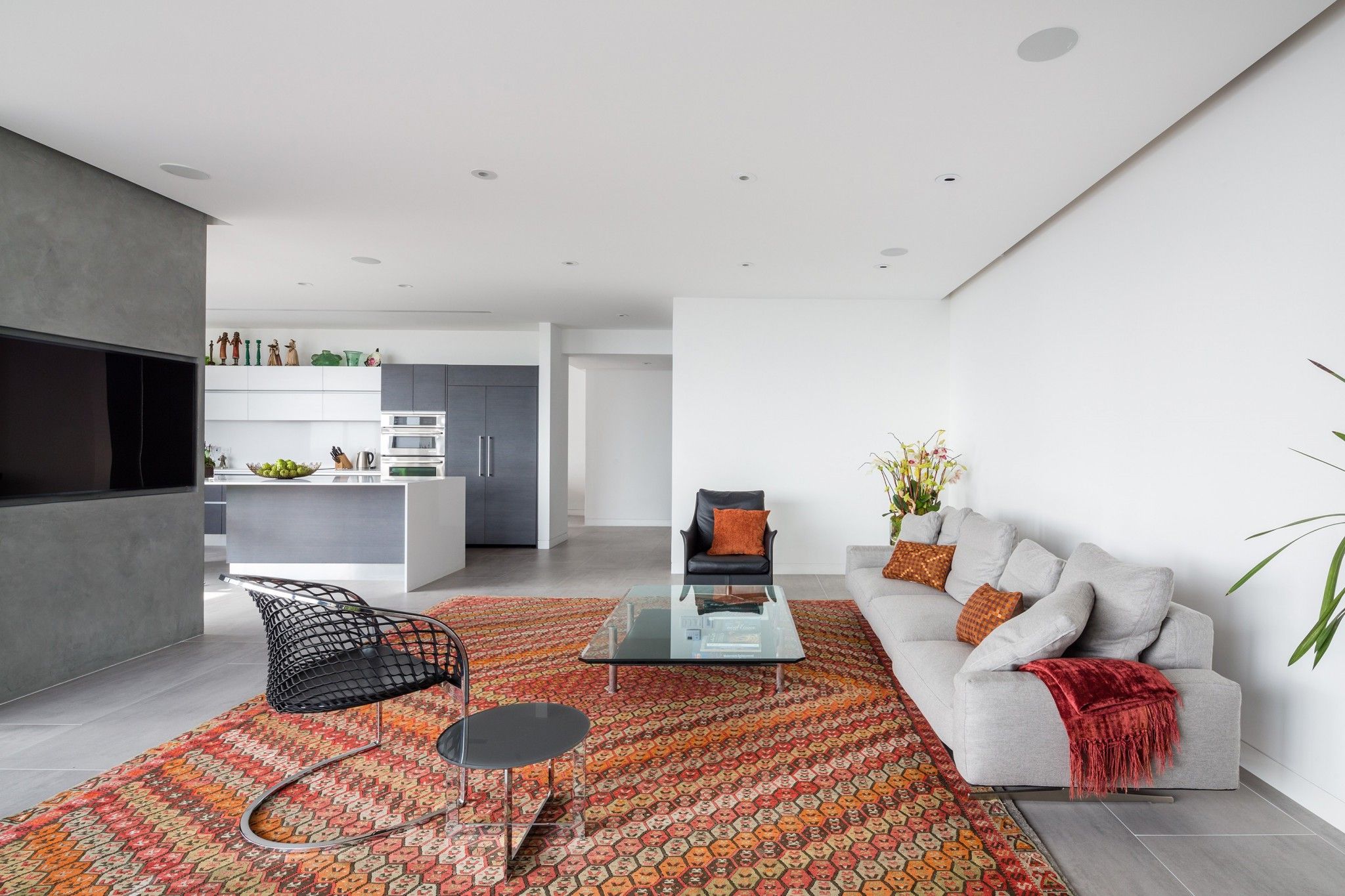 Colorful details on the background of bright finishing the interior, modest furnishings, clarity and simplicity of the lines – everything works to create an atmosphere full of freshness and purity.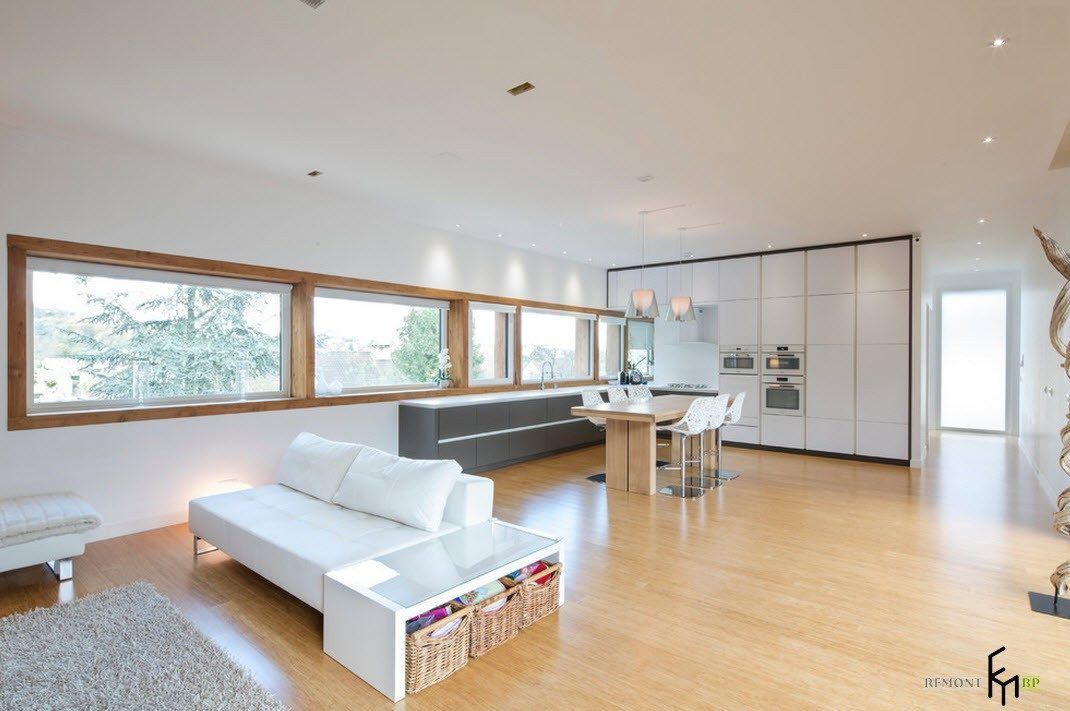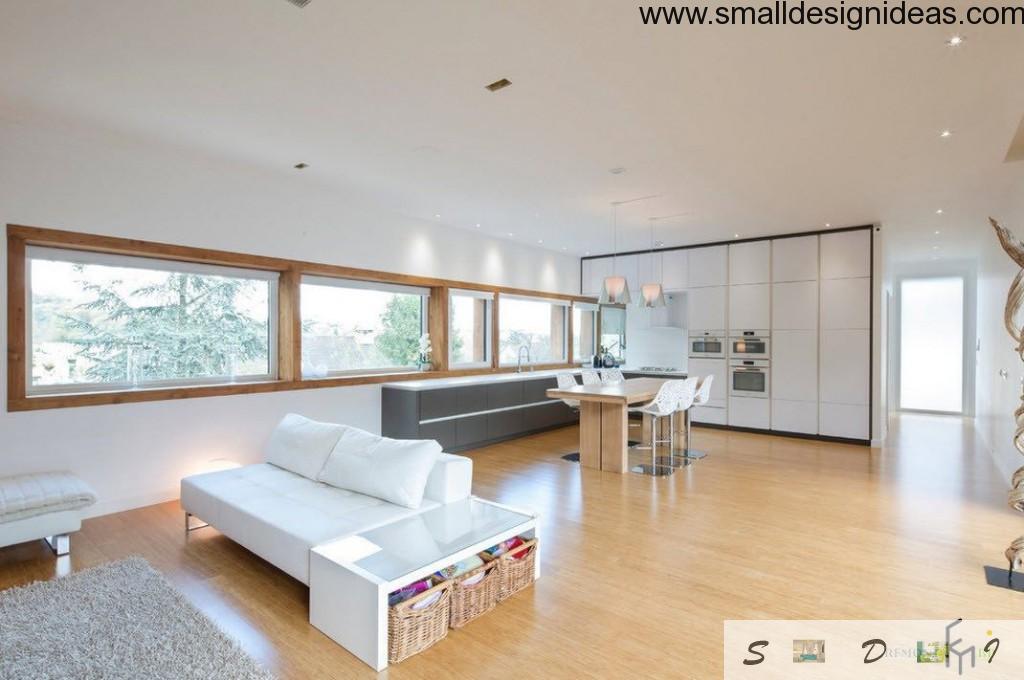 Spacious, snow-white living room accommodated the kitchen and dining area, made with laconic ease, but the ergonomic and functional content. All storage systems hidden in the built-in closed cabinets. The almost complete absence of decorative elements and textiles creates a feeling of spaciousness, cleanliness and freshness of the room.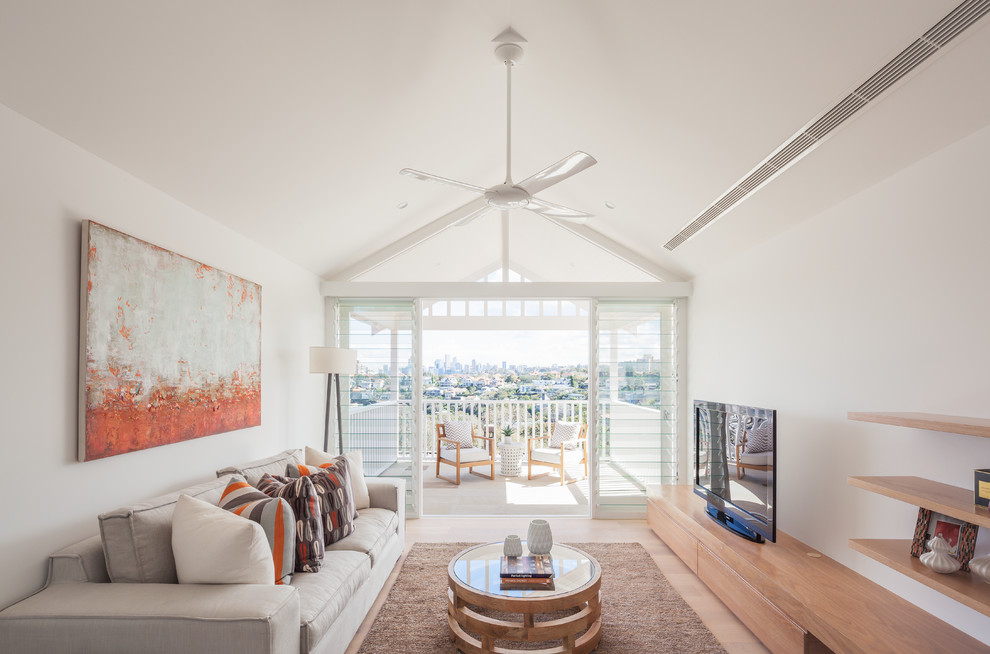 For many homeowners it`s enough to put a sofa, coffee table and TV set and the living room space is done. Simple but comfortable room in pastel colors for many residents is a symbol of relaxation and rest after labor feats.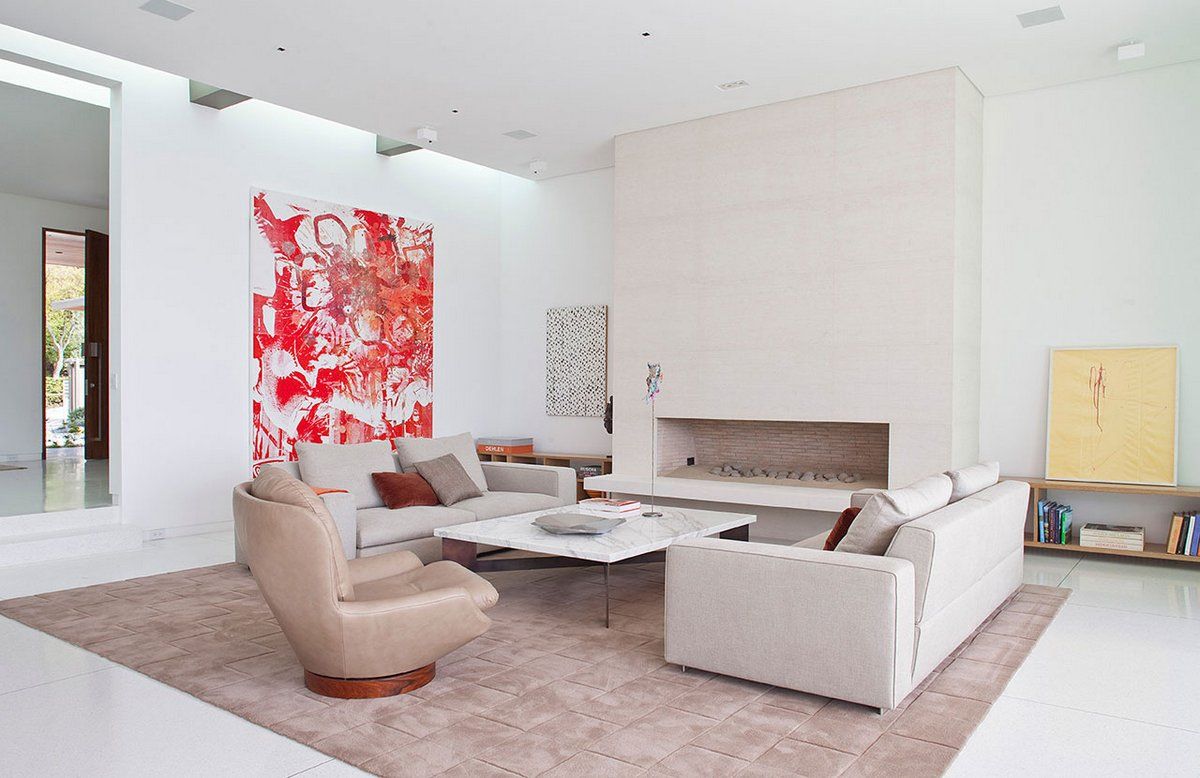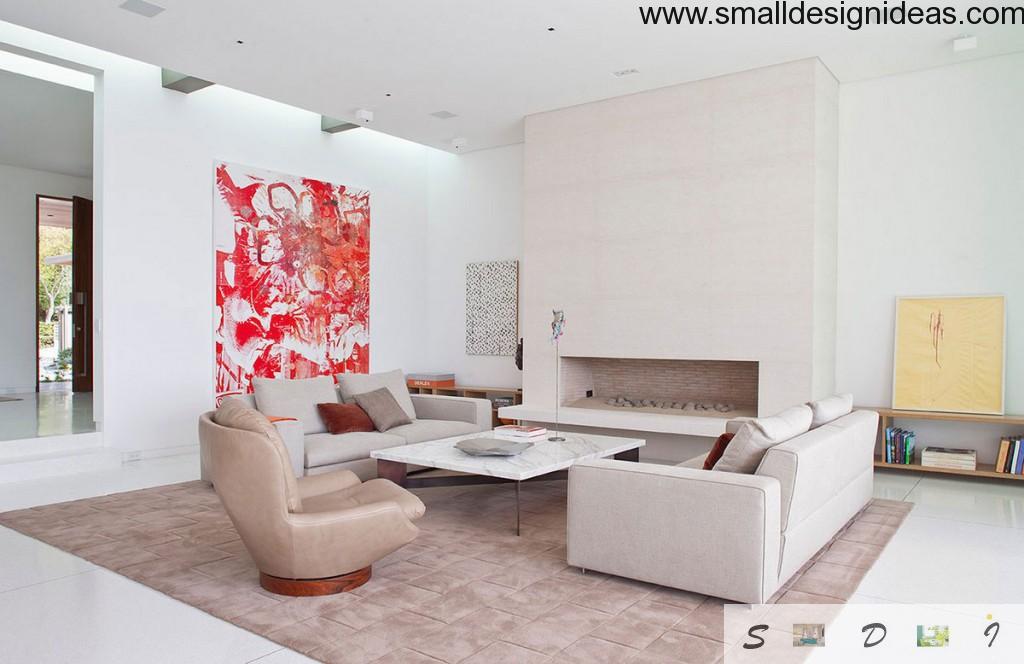 In this minimalist living room with a bright color palette, bright enough artwork on the wall the acts as the focal point. This interesting design course is due to the fact that the traditional focal point of many living rooms in the form of fireplace, actually, does not have such semantic load. It is rather an art object here.