If you are planning a renovation and/or re-planning in a small apartment, the following small grayish toned apartment design project can be useful to you. Modern design, the choice of a neutral color palette and minimalistic furnishing – all together was managed to be turned into a very cozy and attractive housing. So let us together take a look at the interiors of small area apartment, decorated in a contemporary style.


"Gray is a new white in the interior," this is the slogan of modern designers guided the owners of this small flats. This is the most neutral of all colors, having lots of hues and shades. It is capable of becoming an excellent background for a modern dwelling. In order to create a focus in the space with gray trim, couple of bright spots would be enough. Even white in this case will stand out and attract all the glances. We begin our examination with kitchen space, which is combined with the living room.
Single-row layout of the kitchen units have managed to accommodate all the required number of appliances, work surfaces and storage systems. The upper tier of the kitchen cabinets to the ceiling in two lines hugely contributed to such arrangement – uppermost boxes store appliances, which are rarely in use, all the necessary cooking kitchen accessories are closer to the working area. Absolutely smooth facades of furniture merge perfectly with matched color of home appliances.
To bring a variety of color in the interior of a kitchen-dining-living room was possible thanks to bright yellow open shelves for glassware and bar, more like an ordinary console. These bright spots on a gray background were not only able to create a nice accent, but also to bring freshness, enthusiasm and positive mood to the room design. Not to mention the functions that they perform properly.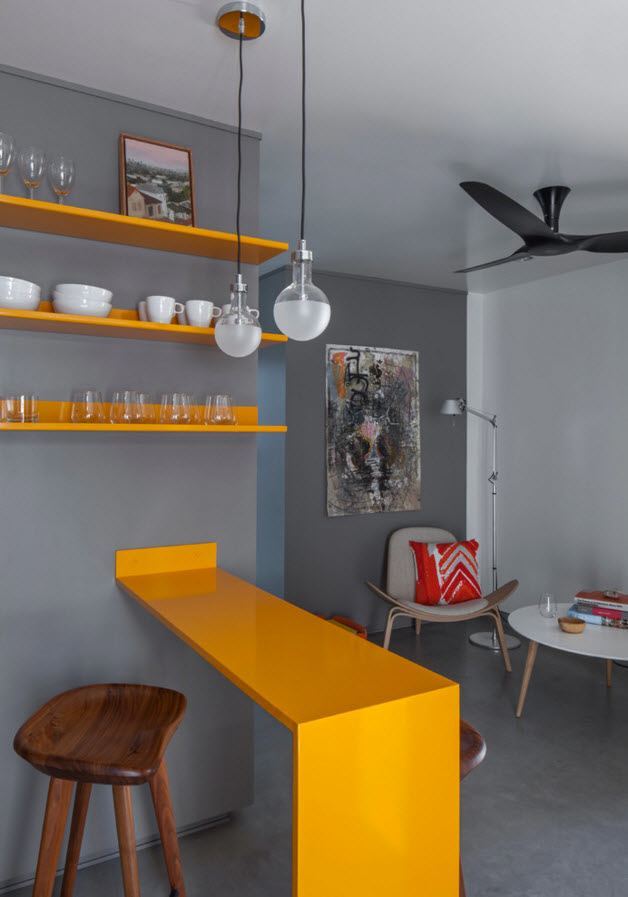 In order to maintain a sense of spaciousness in a small room, the owners had to use some advanced design techniques. For example, the living zone appears minimalistic enough – a pair of lightweight chairs and a coffee table. No massive furniture, large corner sofa or entire ensembles of soft furniture. For these purposes the bedroom hadn't been isolated from the common space. It is only fenced off from the kitchen area by a partition, performing, among other things, the role of storage in residential segment.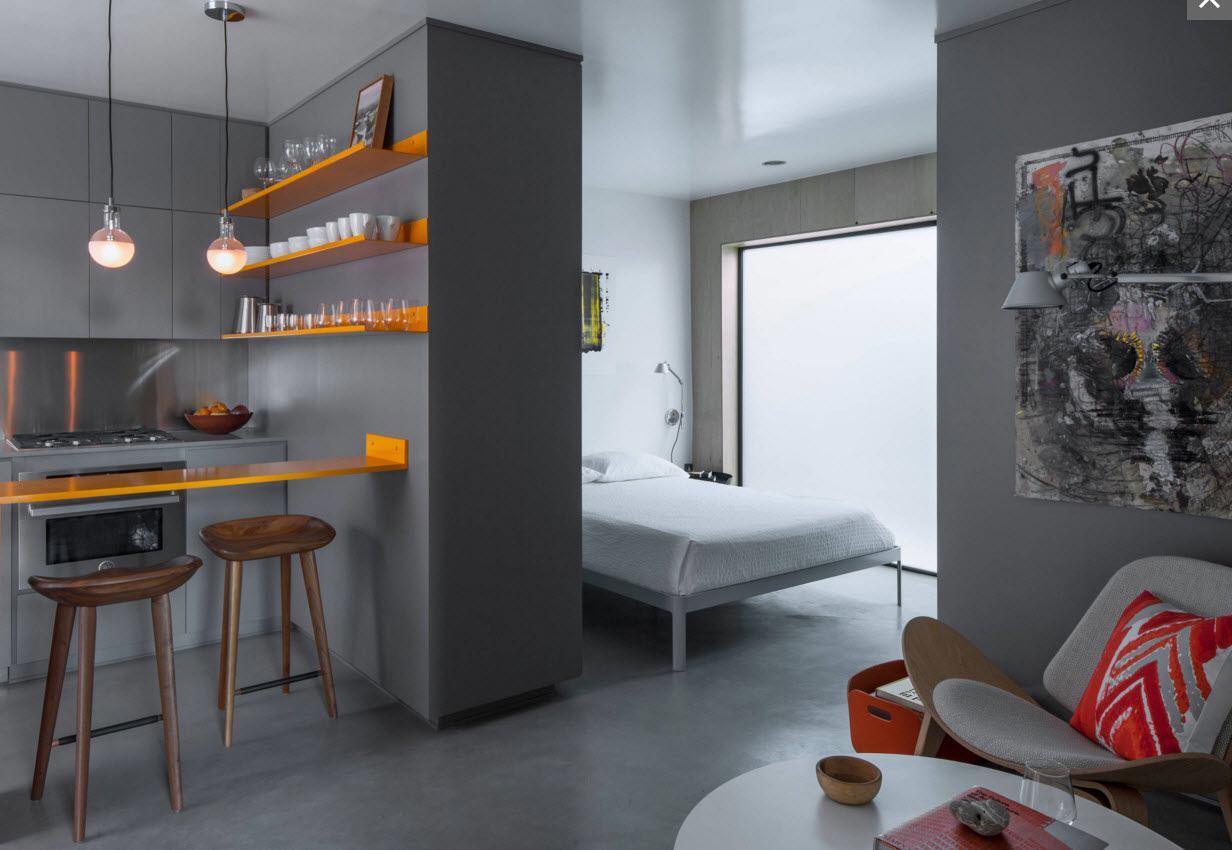 The situation in the bedroom can be called nothing but ascetic, though it is something that tends to be set up in minimalistic modern rooms. Only a bed, a small table-stand and closet (it is also an interior wall) – that's all modest, but more than satisfying atmosphere for bedroom which allows you to relax in comfort and sleep. Only a small artwork with bright patches of color slightly dilutes the interior in shades of gray.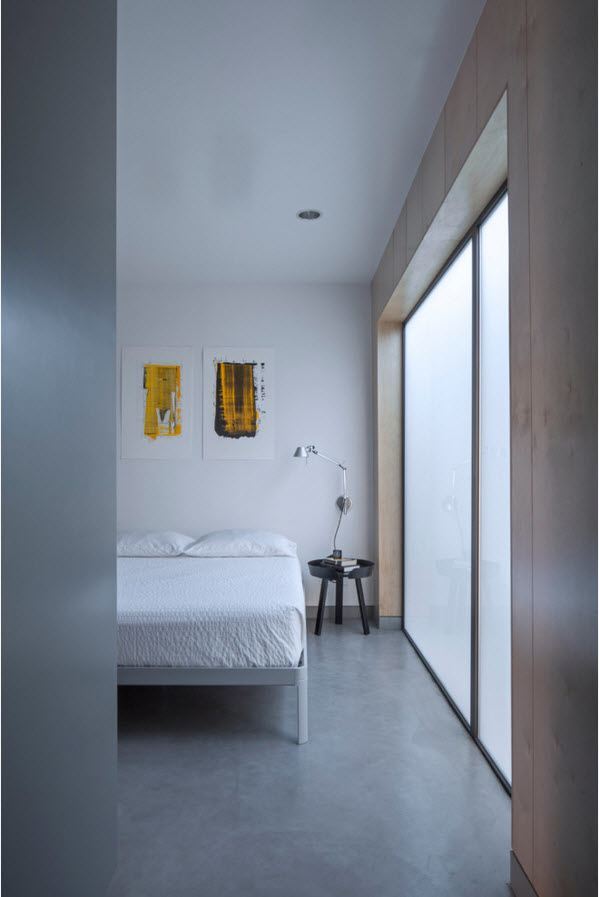 The only truly isolated from the common apartment space room has become a bathroom. This spacious enough utilitarian room managed to position not only necessary for water and sanitation procedures, a set of sanitary ware, but while preserving the image of a free, spacious room. Bright walls finish, the use of glass walls and a bright accent, has contributed to the creation of light but an interesting image of bathroom.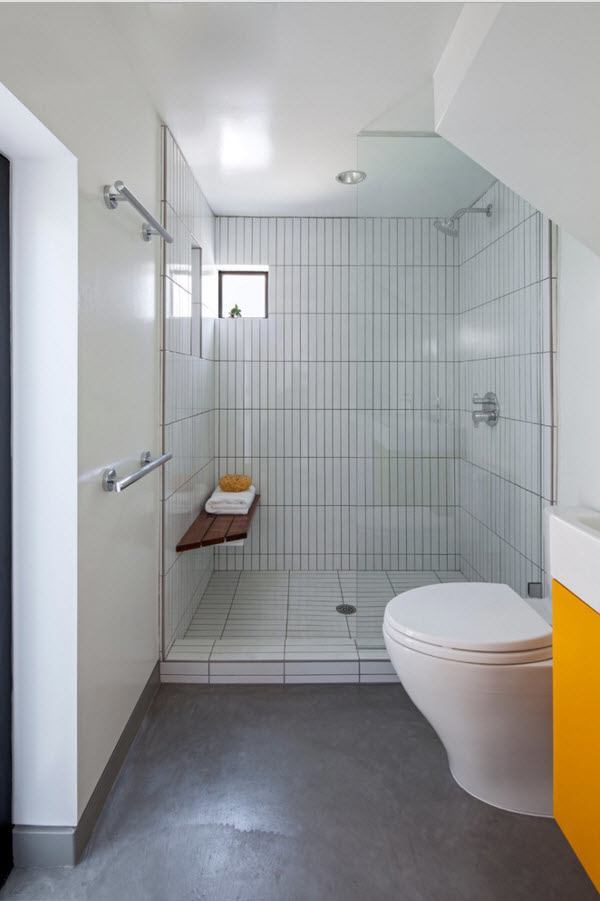 The pride of a small apartment is the presence of the adjoining area, where you can store personal transport and arrange a small open-air recreation area. The ability to have a cup of coffee in the morning while basking in the sun is priceless.