When decorating a bedroom, people often get confused of what furniture set to achieve for the interior. If it will be in accordance with overall color scheme, won't it be too much or look boring? And if we opt for the striking accent, won't it be garish, agressive and looking goofy? These questions require of separate exploration. In common sense, we should not use too bold color accents in the bedroom. But, at the other hand, the bedroom furniture set is maybe the main instrument that can help us to bring some fresh touch into atmosphere of the premises. So, let's overview the most relevant white bedroom furniture set ideas & photos and find out whether it is actual way to equip and decorate your bedroom.
We should say, that it is right when people afraid of turning their bedrooms into sterile and insipid when adding white furniture set to the already light interior. It is very important not to overdue with single color. It should not exceed 80% of overall space including floor and ceiling. That's why you wouldn't find any successful bedroom without play of shades and additional decorative elements reviving the scene.
White, creamy and pastel light tones are intrinsic to Scandinavian, Classic and Casual styles. And we can see how often these styles appear in the light bedrooms. But we should mention that white and lught creamy hues can be used in large range of design styles as Marine, Rustic, Hi-tech, Pop Art, Shabby Chic and many others.
White furniture set in small bedrooms
White color and its tones are better helpers in order to economize and functionally dispense space. Light room looks bigger and the corresponding furniture set can appear smaller and more compact. Designers are widely using this optical illusion it can play very useful role in small apartments.
White Bedroom Furniture Set Ideas & Photos in colorful interiors
The revieweing bedroom set can be also applied in the colorful interiors. For example, if your bedroom walls are dark or green, oryellow, white furniture will look as an accent. Mindful experiments with decorative elements, plants, bedding, storage and you receive unique contrasting room with calming white bedside furniture.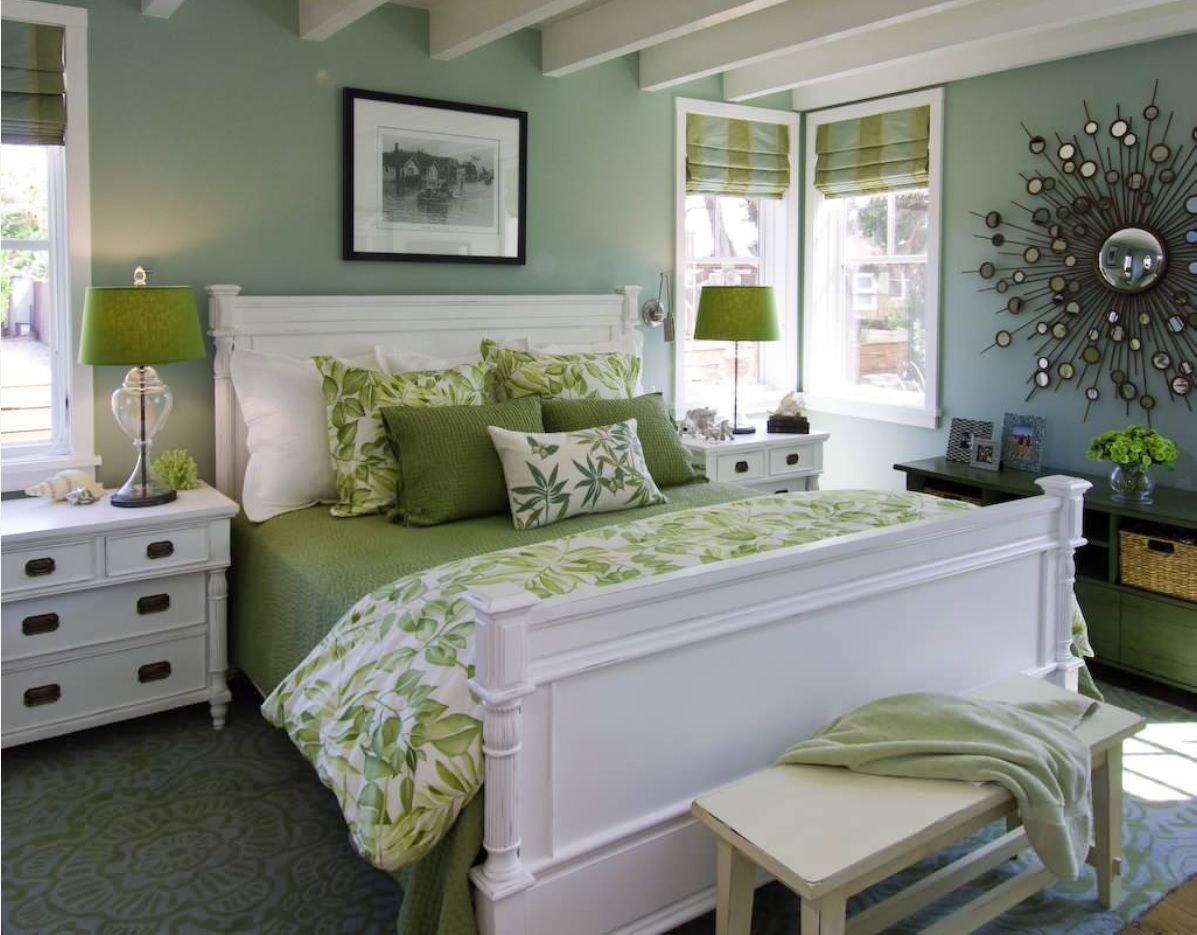 Such furniture sets are successful promoter of good mood and feeling of space in large bedrooms. It is especially true when framing king size beds or canopy beds. If the canopy frame is dark, we can expect the most amplifying effect from white furniture. Below we'll see the possibility of inscribing light furniture to almost any type of the interior decoration stylistic.