Many homeowners dream of a bright, clean and lofty image their homes. If, in addition, this allows to save minimalist style in the interior – it`s a great success. Eastern nations have much to learn in the field of home design with admirable minimalism that does not put at the expense of home comfort and convenience. Bright palette of finishes and furnishings is also preferred in this case. We would like to show you the exact white minimalistic Hong Kong apartment interior design ideas review. The spacious and bright rooms, lightness and purity of the atmosphere which is able to inspire anyone to repair or reconstruction of their own homes.
We begin our review with a photo with the central and most spacious room in the apartment – the living room, which serves as a dining area. Snow-white walls and the flooring is light wood create an incredibly clean, light, almost weightless image of the room. Furniture, too, does not stand out by contrast. Different shades of gray and beige are dominate in its design. Only the elements of lighting and wall decor serve as accent spots.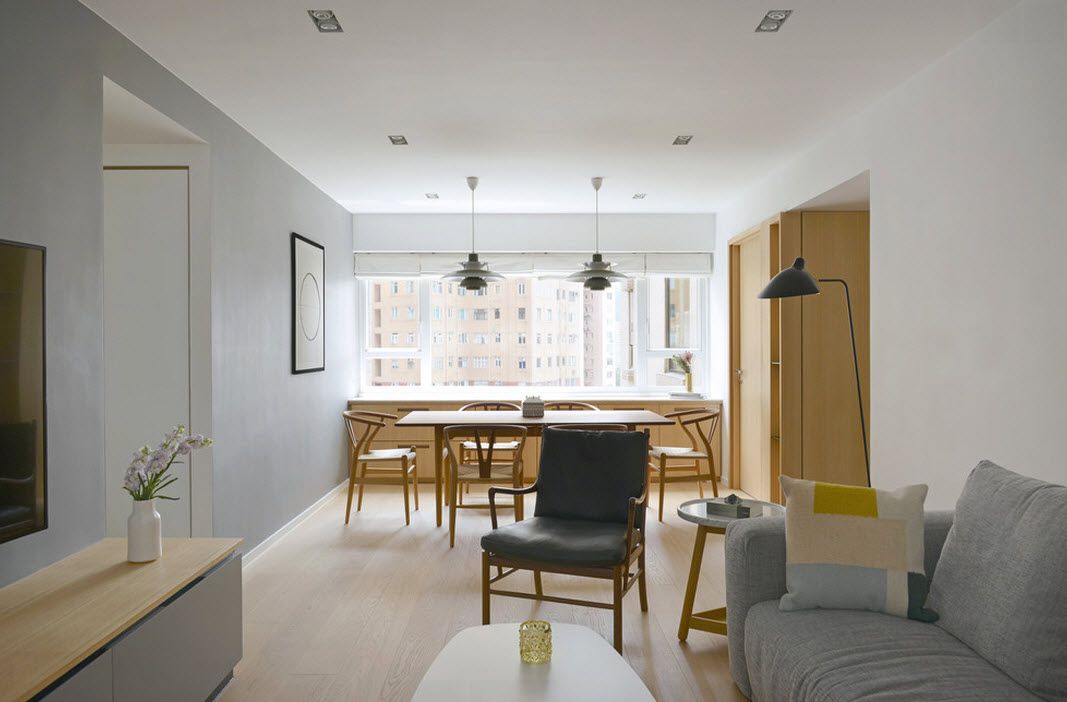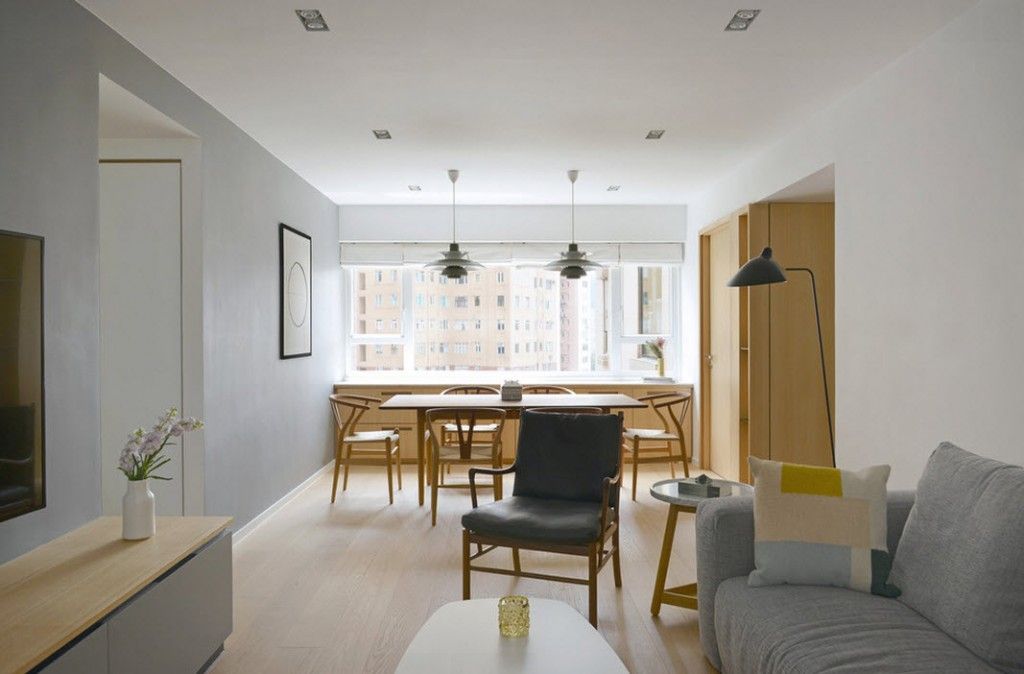 Simple, uncluttered environment, nothing superfluous are the basic principles of the interior concept of white minimalistic Hong Kong apartment interior design ideas. Big sofa with a neutral gray upholstery represents a recreation area. Together with the outdoor floor lamp and a small table-stand they form a zone for reading. Video area located opposite the rest zone consists of and a small built-in storage with bright surfaces. The living room is incredibly light and even austere but it is not devoid of comfort and coziness. Its image shines with purity and airiness.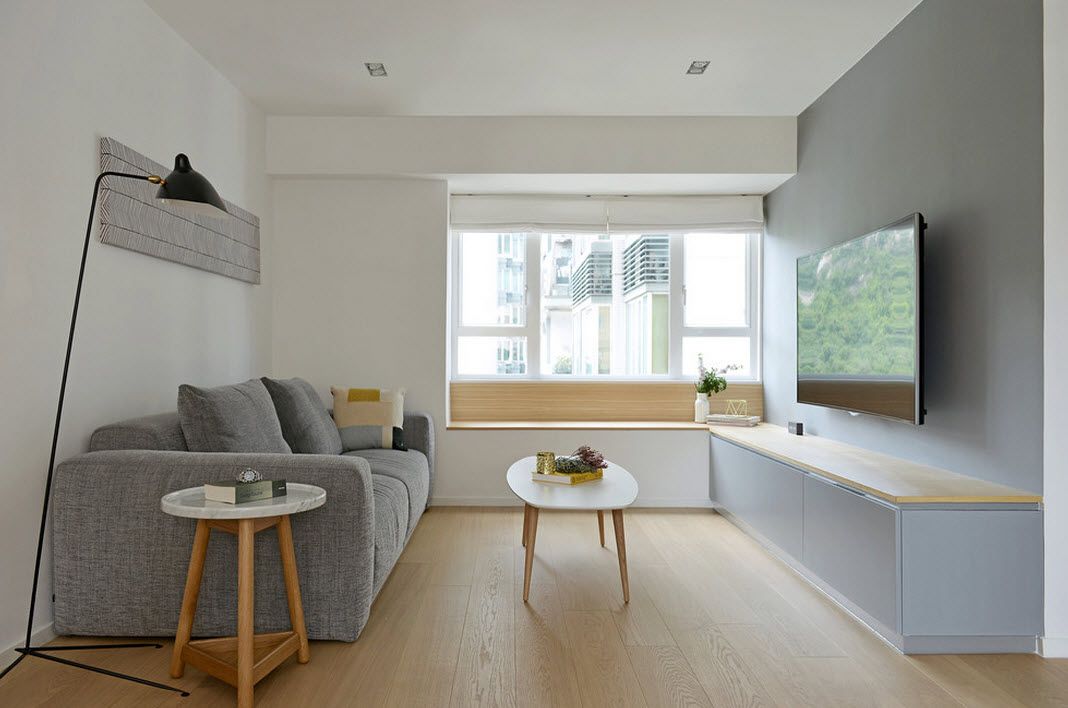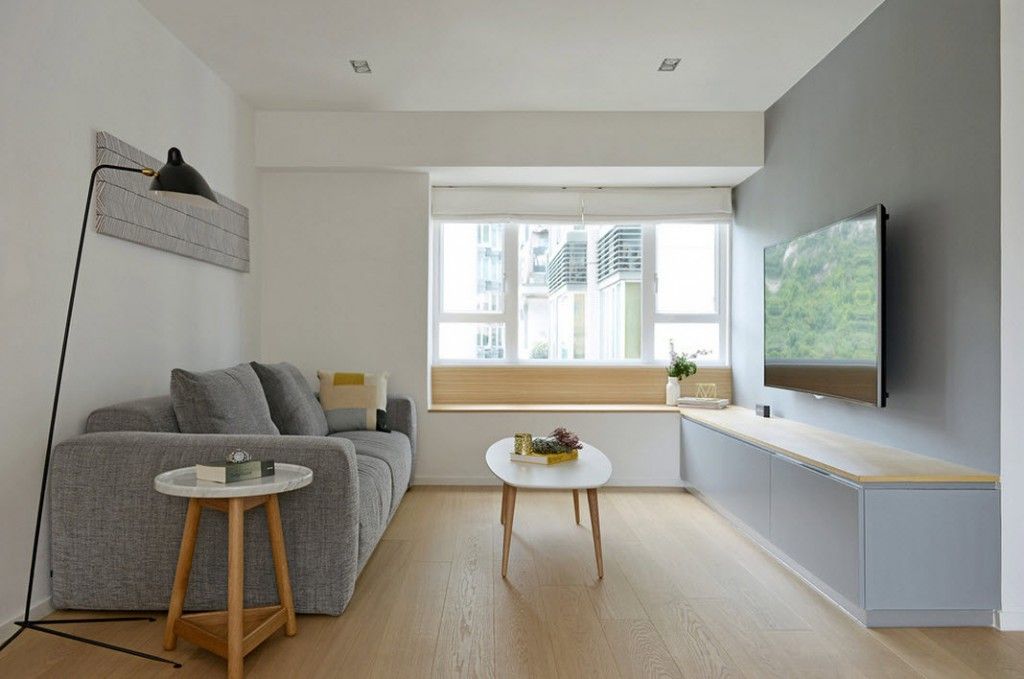 The low coffee table with a snow-white top and wooden legs has become a great addition to the recreation area of the living room. It is hard to find a massive, heavy furnishings in the apartment. All the pieces of furniture seem easy, almost weightless, and, as a result, the whole impression of the room consists of one air image.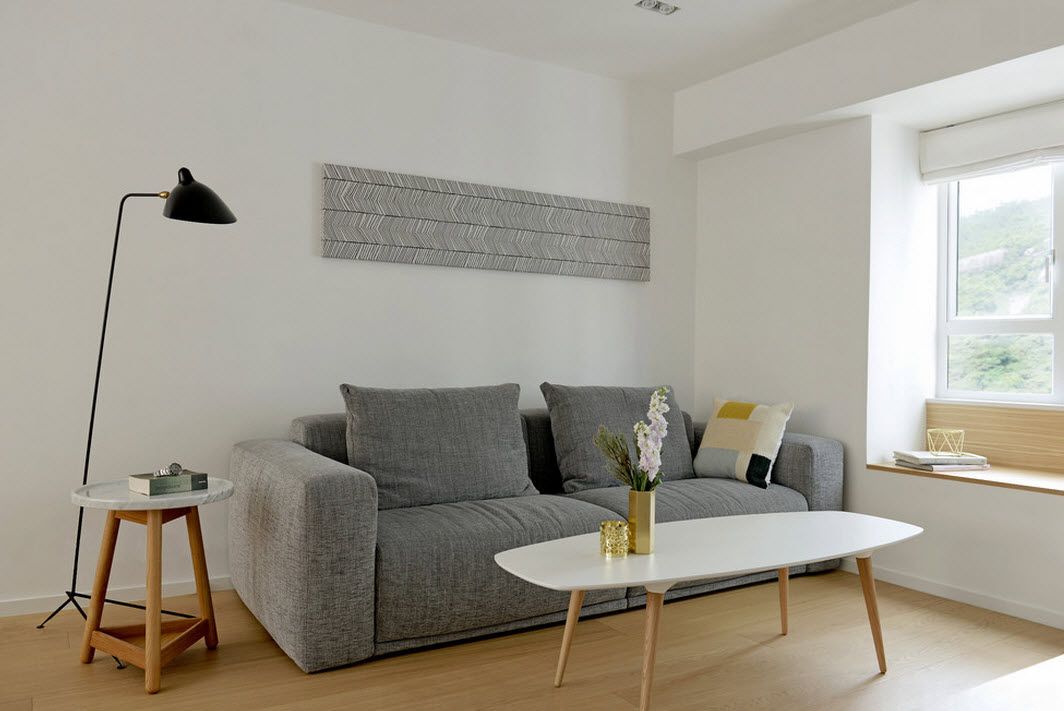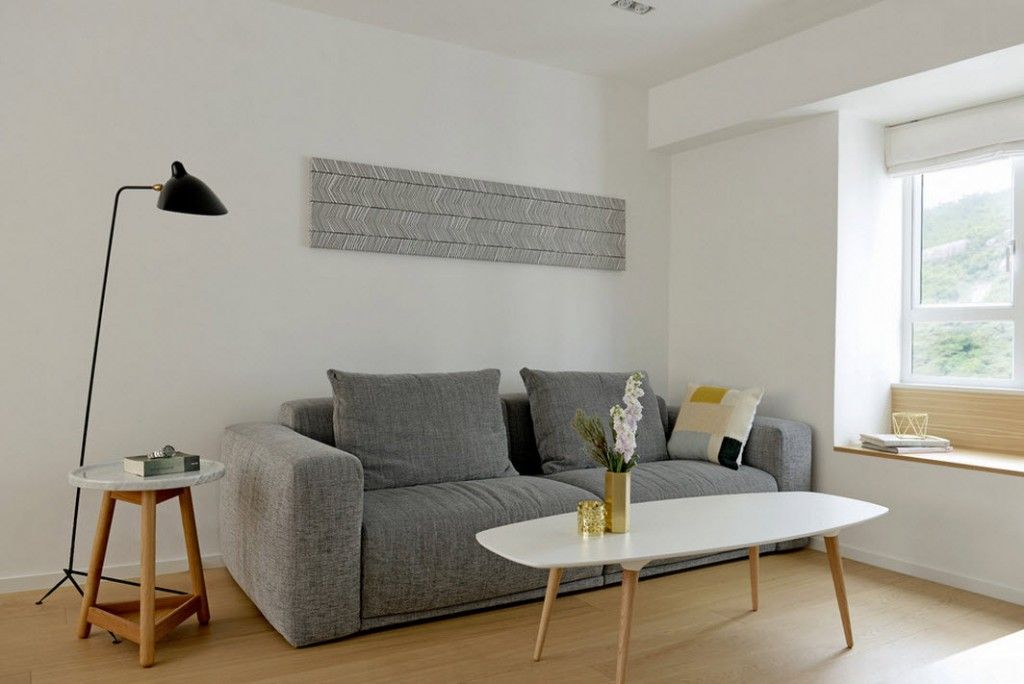 One of the few dark spots in Hong Kong flat is seat with wooden frame and black upholstery of back and seat. These dark, contrasting interior items are necessary for our vision to focus attention. It is hard enough to be in a completely bright room for a long time.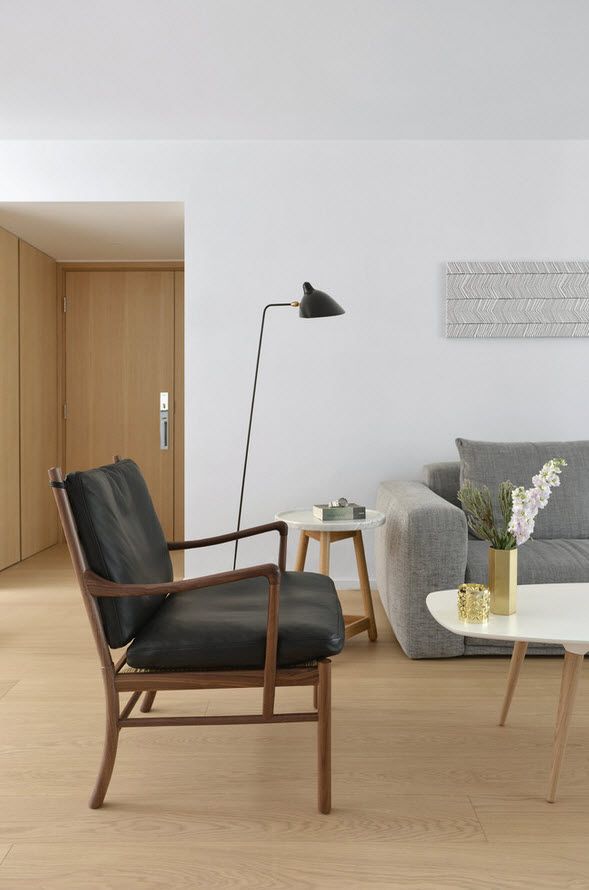 White minimalistic Hong Kong apartment interior design ideas. Dining room arrangement
Dining area, located at the opposite end of the room, is represented in no less concise version. Spacious dining table and chairs made of wood of different types are the main elements of interior. A practical design solution was the placement of storage space under the windowsill, which was extended to the entire width of the room. The sliding and hinged lockers can store dishes, cutlery, tablecloths and napkins – everything that can be useful in table setting for dinner with family and friends so and for a reception too.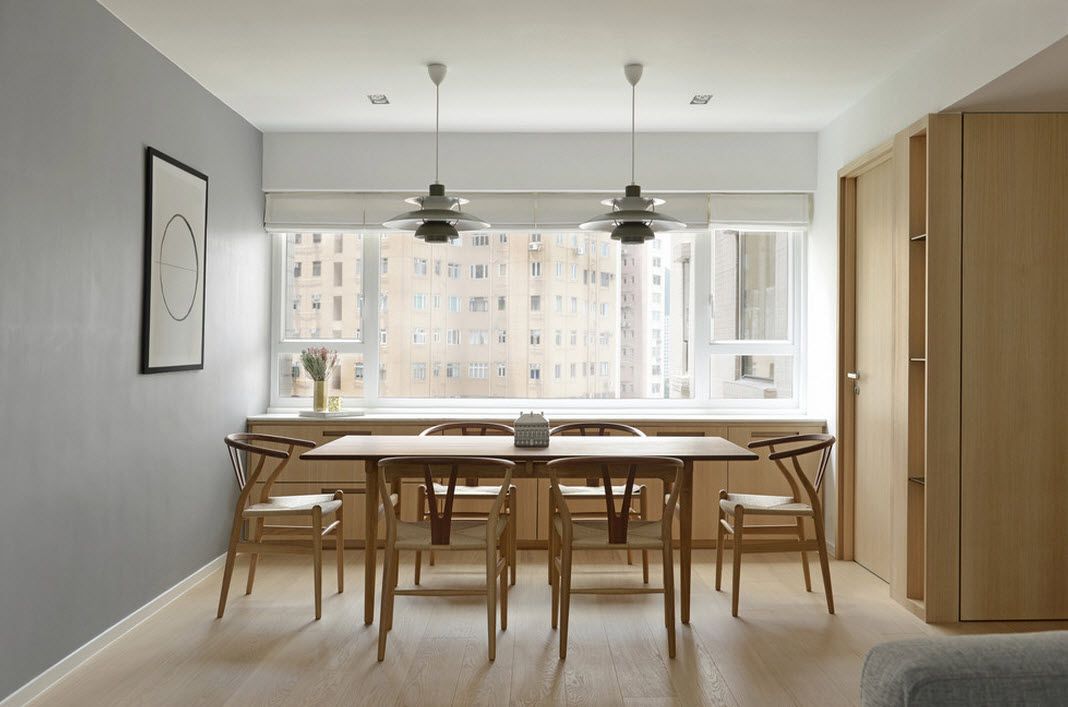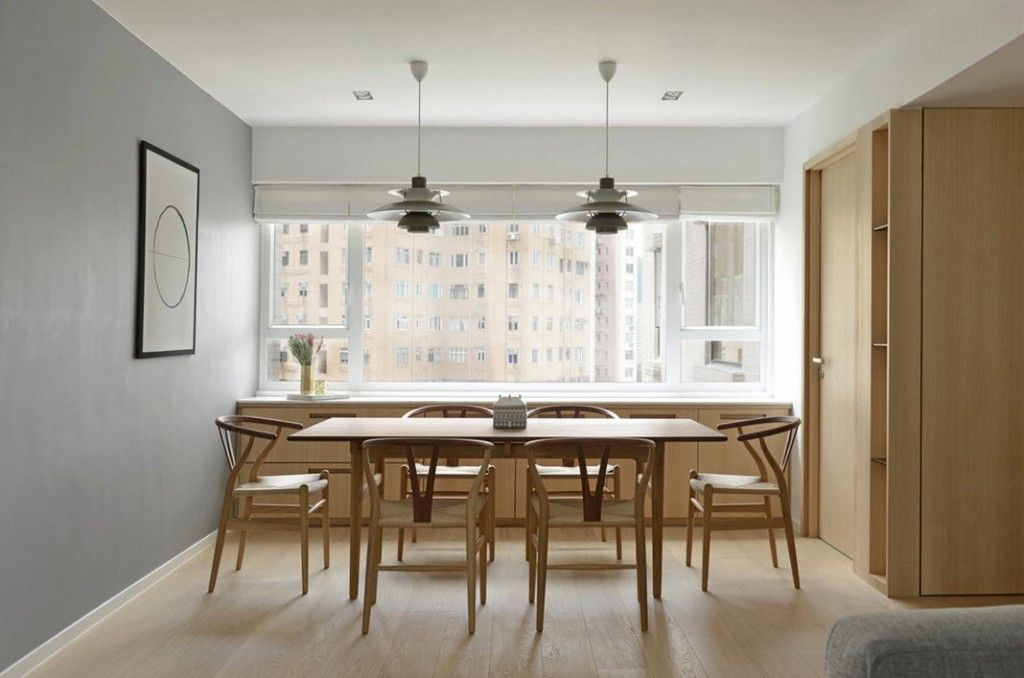 A pair of originally designed pendants are rounding out the image of this functional segment. But even in the design of lighting designers do not allow themselves liberties and select strict and fairly simple models of chandeliers.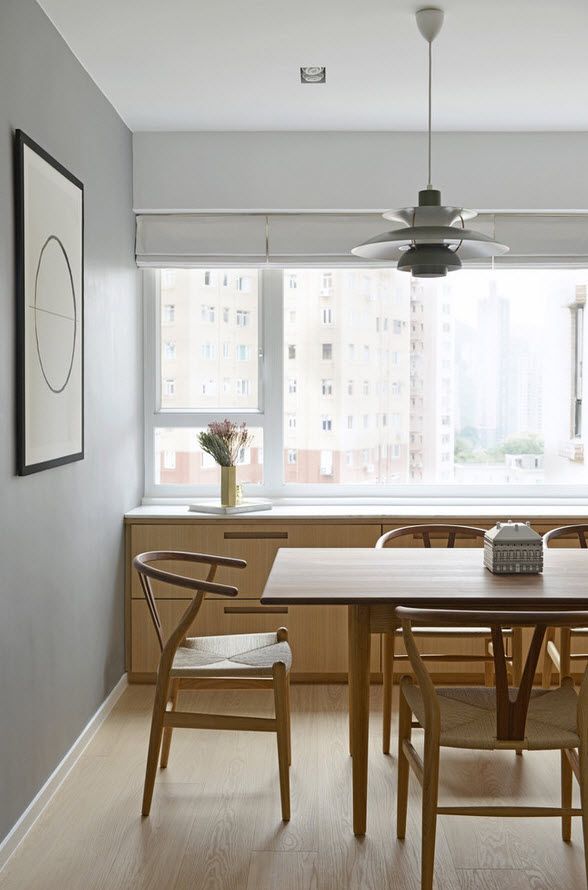 Wall decor throughout the apartment and in the dining room in particular. It is represented with a very modest range of the color palette and simple patterns in terms of artistic expression. But such works of contemporary art bring clarity to the image of the geometry of the room, creating a center of symmetry and can even zone the space, albeit very tentatively.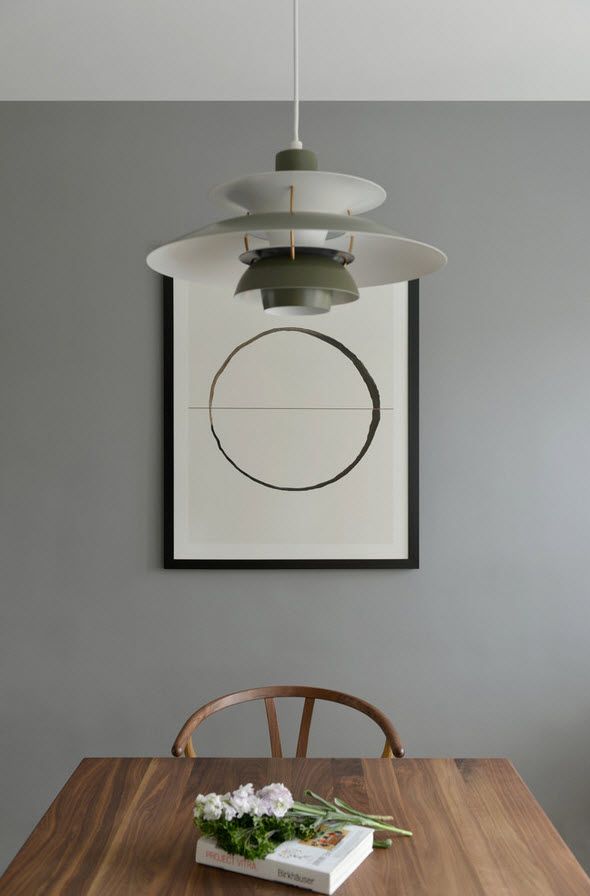 White minimalistic Hong Kong apartment interior design ideas. Galley kitchen
There is the kitchen space in walking distance from the dining room. Specificity of room for cooking dictates the appropriate location of kitchen units. In the narrow and long room it was ergonomically to accommodate a single-row layout of the storage systems, domestic appliances and work surfaces. But with such an arrangement of galley kitchen furniture can accommodate a sink near the window that for many hostesses is an unattainable dream.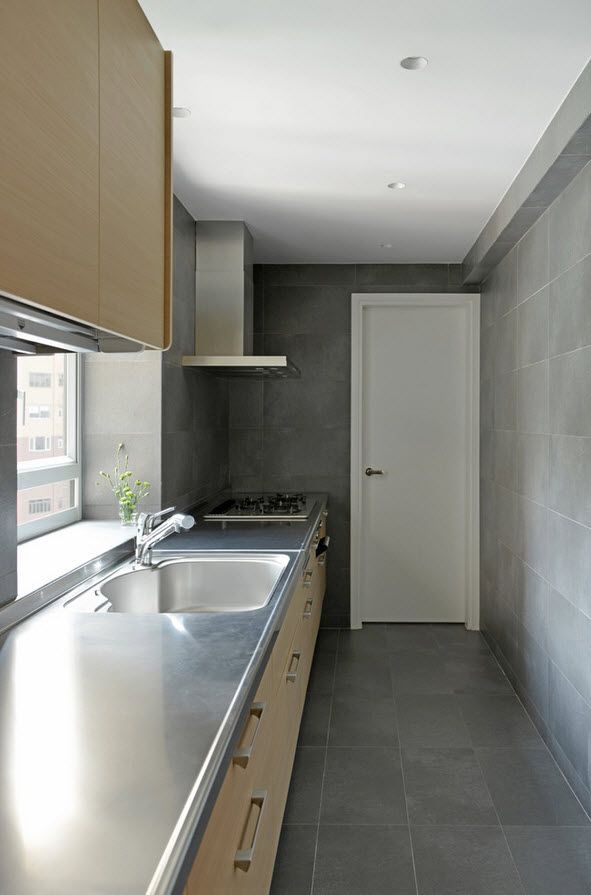 Again, we see a laconic combination of gray and white shades with light wood in the premises. Steel shiny surfaces of household appliances and countertops effectively complements the selected color.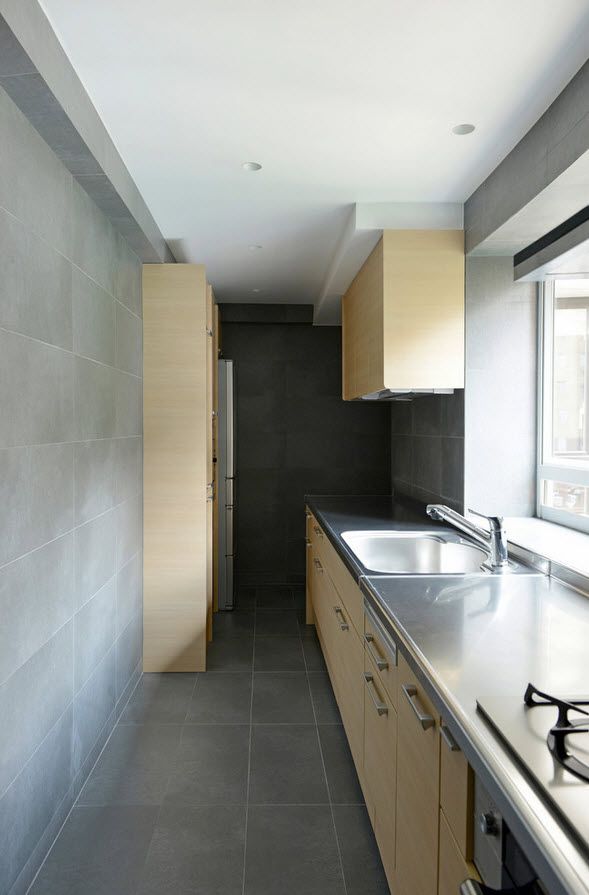 White minimalistic Hong Kong apartment interior design ideas. Wooden bedroom
Then we move to the nor less spacious and bright bedroom space. Of course, the bed with a cushioned headboard and original design of the bedside table, which is part of the bed frame is a central piece of furniture and all-consuming focal point in the room for sleep and rest.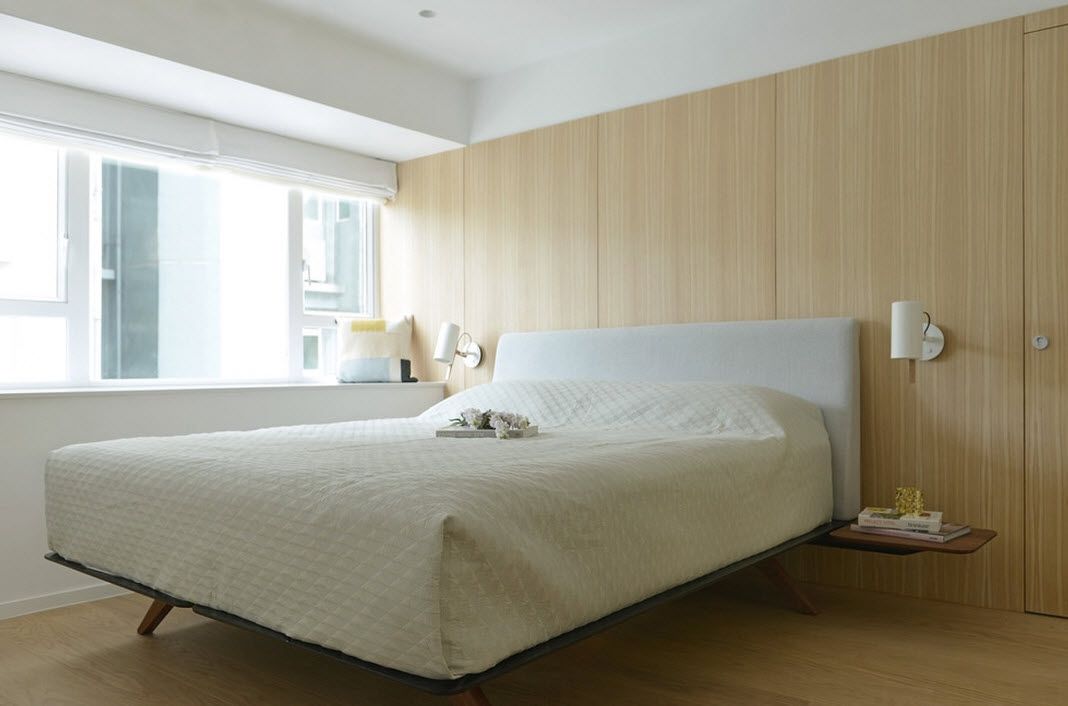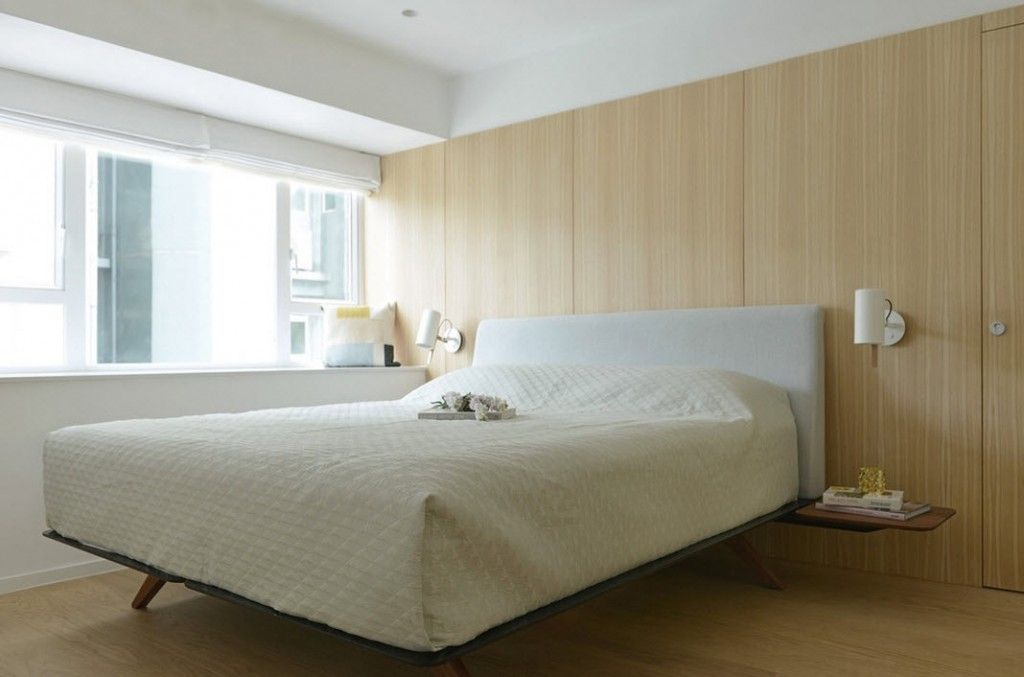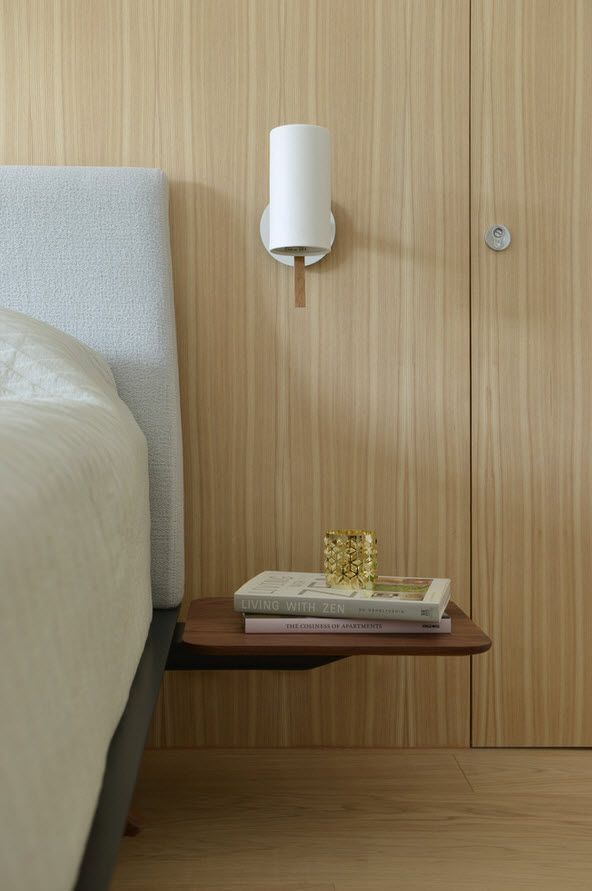 Wall panels made of light wood serve as accents in the bright bedroom and effectively mask the door to the bathroom. Also their surfaces successfully hide communication system – the wires to the wall sconces.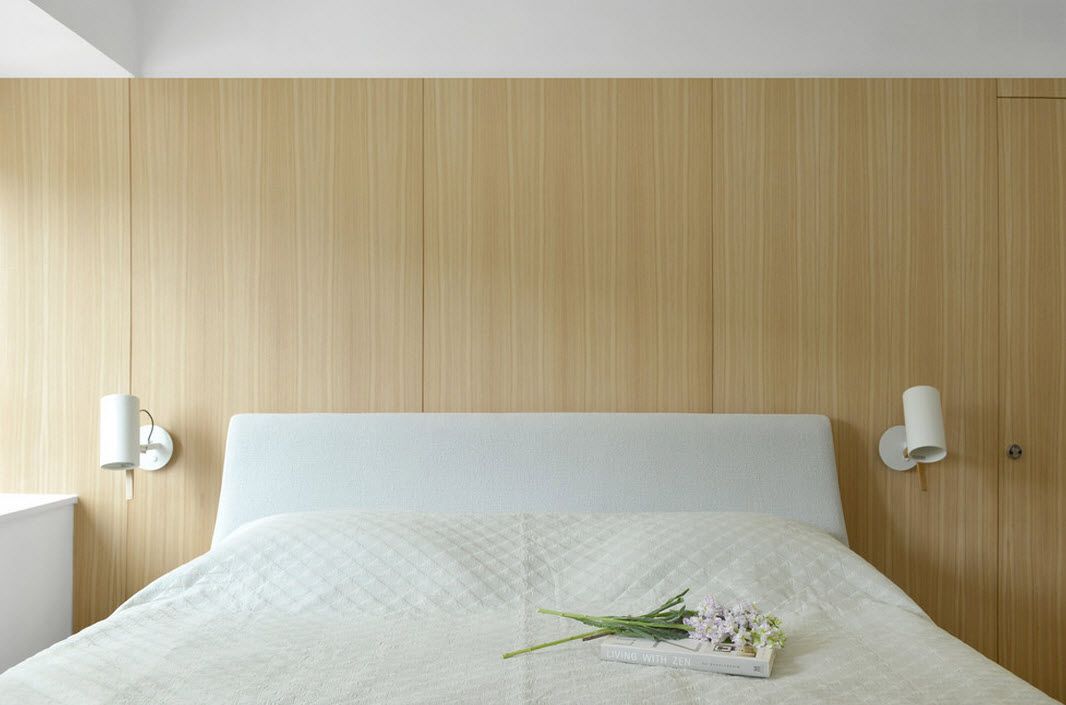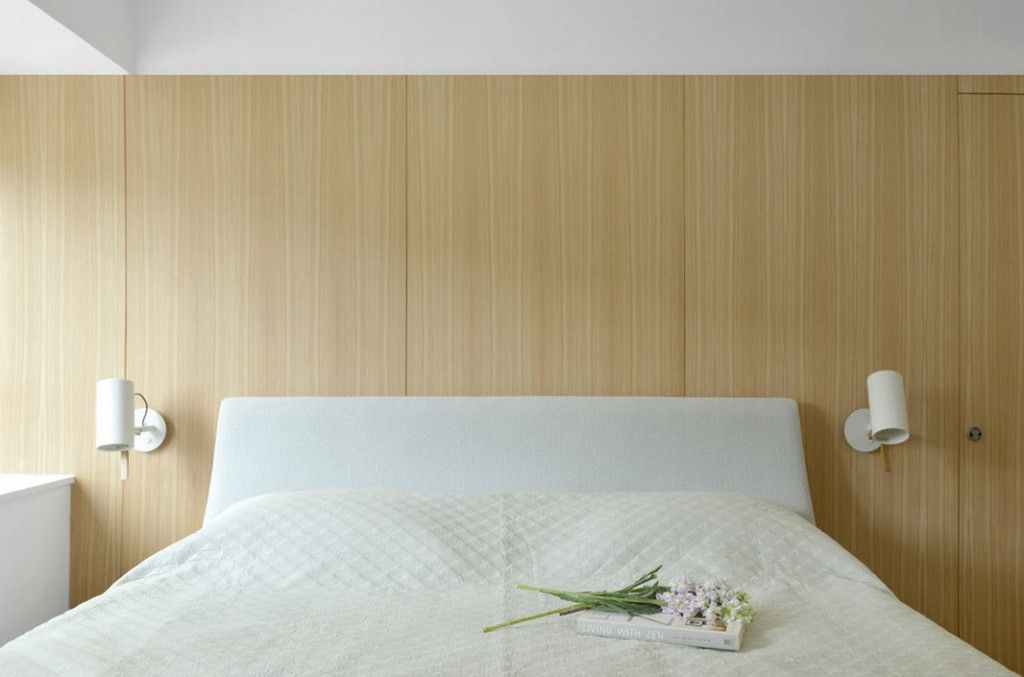 The snow-white finish is perfect way for creating a calm, relaxed atmosphere. White color not only soothes the emotions, adjusts to relaxation and rest, but also allows you to clear up your thoughts, to prepare for a calm and deep sleep.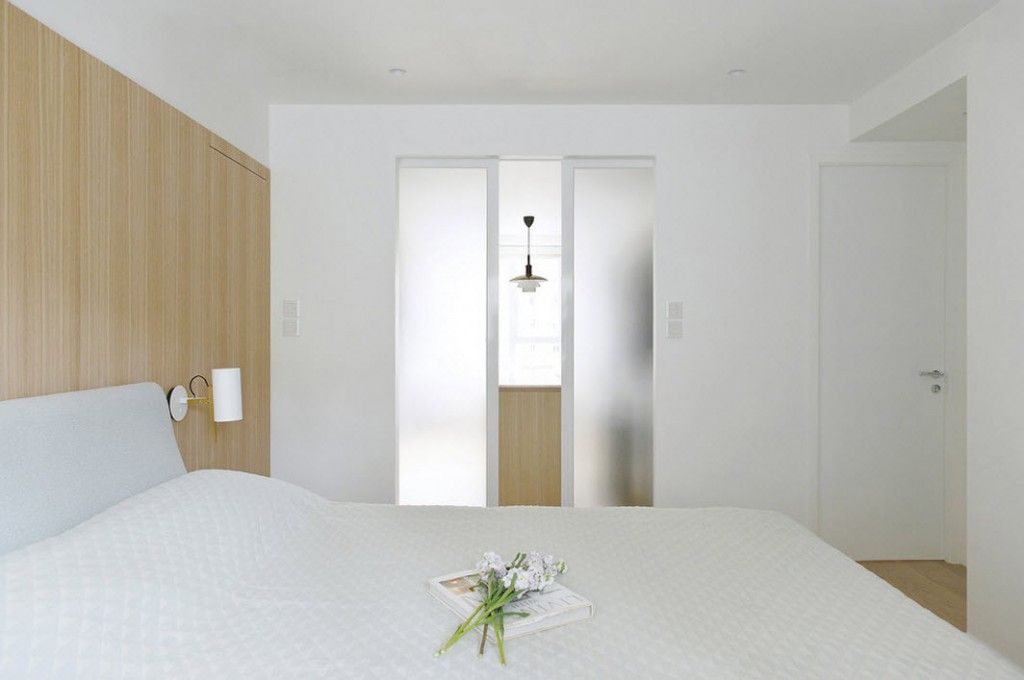 There is a dressing room behind the sliding doors of frosted glass. That is incredibly convenient in terms of saving time in the morning.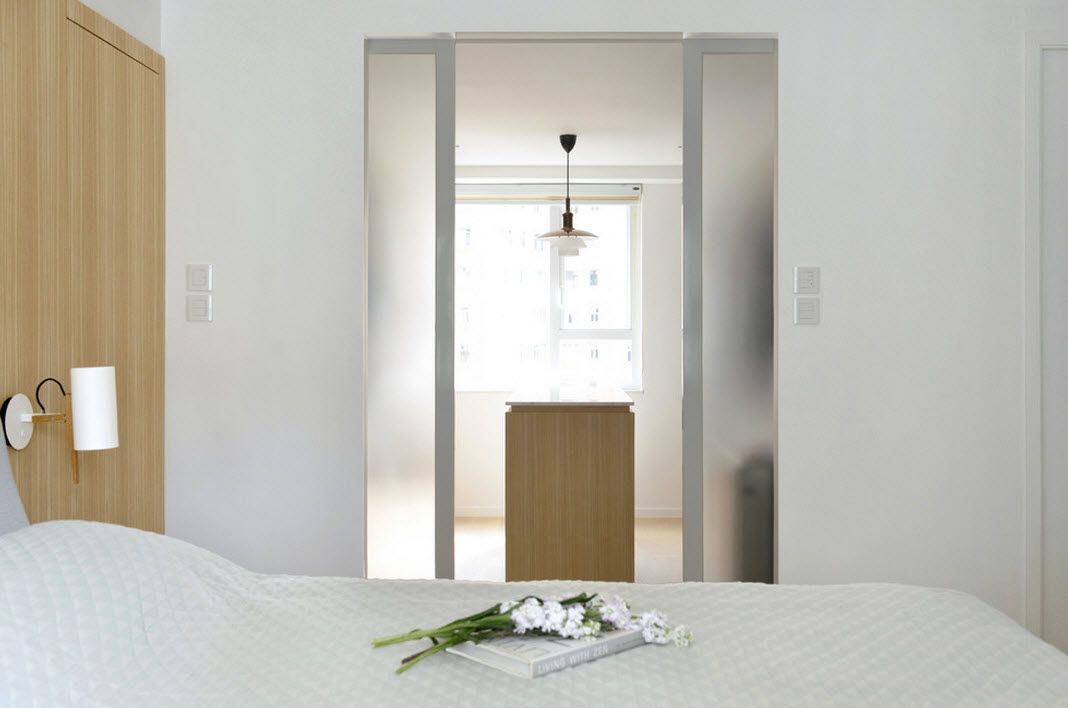 There is already familiar to us the snow-white finish combined with the equally familiar furniture of light wood in the dressing room. Open cabinets with rods are great for storage of different types of clothes. And a wardrobe island is a great opportunity to not only create additional capacity for the location of accessories and shoes but also roomy stand for bags, jewelry and other small items.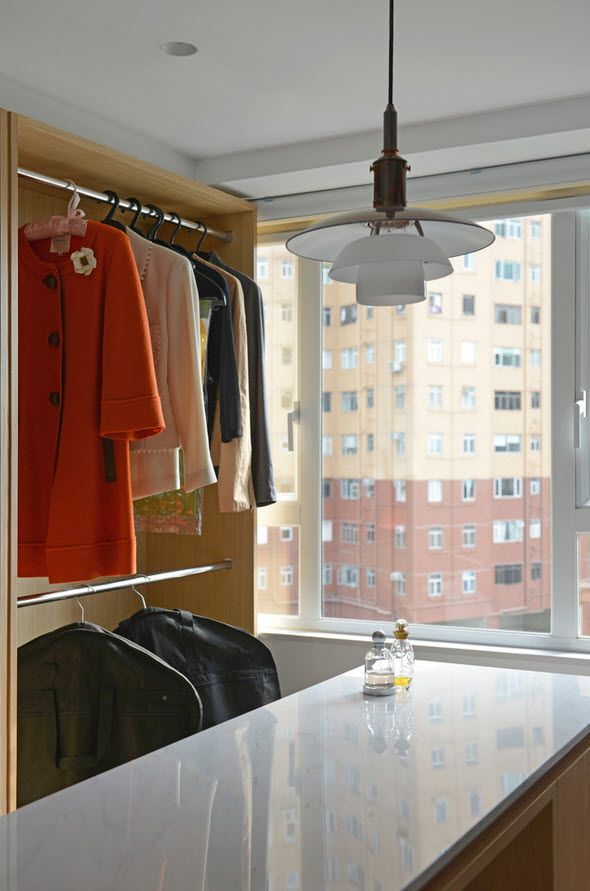 White minimalistic Hong Kong apartment interior design ideas. Bathroom design
In the arrangement of the bathroom designers have not deviated from the main decisions of colors that were shown throughout the apartment – white surface, light wood furnishing and gray color for countertops and flooring. Only ornamental ceramic tiles which lined the shower space variegates the color palette utilitarian room.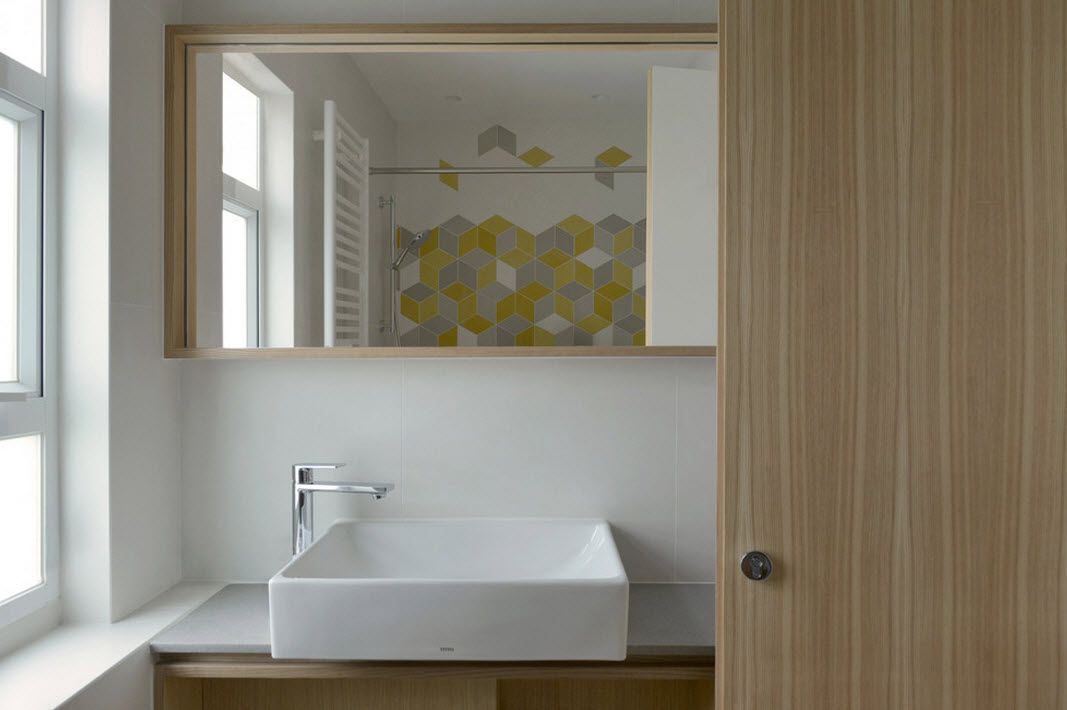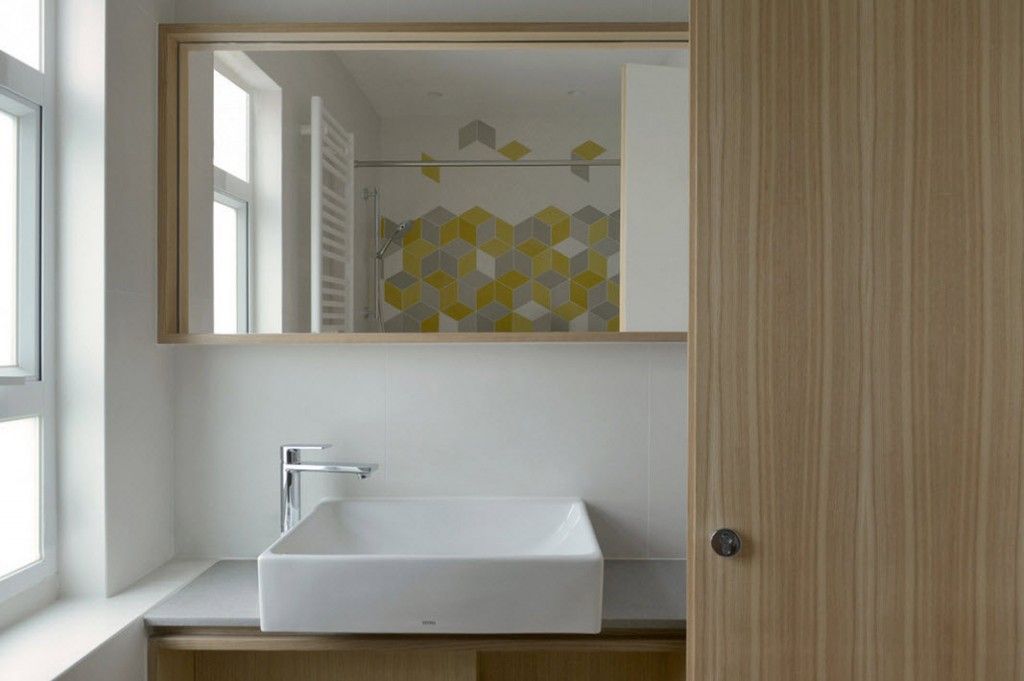 Affection for a simple and concise forms, precise geometry and minimalistic surroundings was at the forefront in decorating of a white bathroom.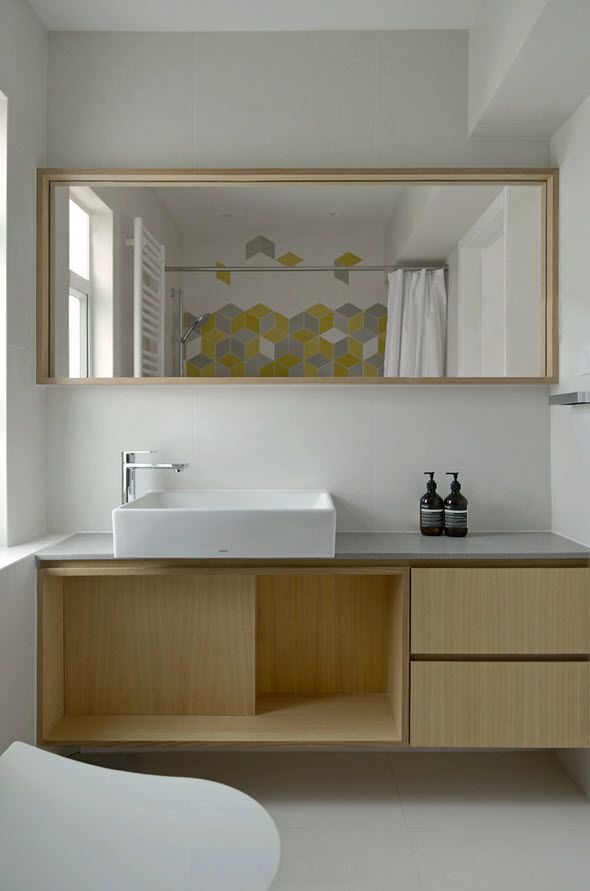 The second bathroom is decorated with an even more rigorous approach to the interior of the utilitarian premises. Totality of white color is broken by timber storage system only.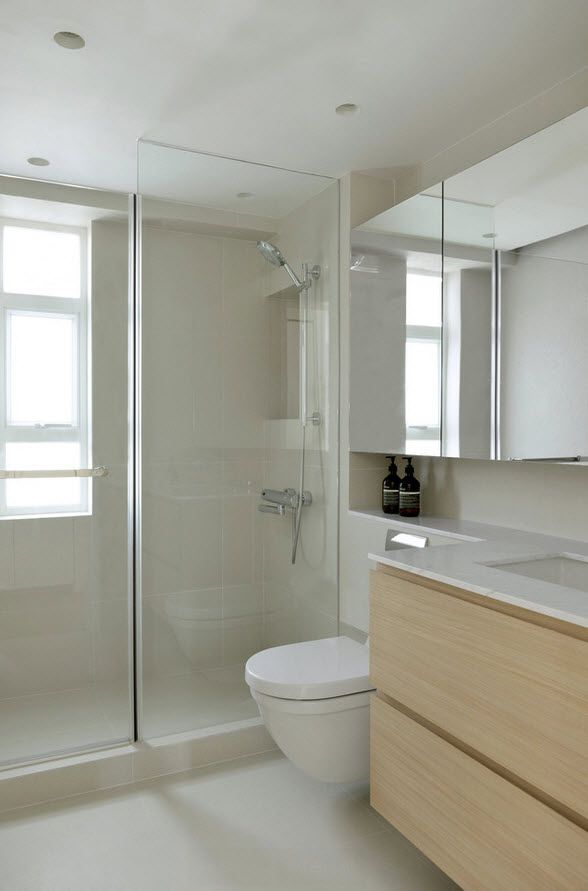 Home office interior ideas
Only in the home office space we see a departure from the execution of monochrome walls and the use of wallpaper with prints. But this small room space is still light and perceptually easy. The white surfaces being interspersed with light wood furnishings create an incredibly fresh and easy image.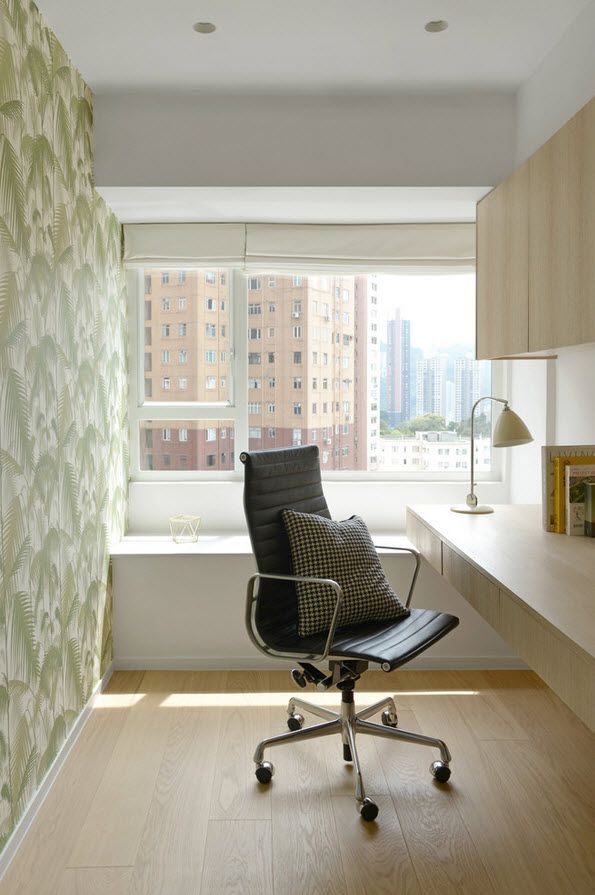 In their pursuit for minimalism designers try to achieve perfection. Absolutely smooth cabinet fronts, a minimum of decoration and only practical elements of the interior, the almost complete lack of textiles, Roman blinds for windows decoration are the main features of the white minimalistic Hong Kong apartment interior design ideas.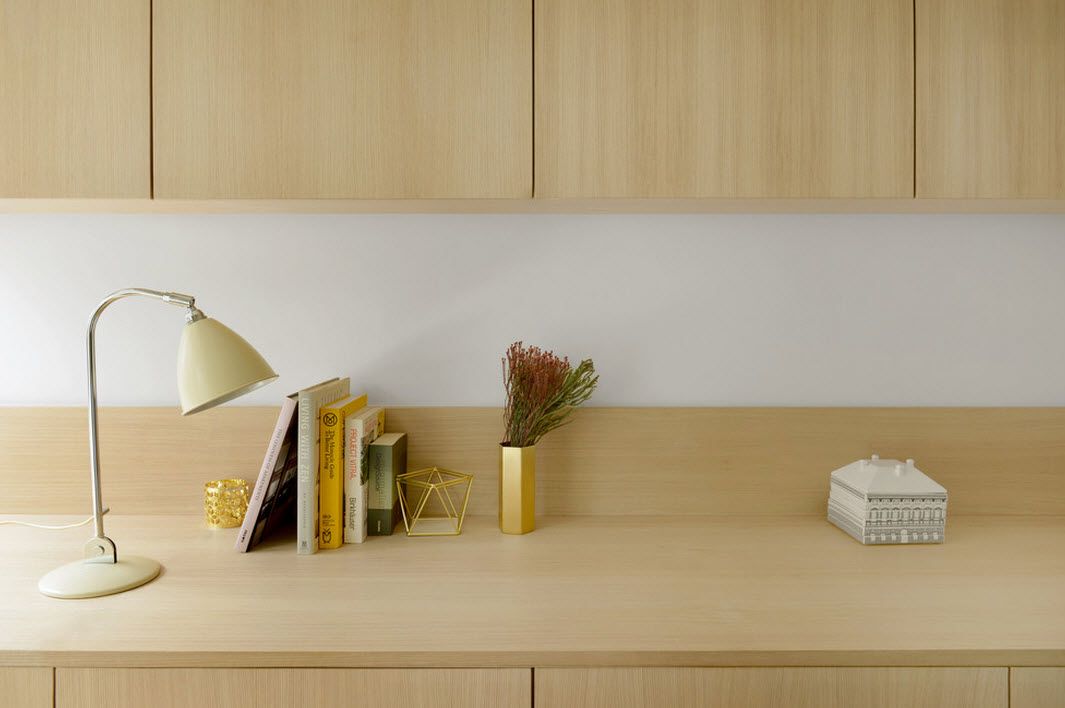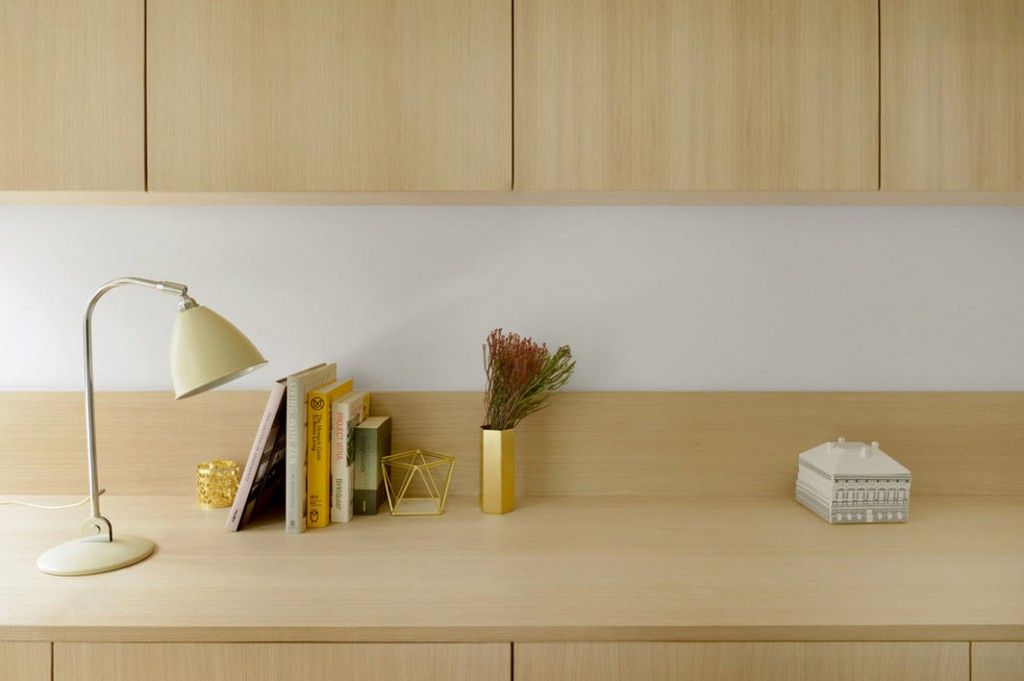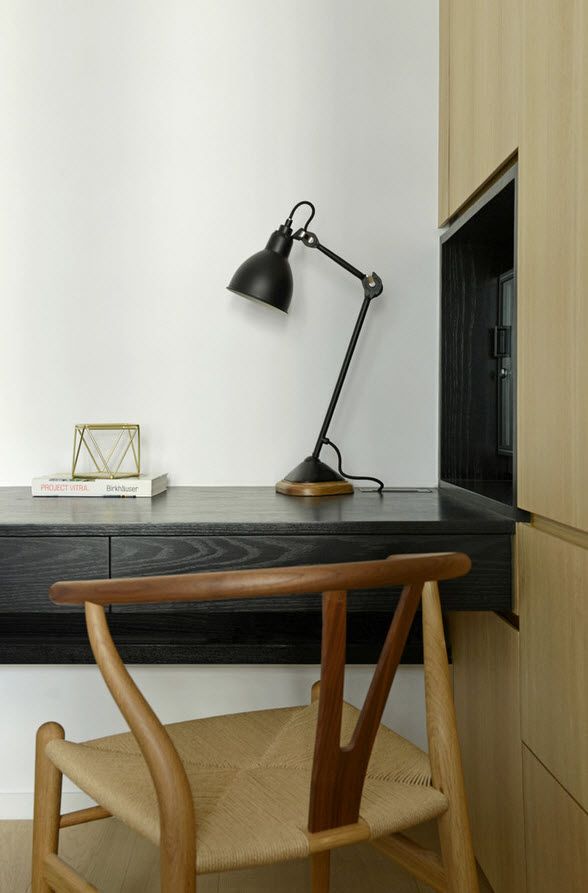 By materials from http://www.remontbp.com