Beautiful, stylish furniture is an integral part of the modern interior. Nevertheless, it does not necessarily have to be too expensive. Moreover, many interior styles imply the use of unusual materials to create original furniture. These can be pipes, pallets and even the simplest boxes. They are easy to use and do not require a lot of money and time. Let's review how we can use simple wooden boxes for storage as effective DIY furniture ideas.
DIY Rack of Drawers
Perhaps the most ideal material for creating your own original rack is simple wooden boxes. Unlike the classic version, they have several advantages. Firstly, they are quite cheap, so everyone can try to implement such an idea. Secondly, wood is an environmentally friendly material that can be used in any room and even in the nursery. But still, it must be cleaned from dust and burrs. In addition, the boxes allow you to create a fairly large structure, which is ideal for storage.
As for the style, this furniture looks best in the interior with elements of country, loft or rustic styles. After all, it is for them that the simplicity and use of natural materials are most characteristic. Therefore, wood in this case is an ideal option for creating a rack and other furniture.
A rack of wooden boxes is often used as a partition. By using it, you can make the zoning of the room and visually place accents.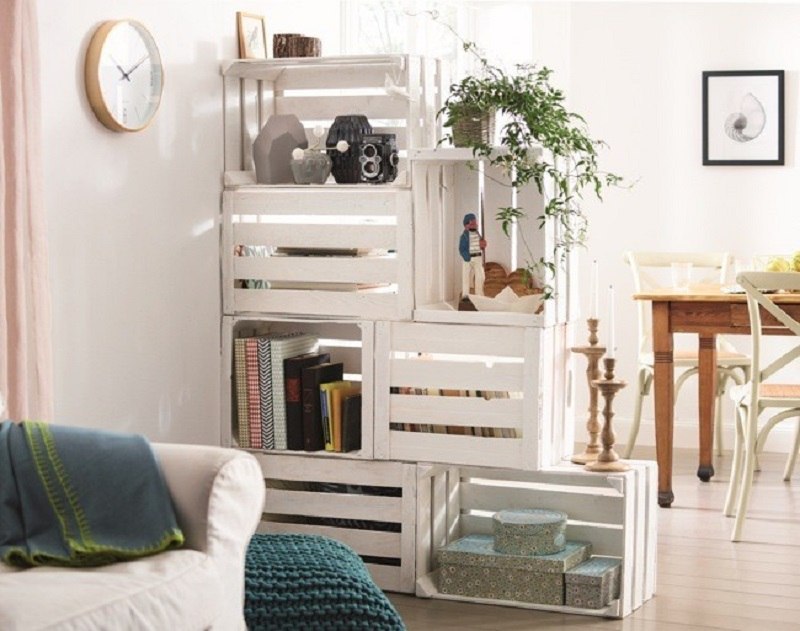 To make such a DIY design, we will prepare the following materials:
wooden boxes;
sandpaper or sander;
white paint (optional);
brush;
screws;
screwdriver;
rag or napkin.
First of all, you need to clean all the boxes from dust and dirt. If necessary, use a damp cloth or cloth. Only after that you can proceed to the surface treatment with sandpaper or grinding machine. This is necessary in order to remove all irregularities, roughness and burrs. Therefore, do not skip this stage in any case.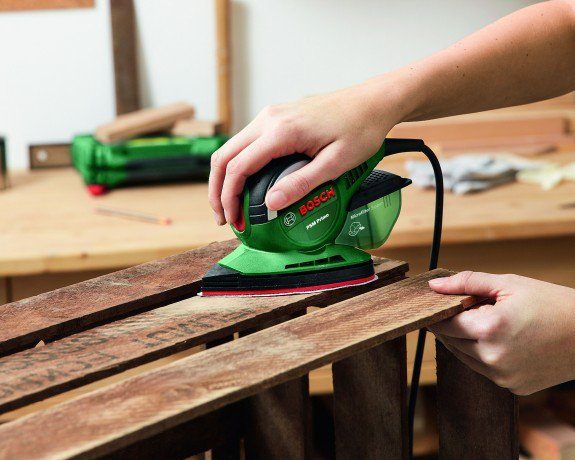 If desired, paint the entire surface of the boxes with white paint and leave to dry completely.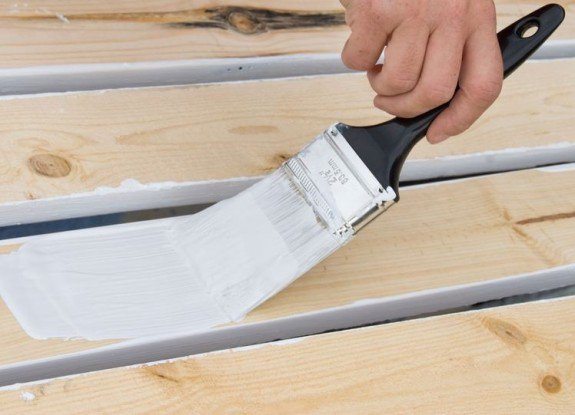 We connect the elements of the structure to each other with a screwdriver. Please note that the boxes can be set in different directions. This will make the rack even more original and functional. In addition, it can be used on each side of the room.
By the way, designers often leave boxes unpainted. In their opinion, the obvious drawbacks of wood in the form of scratches and irregularities are, in fact, advantages. After all, they give the furniture a special charm.
Such racks are very convenient to use, so they are placed in a variety of rooms. Most often, of course, such wooden structures can be seen in the living room. Since they are open, elements of decor, plants or books look great in them. In general, all the little things that help create a cozy atmosphere are fit.
Also, wooden racks are used in the bathroom. This is a great option for storing towels and various body and face care accessories.
Wooden racks are a little less used in the kitchen. Often this is due to the fact that everything in this room should be as functional as possible. But if the dimensions of the kitchen allow, we can recommend trying out such a design of the boxes. It is ideal for storing of various glasses, dishes and decorative items.
If desired, you can install a small rack in the hallway. It will look no less stylish than the usual shelf for shoes or a closet.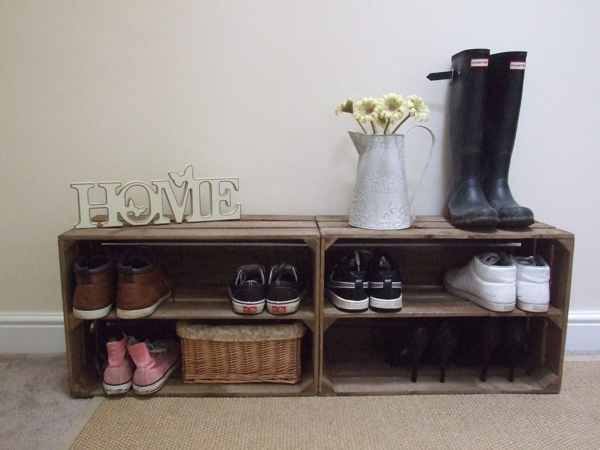 Padded stool and shoe box
In small apartments the hallway needs to be organized as functionally as possible. Therefore, we propose to make a very unusual design. That is, interconnect the pouf and stand for shoes. This saves a lot of space and allows you to properly organize it.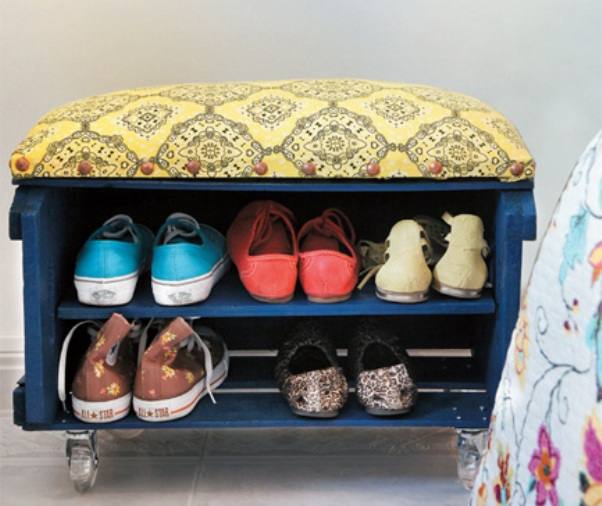 For work you will need the following:
wooden box;
a piece of thick fabric;
sandpaper;
filler;
plywood sheet;
castors – 4 pcs. (if desired);
screwdriver;
bolts;
acrylic paint;
brush;
construction stapler.
We cut off the plywood of the required size. From two sides we attach a piece of fabric with a construction stapler. Fill the space with the filler, evenly distributing it. Secure the fabric with the remaining sides. This will be the seat for the future ottoman.
Be sure to process the wooden box with sandpaper. This will help get rid of various surface bumps and clues. Only after that we paint the box with a suitable paint color. To do this is not necessary. If you like natural wood, then just polish the surface.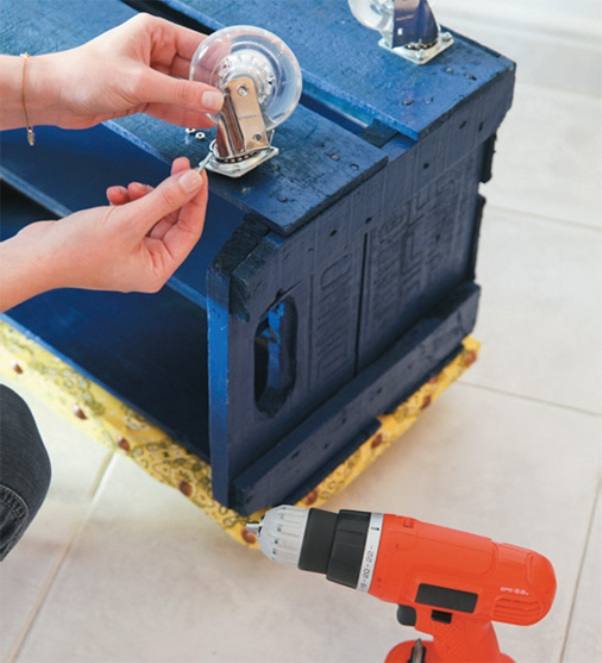 After the surface is completely dry, we attach the castors to one of the sides of the box. We use for this screws and screwdriver.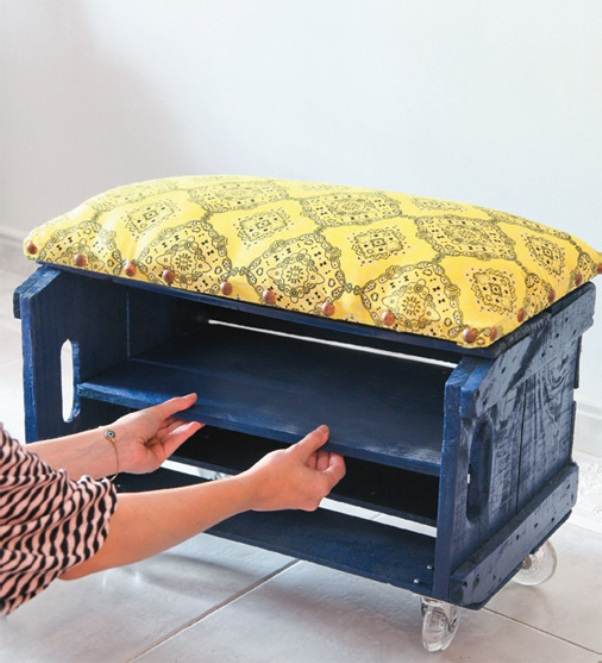 Attach a soft blank to the surface of the box and. If desired, decorate it with buttons. Beautiful, unusual ottoman with a shelf for shoes ready.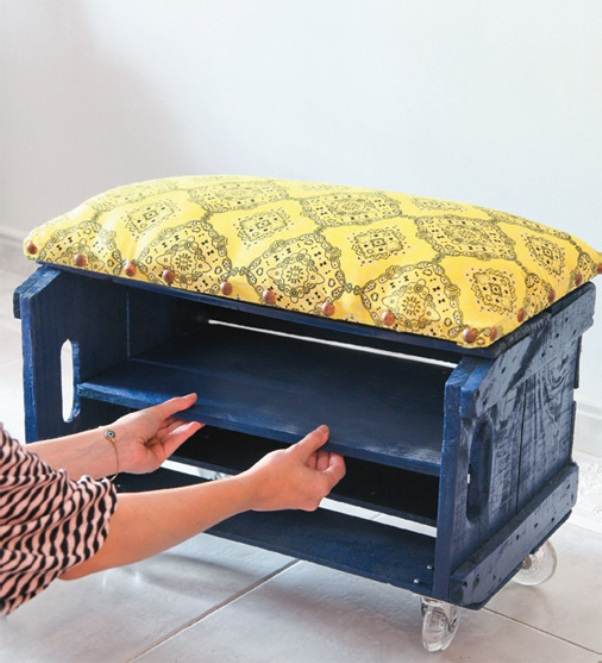 Box for Small Things or Toys
Of course, the drawers are great for making furniture. Nevertheless, they can be used for its intended purpose. To make them more original, we suggest adding unusual elements and decorating them.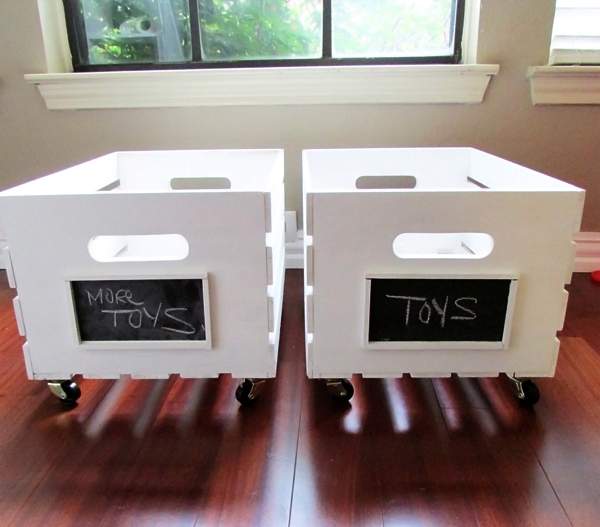 Prepare the following:
boxes;
wheels;
sandpaper;
paint white;
brush;
glue for wood;
screws;
screwdriver;
chalk board.
To begin with, treat the entire surface of the boxes with sandpaper. Only after that we apply paint and leave it until completely dry.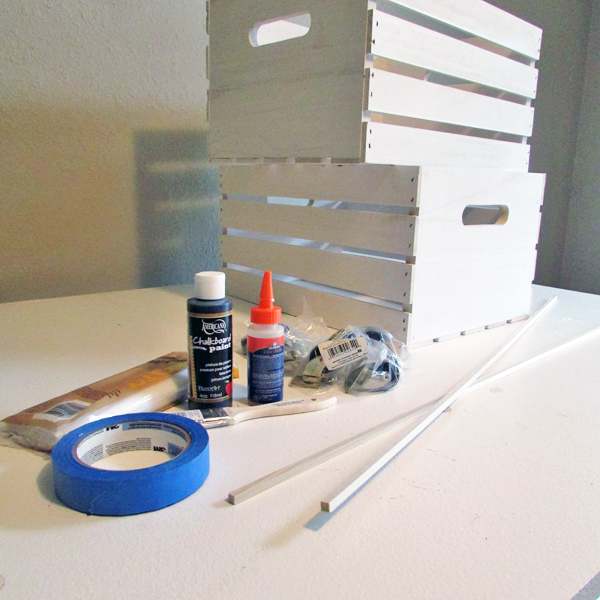 Attach the wheels (castors) to the bottom of the boxes with a screwdriver and screws. Turn over the construction and glue the chalk board to the side. The result is a simple but at the same time original box for toys and various trifles.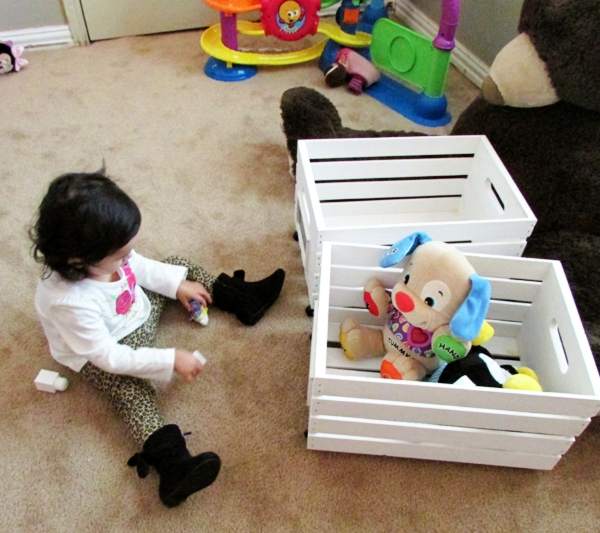 Furniture from drawers in the interior
Simple wooden boxes are an excellent base for creating amazing interior items and functional furniture. Experiment, be inspired by ideas and create unique designs that will decorate your home.