Construction is a unique industry…
Compared to other fields of work like medicine, finance, and law who need the most up-to-date tech, construction is practically still in the 20th century.
That's about to change though. As we start the next decade the whole construction industry will become more modernized and many more people will start construction companies, have a software, outsource their estimating, etc.
Using technology to both replace the work people do and to make their lives easier will become the trend.
So, we did some research and compiled a list of the top construction technology trends for 2020.
Let's dive right in.
Drones
Drones have been along for a while.
Most of the drones you've probably seen are the little plastic toys your kids play with, but we can assure you these have a lot more potential than you might think.
The one's we're talking about look a little something like this…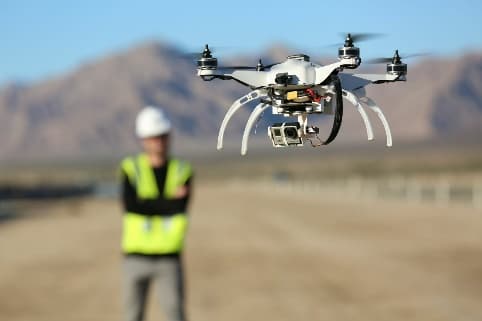 To make this work, you would first need somebody on the job who actually knows how to fly it smoothly (unless you want it to end up falling on someone's head)
Then, either set up the camera on the drone or attach it if necessary, and then just fly it up.
It's important to note that there are different kinds of software designed to help drone users get more insights with the job sites but essentially its main function is to observe from a clear viewpoint exactly what's happening on the job.
Drones are a cheaper, simpler way to get the perfect aerial view of the job site so you can better understand what's going on and be THAT contractor everyone turns to when they need something.
Modular and Prefabricated Construction
Just in case you need a little refresher on what modular construction is, you're installing parts of a house/building that are already pre-made onto
You're just plugging it in and doing some work around it, but the bulk of the structure is already there so the work required is minimal.
It looks like this…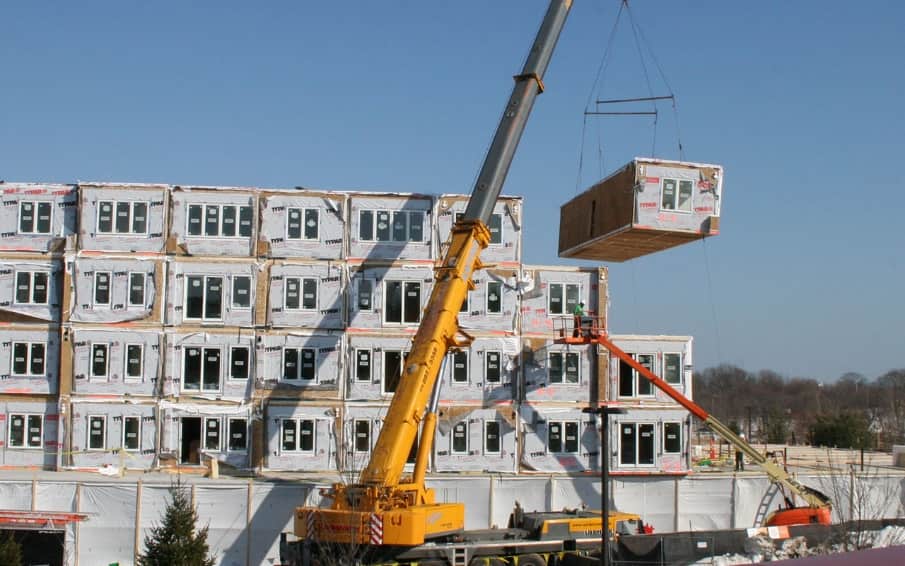 This method drastically reduces costs for most construction projects and makes jobs much easier to manage.
Which we're sure contractors will greatly appreciate.
So, we're sure you can already see the potential benefits of this going mainstream.
Construction Management Software
This is something many construction companies are already picking up on.
It's one of the most construction related searches on Google, tons of people are starting to see the advantages of software that helps them run their business and ensure that projects are bid and ran smoothly.
It's becoming so that in order to even participate in the construction industry you need to be using online software, this is a good sign that construction is finally becoming modernized.
There are tons of different kinds of software out there for you to use, some are more focused on client management, some are more for project management.
Here are some popular options out there…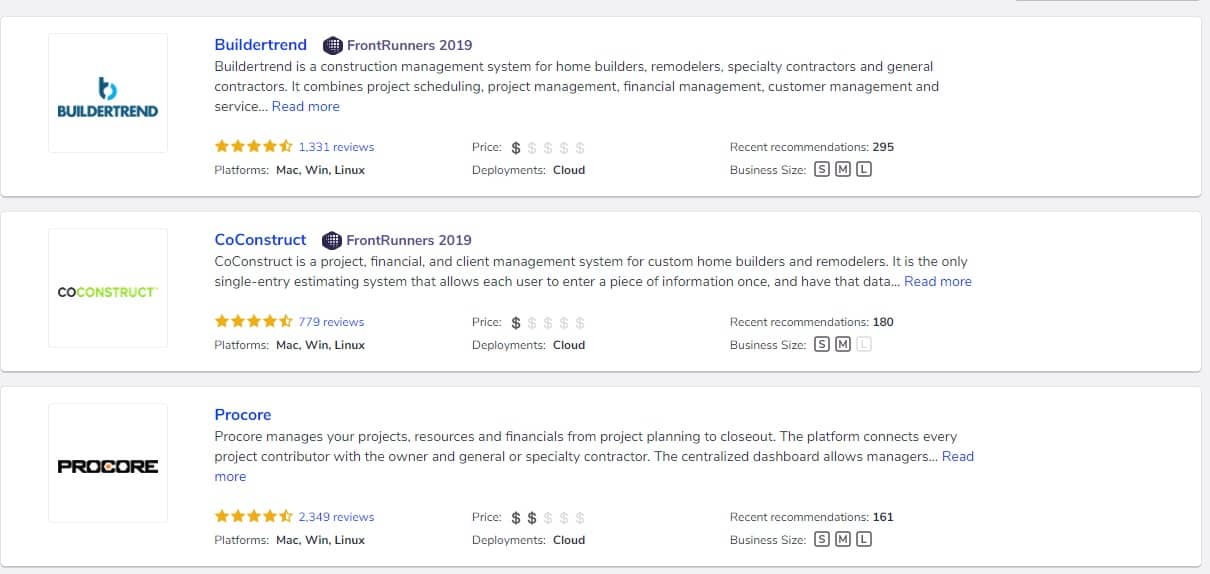 It goes without saying that it's absolutely crucial you start implementing management software into your business if you aren't already.
Apps for Mobile
With 71% of all Internet time being mobile, it's clear to see why many huge companies are starting to go all in on creating apps for their businesses.
Many of the construction management software's mentioned above have their own apps so contractors can monitor a job's progress or coordinate things while in the field.
Most of the time, the superintendents on the field delegate the project management to the people in the office but that trend is changing…
Fast.
Nowadays many job sites have people with tablets and phones doing the work someone in an office would normally do.
If this continues, we can potentially see "mobile offices" on most construction jobs, which would really shake up what the office people in construction do and give more power to the superintendents and the subcontractors of the world.
Digital Takeoff Software
Takeoff software is everywhere, in fact, if you look up "Construction Estimating" on Google you'll get tons of ads on the best software you can use for your takeoffs.
That's because many construction companies are ditching the traditional method of estimating by hand and instead are clicking away on their computers to get the takeoff for their project.
The reality is estimating is very time-consuming and many construction companies are realizing this so they're either outsourcing it to construction estimating firms or buying estimating software so they can do it at the office faster.
Again,
Another sign of the construction industry becoming more and more modernized.
Digital Estimating Software
Estimating software often get's put in the same category as takeoff software, which is understandable but in reality, there's 1 key difference.
To start off, takeoffs are the measurements of a project (i.e. 2,100 Sq Ft Drywall) but the estimate is the takeoff AND the pricing of it. This simple key point has influenced many top construction software companies to add on extra functions to help encompass the entire process of estimating.
This "all-in-one stop for estimating" trend is very interesting because if estimating projects becomes completely digitized then the extra speed and accuracy it brings will seep into all other aspects of construction and can encourage modernization throughout the industry.
In other words, estimating software is shaking up construction.
Conclusion
Technology is taking over, and it's not hard to see.
It's important to understand the direction your industry is heading so you can be right in front of it at all times.
Construction can be a slow field of work to be in, but with good usage of up-to-date tech, you can blow everyone out of the water and be the contractor you've always dreamed of being.
P.S – If you want to grow your business the first thing you must do is separate yourself from it.
This means outsourcing what needs to be outsourced which allows you to focus on marketing, sales, and business development.
I Am Builders can completely cover your estimating so you can do that, we handle takeoffs, pricing, and even give you consulting on how to win more jobs.
Send your plans now for a free quote at iambuilders.com/upload