Any professional bathroom designer will tell you that it's the tiny details that make or break a bathroom look. From the style of the hardware to the placement of the towel hooks, every element must come together in harmony to create a cohesive space.
For instance, one small detail that can have a big impact is the finish on the hardware. If all of the hardware in your bathroom has a polished chrome finish, it will create a very different look than if it were all brushed nickel.
In this guide, we will focus on the 5 tiny details that may seem marginal but have the power to completely transform your bathroom design.
Flooring
Bathroom flooring can be one of the most important design elements in your space. Tile, wood, stone, or even concrete can make a big impact on the overall look and feel of your bathroom.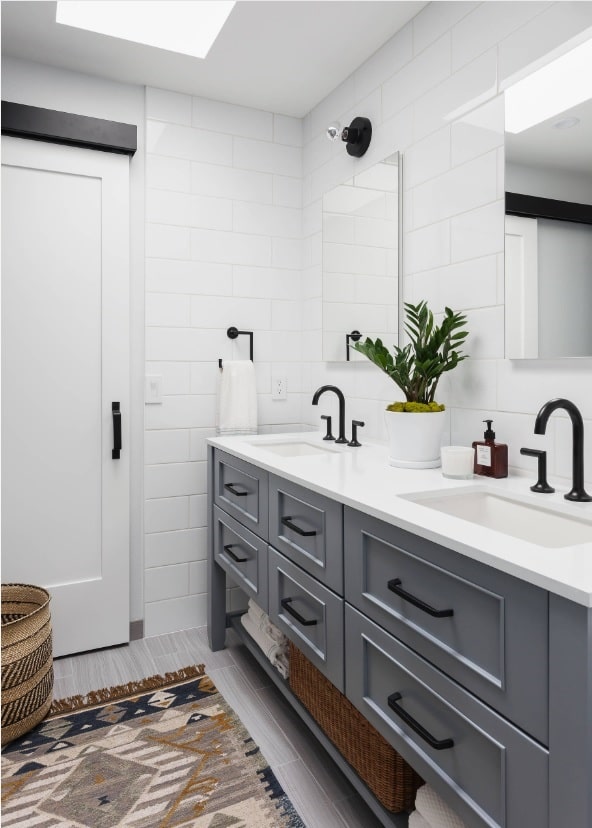 If you're looking for something really unique, try using an unexpected material like cork or bamboo. It will give your bathroom an exotic, resort-like vibe that will make your long showers and bubble baths even more enjoyable.
What's more, the type of flooring you choose can also affect the acoustics in your bathroom. If you're looking for a serene space to relax in, opt for materials that will help muffle sounds like carpet or cork.
If you're changing the flooring in your bathroom, make sure to finish any bigger projects, like relocating your toilet, beforehand, as this will make the entire process much easier and less messy.
Tile Color and Design
The color of your tiles can change the entire vibe of your bathroom. You can go for a bright and vivid color to make your bathroom feel more alive and exciting.
On the other hand, you can go for a more subdued and calming color to create a serene and relaxing atmosphere – especially if it matches the overall aesthetics you're going for.
The pattern of your bathroom tiles can give your bathroom an elegant or unorthodox look. You can use a variety of tile patterns to achieve the desired look, including mosaic, brick, chevron, basket weave, or even subway for a more industrial feel.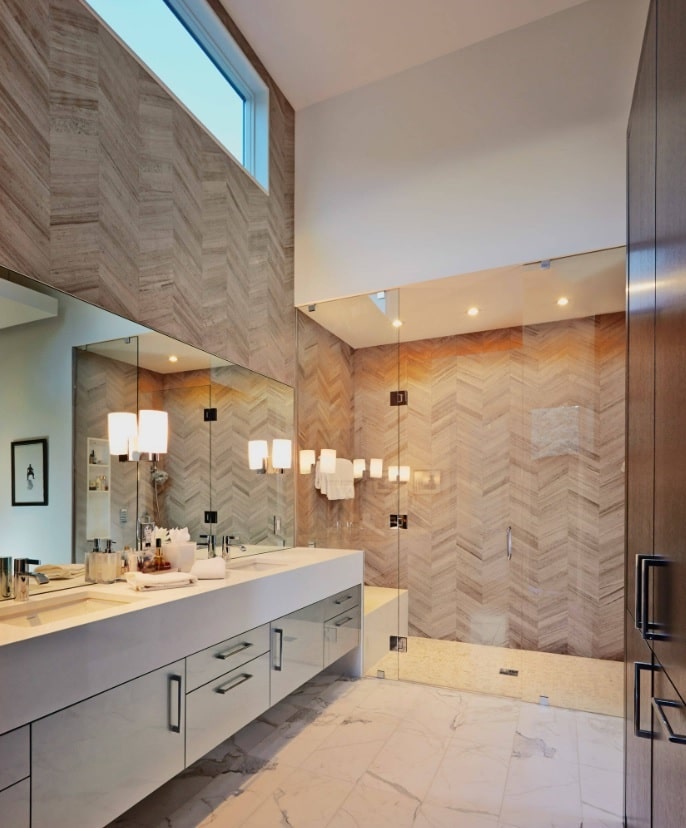 There are endless possibilities when it comes to tile color and design, so take your time in choosing the right one for your space, as this isn't one of those details you'll be switching up often.
Plants
Plants can enrich any room of your house – bathroom included. There are many plants that can thrive in the high humidity and indirect light of a bathroom, adding both greenery and fresh air to the space.
It is also important to consider the size of your bathroom when selecting plants. If you have a small bathroom, then choose smaller plants that can fit comfortably on shelves or in nooks.
On the other hand, if you have a large bathroom with plenty of space, then you can choose larger plants – especially if you have empty areas that you don't know how to fill or decorate.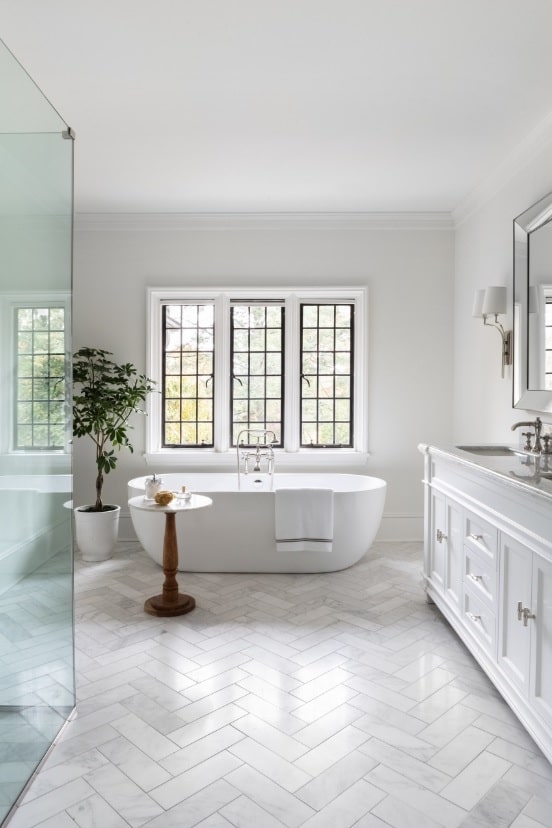 Not all plants can survive in bathrooms, but there are many that can. Remember to factor in the amount of light, water, and humidity that your bathroom gets when choosing plants.
If you're not too familiar with different plant species and you need a little shopping cheat sheet, here are some of the most convenient options for bathroom plants:
Aloe vera: This succulent is easy to care for and is known to purify the air.
Boston fern: Ferns do great in humidity, which makes them a perfect choice for bathrooms. Just be sure to mist them occasionally.
Bamboo: Bamboo is a versatile plant that can grow in many different types of environments. It's also believed to bring good luck, and positive vibes can never hurt!
Orchids: These beautiful flowers come in many different colors and enjoy humid conditions.
Snake plant: This hardy plant is perfect for bathrooms that don't get a lot of light. It's also known to purify the air, which makes it a perfect choice for your bathroom.
In case you're not a fan of real plants, you can always opt for fake ones. There are many benefits to using fake plants as opposed to real ones. For instance, they're very low-maintenance.
Artificial plants don't need water or sunlight, so you'll never have to worry about them dying on you. Additionally, fake plants can be placed in areas that real plants wouldn't survive in, so you don't have to worry about selecting plants that can endure humidity.
Matching Bathroom Accessories
You'd be surprised how much of a difference sticking to a single color palette can make. Matching bathroom accessories can give your space a pulled-together, polished look even if the overall style is fairly simple.
If you're starting from scratch, choose one or two colors that you really love and build your decor around them. If you already have a few favorite pieces, see what colors they are and try to find matching accessories in those hues.
Choice of Lighting
Finally, bathroom lighting makes a world of a difference when it comes to your bathroom design. Proper lighting can completely change the look of your bathroom, making it feel more open and spacious.
Mirrors are also a great way to make your bathroom feel more open, and they can help reflect light to make the space feel brighter.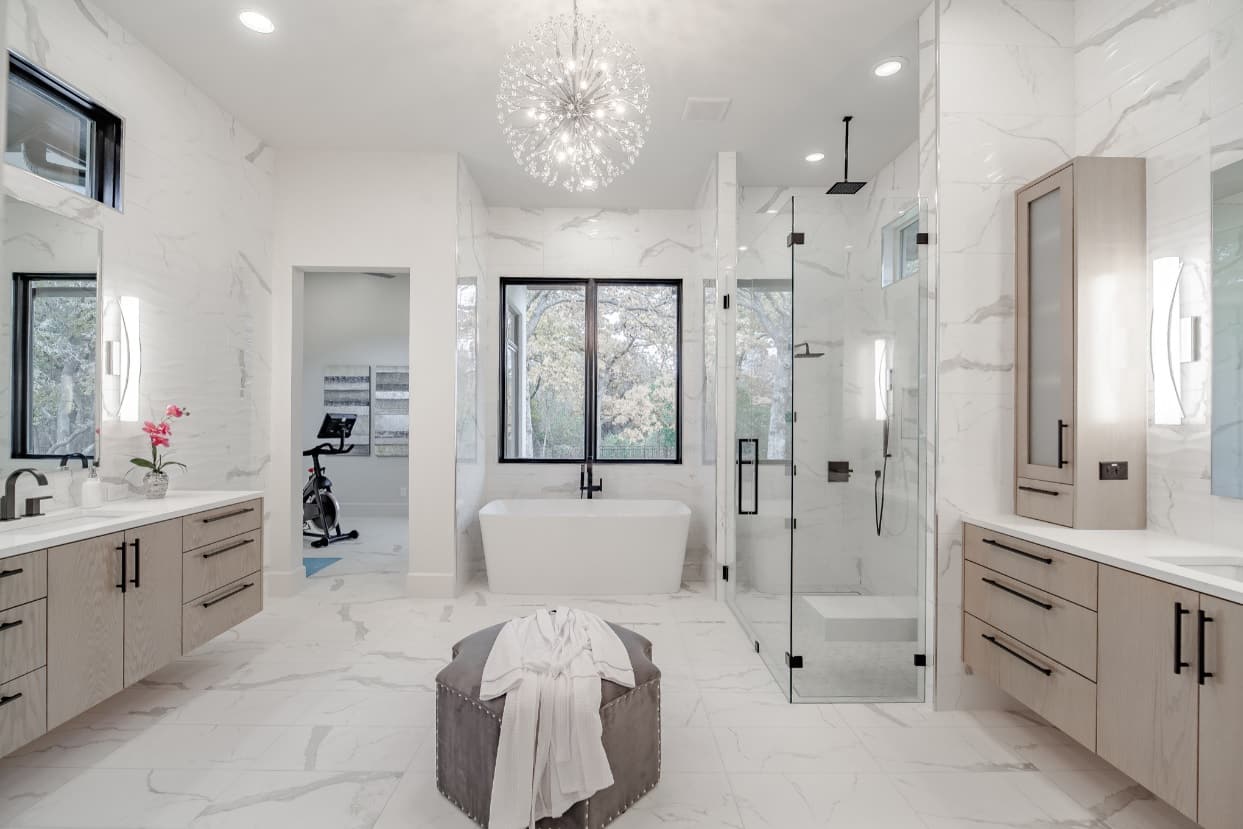 There are many different styles of bathroom lighting to choose from, so be sure to find one that compliments your bathroom design. It depends upon the vibe you're going for, whether you want it to be moody and romantic or bright and cheery.
There are even bathroom lights that can change color, so you can really get creative with your space. Of course, make sure that the lighting matches the overall color palette and style you are going for.
Bathroom lighting is an important part of any bathroom design, so be sure to give it some thought before finalizing your plans. With the right lighting, your bathroom can be transformed into a beautiful and relaxing oasis.