The powder room has become a household staple in modern living spaces. When planning new homes, they are often given a lot of space. However, homeowners looking to incorporate one during a renovation may have some limitations. They need to understand how much space they need for those very special, small, or not-so-small spaces.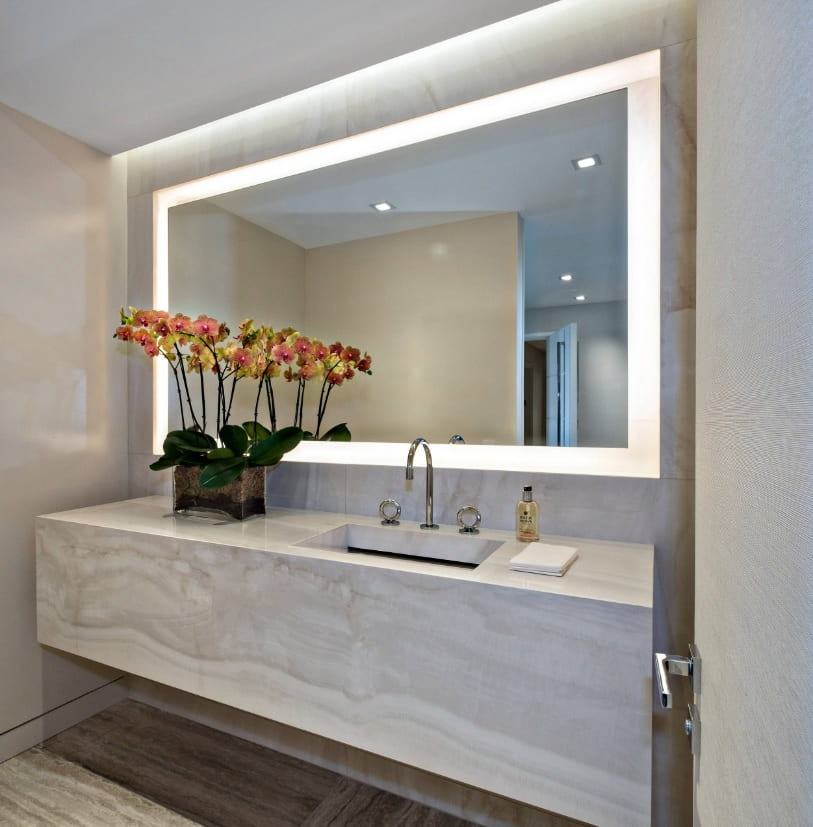 So, what's the minimum size for a powder room? A typical vanity or small bathroom is space-constrained, and it requires smart use of space to incorporate desired features, comfort, and visual appeal. In addition, installation can be difficult and requires spatial knowledge and technical skill.
So it becomes important to hire an interior decorator, an experienced bathroom designer, or at least an experienced contractor to keep an eye on the cost-effectiveness of the design, materials, and overall aesthetics.
To make the powder room look elegant, homeowners prefer high-end materials for countertops, backsplashes, and flooring. To learn more about modern bathroom countertops, refer to the following guide from the pros at Caesarstone.
How Big should a Powder Room be?
So, what is the minimum size for a powder room in a living space?
Homeowners can generally determine the minimum room size for a powder room based on the space in their current home plan.
There are creative ways to add a bathroom to even the smallest of spaces. It is possible to even go all out and add a large vanity. However, it generally depends on how much floor space is required to free up.
In addition to the space available, the location also plays an important role. For example, a vanity needs running water and a drain. Ideally, the toilet should be close to the home's existing plumbing to keep costs down.
Minimum Requirements for a Powder Room in a Living Space
While homeowners have complete creative freedom when designing the bathroom of their dreams, there are some minimum requirements to keep in mind. The average size of a residential powder room is about 20 square meters.
So, the minimum size for a powder room can be approximately 20 sq meters. However, homeowners can have a powder room that's as small as 11 square feet, depending on the space availability and their custom needs.
Some other measures they should know:
There should be no less than 15 inches between the centreline of the toilet and the closest wall.
The vanity must be at least 7 feet apart.
The distance in front of the toilet should be at least 21 inches.
The dressing table must be ventilated with a window or fan.
The window must be at least 3 square meters and half-open to let the fresh air enter the space.
The width of the doorway must be no less than 32 inches.
If there is no window, consider using a fan that provides 50 cubic feet per minute of ventilation.
In addition to these minimum requirements, homeowners need to consider the following factors before deciding the minimum size for a powder room in their home.
Multiple Design Options
Traditional bathrooms hold the toilet and sink against one wall and share plumbing and sewer pipes, with the door opening revealing the sink, the focal point of the room. Other designs that can be more expensive have toilets and sinks on different walls, requiring additional plumbing, ventilation, and sewerage.
The toilet can be placed against the wall next to the sink, in a corner, in an alcove, or behind a half wall. In the case of long narrow guest bathrooms, the toilet is placed against the short back wall, with the sink on one of the longer adjoining walls in front. All of the above designs are acceptable but will be dictated by the space available for the powder room in a house.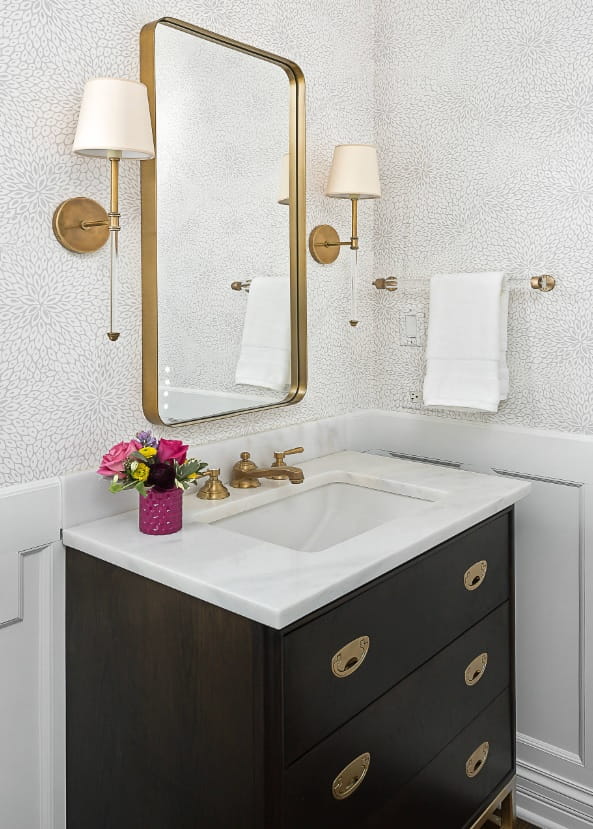 Desired Features
The size of a toilet depends not only on how simply it fits in the home design but also on the features and amenities required in the bathroom.
Here are some important factors to consider before deciding on the size of the vanity:
Door
There are no guidelines as to whether the port should go in or out. So, homeowners can choose any length they want, but it should be more than 32 inches.
To allow the door to open inward, it should be a bit larger to make it easier to get in and out of the toilet.
If there is little space, homeowners can opt for doors that open to the outside; else, they can opt for sliding doors.
Toilet
Bathrooms come in a variety of sizes and designs. There are also different configurations like one-piece or two-piece. The design will have a significant impact on determining the minimum size for a powder room.
If a family is interested in installing a two-piece bathroom, the size of their bathroom will increase. However, remember also that homeowners need to respect the guidelines of minimum distance to the nearest wall, sink, and space for the legs.
Restroom Sink
The sink in the guest bathroom is used for quick handwashing. That means homeowners can get by with a much smaller sink. Some sinks only take up 12 inches of space and can be wall-mounted.
Opting for these smaller options can significantly reduce the size of the bathroom. Homeowners, who prefer to have sink accessories like a tissue holder and soap dispenser, may need a bigger size of sink with sufficient counter space.
Storage Cabinets
Some people prefer to have a cabinet to store things like towels and toilet paper rolls. They need a large bathroom to have all these amenities.
These bathroom storage cabinets can be placed against the wall or under the sink. Some types are smaller, lighter, and can be mounted on the wall to optimize space. The typical depth of these cases ranges from 16 inches to 24 inches. They can grow up to 36 centimeters long.
Homeowners should take these measurements into account before determining the size of their bathroom. People who prefer to keep their toilets simple and without cabinets can keep the size small.
Conclusion
A powder room can be a valuable upgrade to any home. The minimum room size for a powder room can be as small as 11 square meters and as large as per the requirements of homeowners. However, the size of a powder room depends on factors such as the space available in the floor plan, the location of plumbing, and desired fixtures.
With careful planning and creativity, anyone can have a great bathroom that is functional and doesn't take up a lot of space.