Do you love hosting parties for families and friends? It is not enough to serve only the best tasting coffee and mouth-watering foods, instead give your guest a relaxing and entertaining ambiance all at the same time. This can be achieved by choosing a small area in your home and transforming it into a simple yet special station for everyone to enjoy. Equipped this place with coffee tables that will fit your style and satisfy your needs. Here are some of the unique coffee table ideas and inspirations that will definitely impress your guests.
Shiny Avant-Garde
The shiny avant-garde coffee table is a gorgeous piece that is not too simple nor too flashy. This will give an artistic and stylish look for that added shape in your space or home. Everyone will surely love this piece no matter what the shape is, may it be V-shaped or U-shaped. It has look of enlarged copy of overbed table with a middle shelf.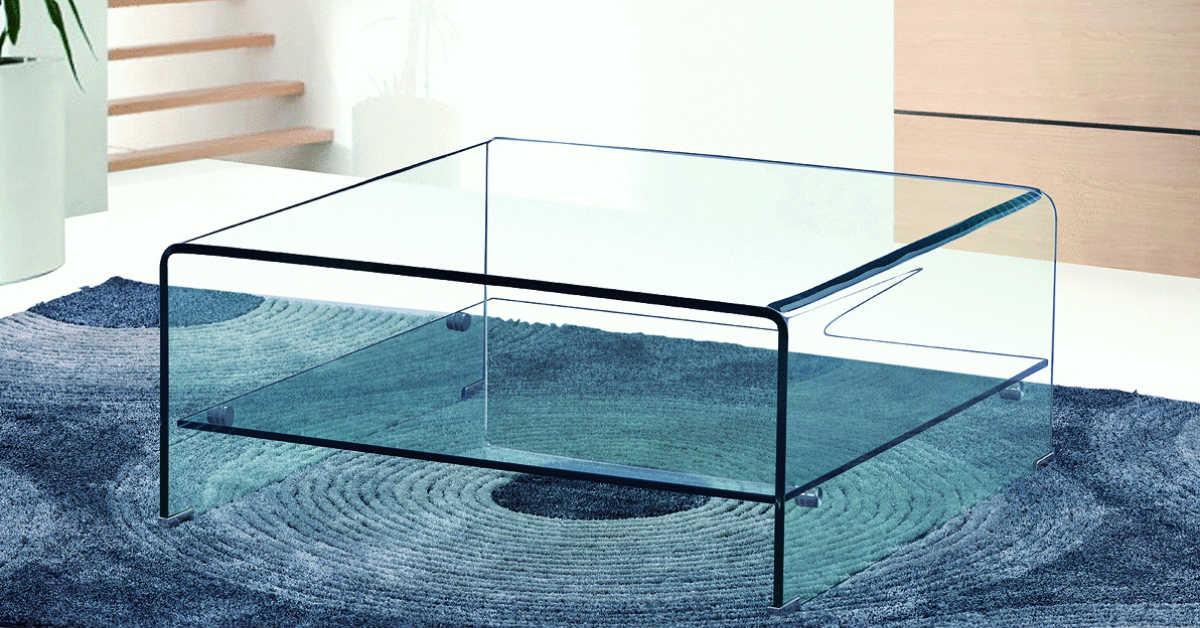 Stylish Black Leather Coffee Table
The stylish black leather coffee table looks damn good and awesome. The leather material offers not only comfort but also elegance although the home. It will totally transform your place from simple to a more sophisticated one.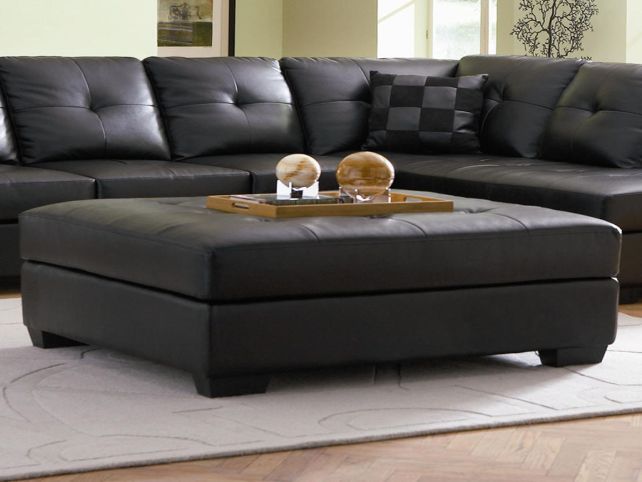 Simple Wood Coffee Table with Foldable Storage
The simple wood coffee table is an amazing piece that will add chic and style to your room. This is equipped with hidden storage and foldable compartments that are truly useful and in demand nowadays. Keep those magazines and other stuff underneath and adjust compartments for better use and functionality.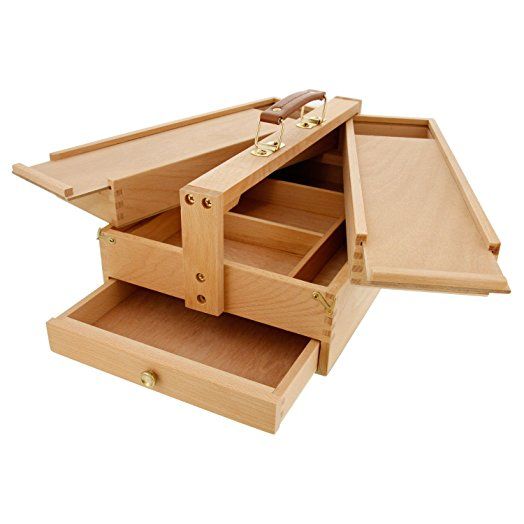 Traditional Wooden Coffee Station Table
The traditional wooden coffee station table is another wooden alternative that is practically stunning. It is highly functional such that you can make use of under cabinet coffee maker and other equipment immediately to supply whatever requirement you may have. This table comes with astonishing designs of natural swirls of woods for a more rustic look.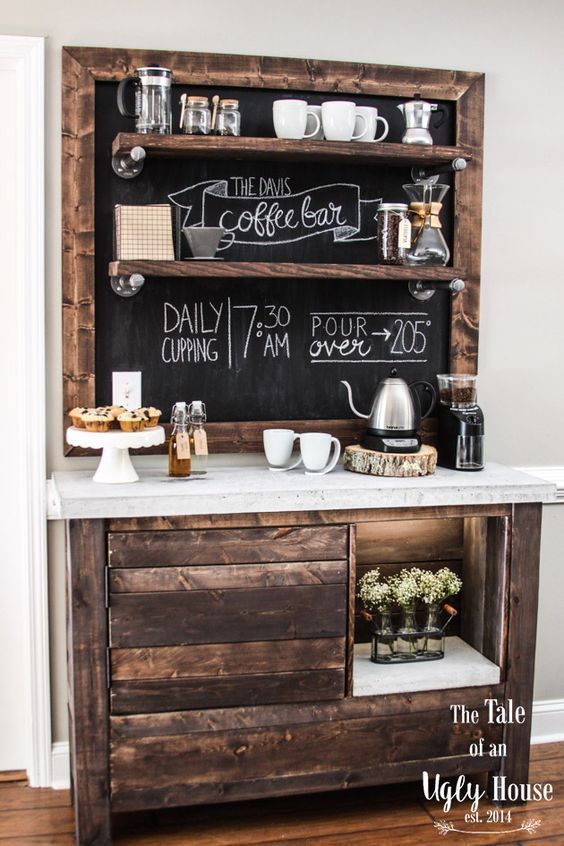 Rustic Coffee Table on Wheels
The rustic coffee table on wheels is an adorable addition to your space. Its rustic looks make it more appealing and will make you experience how it feels like to live in a countryside or country home. Additionally, the wheels can allow easy mobility and flexibility in case a much bigger floor space is needed.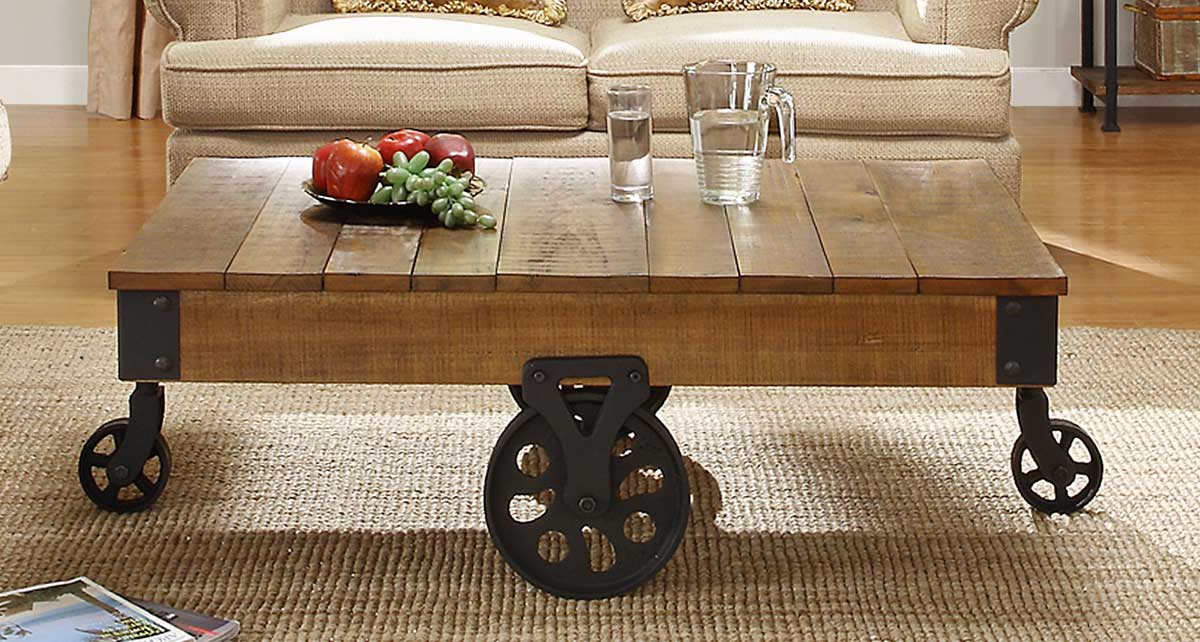 Super Low Coffee Table
The super low coffee table is a low-profile furniture that can be paired with your low couch or sofa set. You'll definitely love its structure and might want to sit or relax on the floor while sipping your cup of coffee, munching on your favorite snacks, or just chit-chatting with families and friends.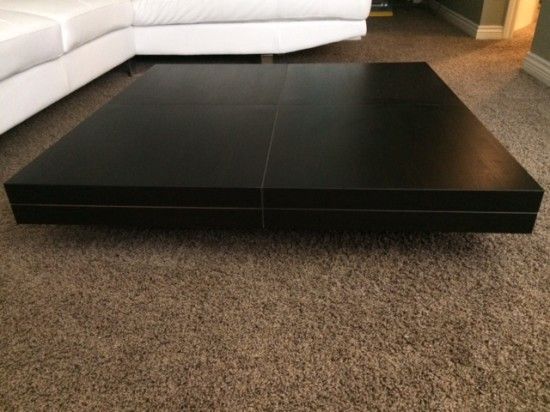 Glass Panel Table with Golden Finish
The glass panel table that comes with a golden finish is totally classy but not an overdone piece. This piece is a simple yet lovely table that is enhanced with a delightful and embellished frame. It will add up to the beauty of your home while doing the functionality that it offers.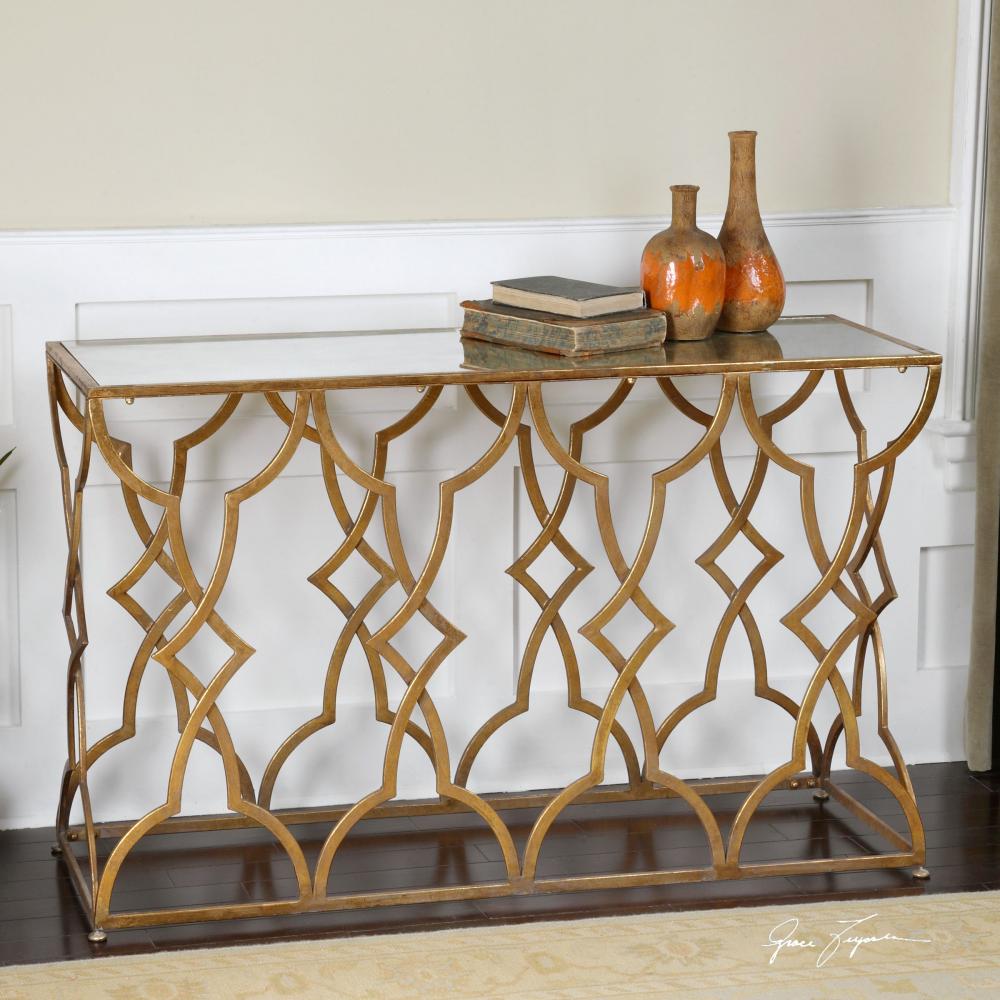 Beautiful Terrarium Table
The terrarium table is such a beauty and a unique idea. This is for the nature lovers who want to have a small ecosystem in their home, especially in the living room. You can buy a ready-made one or opt to build your own while combining all the flora and fauna you love. It might be a bit pricey with all the materials and the maintenance but it's definitely worth every penny and effort as well.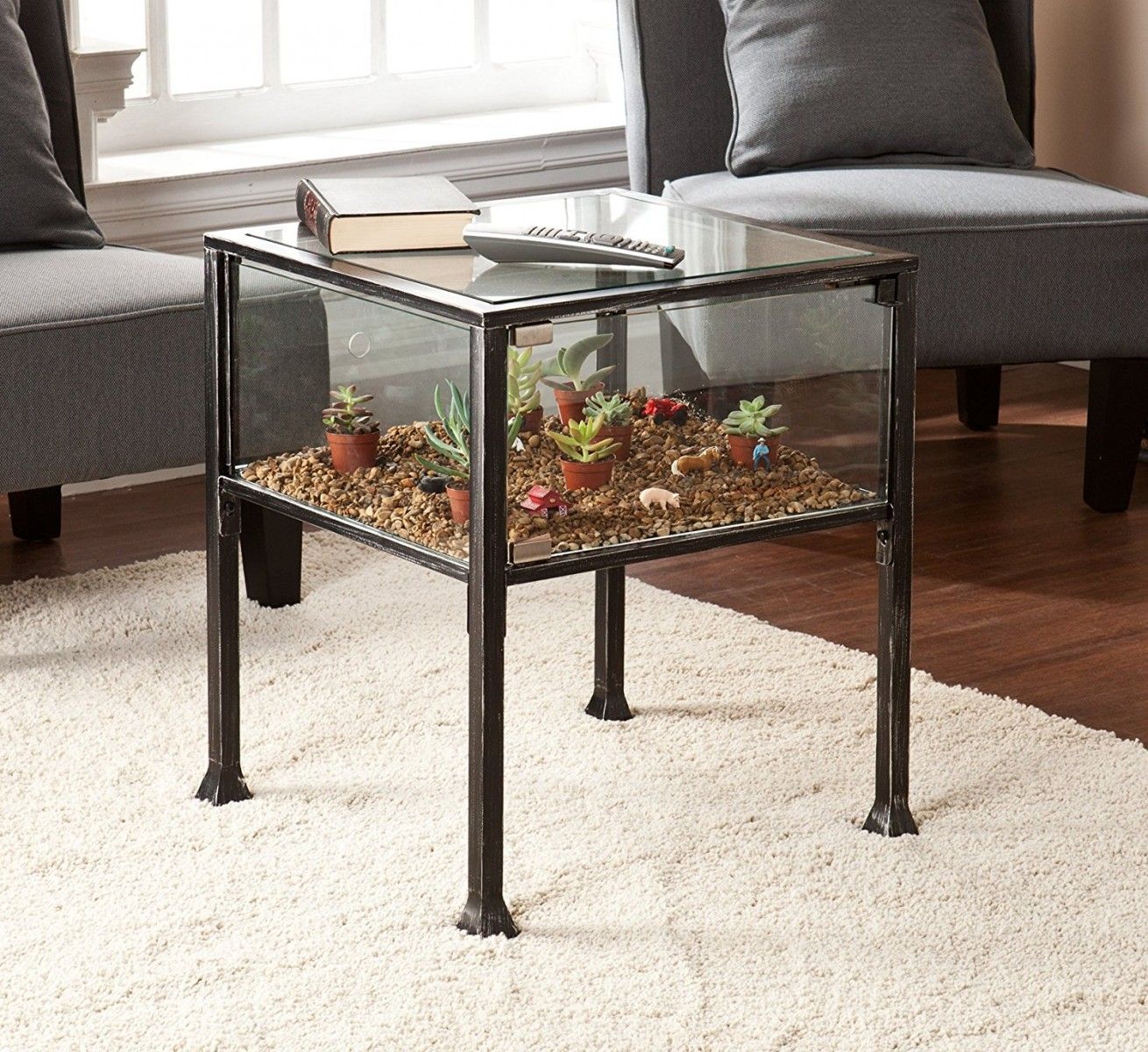 A Coffee Table that Doubles as a Planter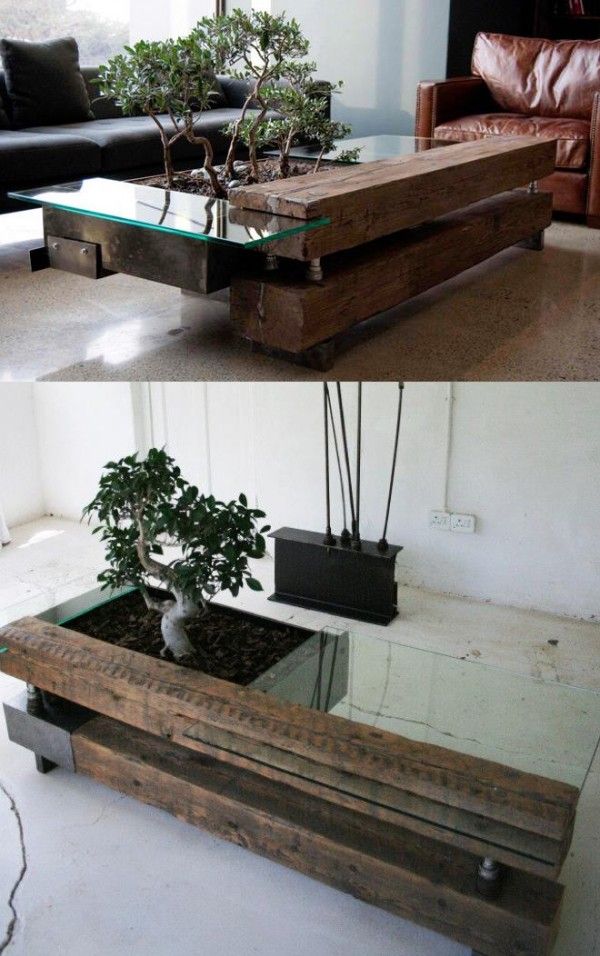 This is another way to bring the nature indoors. It can require quite an effort in terms of care and maintenance, but this is a sure-fire way to go green in the living room. Use repurposed old wood for an eco-friendly furniture. Use glass on the sides to add a modern touch to the table. In the center or side, make it a plant box. Be sure to take care of the plant. Otherwise, it will be an eyesore and will only ruin the décor.
Abstract and Sleek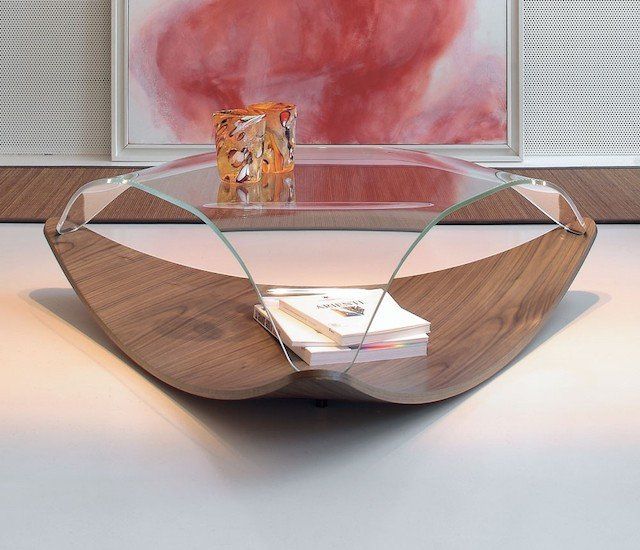 The wood and glass combination of this table makes it a good choice for a living room that intends to pull off a modern look. It is also curved and sleek, providing with an attractive appearance. The wood base should be dark, which will make it stand out when paired with the glass.
Coffee Table with Chiller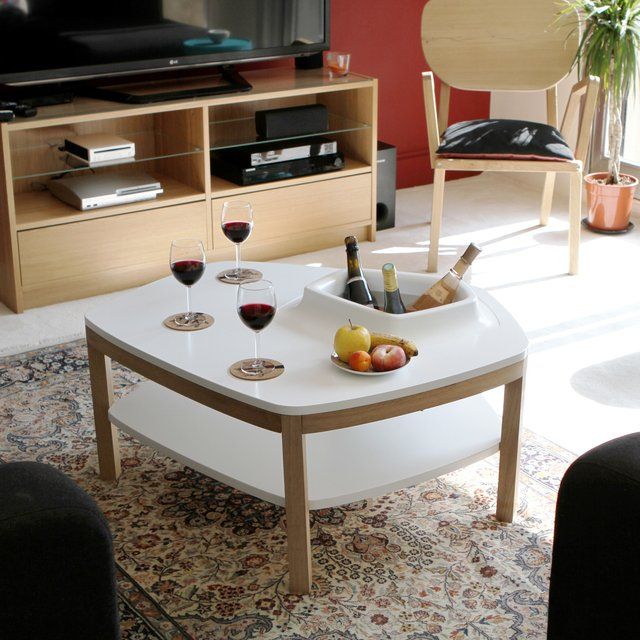 Do you love inviting friends at home to enjoy wine or beer? This is the coffee table that will work best for you! For sure, you will be at the envy of your friends who also love hosting intimate parties at home. A unique feature of this table is the recessed chiller on the side. Fill it with ice and put your drinks to keep it cool and easy to access. This way, you can always enjoy them chilled without the need to go to the fridge.
Playful Doll House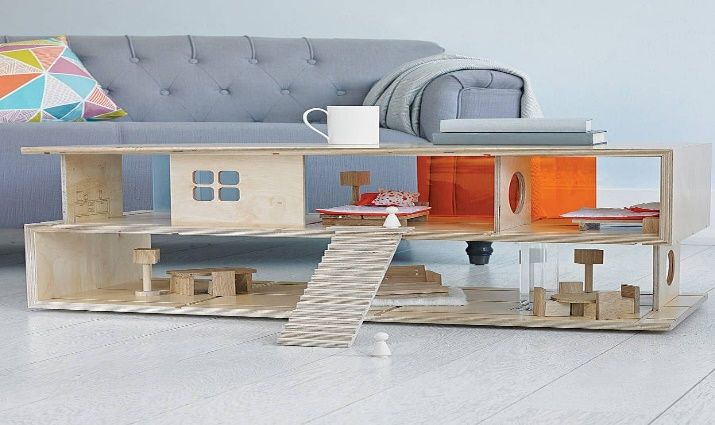 Both adults and kids are sure to have fun in the living room with this unique coffee table. The top functions as a coffee table while the bottom will open as a dollhouse. There is an open floor plan and kids can put whatever they want to design their own house. There is no need to compromise the design elements in the living room just to make it a space that kids will be able to enjoy.
Pebble Coffee Table
This coffee table looks like a giant pebble adorning the living room. Even the texture is rough like a pebble. The smooth corners will make it perfect for a place where kids always play. There is also no glass that can be prone to breakage. This table is also multipurpose as it can double as a seat or as an ottoman. When used as a coffee table, however, decorate the top with a small plant box for a nice contrast.
A Top that you Can Lift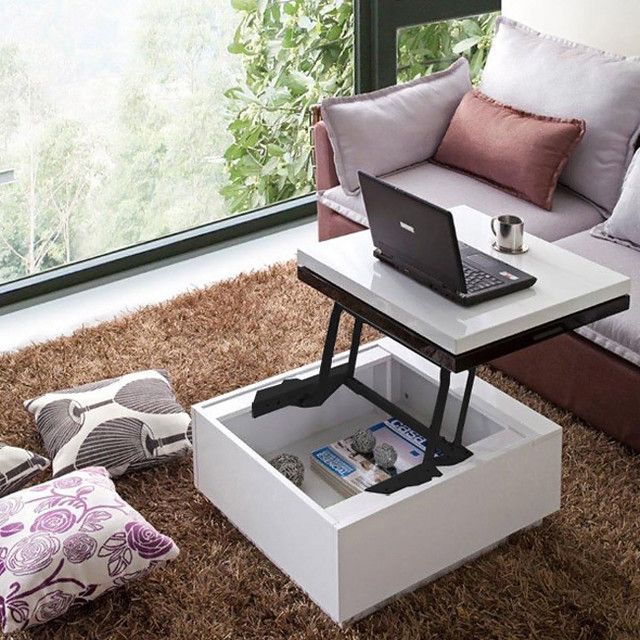 This is another table that is known for being multifunctional. This is perfect if you would like to maximize the use of a small space. When the top is lifted, the bottom part of the table can be used as a storage. More so, the top can be adjusted to be nearer the user, which will also make it a great laptop table. If the space and the table is large enough, you can even make use of under cabinet coffeemaker to easily make your caffeine fix.
Modern Table with Wooden Bubbles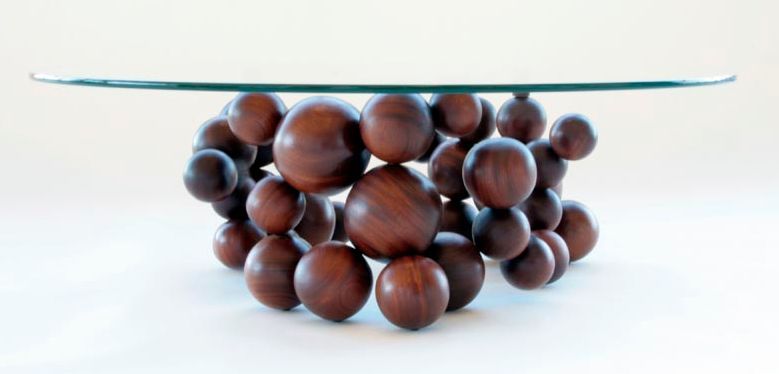 This table looks like it is floating, which will make it a great addition to a living room with a modern touch. The geometric design of the bottom gives an unrivaled aesthetic appeal. The bubbles are made of mahogany and they have irregular shapes. They are glued together to form the base and hold the clear glass on the top of the table.
Aquarium Coffee Table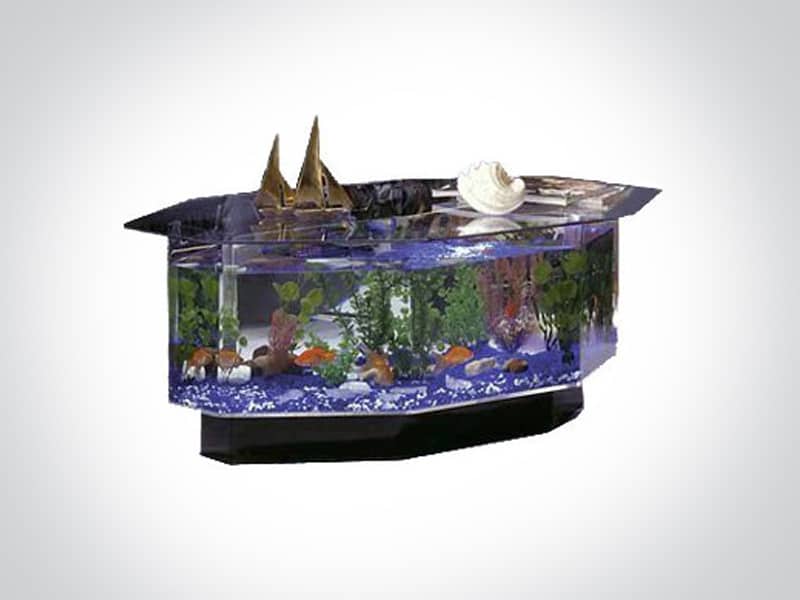 If you want to have a fish as a pet, this multi-use coffee table is the right option for you. The bottom part is an aquarium. The top part, on the other hand, is a glass that is slightly larger than the base of the actual aquarium. The tank itself can be filled with anything that will make the aquarium more beautiful, such as pebbles and plants. Be sure to observe proper care and maintenance to make the aquarium look at its best all the time.
Repurposed Wooden Pallet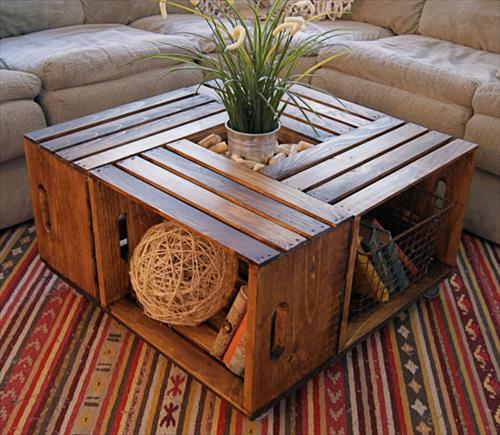 You do not need to spend a fortune to have an amazing coffee table. The picture above is a proof of this. You can use wooden pallets for a DIY coffee table. In the picture, four pallets are used and a small hole is left in the center, which will double as a space for a plant. Make sure to finish the pallets to improve its color and texture, as well as to protect it from damages. This table is not only beautiful, but it also doubles as a storage space.
Coffee Table with LED Light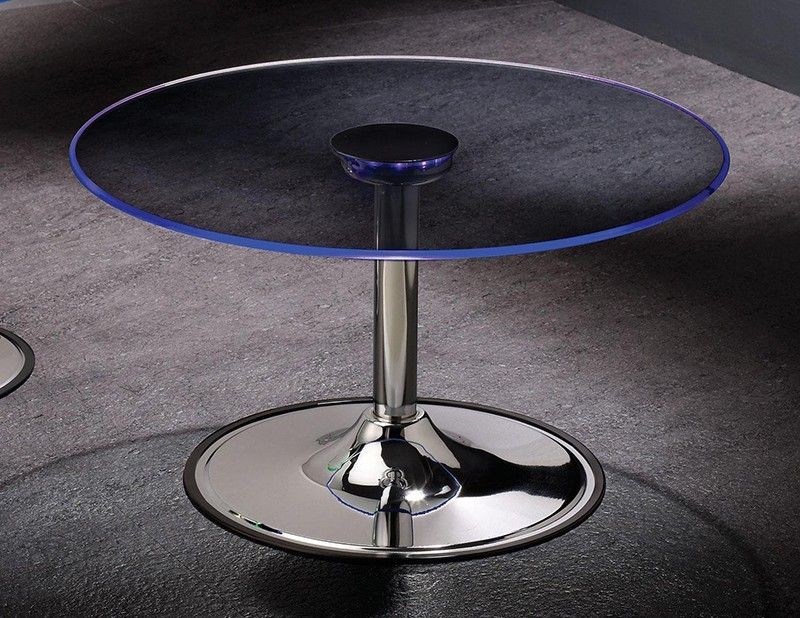 At first, this might look like an ordinary coffee table. However, once it is lit, this is where you will realize that there is more than what meets the eye. The edge of the table is lit with LED, which also means that it is going to be long-lasting. This is another table for a modern living room.
Old Wood with Hair Pin Legs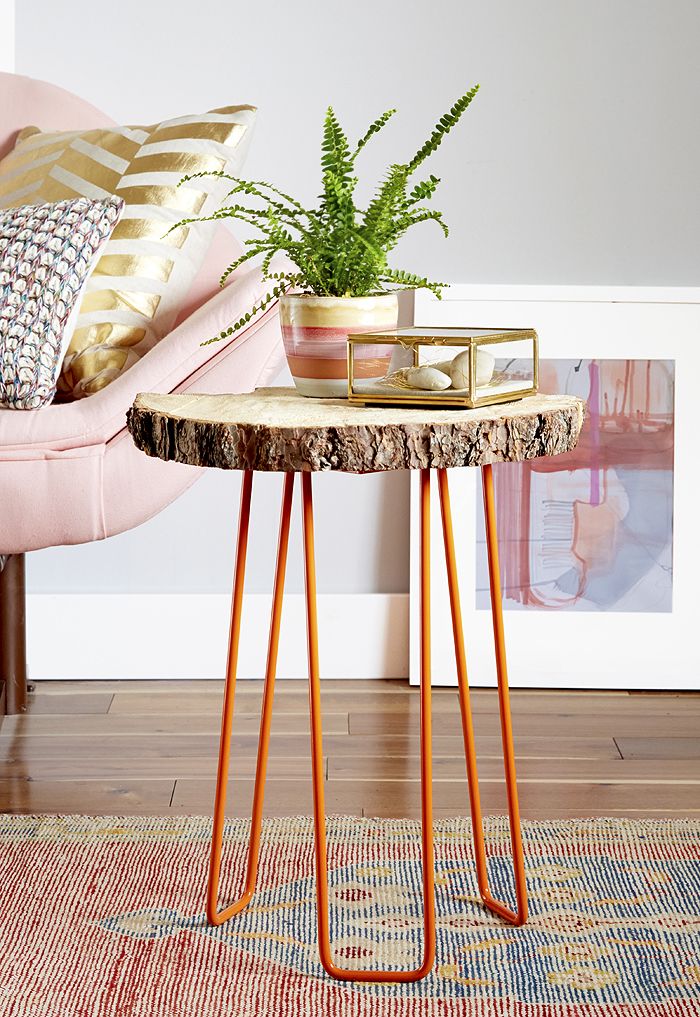 For modern aesthetics with a touch of nature, this is a coffee table that will make the living room look more beautiful. This is especially perfect as a side table. Find a wood with just the right shape and the legs must be able to support its weight. Top the wood with a small plant to make it more tropical.
Like a Flowing River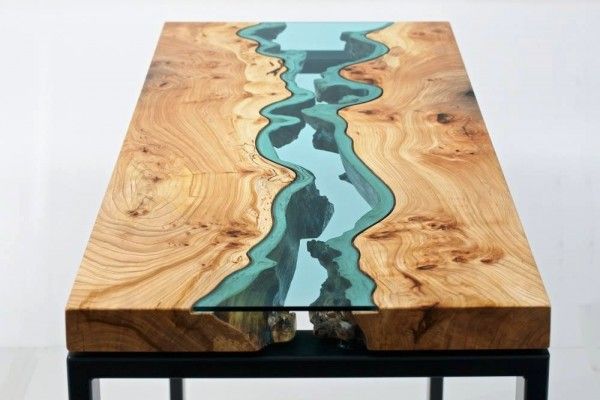 This coffee table is made of two separate pieces of wood with glass at the top to fill in the gap. It creates an illusion of a flowing water from a river, especially if the glass is blue. This is a good way to infuse elements of nature in the room where the coffee table will be placed.
Choosing the coffee table to fit in your home may be a bit difficult and challenging. Several factors should be considered in order to come up with the best choices possible. Always check the functionality and the appearance of the pieces. Choose the preferred material and make sure that it perfectly blends with the style of your home. Consider also the price of the coffee table and be sure that it's within the budget. All these things considered, a perfect piece will be chosen that will surely impress your guests.