Love it or hate it, doing the laundry will always be a regular, inevitable chore. In fact, on average, most families wash about 300 loads of laundry per year. And generally, a normal wash cycle will take 50-60 minutes to complete. That means you spend approximately 15,000-18,000 minutes or 10-12.5 days a year doing laundry. That's a lot of laundry time!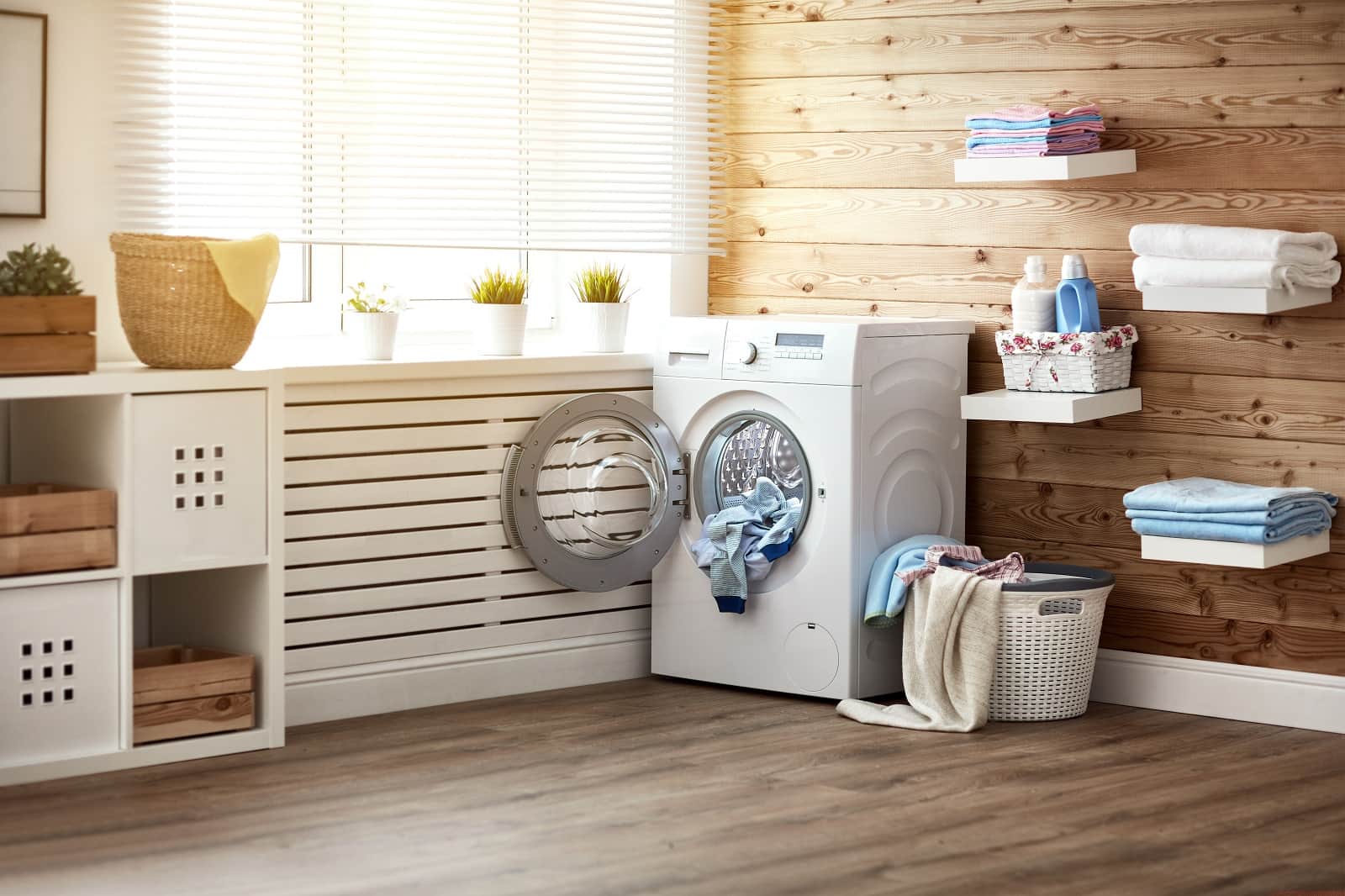 And so, if you're going to spend so many hours doing laundry, you might as well create a dedicated space for such a task that's organized and functional.
Whether you're thinking of adding a laundry room or remodeling an existing one, here are a few design ideas and tips to help you maximize the room and create a truly functional space.
Consider Your Appliances
When designing your laundry room, functionality should be one of your priorities. You'd have to carefully plan how accessible and convenient the space will be to move around and do laundry. And with that in mind, among the considerations you need to factor in when planning the layout of your laundry room is the positioning of your laundry appliances. After all, your washing machine and dryers are essential additions to every laundry room. Without these, it's simply another room.
To start, washers and dryers come in various types and sizes. Knowing what you'll be getting for your laundry room can help you layout the space more efficiently. For instance, if you opt for a top loader, you won't be able to slide it under a countertop. It may also eat more space, considering you can also be limited when building a shelf on top of it. On the other hand, front-loading machines are suitable for stacking to save space.
More so, it's also essential to take note of their dimensions and incorporate them when planning the layout of your laundry room. You'd need to allot ample space for them to keep the room orderly and organized.
Add Lots Of Storage
In addition to your appliances, a laundry room won't be complete without storage solutions. Depending on the size of the room, consider adding a mix of open shelving and closed cabinetry to keep your laundry essentials organized. You can also opt for built-in cabinets to fully maximize your room.
You can use closed cabinetry to store bulky items, laundry and cleaning supplies, and occasional tools such as gloves. Meanwhile, you can utilize open shelving to give you easy access to things you use more often, such as lint rollers, detergent, and soaps.
Furthermore, for a more organized laundry room, you can use small woven fabric baskets to keep your clothes and other items like bed sheets organized and easy to find. You can also label the baskets with your family members' names to make it easier to separate their clothes while washing and folding. You can also use laundry baskets to store other laundry supplies, including dryer sheets and stain sticks.
Choose Your Floors And Counters Carefully
Keep in mind that laundry rooms are often exposed to moisture and humidity. And with that in mind, you'd want to choose water-resistant flooring and countertop materials to avoid warping and mold growth.
Leave the carpet in your living room and bedrooms, and instead opt for concrete or stone, ceramic tile, or sheet vinyl for the flooring. And in terms of countertop materials for laundry rooms, you want non-porous and durable materials such as granite, quartz, and porcelain tile.
Install A Sink
Adding a utility sink in your laundry room can also be useful. With a utility sink, you can use it to soak clothing pieces with stains or fragile handwash pieces of clothing. A tip to note is you'd want to place the sink between or beside your washer and dryer for maximum efficiency.
In addition, your laundry room sink can also be useful for other tasks. For instance, you can use it to clean items like pet toys, floor mop, trash cans, and craft supplies instead of using your bathroom or kitchen sink.
Don't Forget Lighting
When talking about the laundry room, perhaps, among the common misconceptions is a dark, gloomy basement laundry room. But this doesn't always have to be the case. While it may only take you a few minutes to load the washer and come back once the wash cycle is done, it's not a reason to forget lighting.
Adding a new lightbulb or adding a splash of color can help brighten the space and allow for a sense of relaxation in this busy workspace. Plus, bright lighting can also help you see things clearly, allowing you to spot stains on pieces of clothing.
Add Colors
Functionality aside, you can play around and explore colors and design in your laundry room. And while it's generally a utility room, it doesn't mean it has to stay dull. Adding colors to your laundry room can add warmth to the space, making it more inviting and relaxing to work at during laundry day.
You can introduce a pop of colors to give the space life. For instance, you can go for bold colors for cabinet doors to contrast your light walls. On the other hand, you can also opt for a pastel-colored room for an airy or chill vibe.
Take Away
Laundry can be a time-consuming and tedious task. However, taking the time to redecorate and re-organize your space can make a significant difference between productivity and frustration. By following the above tips, you can have a laundry room that will become a dedicated space to do your laundry efficiently and a room that you'll be comfortable spending some time in.