Each and every dorm has its own spirit and atmosphere regardless of conditions that are presented there. Some dormitories can have stunning conditions; others can have, let's say, bewildering ones. Notwithstanding, no matter where you are going to spend the following years, you have to adjust the room for your needs and make it look appealing and classy. You don't necessarily have to break walls and push the boat out to change the dorm room. All you need is creativity, a little cash for fancy accessories, and plenty of enthusiasm. Have a glance at the list that has been designed down below to grasp in what direction you should go to transform the room into a paradise.
Improve Your Bed
First off, a dorm room is a place where you will recharge your batteries after endless days of academia, and health is over anything in the world. As follows, you have to possess a nice bed that will ensure you will remain the picture of health no matter what. After you advance your mattress in terms of physical needs, it's time to make it more stylish and pleasing to the eye. Get comfy and bright sheets with appealing prints on it, but don't spend too much because you presumably won't need that size after your schooling (at most educational institutions, extra-long mattresses are the standard bed size). However, if you can afford to buy a good-quality one, it will last for years and may well be used after you move out of the dorm, giving you flashbacks of one of the most beautiful periods in your life. If your bed is also a sitting area, think of adding a throw to protect your bedding.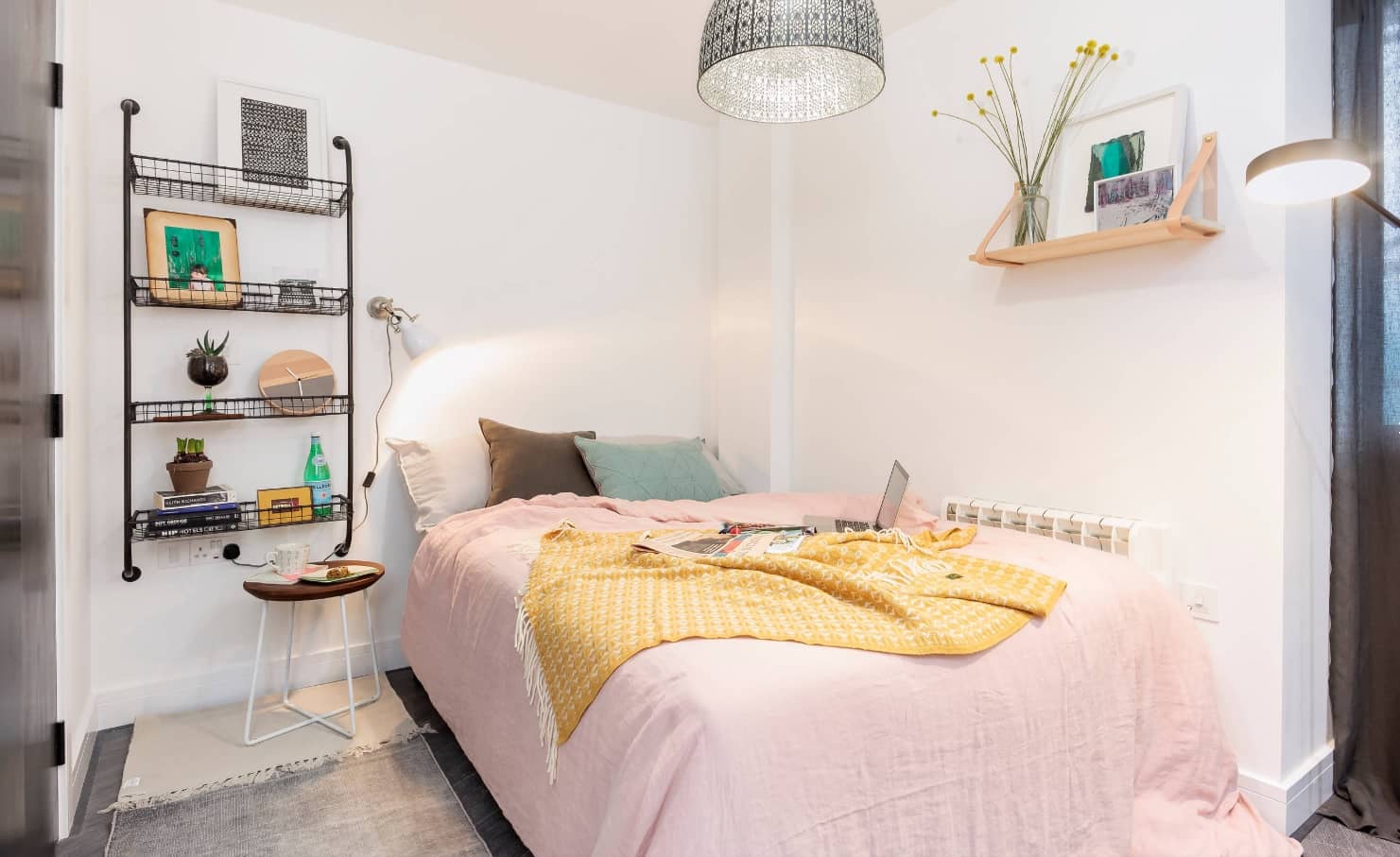 Lighting is Important
Speaking of lighting, you already know that it is crucial for your eyesight and all that stuff. What is more, elegant lighting also replaces your visitors to different dimensions, making them forget that they actually are in the dorm room. However, if you have only one fluorescent fixture placed overhead, you will need to add some more light. The majority of dorms have poor light, and lighting mainly relies on window light, but it doesn't work all the time, especially during winters. Plus, if you are prone to have a roommate, you are obliged to supplement your light source, because of verbal agreements, which, in turn, state that if one roommate is sleeping, you are forbidden to switch on the lights. That's why you should purchase a functional desk lamp. Not only will it help you study, but it also will add style to the room, making it fancier.
Personalize Your Dorm Room
It goes without saying that almost all the rooms are standardized before someone settles in them, which means that the furniture most probably goes back into an ordinary layout, and so on. Don't be afraid to reorganize your space; try putting two desks together, replacing the refrigerator, if you have, moving the dressers into a new form, or placing a bed by the window. Furthermore, you can also purchase some removable wallpapers, posters, paintings, or alternatively, you can always hang a mirror that will give your room a sense of space and light. However, if you can't put holes in the walls, consider buying decorative peel-and-stick mirrors. If you have some acquaintances who possess a garage or live in a flat with a basement, you can leave some utilitarian, undesirable, and unnecessary dorm furniture (of course, once you have received permission from the college authorities) there. By that, you will free up lots of space in your room so that you can periodically arrange a college dorm party. Just don't forget to bring the university's possessions back at the end of the year.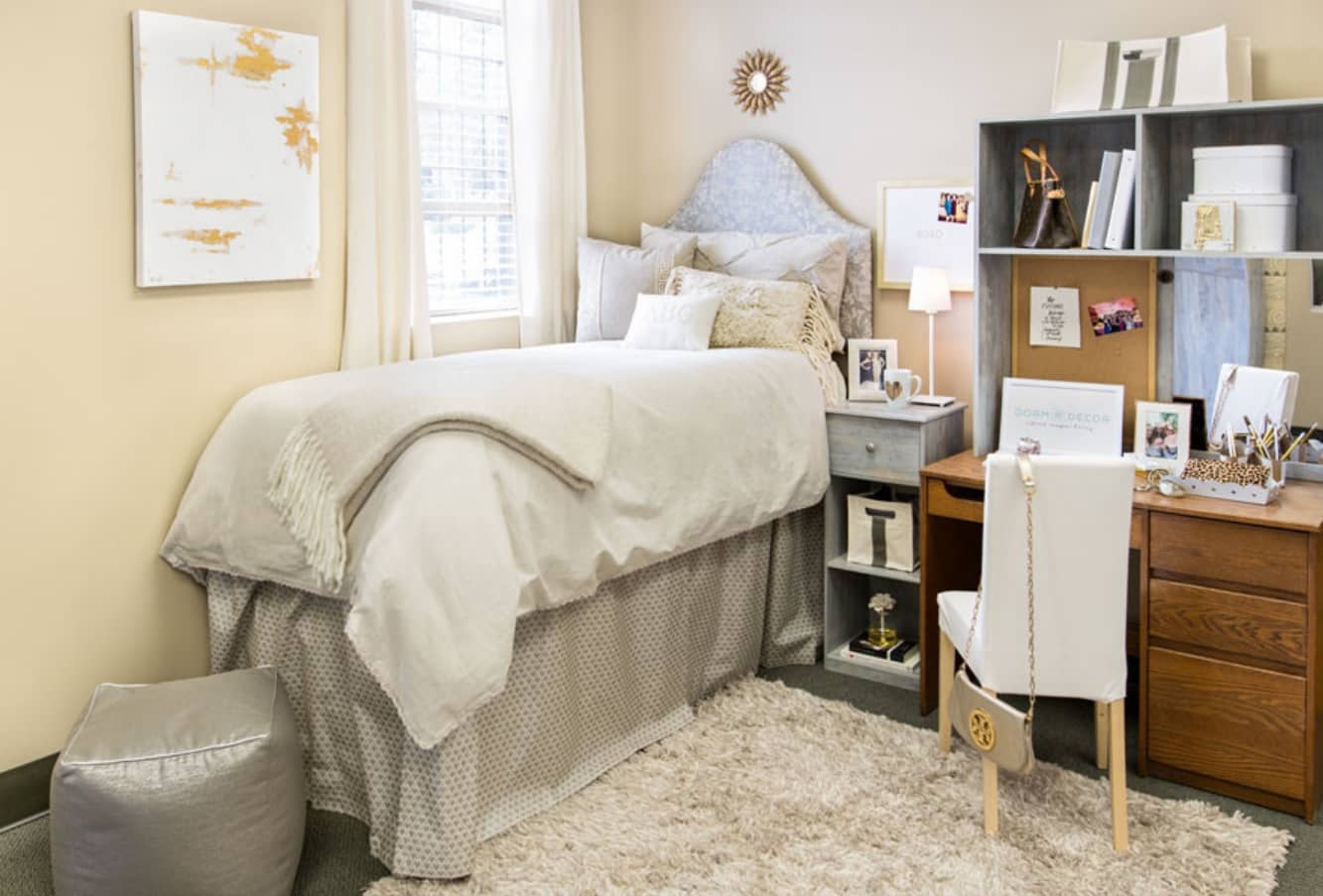 Create Space Under The Bed
When it comes to the beds in dorms, they usually have the capacity for loft beds, which means that you can create a substantial amount of space below it. Then it is all about the stream of imagination; if you and your roommate both loft your beds, your dorm room will become two times more spacious. However, if you can't loft the bed, try to lift it by means of bed risers. Indeed, those few extra inches of extra space will make a humongous difference when you live in one room. If you decide to do that, you will have to keep your property out of sight, so consider buying some cheap fabric to cover your items.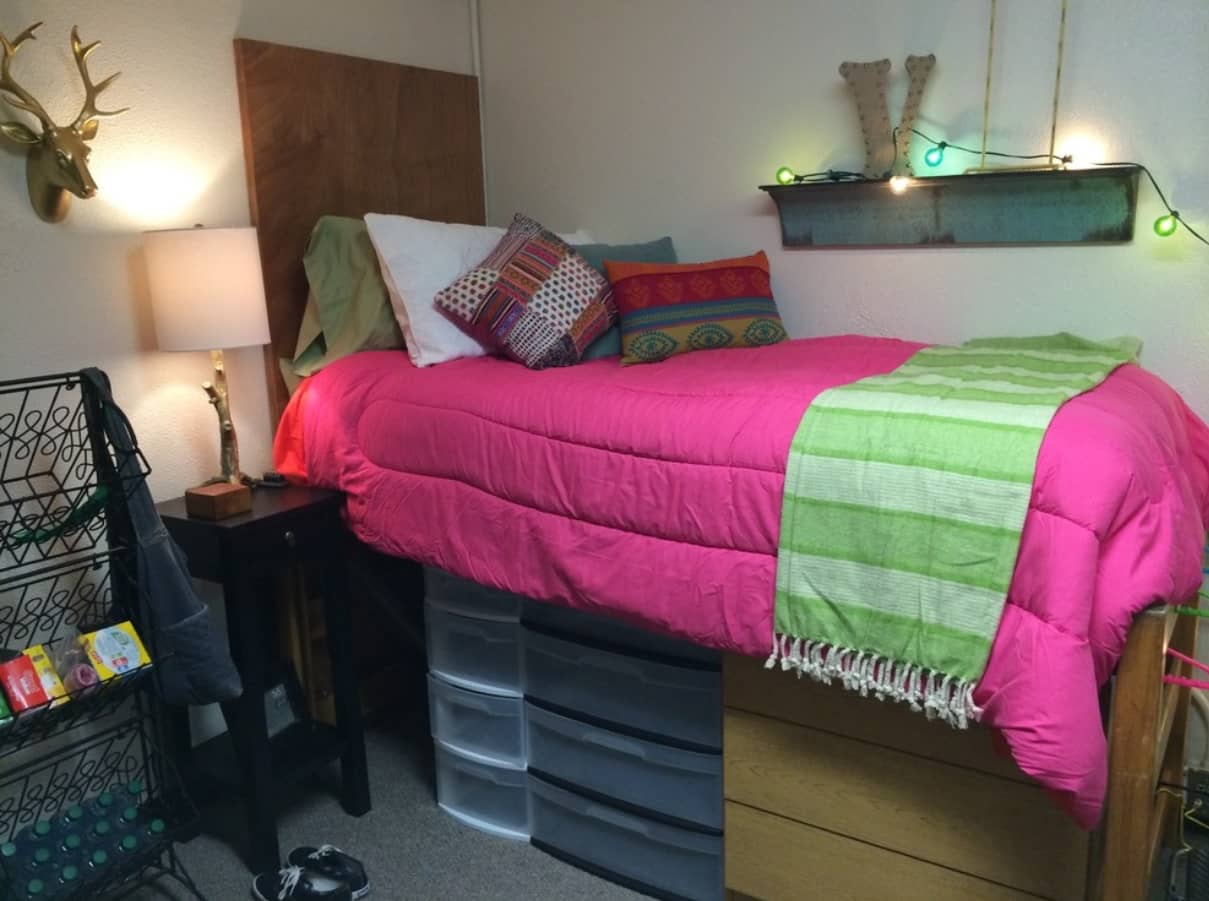 Jazz The Room Up
Yes, dorm rooms have their limitations, which means that you are forbidden to change the color of the walls, nor to paint to the walls, et cetera. Moreover, considering the fact that dorm walls are usually dull, white, and sometimes dirty, you are highly encouraged to purchase some temporary wall decals to make the room more fashionable. There is a diversity of options to garnish the room that can easily and quickly be removed at the end of the academic year. All in all, you can suspend a large piece of decorative cloth on a tension rod to showcase your style. Other than that, if you know any friends that are into art, you can provide them with materials and get a sweet and unique painting that you can stick to the wall. You can do it even on your own, or cooperating with your roommate, which, in turn, will unequivocally strengthen your friendship.
To Sum Up
In order to conclude, dormitories have delineated space, similar furniture that makes rooms look tedious and colorless. To say the least about the ergonomics, which tends to be absent. Thus, the aforementioned ideas are focused on increasing your space, making storage under the bed, for instance, as well as making the room elegant, for example, by upgrading the room with temporary wallpapers, desk lamps, and mirrors. Moreover, these items will not break the bank; conversely, they will enrich your space and make it way more attractive.