Choosing a paint color for your exterior painting is not as easy as it is for interior paint. For one, you can't go crazy with color especially if you're looking to sell your house in the future. Having a different color from your neighbors may also get you in trouble with the homeowner's association. Perhaps the biggest consideration in color selection for exteriors is that it creates a lasting impression on people. After all, it's the first thing people will see before you get to show off your interiors.
All those factors aside, done tastefully, you can fit right in with any color you want. With the rise of new colors by painting companies and the influence of shows like Fixer Upper, it's easy to see why many homeowners are tempted to stray off the safe path and try bolder colors for their homes.
  1.  Deep Watery Blues
Blue has managed to keep its reputation as a timeless color whatever year it is. From deep navy to darker teal, blue can be that right hint of color while remaining neutral and inoffensive. It's also a very versatile color that can play well with other hues like a bright yellow-orange door on a navy blue house.
A blue house is like your denim jeans that you can wear with any top you own. A contrasting trim color would stand out so elegantly on a dark blue house. Just remember that a dark blue house, as with any other dark color, will tend to get chalky in warmer climates.
Color to try: Sherwin Williams Seaworthy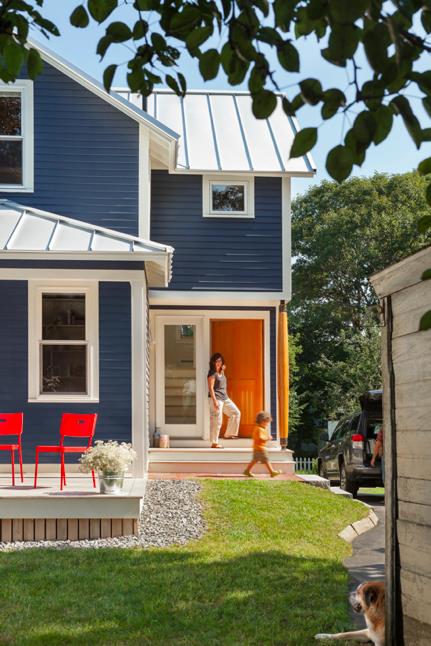 (Image Source via: Caleb Johnson Studio)
 2.    Cool and Warm Gray
If you really want to be in trend but stay safe at the same time, then gray is the color go-to for your house. It plays well with any style of house and in any climate. Gray has a wide range of hues making it suitable for a monochromatic color scheme that doesn't look boring at all.
A warmer gray will make a house feel right at home with a landscape full of leafy trees. Cooler grays would be better suited for coastal houses with a background of the sea and the sky.
Create a soft and subtle look using gray on gray by painting the body and trims in different hues of gray. Complete the look by going bold with your door or painting it a contrasting hue of gray.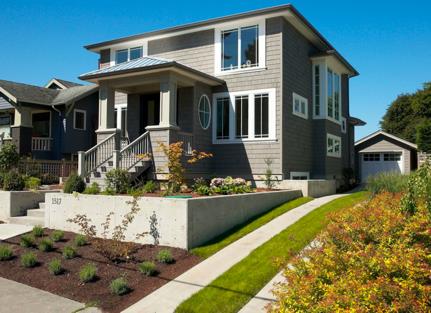 (Image Source by Designs Northwest Architects)
3.    Black
Black is a very daring color that needs to be executed well in order to work. It's not surprising that it's a trendy color for 2019 because this year is all about going out of the comfort zone. If you've always wanted your house to get noticed, then black will surely make your neighbors' tongues wag.
An all-black house may be intimidating even for designers, so it is recommended to break off the color with white trim and a bright and happy hue for the front door.
If you are fortunate enough to own a vacation property, you can experiment and paint it with the black color. A lighter shade of hue can make black more acceptable.
Color to try: Benjamin Moore's Almost Black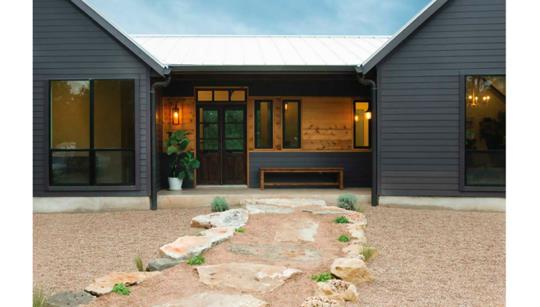 (Image Source via Erica Keast Heroy)
 4.    Green
Nature-inspired colors are on-trend and green isn't going to be left around by blue. Whether you're going for soft neutrals that pick up inspiration from your landscape or you go for bright, quirky splashes of green, you'll find that this color is just as versatile as blue.
A nice yellow-green color like chartreuse adds an instant pop of color. It's impossible to use this as a body-color but used as an accent, it's a tint of fun and vibrant. Similarly, a lime green door will make it so hard to miss and is an instant freshener for dark gray facades.
If you're looking for a softer and neutral shade of green, go for shades that have gray or brown undertones like a light sage color or a creamy mint green. Do the same if you want to go darker but remain neutral.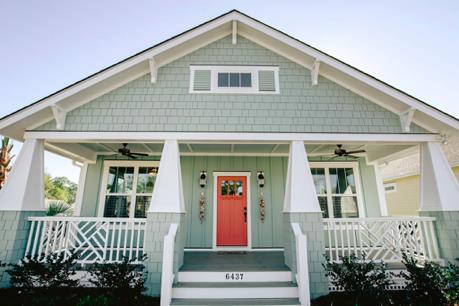 (Image Source: The Cottages)
 5.     Neutral with Bold front Doors
If you're not willing to take a risk in painting your house with the hottest colors, take that trend instead to your front door. A designer's secret to working with bold colors is to limit it to elements or features that they want to stand out, in this case, the front door.
On a neutral beige or taupe house and an all-white house, vibrant doors in turquoise, neon greens, and yellows, bright reds and oranges will really make it hard to miss your house. It's the safest way to add color to your exterior painting without risking and investing in a color that will likely fall out of trend soon. The good news is that trends for exterior colors take a long time to die down as compared to interior colors, making most of these color trends a timeless choice.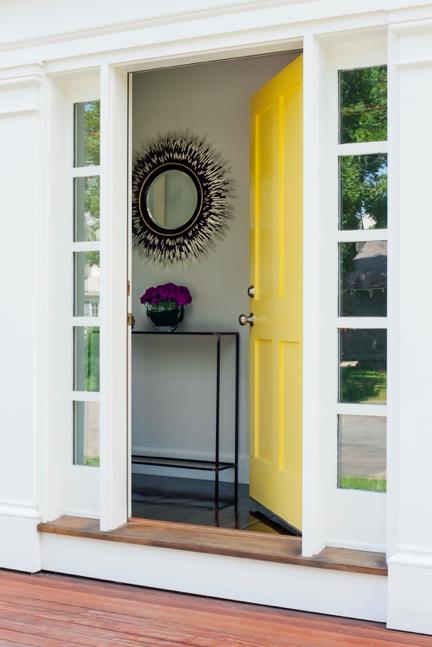 (Image Source via: LDA Architecture & Interiors)