People who live in smaller homes and living spaces already know the value of their property. Living small doesn't mean sacrificing happiness or wellness; in fact, smaller living spaces often help people better manage their expenses and focus on the elements of life that truly matter.
Even so, owners of smaller homes should try to add value to their properties wherever they can. Here are a few can't-lose home improvement ideas for small living spaces.
Storage
Without a doubt, the biggest concern that most small home dwellers have is storage space. Even after paring down their belongings to the bare necessities, people still need places to put their possessions, and smaller homes offer fewer options for organization and order. Homeowners that can successfully add storage space without reducing livability or aesthetics will see a major spike in their home's value.
Sometimes, adding new storage spaces isn't necessary, but optimizing existing storage spaces is. Homeowners might consider investing in built-in closet organization systems, with shelves, cabinets, drawers, and hanging space. It might also be wise to convert a coat closet into shelving or install kitchen cabinets in a different configuration. Homeowners should make note of inefficiencies in their existing storage for less expensive yet valuable updates.
Of course, some new storage options are sometimes warranted and can enhance the charm and character of a small home. Built-in shelving and cabinets are almost always valued by homebuyers, especially if the craftsmanship is high-quality and suits the style and space. Homeowners can also easily add hidden storage with in-wall medicine cabinets, cubbies behind pictures, and other out-of-the-way areas.
Windows
In many ways, windows are some of the best possible investments for homeowners on smaller properties. For one, windows never go out of style. For another, windows don't take up any space — in fact, they help to make small spaces feel brighter and more open. Window projects range from simple and DIY-able to complex and expensive, so homeowners in every budget bracket can find a way to add more and better windows to their homes.
On the easy and affordable end of the spectrum, homeowners might consider installing a solar tube to a room in their home that doesn't receive much natural light. Solar tubes are like skylights that do not need to be framed into the roof and that can travel through attics without the need for significant renovations.
Updating older windows with new, efficient double-paned gas-filled windows is much pricier, but it will radically increase the energy efficiency of a home. While homeowners should be aware that they are unlikely to see their energy savings repay the cost of the windows, their home value should increase accordingly to make the update worthwhile.
Luxury Features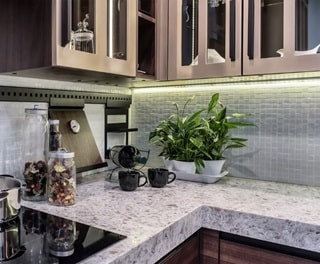 Finally, one of the biggest benefits of living in a smaller home is that the smaller spaces make luxury upgrades much more attainable. For instance, a home with a 200-square-foot kitchen would incur astronomical costs in changing its countertops to a luxury material like marble, but because the counter space in a small kitchen is more limited, the smaller quantities of marble make the update quite affordable.
Especially if a smaller home is in a prime location where real estate prices are high, homeowners should consider opting for high-end finishes that help their home value to skyrocket. Some ideas for luxury features include:
Solid wood flooring
Marble or porcelain tiles
Large, luxury appliances
Molding and wainscoting
Coffered ceilings
Integrated smart home devices
Homeowners should also consider decorating their home in a luxury or high-end style to match these finishes, opting for more sophisticated furnishings and décor. This is especially important during a home sale, when homeowners want to show homebuyers how well-appointed and valuable their property is, despite its size.
Smaller homes aren't inherently less valuable than large homes — but homeowners of smaller properties need to think more critically about renovations that will add value without adding or subtracting space. By focusing on addressing fears about storage, increasing the feeling of spaciousness and enhancing the small number of features present in the home, homeowners can transform a small, dingy property into one that obviously has extreme value to any homebuyer.