What do newspaper, coffee filters, and pancakes all have in common? No, it isn't the fact that they can all be associated with breakfast, but instead, all these items are part of hacks to make your move easier. Whether you need to transport a mirror or are looking for the best way to label your boxes, we've found the best moving tips to get the job done.
If you want your next move to be quick and efficient, these are the hacks you need.
Rethink Cardboard Boxes
Don't worry, we aren't suggesting you move your belongings one by one, but cardboard boxes aren't your only option. First, look for anything in your home you can use. Suitcases, baskets, hampers, and reusable bags are all great for packing away smaller items. Wheeled suitcases are particularly wonderful to transport books since it eliminates some heavy lifting.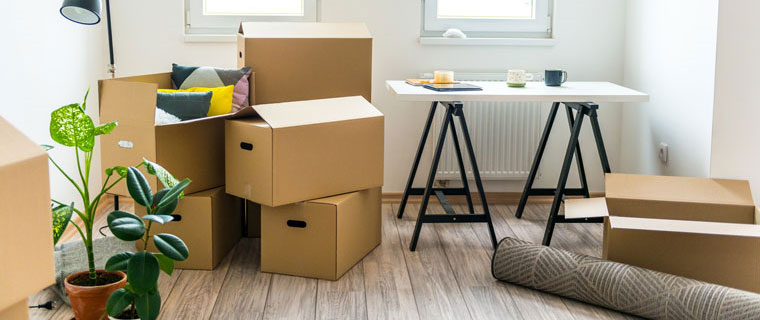 From there, you may want to consider renting reusable boxes. Reusable boxes are plastic totes that can help make your move more eco-friendly since they can be used hundreds of times in their lifespan. Plus, they are also less susceptible to breakage since they won't get soggy in the rain or snow. You can rent these boxes from moving companies like Bungo Box, U-Haul, and Gorilla Bins.
Label Boxes on the Side
When the majority of people reach for that chunky marker to label boxes, they tend to scribble a label right on top. The problem with this method is it makes it hard to see the wording when boxes are piled on top of each other. Instead, label your boxes on the side. Better yet, if you're using cardboard, put the labels on pieces of paper and then stick them on. That way, the boxes can easily be flattened are stored away for your next move—saving you time and money down the road.
Eat Down Your Pantry
Don't let food—AKA your hard-earned money—go to waste before your move. 2 weeks out, stop grocery shopping, and start making meals with whatever is in your fridge, freezer, and cupboards, with perishables taking priority. Stirfrys can be a big help for this, but don't be afraid to have some odd mix and match meals. Broccoli and pancakes with a side of macaroni and cheese are still delicious! By eating down your pantry you won't waste food, will have less to move, and you can organize the pantry in your new home from scratch.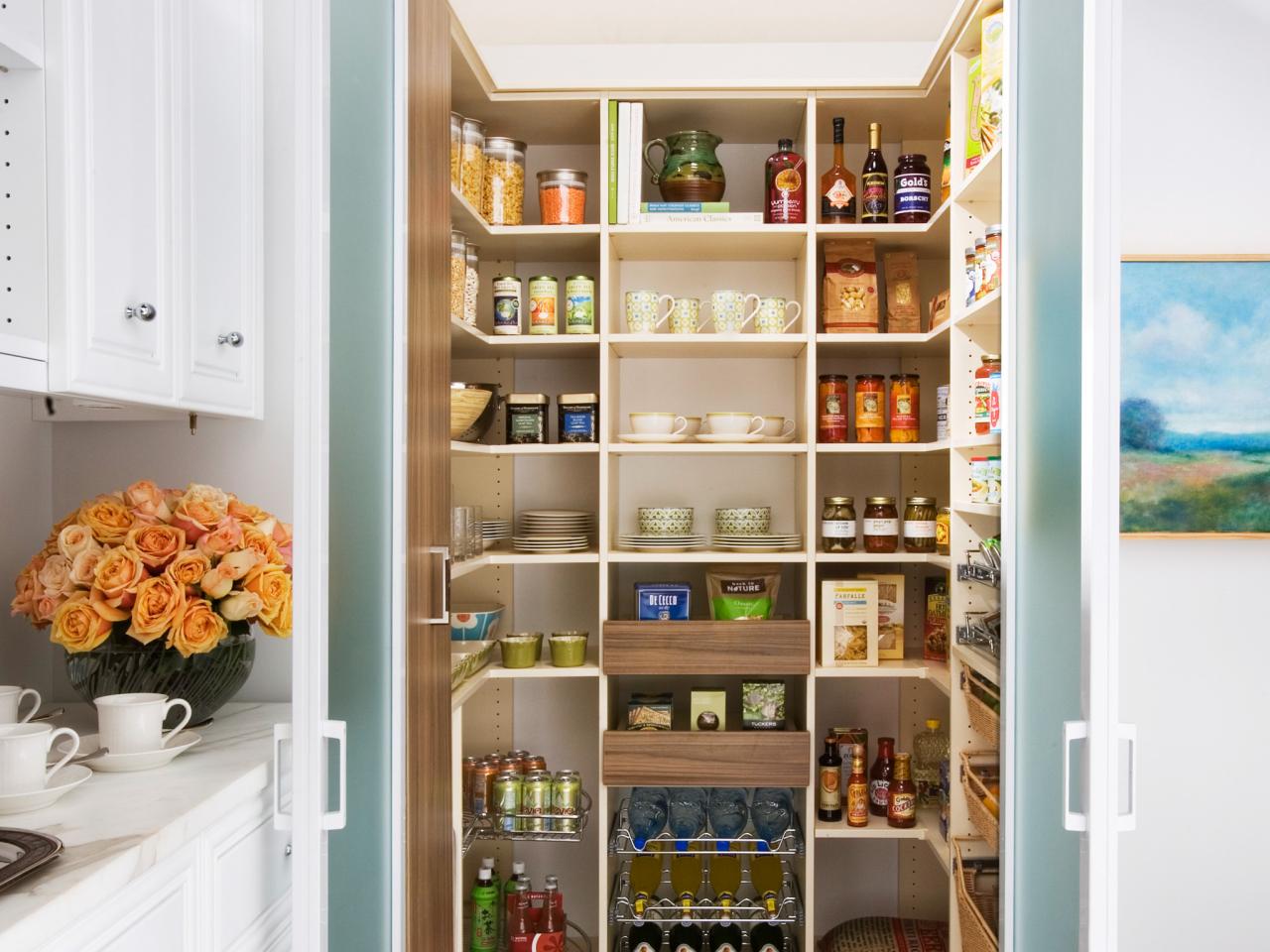 Start Saving Newspaper
Not only does newspaper work great for cushioning items like dishware, but often it is free. If you save the newspaper and ask friends and family to start collecting the weekly flyers for you as well, you may not even have to buy packing paper. When shouldn't you use the newspaper? Around anything, you are worried newsprint won't wash off of like fabrics and heirlooms.
Slip in Some Coffee Filters
Coffee filters aren't just for making your morning brew—they are also ideal for sandwiching between plates. They can keep plates, pans, and bowls from rubbing and scratching without adding bulk. Plus, they are already the perfect shape, so you don't have to waste time trimming them.
Use an X to Mark the Spot
Moving a mirror? Take some painters tape and create a large X over the mirror. This will help absorb shock and keep the mirrors insert from shifting around during transportation. If you are extra worried about breakage, buy a moving box designed for mirrors at a local moving company or hardware store.
Keep Hardware Together
If you had to disassemble your desk to fit around a tight corner or any other furniture, make sure you keep all the hardware together in a small Ziploc. Once finished, label it so you know precisely where those nuts, bolts, and screws belong. From there, you can either dedicate a shoebox to keeping these bags organized or simply tape the packet directly to the piece of furniture, so you don't have to dig for it later.
Take Pictures
Speaking of disassembling, if you don't think you will know how to rebuild your IKEA dresser or just want to remember how a hundred cables behind your TV went, take photos before you start taking things apart. Alternatively, if you lost or tossed the instructions for furniture assembly, do a quick online search to find a PDF of the instructions. Better yet, sometimes you can find a step-by-step YouTube video.
Remove Dresser Drawers
This not only makes your dresser a breeze to move, but you can keep the contents in your drawers, so you don't have to reorganize them later. If you're worried about contents spilling out or shifting around, wrap the drawer with cling wrap. This method also works for silverware trays or open-top plastic bins used to organize kids' toys.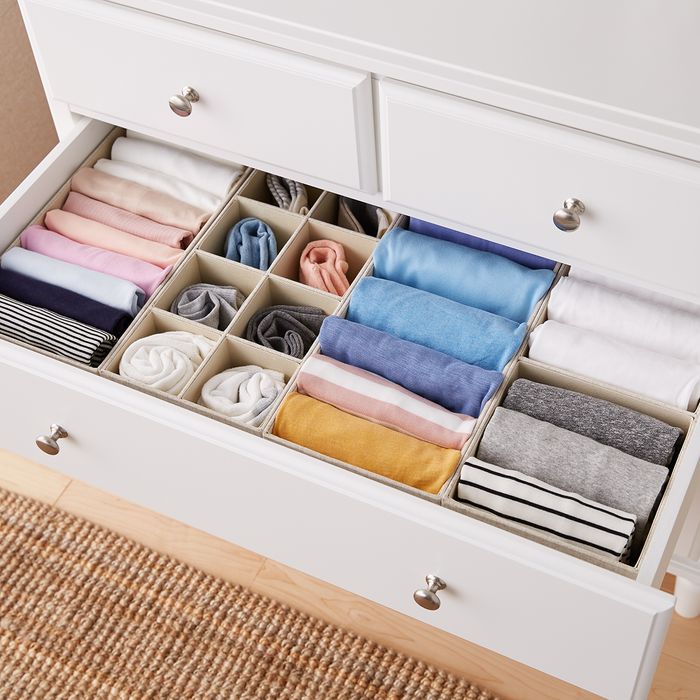 Stuff Your Socks in Shoes
The inside of shoes is just wasted space during most moves, so take advantage of them by storing your socks inside. Want to use more clothing in your move? Scarves are great for wrapping fragile items and other clothing and towels can be used to cushion boxes. Fabric is an excellent shock absorber.
Keep Your Makeup Safe
If your makeup collection includes any compacts, especially in powder form, sandwich a cotton ball inside to keep things from shifting around and then use a piece of tape to secure the lid shut. That way, if the box or bag your makeup contains gets bumped or dropped, you are far less likely to end up with broken foundation or crumbly blush. However, if this does happen, don't fret! Often you can repair your makeup compacts using rubbing alcohol.
Have Fun!
Moving can have more than a few stress-filled moments, so don't forget to have fun. On the first night in your home, try pitching a tent in the living room and have an indoor camping adventure. You may not have a roaring fire to make toasty snacks, but if you have a microwave or oven, you can still make some melty s'mores. And no, this tip doesn't just apply to those with children—this small living room adventure can be a great stress reliever for adults as well!
With these tips and some elbow grease, your move can be a huge success. So if you have a move in your future, start saving that newspaper, gather a few coffee filters, and start snacking on your pantry!