Cleaning is one of those tasks that some people find therapeutic, while others will avoid it as long as possible. If you fall under the latter category, we've got some good news for you! In this post, we're sharing our top tips to make house cleaning easy for the laziest cleaners. Take a look.
Introduce Fresh Aromas
Every house has a distinct 'smell' that you won't be aware of because you live there. To ensure that your house smells great at all times, get a few air fresheners or aroma diffusers for your house. It would be best to go with a mild scent that's not too overpowering.
Set a Timer
Sometimes it feels impossible to get off the couch and clean your house after an exhausting day. But who said you have to dedicate several hours to cleaning every day? Instead set a 15-minute timer on your phone and try to clean as much as you can until the timer goes off.

Clean As You Go
Whether you're cooking dinner or getting ready for a night out, cleaning as you go will make your life so much easier. While the water is boiling or veggies are roasting in the oven, you can take this time to tidy up the counter space. Similarly, rather than coming back to bed covered with clothes and makeup, you should tidy up before leaving.
Invest in Cleaning Supplies
The right cleaning supplies can save you a lot of time and energy. If you regularly mop your floors or you have toddlers that constantly spill liquids, buy a spin mop. You can easily clean floors without straining your back.
Get a Clothing Rack
Doing laundry is something you can't avoid, but you can save yourself from folding an endless number of clothes. Install extra rods in your closet so you can hang clothes. If you lack the space in your closet, you can get a clothing rack.
Tackle One Room at a Time
Don't take the pressure of deep cleaning the whole house on a weekend. Make cleaning more manageable by tackling one room at a time.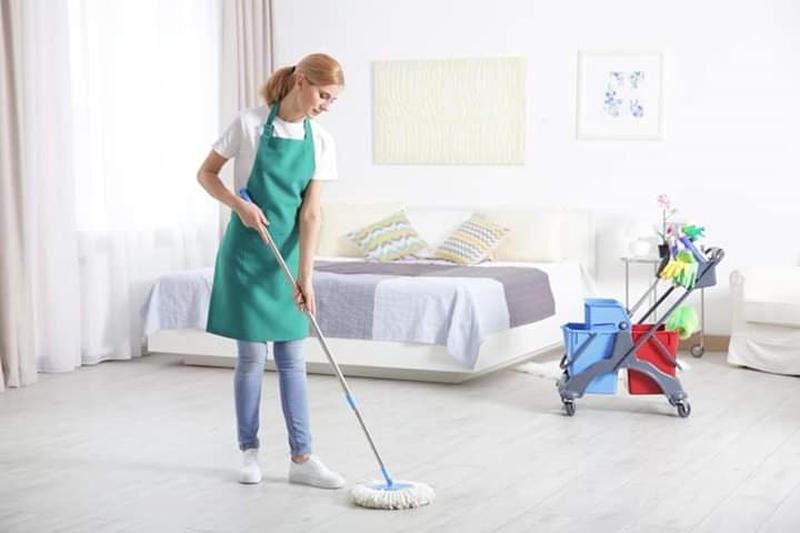 Delegate
Whether you live with your partner or roommates, divide up cleaning chores. You don't have to do everything yourself!
Place Fridge Mats
At some point in time, you are bound to spill something in your fridge. Save yourself the hassle of taking out everything and cleaning by placing fridge mats in it.
No-Shoes House
To minimize dust in your house, start taking off your shoes before coming inside. This will considerably reduce the need to vacuum and mop.
Use Rubber Cleaning Gloves
Whether you have pets or uncontrollable hair fall, hair or fur can quickly cover every surface of your home like confetti. Luckily, you don't have to spend hours picking individual pieces of hair. Use rubber gloves to effectively remove hair. You can also use a lint-roller to make upholstery hair-free.
Clean Your Microwave with Lemon
Take a bowl of water with a few slices of lemon and microwave it for a couple of minutes. Now take a clean cloth to wipe down the inside. And voilà! You've got a fresh-looking and smelling microwave.
Make It Fun
On a free night or afternoon, pour yourself a glass of wine, put on your favorite playlist, and get cleaning.
The Bottom Line
A messy space is not only an eyesore but can also impact your physical and mental health. Regularly cleaning and organizing your house is necessary to keep germs and stress away. Hopefully, the aforementioned tips make cleaning a tab bit less arduous.