Your patio offers an excellent retreat outdoors. With the many ways to add color and greeneries to your patio, it's a beautiful place to unwind or entertain guests. Adding new elements that will liven up your patio doesn't have to be expensive. A few simple DIY projects or cheap accessories can do the trick.
Check out the following ways to spruce up your patio:
Add Durable Outdoor Furniture
Consider placing durable seating, such as aluminum patio furniture, which can stand against weather conditions or outdoor elements. Patio furniture doesn't only add a function to your outdoor space, but can also provide comfort. Think about adding a table and some chairs if you plan to entertain in this space. With the right patio furniture, you can transform a small space into a relaxing haven.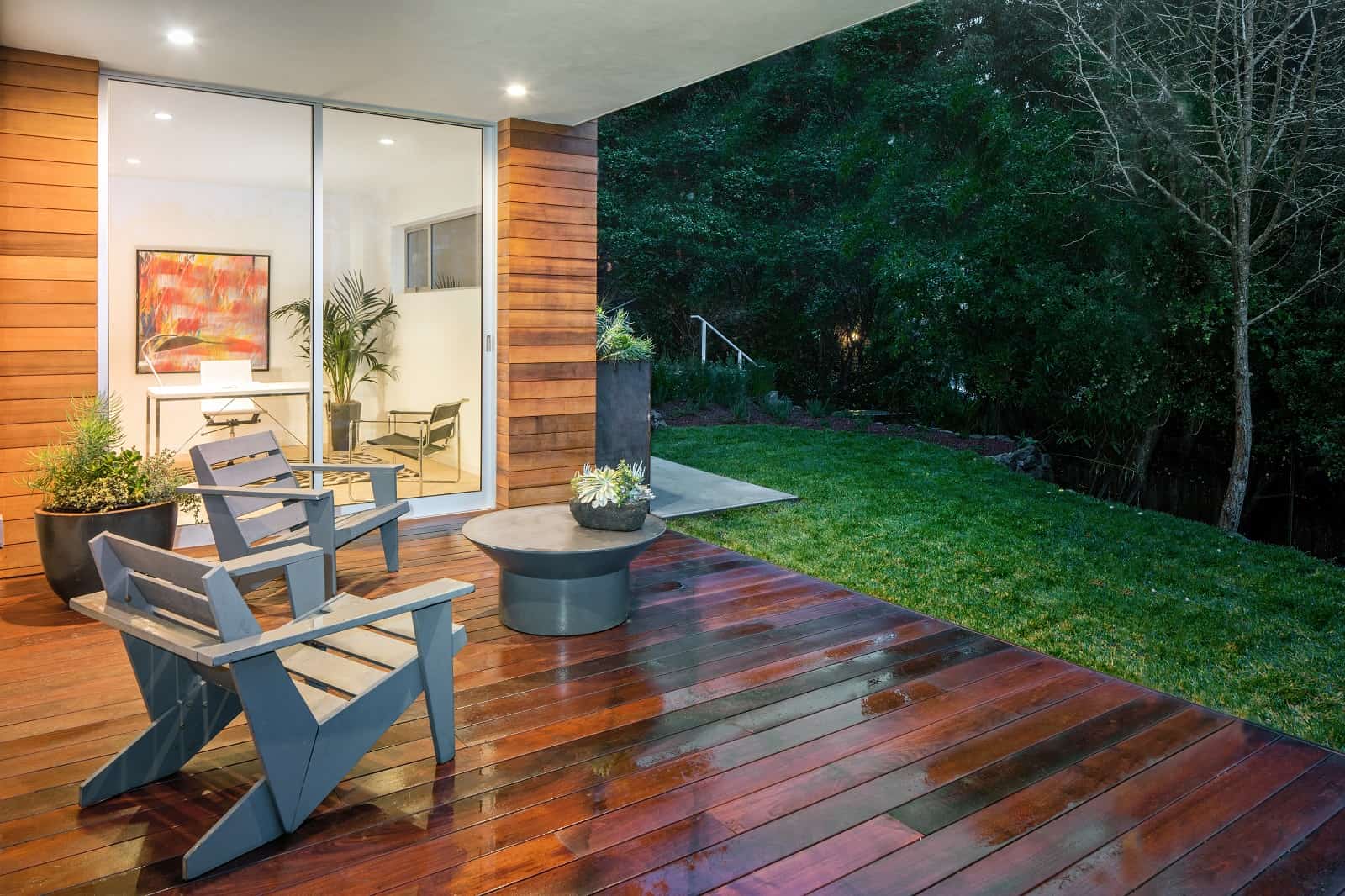 Add Colorful Pillows
It's awesome how this simple and inexpensive step can have a great impact on your outdoor space. Check out stores near you for limitless options, or you can find great deals online. If you can't make up your mind for a suitable pattern, you can make your own pillows or have them custom-made. Ensure that you choose a weather-resistant fabric pillow cover.
Showcase Plants In Containers
Not only is caring for plants a great activity for the family to enjoy, adding container plants into your patio is another way to improve any space. Try grouping several plants in different heights, or you can add smaller plants into the table. Whether you like the look of small palm trees, colorful flowering plants, or cute succulents in containers, these plants never fail to add life into an otherwise empty space.
Enhance The Space With Fragrance
Whether placed in containers or in garden beds, fragrant plants can instantly enhance the look of your patio. Scents can easily affect the mood, may help reduce stress, or encourage sleep. Consider plants, such as jasmine, lilac, lavender, and roses.
However, you need to remember that fragrant flowering plants can attract insects and butterflies. Some of these plants may also be overpowering to those with allergies. If these pose problems, you can plant them in containers, which can be easily moved around if needed.
If you're not a fan of flowering plants, you can try fragrant herbs, such as lemon basil, mint, and thyme.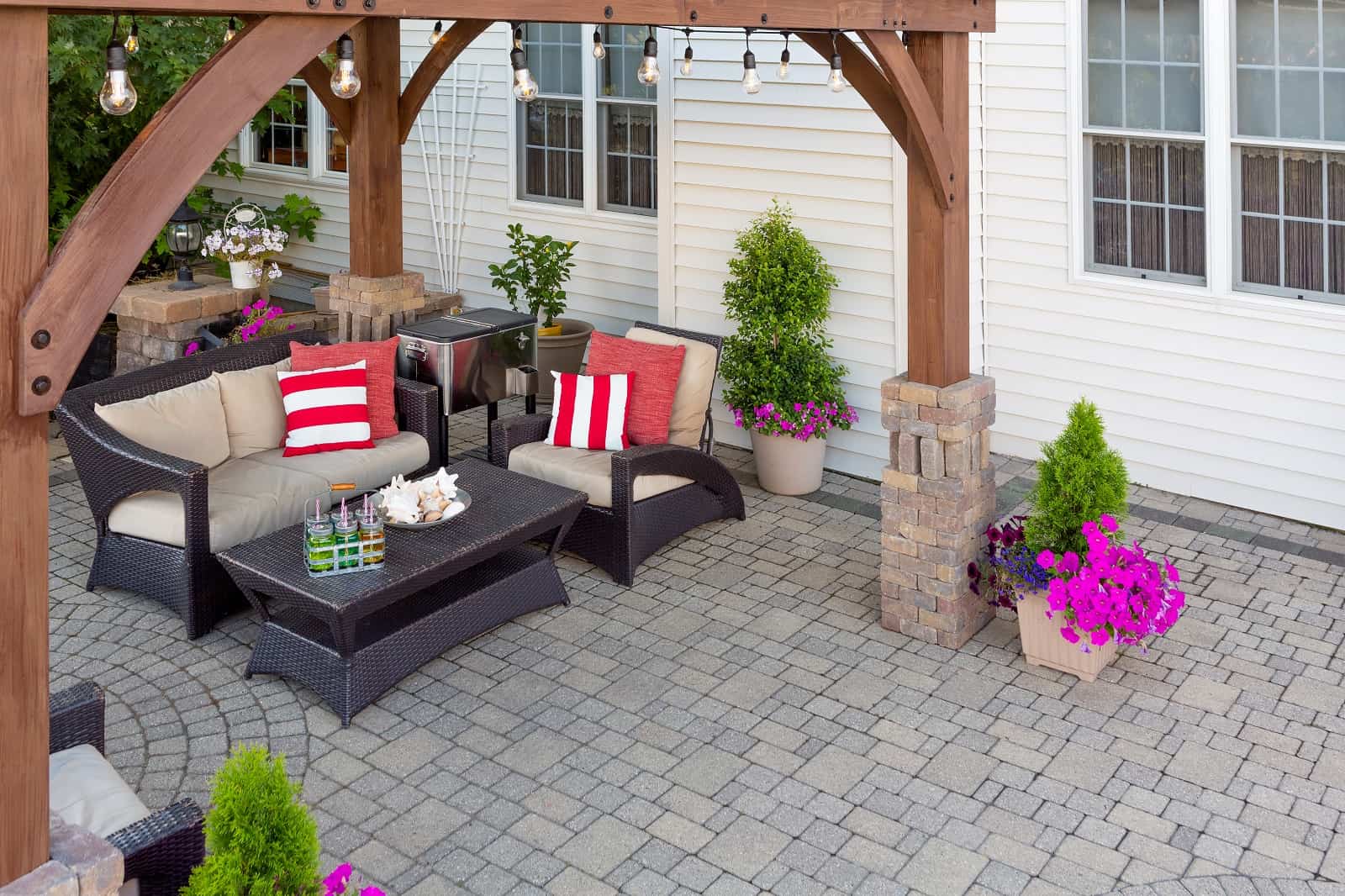 Consider Adding A Water Feature
If there's an electrical outlet nearby, you can add a small water feature to add a relaxing sound to your patio. The sound of water can help cover unpleasant ambient noises, such as construction, cars, or shouting people, perhaps. Other people consider water features as a great way to apply feng shui into space.
For a quieter addition, consider a birdbath that instantly adds visual appeal and can attract birds into your patio. Keep in mind, however, that birdbaths would require regular maintenance to help keep birds healthy.
Add More Color
Even if your pillows and plants provide vibrant colors into your outdoor space, you may want to spend some amount on paint for a nearby wall or old fences. If you own old patio furniture, you may consider covering them up with a colorful spray of paint.
Hang Artistic Lighting
Giving your patio proper lighting after sundown will ensure longer enjoyment for you and the guests. You can try hanging stranded lights from an umbrella or trellis. To add lighting on walkways, you can put solar in-ground lights in various locations. Another idea to try is to place candles on a table or, if your budget allows, hang a chandelier.
Incorporate Texture
While you can add texture to your patio with plants, you can also do so with a weatherproof rug. These rugs come in various colors, shapes, and designs. They're a great way to make your color theme coherent, while also blending with the indoor living space and outdoor view.
Consider using synthetic rugs for easy cleaning. Plastic or polypropylene rugs can also be hosed down for cleaning. The rugs can also be rolled up easily when not in use and stored. Rugs made of natural fibers may also be used to absorb sound.
Fix Your Garden Or Make A New One
There's no denying that gardening takes up work, but it can easily add a nice view and splashes of colors into your backyard. Create a small garden by making a bed and surround it with rocks. Plant low-maintenance perennials and consider using weed fabric to eliminate the need to weed in the future. If you're a passionate gardener, consider trying flowering plants or vegetables.
Final Thoughts
Your patio is as important as other parts of your home, and deserves some attention, too. The ways above to spruce things up in your patio are simple yet excellent in adding life and color into this outdoor space. Whether you're planning to relax on your patio after work, spend time with your kids, or entertain guests, making your patio look pretty is always rewarding.