Trends are changing, and so much of what would've been considered attractive then, may not be anymore. The same goes for interior decors. Especially now that there are even courses you'll need to take to be an approved interior decorator. Nonetheless, there still are simple ways and methods the average person can follow to spice up their home. And if you're looking for easy and cost-efficient ways to beautify your home? Then here are a couple of DIY ideas or ways that you could follow as well as to bring to life that picture you have in your heart of your dream home.
Paint
This is one of the first observations people notice when they come into your home, which is the colors. The wall paint takes a whole lot of the first impression of guests. Designers' advice is that though brighter colors might be your first go-to option, neutral colors would be much preferable. Do you know that different colors have different effects on people's emotions? It would help you to study the effect of colors, so you'll know which to use for the different parts of the home. For instance, being surrounded by the colors blue and white has a calming effect on you. As it is, you could consider artwork on these colors, especially paintings on fine watercolor paper, to hang around the walls. Do you know paint could also be a lifesaver not just for peeling walls, but for fading tiles too, even bathtubs and other home equipment can be refurbished with the right kind of paint!
Custom Art Prints
Ever wonder why the room of the average teenage boy is almost always filled with wall posters? Psychologists believe it's their way of responding to the world and dealing with stress; by surrounding themselves with images of things and people they like, they are more likely to be in a happier mood much of the time. It's also one of the features you could adopt for your home décor.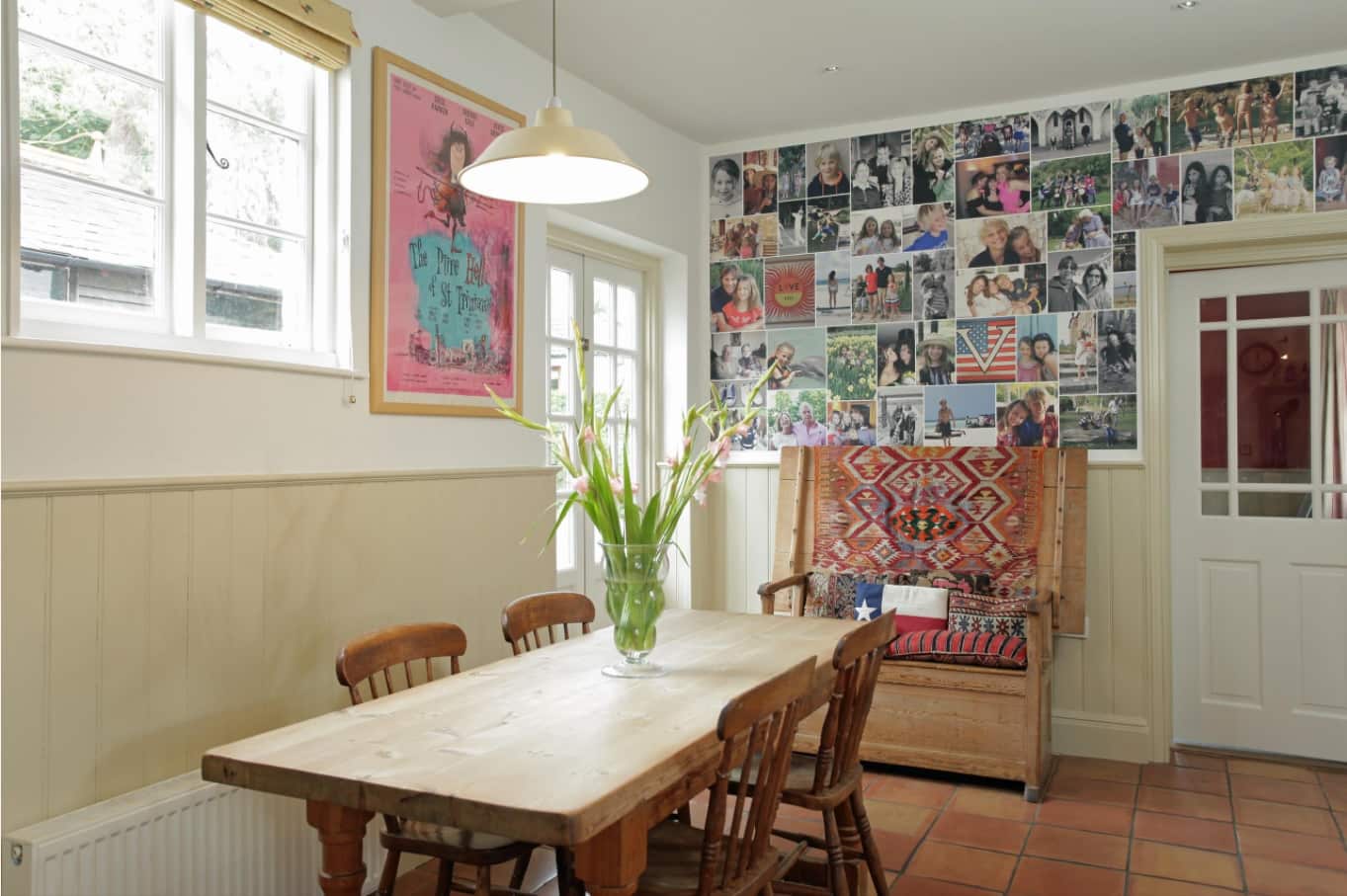 If you want to get the feeling that you are somewhere else altogether, you can find custom wallpaper that offers a range of backgrounds of different themes. Or how about getting pictures, prints, or even painted portraits, of popular figures or just images that give a home-welcoming perception. It doesn't even have to be an all-expensive piece like the Mona Lisa, just a simple picture that perhaps could even bring a bit of nostalgia.
The Right Gadgets
Look around your home right now and you'll very likely find that the things that constitute more of an eyesore, were things you bought, that you don't really need or use often, yet don't want to dispose of. Getting the right equipment in your home is a major factor that determines how your home would look. Consider having a yard sale for your old gadgets so you could buy better ones. And they don't even have to be expensive. In fact one of the laws of designing is; "More is less", 'Simple' could be so much more fashionable than you think.
It's also a good consideration to ensure that the colors of your home items, including your decor, paintings, or even cut-out shapes are complementary to each other, to prevent mismatch and color clashes. You should pay attention even to the extra gadgets that you buy later on. For example, you might wish to build a home gym someday so think about how that gym equipment would fit with the rest of the decor and how they would match.
Arrangement
Well, other than the suggestion of finally getting rid of things you don't need, is the perspective that; a major solution could be just achieving the right arrangement setting. And one main factor to consider when arranging is space because that is highly important. Give sufficient space for easy movement, no one likes a cranked-up room. You could stack things up if necessary, just make sure there's enough circulation space.
Also, you could adapt the technique of hiding gadgets and things that may not be so attractive, behind either draperies, an acrylic print that looks beautiful, or just a shielded location. The kitchen is especially an important space where you should really consider how you place your appliances. It would be better if you placed your aqua water filter under the sink for example rather than putting it somewhere noticeable.
Hire a Professional
Yeah… this is the most avoided option, but for top-quality service, why not consider calling people who do this kind of thing for a living. A Professional interior decorator must have taken so many courses and have sufficient experience to know what your home would need. You could just contact general contractors to help with your refurbishing and decors as well.
Conclusion
Ensure to focus also on the exteriors too, landscaping, ornaments, and canvas print are major items that give your home an aesthetically pleasing front. Other than professionals, also be sure to ask for the opinions of others too before making major decisions. Now you have no excuse for a shabby-looking home, with little-to-no cost, you can spice up your environment such that visitors would want to come again, rather than leave in a hurry. Might just take a bit of effort on your part though, but the results… totally worth it.