Turn your living room into a palace. Consider furniture and accessories that resemble ornate models from the time of Louis XIV. This is an inspiration for all those who want to create a unique interior. Choose the right mirror models, stylish picture frames, and elegant vases. What about porcelain dishes and accessories? They will become a valuable family souvenir, as well as decorate the living room in the Baroque style. Want to know the features of a luxurious interior? Read the submitted article with an extensive photo gallery.
Content: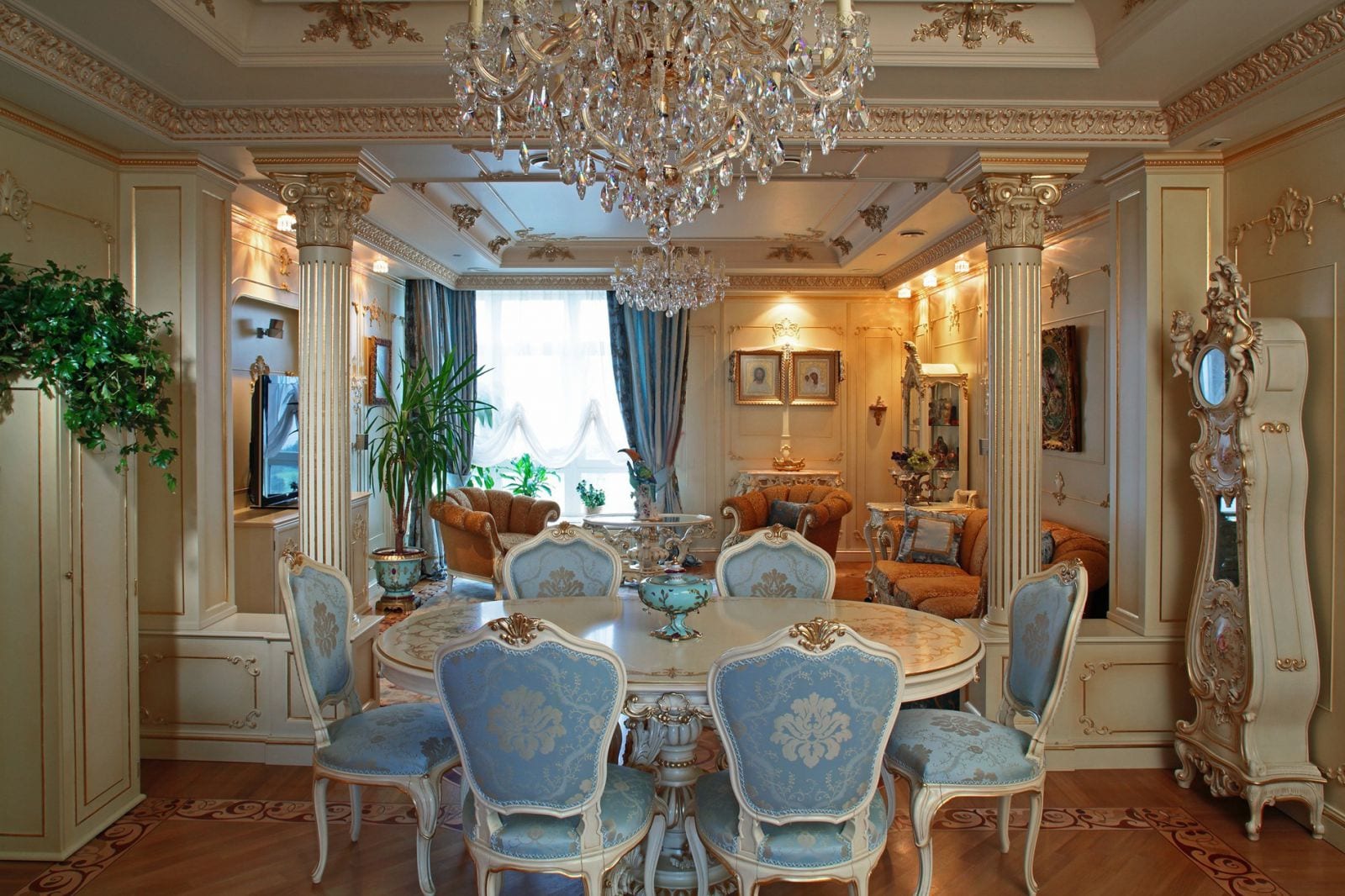 Baroque Living Room: Features
The name of the Baroque era is associated with a wealth of jewelry. The word "baroque" means a pearl of irregular shape, and in French, it is identified with decoration. This trend appeared in art at the end of the 16th century and continued until the 18th century, however, even today it stimulates the imagination of many artists. Today you can choose from a wide range of Baroque accessories. First of all, these are decorative picture frames, porcelain vases that perfectly blend with a representative living room or charming jewelry boxes. A baroque mirror or candelabra with cupids is an offer for people who appreciate original interior items.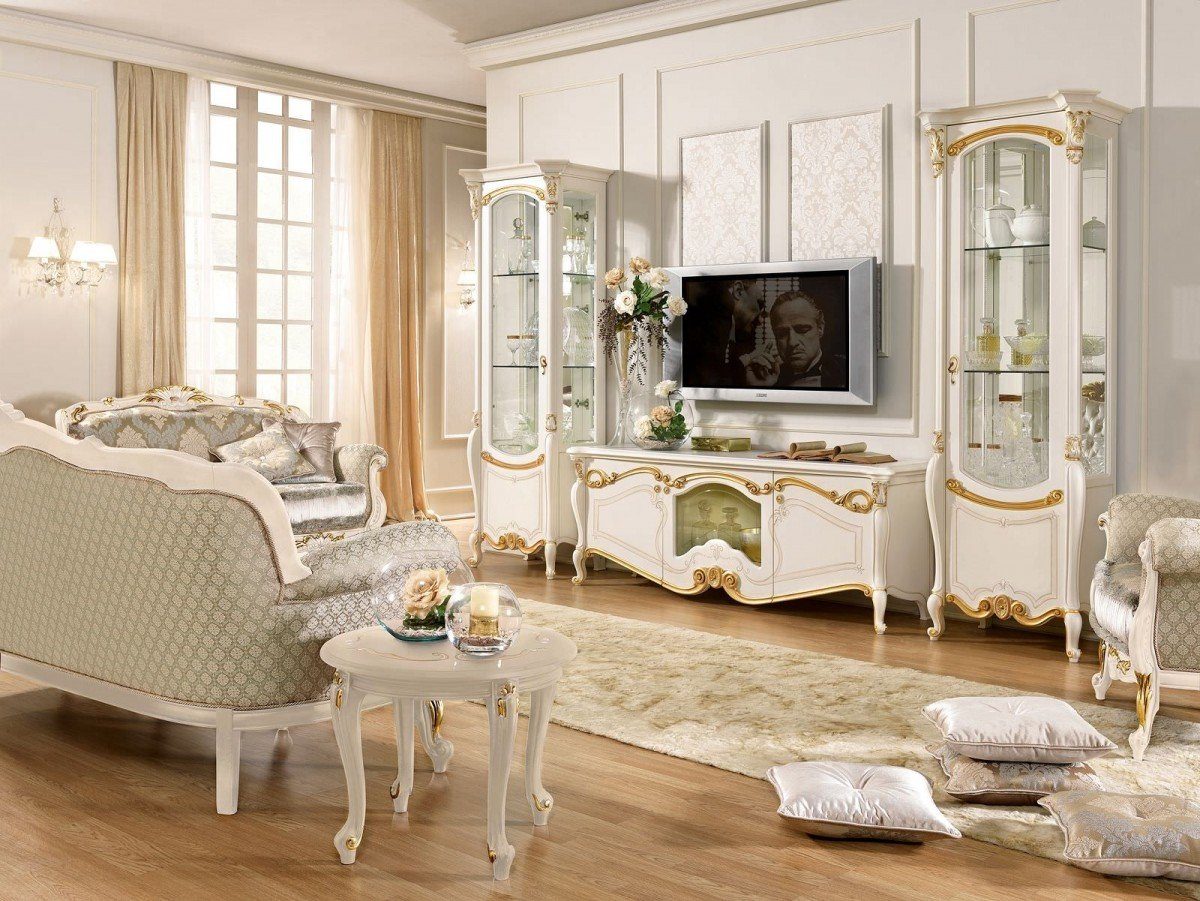 Baroque style is embodied in decorative ornaments, furniture, paintings, and sculptures. The interiors are characterized by marble walls, hanging gold mirrors, crystal chandeliers, velvet curtains, gold, or white angels. The baroque style has an especially gorgeous look in high and spacious interiors, bringing classic beauty to the living room. In such rooms, you will find cabinets with decorations, massive reliefs. The inner walls will be decorated with paintings, transferring to the era of antiquity. Every detail of the Baroque style creates a holistic pompous interior.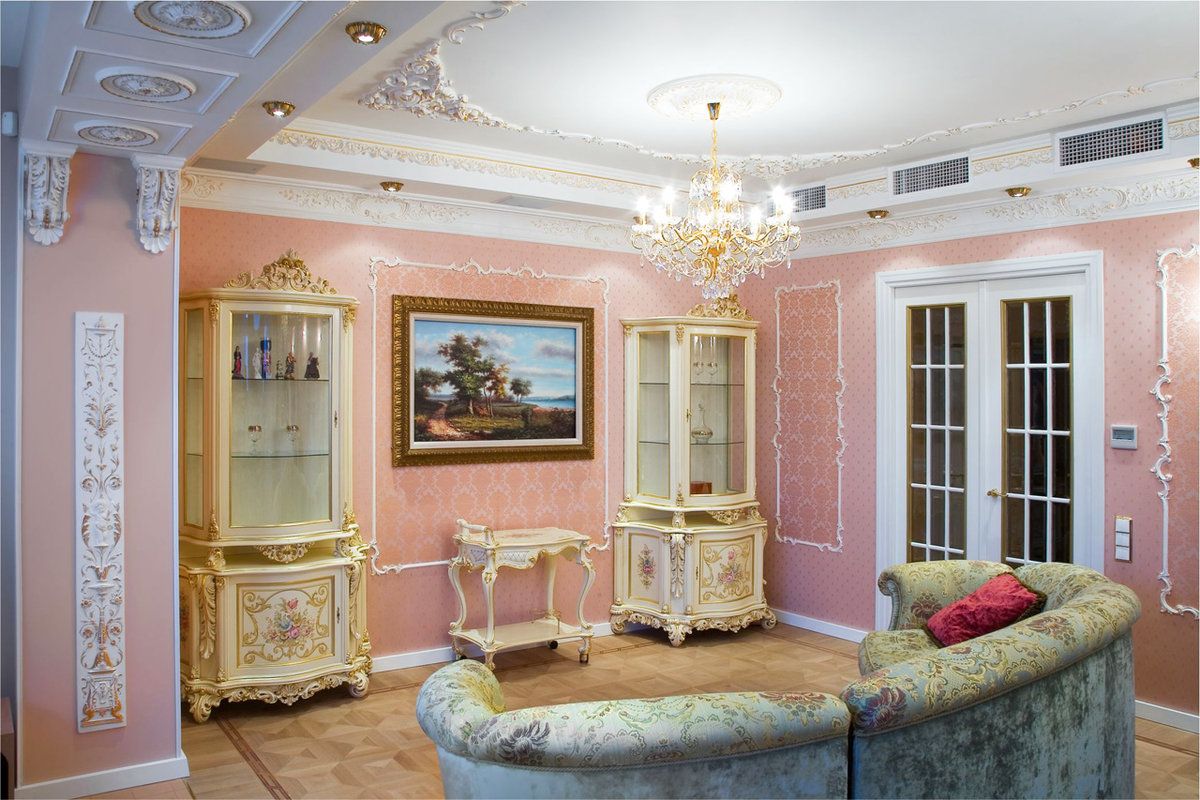 Baroque furniture and decorations will create an unforgettable composition in your home. You will find gold consoles with angels, candelabra, gilded mirrors, figurines with figures, landscapes, luxurious vases, clocks with cupids, jewelry boxes, busts, and other jewelry. When choosing Baroque jewelry, do not forget to create an interior in a uniform style. Living rooms belonging to several styles lose their charm and composition. In baroque interiors there is a large number of decorations, emphasizing the impression of abundance. Such decor can be found mainly in the interiors of apartments, estates, palaces, and castles.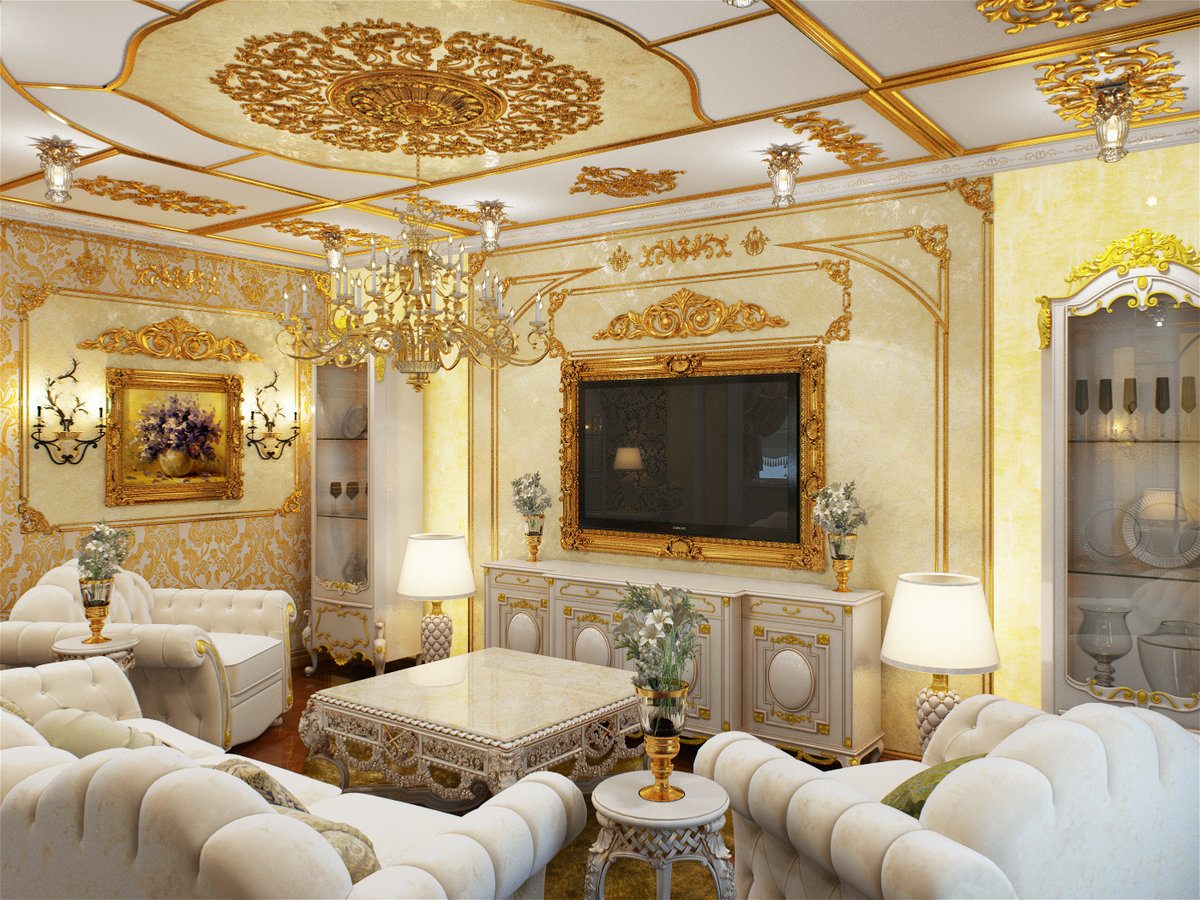 Baroque Living Room: Photos of Fashionable Interiors
The Baroque period is mainly associated with classical architecture with columns, arches, and sculptures. Magnificence always reigned in such interiors. Although it is unlikely that anyone will be able to live in the palace spaces daily, it is fashionable to choose individual elements of luxury to create a stylish composition.
How to Decorate a Baroque Living Room in an Apartment?
The baroque interior is luxurious. The walls are decorated with fancy stucco, mirrors, and gold-framed paintings, and a huge crystal chandelier hangs from the ceiling. Stylish streamlined furniture and massive legs are found in dark and light colors. They are complemented by high-quality fabrics such as velvet, small embroidery, satin, and patchwork. Textiles in the form of upholstery on furniture, as well as rugs, pillows and long heavy curtains are gorgeous.
An important element in the Baroque living room is the decorated fireplace, a large table, and stylish details such as hand-painted porcelain, which complements the dining room. On the walls, there are often wallpapers with ornaments or large flowers.
Baroque Style and Modern Living Room Interiors
Refined and elegant, full of intricate decorations and phenomenal additions, the interior – this is a baroque living room that impresses with its splendor. For such a huge amount of jewelry and fine artistry, you need a suitable place to present yourself in all its splendor. Spacious, luxurious living rooms are designed for Baroque arrangements. How to decorate a modern room in grandiose performance? Here are some tips on how to decorate a baroque interior and achieve impressive results.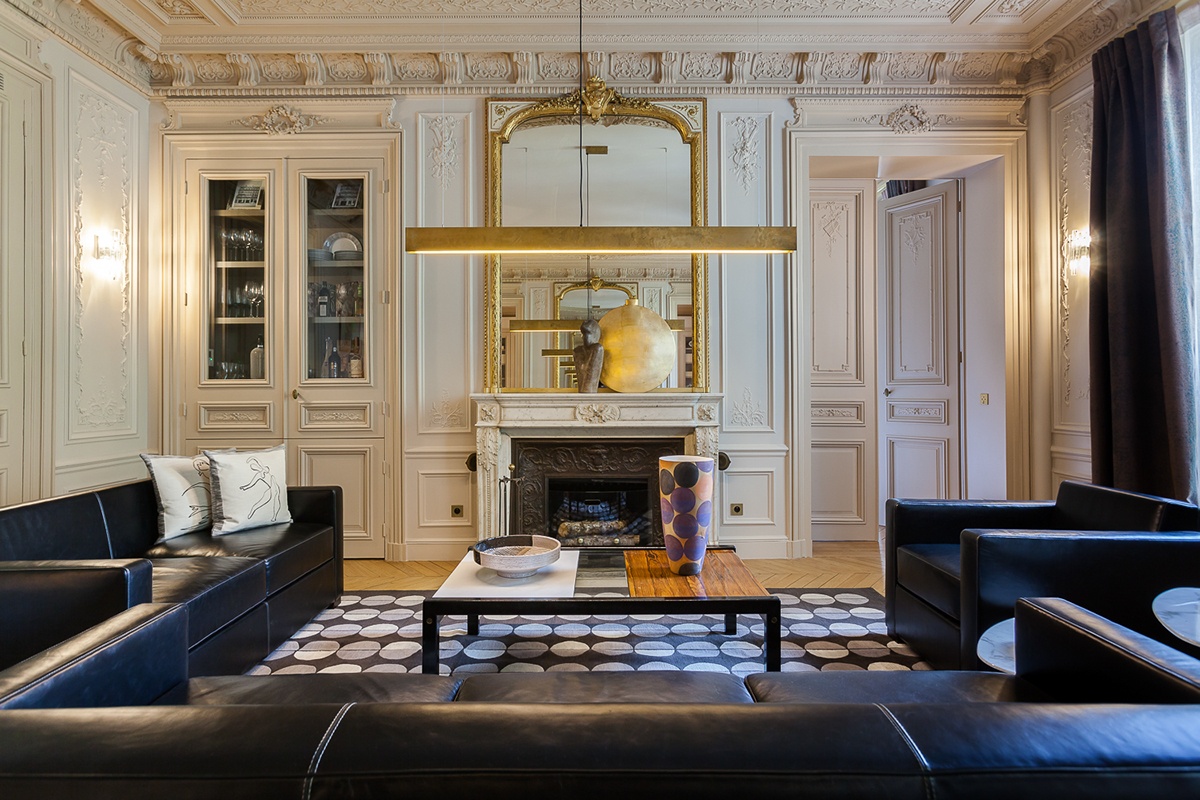 Effective Supplements
The culmination of the Baroque style is carefully selected accessories and precious materials. They emphasize style and create the desired atmosphere. It is worth choosing precious fabrics and materials, such as damask steel, velvet, silk with a beautiful finish, fringe, and decorative embroidery. The windows will be decorated with heavy velvet curtains tied with gold tassels. Openwork lamps with crystal garlands will bring wonderful light into the interior, beautifully reflected in large mirrors with decorative gilded frames. The richness of textures, patterns and well-balanced details will create a unique effect and chic space for marvelous looking living room.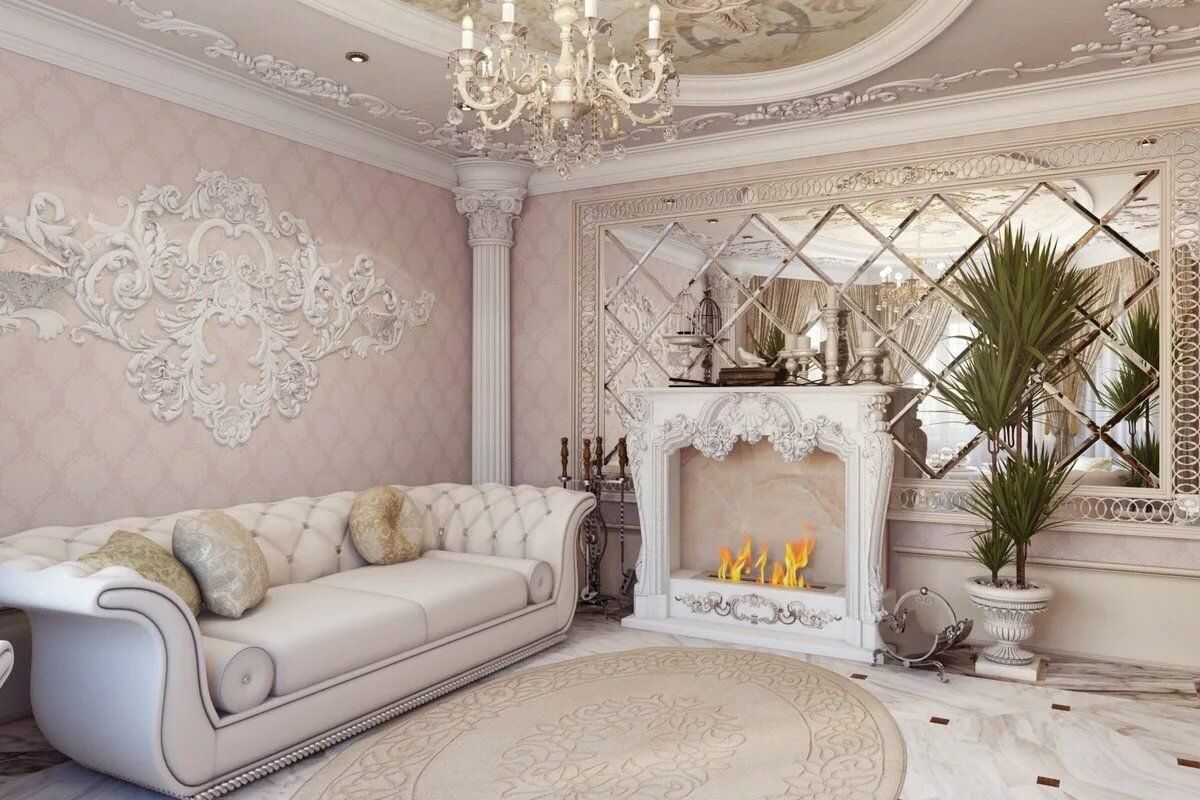 You will find a wide variety of beautiful living rooms in the photo gallery, which will take you to the world of baroque palace luxury.