Performing work of laying tile, cutting of ceramic tile is inevitable. There is no possibility to accommodate a whole tile in the corners of the room, therefore we need to cut it. Qualified cutting can be performed at home with the necessary building tools.


Before you begin the work on paving tiles, it is advisable to get some construction tools:
ordinary roller glass cutter;
manual and electric tile cutters;
Angle grinder;
Simple tile cutters.
Ceramic tiles cutting advice. Roll tile cutter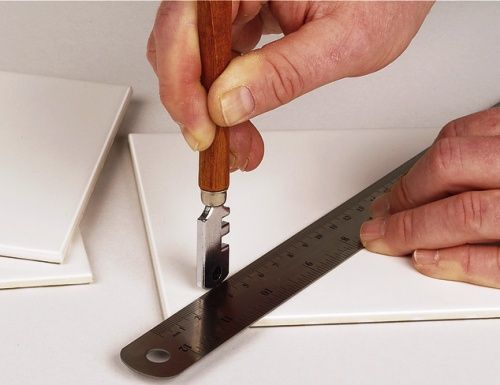 With the use of glass cutter you can execute linear or shape cutting, but the second option is difficult to implement with a conventional glass cutter. To do this, take several consecutive steps: mark the cut line with the felt-tip pen, then put the tile on a flat surface, fix it with your left hand and hold still, and holding a glass cutter with your right hand. Then run the cut line with a constant effort in the direction to yourself. Glass cutter is held vertically while keeping an angle of 90 degrees. Place the tile on the surface, at the same time aligning the cutting line with the edge of the table, press down sharply on the free edge of the tile, and breaks off a piece of the tile.
The cutting line is applied to the surface of the tile. Run down the line with tile cutter. Ceramic tile is held throughout the cutting time. In the case of using the stone tiles with carbide filler in the form of small chips, do not use electrical tile cutter.
The use of this option is only possible for small volumes of facing surfaces of the walls with ceramic tiles. Qualified master uses a more modern construction tool – electric tile cutter, which improves performance and reduces the work performing time. Tile, cut this tool is always perfectly smooth edges without chipping.
Cutting tiles with a grinder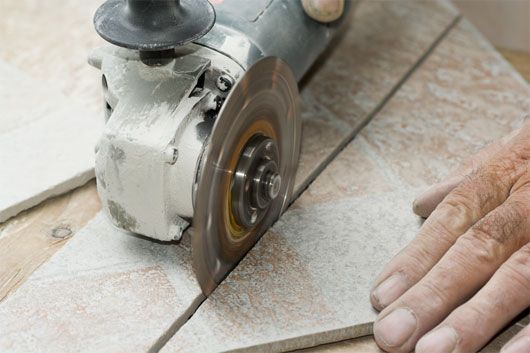 Use the grinder, is generally carried out for linear tiles cutting and shaped cutouts. This equipment has a compact, affordable and easiness of use. However, the resulting cuts of tile edges have low quality and require additional treatment by careful sanding of tile edges.
Handheld (manual) tile cutter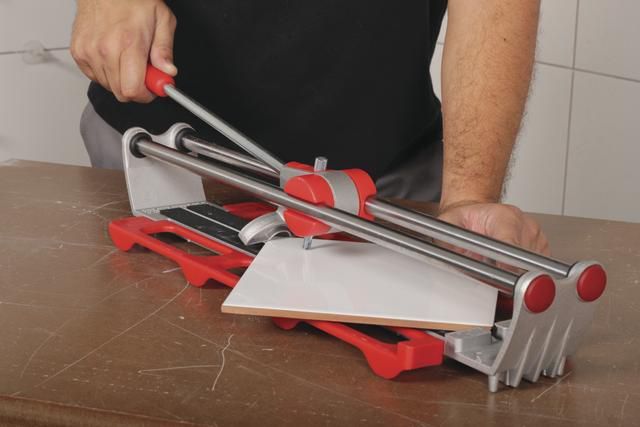 This device is used to cut ceramic tile which thickness not exceeding five to six millimeters. It significantly reduces the time and quickly produces the desired tile size. It must be remembered, the denser structure of the tile, the better it narrow segments could be cut off from the tile.