Country style originated in England in the early twentieth century has no particular nationality. Speaking about the country, usually mean averaged image of the rural house or city apartment, decorated in accordance with main principles of this style.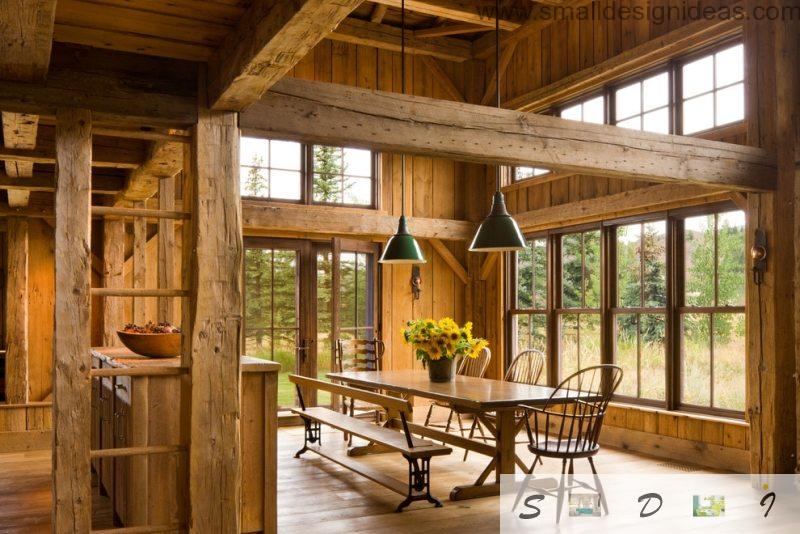 The main features of the Country design current:
Ultimate simplicity throughout, combining natural materials and craving for some romance.
Committed to the highest degree of functionality and convenience.
Ability to use the unique rustic features, formed on the territory of different countries under the influence of cultural traditions of these lands.
The lack of pretentiousness and ostentation.
Application of the simplest natural materials in interior decoration, as well as textiles made from natural raw materials.
Using a single color scheme, "borrowed" from nature, the predominance of bright and pastel colors in the interior.
Refusal of the application of cutting-edge materials and technologies.
Style of the country is the most commonly used to design kitchens, dining rooms and living rooms. A little less in order to furnish the bedrooms. Rustic style in creating interior of the children`s room is hardly ever used. The basis of any modern interior is primarily furniture. Let's try to figure out how does coloring of "rural homes" affect the choice of basic furniture accessories.
The furniture in the interior of the "rustic" kitchen
Before you fill the Country style kitchen space with all sorts of furniture pieces, you`ll need to make sure that the accessories will be purchased to meet such requirements of country style as a convenience, simplicity and practicality.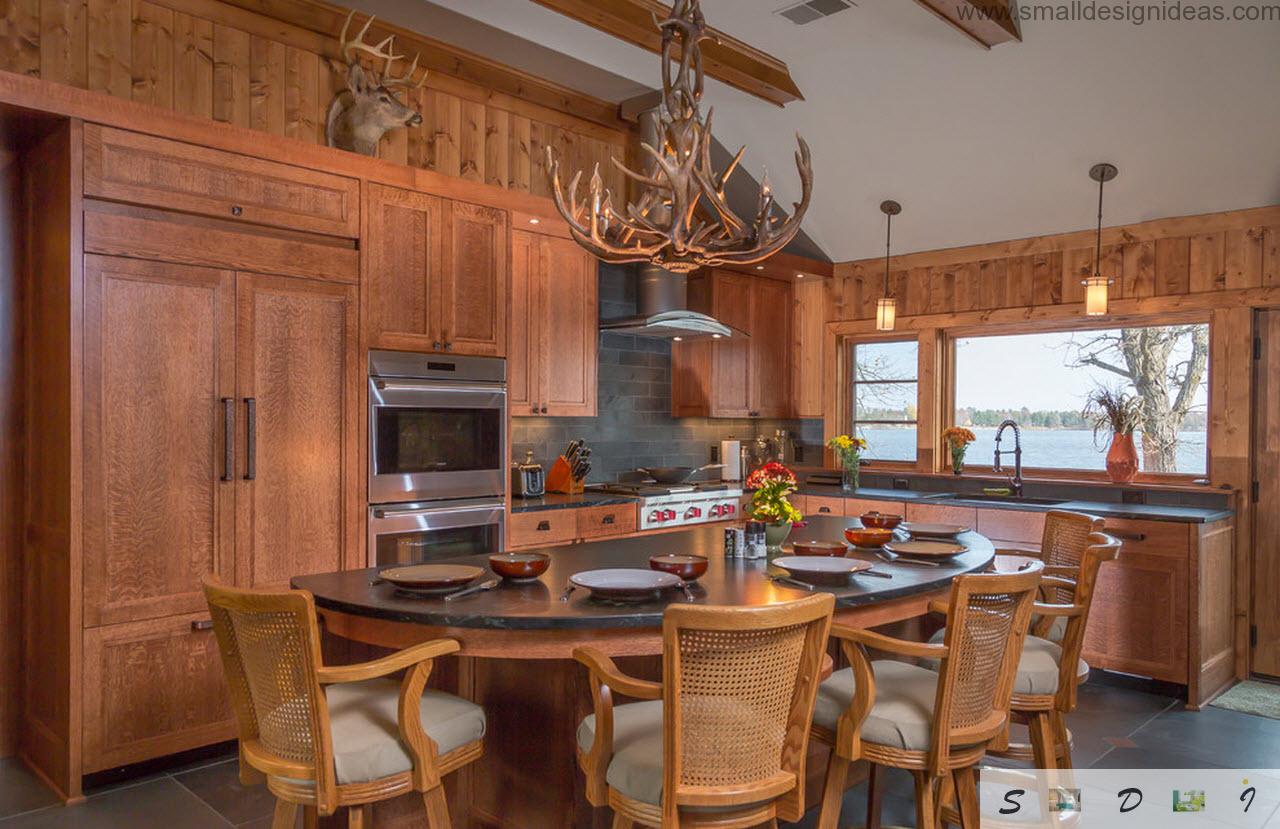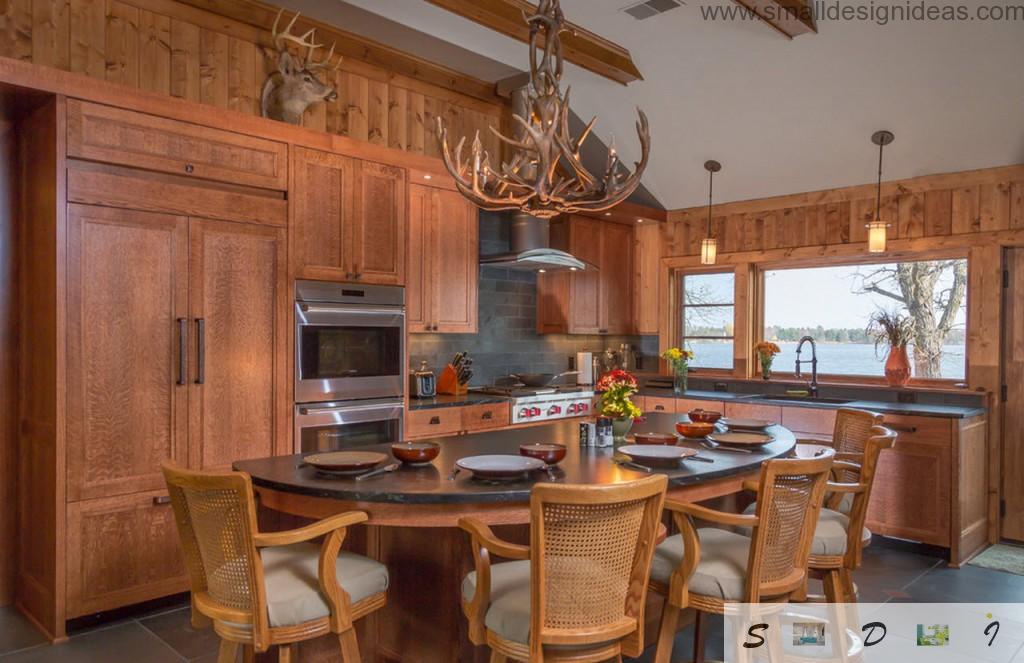 Furniture with straight lines and the most simple decor would be appropriate in the kitchen area. In this kitchen you can often find such furniture accessories as:
massive wooden table of uncomplicated form, which may cater for a large number of people;
simple stable chairs or benches, made of wood or wicker;
neat vintage buffets found in the attic and lovingly restored by their owners;
cozy kitchen simple shaped sofas;
wall cabinets and shelves that mimic antiques;
old trunks and baskets responsible for storing utensils.
In the whole, this kitchen furniture must have some coarse look. We know that the country style does not accept the latest modern paraded technology, and therefore use of necessary kitchen appliances will be problematic. The owners of such housing is likely have to think about how you can "hide" the most necessary appliances in order to their daily operation was not accompanied by significant problems.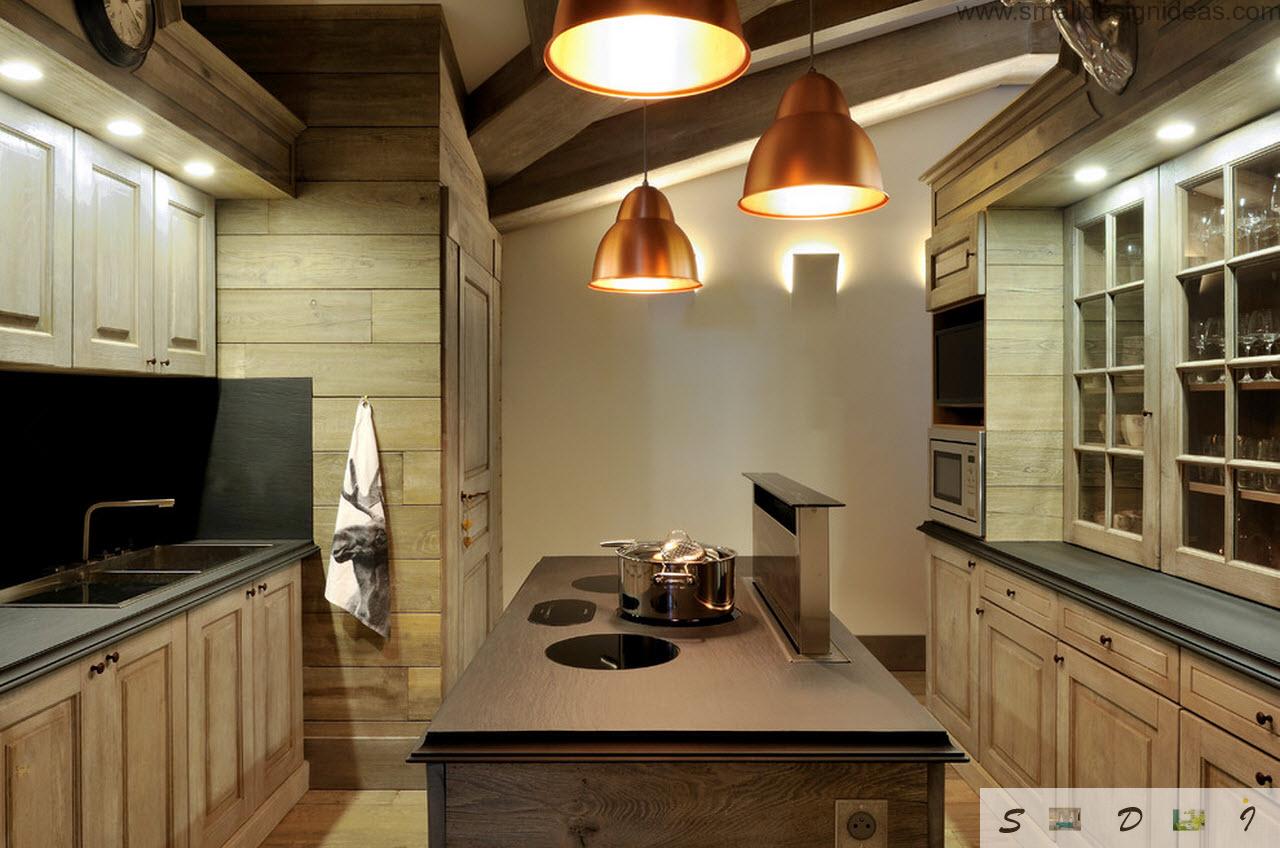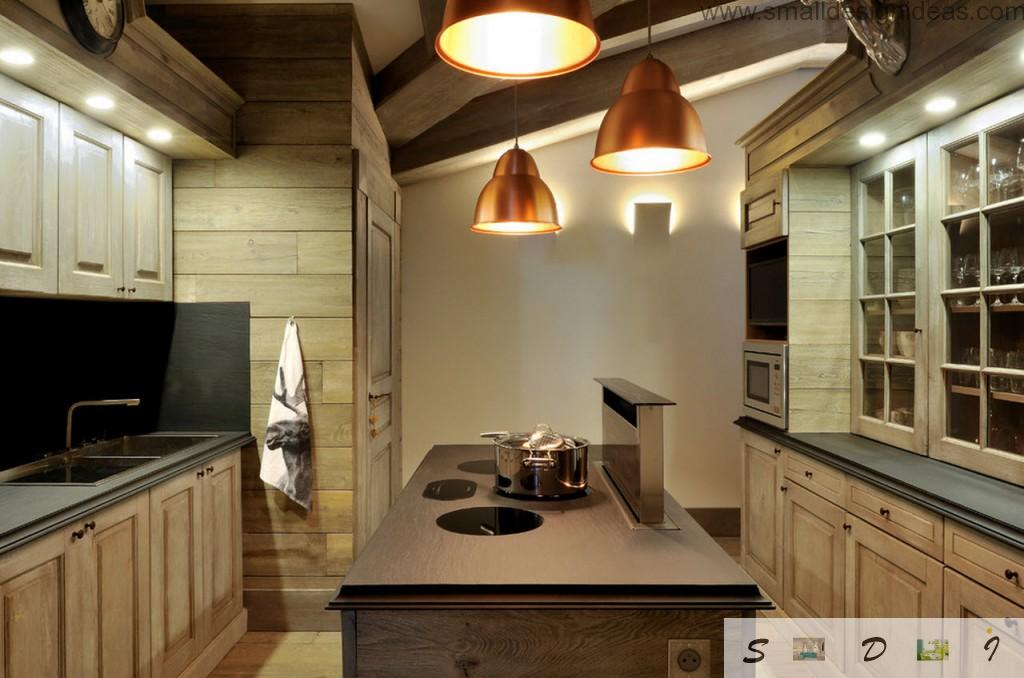 Housekeeping tip:
Furniture in the kitchen, decorated in a country style, can be perfectly complemented by ceramic plates. These accessories can be placed on shelves and hanging on the walls. Do not forget the wicker baskets for cookies, tin containers for tea and flowers. Rustic style allows the use of a wide variety of floral arrangements: in such interiors bouquets of artificial flowers and live plants placed in stylish vases or pots both have excellent look.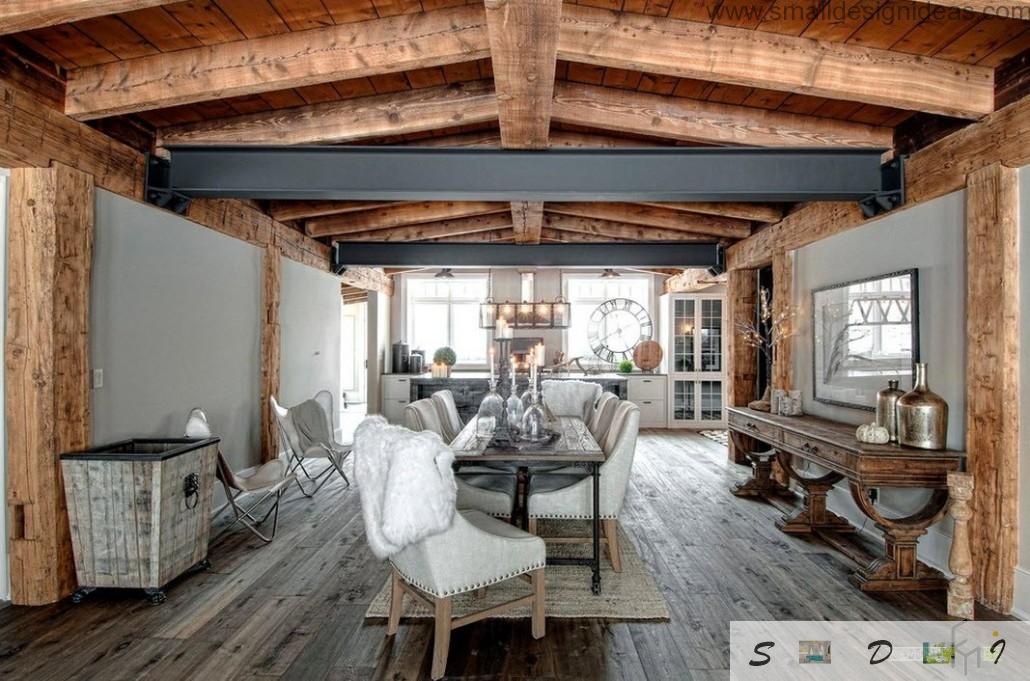 Country style furniture design ideas of the "village" living room
Very often designers combine living room, dining room and lounge in one space, giving it the unique features of the country style. While arranging this zone only typical "rural" materials are recommended. Therefore it is necessary to forget about linoleum, pendant ceilings and plastic panels. Glass and chrome surfaces will also be misplaced. But the forged products and furniture using old metal and bronze will fall "to the court." Furniture, acquired for registration of such premises, most often made of oak, walnut, pine or cherry.
In the living room will look good sturdy pieces of furniture with a "touch of antiquity":
ordinary cabinets without polishing;
simple sofas and chairs upholstered with textiles of rough natural colors (beige, pale green, yellow-brown, bluish);
cozy rocking chairs;
bookshelves, hung to the very ceiling;
bulky chests.
Housekeeping tip:
To give furniture a finished look in such a living room will help accessories, made by your own hands (decorative pillows, handmade rugs, embroidered tablecloths and napkins, patchwork blankets, chair covers of raw material). Table lamp fits perfectly with the original shade in the interior of the living room, as well as the stable and stylish candle figurines of bronze, ceramic and wood.
There is another important point that should be considered in the design of the living room in a rustic style: a fireplace must be provided in this room. Fire can be both artificial and real. The owners of holiday homes can afford true luxury – solid oven, lined with own hands, where you can prepare food.
Country style is simple and complicated at the same time. The main difficulties arise at the point where you want to place in the interior various devices and appliances that make life of modern human more comfort and diversified of – home theater, fitness equipment, and computers.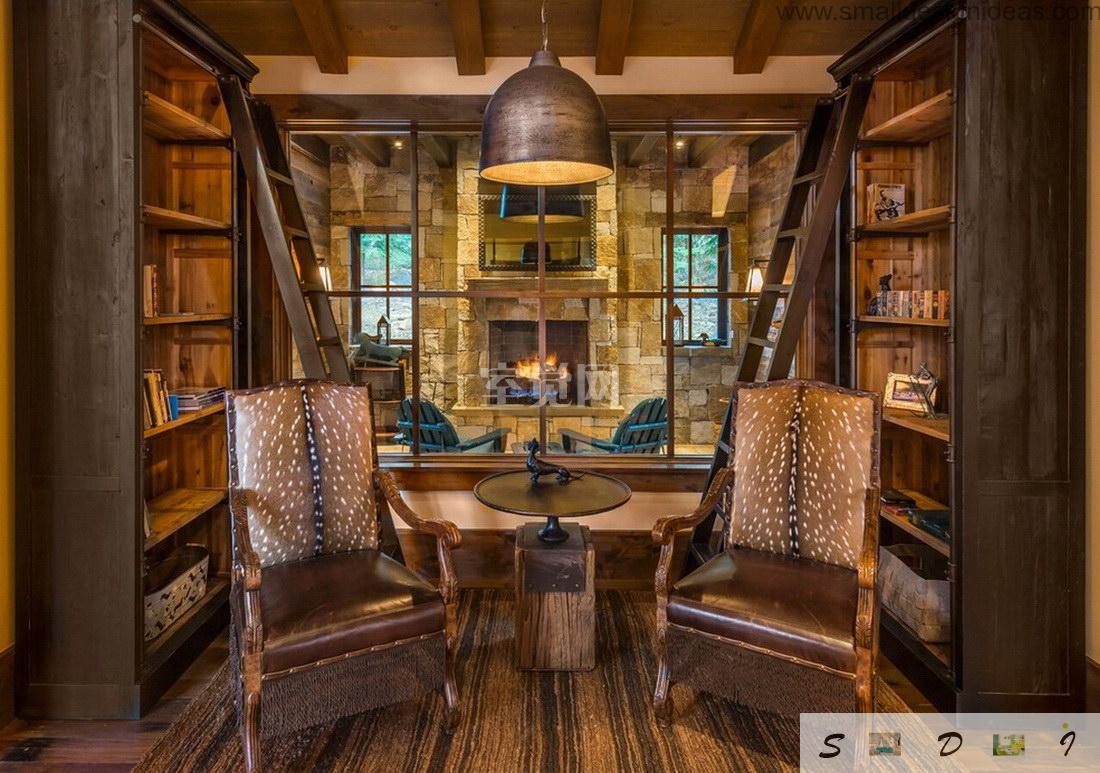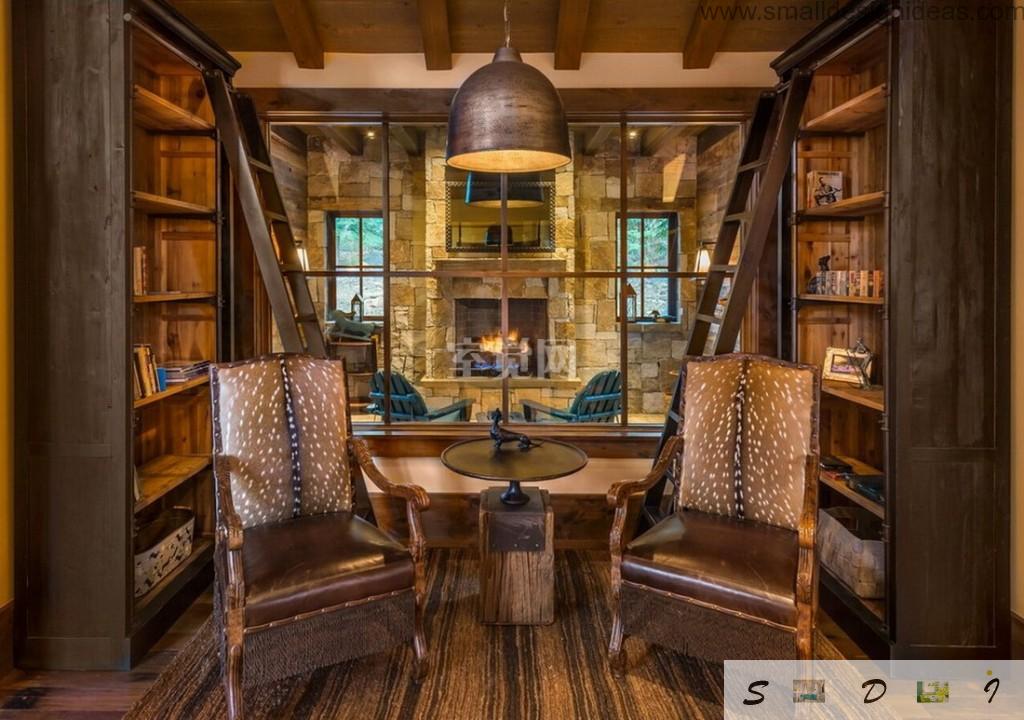 Country style furniture design ideas of the "village" bedroom
The premise of a bedroom, decorated in country style, can be called a model of comfort. This space includes:
Large solid bed with а headboard;
simple and reliable tables of different types of wood;
functional dressing table;
wardrobe, made of rough wood.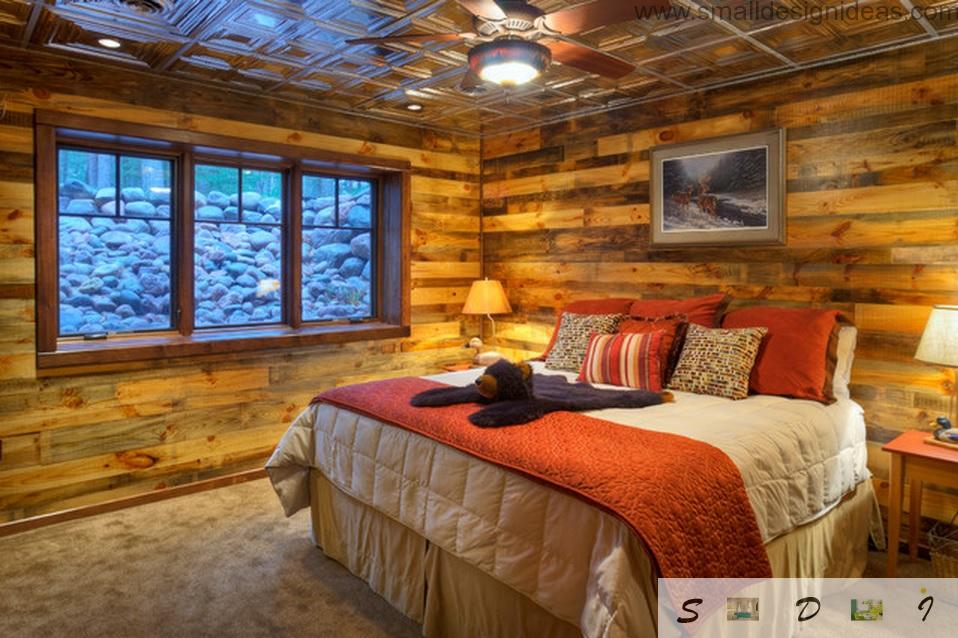 In the selection of textiles for the bedroom furniture made in rustic style, it is recommended to use the color scheme, which is already available in the interior: the terracotta, green, cream, gold, crimson and blue. For a rustic interior are usually suitable small squared textiles, with polka dots and flowers. A few striped things also won`t be misplaced.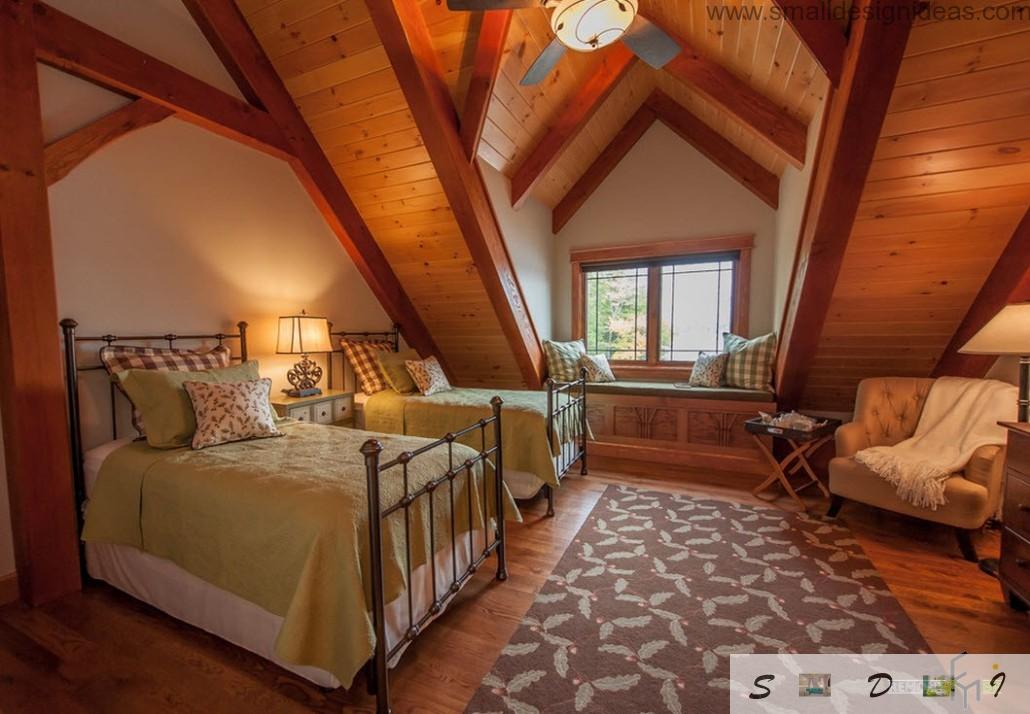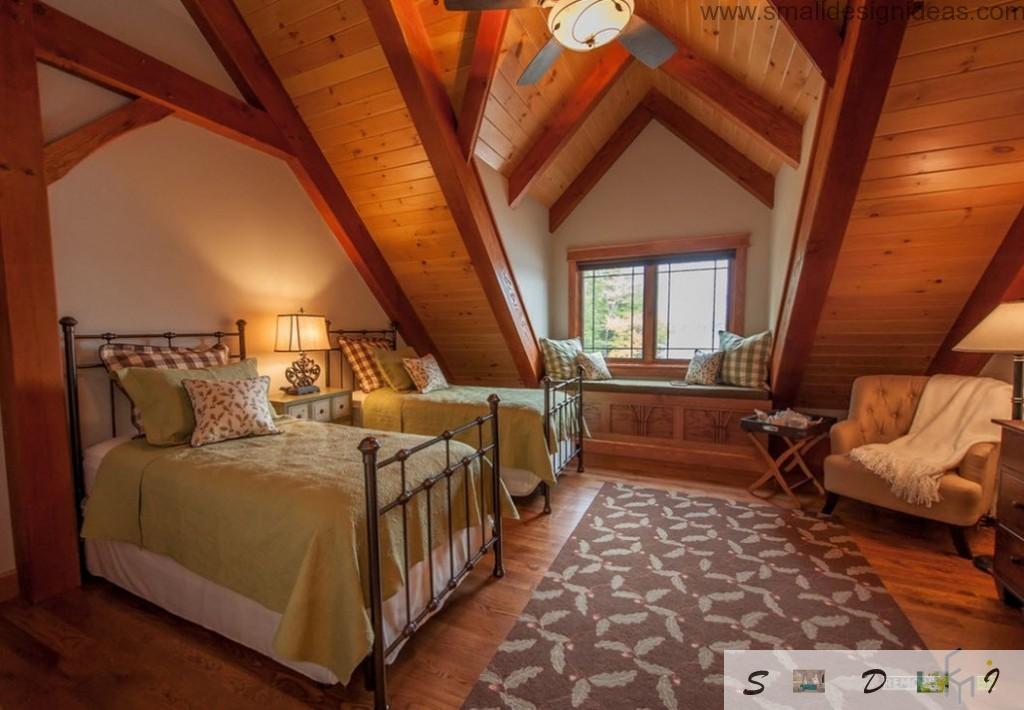 Housekeeping tip:
When choosing fabric for upholstery in country style, above all, we should pay attention to such qualities of upholstery materials as stain resistance and durability. It is desirable that the furniture covers can be washed in automatic machines. This will allow homeowners to avoid unnecessary costs for dry cleaning.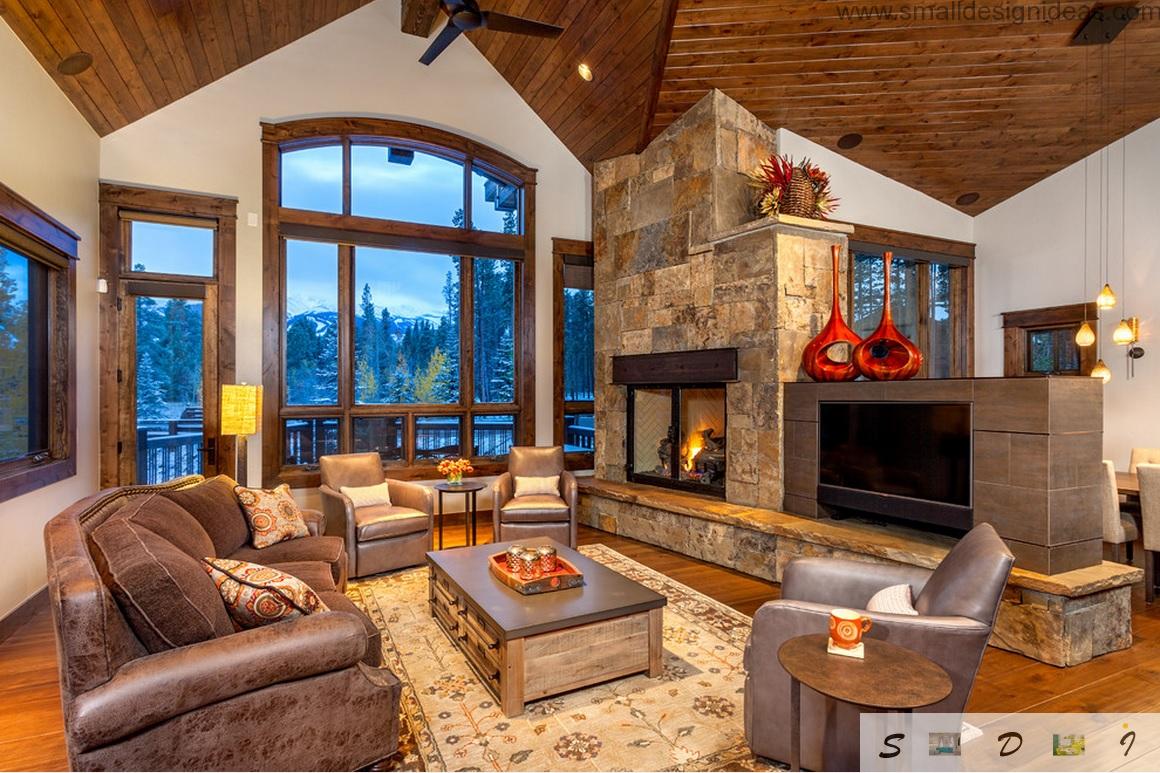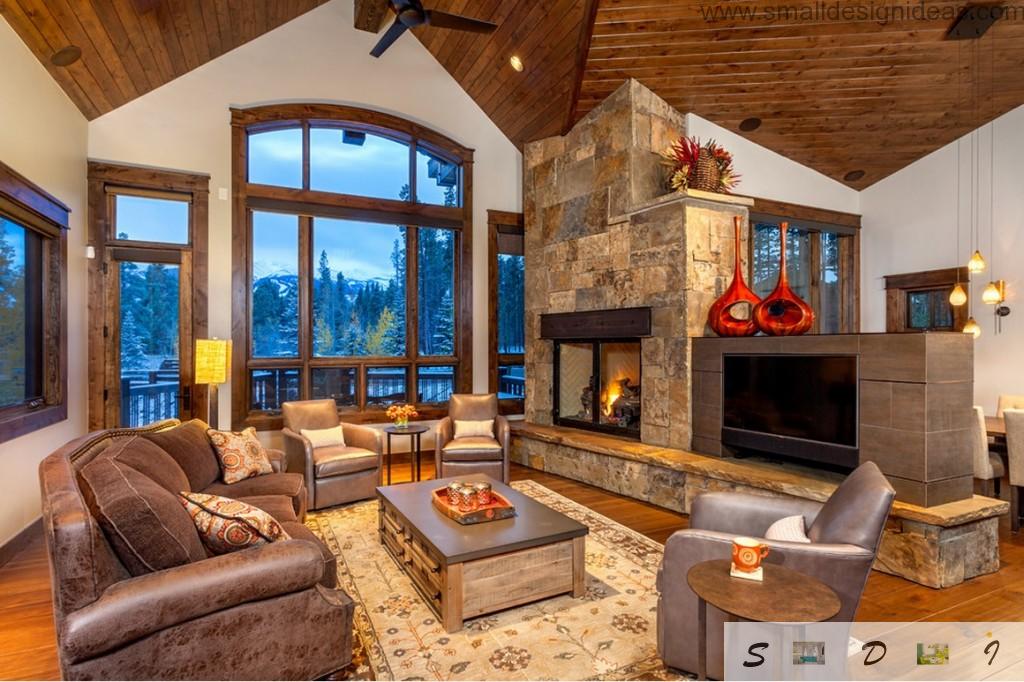 As you can see, let the fresh country air stream can in any interior is quite easy. And it does not matter where you live – in real country house or in an apartment, located on the outskirts of the metropolis.