Beauty lies in our own backyards. There are trees, herbs, birds, and small squatters, enhancing to the feel. However, a garden will get parched, gasping, and lifeless if not given love, care, and of course time. Trees and flowers that you have in your garden, they are like kids and craves your attention and love. Can a garden that's daily caressed by the lords can be similar in health and happiness to a garden that only craves but couldn't get the attention?
a lifeless and lifeful garden depiction – credits: Unsplash
Just take into account the examples of backyards of old vacant homes, though they will have greens and herbs in them but there still will be an emptiness and inertness due to the lack of attention. Do not ever leave your gardens, backyards, front yards, and patios unattended if you truly want to have a glimpse of life there. Otherwise, you may have everything there, except life.
How You Can Make Your Backyard, Front Yard, and Patios to Get Noticed?
Yards in the homes are embedded with greeneries, flora, and fauna. Some modern gardens also have furnishing and decorative figurines in them for advanced décor. But they all look the same. I mean nothing feels more appealing except we know some of the gardens are decorated lavishly and vice versa. So, what is the key ingredient for the garden to add wow factor in it? Well, it is;
"The way of doing lighting in the garden is key ingredient to make it wow".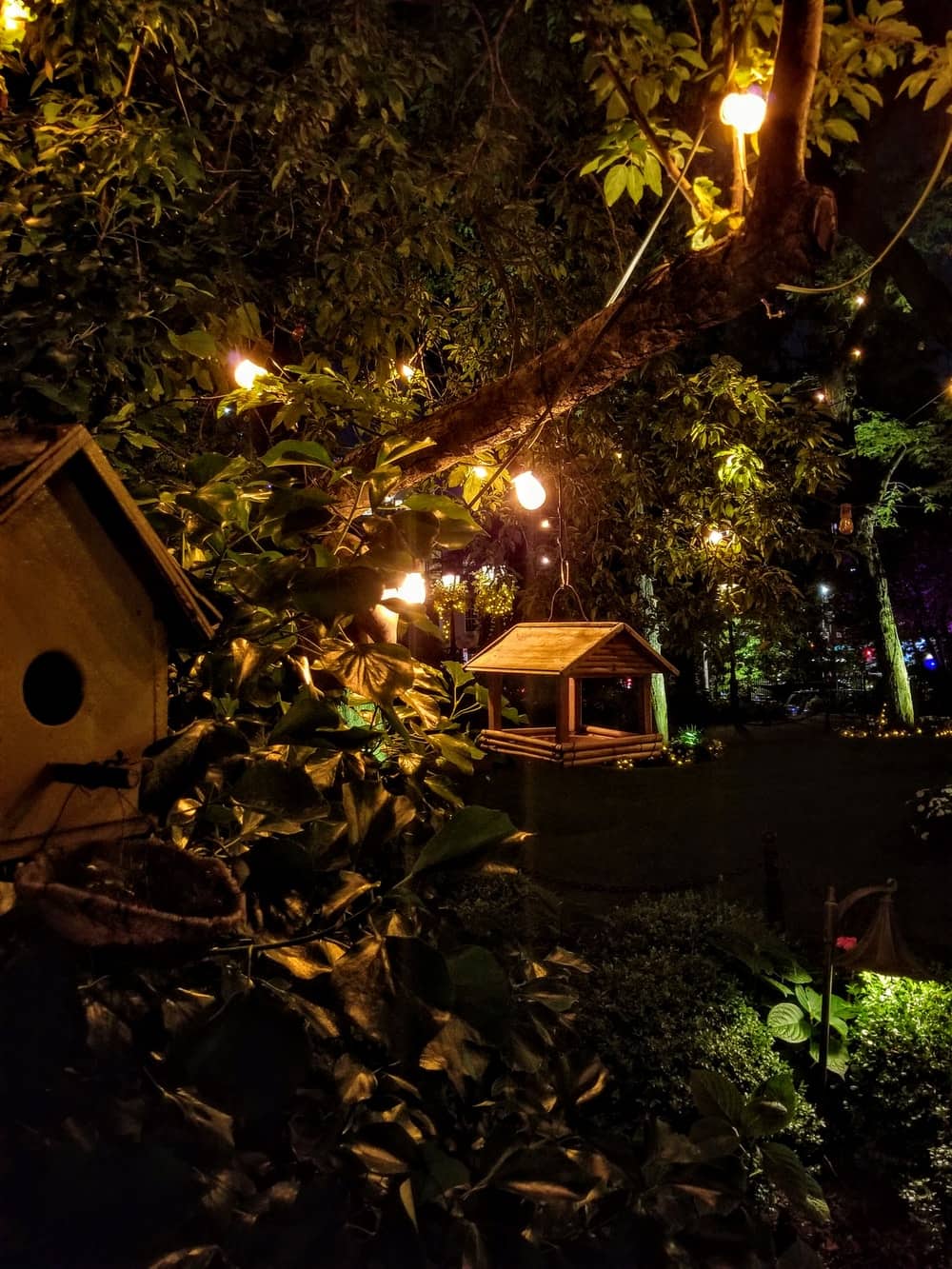 A garden with lights – source: unsplash
Home decoration is an important thing to do but its importance elevates just when the calendar shows December. Lights play not only an important role in decorations but they also add a mood to the place. For example, when you go on an outdoor party, which makes the place attractive, it is the way of doing lighting. And the lighting can be also warming the party if you use patio heaters. Be sure to learn more about deck heater as this useful device would combine business with pleasure by not only highlighting the patio area but also leveling the outdoor temperature. It can become a crucial factor in winter.
With lights, you can tell if a place has romance, bromance, or glimpse of gloom. As it is said:
"Happiness can be found, even in the darkest of times, if one only remembers to turn on the light."
Therefore, lighting is important. For all the imperative causes, here are extremely easy yard lighting tips for backyard, front yard, and patios to get noticed:
·        Understanding the Size of Your Garden:
"Not all gardens are of same size yet they all glimpse happiness in same way."  – Komal Roma
A Garden mustn't be big or small, a garden should be beautiful and enchanting. This is what matters if you want to understand the garden lights. Hence, before you start doing anything for lighting, you should confirm the size of your garden. By doing so, you will be able to find best illuminations for the place.
·        Decorating Bigger Backyards, Front Yards, and Patios: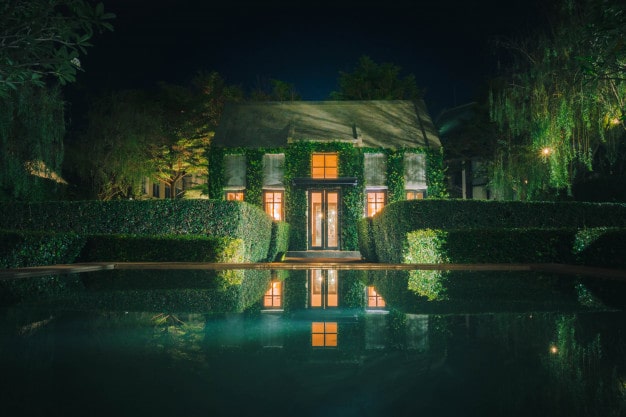 A bigger residential garden view in night – source: Freepik
1.      Light Around Pergola:
All big gardens must have pergolas built for seating and getting enchanted by the greeneries. So, the tip for you is to add amazing lights strings and fairy lights surrounding the pergola. It will not only add to the place but will make it noticed from a distance that where is the seating place residing in your garden. String lights or fairy lights, you can use both of them in this regard and all you have to do is string them around the roof of the pergola.
2.      Hang the Chandeliers:
Chandeliers will not only get your bigger yards noticed but they will add a festive feel into them. The perfect places to hang the chandeliers can be on the pathways to pantries in your garden. They can be hung also on the patios and parch. To make the chandeliers, all you need Waterfall String Lights. Take a big ball made of papers and coil the light string around it. You can also find Fireworks Wire String Lights in the market they come already in the shape of flowers.
1.      Fairy Tale Garden Lights:
Lastly, you can make your bigger yards more noticeable with lighting decorations by coupling the string lights with illuminated jars. You can make illuminated jars by DIY too. All you need are empty wine bottles and string lights. Put the strings of illuminated lights in the bottles and cork them up. Hang or place these lights on all the places of yards that you want to get noticed. Interweave the lighting strings to add more feel to it. This can be a great idea for Christmas lighting as well.
·        Decorating Smaller Backyards, Front Yards, and Patios: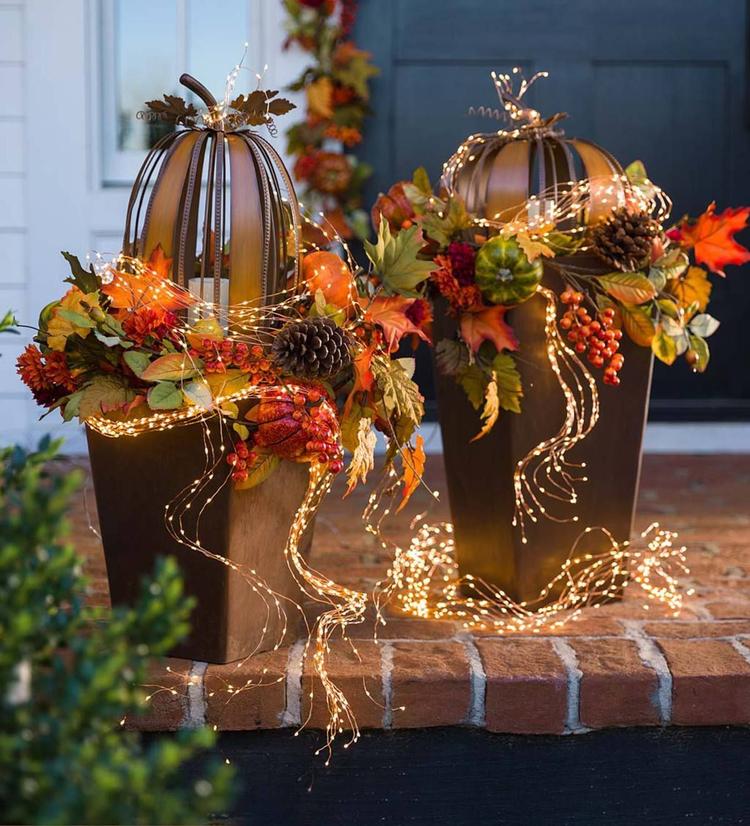 Lighting strings for small gardens – source: unsplash
As it is said, not all gardens are big. There can be a very small place around your home that you use as garden. The place can be as small as a pathway to your home door. You don't need to worry about the size of your garden. There are many ways that you can make it get noticed and even make it looking bigger. Here is what you can do it:
1.      Hanging String Lights in a Line:
It looks basic but it is the best way to illuminate your small garden. If you think you have utilized this idea before and it didn't work well, maybe you have to put some attention to the quality of the lights. What happens most of the time, we purchase low-quality garden lights and some of their pieces don't even light. Don't let it happen this time. Start lining the lights from where the garden starts and take it to the main door.
2.      Placing and Illuminating the Miniatures Around the Main Entrance:
If you don't want to use any old idea of garden decoration and illumination, here is the brand new one. Buy and place some decorative figurines around the corners of your garden. You don't need to purchase expensive figurines but using simple pots of different shapes can be used. Coil the lights strings around these pots and your garden a glimpse of a fairy tale.
3.      Role Lighting Right on the Ground:
You have extremely small garden that's based on small patio corners around your home. Don't go for old fashioned fence lighting in fact, take a rope and weave the light-string around it. Now, place this rope on the ground. Light it… you are noticing a completely illuminating ground there. This will not only make the place looking bigger but it will make it noticeable for the whole neighborhood.
Note: You can use same ideas for Christmas home lighting décor as well.
The discussion doesn't end here because now you will have to go and buy some lights and stuff for your gardens and patios to make them noticed. Therefore, you need some considerations to make while purchasing the lights so that you end up with rightly shopped stuff.
Considerations to make for garden lighting:
Here are some tips to keep in mind when you go for shopping lights and other type of decorative stuff for the yards:
Decide a place that you need to lit, before purchasing the light.
Understand the price vs value formula. It means, you must not forgot something for price and mustn't buy something only if it is cheap unless it is going to serve you with complete value.
Never depend upon brands as brands also get negative reviews for their garbage products.
Do not worry about buying stuff that you haven't seen before.
Try to bargain
Try to purchase during sale offers
Use gift coupons
Bottom Line:
When you are lighting the garden, you are adding life to the place. Also, do not worry and lose hope if you couldn't do anything up-to-the mark. Go for a try once again. You will learn a lot during garden decoration even if you fail. Also, try to keep changing the forefronts of your garden every now and then.
Author Bio:
This is Gloria Rowland, author at Inspire Uplift and writes for home designing and decorating tips, specifically. Ever since she started writing about home decoration as a hobby but now after working for diverse blogs, she has earned a big fan following. People love her home decoration tips and tricks. We surely hope, you will find her home designing ideas easy to follow.