It is a myth that one main garden space such as a lawn with edge borders will make it appear bigger.  In fact, one of the best ways to create the illusion of more space in your garden is to break it up into smaller areas and create a journey through your outdoor space. Dividing your outdoor space into different zones or sections also means that you can create different areas of the garden for various functions such as relaxing, entertainment, growing vegetables, a kids' play area, and more. There are plenty of simple yet effective ways that you can achieve this type of garden, including options to increase your privacy in certain areas. Using structures like pergolas, archways and trellises can work well, along with different flooring options such as lawns, gravel, and decking. Here are some of the best options to consider if you want to break up your garden space.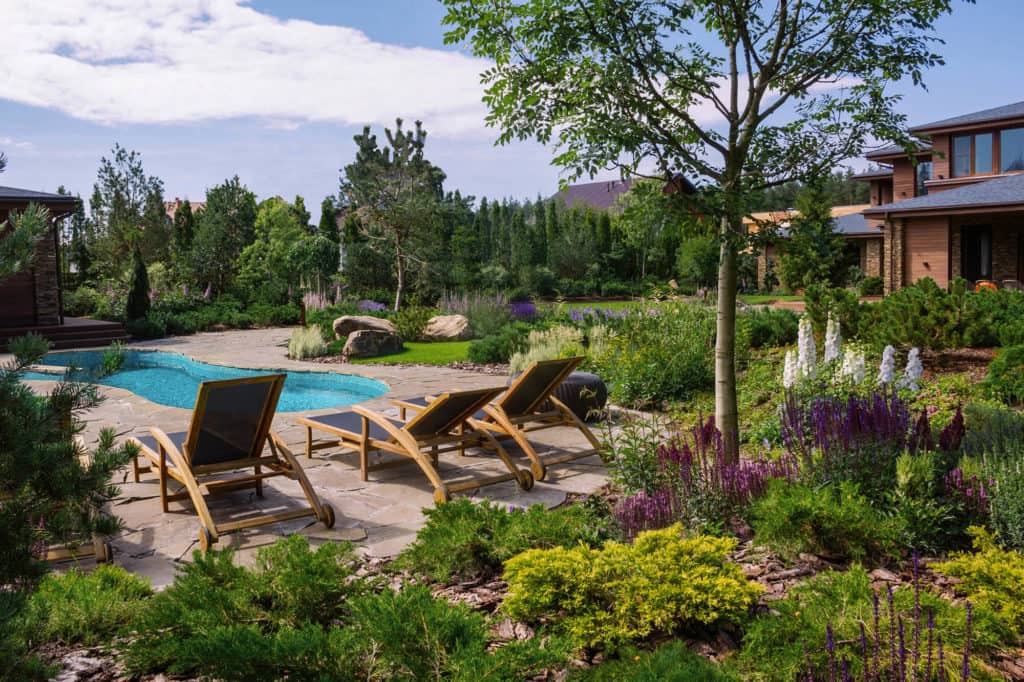 How Garden Zones Work
Garden zones refer to different areas in your garden that will add an element of surprise and different components to your outdoor landscapes. You can create distinct zones for various uses in your garden and divide them off from each other using a variety of different features. If you enjoy gardening, creating different zones or rooms in your garden is also the ideal option for planting certain plants that might not always work together.
You can use a variety of different methods to separate the different areas of your garden. You don't have to create large walls – just something that creates a boundary and makes sure that each space is distinct from the other. There are many great reasons to create different areas or rooms in your garden, including making your landscape appear larger. Unlike a continuous garden space that you will take in with one sweeping glance when looking out into your garden, creating different areas in the garden means that you will need to focus your perspective more and see the garden in smaller chunks.
Another great reason to create zones in your garden is that it allows you to create a sense of organisation when working with different styles and colour schemes without the risk of plants and ornaments clashing with one another. If you like a wide range of different garden styles, there is nothing stopping you from decorating each zone in a very different style from the others.
Finally, garden zones can ensure that there is a distinct use for each area of your garden, whether that be dining, a play area, planting, growing vegetables, or something else. Go over your garden to decide where each zone is going to go and what the area is best used for. Before designing a zone, consider what you want to use it for, whether it's going to be the outdoor dining area or somewhere where you can grow tomatoes. It's also worth thinking about the walking area through your garden and the path that you and others are going to take to get to each zone.
Decking
For most people, creating an area to sit in the garden and relax is a top priority, and a deck enables you to do this easily. Decking can become an extension of your home and the first place that you go when entering your garden from your home, or you could choose to install it in the area of the garden that gets the most sunlight or privacy, whichever you prefer. Building your own garden decking is easier than you might think, and with high quality composite decking from https://ecoscapeuk.co.uk/products/composite-decking/, you can put together a deck that is designed to withstand the elements and last for a long time. Ecoscape UK offers a wide range of colours and styles for composite decking reviews which is made from 95% recyclable materials.
Tall Plants
Tall plants in the foreground of your garden can be a great way to suggest a division between different zones in the space, while adding a splash of colour and interest to the garden overall. Ornamental grasses or tall and airy herbaceous plants like verbena bonariensis are ideal choices for creating the illusion of separate areas in your garden by creating a sense of space and increasing the depth of field.
Archways
Simple archways are an easy yet effective way to divide areas of your garden, creating a doorway from one zone to another that adds immediate height. You can get standalone archways that are a feature in their own right, or archways that are designed to plant climbers around so that eventually they are covered with plants and greenery, making the structure no longer visible.
Hedges
Along with adding more greenery to your outdoor space, a hedge is a great way to divide different areas of the garden along with providing privacy in certain spaces. Consider the height that you will want your hedge to be and make sure that you plant it in an area where it won't be blocking any views. Low hedges are an ideal choice for dividing areas, while taller hedges can provide an enclosure and increase your sense of privacy in the garden. If you want your hedge to be there all year round, be sure to go for an evergreen option such as box or yew.
Screens and Trellises
Trellises, screens, and woven fencing are the ideal choice for a boundary between two different areas of your garden and separating different zones from one another. Trellises not only look great in your garden, but they can be used to grow a wide range of different interesting plants and flowers in a wide range of different colours. A trellis can be the perfect option for growing plants vertically in a small garden space so that you can continue to benefit from the colours and nature while maximising floor space outdoors.
Dividing your garden into different zones can give you a way to make it appear bigger and try out even more things with your outdoor space.