Finishing materials and walls' decoration is the fundamental part of creating the required stylistics in the apartment. Of course, there is a possibility to complete the formation of overall atmosphere and interior perception with furniture and accessories. But nobody will argue that finihsing of walls is the basic element of renovation and designing. Though finishing ideas and materials are big family (we review them separatedly, you can see the category in the footer), marble and stone stand apart. We are going to make a small Marble and stone decoration materials comparison & application scope to understand where they are most relevant to use. Also, we'll speak a word about their possible combination within single room.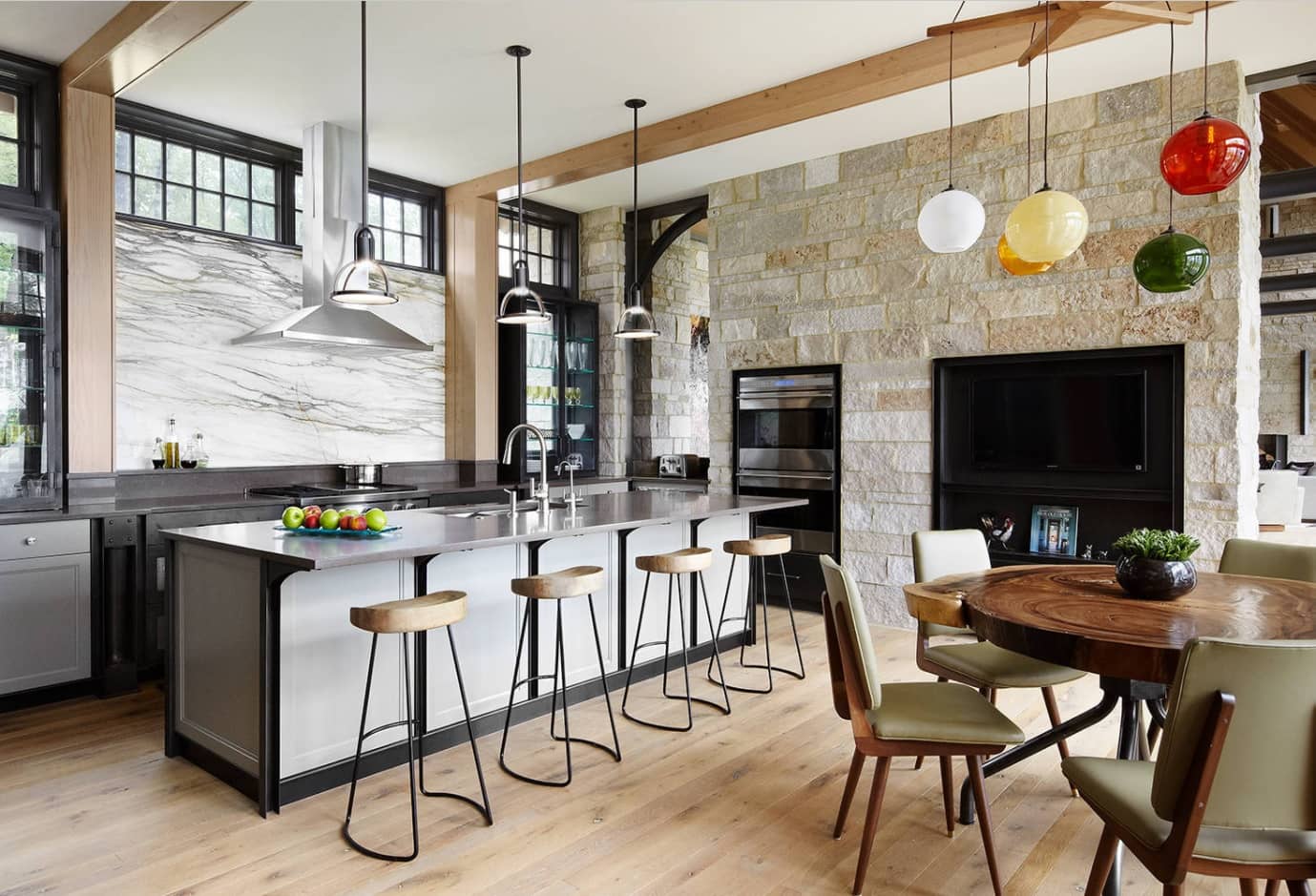 Marble and stone decoration materials comparison & application in living room
Let's start the discussion about these natural materials finishing from the largest and essential room of any apartment. By the way, it is one of the most acceptable place to carry out the finishing with such noble materials as they require space and scope of possibilities. So, what are the main trends of finishing the living room with marble and stone?
So, if we speak about inner decoration with stone, the advice would be relevant for any type of rooms. For example, stone decoration fits most for light ethno styles like Rustic, Provence, Mediterranean, Egyptian, African etc. In some cases Classic interiors also look successful with stone slabs trimming.
If we speak about styles that fit marble finishing, the most relevant styles for it are Modern, Hi-tech, Minimalism, Scandinavian, Futurism etc. As a rule, we can tell about an accent wall with additional element of attraction. Usually, it is a fireplace, TV or shelving with most valuable family items.
Marble and stone finishing for bathroom
The room for hygienic procedures is probably the best place for these decoration materials. Bathroom requires smooth and solid surface trimming which would not be afraid of water and mechanical contact with detergents and wisp. We should admit, that marble also a sort of stone, but consisting of calcium carbonate and magnesium which makes it more capricious material. Many people erroneously confuse marble and granite. Granite is the cooling product of magma. Stones are minerals and rock, so both granite and mrable are rocks, but of different genesis.
"Simple" and widespread types of stone as limestone and sandstone are the most durable and cheap solutions for your bathroom. Besides, you can create a really unforgettable interior design inviting specialist or elaborating the design project by yourself. Along with artificial stone for bathtub, you can easily turn the bathroom interior into paradise.
Artificial stone also can be produced of concrete and appear in the form of tiles for interior decoration. That is an expedient way to finish the utilitarian room.
Marble for bathroom always mean luxury and chic appearance. Marble vanity or countertop always has unrepeatable structure.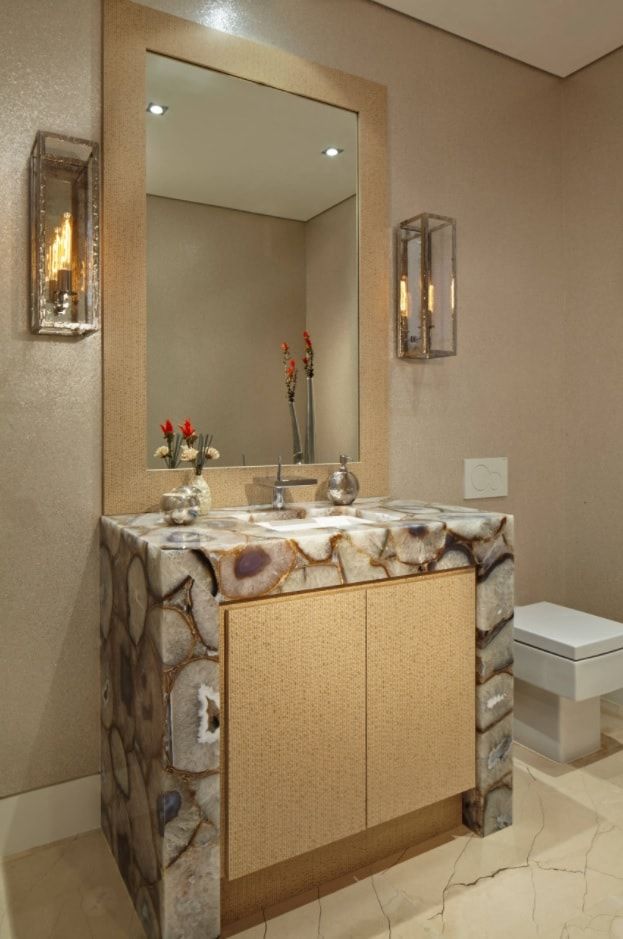 The monolith wall finishing of marble makes the interior look like the paleolithic cave in modern interpretation. Contemporary materials, such as glossy plastic, adds the special charm to such rooms.
Partly designed in marble and stone bathroom with artificial stone oval bathtub can turn to a modern design masterpiece. But you should bear in mind that marble is very fragile and whimsical material that can change color when exposed to chemical detergents or crack from slight hit. However, modern marble tiles are covered with special armoring varnish.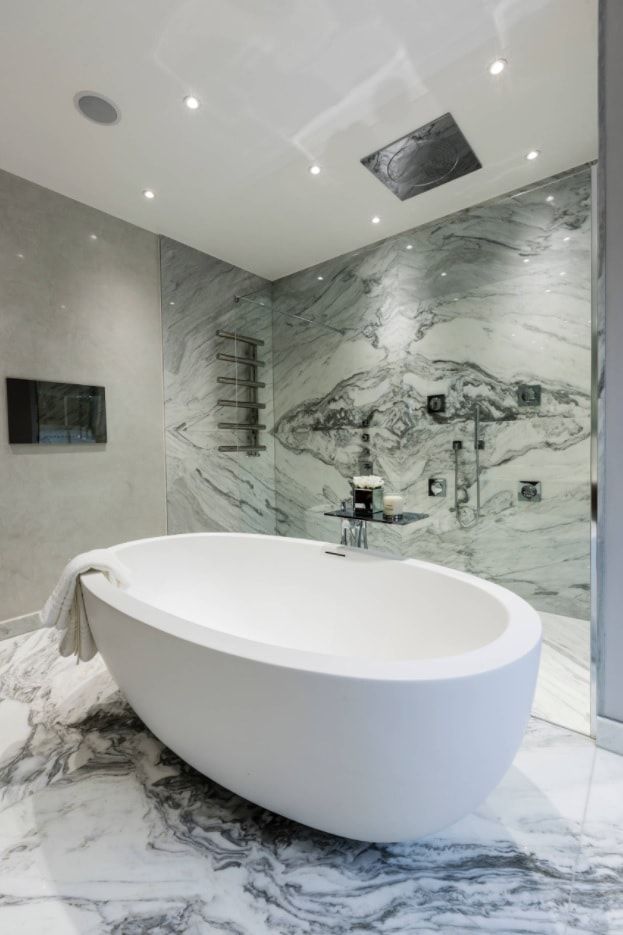 And what about the kitchen?
We should say right away that marble is also afraid of temperature. For this reason we can't recommend marble to finish area near the hob. And we already know that it can barely stand most of detergents, therefore it is not ideal material for splashback and countertop. Nevertheless, you can opt for DIY pouring concrete countertops which can successfully imitate marble surface.
That's why stone is the better material for kitchen. Still, it does not change traditions of design style. We can see long known Provence and Rustic at stone trimmed kitchens.
Marble has no intention to lose ground when it comes to the battle for fans' hearts. So it is more or less often meets in producing of kitchen islands. But its the marble's imitation more likely. However, the unique streaks of this material look like a win-win solution for kitchen either. Also, it can be combined with tiles, mosaic and other stones.
Other popular application of stones
If we speak about the trimming of surfaces – limestone, sandstone and quartzite are the most popular for finshing of house exteriors.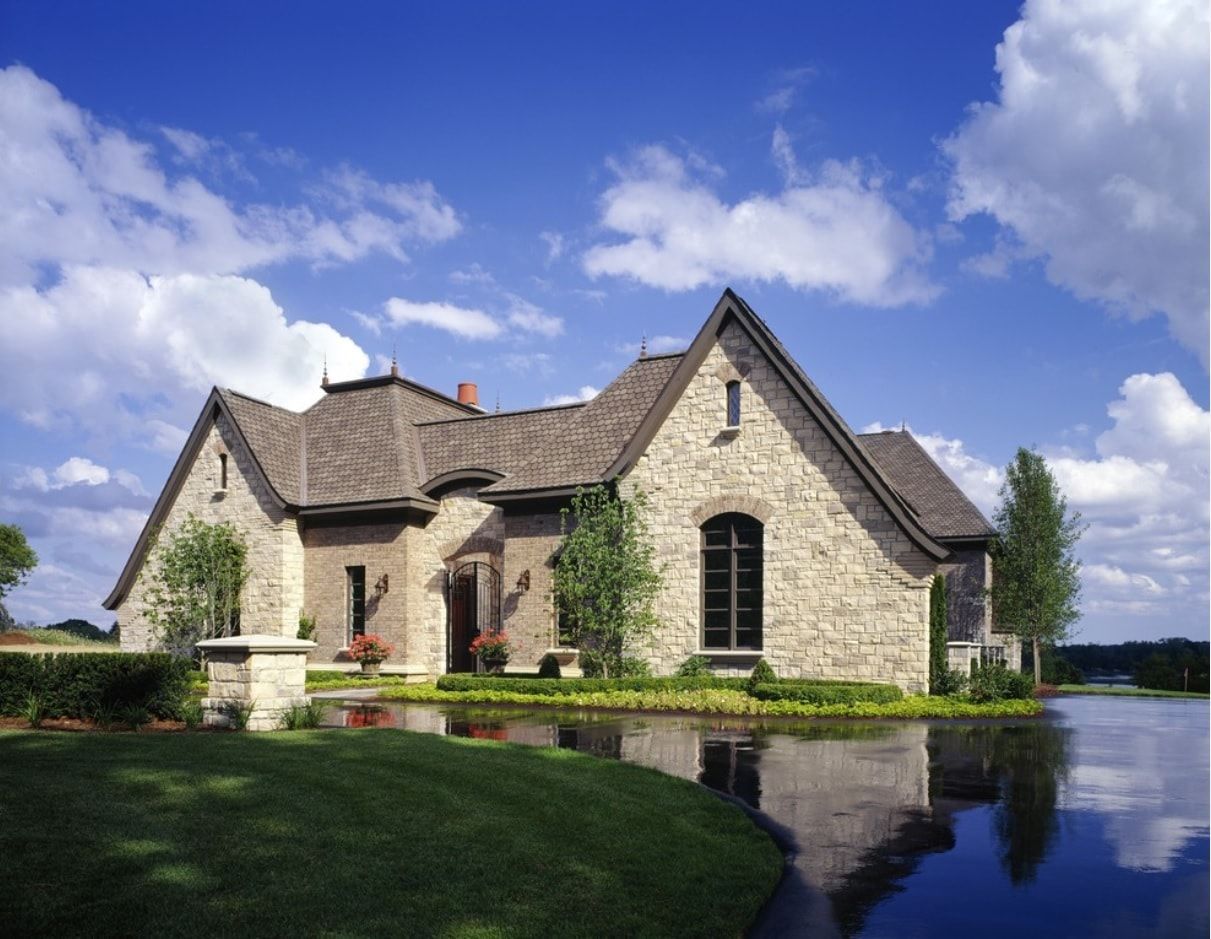 Inner spaces of private house such as entrance and hallway are also nice target for stone. But unlike the house exterior, inner space more often are finished with artificial or decorative stone on concrete base.