Once you enter the entrepreneurial world of rental properties, you start to take on a few titles that you might not have ever expected. Titles like an investor, entrepreneur, and the strangest of them all, landlord, are all titles that hold lots of power, but you probably don't have that much experience in.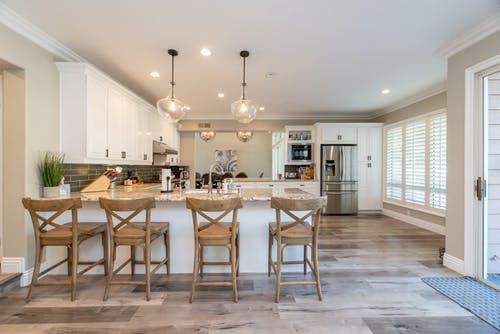 Image Address: https://images.pexels.com/photos/2635038/pexels-photo-2635038.jpeg?auto=compress&cs=tinysrgb&dpr=1&w=500
For most people holding those titles, the title of the landlord is the most complex. Why? Because being a landlord not only throws in the "human" factor but it also throws in another title as well… Contractor.
When you buy a rental property, you are the owner and the sole person responsible for getting it sold to the right tenants. That means you're going to have to make necessary renovations and repairs to appeal to potential renters. And for someone who is totally new to this type of business venture, it can be quite overwhelming.
Everything from small fixes like updating the hardware all over the property to larger projects like installing new flooring, there are lots of things you will need to do to make your property more appealing to potential renters.
With certain renovations and repairs, you're going to need to hire professional contractors simply because those projects are far too dangerous for novice renovators. But for simple projects and upgrades, you can take those on yourself to save on labor costs. In order to maximize the value of your investment, you can hire well qualified property managers, who will take care of the whole rental process.
The most important thing to remember when taking on renovation projects on your own is to make sure you get contractor insurance. And the great thing about contractor insurance is that you can find policies tailored to your risks.
Whether you're making initial repairs and renovations to get the property sold or fulfilling maintenance requests during a tenant's leasing term, this type of insurance isn't a one-time requirement. This is going to protect your business, your property, and your tenants, should anything go wrong as a result of your repairs and renovation work.
But before you whip out your hammer and nails and start ripping up carpet, lets first take a look at the types of renovations to make to your rental property to increase your asking value.
Renovations to Increase the Value of Your Rental Property
Renovate the Kitchen
If you were to take a glance at the wishlists of what potential renters look for in a rental property, one of the top things on their list would be a renovated kitchen.
In a home, most people tend to think that the living room is the main social area, and it is, for the most part. But there's something about the kitchen that makes you rethink that assumption… just think about it.
The kitchen is where everyone gathers for delicious meals; The kitchen is also where friends and family gather to talk over the delicious meals; And lastly, the kitchen is where people spend a lot of their time, whether it's to meal prep, cook, or work… Because people spend so much time there, the expectation is for it to be renovated.
The renovations you make to the kitchen doesn't even have to be a full renovation, or an expensive one, for that matter. Some simple renovations you can make that will not only improve your kitchen's interior design but also increase the value of your property include:
New Cabinets: This isn't saying to buy new cabinets, per se. You can use a little elbow grease to sand and restain the cabinets to look brand new yourself.
New Countertops: Unless you have experience in installing new countertops, you're going to need to hire someone to install these. It can be a little expensive on the front-end but it will be well worth the investment when your property's value increases.
Small Touches: New tile backsplash, replacing the faucet, and new hardware are fixes that aren't expensive but can make your kitchen look like a million bucks!
Design an Open Floor Plan
Just like homeowners, potential renters no longer want to be boxed-in in the place they call home. Open floor plans are an interior design style that is here to stay.
An open floor plan is a design where the kitchen meets the living room to form one grand room. Renters want to be able to be in the kitchen cooking and can still join in on the conversation or even watch TV with everyone else. This design style brings about a "togetherness" in a family dynamic and it's just simply something that renters specifically look for in rental properties.
If your rental property doesn't have an open floor plan, it will be in your best interest to invest in contractors that can do that for you professionally. They have the proper tools and equipment and can get it done in a much more timely and safer manner than you probably will be able to.
Install New Flooring Throughout the Property
If your property looks like it came straight from the 1970s with pink or yellow carpet, it's a safe bet that you need to rip all of it out and replace it with wood or laminate flooring. According to rentometer.com, carpet just isn't a wise investment for rental properties simply because it has to be replaced too often. Stains and odors are things that come with daily wear and tear of carpets. Ultimately, this would become a recurring expense for you every time a tenant moves out.
Update Your Property's Curb Appeal
Your property's curb appeal is what's going to make potential renters want to take a look on the inside just from being so impressed about the outside!
Updating your property's curb appeal can be a quick and easy fix, depending on the condition the property is in. If it's in good condition, sometimes keeping the yard cut regularly, repainting the exteriors, and planting some flowers can do just the trick to get potential renters going on house tours.