If you are looking for country house or private house to live in for near future, you`ll probably want to calculate to the last detail every pros and cons of the design, coziness, location, price of your future real estate.


Let`s imagine that you already have the idea of the ideal place for your home: climate, surrounding nature and the possible overall slope of the area. But what is next? No, the design, decorations and embellishment of the apartment begin further, because first of all we need to decide what layout, number of rooms and general composition our house will have. Design begins from planning and that`s the main point.
4 Bedroom House Plans Review
The most popular in Europe and US type of houses is the 4 bedroom house plans. Review of this layout will show that it is the most compromise solution for big family or people, who often like to have guests in their apartment. But such house plans have significant differences and the final  project can have up to several thousand square feet area.


So, we are going to overview the most popular, creative, contemporary and interesting 4 bedroom house plans of 1 or 2 storey, of different design styles, materials and composition.
You should note that 1 storey houses requires more area so this plan are not for owners of small land piece.
I storey 4 bedroom house plans
Australian cottage.
Such interior of the house fits perfectly to the hot windy climate and creates beautiful atmosphere by mixing the raw stone and wild grapes or any other braiding plant.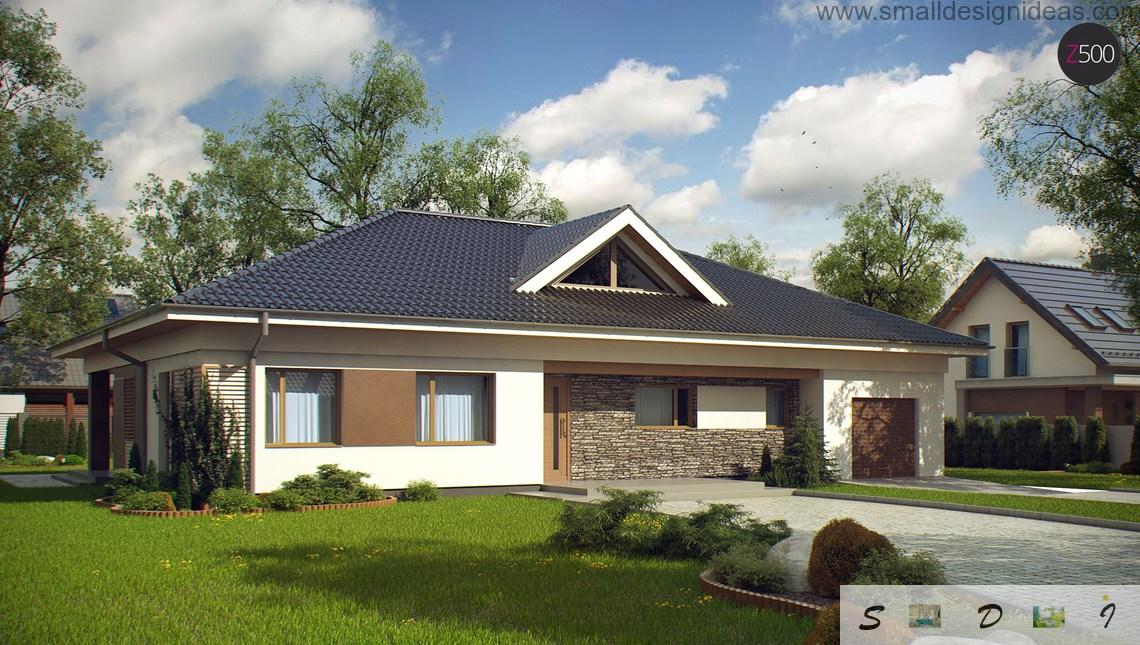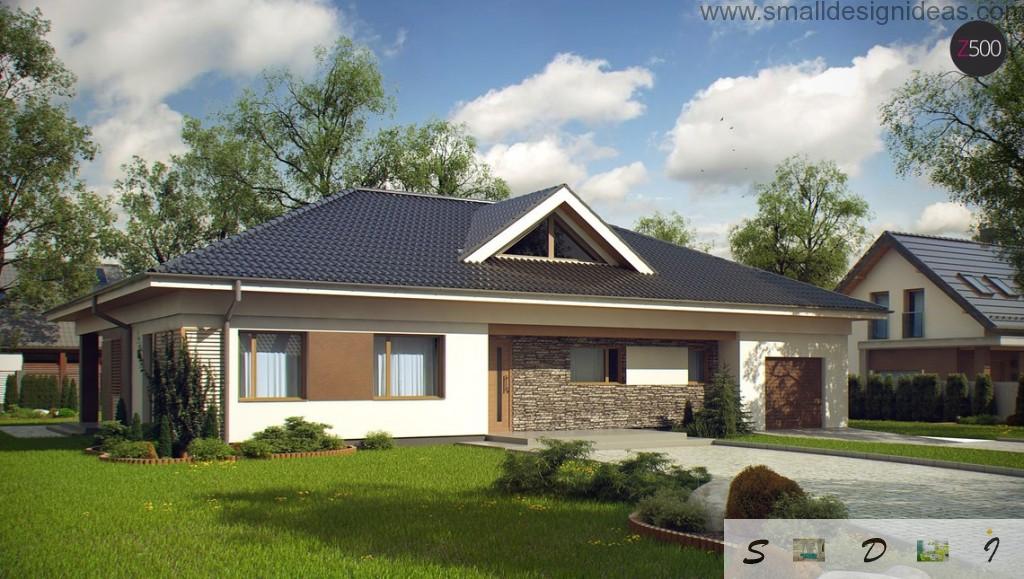 The house is protected from hurricanes and severe winds thanks to its design and compactness.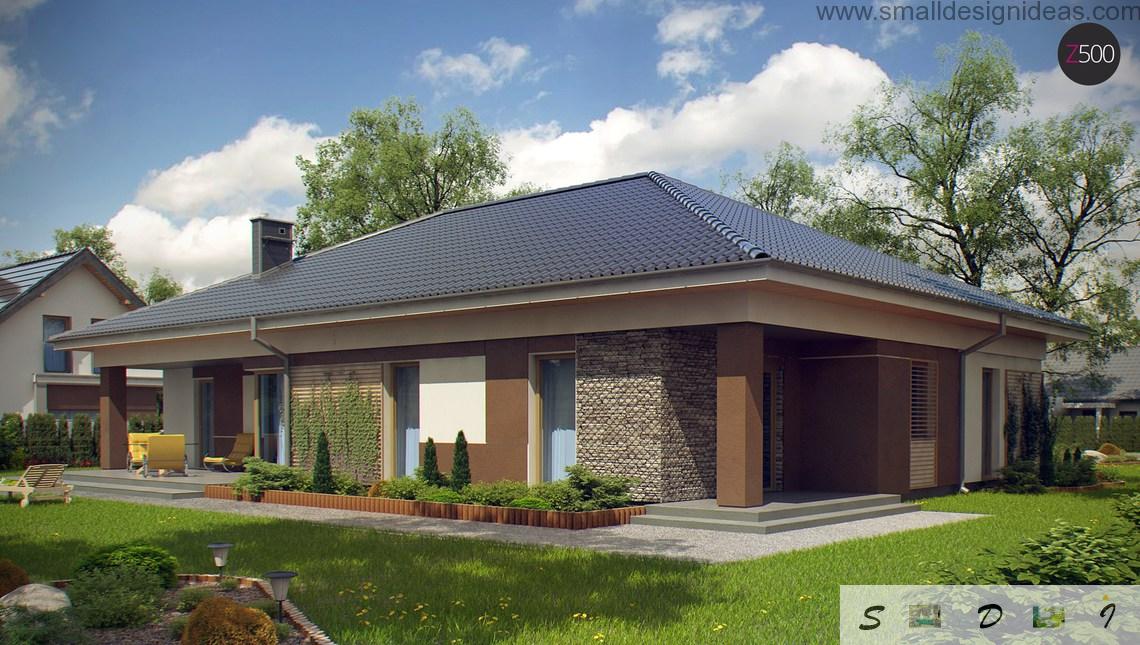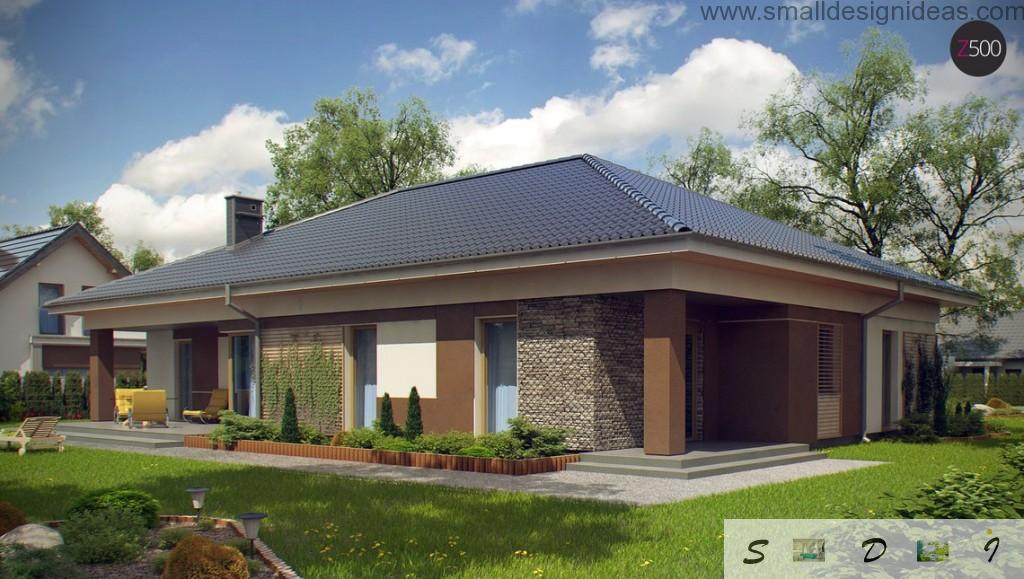 You can use second roof level as the workshop or storage.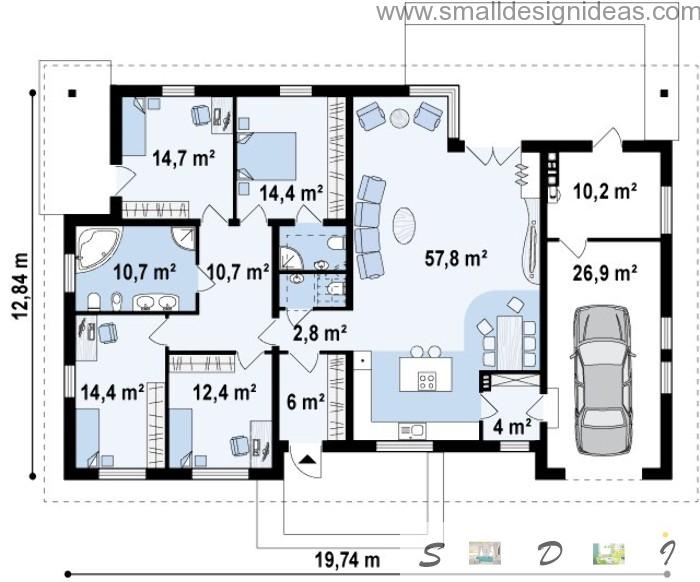 As you can see, this 4 bedroom house plan is ultramosern and provides all necessary living and utilitarian premises all-in-one in close reach and harmonious composition.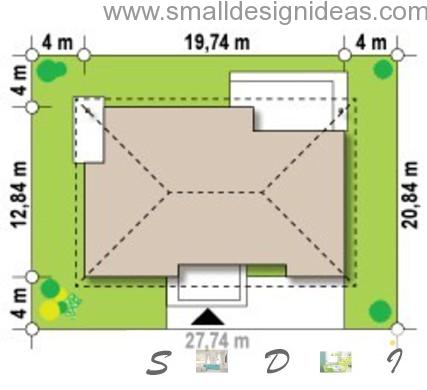 You don`t need lush vegetation to decorate the house: green lawn is sufficient with small decorative or coniferous trees. You can arrange convenient access and other pathways at your site with tile and it will have great look.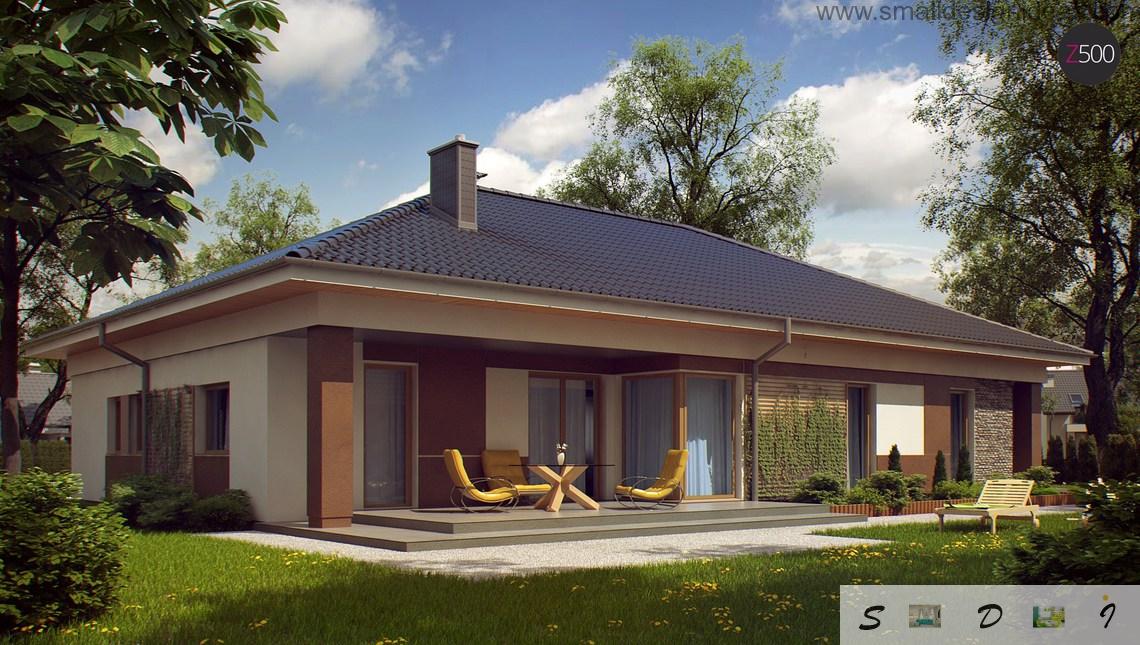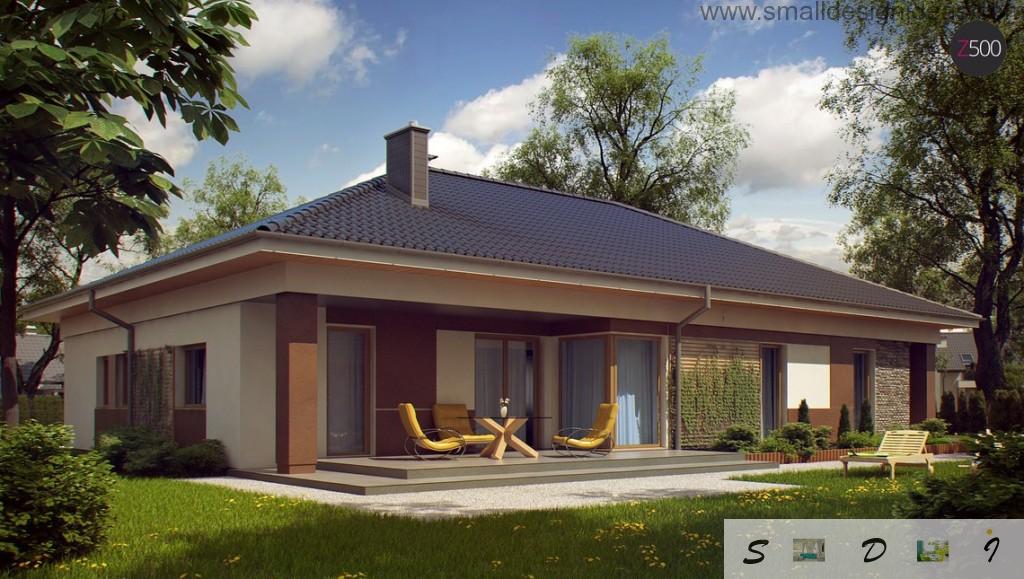 You can also use the backyard to build the arbor for the barbeque with oven and benches or make small pool.
Predazzo
This house is follows the Italian modern rustic style. It has unusual abrupt form and mansard hidden storey. This project is original solution for people who wants extra-area for less price.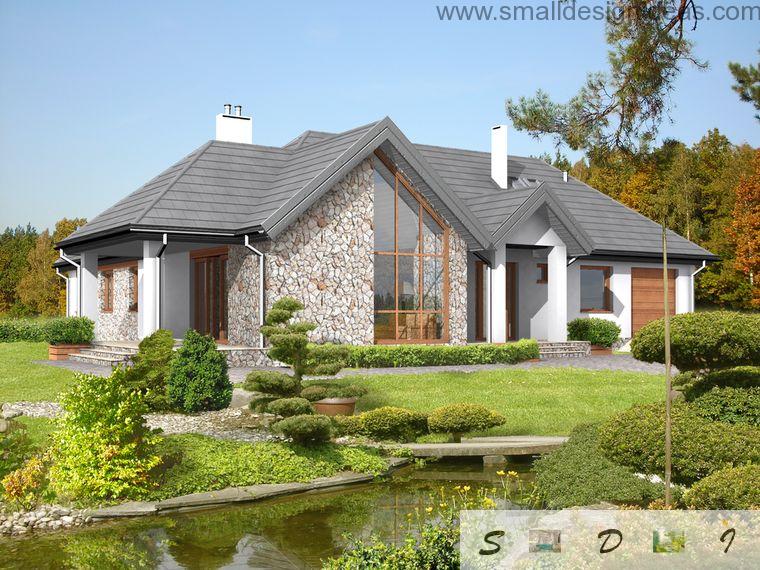 This project fits perfectly to European, Middle Asian and American savannah landscapes with big trees, wild small rivers, wavy hills etc. Mixing of the natural materials gives it universal appearance which can be adapted to any green landscape.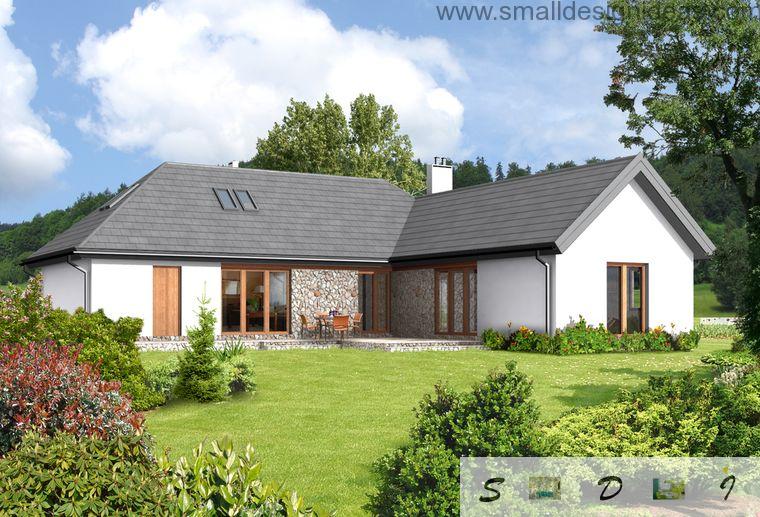 The Predazzo 4 bedroom house plan has angled design to save space, small French balcony and even has a garage. Also it has convenient and hidden from the wind summer terrace to have meals and just relax with all family.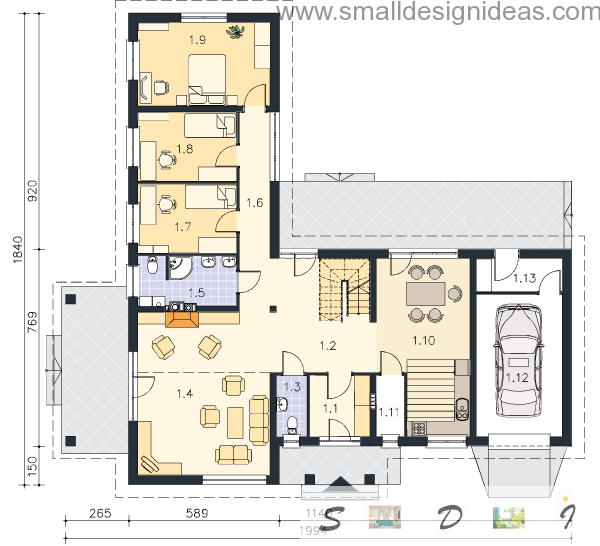 1.1 Tambour 1.1 5.7 m²
1.2 Hallway 1.2 17.6 m²
1.3 WC 2.9 m²
1.4 Living Room 32.8 m²
1.5 bathroom, heating 7.4 m²
1.6 Corridor 8.2 m²
1.7 Room 10.4 m²
1.8 Room 10.4 m²
1.9 Room 17.5 m²
1.10 kitchen, dining room 22.5 m²
1.11 Storage 2.6 m²
1.12 Garage 18.7 m²
1.13 Balcony. room 4.4 m²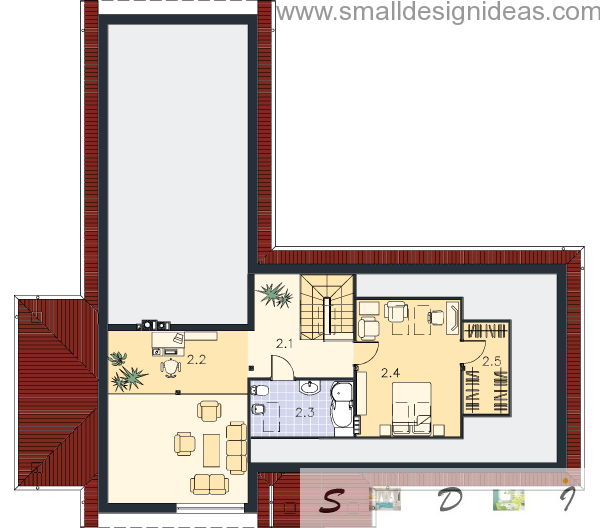 2.1 Corridor  9.1 m²
2.2 Mezzanine 12.6 m²
2.3 Bathroom 3.3 m²
2.4 Room  26.7 m²
2.5 Dressing Room 5.7 m²
As you can see, these plans are very convenient for living and are typical for modern private houses.
Russian izba in Ivanovo
This is the best design for rancho and big areas among many other utilitarian buildings. Small fence in New Zealand tradition attracts additional glance.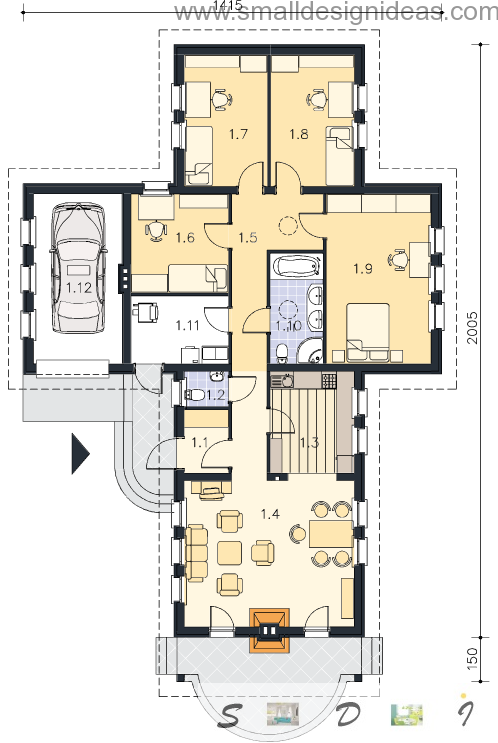 1.1 Tambour 3.2 m²
1.2 WC 1.8 m²
1.3 Kitchen 9.8 m²
1.4 Living Room 29.2 m²
1.5 Hallway 14.9 m²
1.6 Room 11.1 m²
1.7 Room 12.5 m²
1.8 Room 12.6 m²
1.9 Room 20.4 m²
1.10 Bathroom 6.7 m²
1.11 Utility room, heating 7.6 m²
1.12 Garage 17.1 m²
The most interesting thing in such design is its crossed form and a lot of space on the small area with ability to build additional building for relaxation and barbeque in the shadow of the house
II storey 4 bedroom house plans
English style
This convenient and simple constructed house is the subject of scrutiny cause of its universal capabilities and functionality at the background of comparatively easy building.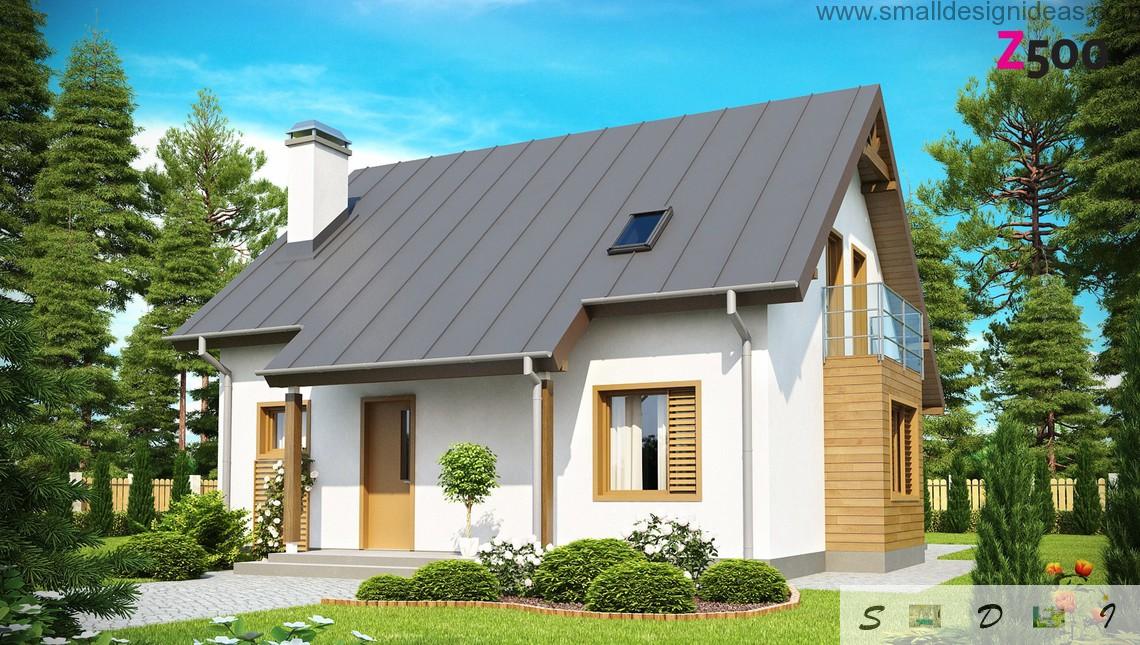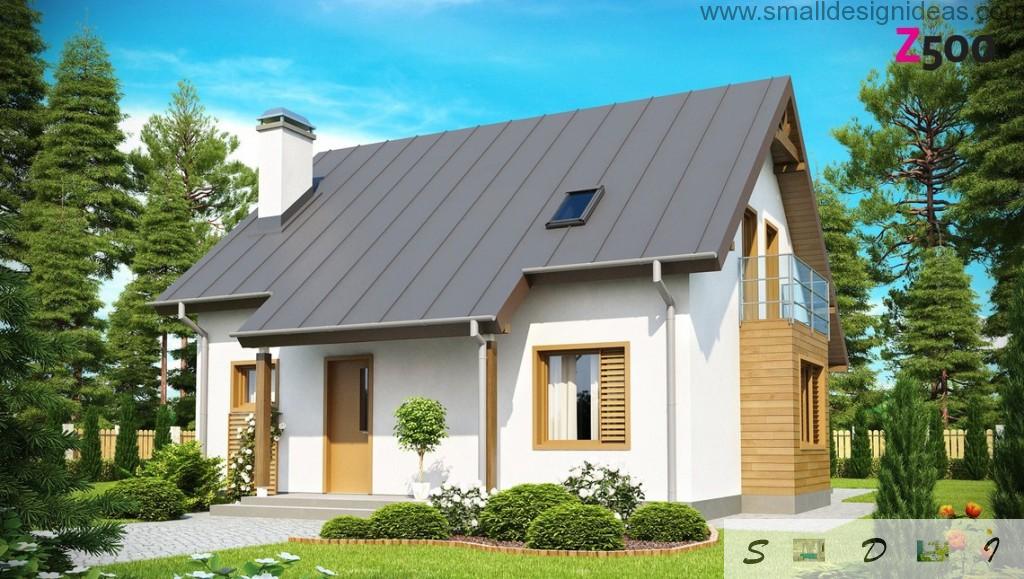 It has a fireplace, 4 bedrooms, loggia with glass and steel rail, oriel and even a summer terrace. The only lack is absence of the garage in the house complex, but its not the problem to build one in such forest landscape as the usual British one.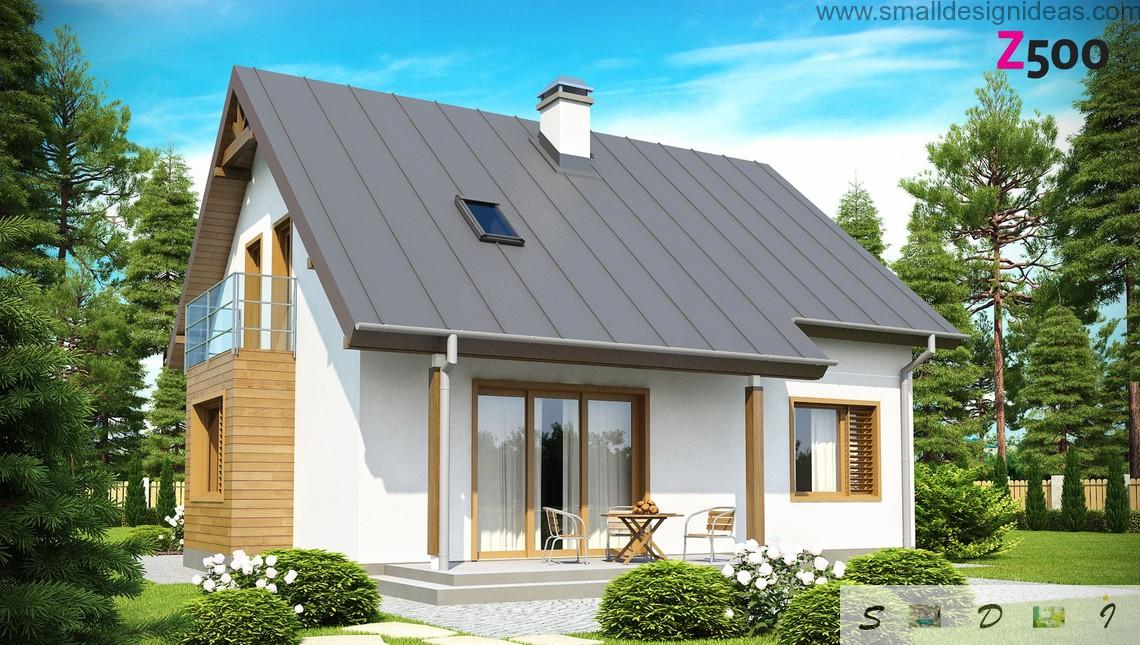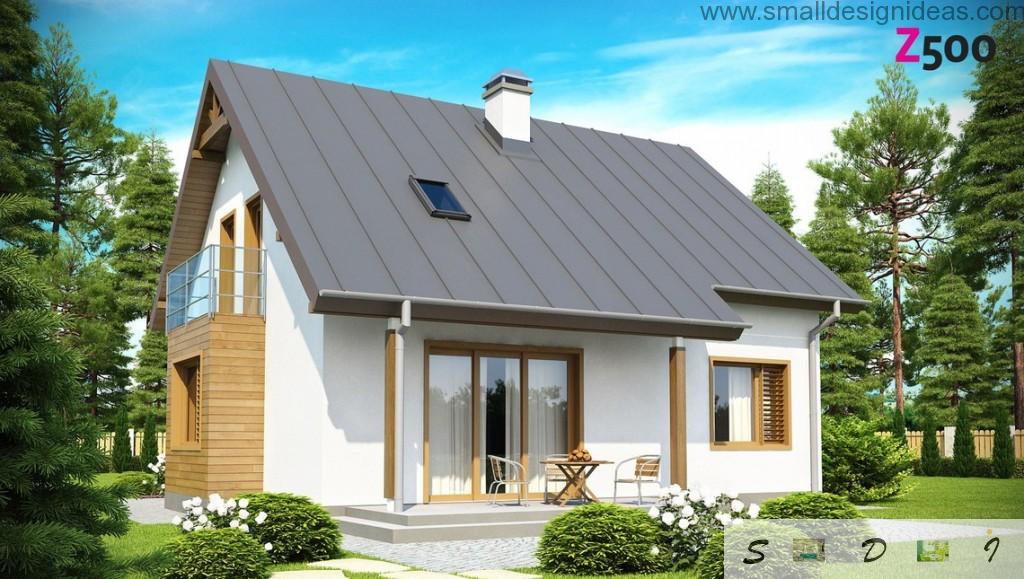 This English design style country house is convenient for quiet life of big family with couple of little children. It has space, it is decorated in calming but approving positive colors and perfectly fits the green surroundings. So it is a great family nest to bring up great people in future.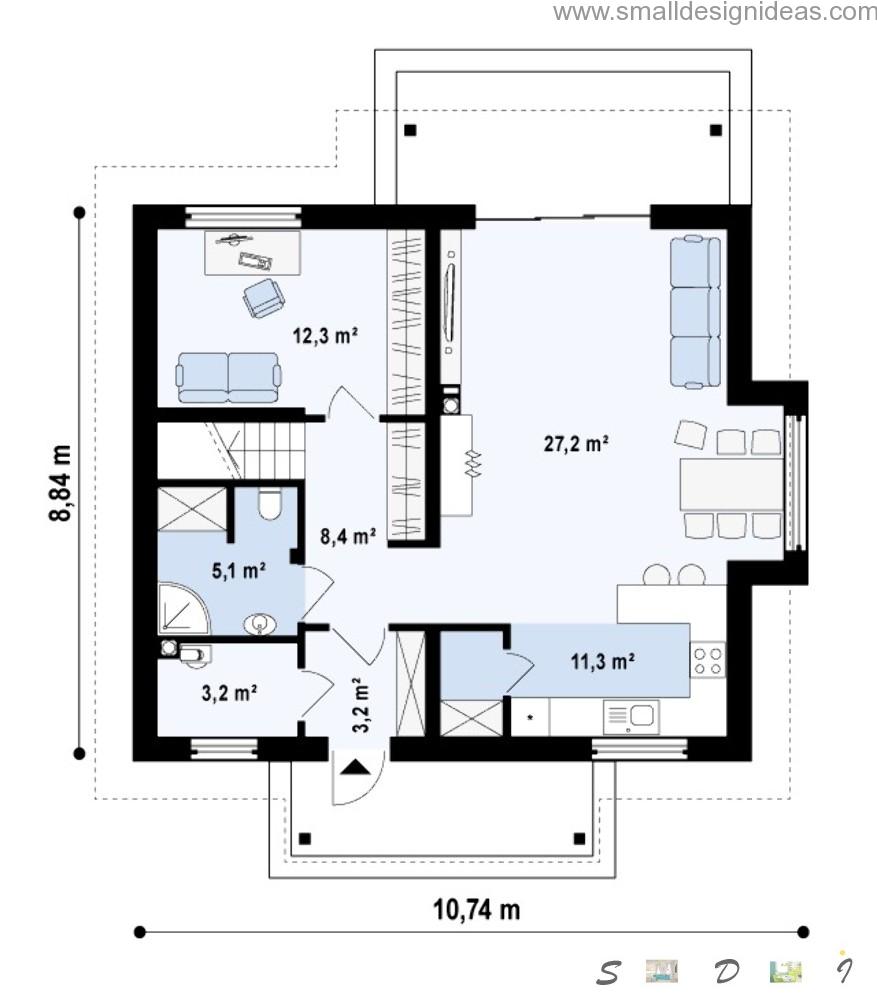 The biggest plus of the house is its simplicity and functionality at once. There is no extrasmall or extralarge rooms, bustling in layout and everything is ideally thought-out.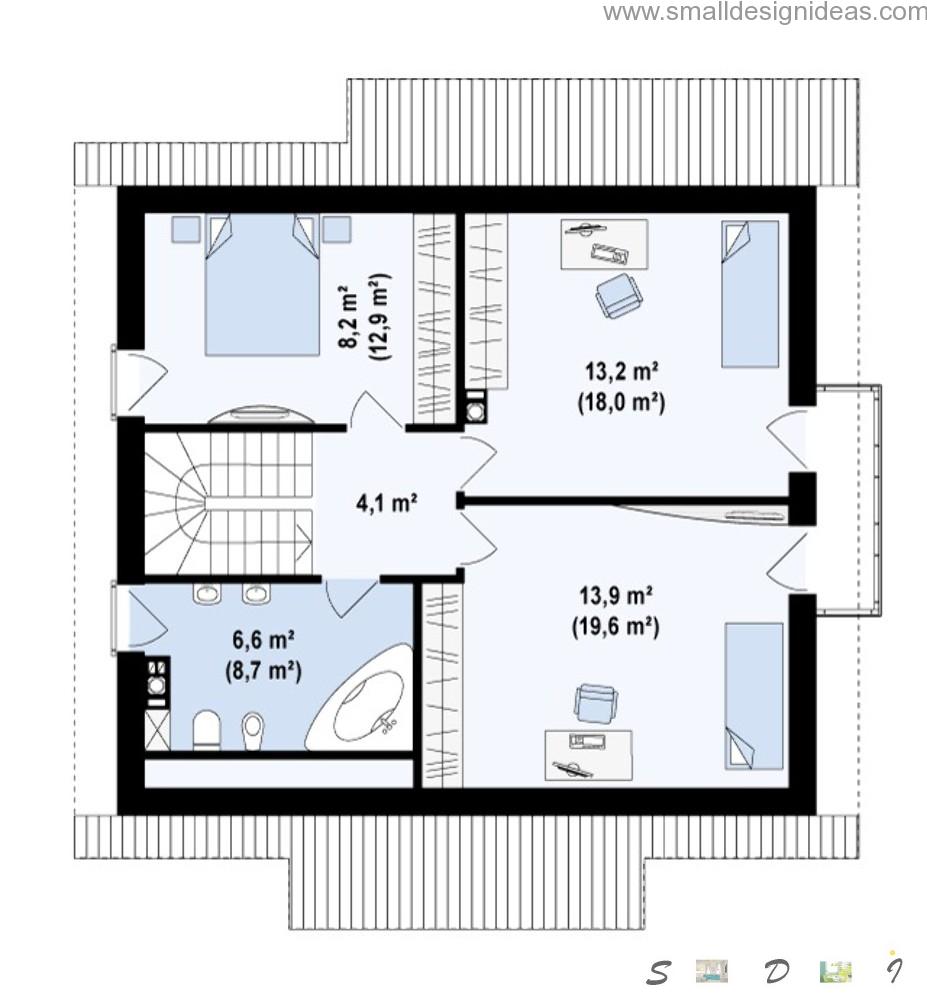 Even the bedrooms are not gathered at the same floor, what gives the house more utility and universalism. Also all bedrooms are of different size, so it would be easy to allocate them among the children by age and preferences.
Scandinavian style house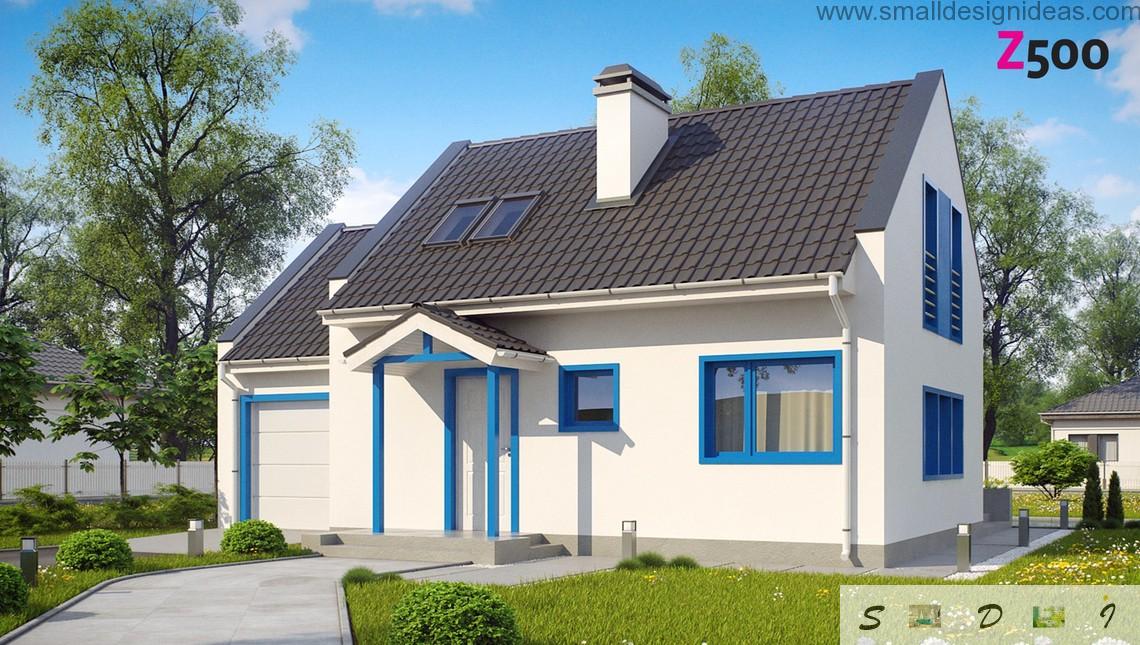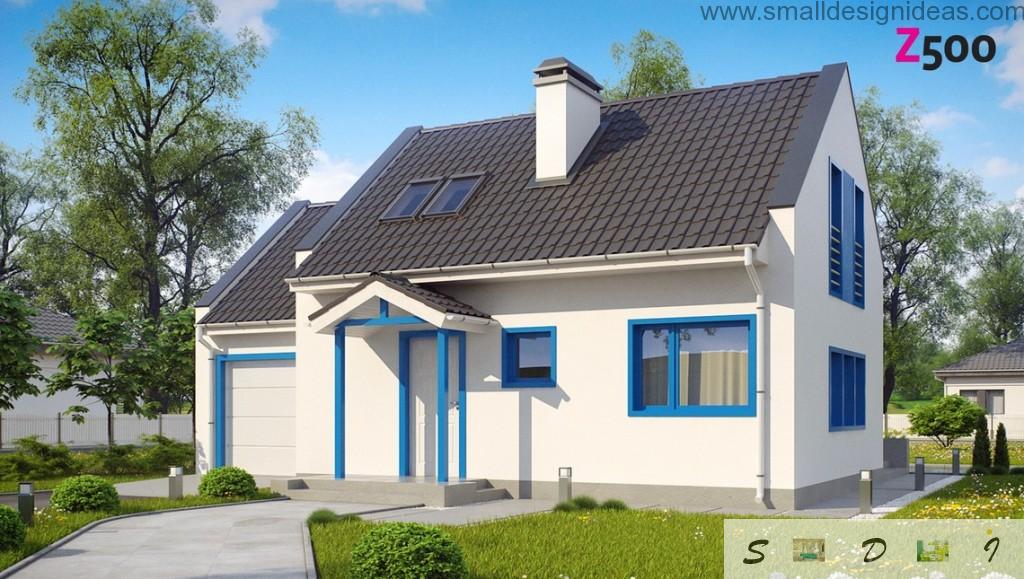 Modern and low-key house with attic floor with cool white and blue color mix and pathway illuminators want us to think it is cool and even cold dwelling from some Northern country. But, in fact, it is not true as the house is designed for hot regions and you`ll understand why is it so from the next picture of this Scandinavian house.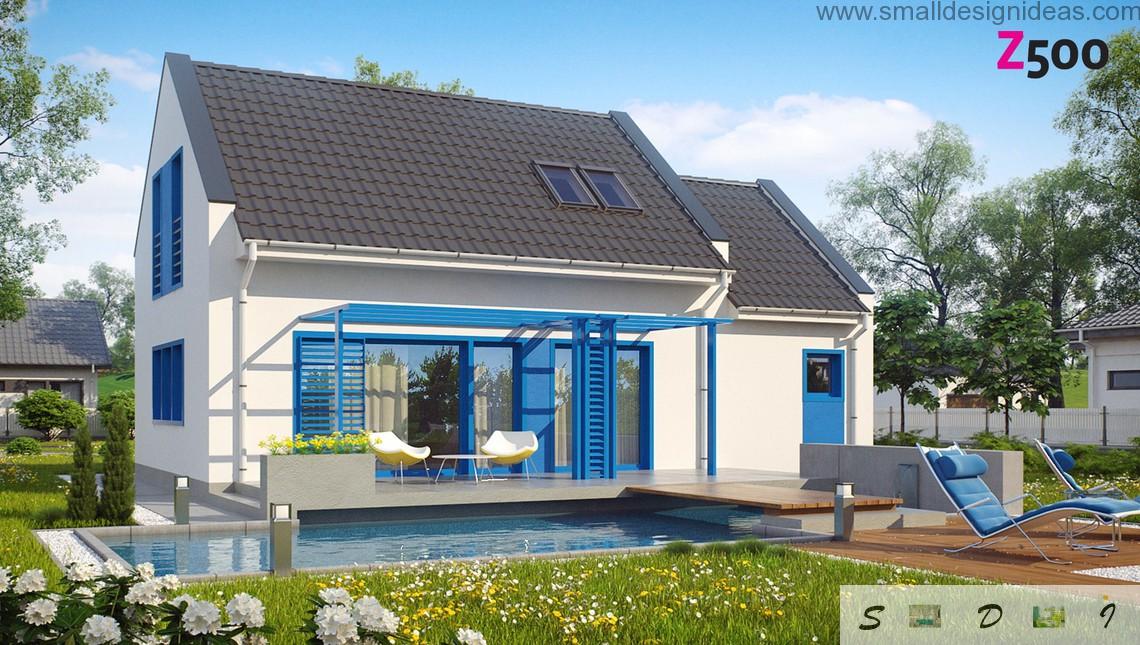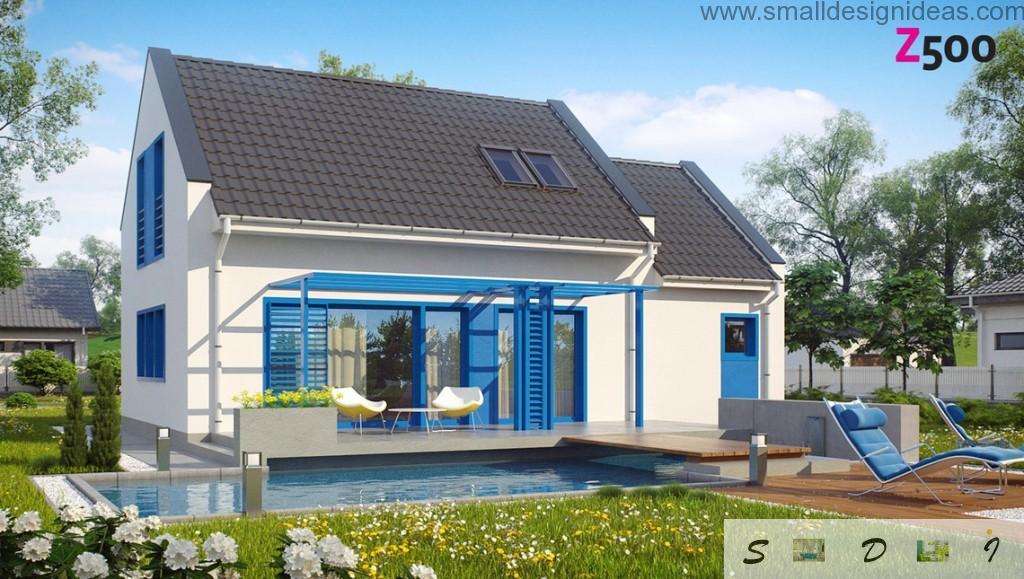 The pool with deck chairs at the background of such cold house look contrasting and even a bit strange. And this is the point: the house exterior is called to cool down the sultry surrounding environment. You can experiment with second color: take orange and the facade will attack you with its visual brightness. Anyway, this design is aimed on creative public, who want to change and alter many thing in their lives.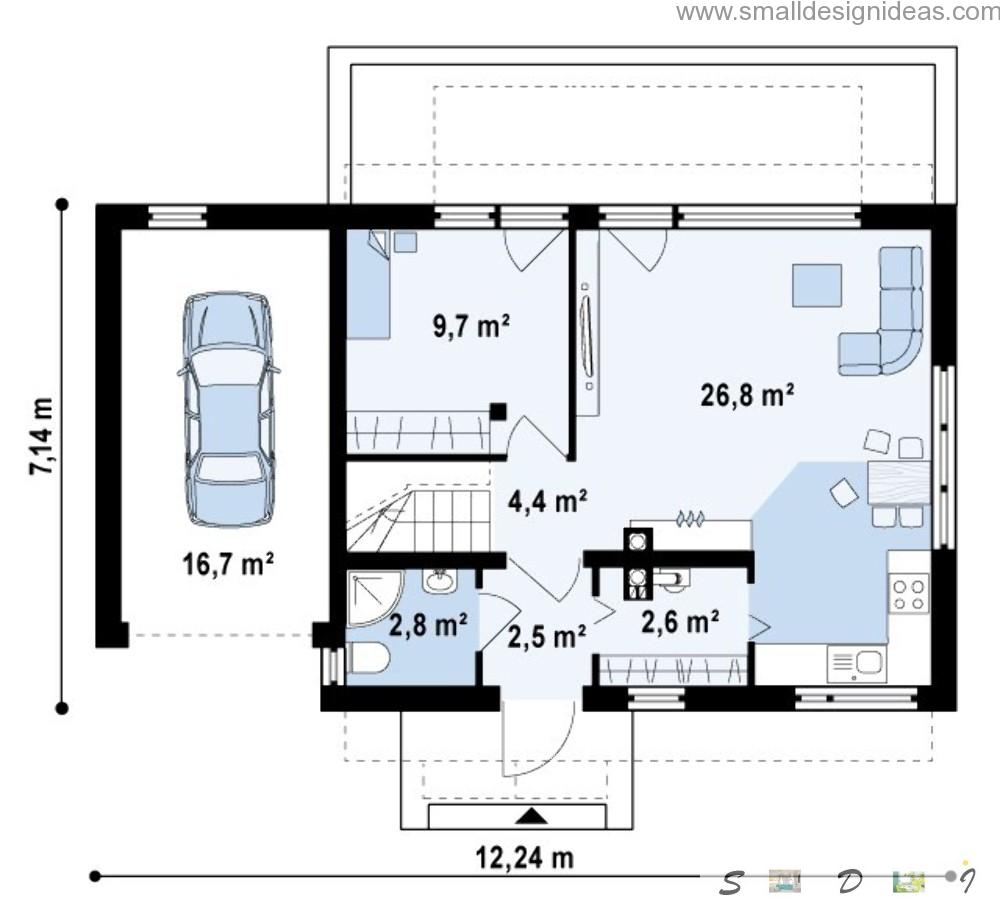 First floor will be more light so the majority of time home inhabitants will spend at the first floor. And this is another hint that the house should be built in warm region: sunny and hot weather allows to economise money on additional windows and you`ll have the ability to hide at the 2-nd floor from importunate sun.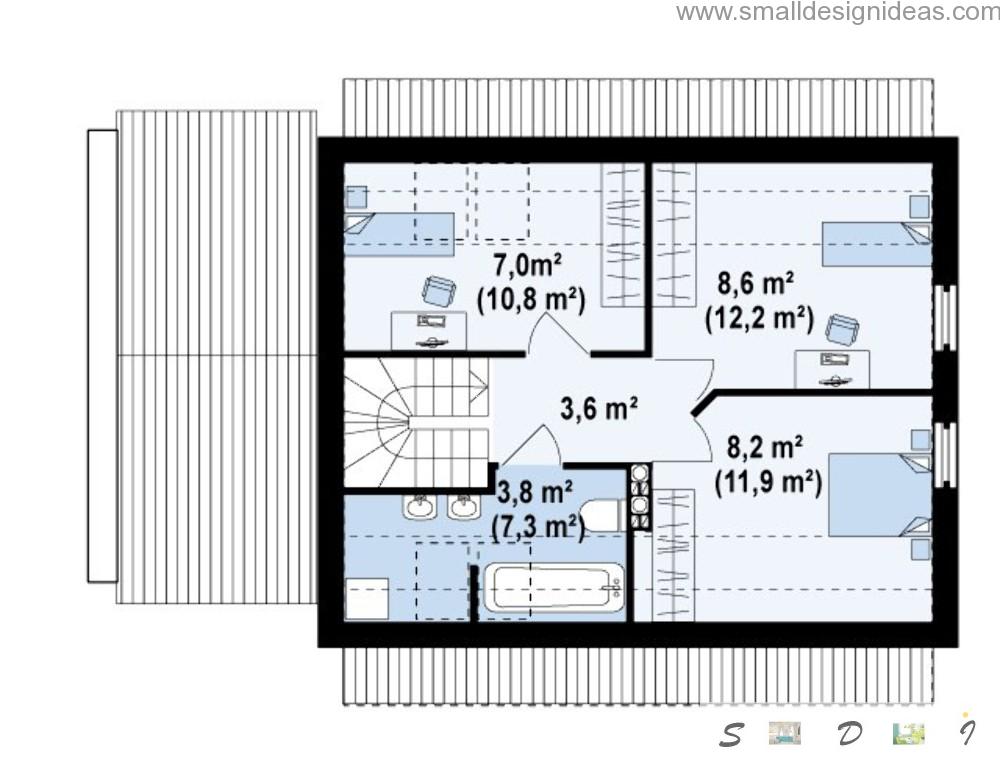 The interior planning is rather common and not surprising as the exterior.
Bangkok residence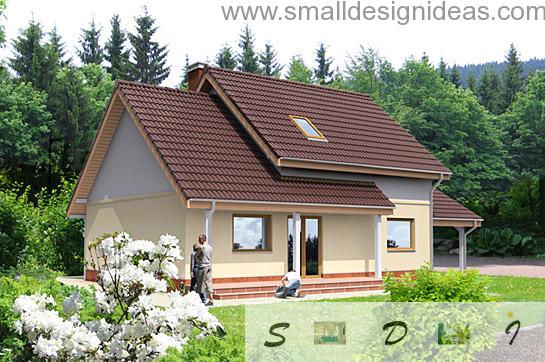 We want to end our most interesting and typical 4 bedroom house plans ideas with this modern Asian designer`s perl. Despite its apparent simplicity and primitiveness it is very comfortable and functional project for average family, ideally fitting the forest Asian landscape.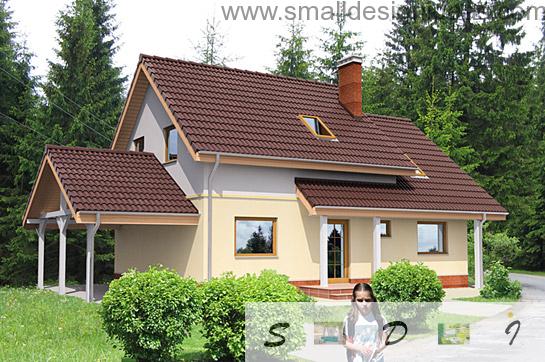 That is the residence for people who can appreciate comfort and looking for easy fast-building house with all the sanitary comforts.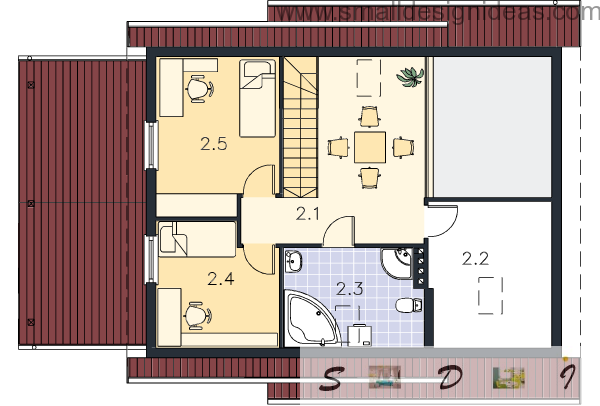 1.1 Tambour  2.5 m²
1.2 Corridor 6.4 m²
1.3 bathroom, heating 3.7 m²
1.4 Kitchen 11.7 m²
1.5 Living Room 23.5 m²
1.6 Room 11.4 m²
1.7 Room 11.4 m²
You`ll gonna love this house plan as it gives you the possibility to have unique and fresh looking home in almost any country. It contains the mix of almost every modern stylistic trend and looks very harmoniously at the same time, not lacking the simple everyday comfort for inhabitants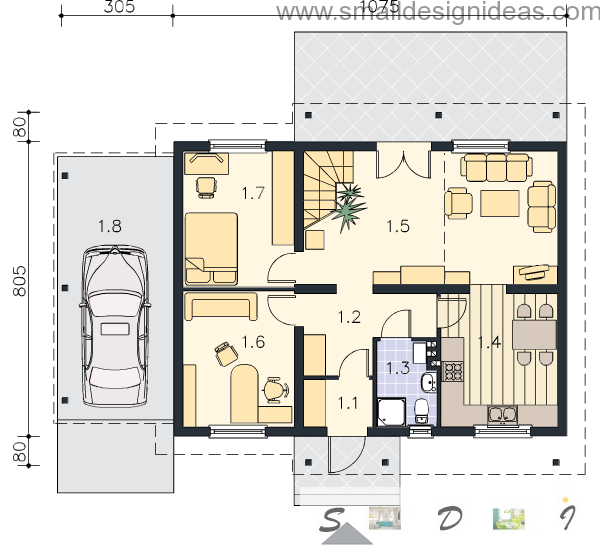 2.1 Hallway 17.7 m²
2.2 households. room  12.2 m²
2.3 Bathroom 9.2 m²
2.4 Room 9.8 m²
2.5 Room 12.6 m²