Rare owner of a city apartment could be congratulated with the possession of a spacious entrance hall of regular shape. Most often – it is a small square room or very narrow corridors, which can accommodate no more than two people at a time. But the hall is the first room to see for anyone coming to the household or apartment and it deserves an appropriate decoration. Not to mention the functional part of this small room – the storage of outer clothing, seasonal and more, shoes and accessories, as well as a seating place for comfortable dressing before going out. And all this is necessary to be placed at a pair of square meters. But in our compilation of 30 bold entry design ideas, we've tried to gather the most widely used methods of resolving some of the most topical problems of small entrance areas.
Contents: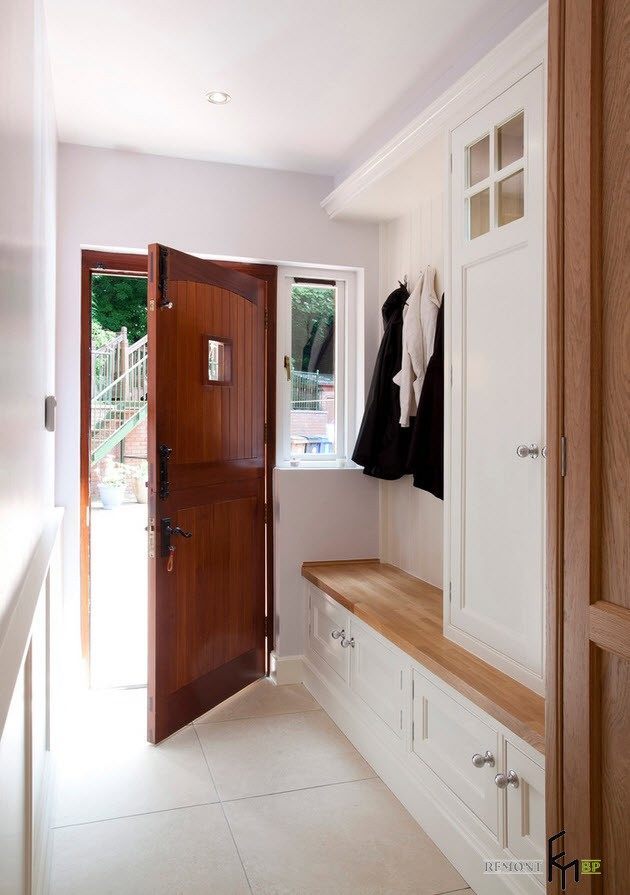 There are few simple principles of visual expansion of small spaces that can be applied to vestibule spaces:
Bright finish surfaces
Minimalist furnishings
Built-in storage
The combination of furniture and accessories
The use of mirror and glossy surfaces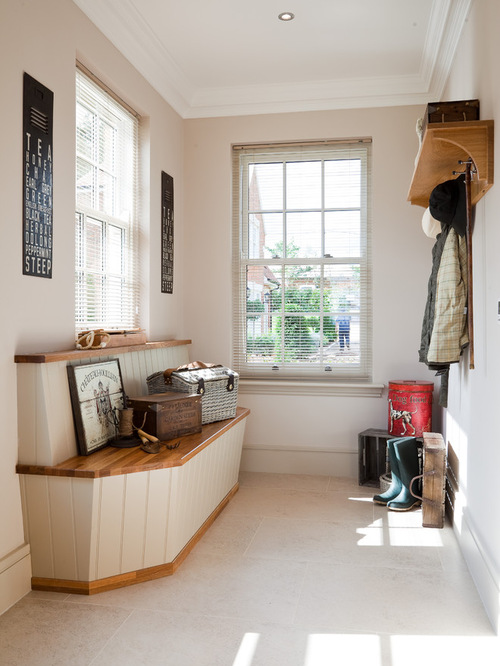 Unfortunately, not all the apartments and small houses follow these simple rules. If a family has children and pets – the desire for minimalism in the hall atmosphere is reduced to zero, because too many nuances and additional elements are necessary to take into account in setting up the entrance room. Some people can not stand bright colors in the interior decoration, even so, small as a hallway. And someone prefers better to abandon the closet in favor of comfortable chairs, in favor of comfortable tying shoelaces.
All of us have different needs, lifestyles, and tastes in the design of the premises. We have tried to choose different options for the arrangement of small and medium-sized hallways, taking into account all kinds of color and stylistic preferences. We hope that you will find an inspiring option for the remodeling or reconstruction of your own entry, which will satisfy your expectations and preferences.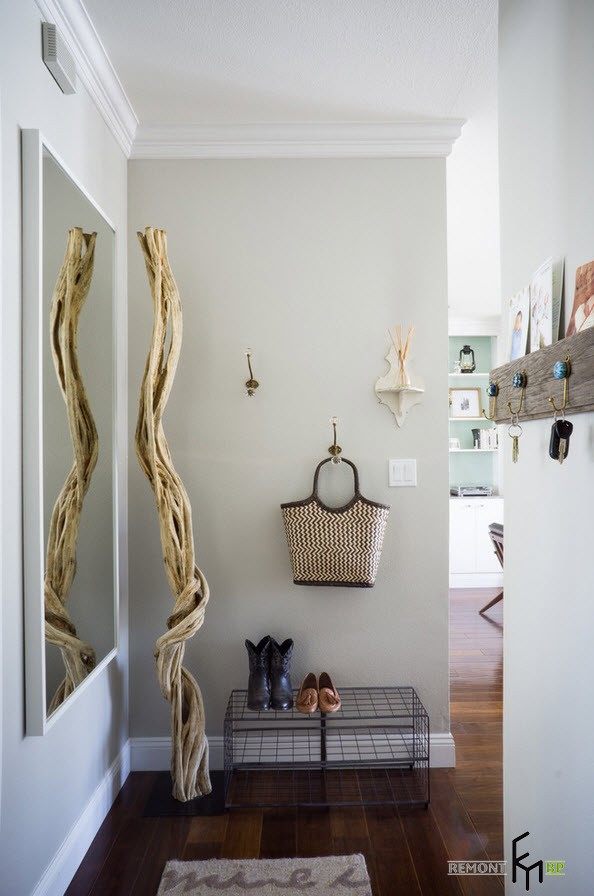 Minimalism for Small Spaces
Often the only way to avoid clutter in small hallways is more than the austere environment of the premises. Some rooms can accommodate only coat hooks on the wall and a small shoe rack or an open shelf.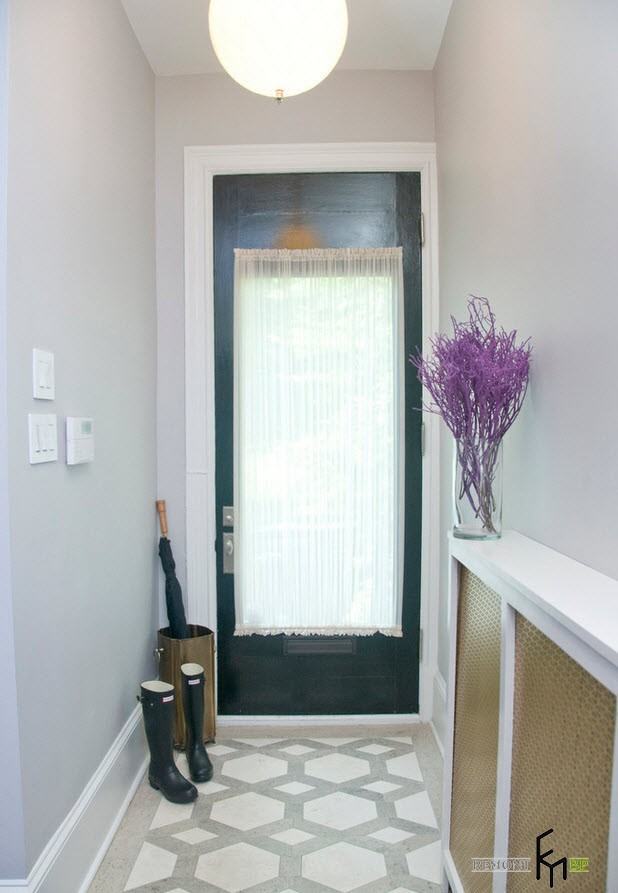 It is better to place a wardrobe in the living room, leaving little space to maneuver in the hallway rather than trying to cram furniture into the tiny room.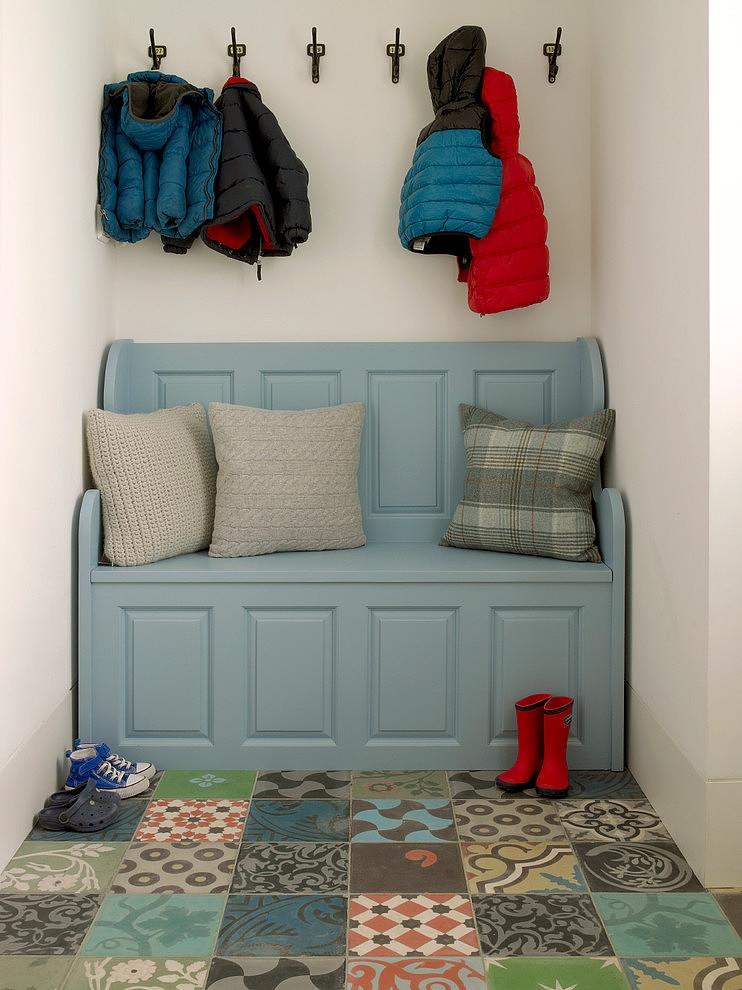 This built-in bench occupying the entire width of the small cavern entrance serves as the storage system among other things. Its lid folds allowing access to the deep enough box.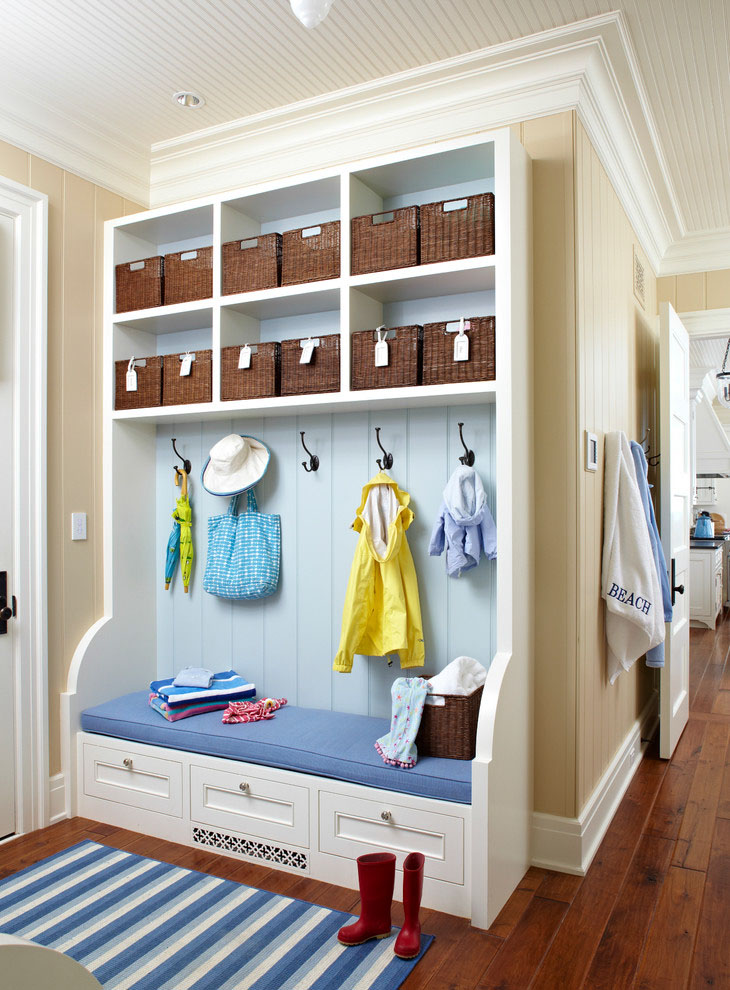 Another example and benefit of the use of the storage system's surface as a seat is space saving keeping all the necessary practicality and functionality.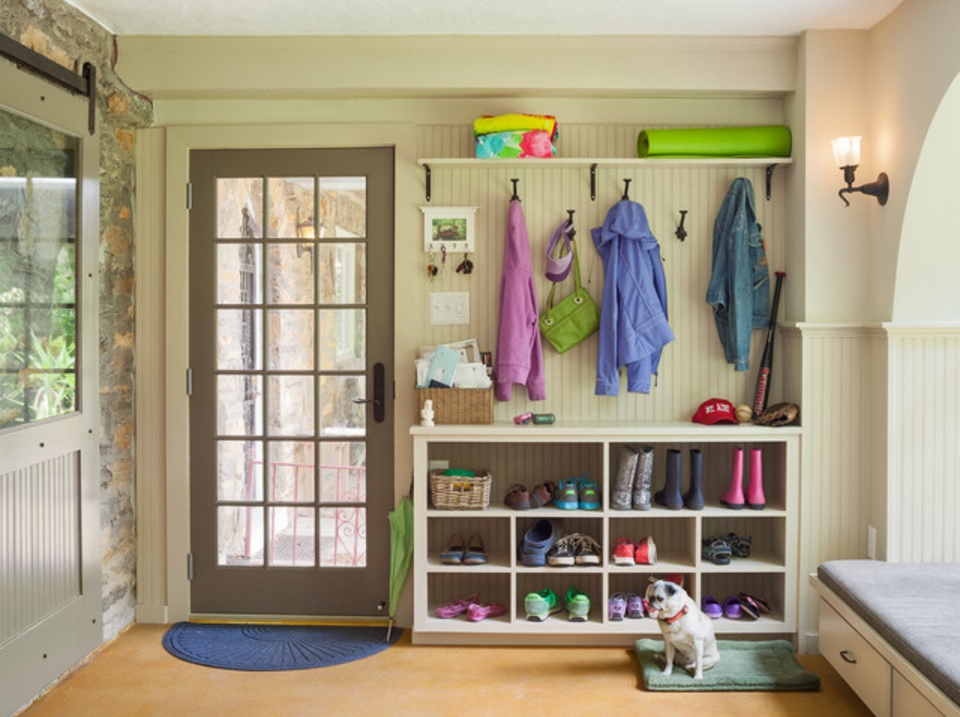 Open shelving shallow and several hooks for clothes – this is the minimum that can perform the homeowner, who is handyman with tools.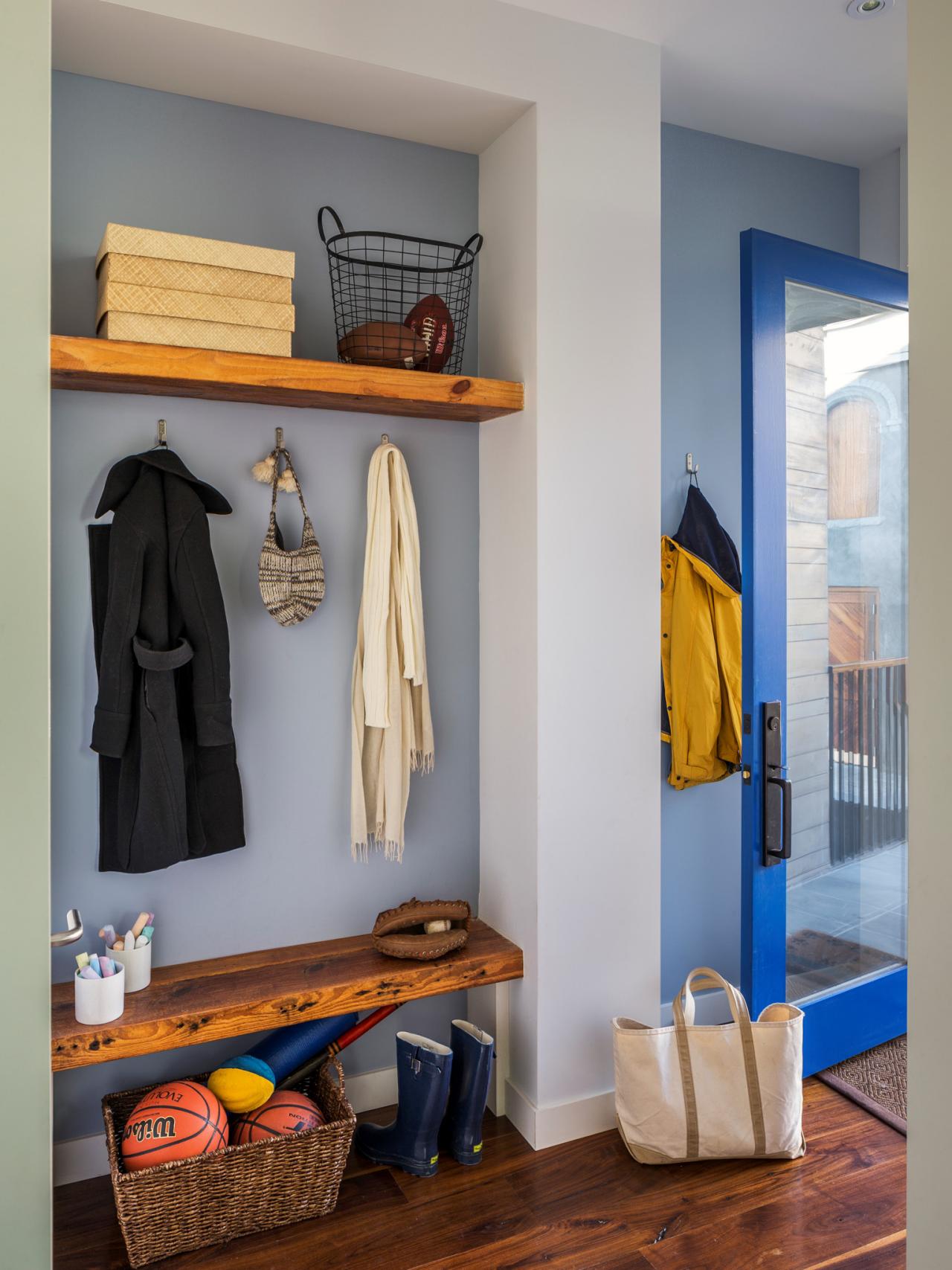 Two shelves and a couple of hooks for clothes constitute the whole interior of the hall. But the room is fresh and interesting, without violating the principles of ergonomics and practicality.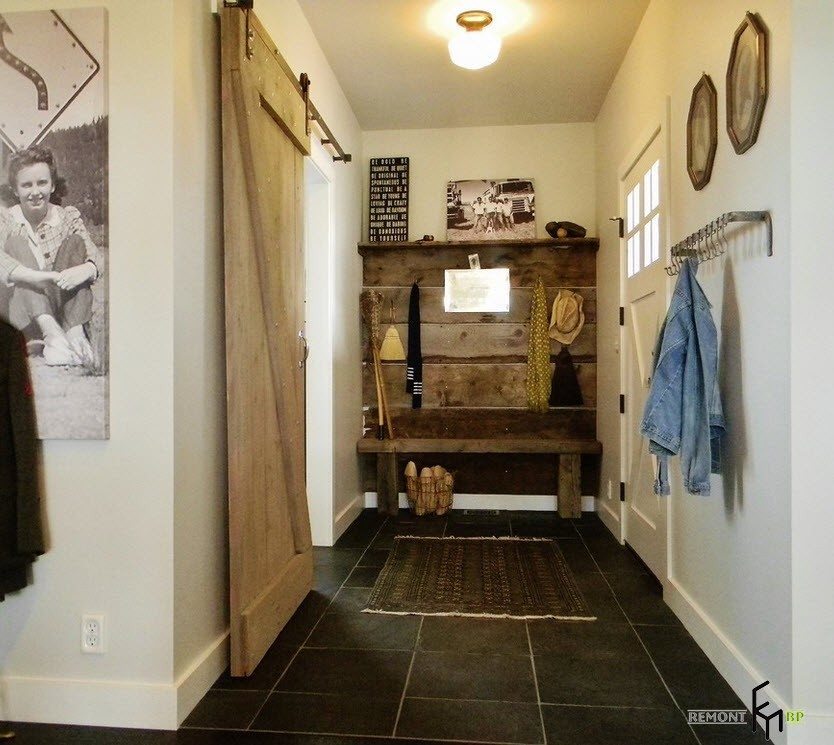 Minimalism can be expressed in country-style elements as in this hall. Against the background of bright walls, dark wood looks impressive, creating a bridge of color to darker shades of the floor covering.
Bright Palette Expands Small Spaces
Any homeowner knows about this axiom and uses bright, even white shades not only for surface finishing but also for furnishing such a modest size room as a hallway.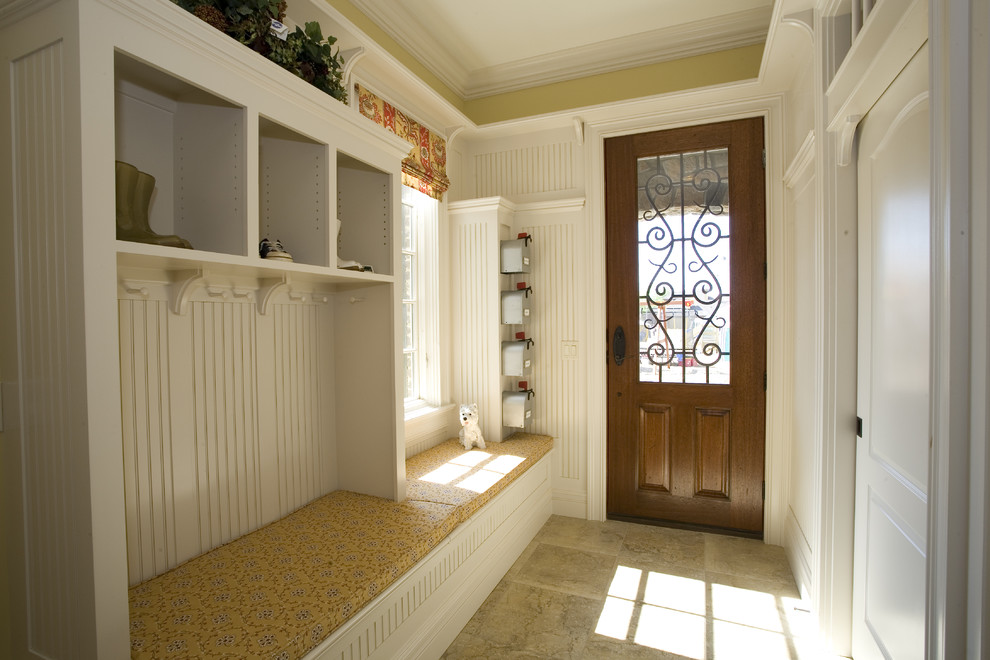 This design of the entry room offers us an interesting example of decorating multiple mailboxes for the residents of a building with a common lobby.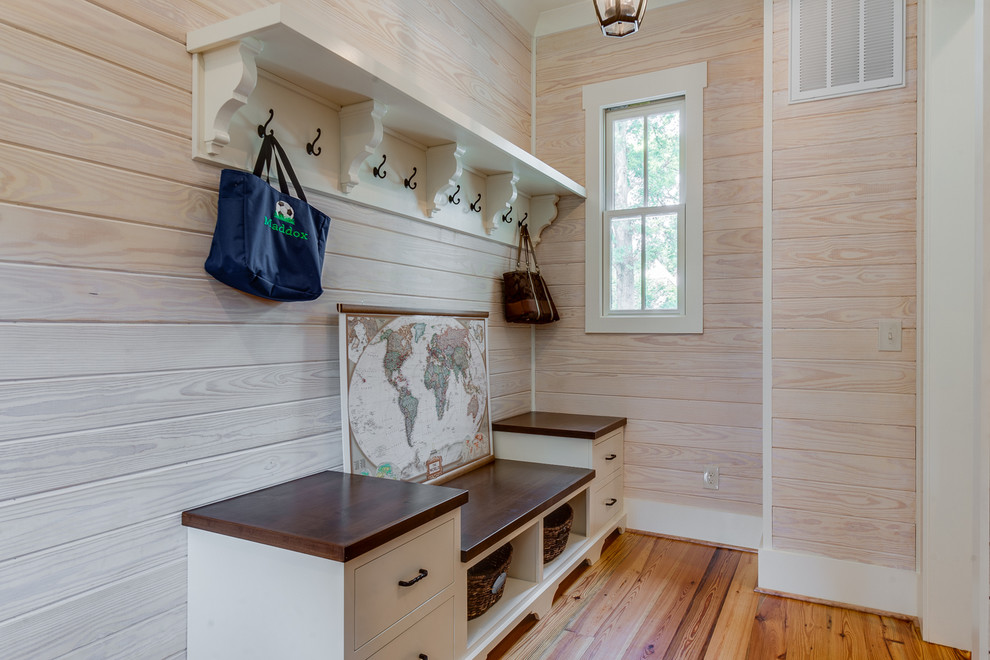 The use of light wood or its synthetic analog can be an excellent alternative to the coloring of walls in shades of white. Warm rustic atmosphere touch makes the interior cozy and comfortable.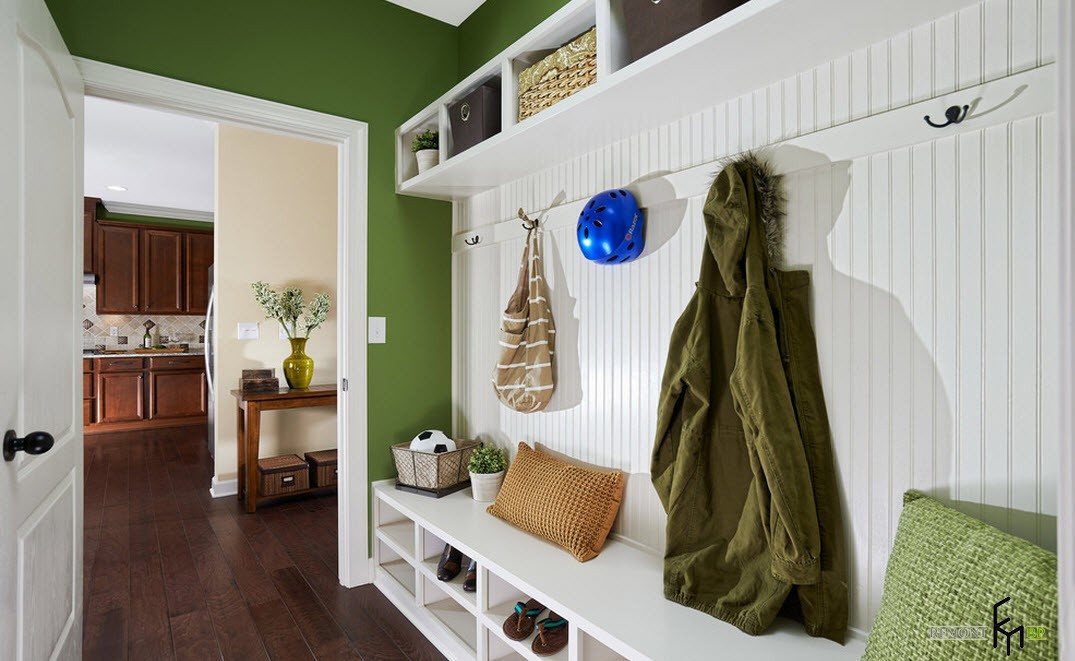 This snow-white open shelving is very roomy and suitable for a family of several people. In addition to the storage function, it can perform the function of the space separator, and you can attach some hooks for accessories on its sides.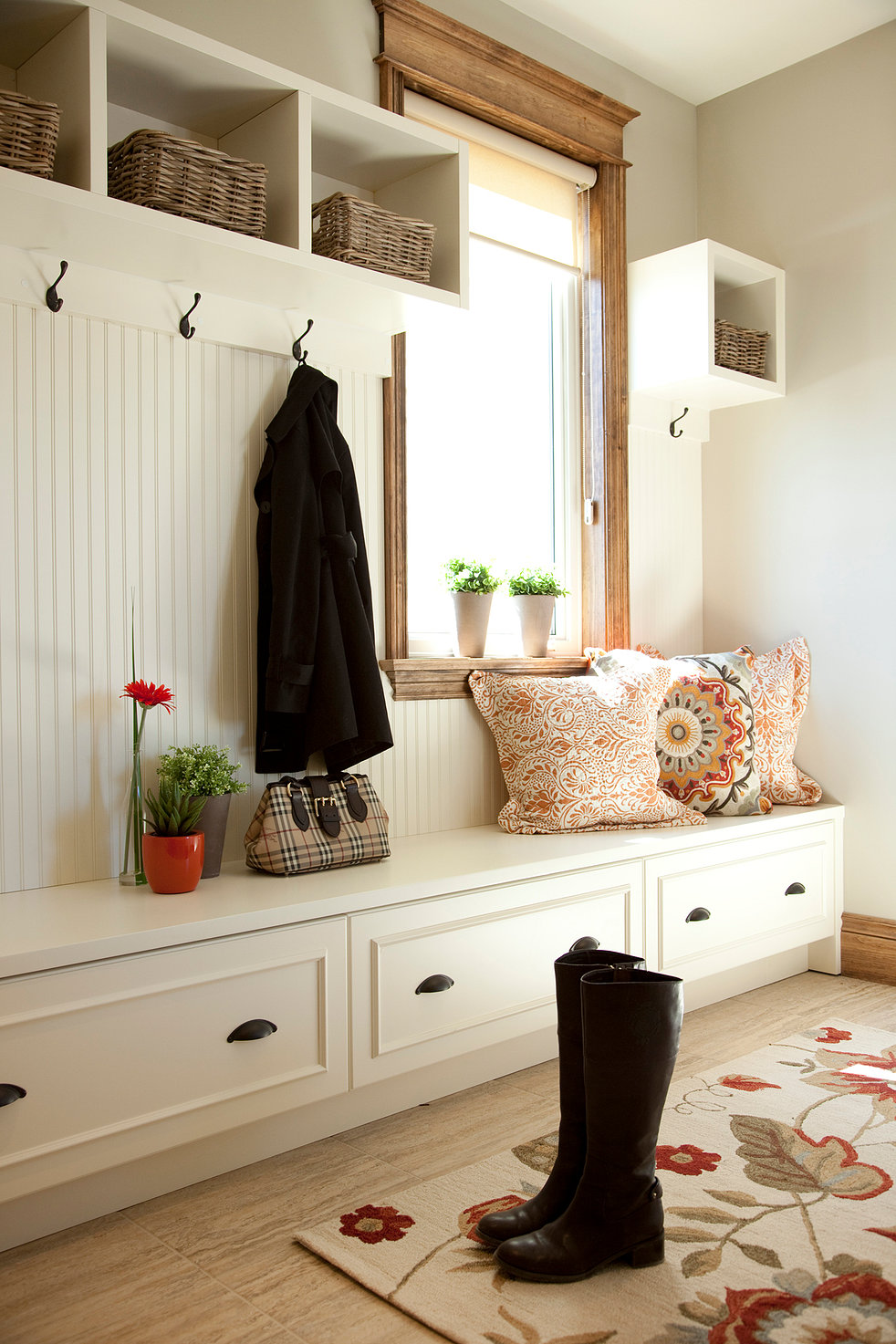 Variants with half-closed storage systems are not less practical and rational.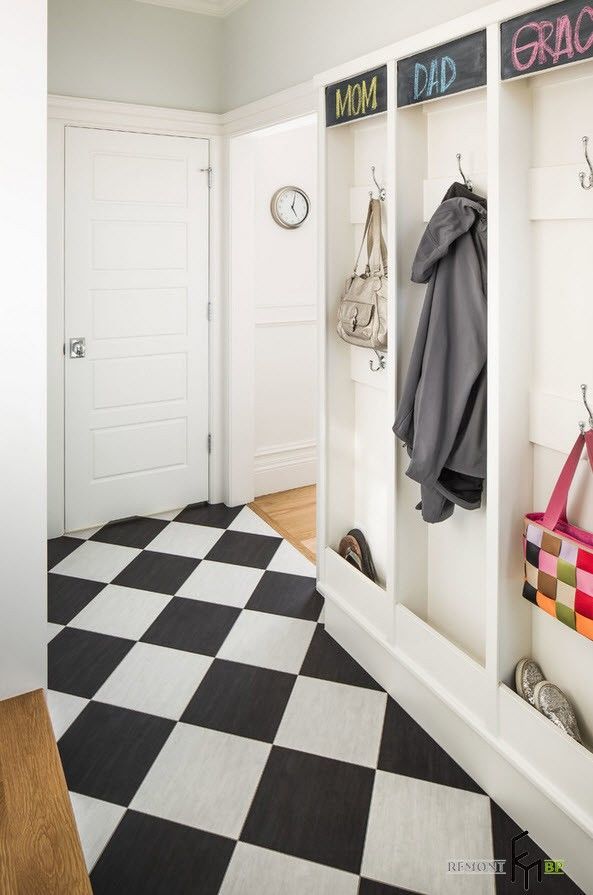 An interesting way to diversify the hallway interior and bring a touch of fun to it is dark plates for chalk writing where you can leave messages to family members or just a label to each storage location.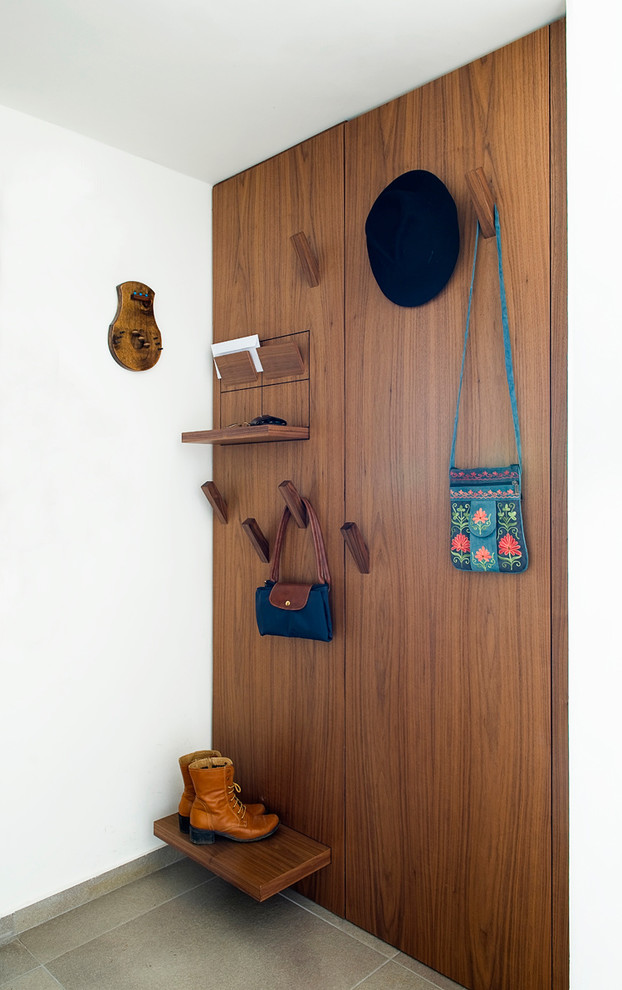 Such multifunctional cabinets of wood are not only a practical storage system but also the decoration of the hall.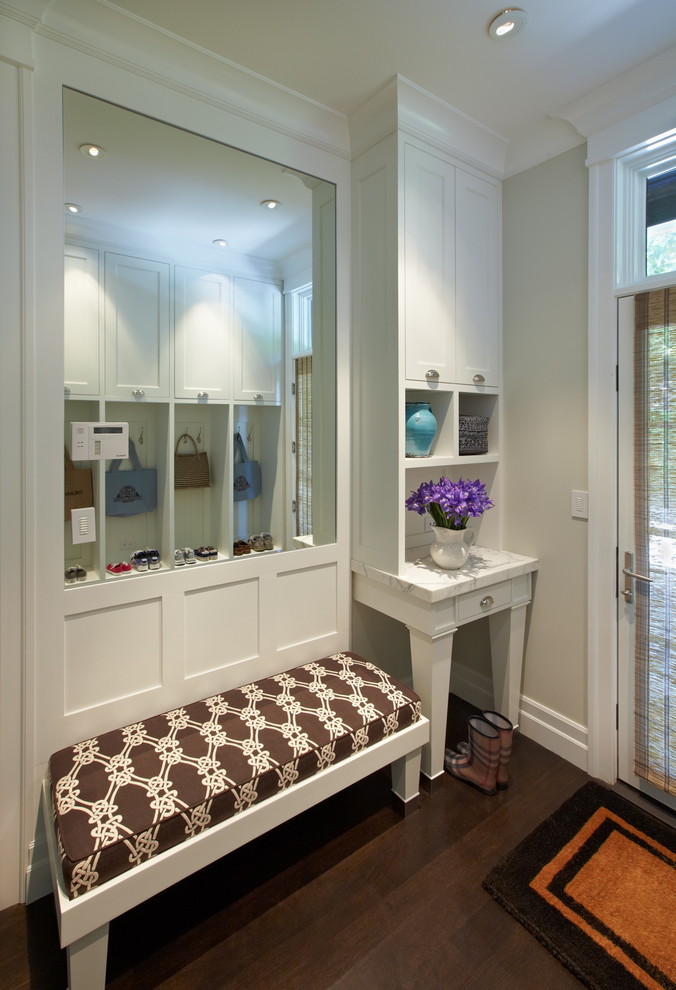 The bright finish and use of a large mirror have pushed the walls aside in this small hallway. Moreover, contrasting trim of flooring and textiles for upholstery diversified color palette.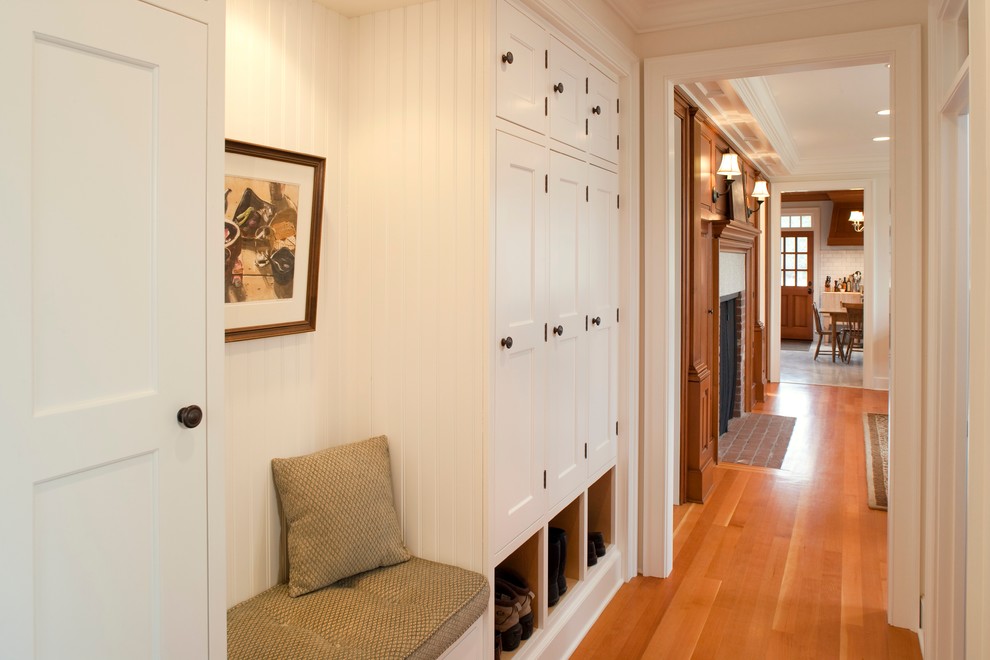 The snow-white built-in wardrobe is practically invisible against the background of a similar finish, but it is incredibly roomy and useful.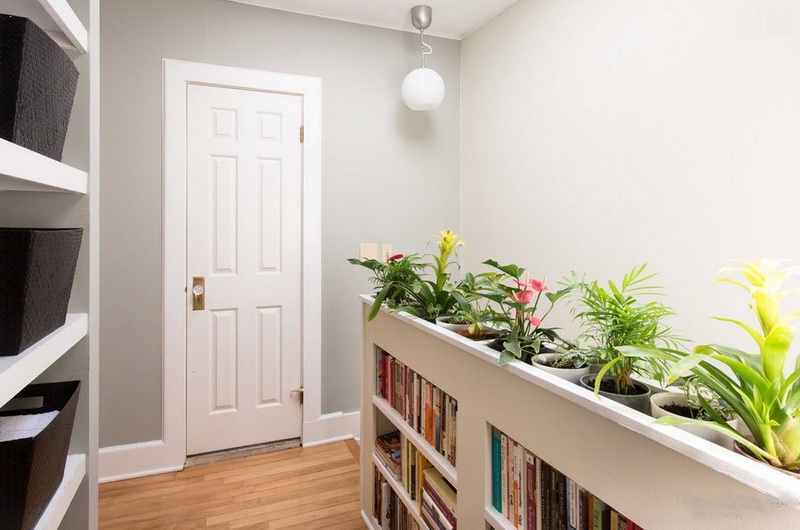 And in this small hall was a place even for the low books' shelving, the upper part of which is drawn up by living plants in pots.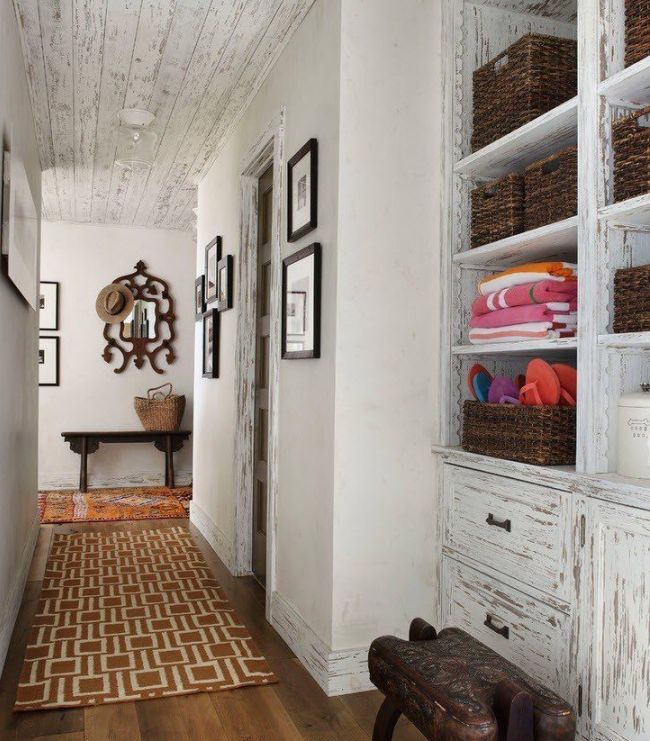 The bright finish can be present in a country style. A touch of rustic style gives the room personality and a special personalized atmosphere.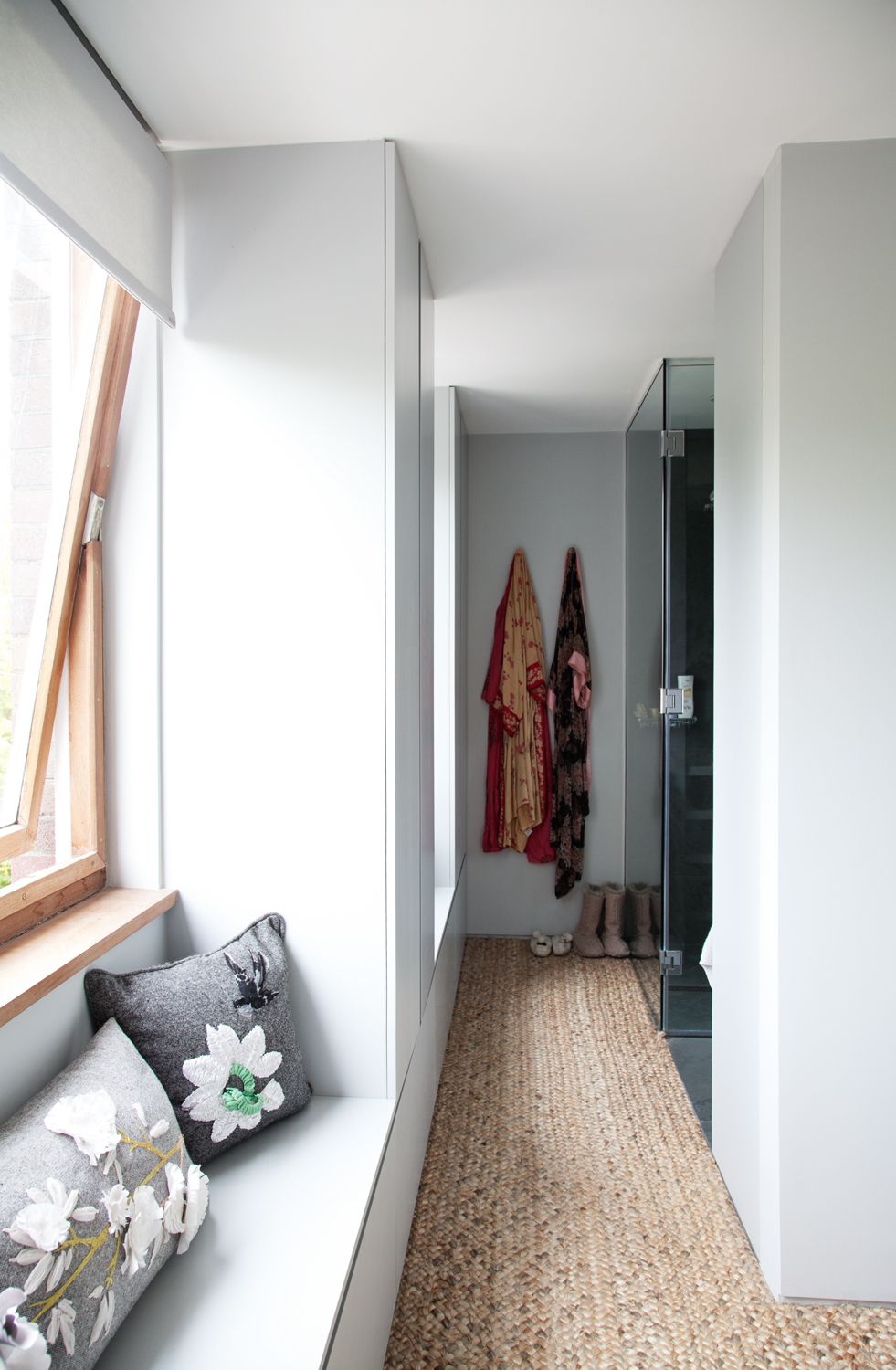 Wallpaper in the Hallway – a Colorful Interior
Not all homeowners like to design small hallways using bright pastel shades. Many people prefer the brightness and saturation of the finish. If your choice has fallen on wallpaper with an active pattern, make sure it was the only print in a small room. It is better if the furniture would be light, monotone in this case.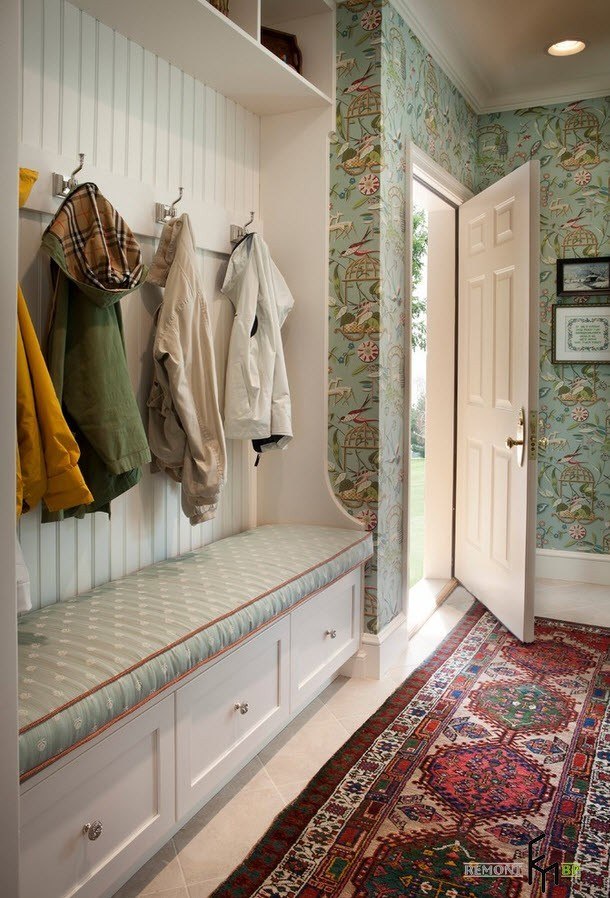 In addition to wallpaper, monochromatic wall decoration and furniture in a single bright tone can also bring brightness.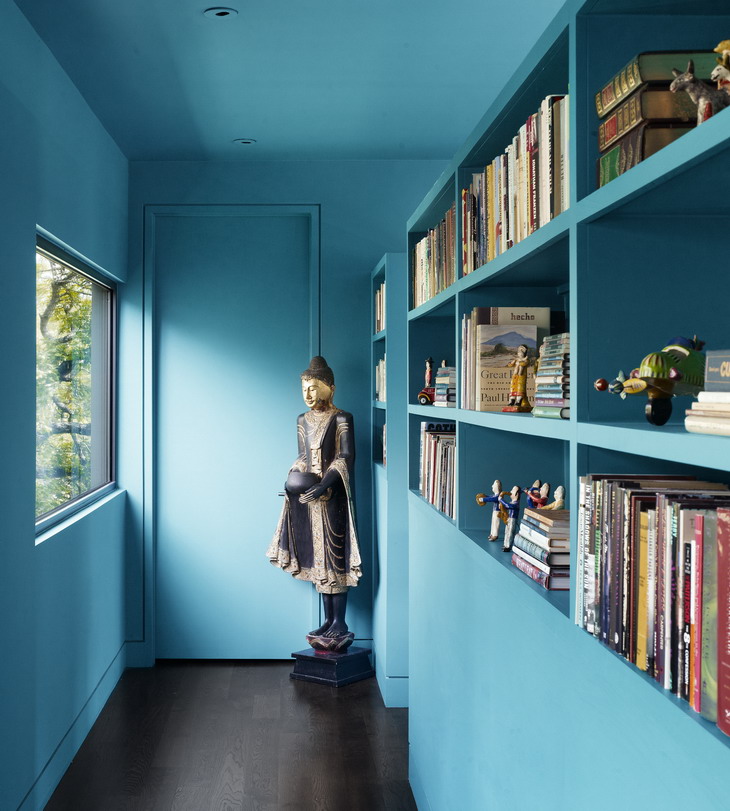 This incredibly bright and unusual living room, which has accommodated a whole range of bookshelves, demonstrates the ability to design colorful small spaces.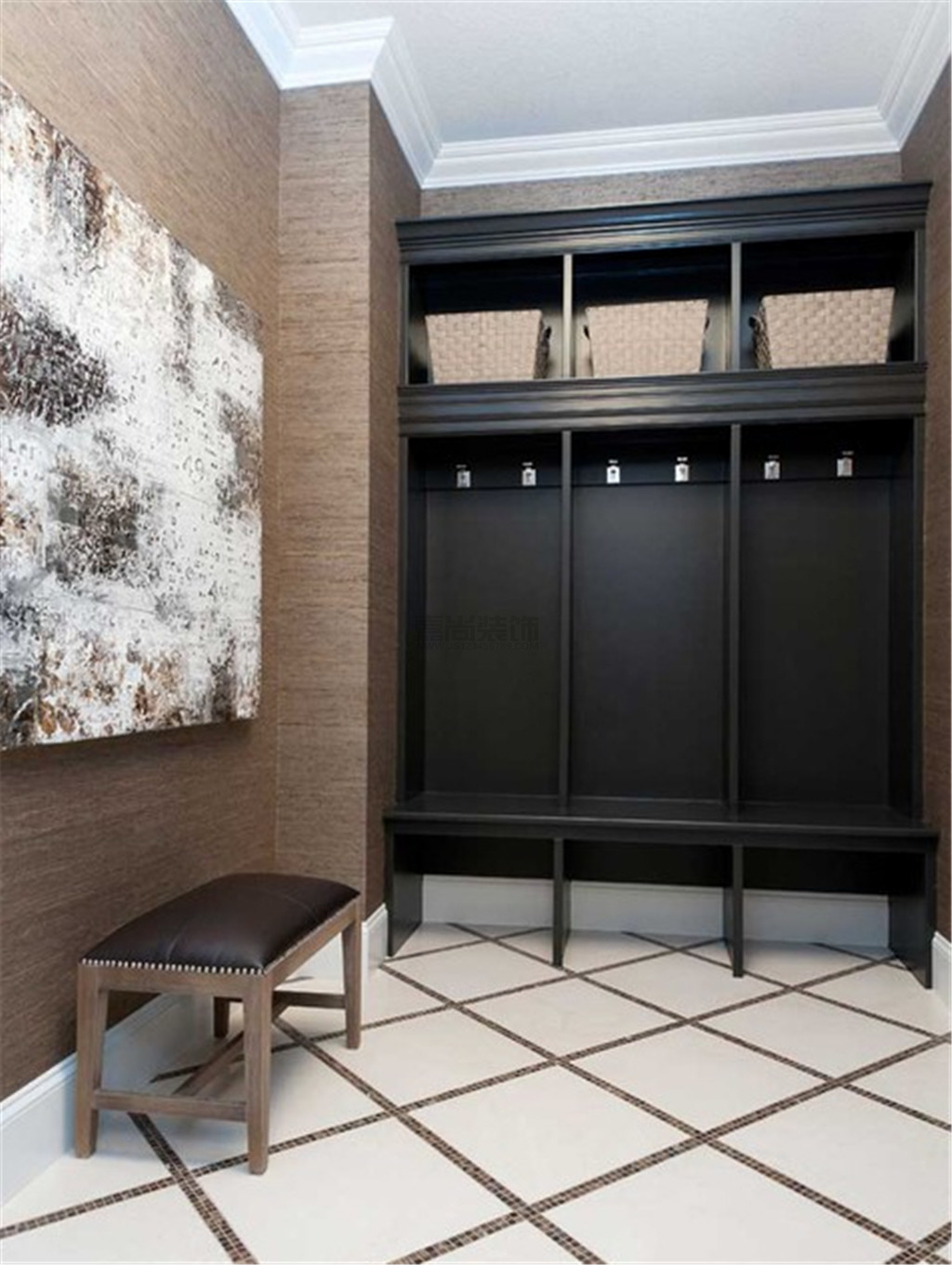 Despite a rather dark shade of wallpaper and an even deeper color of the open type cabinet, the room is fresh and fun, thanks to a bright ceiling and floor finish. The link completing the harmonious environment has become a work of art on the wall.
Ample Furniture Sets for Small Hallways – it's Real
It would be expedient to organize ensembles of storage systems with a combination of open and closed drawers and shelves in hallways, whose size can be called average or a little below that.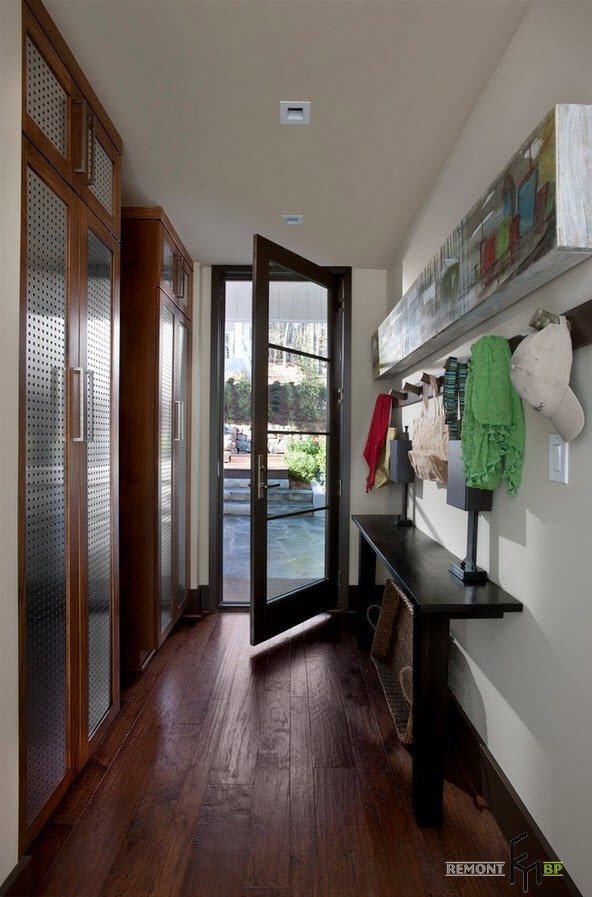 Built-in cabinets for small spaces are often the only way to organize capacious storage systems.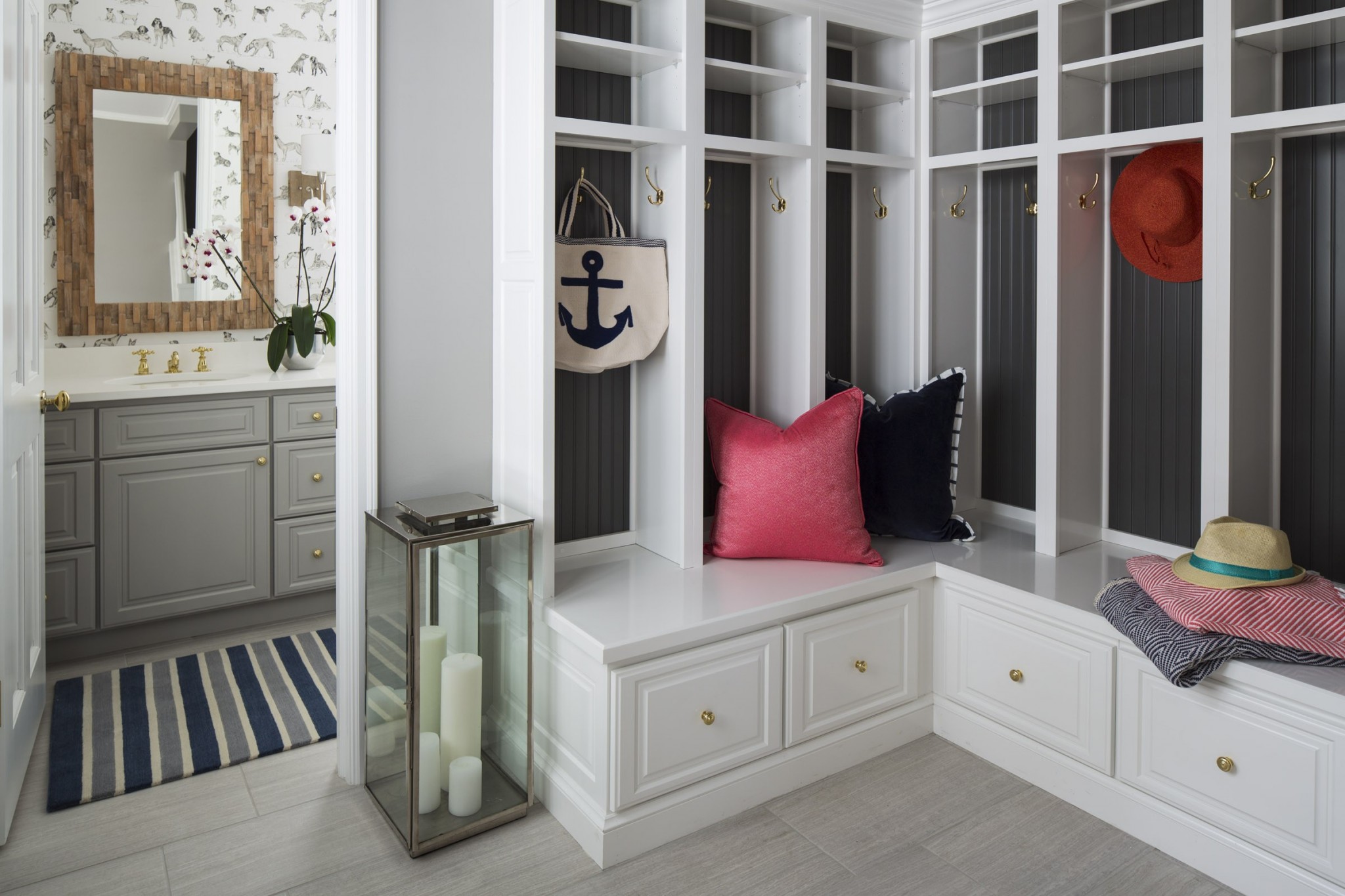 Corner built ensembles help to use the angles' space, which remains unused during the installation of conventional cabinet furniture.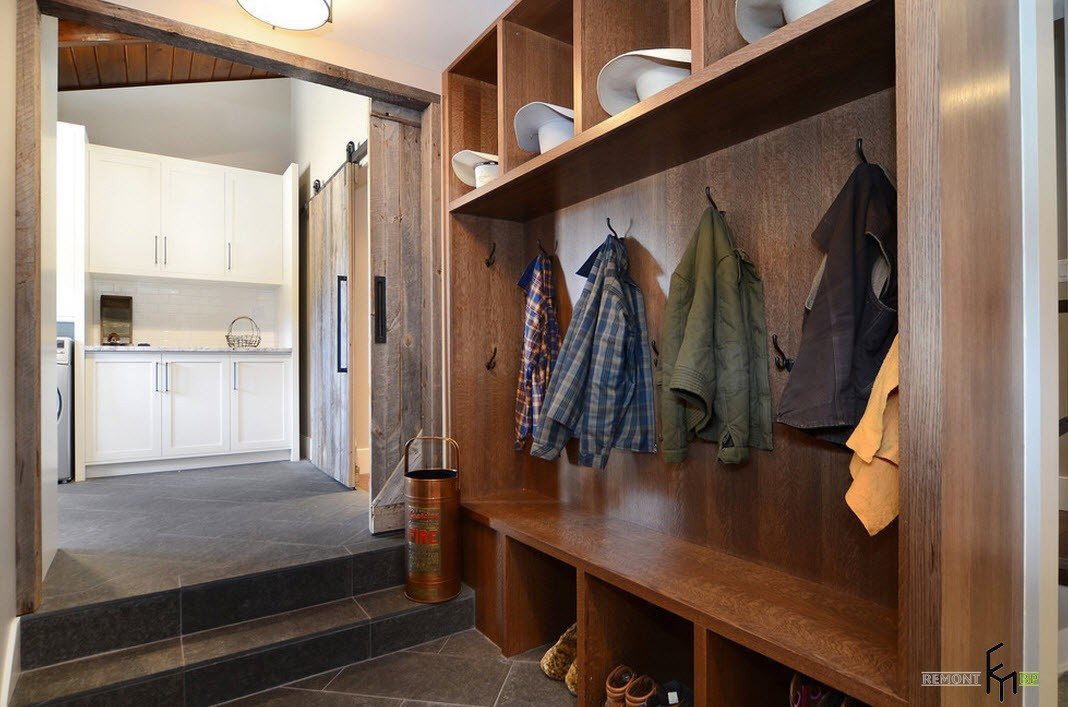 Unpainted wood cabinets bring the warmth of natural colors in the room a small room, adding comfort and convenience.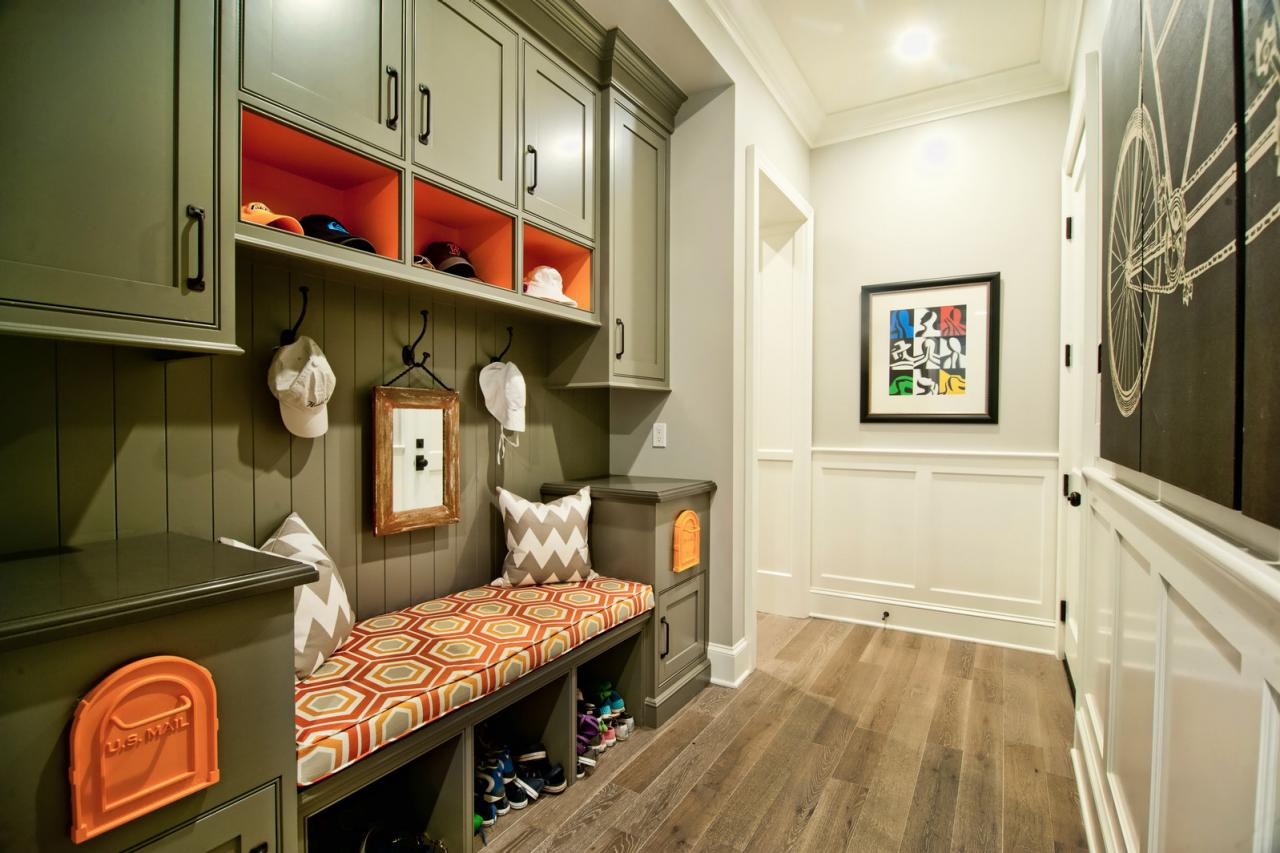 Painted in warm natural shade cabinet looks better than natural wood.
Such built-in wardrobes can accommodate not only necessary at the moment clothes and shoes, but also the entire upper garment of a small family. The combination of open and closed shelves and drawers creates a harmonious and rational furniture ensemble that does not weigh down the appearance of the room, but it serves practically and ergonomically for home tenants.