Traditionally, the kitchen has been a place for cooking, and the dining room is the place to dine. However, with the rise in open plan living and the popularity of multifunctionality, eat-in kitchens are becoming more and more prominent.
So, whether you have a small apartment or large house, a functional need for an eat-in kitchen, or simply the want for one, here are 7 ideas for creating an eat-in kitchen suitable for entertaining.
Cafe Style
A cafe-style kitchen can evoke the feeling of dining at a small cafe in Italy, or even in the streets of Paris! Opt for a cafe-style metal table with mix-and-match foldable chairs. The beauty of a cafe-style kitchen is that when the weather is nice, you can simply open the kitchen doors to the garden, move the table outdoors, and make your dining al fresco.
Country Style
A country-style kitchen is the epitome of English cottage living. Accentuate the natural wooden beams of the house, embracing the beauty of different hard- and softwoods across the floor and walls of your kitchen. For added impact, install a traditional wood fired stove that will wow your guests.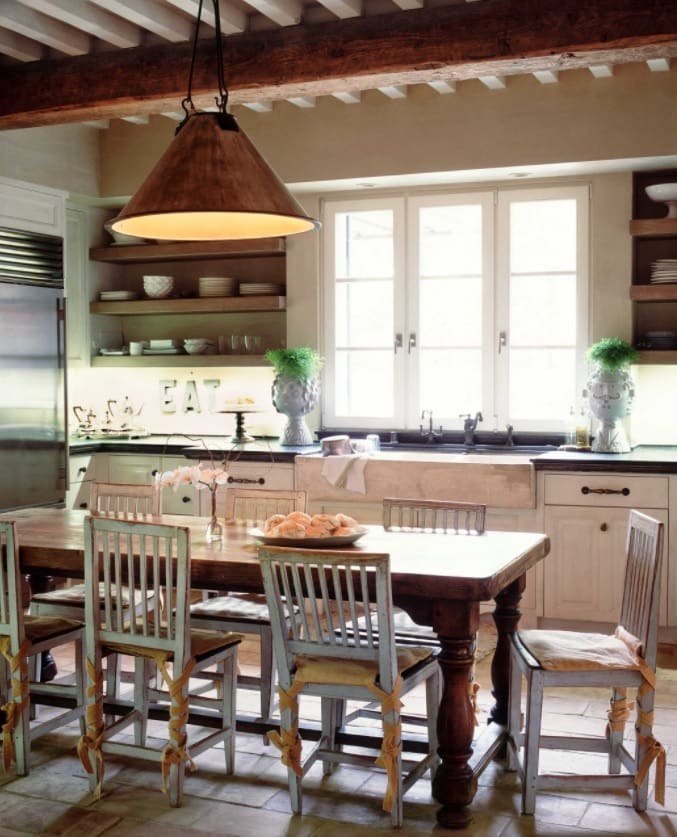 Hairpin Style
Hairpin table tops and legs are a sleek and modern way to transform your dine-in kitchen. They can be especially effective for smaller apartments or kitchens where you want the units themselves to be the focal point, adding a simple and understated class to the room.
Banquet Style
For a bold statement piece, go for a long, banquet style table that spans the length of the room. Of course, the size of this will depend on how much space you have available in your kitchen. Finish it off with long benches that run down the length of the table, encouraging your guests to share and socialize.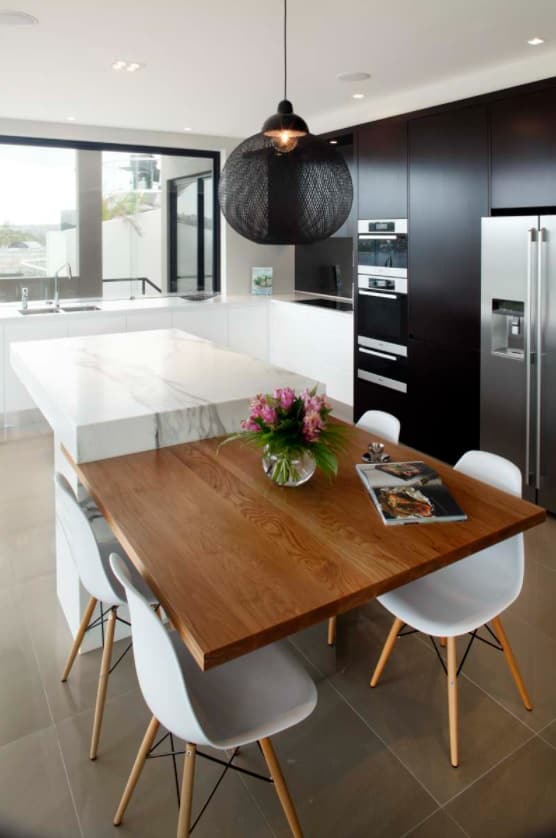 French Style
The French are famous for their love of good food and socialising, so incorporate the fun of this into your dine-in kitchen. Don't hide your ingredients and cooking utensils away, display them on your wall with rows of shelves and hooks. Choose a chunky, solid wood table, and chairs that boast a light, picnic-style upholstery – florals, pastels, and wide checks work extremely well.
Industrial Style
An industrial design aesthetic combines materials that we typically think of as functional to create a sleek and ultra-modern vibe. Opt for polished concrete floors, a rustic metal table, and hints of steel throughout. Contrast the sharp lines with pops of colour, such as rounded plastic chairs to elevate the room to a new dimension.
Bar Style
A breakfast bar in your kitchen is the perfect place to host a brunch with your friends, complete with bucks fizz of course! You can achieve this by installing a multi-functional kitchen island. When you have guests over, simply turn the island into a table by adding some bar stools. For a vintage twist, take a look at your local antique stores for decommissioned bar stools that you can upcycle.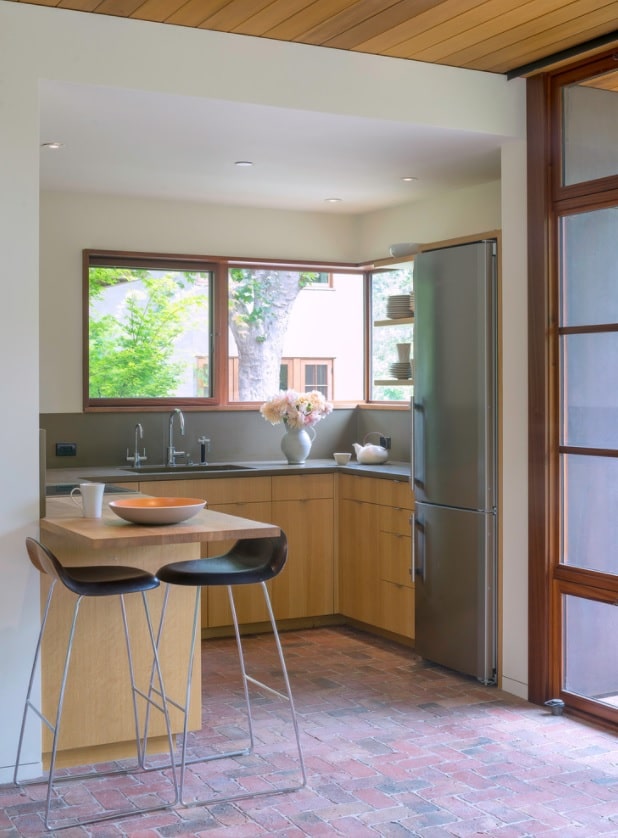 And there you have it – 7 design ideas for transforming your kitchen into a kitchen-dining area. With these ideas in mind, you can take the first step towards the eat-in kitchen of your dreams.