Do you have a garden shed that's just sitting there, not being used? Perhaps you already have storage for your spades and rakes, or don't have a big enough garden to need these tools? There's no point in just letting it sit there, empty – there are all sorts of ways you can use this space.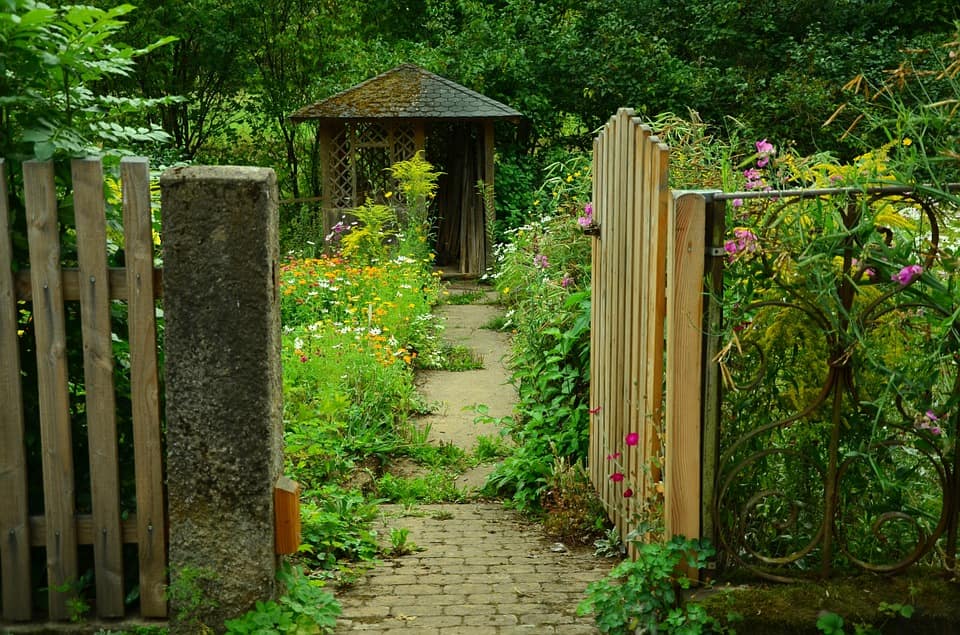 We've put together a list of some of the best to help you envisage a new future for your old and rusty shed!
Yoga Studio
If you're into yoga, why not turn your shed into your own mini-studio? Yoga at home is very easy, and you don't need much space, especially if you're practicing on your own. Simply get a yoga mat, a few blocks, and straps, and you're good to go!
If you don't know too much about yoga, you might want to use some YouTube videos to begin. If this is the case, ensure that you can get the internet in your shed. Your WiFi connection may stretch this far, or you might be able to use your phone's data.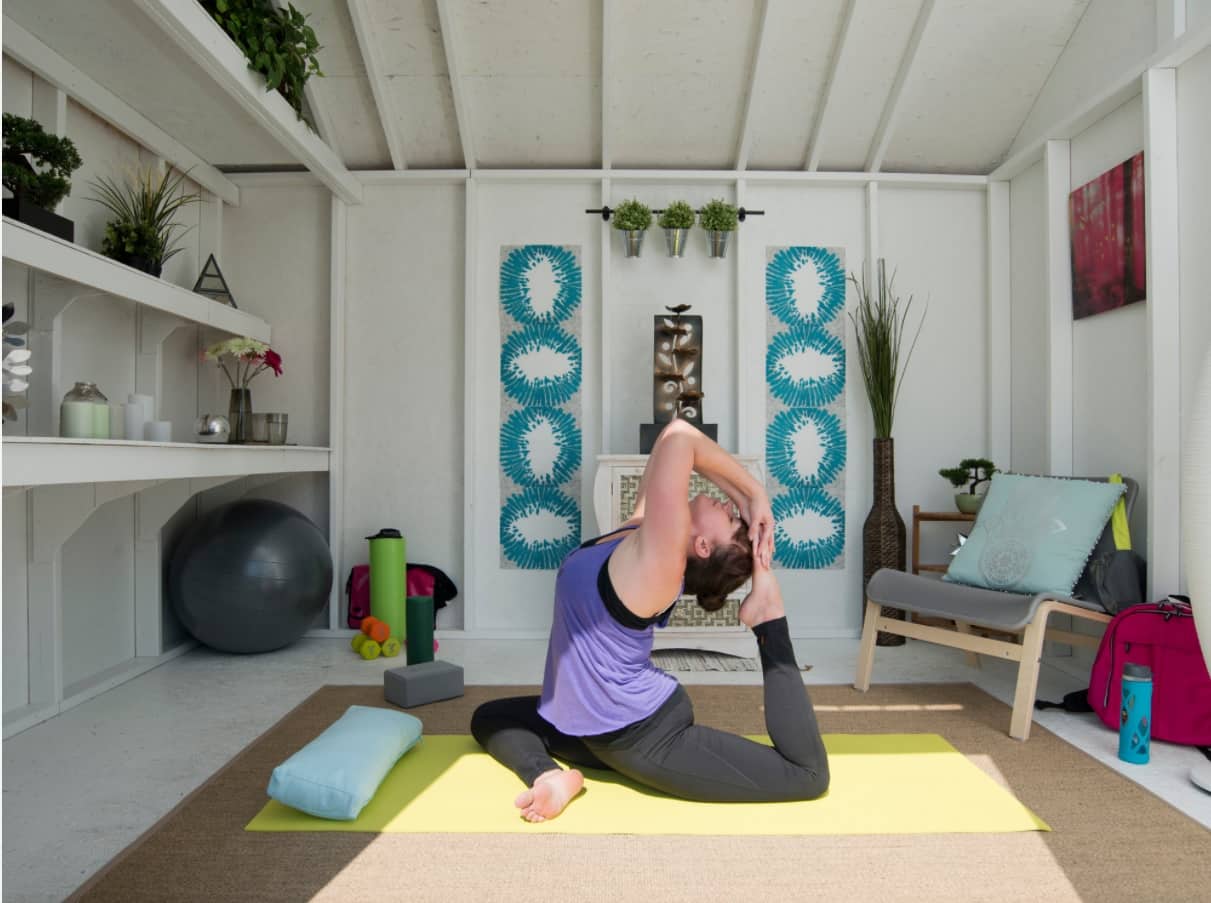 Photo by backyardbuildings.com
If you want to go full Zen, how about some yoga-inspired decor, too? Adding some artwork to the walls will give you an immediate sense of relaxation as soon as you walk in.
Home Office
Are you working from home? How about 'working from shed' instead? If you don't have a designated workspace in your house, having a garden shed could be an ideal solution. You'll get to enjoy a tiny commute and will feel like you're actually leaving the house, but you'll enjoy all the benefits of working from home too. Also, you'll still be able to have a lay-in and pop back to the house for a coffee!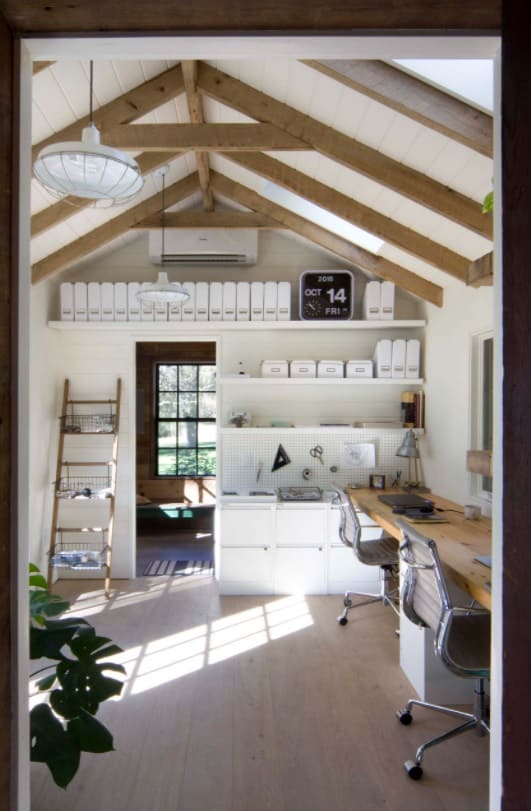 Photo from garrisonfoundry.com
Sheds are generally a good size for home offices. You might want to put some skylights in the roof, so you won't need to rely on artificial lighting the whole time. You'll have to ensure that you have power, of course – or at least some sort of portable power source.
All you really need furniture-wise is a desk, a chair, and a computer (or just bring your laptop out), but depending on your business, you might want to consider installing a printer, scanner, or photocopier as well.
And remember, just because you have a cool place to work from, it doesn't mean you should overwork yourself. Don't fall victim to a busy culture and try to get some well-deserved rest.
Games Room
If you just want somewhere to kick back and relax, how about an adult's games room? You can use the shed to create your own leisure space! You will probably only have the space to choose one type of games table – pool, table tennis, or table football – so choose wisely. Opt for a tabletop game if you don't have much space – these are smaller versions of table games, that fit easily onto another table.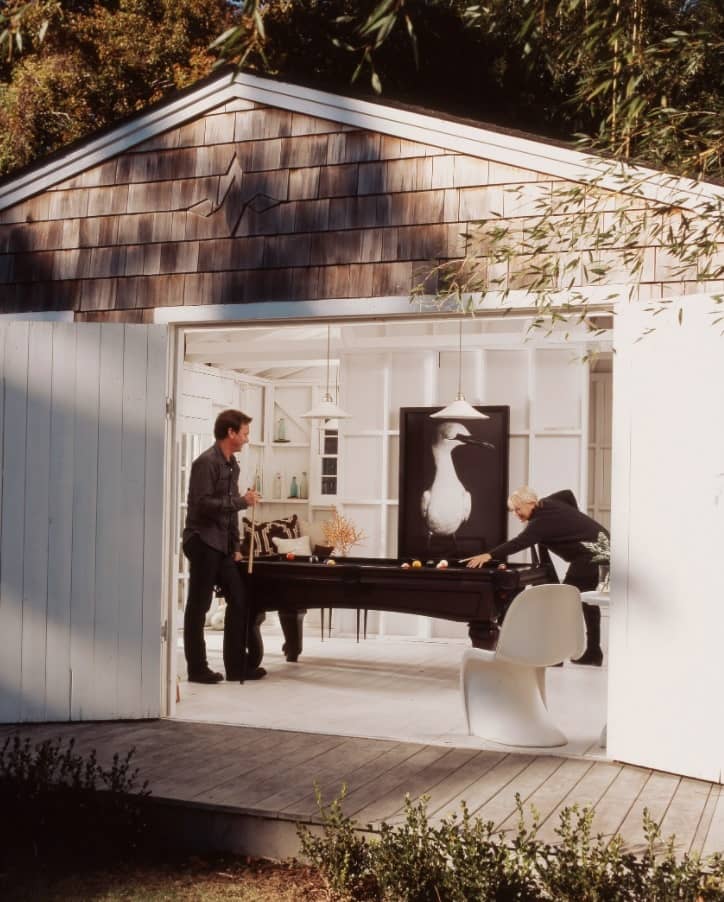 Photo: schappacherwhite.com
Another great addition is a dartboard. You can pick these up for an excellent price and they are easy to attach to the wall. Or, head down memory lane and pick up an old-school amusement arcade game.
If you're more into board games, it's easy to store a stash in the shed and have a small table to play them on. A small table can actually accommodate many types of games, ranging from simple board or card games to casino games like poker or blackjack. It's not as enjoyable as playing them in a luxurious casino, but it definitely beats playing online blackjack on your own.
Garden Bar
If cocktails are more your thing, why not build a garden bar? You can store wine, spirits, beer, and mixers here, and install an actual bar for the mixing of the drinks! You don't even need electricity for this one; you could just take ice from your house every time you use the bar, or if you already have electricity in the shed you could put a wine fridge in the bar. This is the ideal way to use your garden shed if you have a big garden and like to have gatherings in the summer.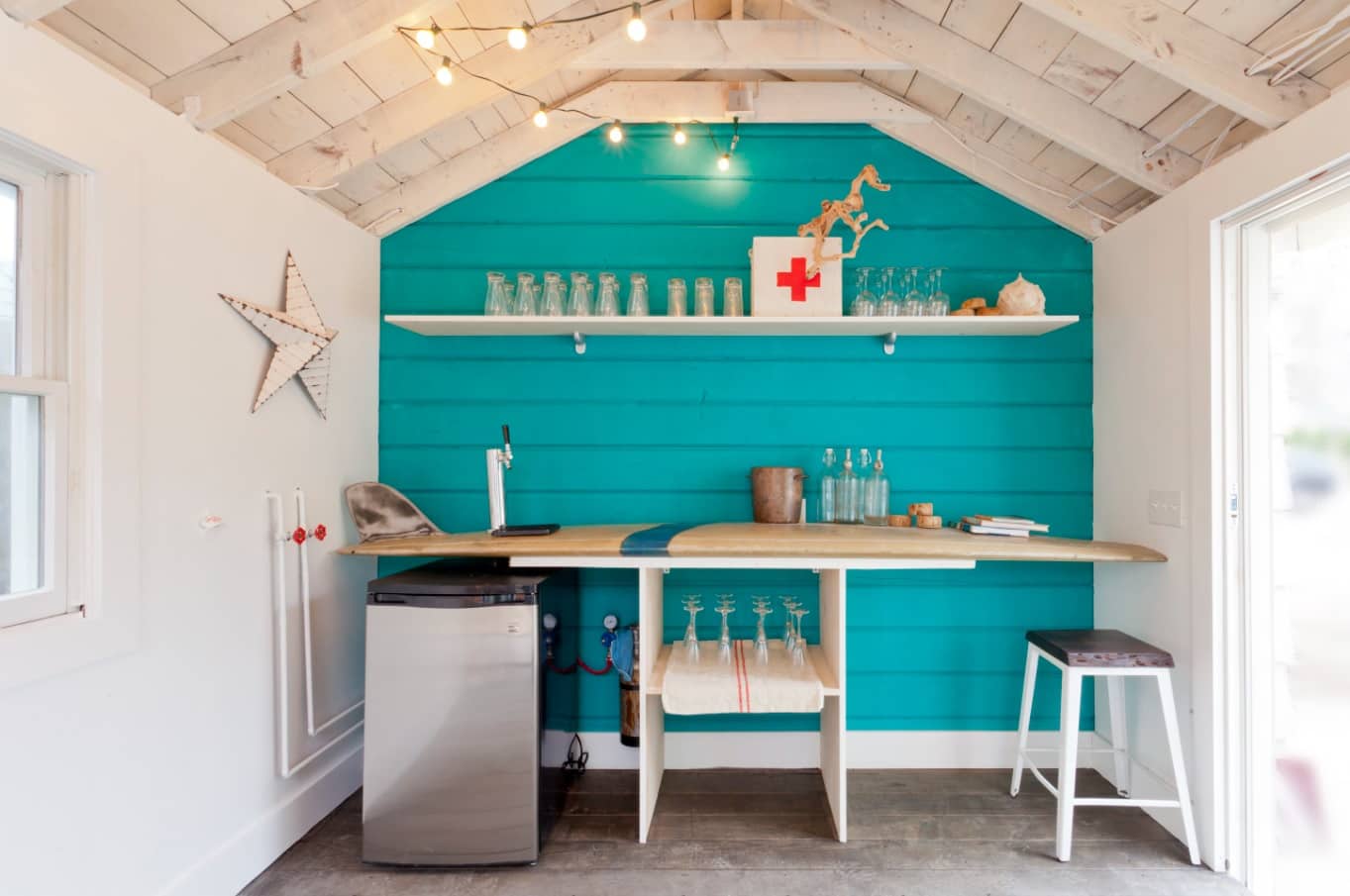 Home Gym
If you'd rather have your own workout space, how about making your own gym? You could add a small treadmill or exercise bike if you have one, but even if you don't, you can make an effective gym out of handheld weights and resistance bands. You can use this space for HIIT sessions or weight lifting. Like with a yoga studio, you can create your own workouts or find some online exercises if you have the internet!
Kids Playhouse
If you have children and want them to have a space of their own, you could turn your shed into a kids' playhouse. This could be a variety of things – lots of children like "playing house", so they could have their own pretend kitchen and dining room, with plenty of teddies to host dinner parties for.
Alternatively, the shed could become a toy room. You could encourage your kids to keep all their favorite toys there (which means less clutter in the house!), and you could even turn it into a den with an old bedsheet. The possibilities are endless, and your kids will love seeing you use your imagination to create their dream playhouse!
Music Room
If someone in your house plays music, a designated music shed might be a great idea. Sometimes, people practicing instruments can be a bit irritating for those who are trying to use the house for other things, so if the musician is in a soundproof shed, they can play to their heart's content!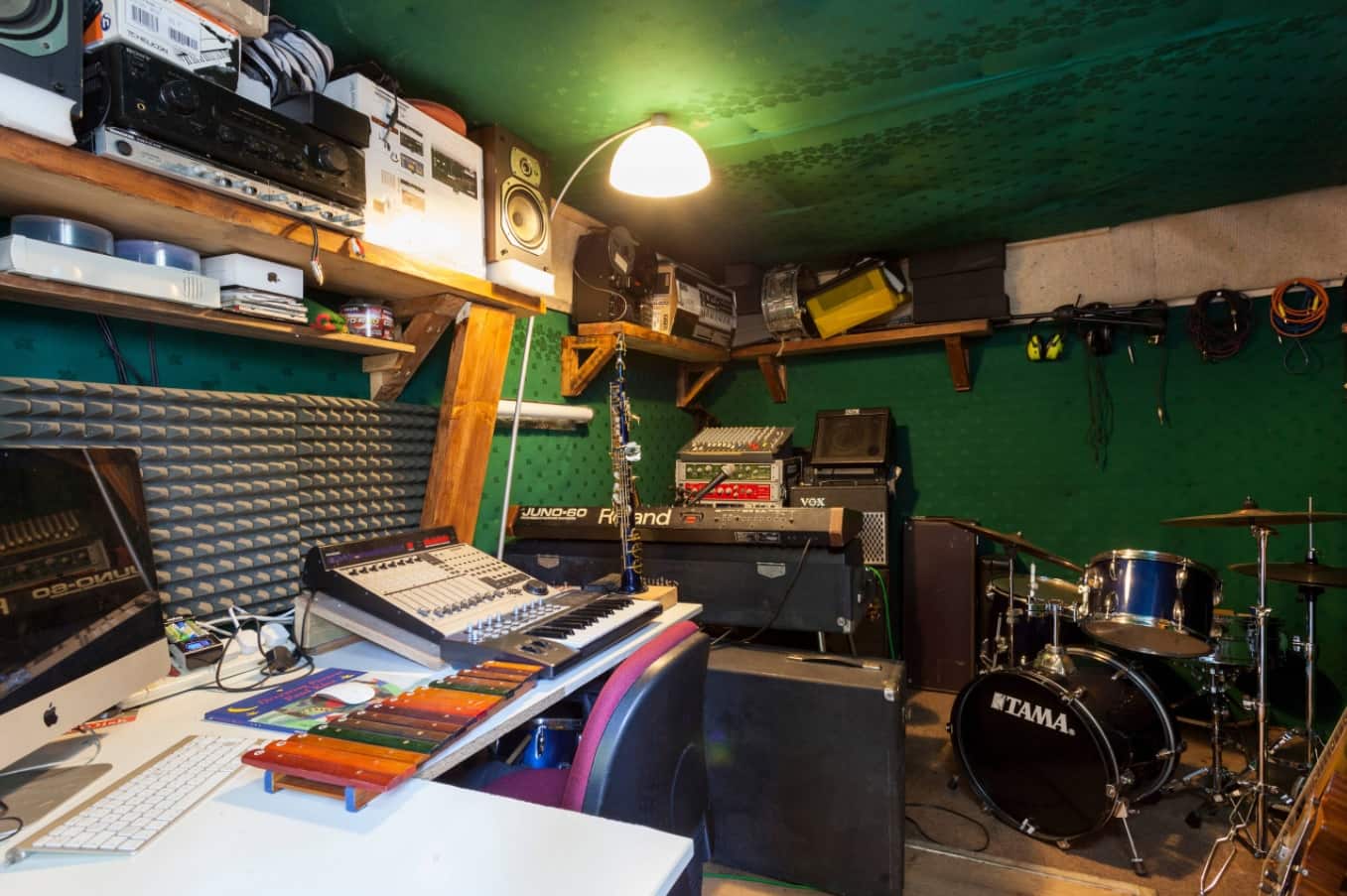 Photo: chrissnookphotography.co.uk
All you'll need to transform your shed into a music room is excellent lighting (skylights might be beneficial, or at least good electric lighting), a music stand (which the musician will already have), and of course – an instrument. Before making this conversion, do double-check that it won't be a disturbance with your neighbors – playing the flute will probably be fine, but they might not want to listen to drum practice from their garden!
So, there you have it – seven great ways to transform your garden shed into an alternative space!