A bedroom's size isn't a reflection of its personality. A small or oddly-shaped bedroom can pose many frustrating design challenges, but with the right elements in place, even the tiniest of rooms can pack a major punch.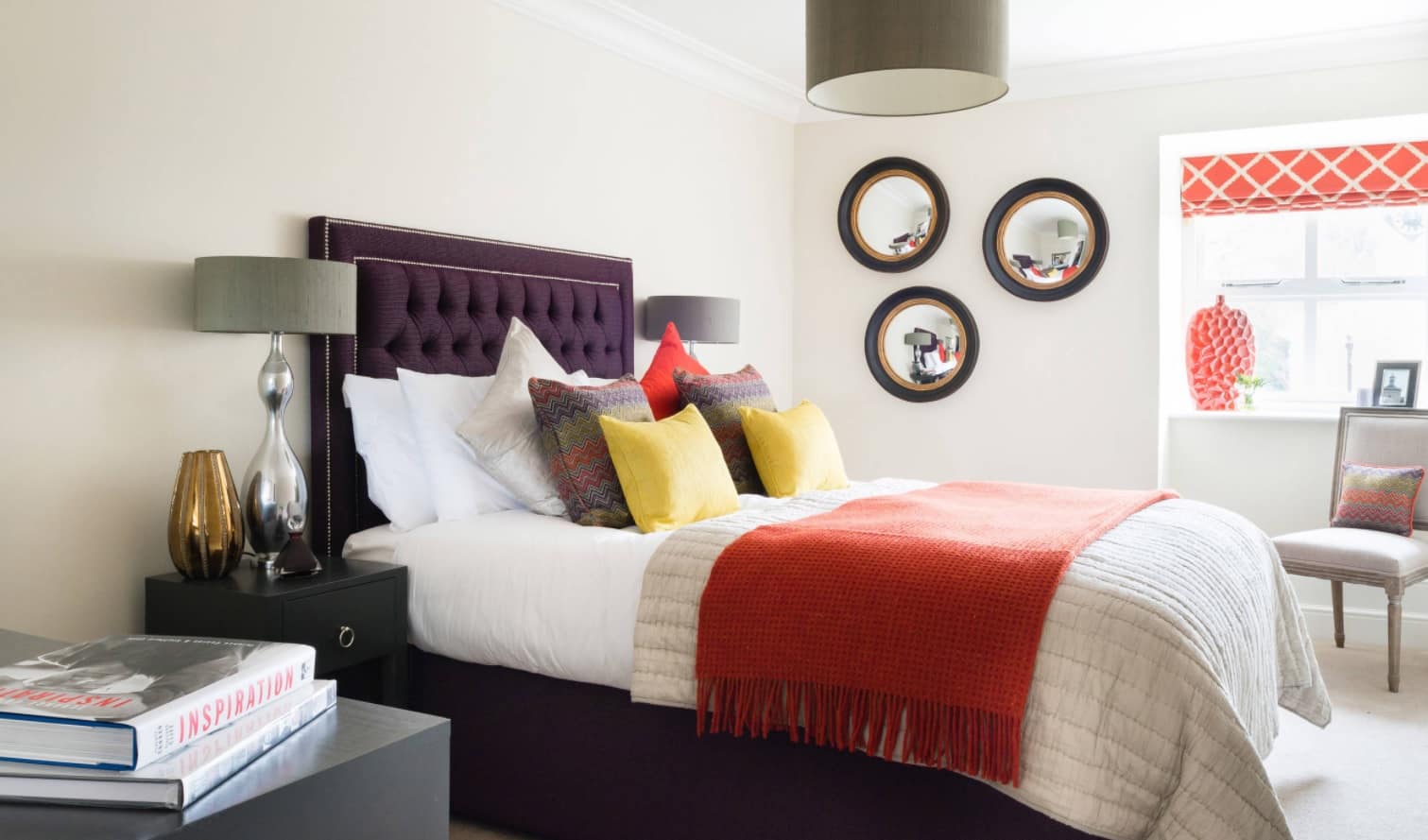 Photo by parkgrove.co.uk
At first glance, your shoebox of a room might not offer you much. You might even find yourself wondering if you have enough space to fit a bed, the barest of necessities, let alone anything else. But the key to bedroom design is understanding your space and introducing customized elements.
Everything from picking the right color scheme to adding a cozy texture with a weighted blanket can transform your room from drab to chic. Breathe new life into your space and get decorating with these bedroom design ideas.
Rearrange and Declutter
Clutter adds up, and so does clunky furniture. The best way to create the illusion of space is to eliminate anything that takes up too much room.
When you're designing your bedroom, it helps to have an idea of what furniture you'll need and where you'll place it. Heavy-duty furniture, in particular, may take up more space than you can afford to lose. In such instances, opt for multi-purpose furniture to maximize space and make the most of your bedroom design.
For instance, a stylish storage bench at the foot of your bed is an ideal alternative to storing things under the bed, while a desk could also function as a nightstand. You could even save floor space by choosing wall shelves instead of a dresser.
The key to making your room seem bigger is finding creative storage solutions and discarding items that don't serve a real purpose.
Pick a Light Color Scheme
It's no bedroom design secret that lighter colors can trick your mind into thinking there's more space, while darker colors can make you feel boxed in.
Establish your color scheme early, and pick something on the neutral side to enhance your space and invite more natural light. Neutral doesn't necessarily have to be boring. Even muted greens, blues, and yellows can add a touch of warmth without overpowering your space.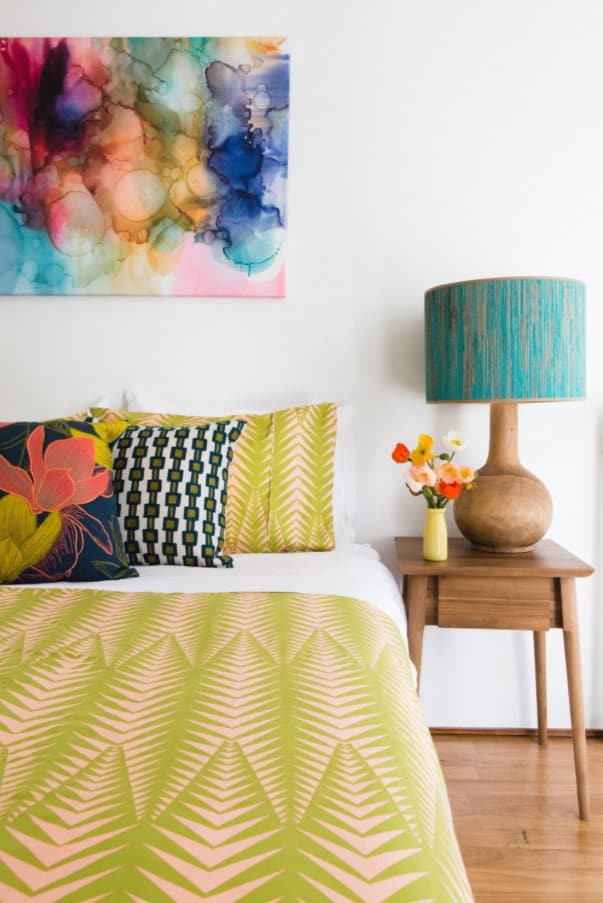 Photo by www.emmablomfield.com
Alternatively, you can also commit to a completely neutral palette and add character by accessorizing with bold patterns, prints, and colors.
Make it Cozy
One of the biggest advantages of designing a smaller bedroom is that it already feels cozy. All you need to do is play up the coziness factor by ensuring your bed is as comfortable as possible.
To create the ultimate, cloud-like sleeping experience, consider investing in a luxurious memory foam mattress. The best memory foam mattress will provide optimal support and comfort by contouring to your body.
A weighted blanket is also a great solution for sleepless nights, and when layered properly, it can make your bed seem warm and inviting. If you want to add more depth by introducing more blankets, consider opting for a cool weighted blanket that'll offer gentle pressure stimulation without causing you to overheat during the night.
Utilize Your Space
Getting the most out of every square inch is essential for getting the bedroom design right. Everything from your ceilings to the smallest nook and crannies holds potential.
For instance, to give the illusion of a taller room, paint your ceiling a bright color. This can not only break up the monotony of your room if you've chosen a neutral palette, but it can also draw the gaze upward. To achieve a similar effect without painting the walls, hang some string lights on your ceiling. This is an easy way to bring more light into your room without taking up any floor or wall space.
To make your bedroom multifunctional, turn a small, awkward corner into a cozy reading nook by adding a few plush throw pillows and blankets on the floor.
Create Interest with Decor
 Plants, interesting light fixtures, and wall tapestries are all easy ways to elevate your bedroom design.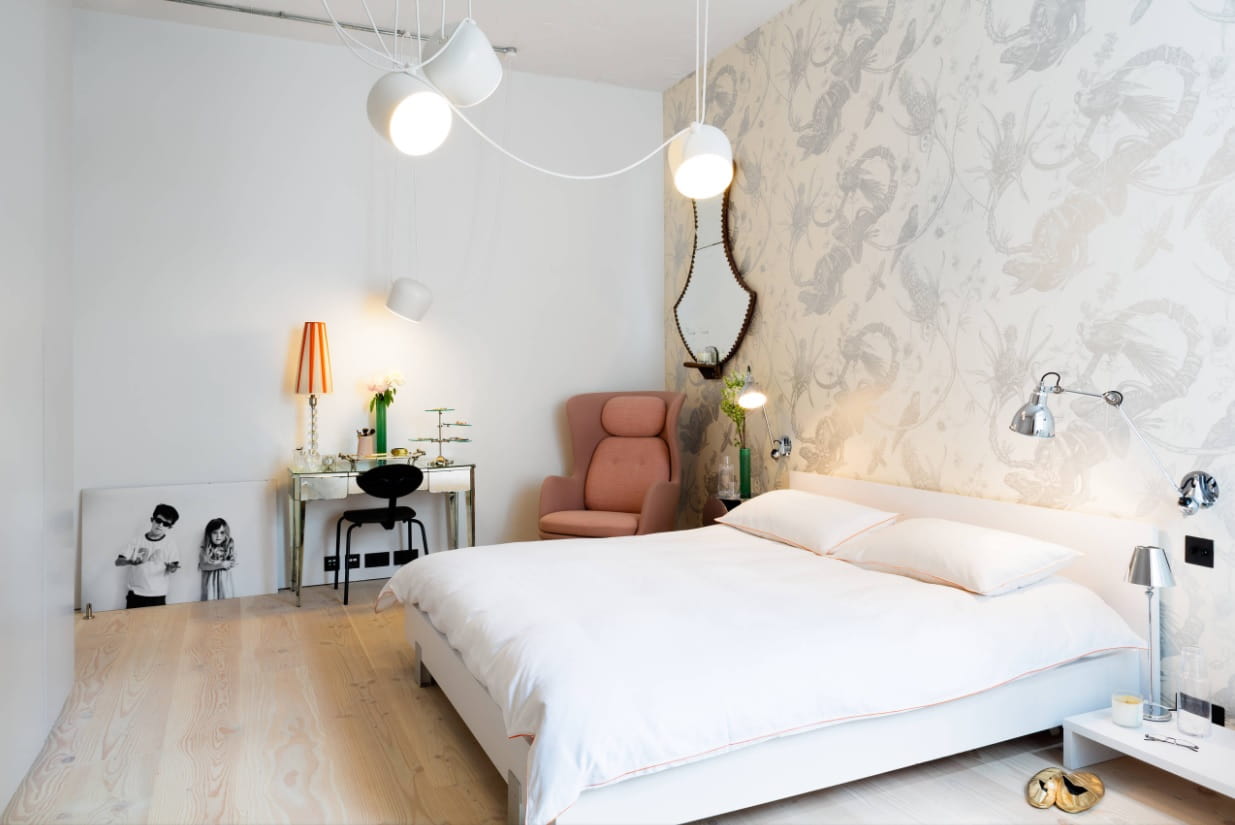 Photo niamorris.co.uk
Though designing a small bedroom can seem tricky, incorporating cohesive elements can take any space to the next level.
Using decor is also the best way to introduce some personality into the room. If you're free-spirited by nature and have a strong preference for a boho-chic style, opt for a jute pendant light, an eye-catching Persian or Turkish rug, and abstract artwork that makes a statement.
All you really need to transform your space are imaginative bedroom design elements. As a starting point, ensure you have all the basics in places, such as a top-rated mattress, a bed frame that fits within the dimensions of your room, and multifunctional furniture.