When people make the decision to renovate their homes, the very last thing on their list is renovating their outdoor space… The area that gets all the attention is their home's interiors. Typically, the kitchen is the number one renovation, and then the bathrooms, and then all the other rooms. But unfortunately, the outdoor living space doesn't get the attention it so deserves.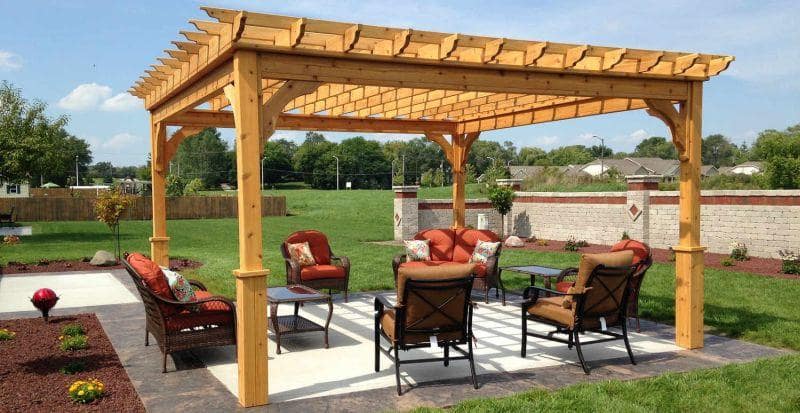 People go with the interiors of a home first because they feel that those indoor areas are the most important areas that add the most value to their home in the event that they decide to sell it. Little do people realize is that the exterior of their home plays just as significant of a role as the interior does. By neglecting your home's backyard only to renovate your home's interiors, you're going to be missing out on a lot of money.
So before you decide to invest all your time, money, and effort into the renovation of your home's interiors make sure you look at all the exterior renovations that you can take advantage of as well.
Backyard Renovations That Will Add to Your Home's Overall Value
Patio Deck
Having a patio deck installed in your backyard is not only going to add tremendous value to your home, but it also has the potential to be the most favorite location of your home, especially if you look at your options for stamped concrete patios.
Your patio will become the perfect location for social gatherings and even for a peaceful, relaxing time to yourself. In the event that you decide to sell your home, it's going to make your home more attractive and definitely more marketable to potential homebuyers.
When potential homebuyers go to a house showing with a patio deck, it's the perfect set up for them to picture themselves hosting summer cookouts or evening gatherings where everyone can sit and enjoy each other's company. This is all part of the staging process as well.
You want to not only have your home's interiors set up for people to picture themselves living there but you also want to make sure you have your outdoor space set up like that as well.
Complimentary Patio Furniture
Complimentary patio furniture wouldn't necessarily be considered as a renovation per se but it is an addition to your newly installed patio which will add to the overall mood and feel of your outdoor space.
The thing about patio furniture is that there are several different types of patio furniture to take into consideration and it's all dependent on what you like and want out of your furniture. Ultimately, you're going to want furniture that is durable and can withstand the weather's harsh temperatures.
Metal patio furniture can get very hot in the summer months so you'll want to pair your metal furniture with soft cushions or try to keep it in the shade and away from the sun's rays. If you opt for wooden patio furniture, you want to make sure it's resistant to moisture and can also withstand the sun. This will help reduce small cracks and the burnout of your furniture.
Beautiful Landscaping to Draw Attention
According to US News, the landscaping of a home's exteriors could be running away potential homebuyers. Just think about it… A home's exteriors are what initially draw the attention of potential homebuyers, and this is before they even see the home's interiors!
A nice, green, well-kept yard with bright beautiful flowers is going to be the most welcoming feature of your home when you're ready to sell. The key to landscaping is that you need to find that even balance. When potential homebuyers see your home, you don't want your yard to look unkempt but you also don't want it to look like it's high-maintenance either.
Homebuyers want to see a nice yard but if it looks like it's going to be too hard to maintain, that can turn them away just as quickly as a home with no landscaping at all… you just have to find that balance.
Stylish Fence For Privacy
Have you ever rode past a nice looking home and everything was nice about it except that it either didn't have a fence or it had a fence but it was a rickety fence? Fences not only add curb appeal to a home but it's also an added privacy and safety feature. And that's how potential homebuyers will look at it as well.
To be quite honest, when potential homebuyers are looking at houses, a fenced-in yard isn't typically at the top of their wishlists as much as two-car garages, granite countertops, and stainless steel appliances but when they see that a home has a fence, they look at it as an added bonus. A fence is a great bonus for families with small children.
A Fresh Coat of Paint For the Exterior
Think of giving your home's exterior a fresh coat of paint like a woman giving her makeup a quick touch up. A fresh coat of paint can actually give your home a new and updated look and feel to it. The awesome part is that it's one of the least expensive renovations but adds major value to your home.