Any owner of a private household or a country house sooner or later faces a difficult dilemma – the choice of garden furniture. This process needs to be considered beforehand, because the range of patio outdoor furniture is quite wide in the wide sale now. In addition to the external appeal and compliance with your ideas about comfort and convenience, when choosing furniture for a backyard or an open veranda, it will be necessary to find out a lot of nuances: resistance to moisture and temperature fluctuations (which are problem for many countries), stability and reliability, weight restrictions, whether it fades in the sun and whether it dries out after the rain.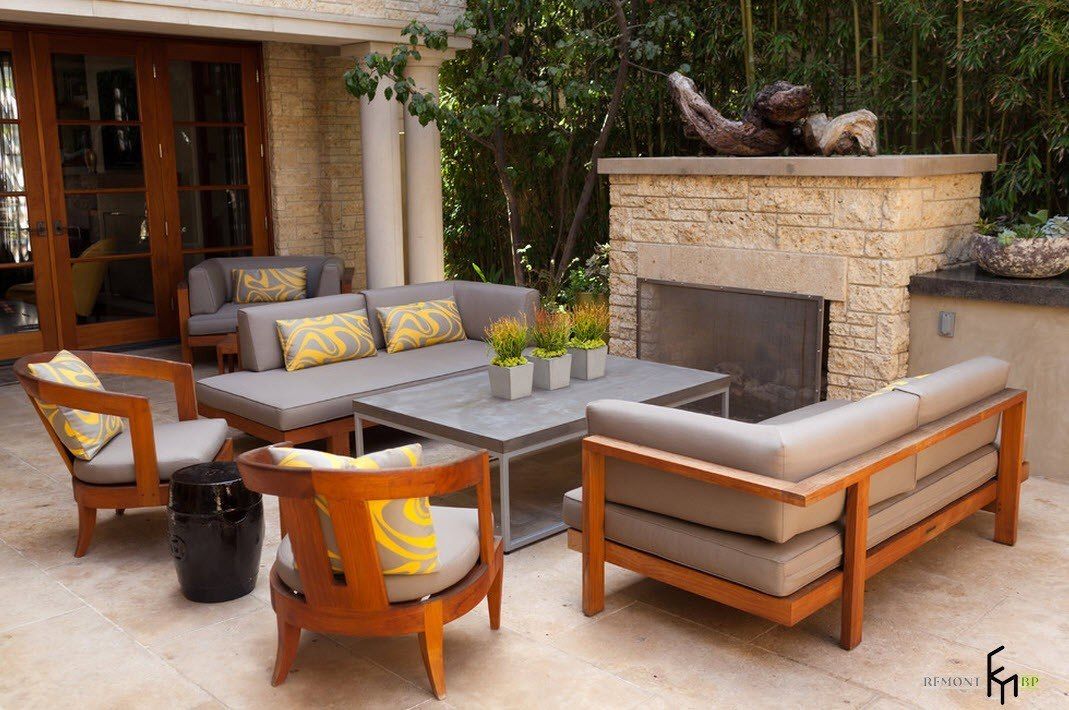 When choosing patio furniture https://www.patioliving.com/patio-dining-sets, it is important to be guided by the appearance of the entire infield and decoration of the facade of the building as well. The purchase of wooden furniture for a country house in the country style manufactured or trimmed with wood or its imitation will be logical. Wooden furniture is not cheap, so you can buy plastic models with wood imitation with a limited budget. Many manufacturers have achieved incredible results in the manufacture of garden furniture made of plastic.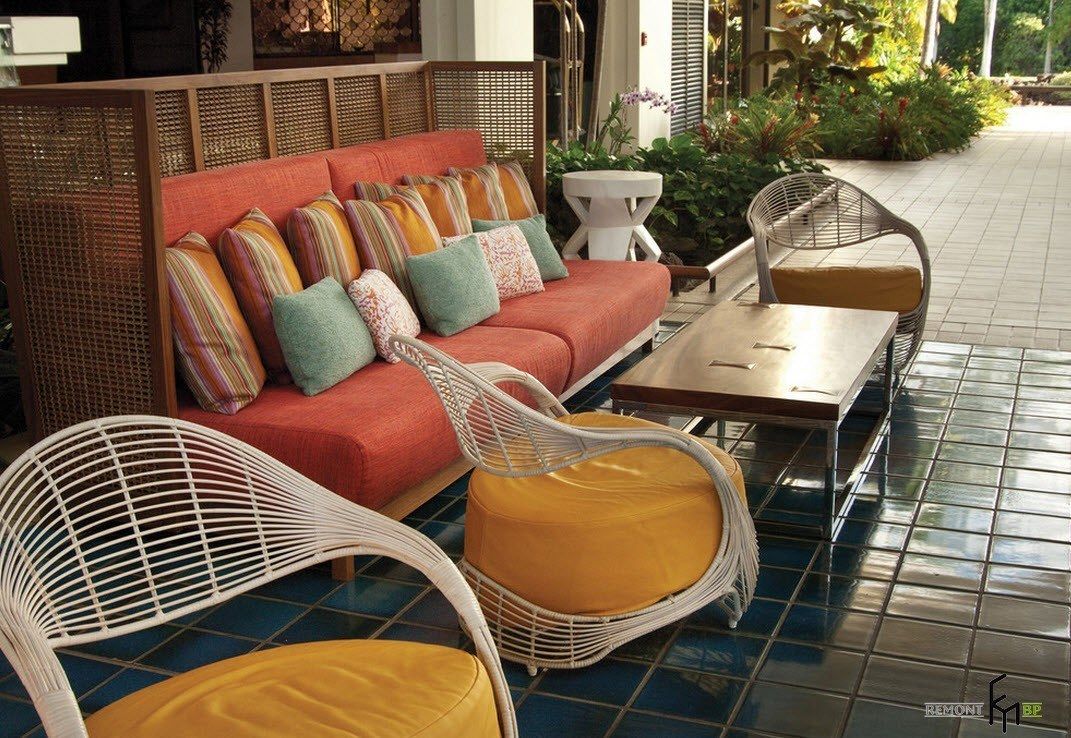 If your country house or urban private household is faced with a stone, outdoor furniture made of natural or artificial stone is the best option (albeit it is not cheap). Of course, an artificial stone for furniture significantly reduces its service life, but significantly reduces the price as well.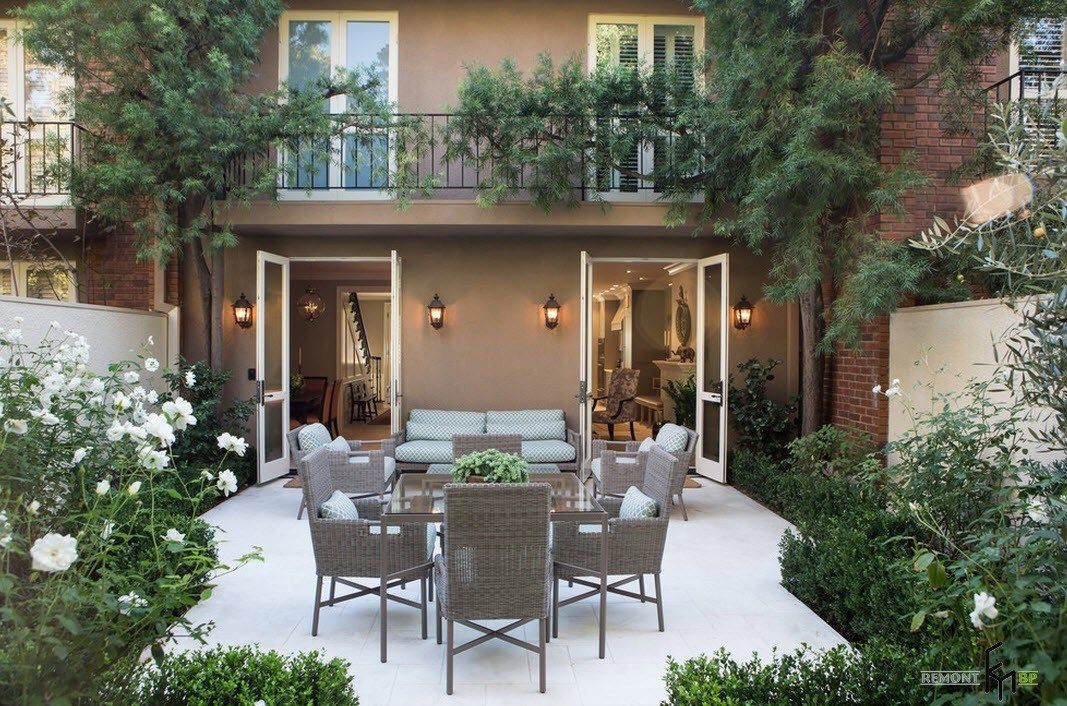 The brick facade trimmed with siding or plastic panels will perfectly match patio furniture made of plastic or wicker chairs and tables. But there are no strict canons. Your imagination, sense of proportion and financial budget will prompt you the best choice of furniture for organizing on a country site or an open terrace places for rest, relaxation, reception, gathering of family and friends.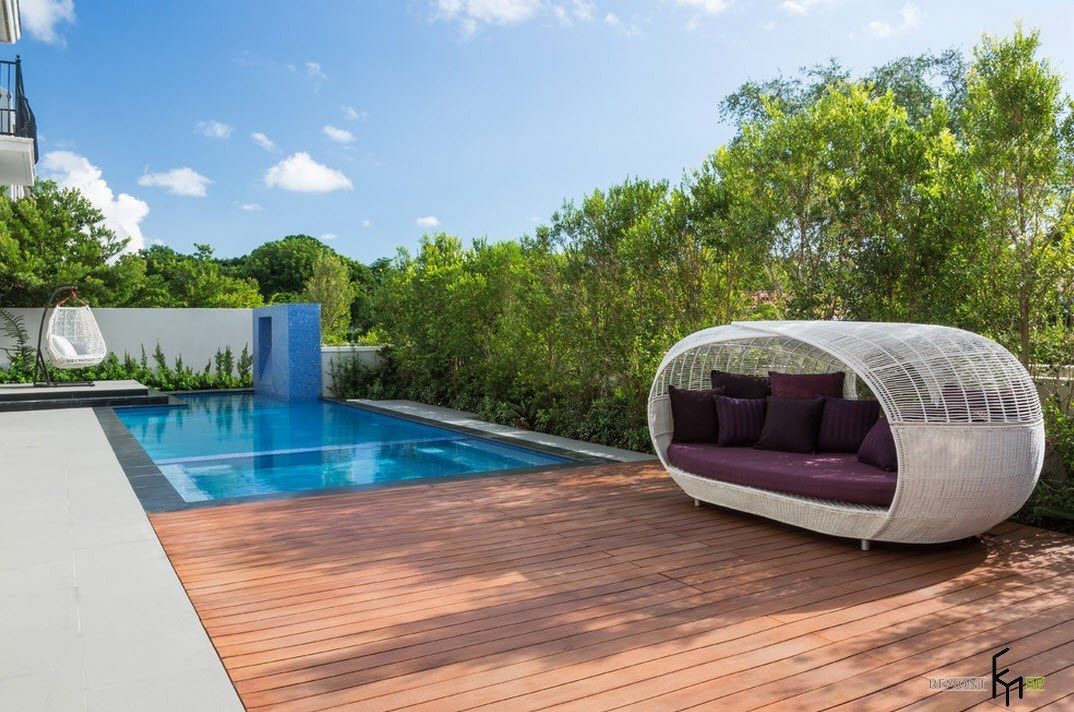 But let's examine in detail, what positive and negative qualities there are among the materials, which most often used to produce garden furniture. Which options are best for choosing for the unstable climate and how to purchase a street furniture set without destroying the family budget.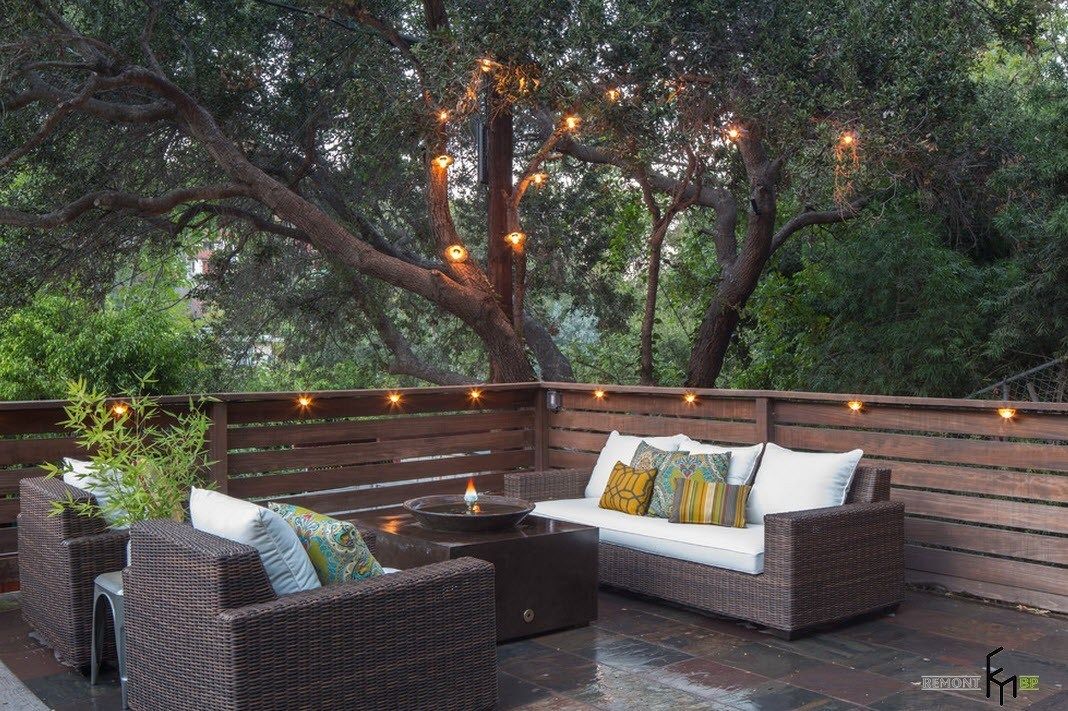 Garden furniture made of wood
What could be more logical than staying in the open air surrounded by furniture made of natural materials? It is durable, environmentally friendly, does not harm people's health and the environment, and in principle is resistant to temperature changes. But when choosing outdoor furniture from wood, it is important to take into account the quality of the sort, the protective coating and the manufacturing of fittings. Any garden furniture made of wood is treated with special antiseptic agents in order to avoid rotting. The surface of furniture is covered with varnishes or paints. Obviously, after some time, the maintenance will need to be repeated to refresh the coating. How often you will have to carry out such manipulations depends on the intensity of the furniture use, its location and frequency of exposure to the open sun and during the rainy season.
Durability
The most durable wood species for street furniture are coniferous and teak. But they will require regular renovation – varnishing or painting.
Mobility
Furniture from wood can be found both in the mobile and in the stationary version. Mobile look is definitely preferable, you can put such tables and chairs in the garage for the winter or hide in the summer during frequent, prolonged rains.
Garden furniture made of wood can be combined with plastic, metal or woven elements. Many models are only beneficial from such combinatorics.
Price policy
In terms of cost, wooden furniture is not cheap. It is inferior in price to only furniture of natural stone. But such investments will pay off with the pleasure that you will experience in your garden or on the veranda of a private city house for many years.
Burnout
As for the burning out of furniture from wood in the sun, it must be said, that the lacquered furniture is sufficiently resistant to the sunrays. Slow burning out will require updating the appearance of furniture after about 3-4 years of active operation.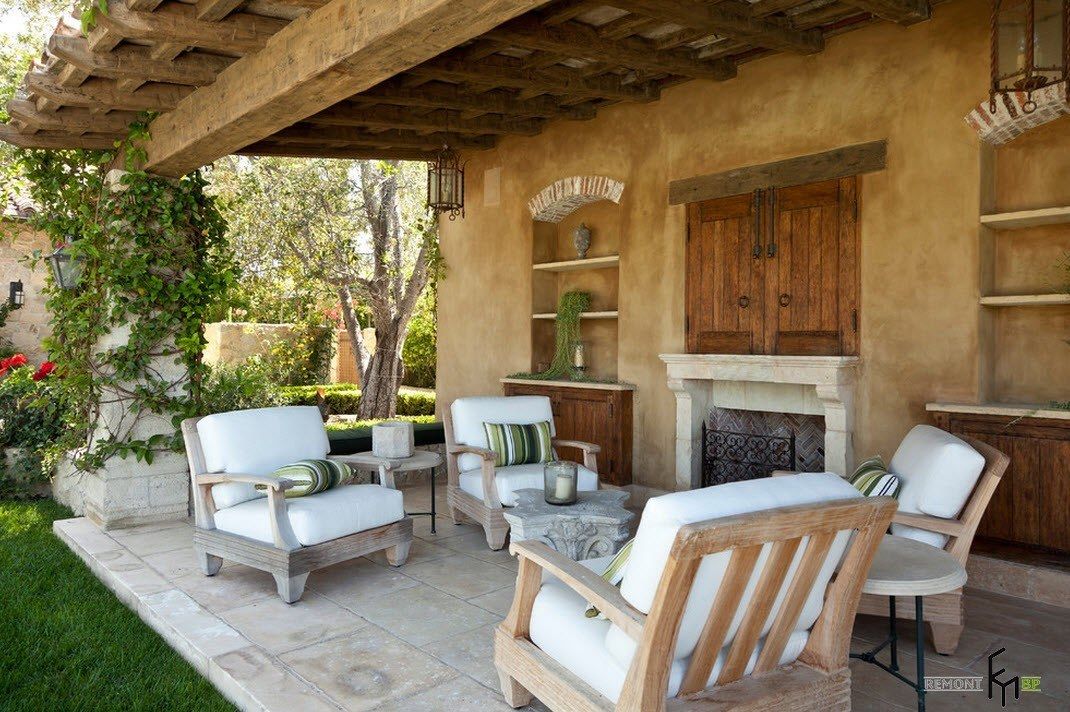 Moisture resistance
Despite the coating of furniture from wood with special varnishes, one can not speak of a normal interaction of the patio furniture surface and moisture. The wood inevitably swells from rain, which at first brings only hardening of the material, but over time the surface of the tree is covered with a grid of small cracks. This is facilitated not only by the rains, but also by a long stay in the sun and tests by sharp temperature changes. But such destruction is fixable. We can plaster, paint over with lacquer or varnish and garden furniture will be as new.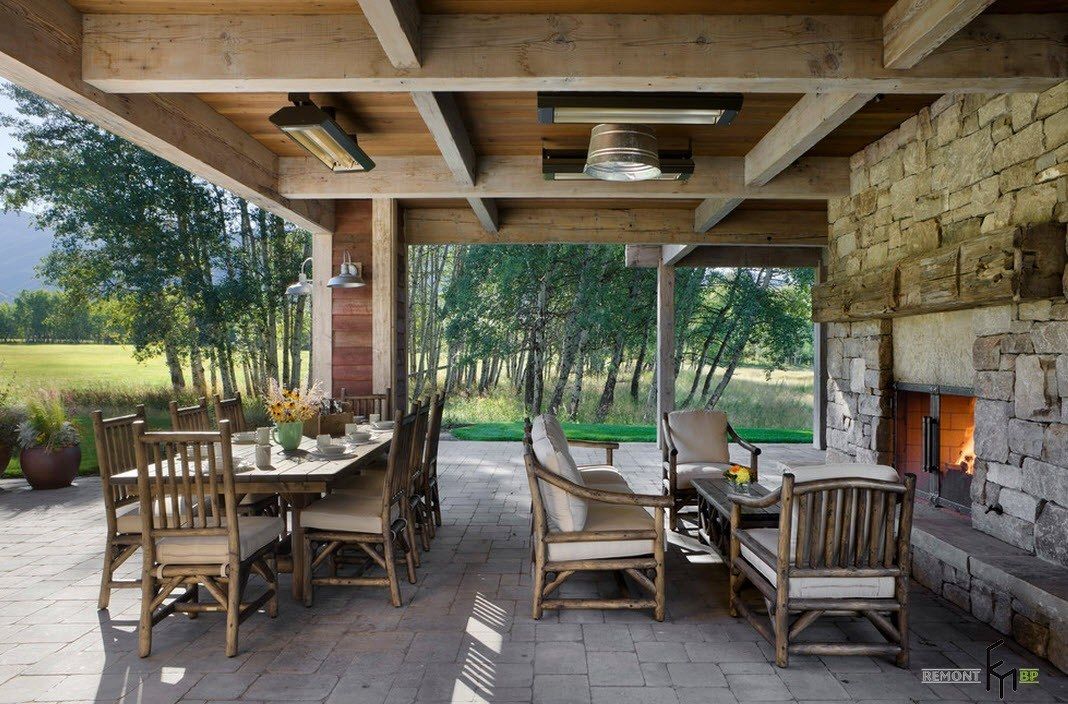 Maintenance
Wash garden furniture from a natural tree cautiously with unsaturated soap solution. Also there are special means on sale for cleaning wooden surfaces that are exposed to the open air. In addition, it is recommended to rub the tree with a special oil (to prevent drying out) about twice a year. Rubbing with oil is recommended for all types of wood except for teak. This material has its own way of beautiful aging – over time it darkens considerably, becoming covered with a light patina of silvery color.
Metal outdoor furniture
Forged furniture is versatile option of arrangement of a resting place at the backyard or a veranda, from the point of view of stylistics. It will perfectly be entered successfully practically in any design. Metal furniture is not subject to deformation, it is durable and stable. It is able not to lose the marketable condition for a long time, thanks to the treatment with special anti-corrosive substances. But it is important to consider the following feature of metal furniture: the legs of tables and chairs and armchairs can go deep into loose ground. Install forged furniture only on the lined with tile, concrete, and (it is better) stone surfaces or platforms.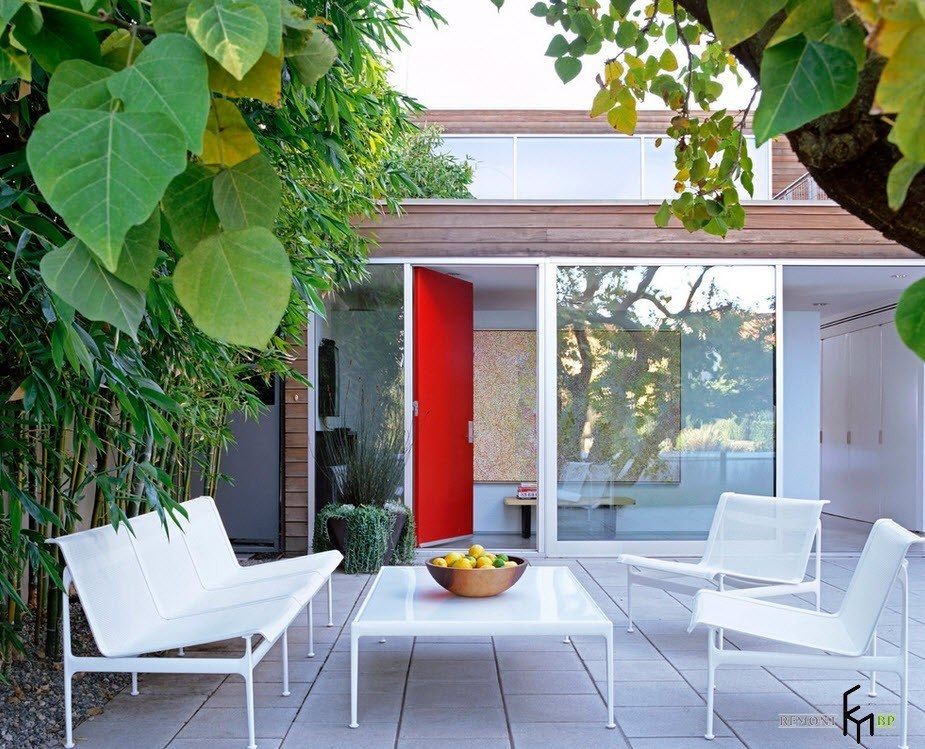 There are also a couple of unpleasant disadvantages. The metal gets very hot in sultry weather. In cold weather it becomes very unpleasantly cool. That's why soft pad is necessary for seating. Removable soft cushions you can clean during the rains or wash simply in the washing machine.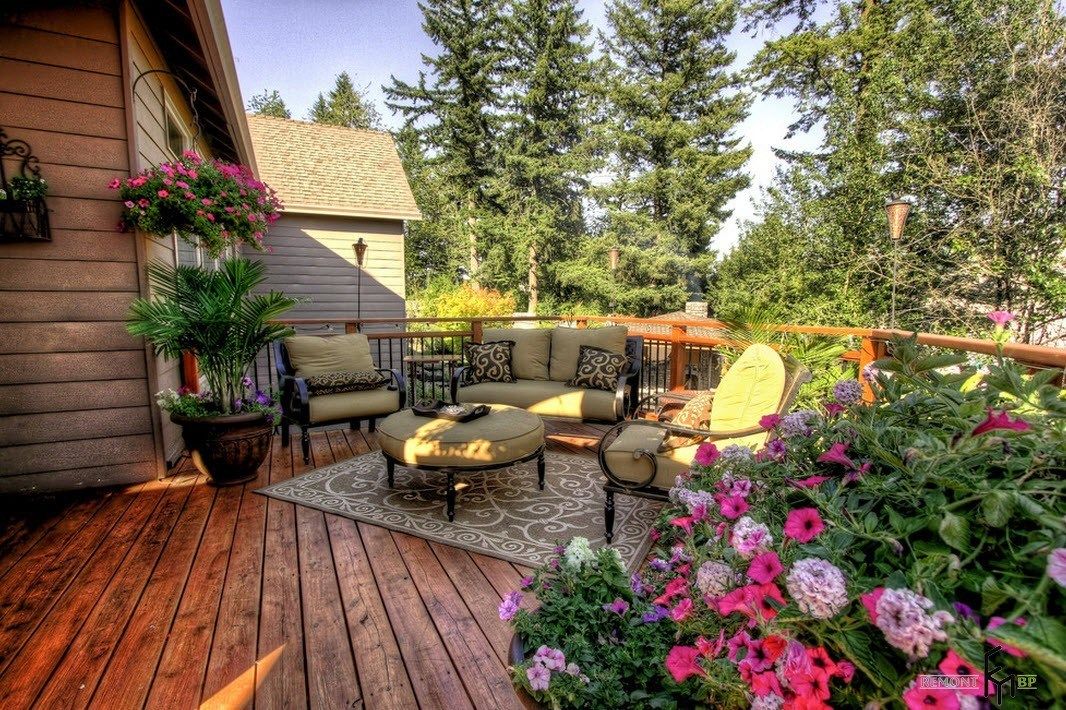 Cost
It can not be said that forged furniture is cheap. It takes the third place at a price after natural stone and wooden pieces of furniture. But such investments are durable. If you depreciate the cost of furniture for several years (and it will last you a very long time), then this is viably economical option.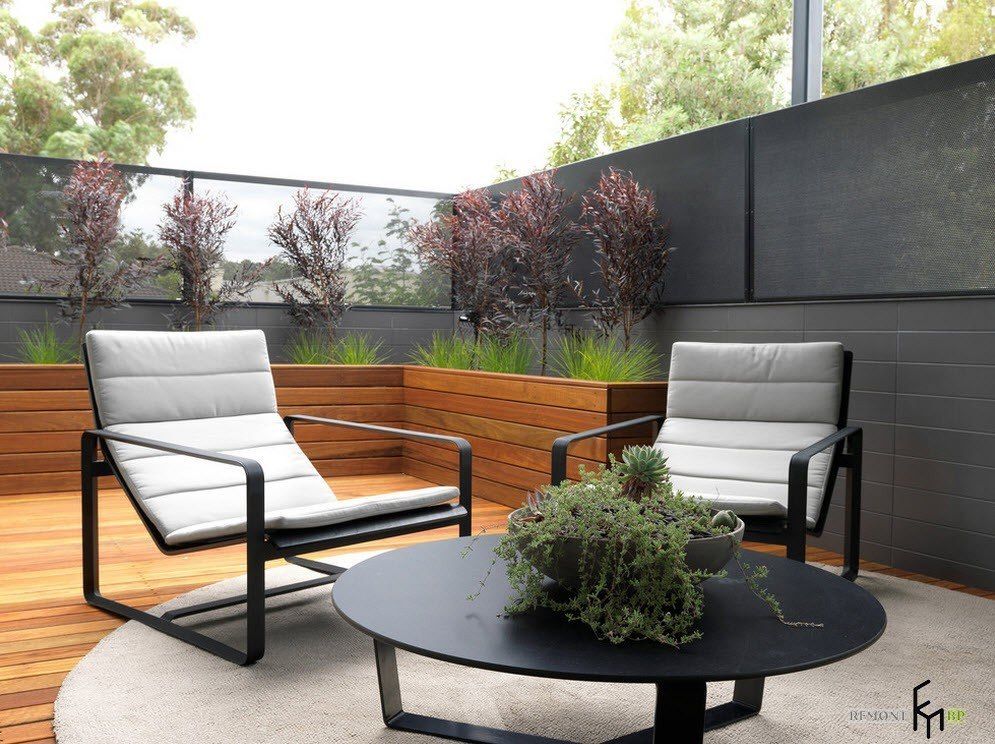 Burnout
Forged street furniture practically does not burn out in the sun, which certainly can be written as plus to this kind of material.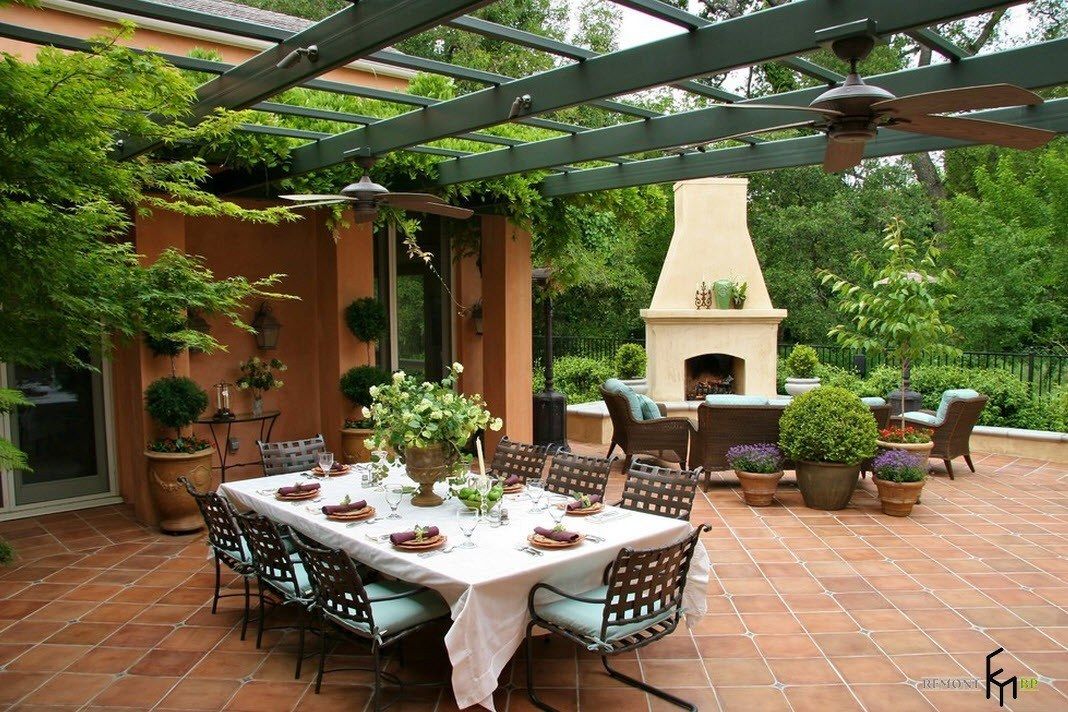 Moisture resistance
Metal patio furniture may eventually rust from constant exposure to rain, as well as from morning dew (condensation). But at present, construction shops are full of various paints, using which you can forget about the problem of rusting for several years (forged furniture preserved for 4 years after painting with an average intensity of use).
Maintenance
Metal furniture for the patio tolerates liquid cleaners with a weak content of alkaline elements. But abrasive substances are better not to use at all. They can leave small scratches on the surface of the metal, which can then expand and rust.
Patio furniture made of stone
The furniture from the stone looks incredibly monumental and luxurious. This material is durable and strong, not subject to climatic influences and therefore can serve more than one generation of your family. But just like with metal furniture, the stone is very hot in the sun and cold in the cold campaign, so will be necessary to acquire soft pads or pillows.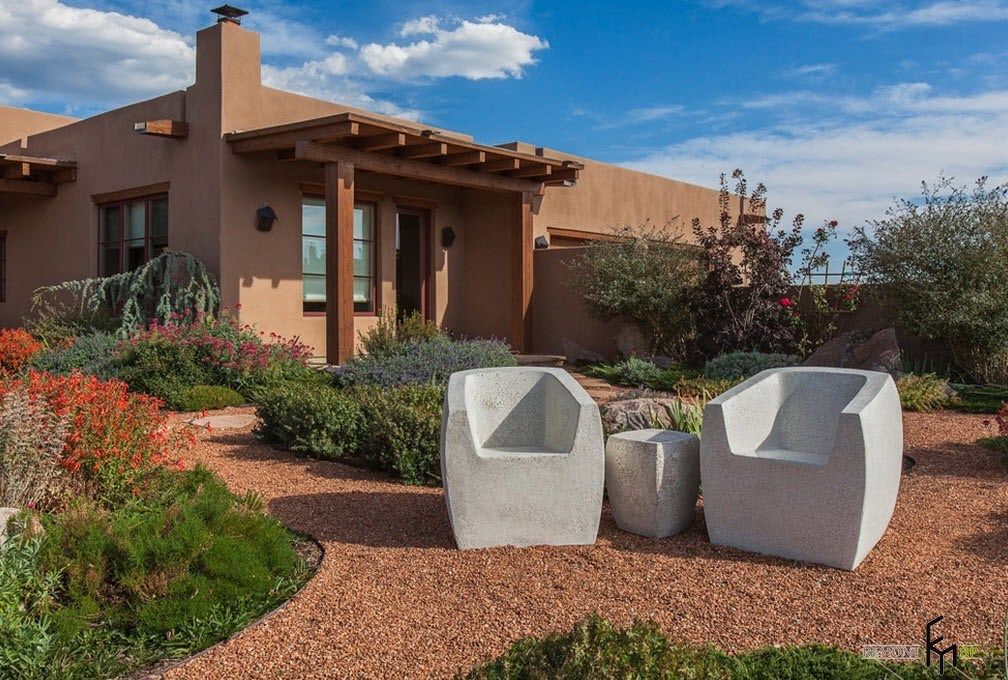 From the point of view of mobility, we can safely say that stone furniture is the most monumental and it will take a lot of effort to carry it (if it is a natural stone).
Garden furniture made of stone is the most expensive and it is not surprising, because such investments are done literally for centuries. In addition, you do not need to worry about the maintenance of stone furniture, protecting it from bad weather and cleaning. You can wash the stone directly from the hose. To choose the right garden hose, check out a handy guide from the unclutterer that will help you to choose the perfect one for your needs.
Plastic outdoor furniture
Certainly, furniture for a summer residence or an infield is the cheapest option. Such furniture is light, compact, mobile, and attractive in appearance with a wide range of color solutions. Currently, there is a wide variety of plastic furniture models successfully imitating a tree, a wicker product made of vine, or rattan on the market.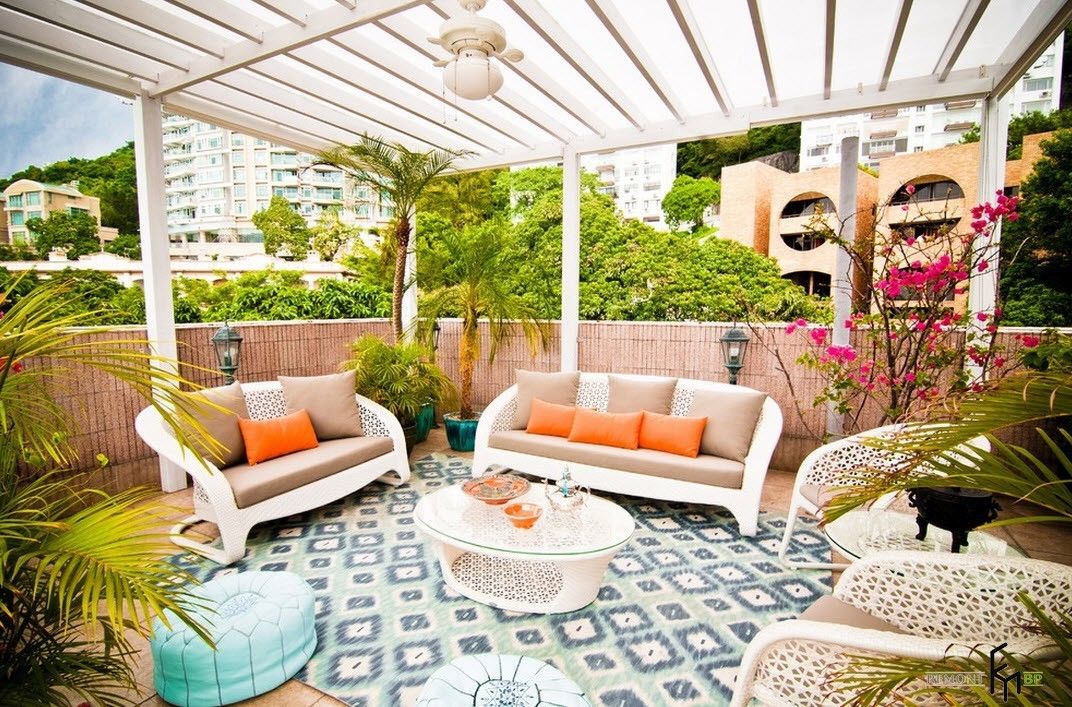 Mobility
It is the biggest advantage among competitors. Chairs and mini-chairs can be put one on top of another, putting it in the garage or storeroom for the winter. Folding models occupy even less space, although they are slightly more expensive than their unbroken counterparts. Plastic furniture (especially folding) can be taken with you on trips, on a picnic or a beach. Any trunk can bear a pair of folded chairs.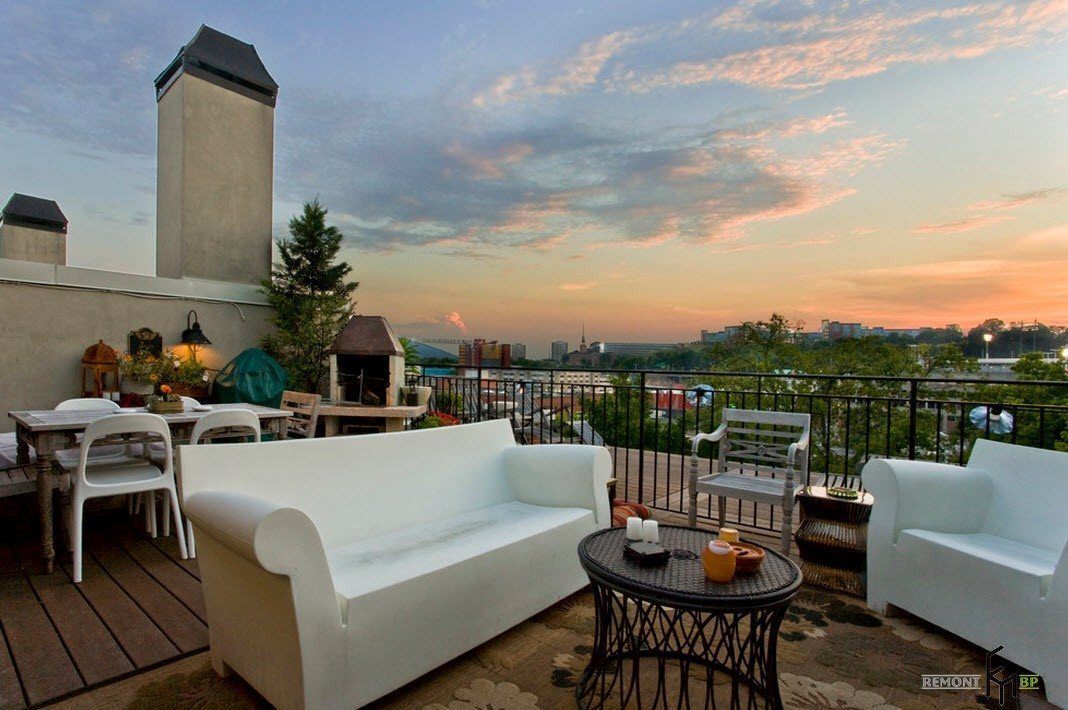 Burnout and moisture resistance
Plastic furniture burns out quite strongly in the sun, but it withstands the effects of moisture quite easily. In the process of operation, the surface of plastic furniture is quickly covered with scratches and partially loses its marketable appearance.
Maintenance
Can be washed directly from the hose. Stable to the effects of chemicals.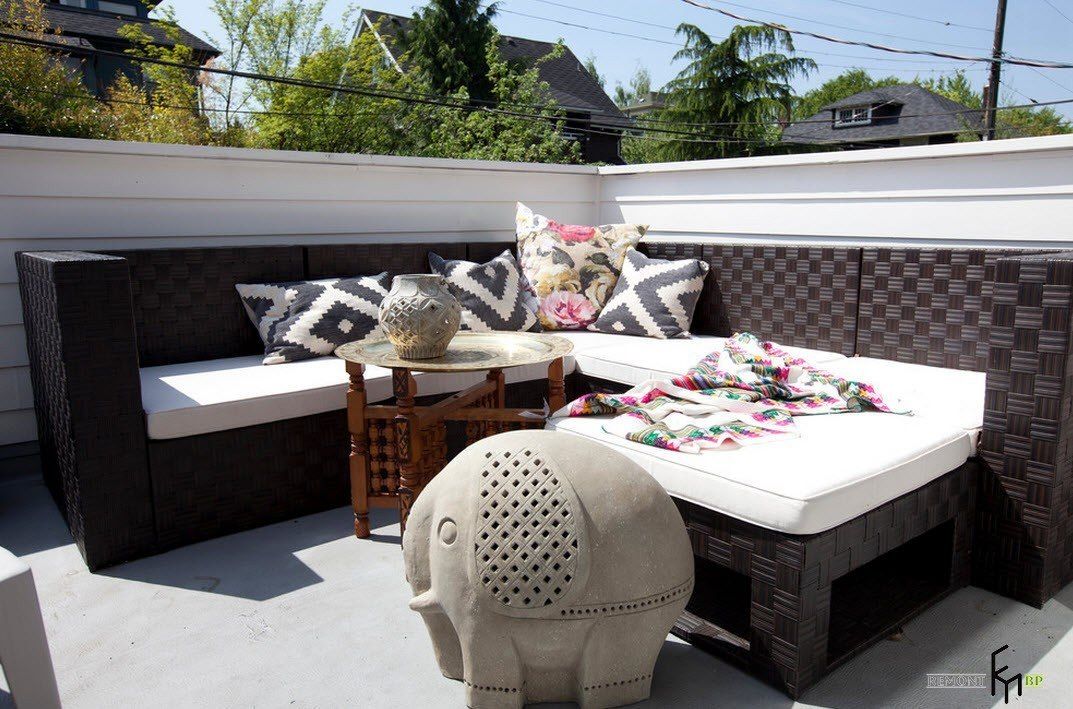 Wicker patio furniture from rattan
Rattan furniture for a private plot looks equally luxurious on an open veranda, in a gazebo or in the open air. But it is important to take into account that rattan furniture (both natural and artificial) is quite capricious and can be deformed after prolonged use. It is subject to the influence of the sun and temperature changes. Such furniture must be removed in the cold season.
Cost
Furniture made of artificial rattan will cost much less than from natural material, but it will be significantly inferior in its performance. The cost of wicker furniture made of rattan or willow is very different, depending on the method of weaving, the density of the product, its processing and the manufacturer itself.
Sun burnout
Wicker furniture burns out quite strongly, but it happens beautifully. Approximately on the 3-4th year of use, furniture darkens acquiring a beautiful shade. Of course, this does not apply to colored rattan.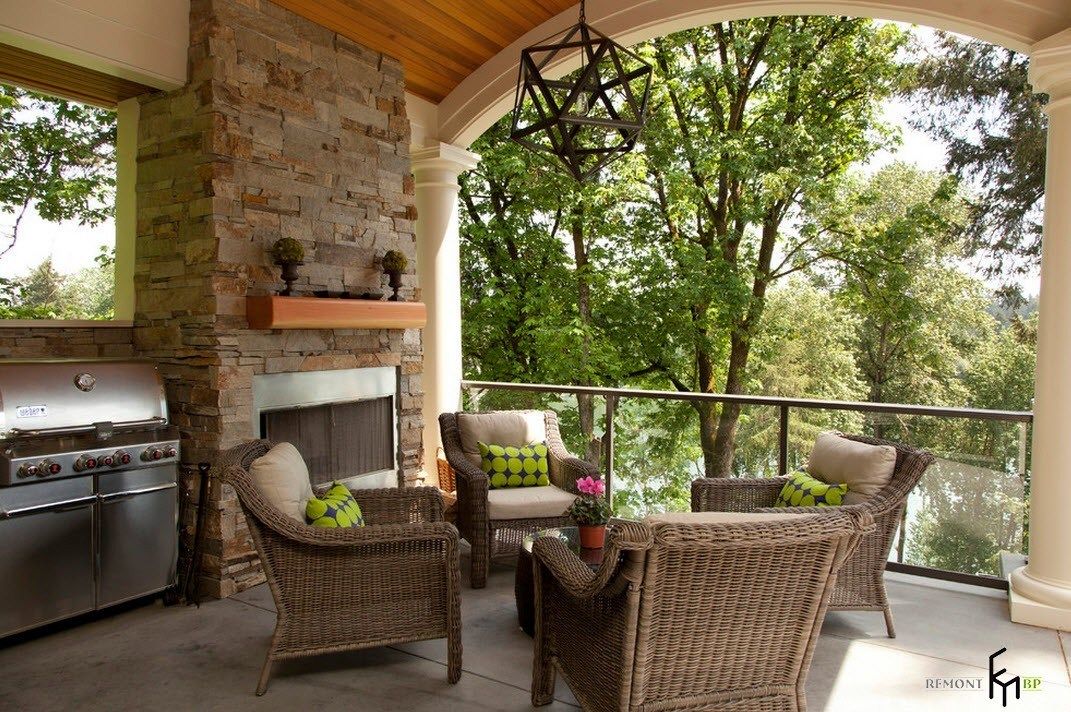 Moisture resistance
Rattan, vine and willow are enough moisture-proof materials, but it is better not to test fate and hide furniture from the rain under a canopy or cover with waterproof material.
Maintenance
Rattan wicker furniture afraid of interaction with household chemicals. It is better to wash these pieces of furniture with a weak solution of water with citric acid and hydrogen peroxide. After washing, you must wipe all the furniture dry.
Wicker garden furniture made of rattan looks great in almost any color scheme. Bright pillows and soft removable seats look good against the background of dark shades of weaving. Compositions for rest from wicker rattan furniture create an open-air living room atmosphere. In such a patio you can have a wonderful family vacation or take guests. And in the evening, the place for rest is easily transformed into a playground for a party.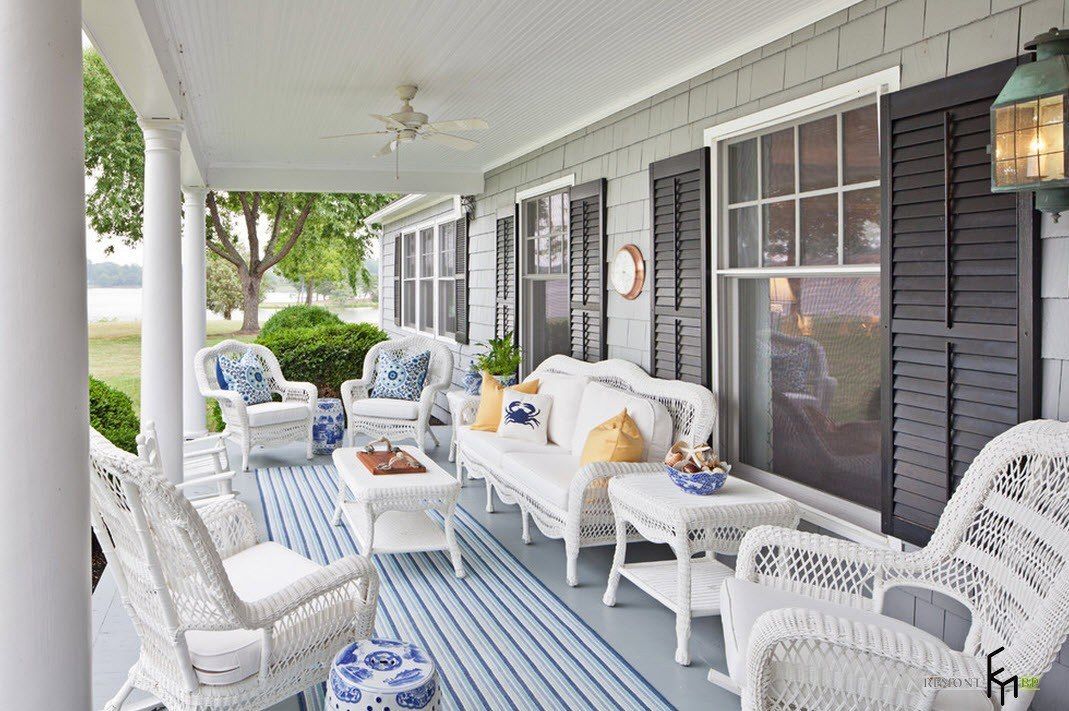 Snow-white street furniture from rattan looks weightless and airy. Depending on the type of weaving, you can find perfectly openwork models of chairs and armchairs, sofas and tables on sale, which altogether will create a unique atmosphere for a place to breathe on your garden, in a gazebo or on an open veranda.
Glass, concrete, granite and more
Patio furniture can be made from unbreakable triplex glass, concrete or granite slabs, polystyrene, basalt fiber and other materials. Garden furniture is sometimes backlit, tiled with ceramic tiles – there is no limit to imagination and possibilities in this direction.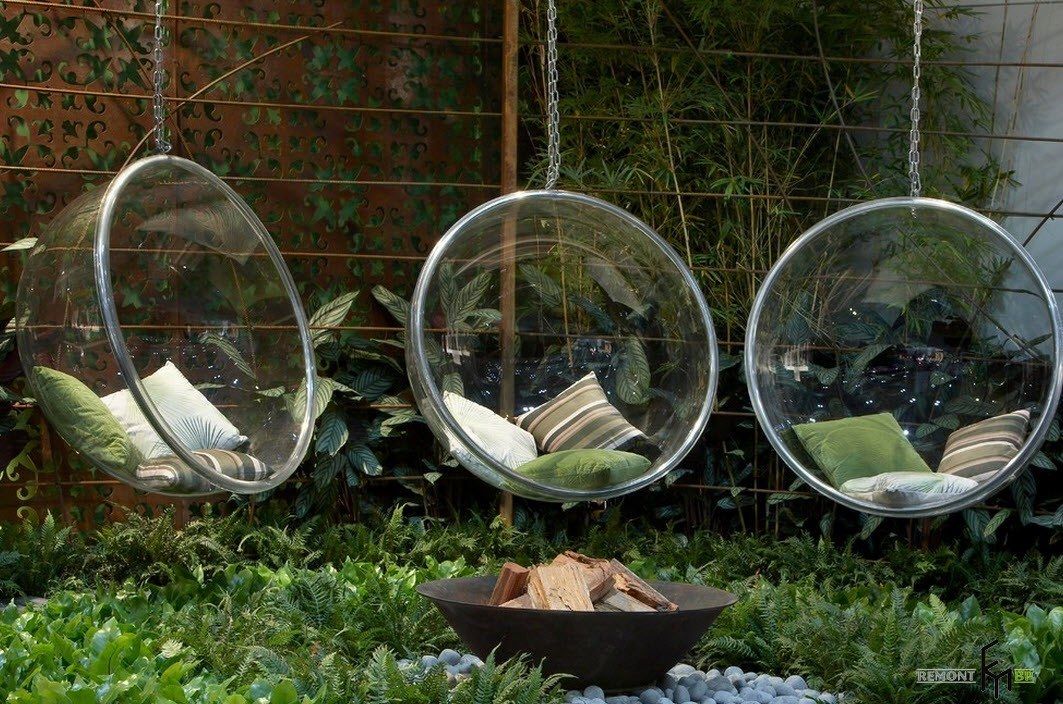 Chaise-longue, sun beds and hammocks
Acquisition of garden furniture is not limited to buying only a table with chairs or a comfortable sofa with a coffee table. There is a wide range of outdoor recreation equipment on sale now that will not only brighten up the hours of rest for you and your family, but also decorate the landscape design of the infield.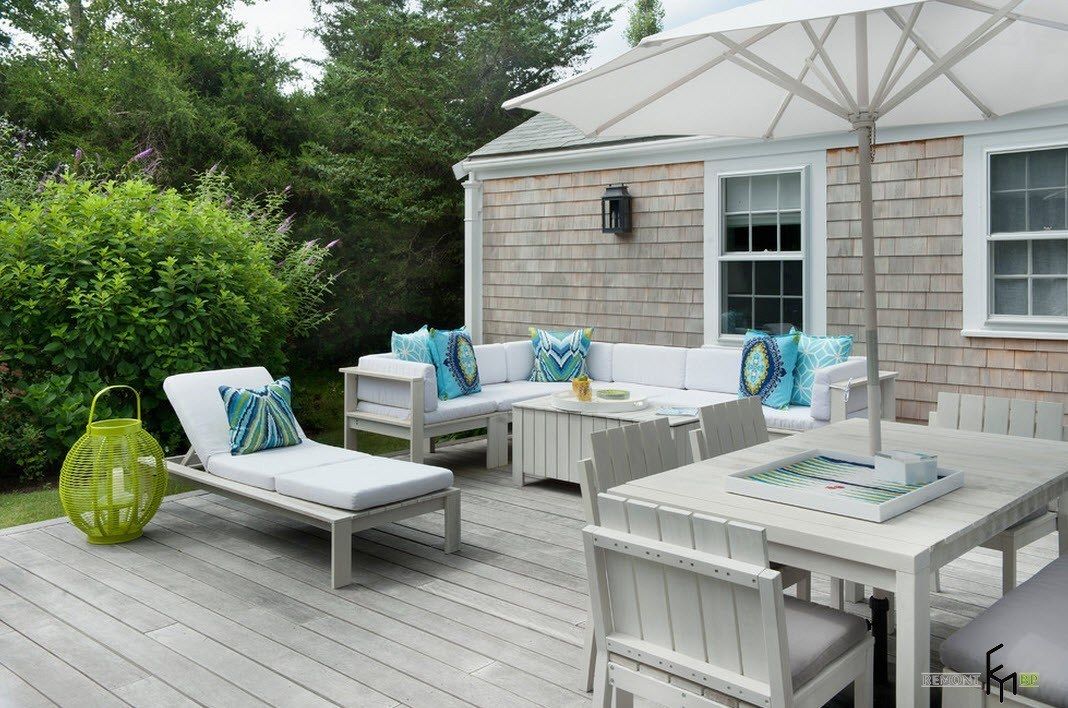 The maximum weight that can withstand sunbeds varies from 60 kg (children's models) to 300 kg (double chaise-longue for adults). Single chaise lounge made of metal is able to withstand weight up to 200 kg – this is the most durable of all possible options. Wooden and plastic chaise lounges will withstand from 120 to 150 kg per item. A steel chaise longue covered with polyester will place a person up to 130 kg in weight, and its analog with an aluminum frame will cope with only a hundred kg. Lounger or bed made of rattan with metal frame can withstand 115-150 kg, and frameless version is not more than 85. But before buying, be sure to clarify these nuances from the seller.
Garden umbrella or tent
When buying an umbrella or tent for a homestead, backyard or country plot try to be guided by its strength and weight (not to buy a model that will be easily blown by the wind). The heavier the umbrella itself, the more stable it will be (it is recommended to purchase umbrellas weighing more than 20-25 kg). The steel frame is much preferable to wooden or aluminum, but plastic spokes will last until the first serious gust of wind.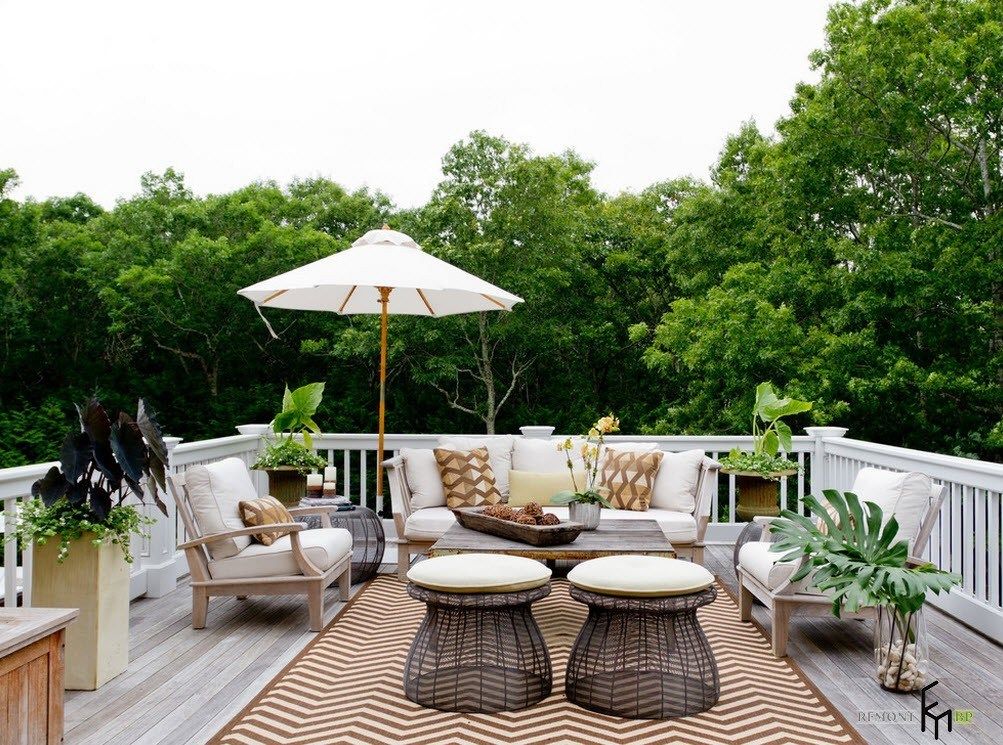 The sail of the umbrella depends primarily on its size, keep this in mind, if your area is often windy, you may need additional fasteners.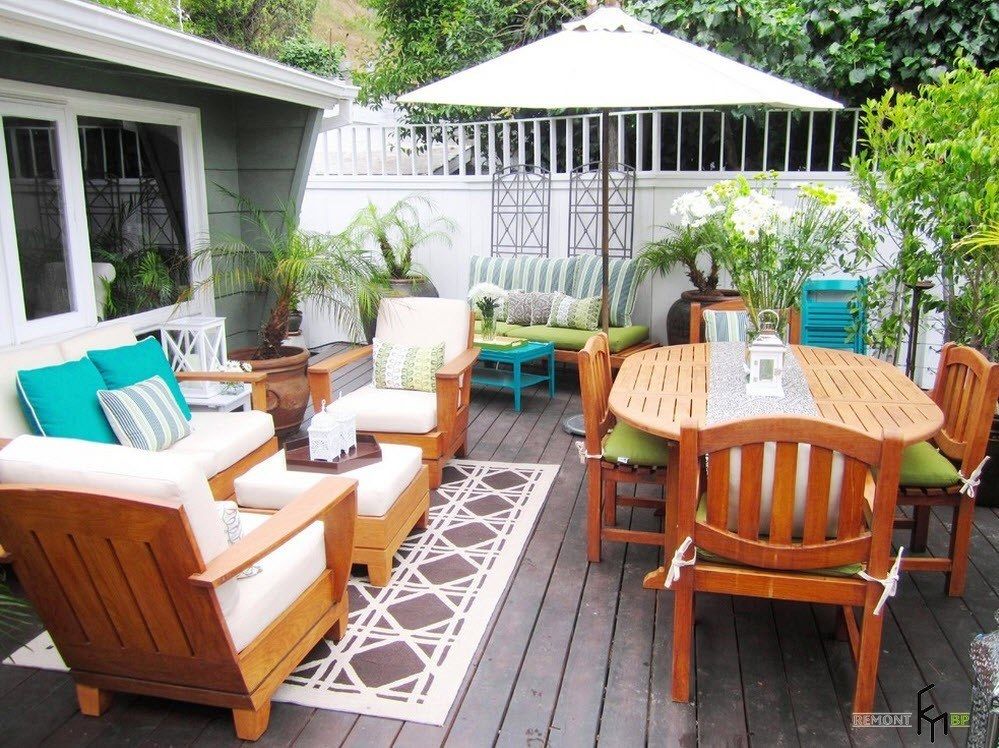 And finally, we offer to your attention a few images of places for outdoor recreation, when drawing up of which were used pieces of furniture from various materials, which made it possible to create interesting, comfortable compositions with an attractive appearance.