There are several reasons why you might prefer to buy a townhouse when you are in the process of looking for your new home. Maybe this is your first house, and you want a more affordable option, or you might want somewhere cozier and not as big as a detached structure. Either way, if you want to make the most out of your new purchase, you need to think about townhouse decor.
In the townhouse, you will be sharing walls with your neighbour, which means it could be complicated to make any changes on the outside. But what about your townhouse decor on the inside? Now, before rushing to the store, you need to think about the distribution of the townhouse.
As you probably know by now, the architecture of the townhouse is vertical. This means you will have long staircases, living areas on the first floor, bedrooms upstairs, and a basement. Keep in mind that, even when it sounds like the same distribution of a detached house, here you have reduced space.
When it comes to the ideal townhouse decor, you need to start thinking about beautiful elements that will help you maximize the space. To help you, we have created a list of 7 efficient and gorgeous decor ideas for your next townhouse.
Top Townhouse Decor Ideas
The key to picking the perfect decor ideas that will make your townhouse look larger and brighter is first knowing the space you'll be working with. Go to Paradise Developments and check out some areas with the best townhouse developments in the GTA. Once you have an idea of how your next home might look like, it is time to get started.
All white
This is especially a great idea for your first floor, painting all the walls with white colour, will make it seem like space is larger. The great thing about this colour is that it will reflect the natural light, bringing brightness to any room.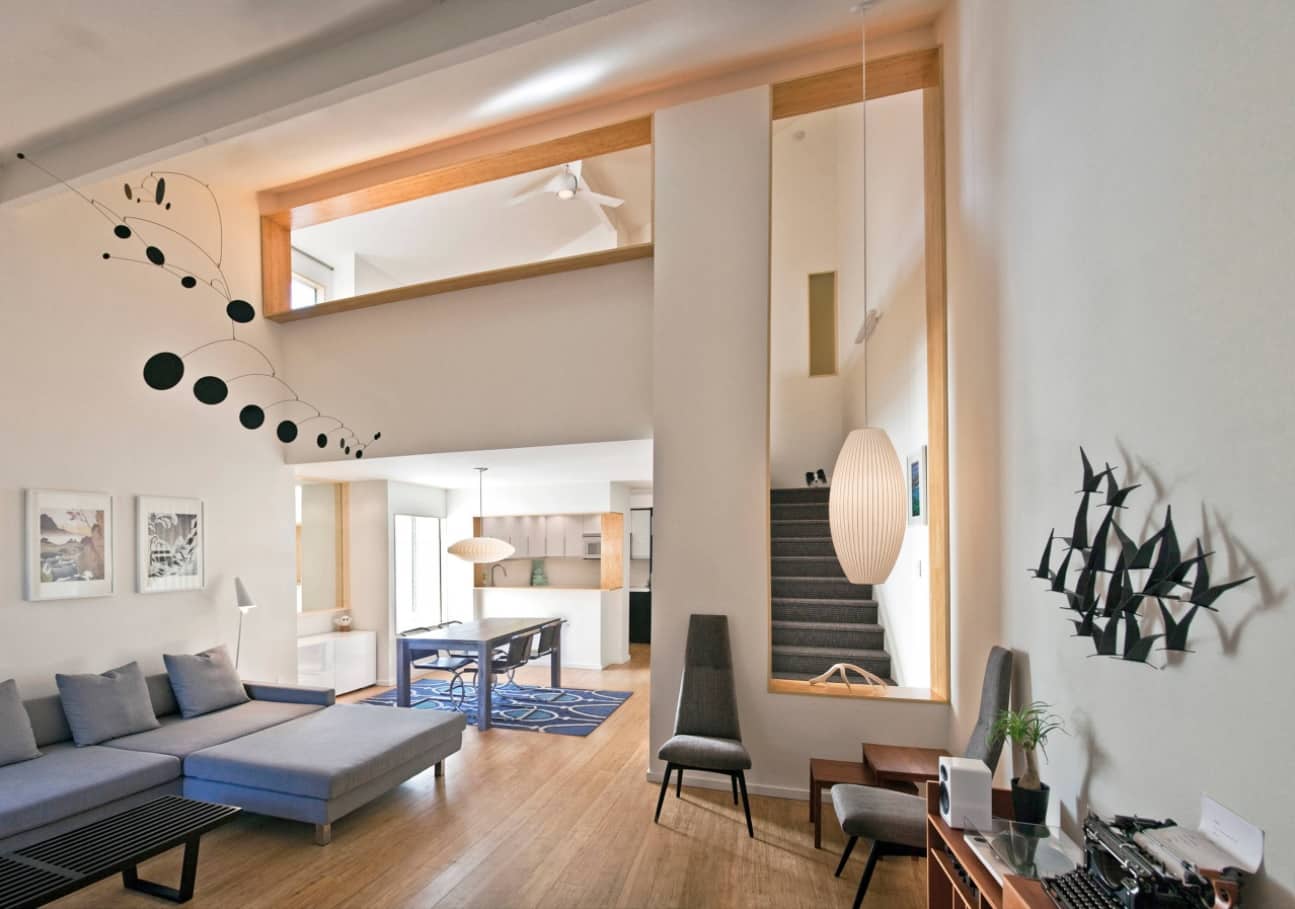 If you want to make a design statement in this area, you could build contrast with the colour of your furniture. Instead of keeping it light, you can make it pop. With all-white walls, you can focus on the other elements of your kitchen and living room. Plus, you don't have to worry about matching tones because white goes with everything.
Mirror, Mirror
Having mirrors in any house is important since they can increase the amount of light in a room. When it comes to your townhouse decor, this is the element that will bring more natural light and make your room look larger.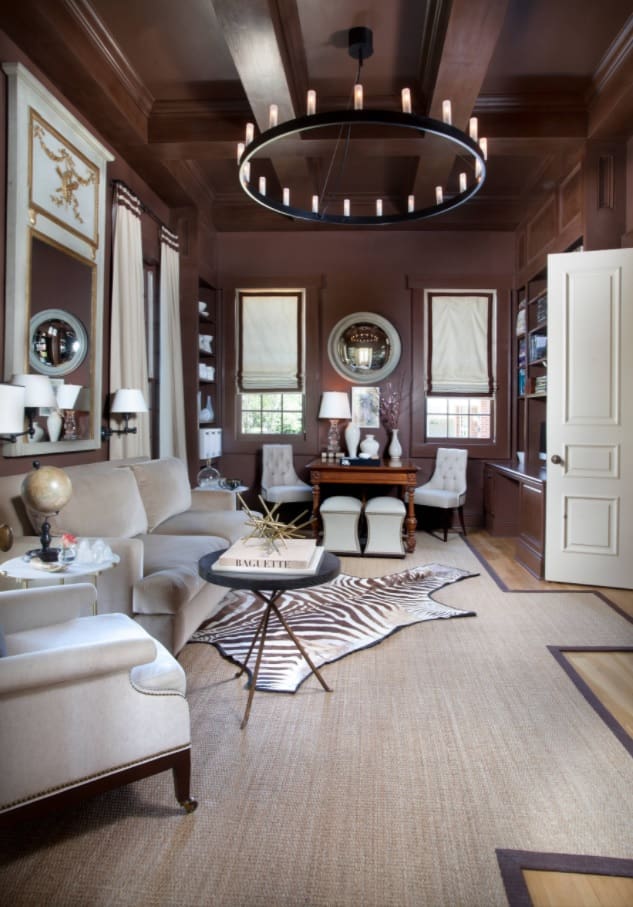 Photo credit: www.tylarkins.com
Make most out of your mirror placing them in front of any source of light, preferably opposite to your windows. Regarding the kind of mirror you should purchase, an oversized mirror can give a unique look to your living room. But you can also create a collage made of smaller mirrors, and it will have the same effect.
Go for the unusual
It's common that when picking a dining setting, the majority of people might prefer a square or round table. However, you need to remember that we want to maximize space in your townhouse. A circle dining table, it's the best choice to create a cozy space you can use daily.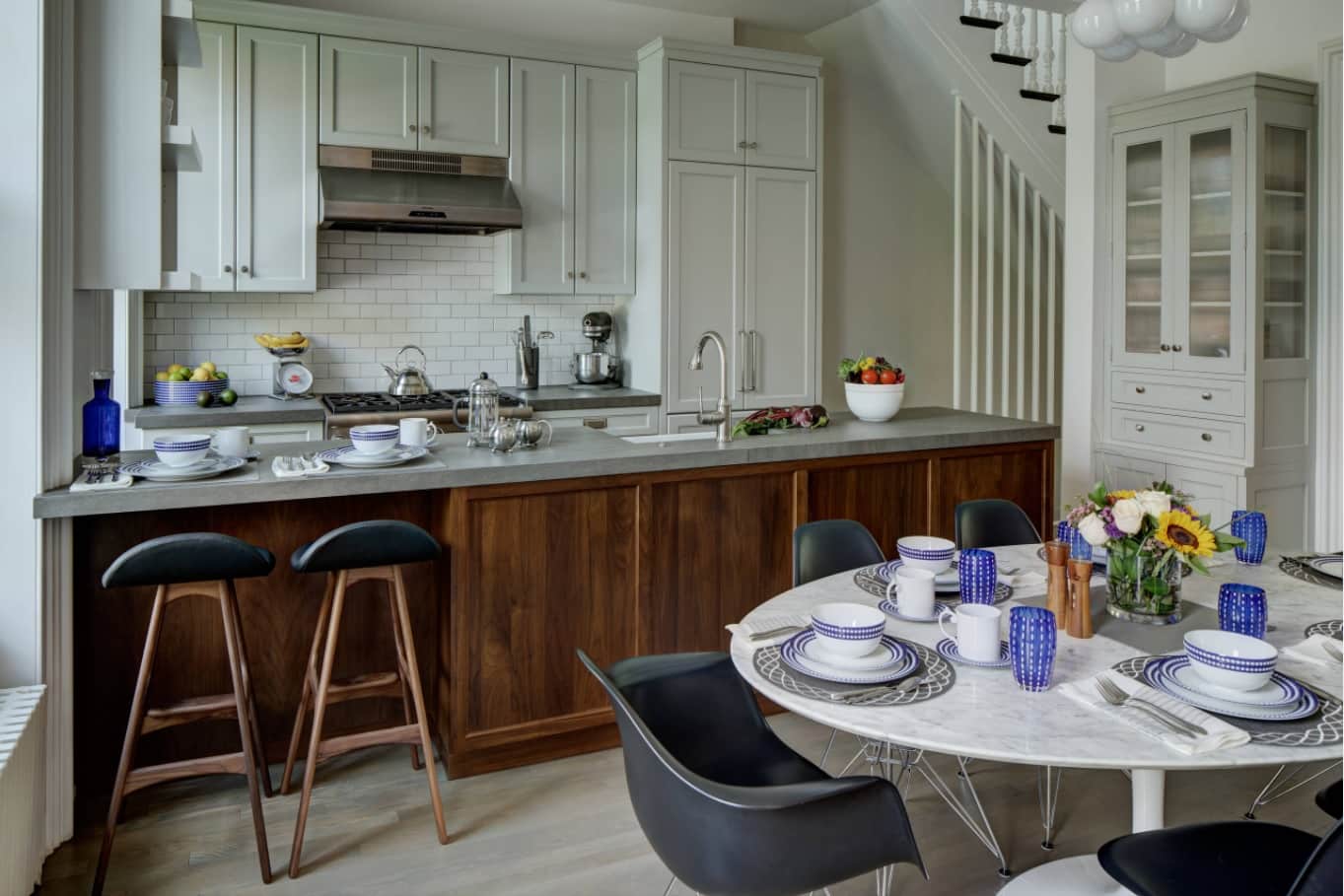 Photo: www.townhousekitchensnyc.com
If you are planning to have a big group of friends over, we understand that a round table might not be enough. Don't worry, we have another idea. You can install a fold-out dining table under your counter. That way, you can have more space for all your guests, and for the sitting, you can buy some fold-out chairs and keep them in the closet.
Kitchen Island
When you start looking for townhouses, you might notice that the kitchen has a smaller design compared to detached houses. Even when that is enough for a bachelor, a regular family needs more space to prepare meals, have breakfast, cook with their kids during the weekend, you name it.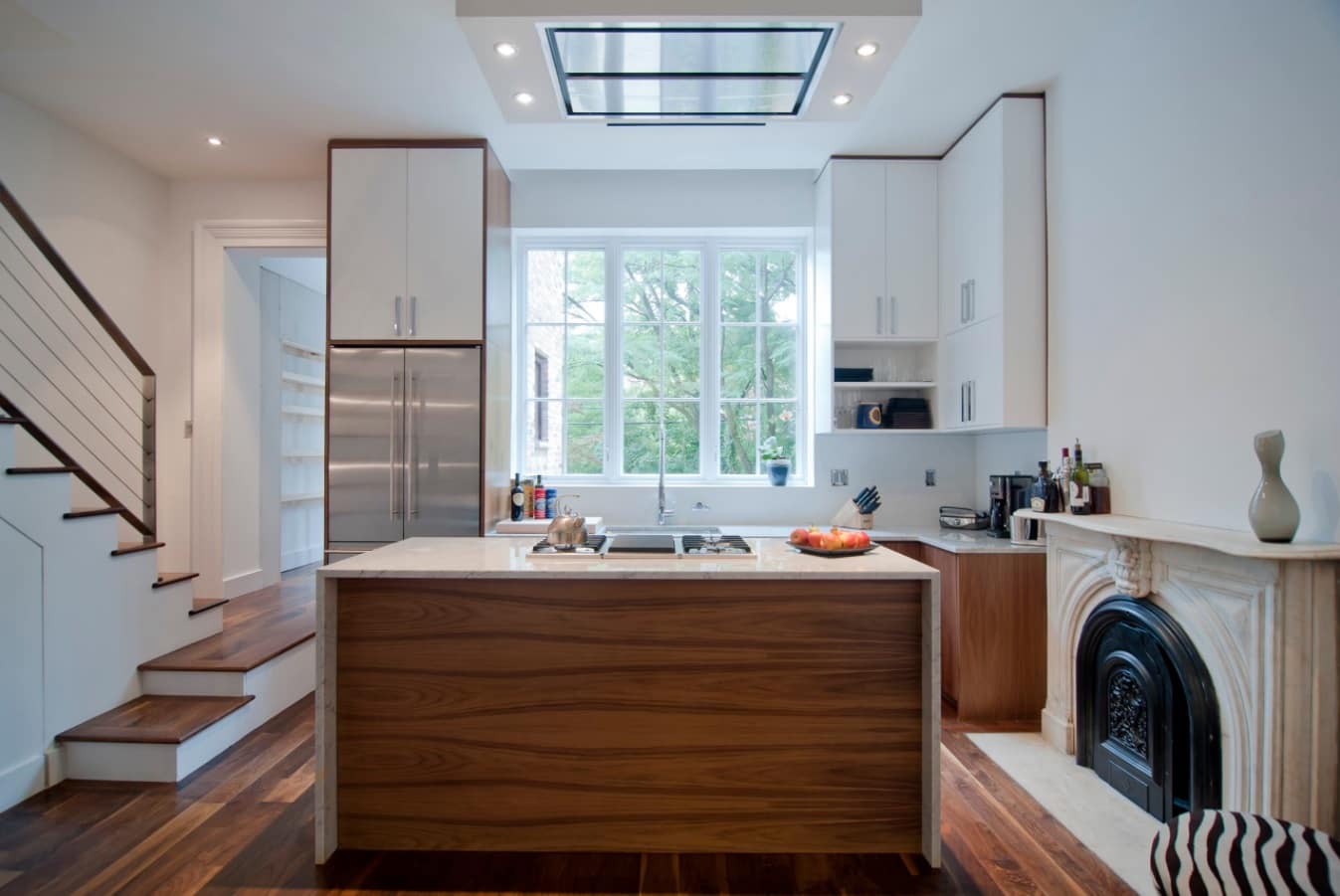 Photo by townhouse-therapy.com
A kitchen island is a solution to maximize your space and provide more storage. Kitchen Islands come in different sizes. This means that depending on your needs, you could have a small one with only utensils and dishes or a larger one. If you choose a large one, you can also buy some chairs and turn one side into a breakfast table.
Personalized Entryway
A great townhouse decor you can apply is effectively personalizing your entryway. Since you don't have much space, you can keep it simple. Put some hangers for the coats, at least four or five. That way, if you have guests over, this could be your coat station.
You can also add some furniture such as a little bench with storage below, for gloves and scarfs. This would be especially useful during the winter. To enhance the design of your entryway, add a table for your keys and purse.
Multifunctional Furniture
To maximize the space of your townhouse, you need to look for furniture that increases your storage. For instance, you can find bed frames with some drawers below. There you can put all the extra blankets, sheets and even create a space to store your shoes.
For the living room area, you can purchase a sofa bed, which allows you to have comfortable sitting during the day, and at night it creates a place where your guests can sleep.
Above Eye Level
Even though you don't have a tall ceiling, you can create that illusion if you hang all your pictures and artwork above eye level. In places such as the living room, you can have a big painting on display. While in your staircases, you can hang all those family pictures forming a collage.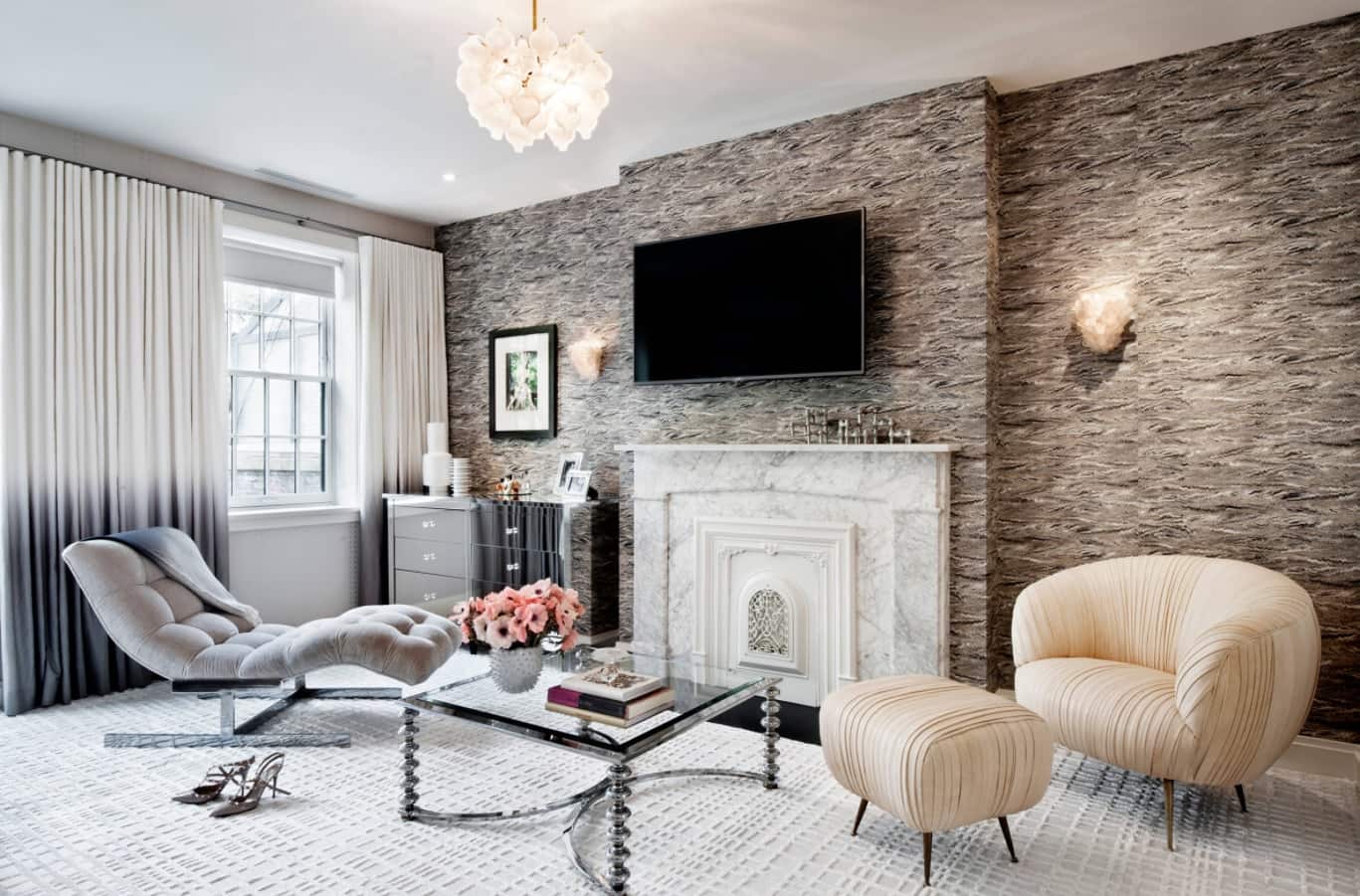 Photo: www.dhd.nyc
Townhouse Decor: Final Thoughts
Once you purchase your townhouse, we know you'll want to start decorating right away. With all the ideas you have above, you can add a unique aspect to your new townhome and make it look larger. Remember that you can divide your home into sections and have different design themes that complement each other.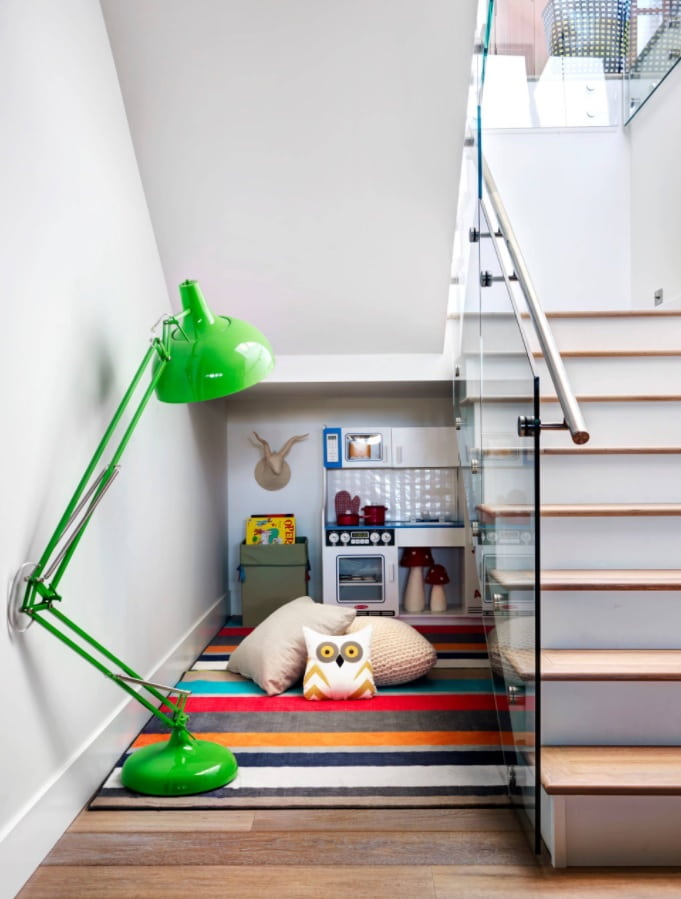 Photo: edbdesign.ca
After finishing your townhouse decor, you'll notice that any place can turn into a home if you choose the right elements to enhance its design.