To choose a bedsheet first take accurate measurements, decide what type you want based on material, thread count, color, and complementary accessories.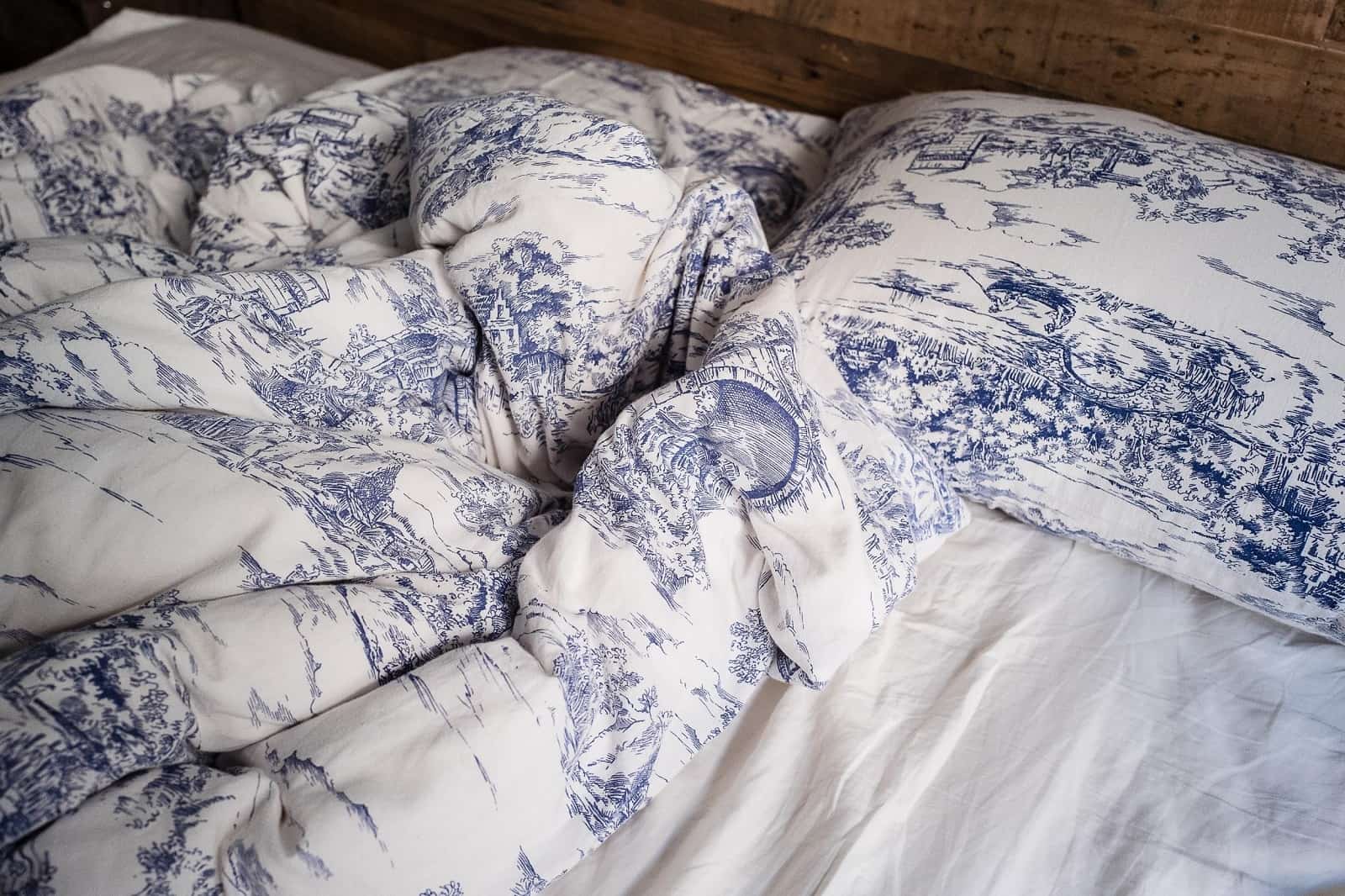 Image: https://unsplash.com/
Lying down on the bed after the entire day's work has to be the most heavenly feeling.
If you have a high-quality bedsheet, not only will your bed look good, it will also feel like the most comfortable place on earth. That is why choosing the right bedsheet is so important. The right bedsheet can be the difference between a good night's sleep and staying awake till 3 in the morning.
The Different Types Of Bedsheets
Before you go and start looking for the perfect bedsheet for you, you need to understand the different types of bedsheets available. Here is a list of bed sheets you will find in Australia.
1. Pure Cotton Bedsheets
These are the most common bedsheets, and many people use this. These are made of cotton and are soft, smooth, and absorbent. In Australia, cotton fabric can be found in flannelette, percale, and sateen.
The fabrics are wonderful, and bedsheets made with them are very soothing.
2. Bamboo Sheets Australia
Bamboo sheets Australia are extremely popular. These sheets have a unique silk-like softness, are lightweight, and highly breathable. These qualities make the sheets very cool in the warm weather of Australia.
The soft texture also makes them extremely relaxing. It also has antibacterial and hypoallergenic properties and is safe compared to many other bedsheets.
3. Cotton Polyester Bed Sheets
Polyester bed sheets are made with cotton polyester that initially looks like pure cotton bed sheets, but they are far from it. Cotton bedsheets are much softer. But cotton polyesters are not as soft, but they make up for it with their durability. Cotton also becomes wrinkled easily but cotton-polyester sheets are wrinkle-free.
4. Linen Bed Sheets
Linen bed sheets are durable and soft. However, their key feature is their breathability, making them the perfect choice for hot weather. As more air can pass through them, it feels cool in warm weather.
They are very good for rough usage and are perfect during the Summer in Australia.
5. Egyptian Cotton Bedsheet
The commercial use of Egyptian Cotton was first introduced in the West Indies back in the early 1800s. The reason it is called Egyptian cotton because the best variety of this cotton is produced in certain parts of Egypt.
This is by far the best cotton-based bedsheet as it is the most durable out of all the cotton bedsheets. It is also very soft and long-lasting. The only downside is these bed sheets are very expensive.
How To Choose The Right Bed Sheet?
Choosing the perfect bed sheet is not a difficult task, but there are some other important factors. We already discussed the different types of bedsheets but other than that the following points should also be noted.
1. Get Accurate Measurements For The Size
First, you need to know the right size of bed sheets. If your bed sheet is too small it will not fit on your bed. If it is too large, then it will fall around the edges of the bed and make it look messy and clumsy. You will feel discomfort in both cases.
To eliminate the problem, take measurements of your bed. If your bed is 38 x 75″ you need Twin Sheets. If your bed is 38 x 80″, then you need Twin XL Sheets.
You need Full or Double Sheets if the bed is 53 x 75″. Queens sheets if your bed is 60 x 80″ and King sheets if your bed is 78 x 80″. Be sure to measure the bed properly before buying the bedsheet.
2. Thread Count Of The Fabric
Thread count should be your next big concern. The thread count will impact its comfort. If the bedsheets have a high thread count, the bed sheet will be comfortable.
A lower thread count means the bedsheet is more stiff, reducing the smooth texture and comfort.
But many bedsheet manufacturers can cheat customers by adding silicon softeners that increase the softness of the sheets. But they wane away after the first wash and the bedsheet returns to its original rough texture.
So only actual thread count matters the most. Egyptian cotton bed sheets are the best example of comfortable fabric that has a high thread count.
But they are expensive so if you want a much more affordable bedsheet, try polyester-cotton bedsheets. If you want top-quality comfort, make sure the thread count is at least 400.
3. The Material Of The Bedsheet
We have talked about the different materials used to make bed sheets. So, which one you need to buy depends on the place you are living in.
In Australia, if you live in warm regions like Brisbane, Oodnadatta, Townsville, then you need bed sheets that offer high breathability. The perfect choice is organic bamboo sheets.
Bamboo sheets are extremely comfortable as they allow air to flow through the material. Other comfortable choices are Linen, pure cotton, and polyester. For colder regions, you need thicker bedsheets.
4. How The Bedsheet Was Weaved
There are two types of weaving. Percale weaving and Sateen Weaving. Normally, it depends on which one you want, as both of them serve a different purpose.
Percale weaving is used when the bed sheets need to remain cool. This is suitable for people who want a cool bed sheet. They also have a crisp feel to them.
On the other hand, Sateen weaving is much softer and smoother than percale weaving. It also has a shiny, lustrous look. This makes weaving more popular for those who want to bring out the beauty of the bed through the bedsheet.
They both are popular weaving choices for bedsheets and the choice completely depends on you. Touch the fabric and see how it feels. If it has a rough texture, then it is percale weaving. If the texture is smooth, then it is sateen weaving.
5. Printed Bedsheets Or Plain Bedsheets
Now for the aesthetics of the bedsheets. Whether you want your bedsheets to have different printings on them, or you want them to be plain, the choice is yours. If your bed has pillow covers that are printed, or your room does not have many colorful objects, then you can go for printed bed sheets to make it more eye-catching.
However, plain bedsheets are a safer choice as they might not be that aesthetically gorgeous but still appear refreshing.
6. Bedsheets For Different Seasons
If you want to have bedsheets for different seasons, that is also fine. But for a variety of bed sheets, you need to spend extra cash. You can buy thinner bedsheets with warm color for summer, and thicker bedsheets with deeper color for winter.
They not only will increase the comfort of the bed but also will complement the current weather and increase the overall aesthetics of the bedroom.
7. Different Accessories
Bedsheets are the pride of your bed, so if you want to maximize the beauty of the bed to a great extent, add some extra accessories to compliment the bedsheet.
For example, adding comforters and duvet covers will make your bed look more appealing and the comforter will also make the bed even cozier.
The Don'ts When Choosing A Bedsheet
Bed sheets can be durable and fresh but only if you take good care of them. Otherwise, they will get dirty and slowly lose their comfort level. There are certain factors to keep in mind for maintaining the comfort of the sheet.
Do not keep the sheet on your bed for over two weeks. Changing it every week is preferable, but you can at least keep it for two weeks but never over that time.
When the dust settles on your bed sheet it might cause rash or irritation of the skin. Bugs can also nest in the corners of your bedsheet if you do not change it weekly.
Another point to take care of is the use of cleaners that go well with the material. It is always better to wash it with warm water. But when using cleaner, read the ingredients to see if they will damage the fabrics.
Final Thought
Bedsheets are extremely important to increase the comfort of your bed. If your bedsheet does not go well with your characteristics, you might not find peace with your bed sheet. Hopefully, this article has given you some ideas on factors you need to consider before choosing the right bedsheet.