It happens that a good repair in the bathroom can be ruined by a rough heated towel rail, which initially does not fit into the concept of the interior. However, you can not do without this element. So, how to restore the aesthetics of the room? Consider a different design of modern heated towel rails, which not only auspicious for the appearance of the interior but, perhaps, will be the main attraction of the bathroom.
Contents:
Heated Towel Rail in Bathroom Interior as Practical and Decorative Item. Unlimited Choice
Heated towel racks abound today not only with a variety of shapes but also in width and height, which can be very diverse. Nowadays you can find a towel dryer for almost any configuration, including decorative elements. The material from which a towel heater can be made extends from ordinary iron to glass.
The original hanger will become the pride of any bathroom. It is an indispensable element for a room in which a person undergoes hygienic procedures every day. The towel can take various forms. Hangers attract the attention of a cheerful, inventive form that instantly enlivens the classic bathroom. If you dream of an interesting towel warmer, then there are a lot of options to choose from.
Heated Towel Tails in the Bathroom Interior: Photos of Different Models
The style of the heated towel rail must match the interior of the bathroom. Choose the option that will harmoniously blend with the colors and shapes of the room. For a bathroom in a modern style, choose a white, minimalist, chrome, or with a metallic luster design.
Heated Towel Rail Made of Copper
Thanks to powder paint this heated towel can be painted with any pleasant and acceptable color. Design can also be done in an interesting way, which will create a real original effect. In principle, if the bathroom design can manage this, then copper can be left unpainted because its characteristic luster looks very noble.
Towel Dryers Made of Brass
If you are not indifferent to brass, it can be used for the bathroom. So why not finish the bathroom design with such a heated towel rail? The only drawback of this solution is that all brass products gradually change color and require additional maintenance to preserve the original appearance.
Gilded Heated Towel Rail
A rich, durable, and luxurious towel dryer, covered with a special gold paint is a chic choice. Of course, the basis for such a product is a less expensive material. This, most often, is a metal alloy, containing zinc, brass, and iron.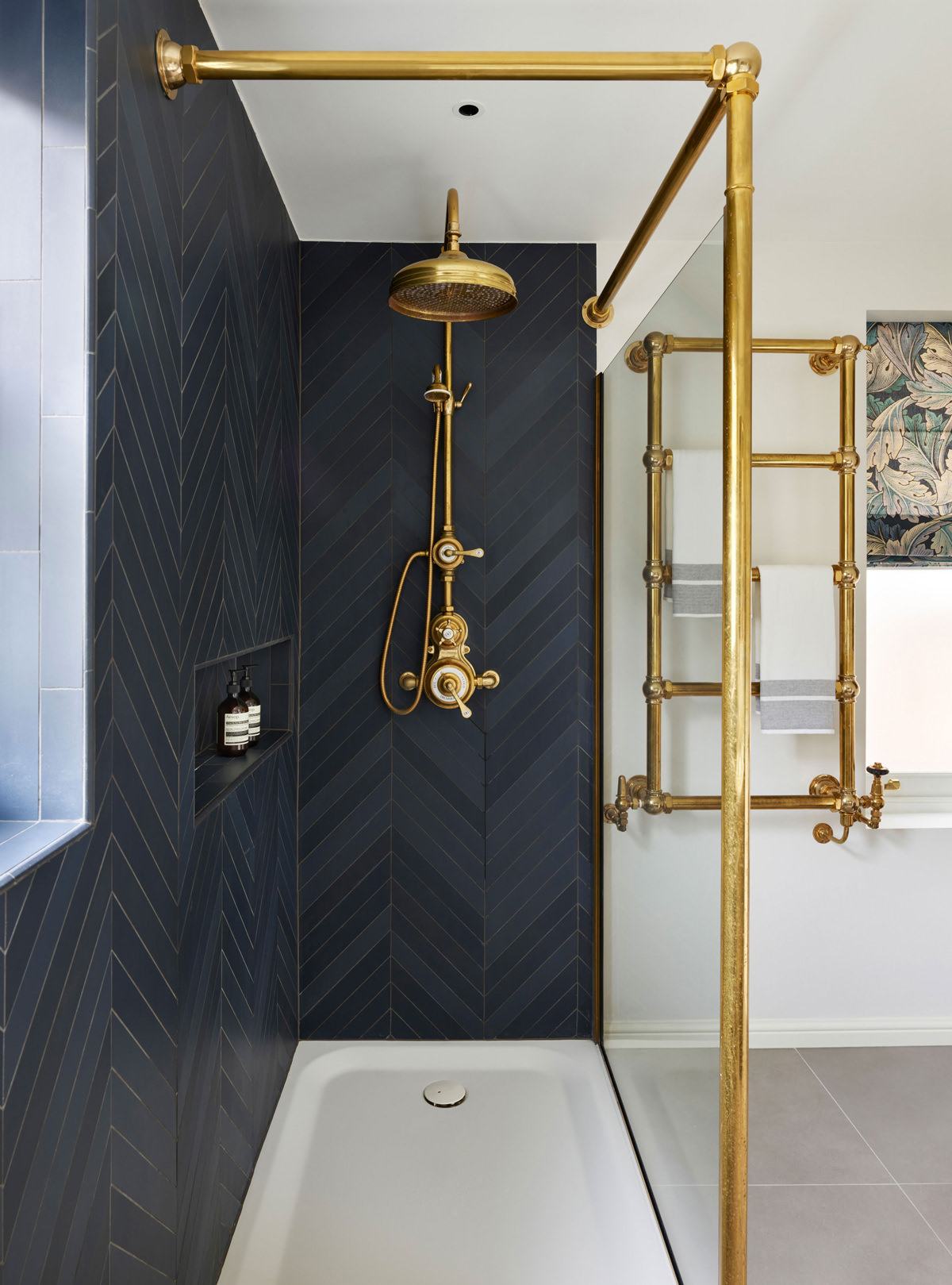 Heated Towel Rail of Glass
A modern towel warmer is not always a well-known "zigzag", as it might seem, but an elegant glass screen with holes for towels. Is it worth talking about how original and gentle the glass construction with heating looks in the bathroom? The glass itself can be transparent, as well as matte or even colored. Consider this option for your bathroom.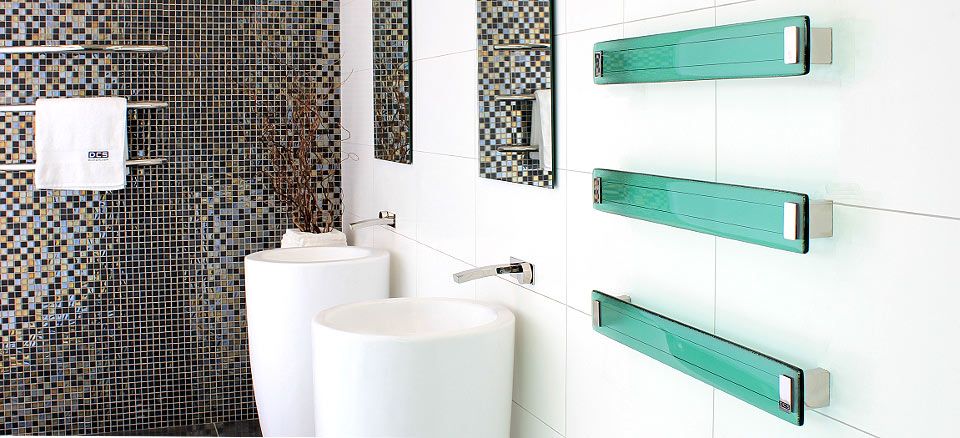 An Alternative to a Traditional Heated Towel Rail is a Drying Cabinet
If you want to get rid of the traditional hanger element, then you can buy a special cabinet that works on heating instead of the dryer for towels. Towels will dry in it no worse than on an ordinary heater. This idea is especially important in the house where the child grows, so the baby is guaranteed not to get burned about the hot pipe as in the case of the traditional heated towel rail.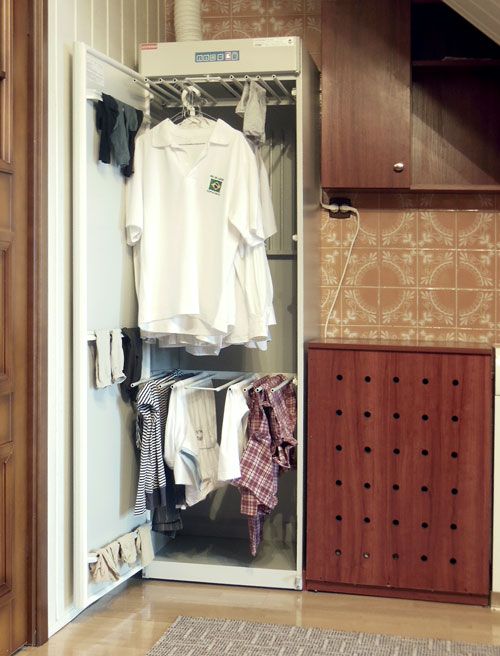 Which Towel Dryer to Choose: Water or Electric?
A heated towel warmer is an integral part of the bathroom. Everyone knows that it plays a role not only as a device that dries up textiles but also participates in heating the bathroom thanks to the radiators installed in it. If you compare the electric and water towel, the latter has a single minus – it can not operate if there is no hot water or central heating is disabled. Heat in such devices is provided by hot water, and if it does not arrive, the dryer does not work. With regard to electrical appliances, they can be turned on at personal discretion by inserting a plug into the outlet.
Electric Heated: Photos in Different Versions
Electric towel warmers can be used in bathrooms and kitchens where there are no heating elements connected to the central heating system or they can not be installed. On the outside, these dryers are very similar to conventional tubular radiators. However, they are different. In the market, most of these dryers are white or with chrome plated coating. If desired, you can order an electrical device of a different color, but it will cost more.
Dimensions of Towel Warmers and Their Power: Choose the Right Option for the Bathroom
When buying a towel heater, you should pay attention not only to its type and properties but also the size. Like all products, these devices have standard and non-standard parameters. The concept of standards is very relative. Each manufacturer has its own view of the customer's needs. A towel dryer has an uncomplicated design, so it has much fewer requirements for size, but the imagination of modern manufacturers has no boundaries.
Calculation of the Power of the Heated Towel Rail
Remember that the main function of the heated towel rail is to heat the room. Therefore, you need to choose a radiator in the bathroom with the correct power. It is assumed that the room temperature should be at least 24 ° C. When calculating the power, it is necessary to take into account the size of the room. The power of the radiator in a small bathroom in a well-insulated building surrounded by heated spaces is calculated by multiplying its area by 80 W. In the case of a poorly isolated room, multiply the surface by 130 W (in calculations the height of the room is 2.7 m). If the radiator should also be used as a towel dryer (it will be partly covered), the design capacity is increased by 20%.
For today there is a fine assortment of towel warmers, therefore choose the most suitable for you. The devices have excellent functionality and attractiveness.